Yesterday afternoon a fire broke out on one of the mountains on the outskirts of town.  Since I had decided that we would be studying Forest Fires this week during "F" week, I couldn't pass up the opportunity to drive into town for a little Field trip!
Even though my children have been to fire camps to visit their daddy in the past, and always run outside when ever a helicopter or air-tanker fly overhead, they had never seen (in person) the fire retardant or water being dropped on a fire.  They were SO excited!
We watched the fire from the field by Hubby's office, a safe distance from the fire but still with a view.  Later in the evening we moved around to the other side of the hill and were even able to see some of the flames, but by that time my camera battery was completely dead.
Here are a few pictures I did manage to capture: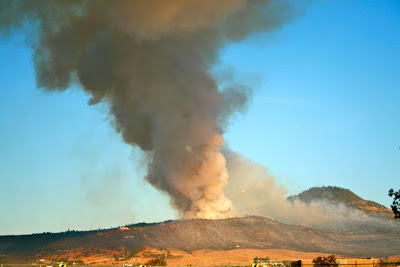 Everything that is charred black had already burned… Hubby said earlier in the afternoon you could see 30-40 foot flames on that hill.  You can also see a couple of huge homes up there, but despite the 600+ acres that burned, no homes were destroyed.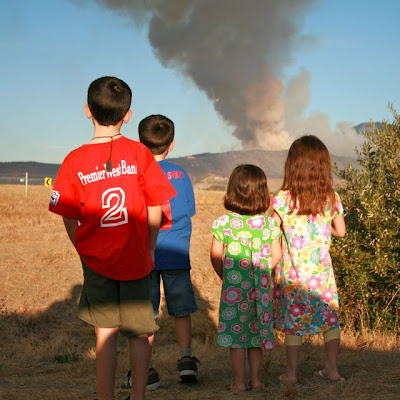 We were even able to listen to all the action on Hubby's hand radio, including the pilots talking to the ground control!  It was pretty cool to have a "heads up" before they were about to make a drop.  We even heard one pilot ask someone below if he had gotten him wet, and sure enough he had.
Here are a few more
(much more impressive!)
pictures from our local newspaper: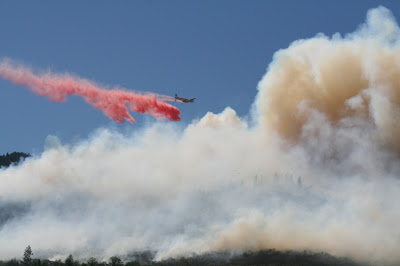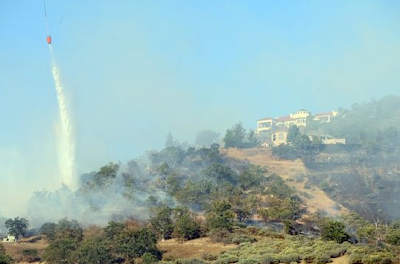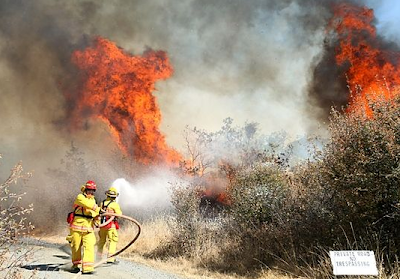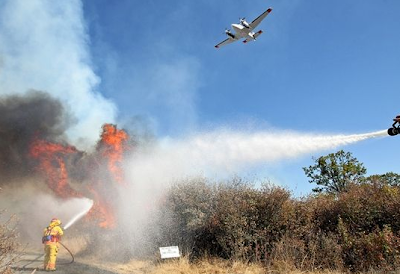 Now, back to that basket of fire themed picture books!