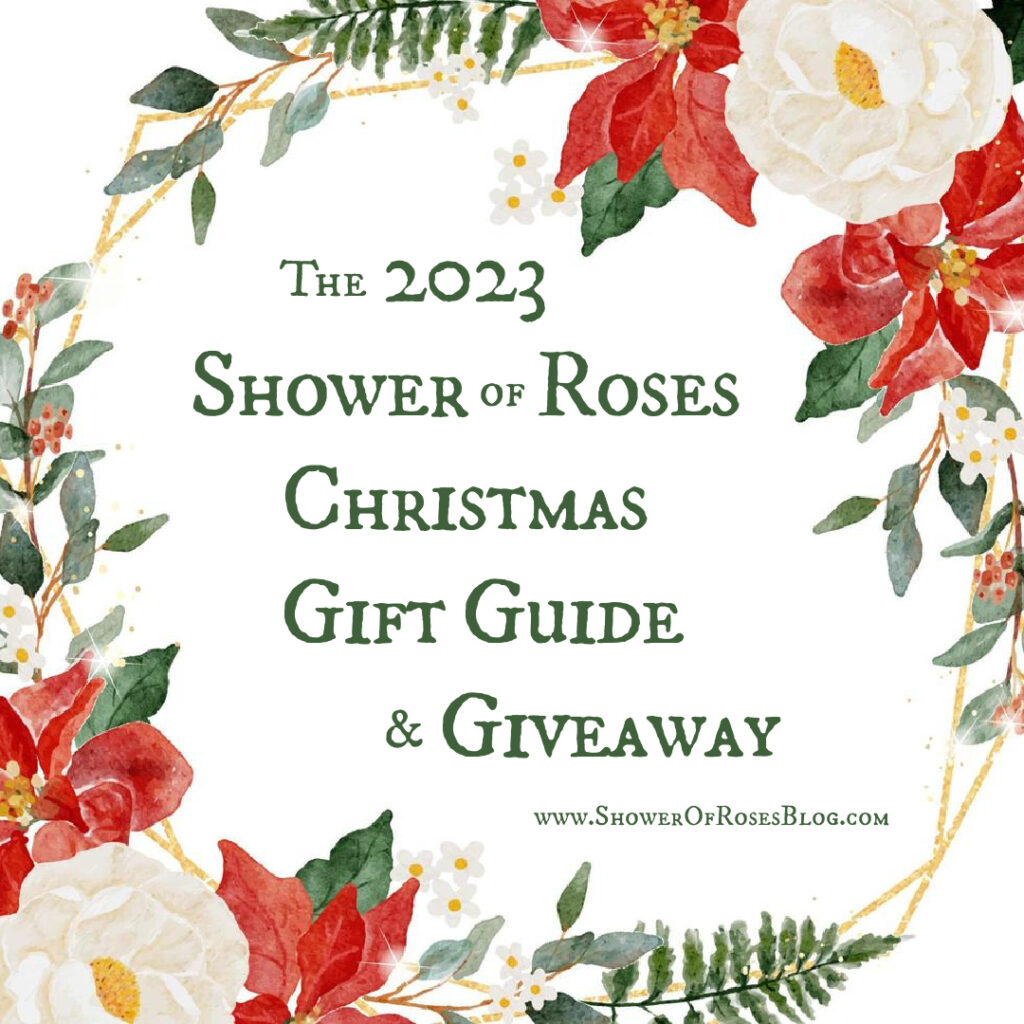 Welcome to our Annual Christmas Gift Guide and Giveaway! Get ready for a curated selection of fantastic gift ideas and a chance to win amazing prizes. Once again I've gathered suggestions from every member of our family to ensure there's something for everyone. We've got a variety of recommendations to make your holiday shopping a breeze.
First I'd like to extend my heartfelt gratitude to the generous sponsors who help make this possible, enabling us to spread awesome prize packages to lots of families once again this year! So grab your favorite beverage, take a moment to unwind, and enjoy browsing our carefully curated annual Christmas Gift Guide, filled with shopping inspiration and exclusive coupon codes.
You can also find my lists from the last eight years here (2022), here (2021), here (2020), here (2019), here (2018), here (2017), here (2016) and here (2015) as well as even more Catholic gift ideas listed in my past Easter posts as well: 100+ Easter Basket Stuffers & Catholic Gift Ideas and Easter Symbols: Catholic Gift Ideas.
Note: As an Amazon Associate I earn from qualifying purchases. Additional affiliate links included.
New Finds for Advent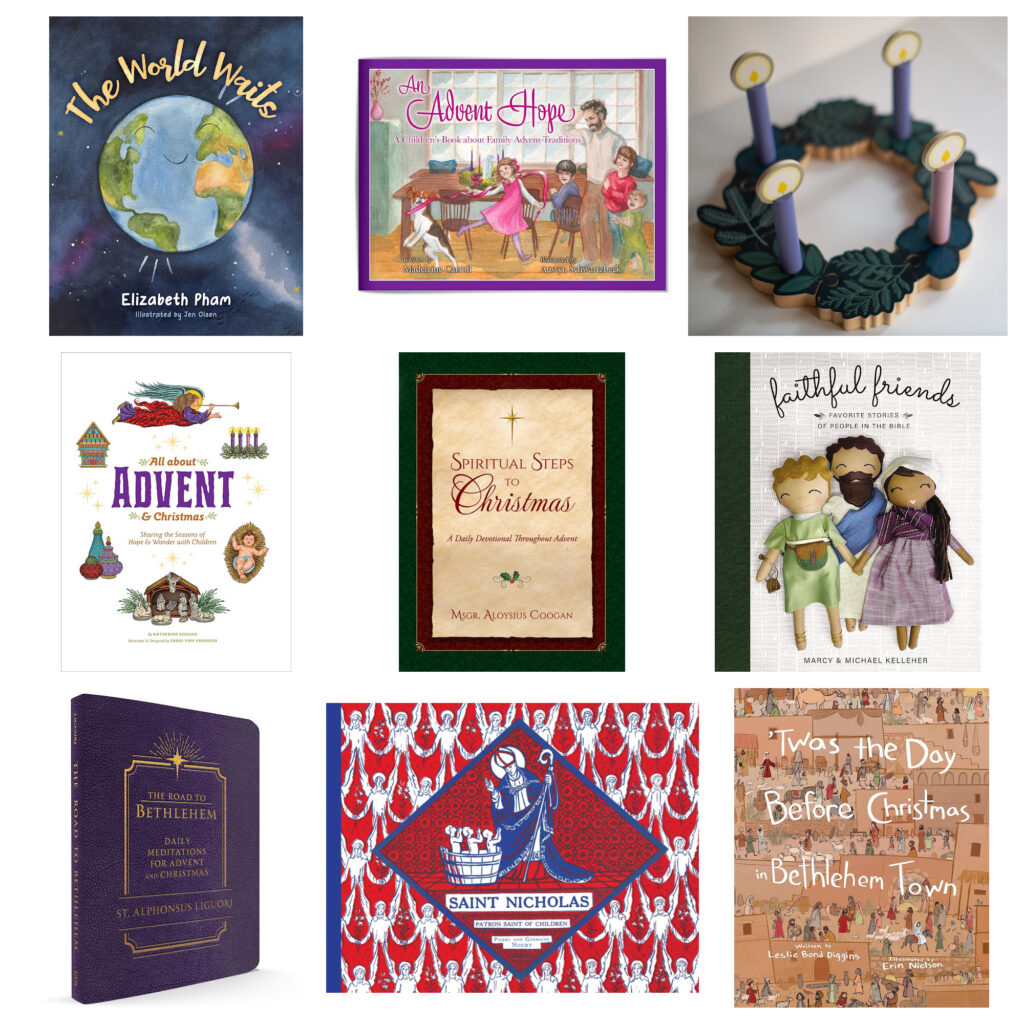 New Finds for Christmas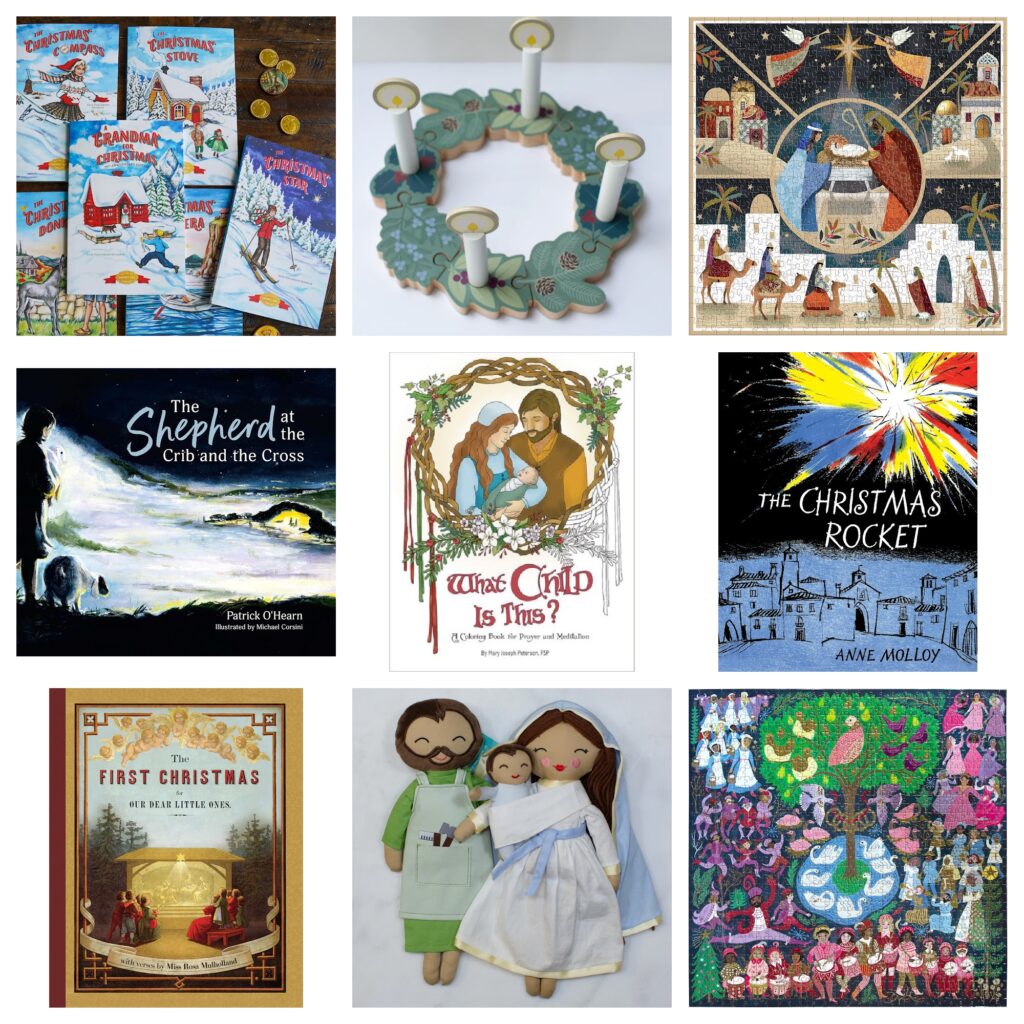 St. Nicholas – December 6th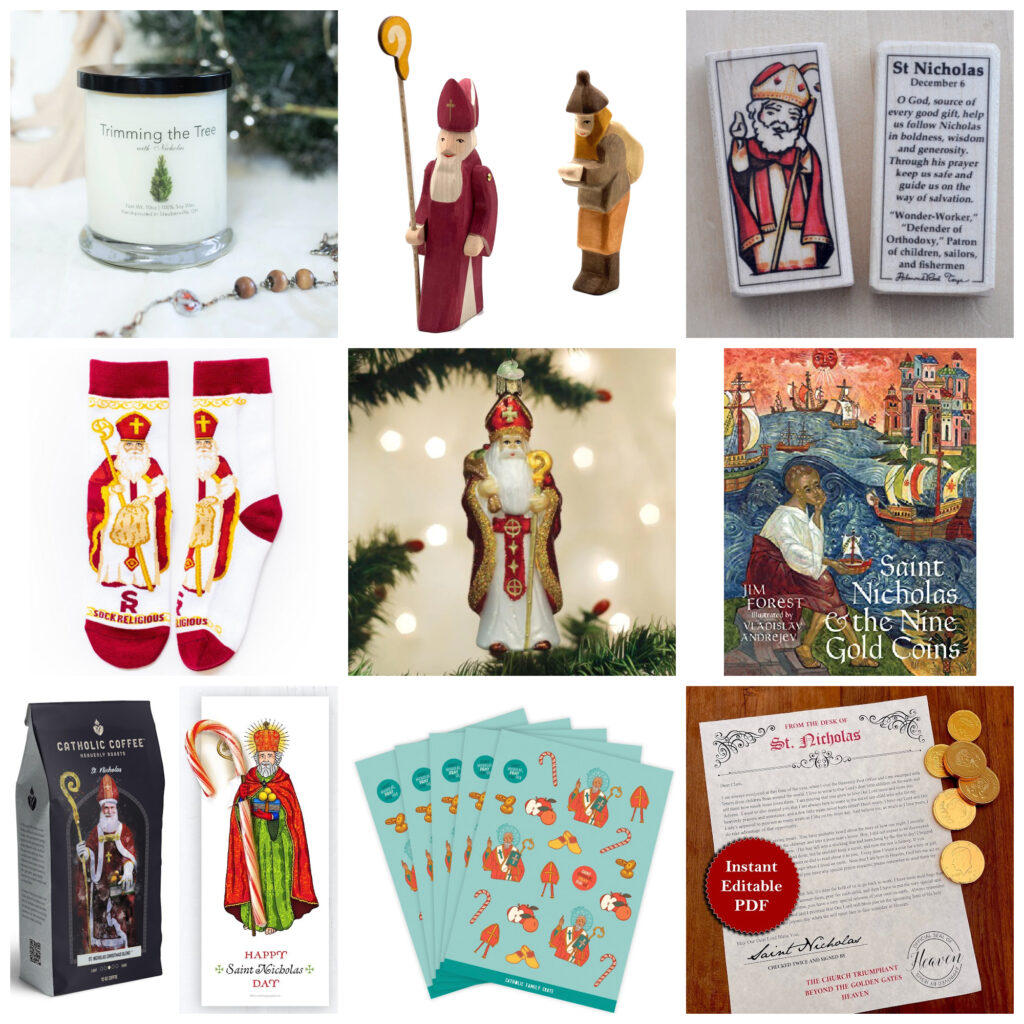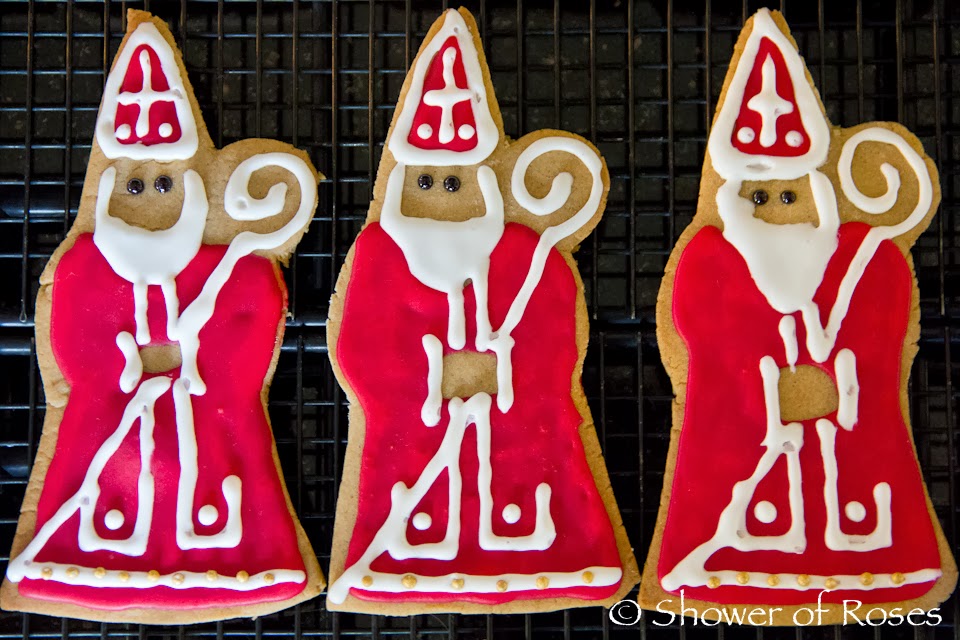 Scroll through all of our past St. Nicholas posts here.
Our Lady of Guadalupe – December 12th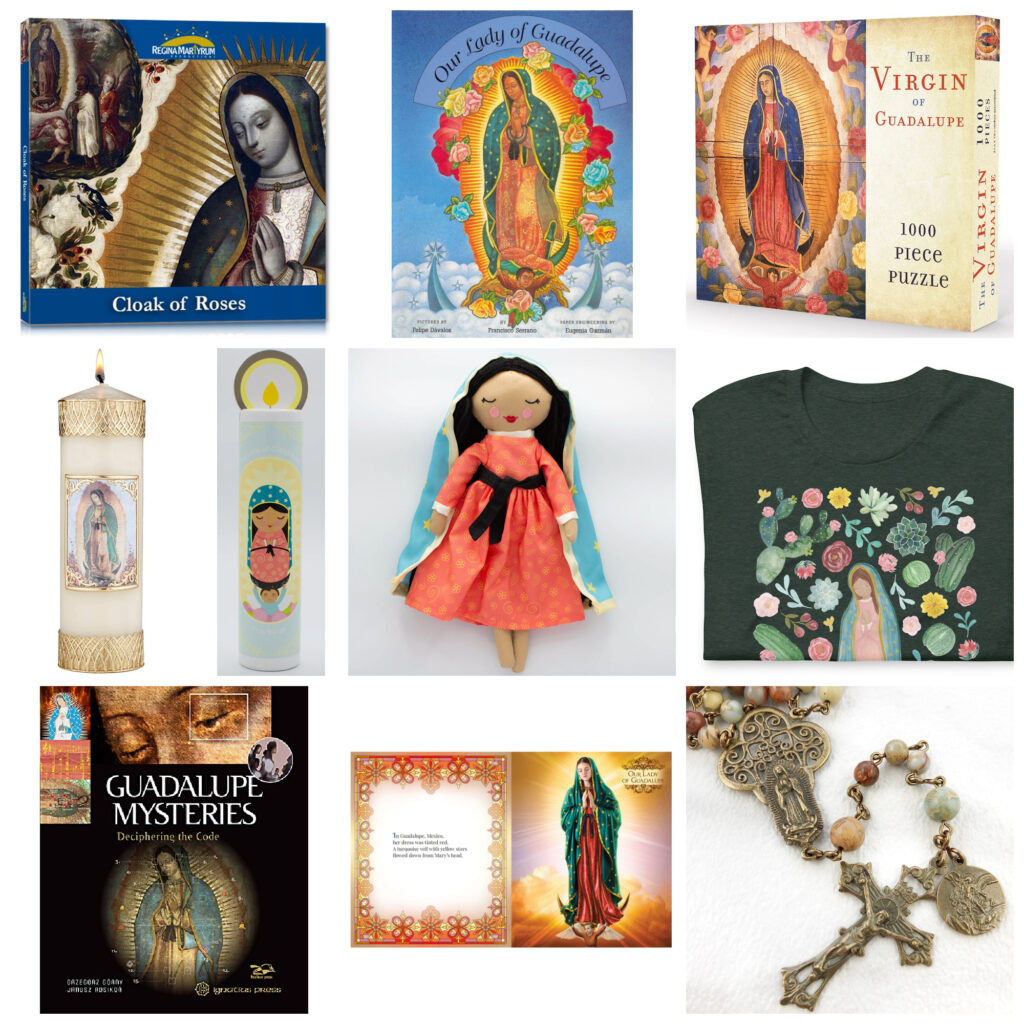 You can also check out the Our Lady of Guadalupe Pillow Case from Prayer Pillowcases! We also love the Our Lady of Guadalupe Puzzle, if you can find it, and we usually celebrate with an Our Lady of Guadalupe Brunch or Dinner after Mass! Our Lady of Guadalupe Mexican Mocha Coffee is a perfect addition!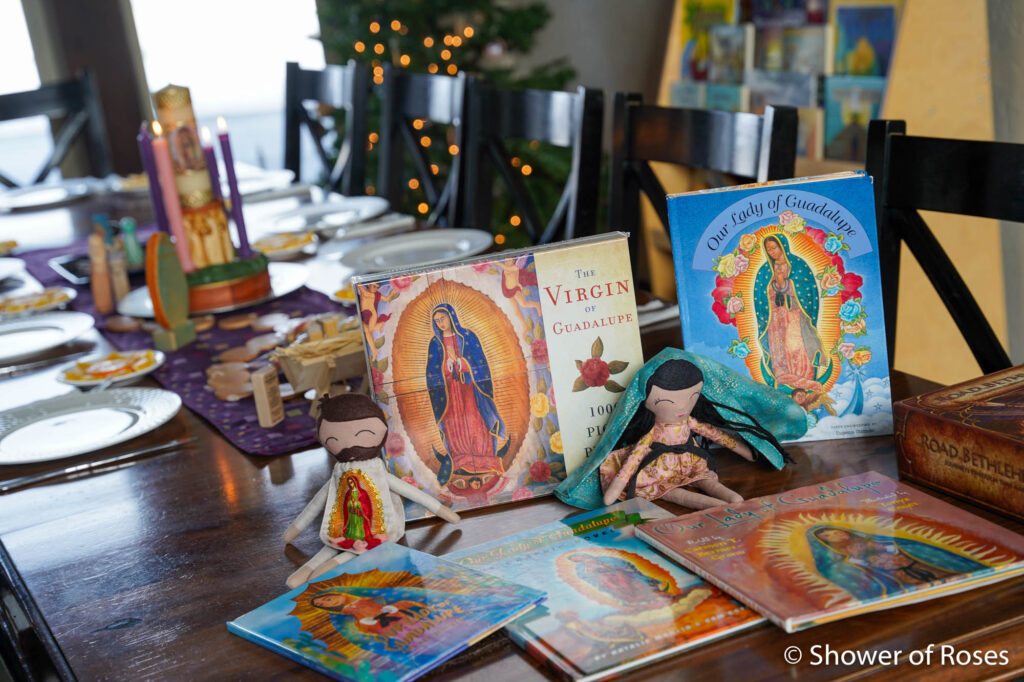 Scroll through all our past Our Lady of Guadalupe posts here.
Santa Lucia Day – December 13th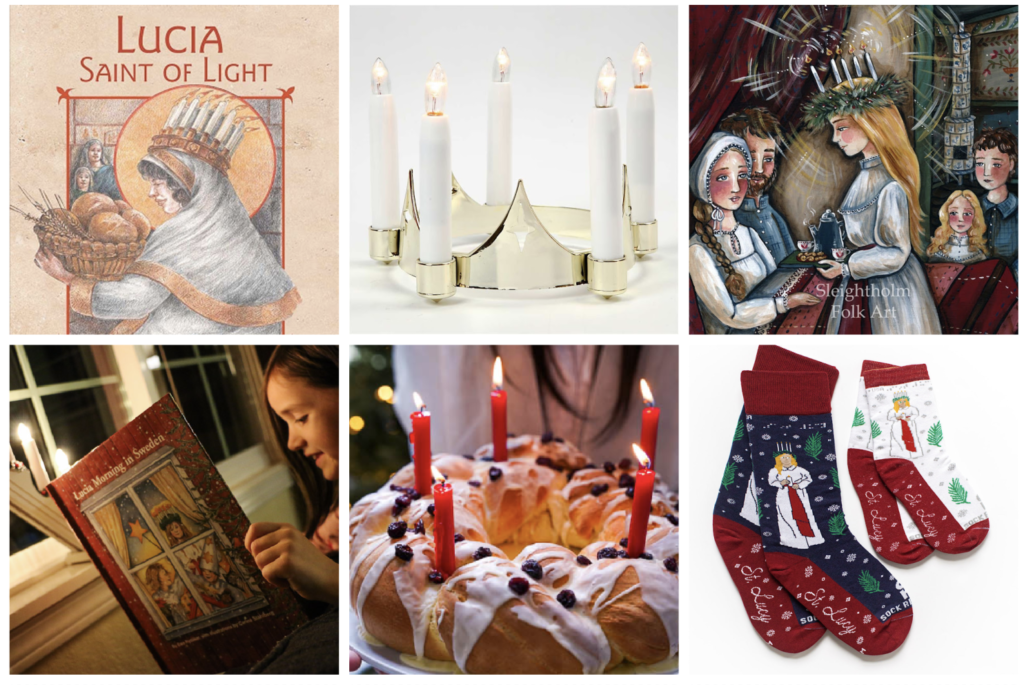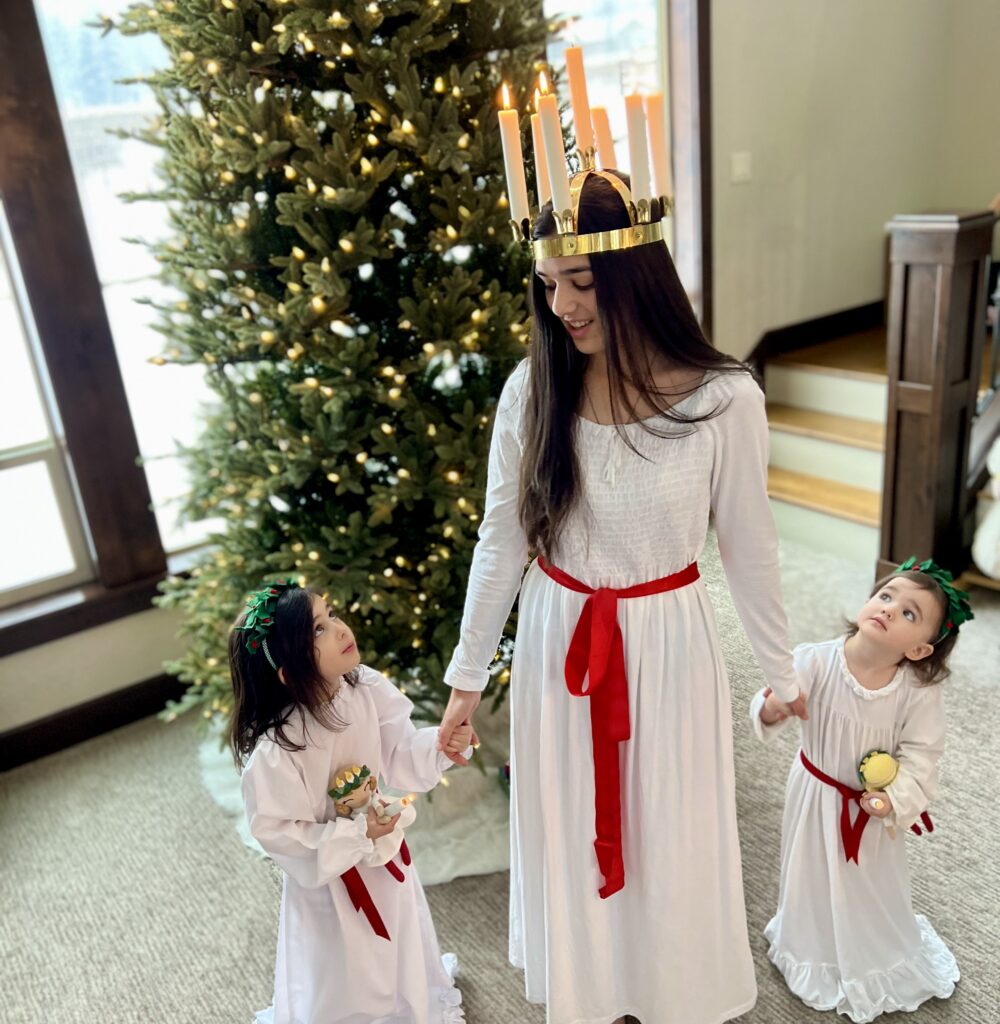 Scroll through all of our past St. Lucy posts here.
Favorite Nativity Sets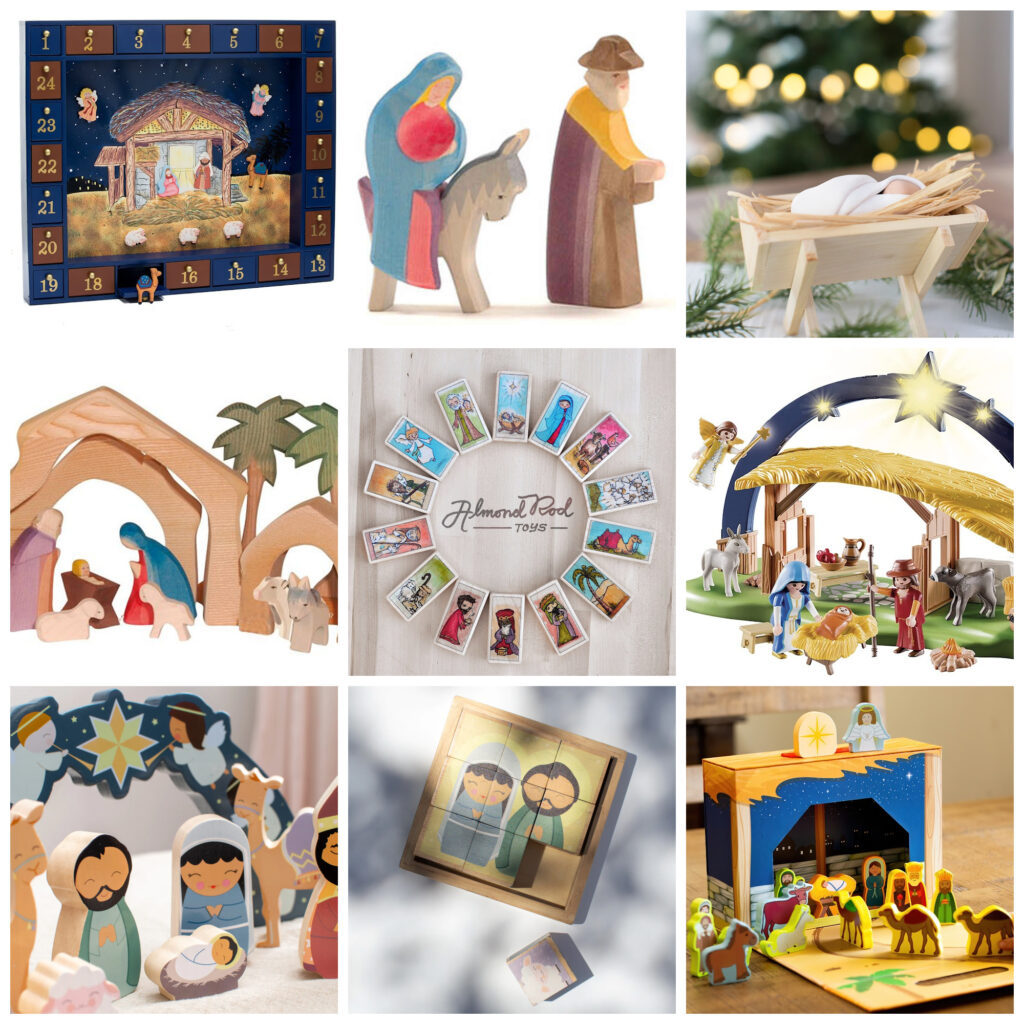 We have Fisher Price, Playmobil and Shining Light Doll Nativities too, and the Nativity Fabric Advent Calendar, but I especially love our wooden versions! I also love our Schleich Nativity but it's hard to find, same with A Child Is Born from Naturally Catholic. Fontanini Holy Family (a wedding gift – also available from The Catholic Co.) was the beginning of our Fontanini Collection. Our 11 year old gets a new addition every year from his godparents. ❤️
Our children have once again taken an active role in this year's gift guide! I asked each of them to list nine gift ideas for me to share. Most of their suggestions are things they already own, with a few desired items included. Here are their answers:
Please note: Our children usually unwrap three gifts from my husband and I on Christmas morning- something they need, something they want, and one other gift which is usually faith based. We draw names on the first Sunday of Advent for Christkindl and end with a family Christkindl gift exchange. It's always the first thing they want to do after our morning prayers (or morning Mass if we didn't make it to the Midnight Mass) on Christmas Day! They also receive books on Epiphany (which often include many books that have been given to me to review, or school books for the next semester). The gift suggestions listed below have been received over a number of different years/occasions, handed down from older siblings, or on their wish list.
Captain's Picks – Age 23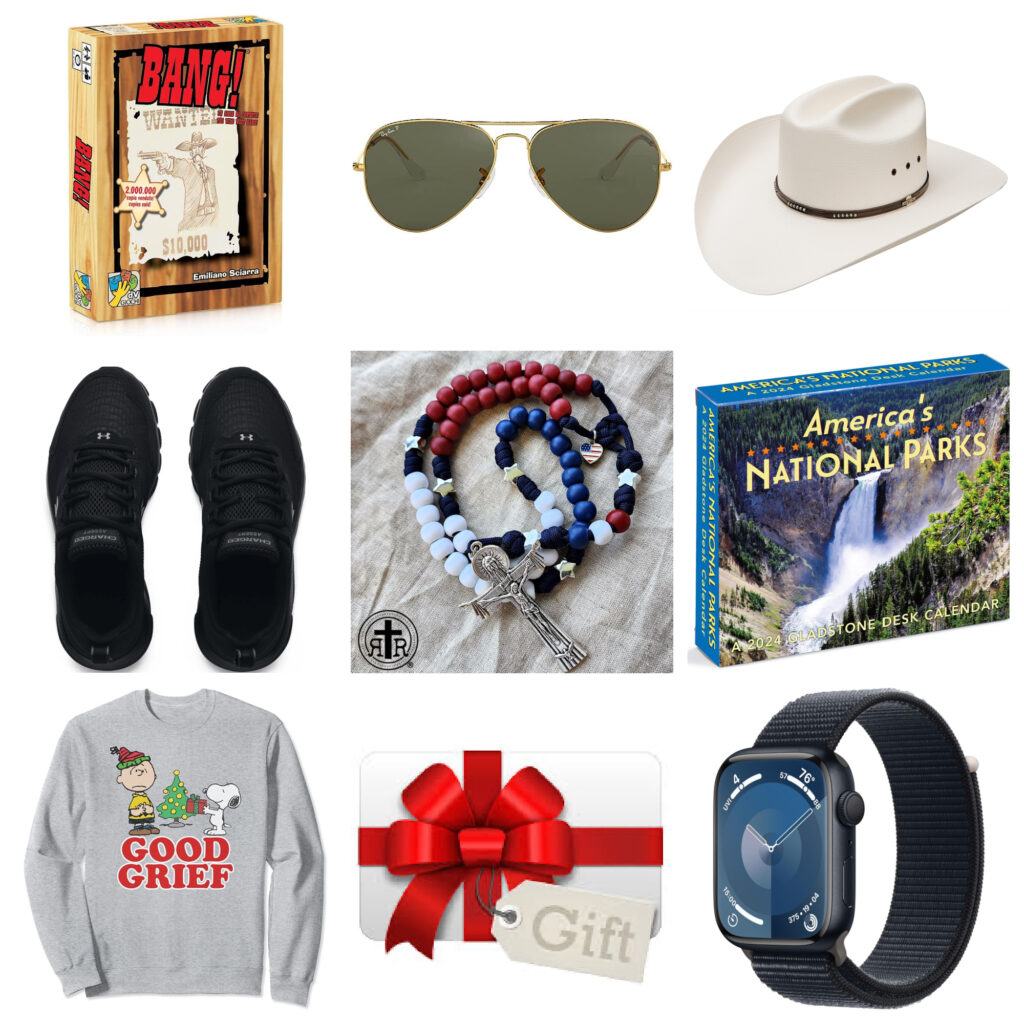 "Been saving a video just for when you asked this question🤪🎄
A lot of these are similar to last year's list but like I said before, the older you get the less you want stuff and the more you want time with people you love. ❤️"
Ranger's Picks – Age 21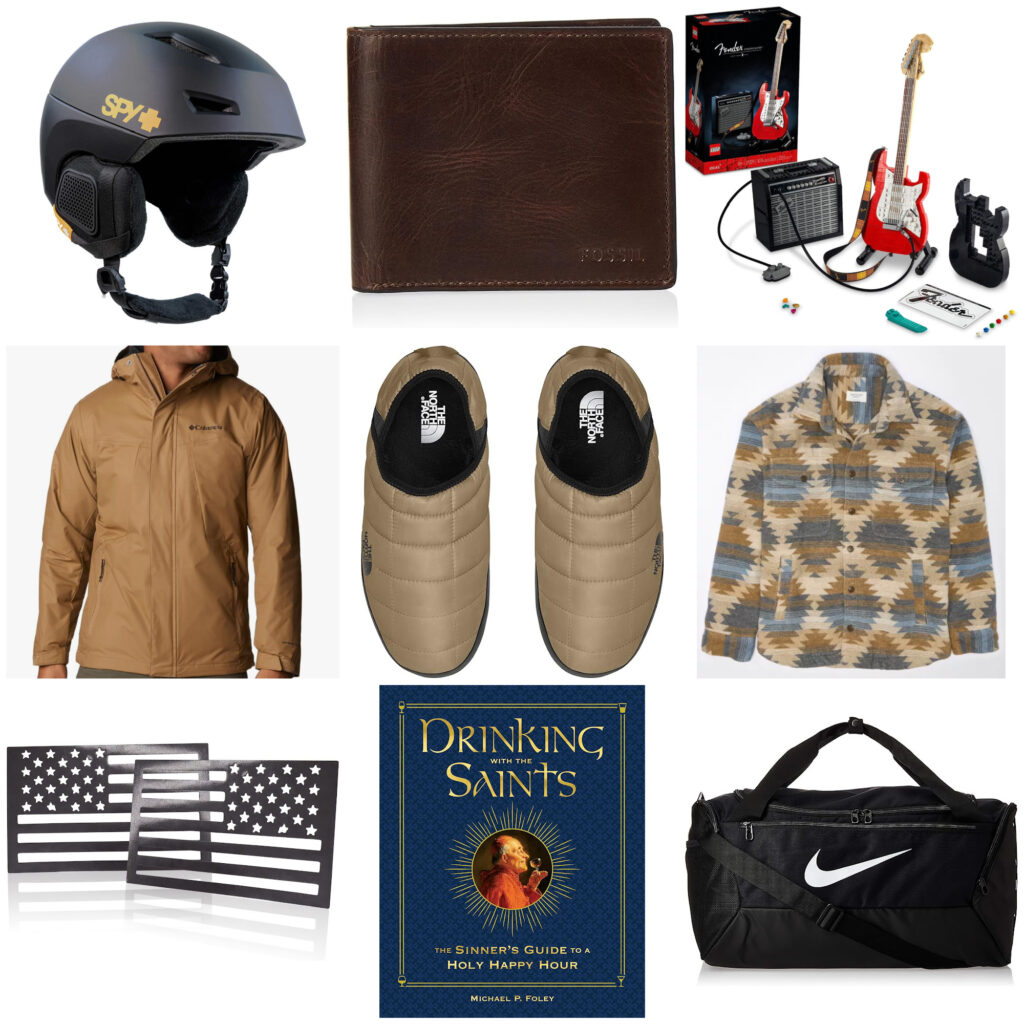 He has been pretty busy but I finally got his list! His list is more of a "wish list" than it is specific to things he has. My comments are in italics. 🙂
Twinkle Toe's Picks – Age 20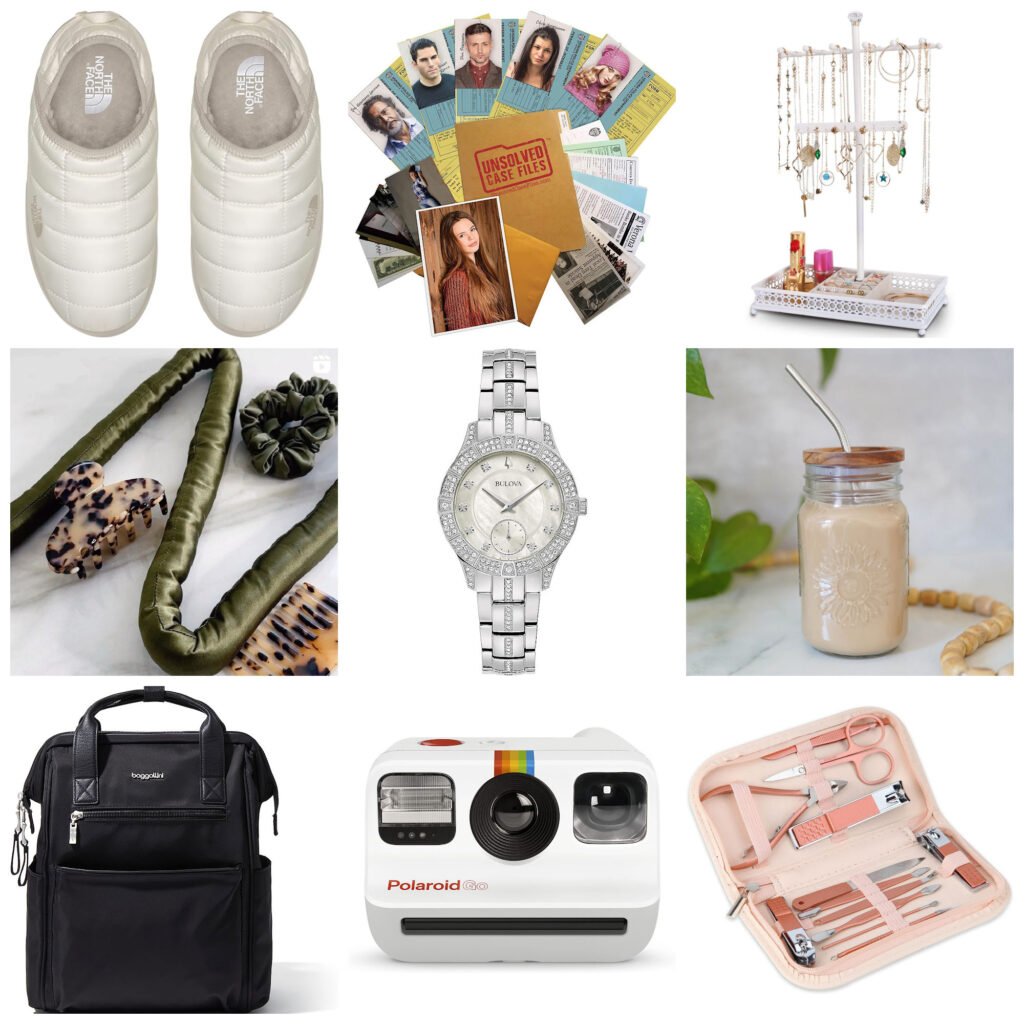 Chiquita's Picks – Age 18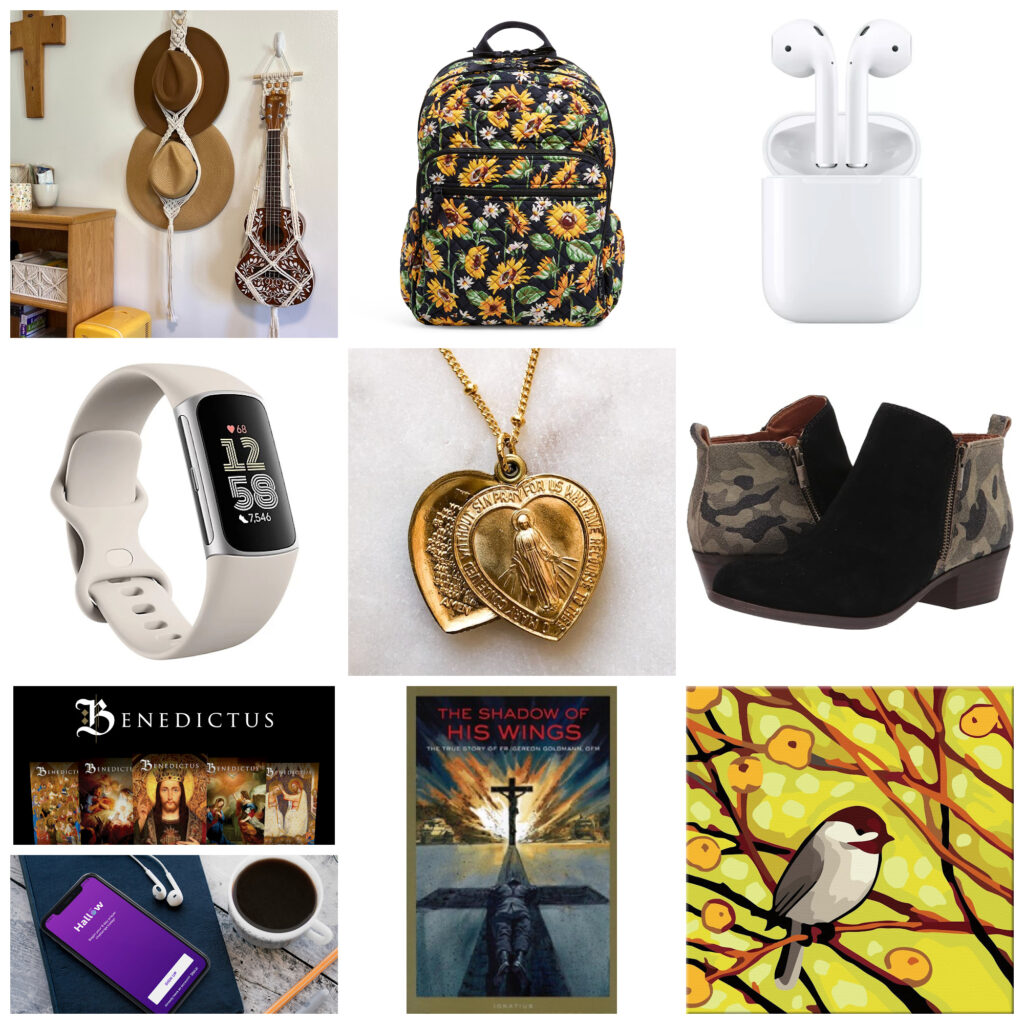 Scout's Picks – Age 16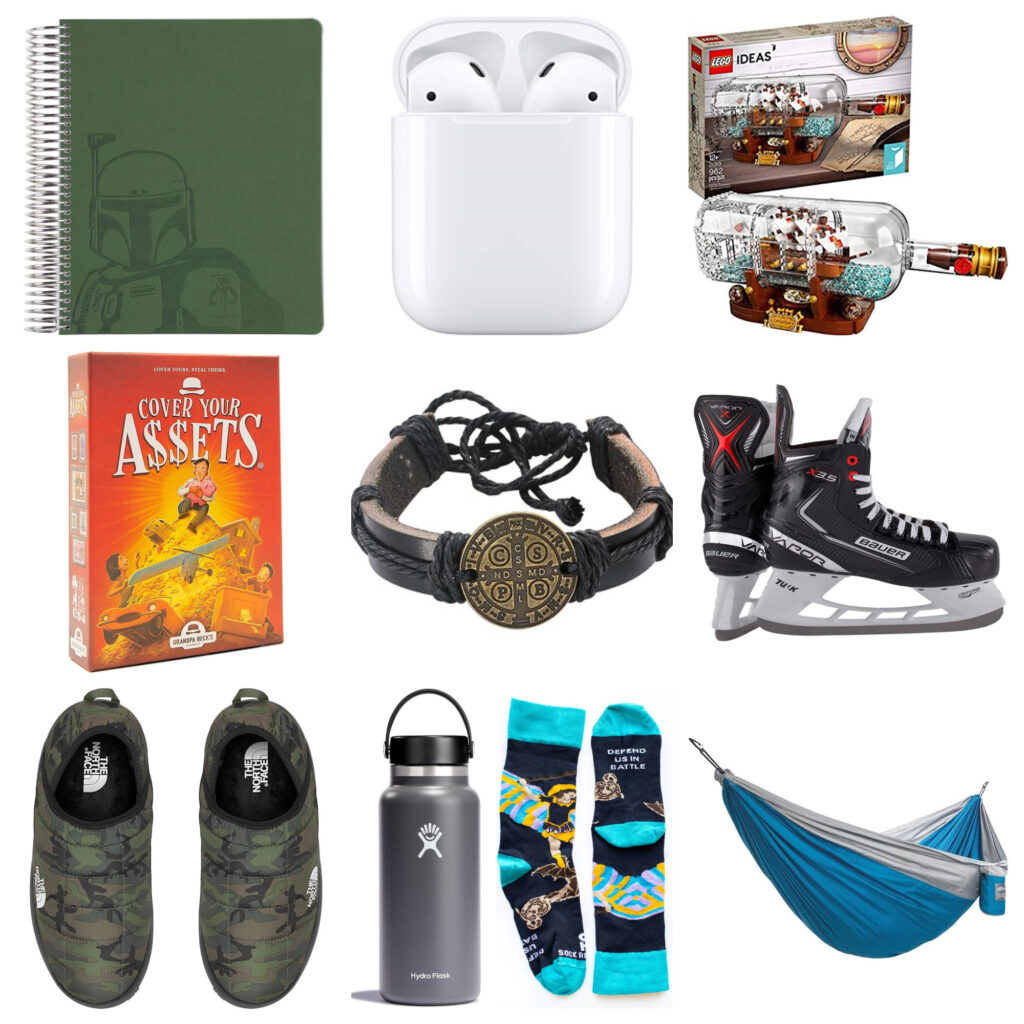 Rose's Picks – Age 13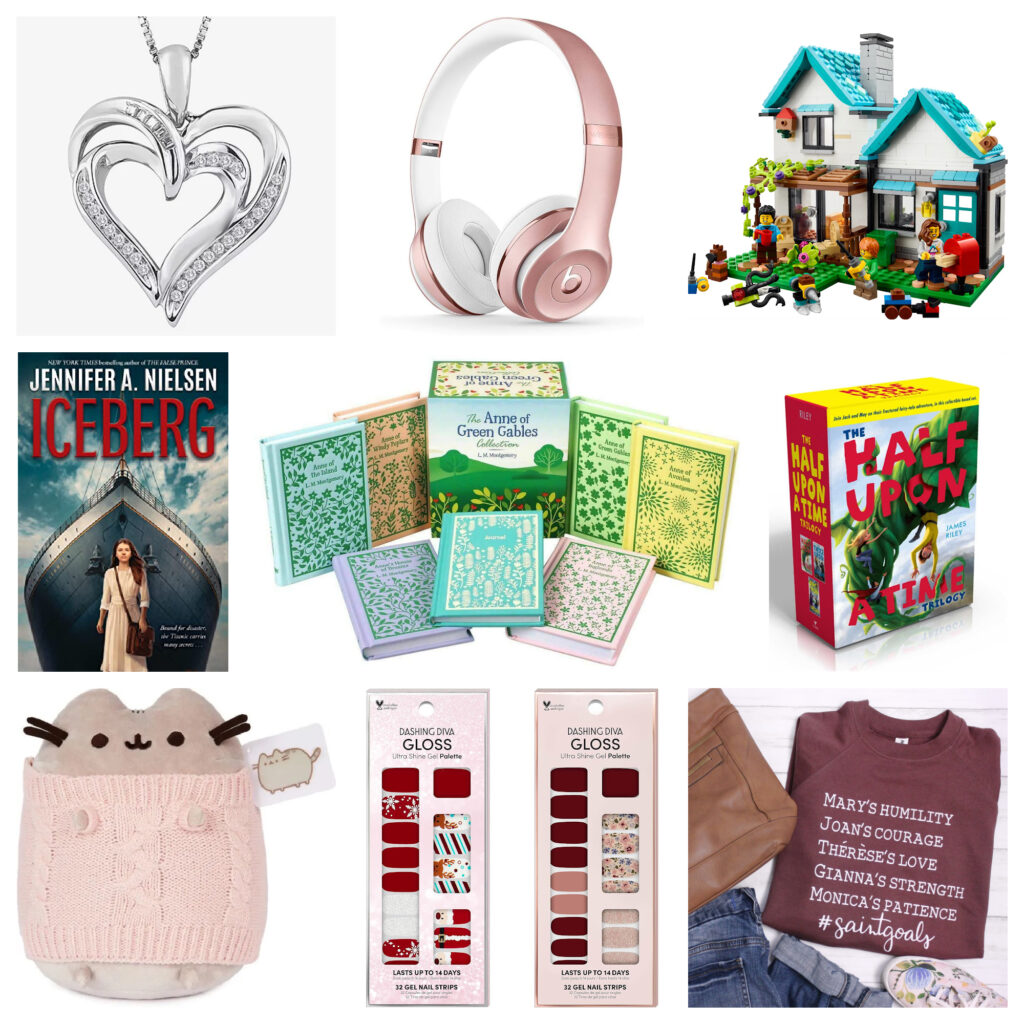 Bud's Picks – Age 11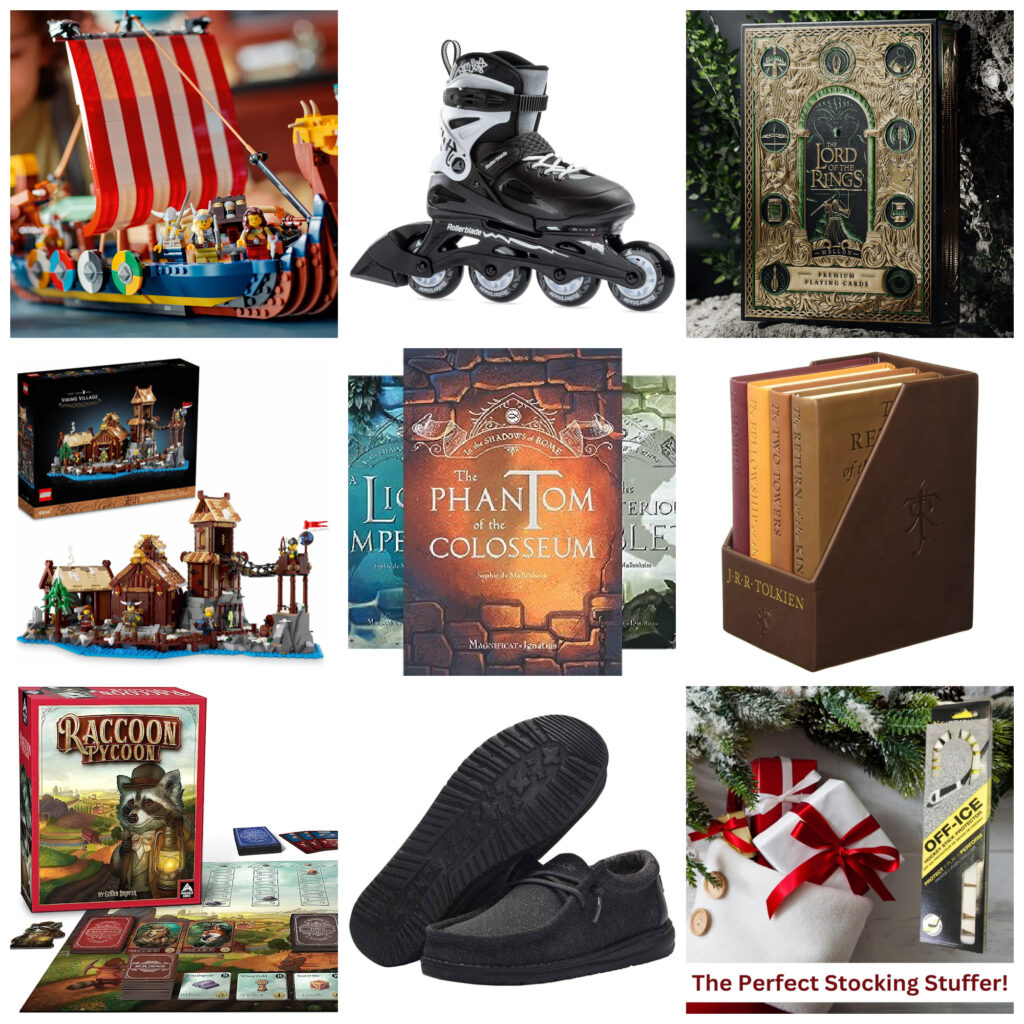 Grace's Picks – Age 6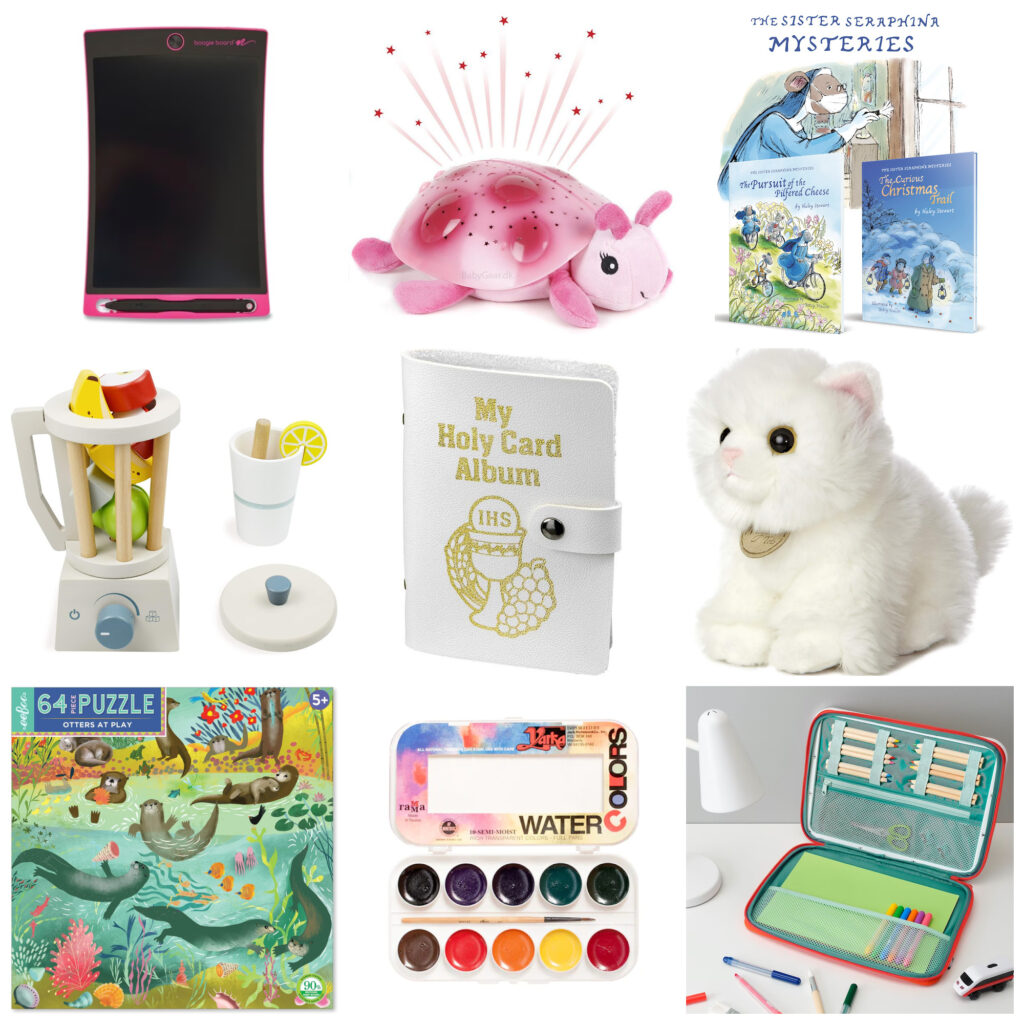 Joy's Picks – Age 4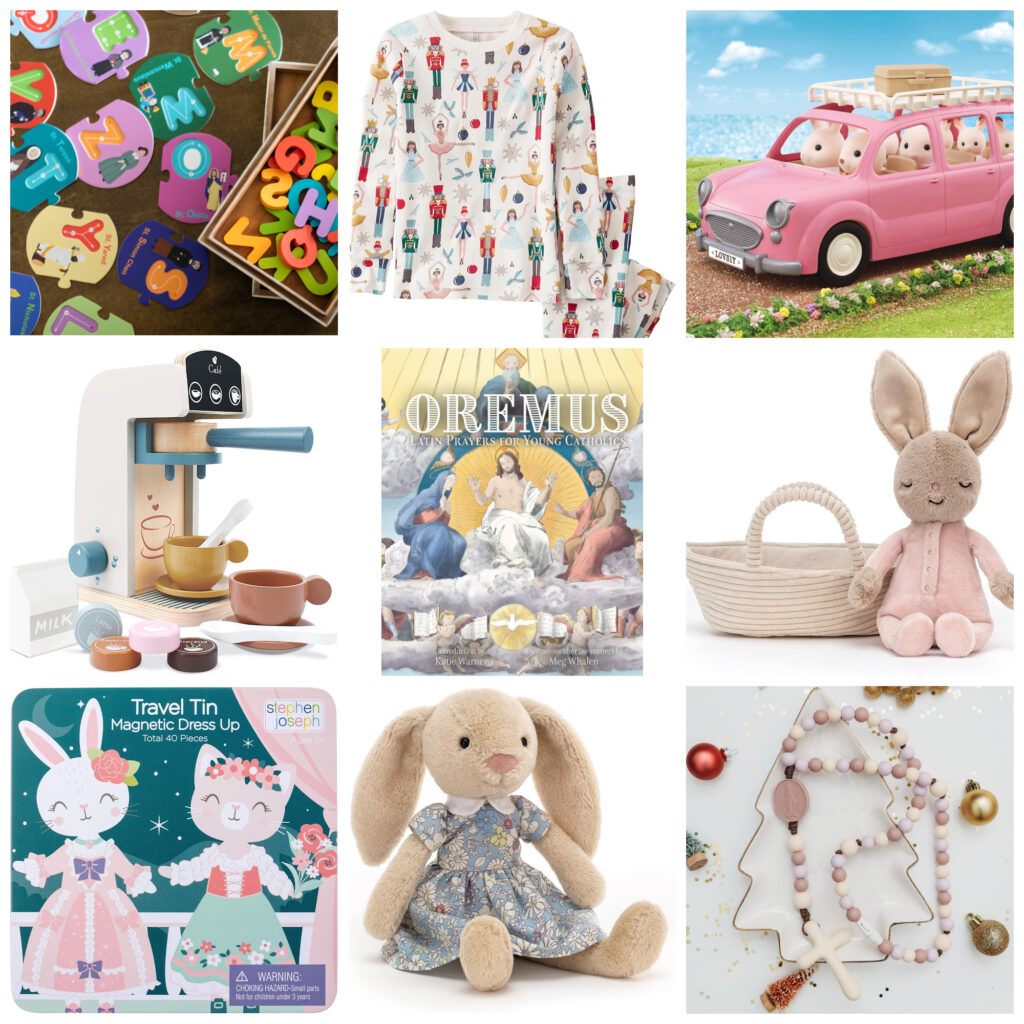 Favorite Wooden Toys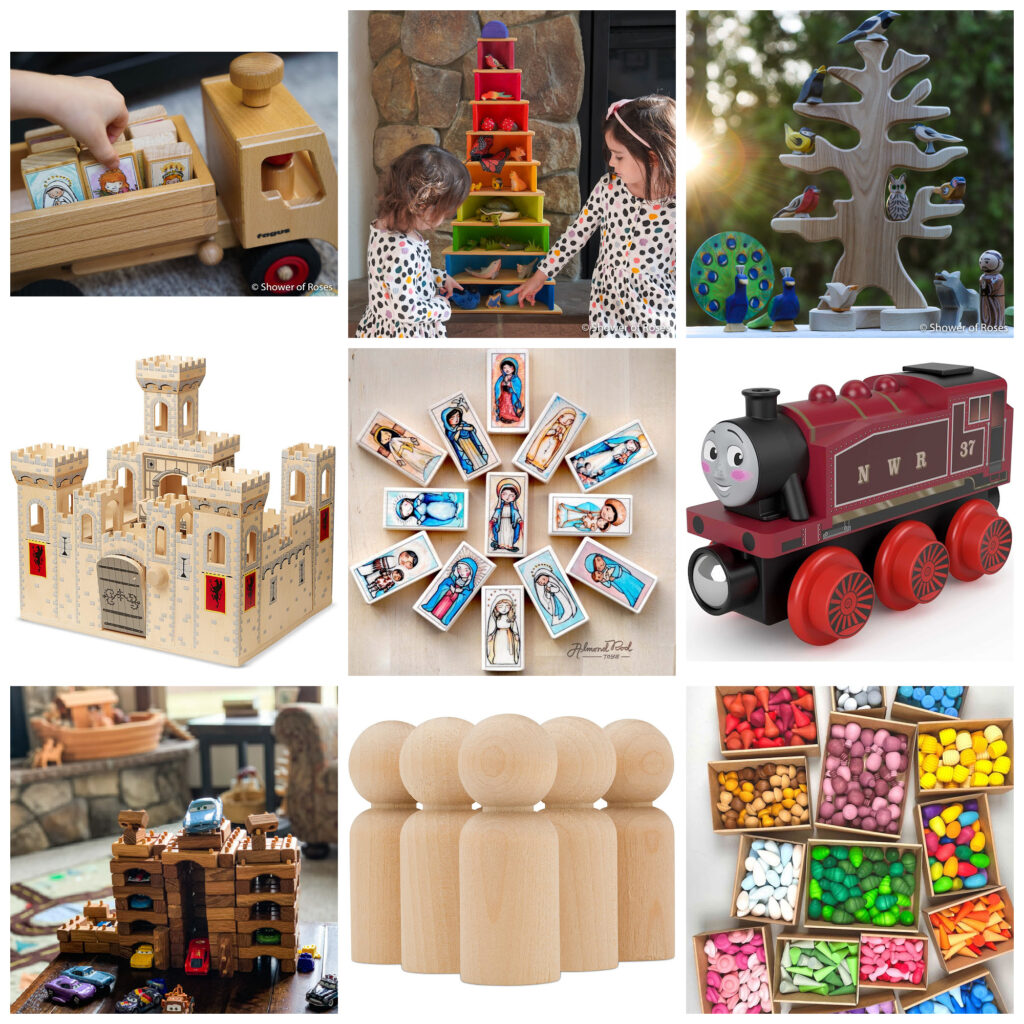 This list doesn't change much from year to year but links are updated where necessary:
Gift Ideas for Catholic Women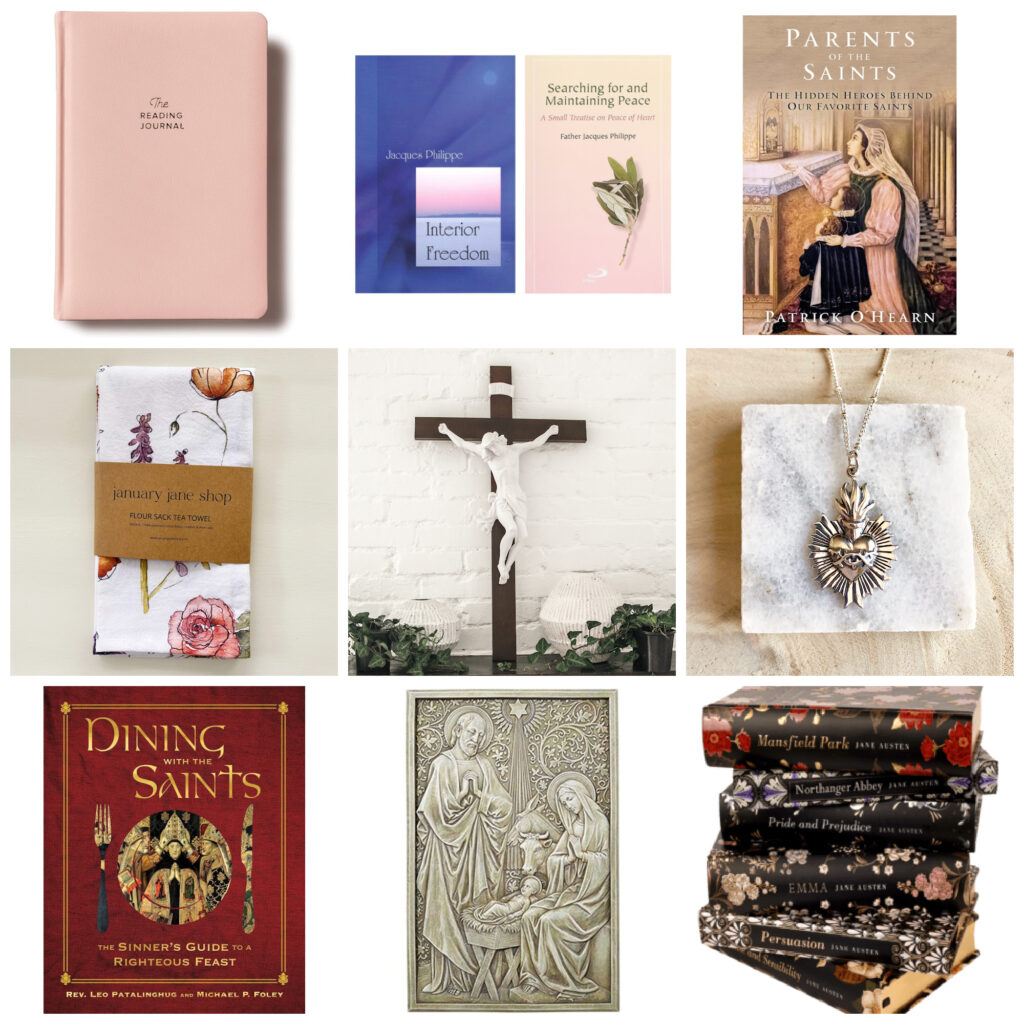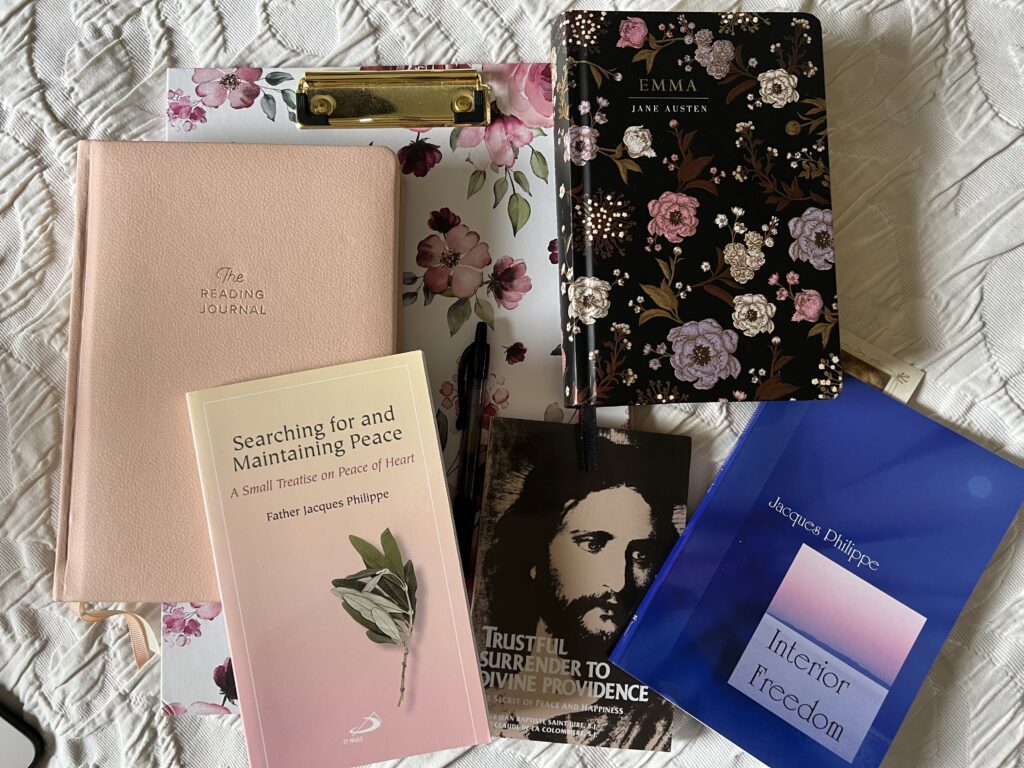 Here's a peek at what I'm currently reading 💕
Gifts Ideas for Catholic Men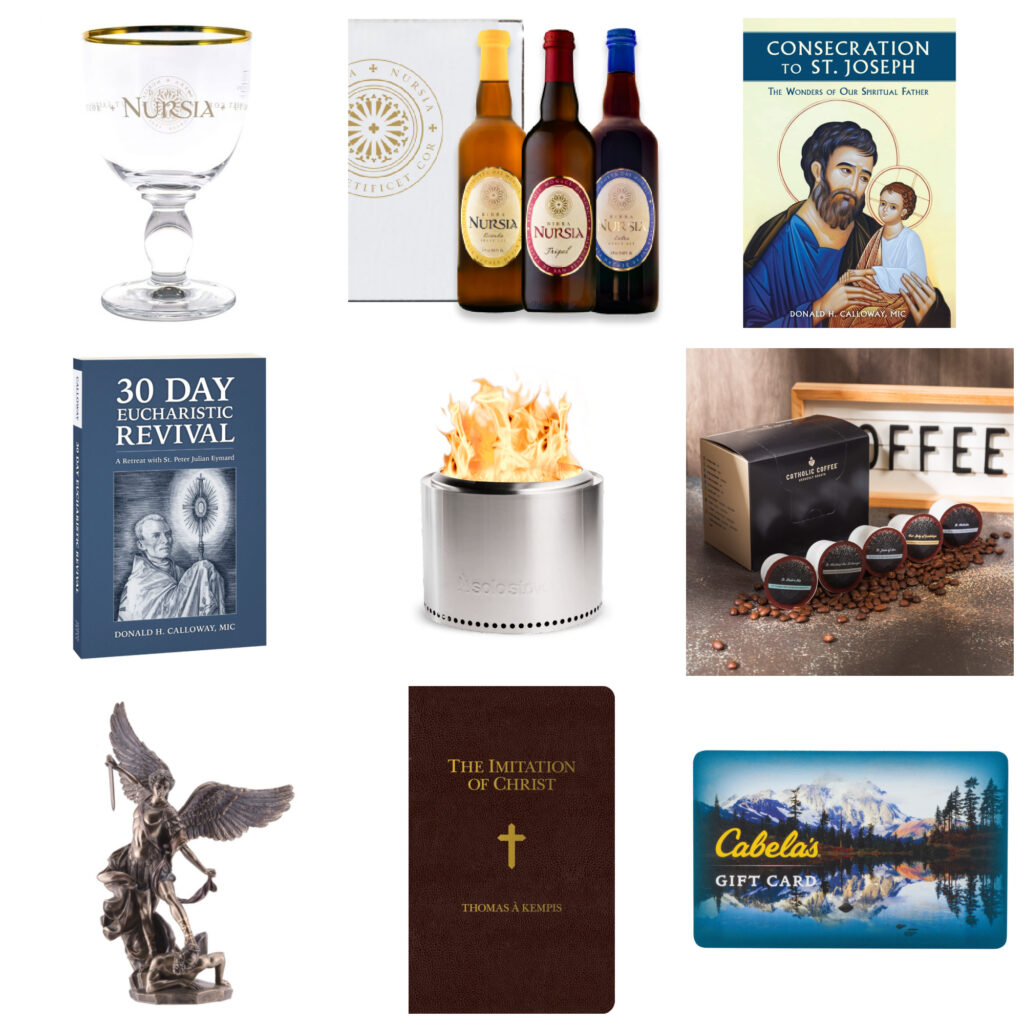 Board Games – Family Favorites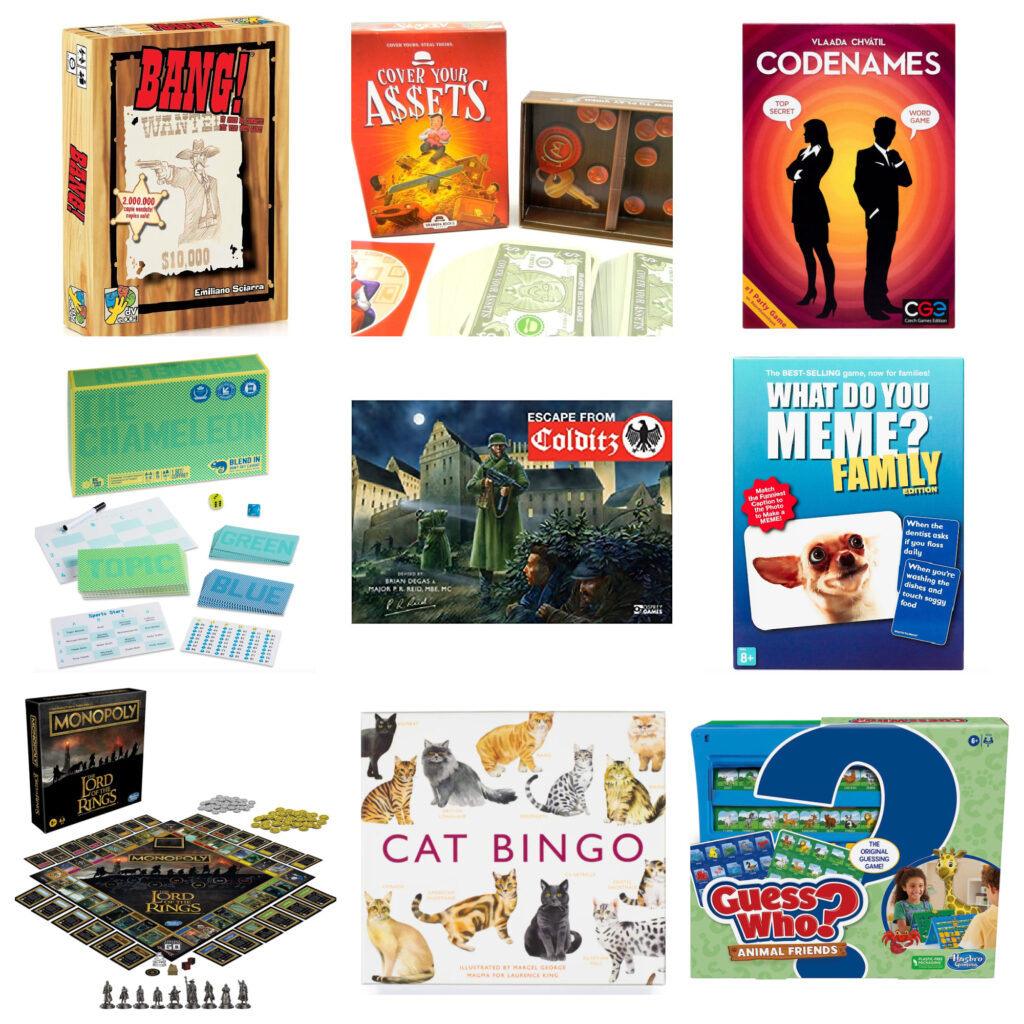 Top three this year than have been played a lot: Bang!, Cover Your Assets and Raccoon Tycoon. If you have any favorites I'd love to hear about them! We are always looking for great new games.
Catholic Family Games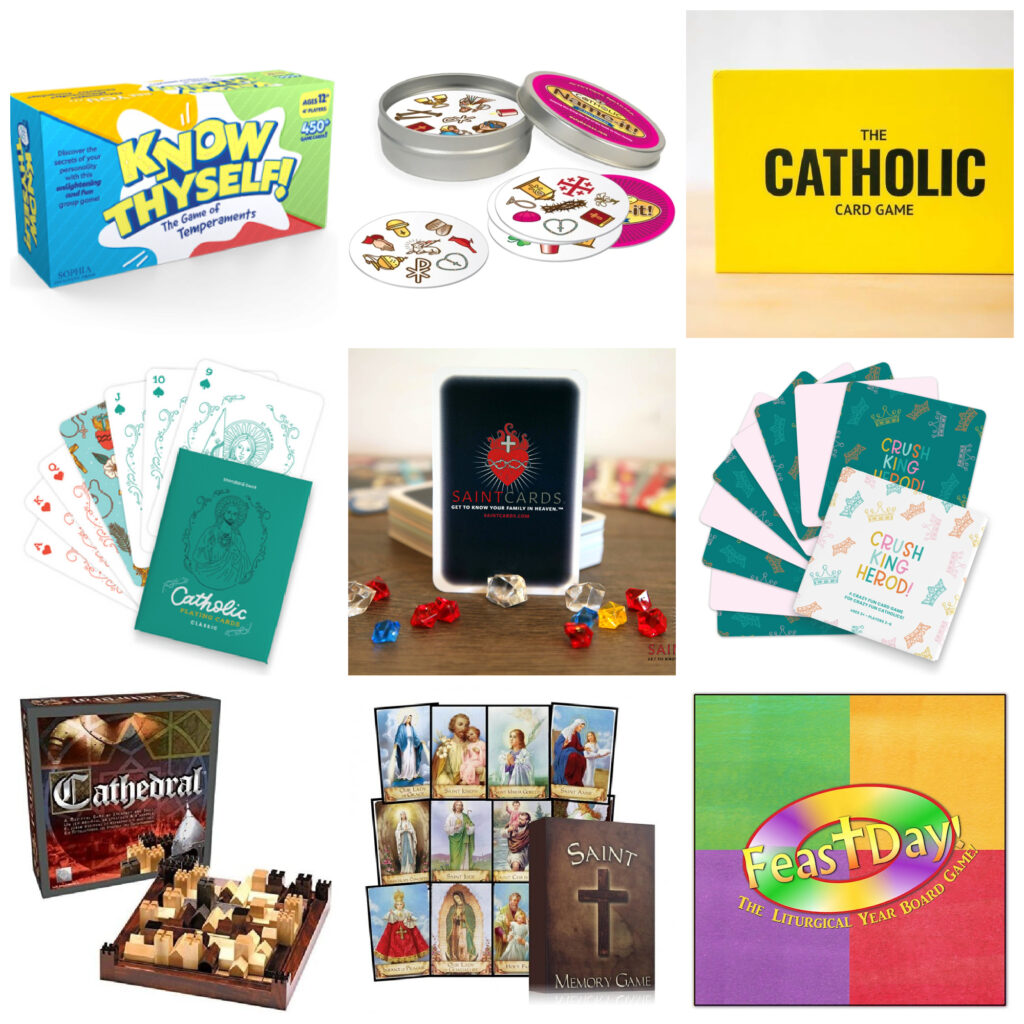 Christmas Puzzles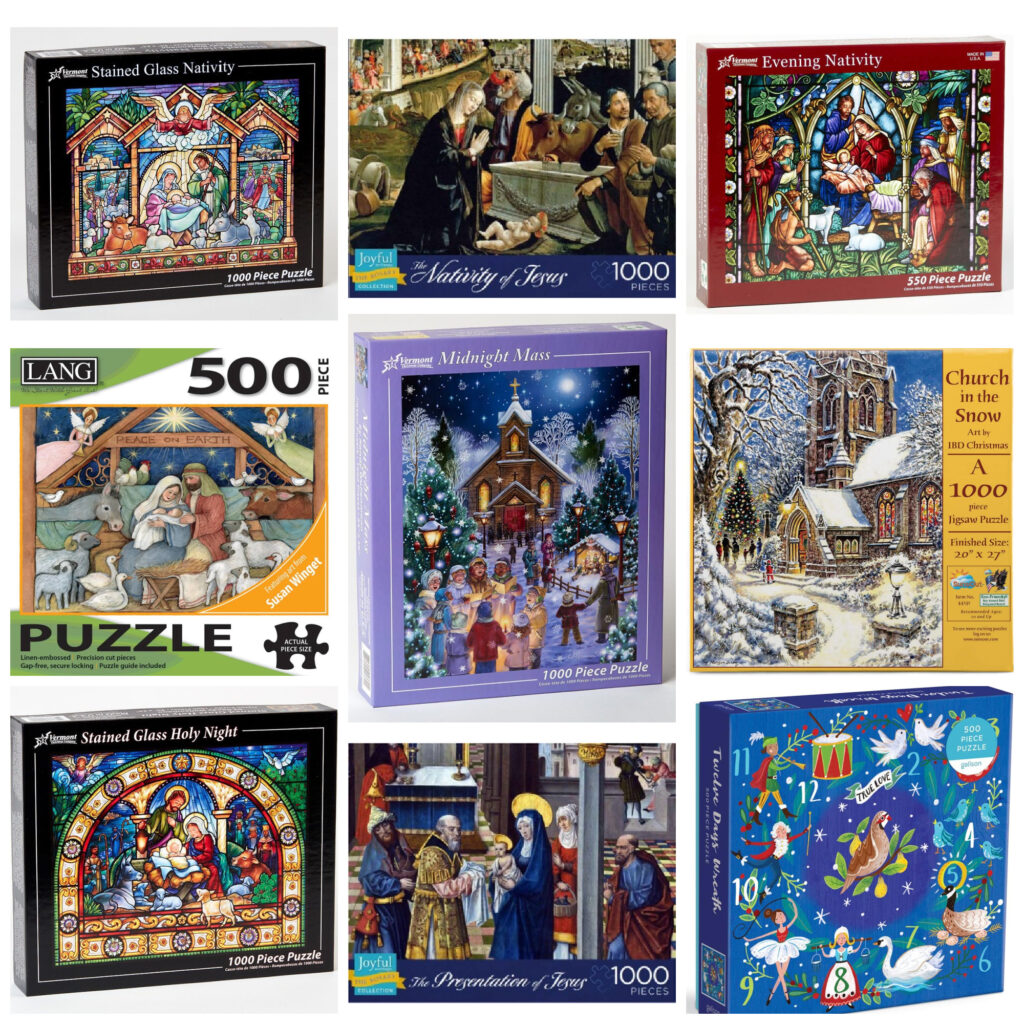 Our family loves putting together puzzles during Advent and Christmas. Here are some puzzles that are currently available to purchase:
Advent & Christmas Music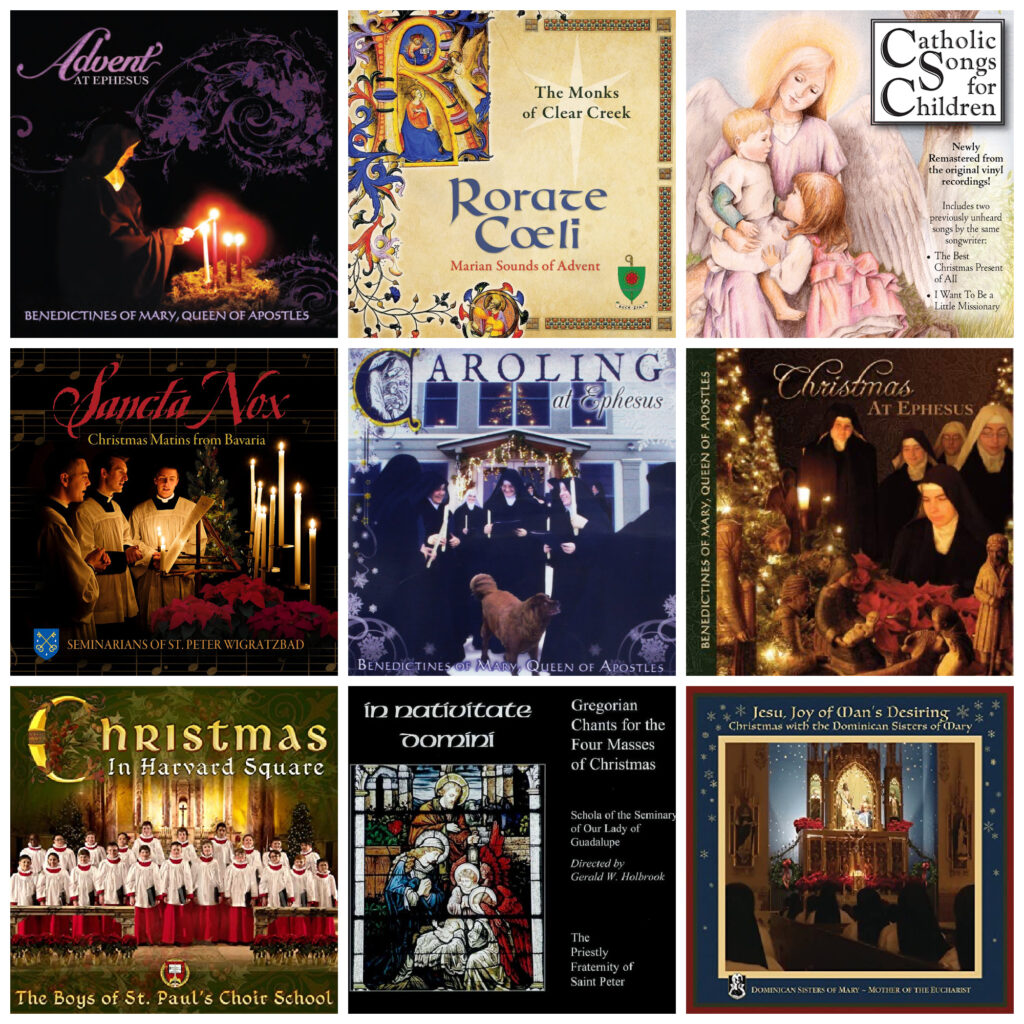 *We also love the Christmas music from Celtic Thunder, Michael Buble, Bing Crosby and so many others! I'd love to hear your favorites!
2024 Catholic Calendars and Planners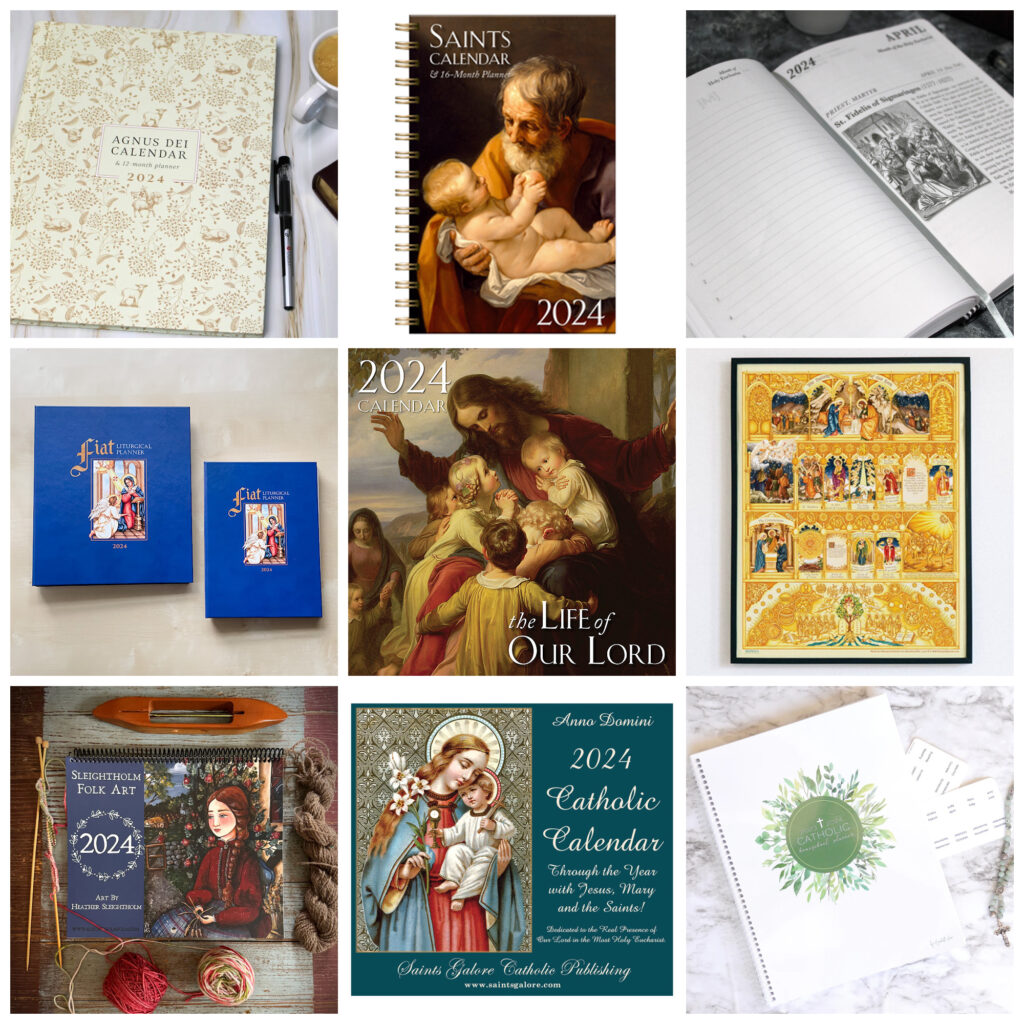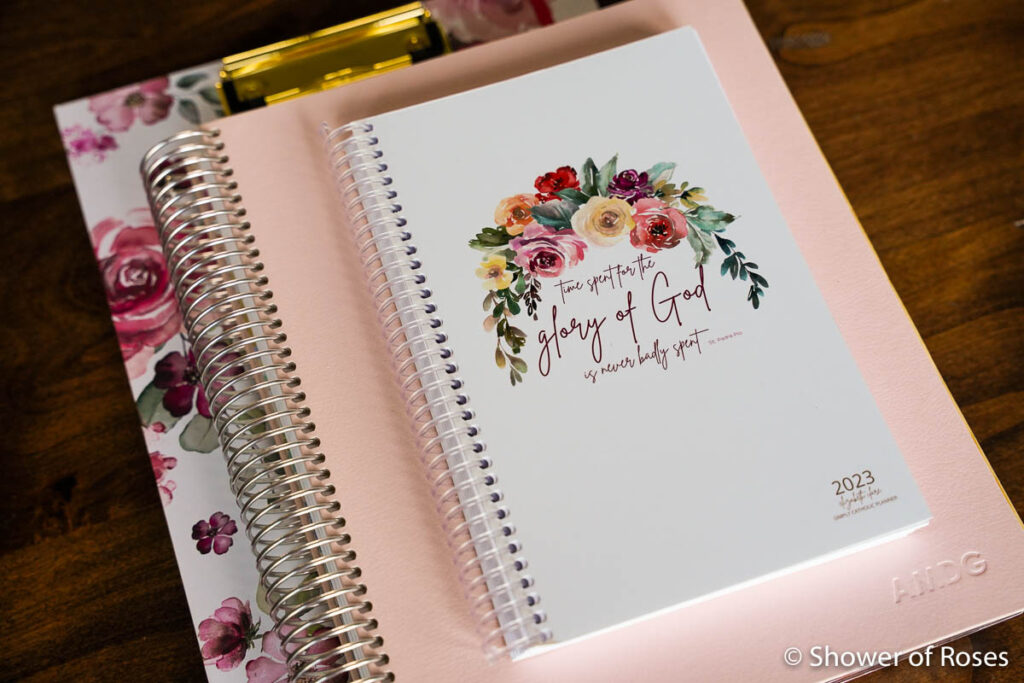 Here are the links to all of our book lists, our 2023 Advent Book Basket and the list of books our children will receive this year on the feast of St. Nicholas.
+ + +
Shower of Roses Christmas Giveaway
This year I'm giving away 30 PRIZES with a combined value of $3,200!
(There will be 30 winners – one for each prize. You have more than one way to earn entries so you could possibly win more than one prize! Thank you so much to all these generous businesses for sponsoring the annual Shower of Roses Christmas Gift Guide Giveaway! Please consider supporting their businesses with your Christmas Shopping this year.)
+ + +
Prize #01 – A beautiful 8×10 oil painting of the Blessed Mother with 24 kt gold leaf mounted in an ornate frame by Caitlin McCarthy. Caitlin is 15 this year and a freshman. She can be found sketching or painting in her free time and her favorite subjects are the Blessed Mother, other saints, religious themes, and children having adventures. Sponsored by Live, Love & Sacred Art ($467 Value)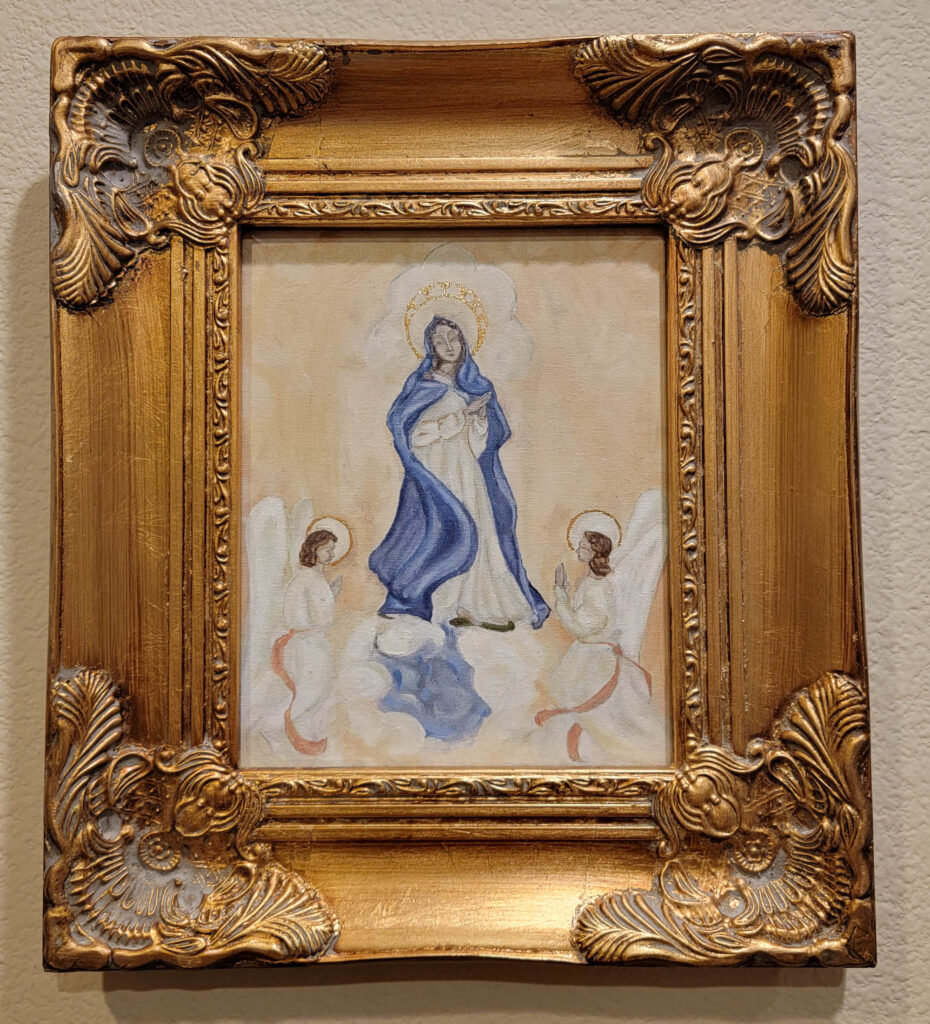 + + +
Prize #02 – Catholic Chaplet of the Month, 3 month subscription sponsored by Come Holy Spirit Rosaries & Gifts ($256.00 Value)
Catholic Chaplet of the Month is an exclusive opportunity to explore our rich and diverse Catholic faith. Each month you will receive a handmade, solid bronze chaplet with a curated prayer card and storage pouch, plus special access to directions on praying with your chaplet, history of the devotion, reflections, and many other resources to assist you in your spiritual enrichment.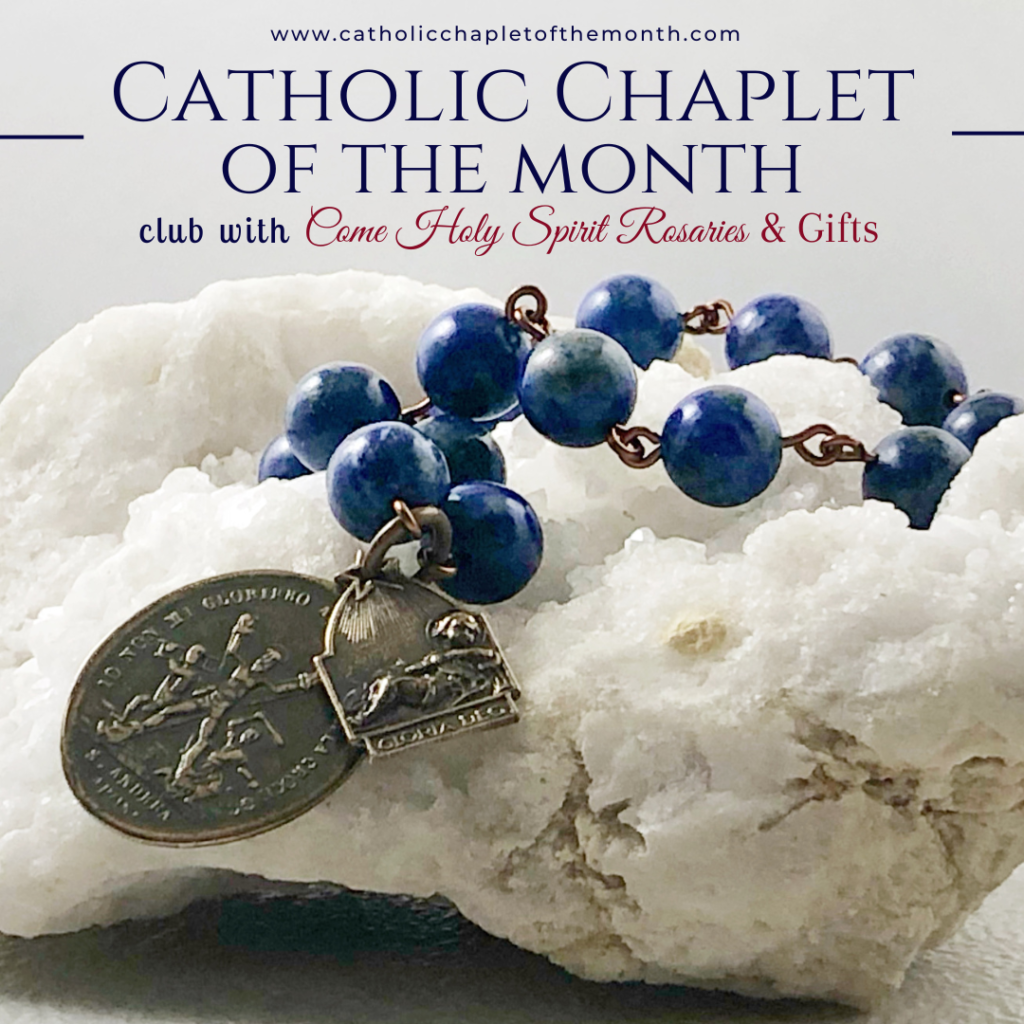 + + +
Prize #03 – Special SaintCards Bundle! Includes: SaintCards: Base Game, Deluxe Blue Game Mat, SaintCards: Duel Expansion, and the Mendicant Orders Expansion w/Purple Game Mat! Total of: 212 SaintCards, 2 Deluxe Game Mats, 2 Jesus Cards, and 100 Treasures! Sponsored by SaintCards ($175.00 Value)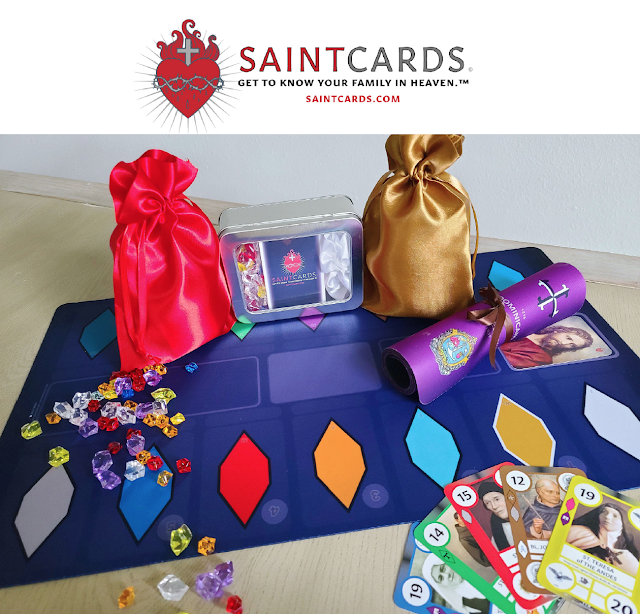 Enter Promo Code SHOWEROFROSES at beginning of checkout to SAVE 10%
+ + +
Prize #04 – Includes: Double-sided Advent to Christmas Wooden Wreath Set, Our Lady of Guadalupe Wooden Prayer Candle, Our Lady of Guadalupe Rag Doll, Nativity Cookie Cutters & Stamps Set, Christmas Nativity Wooden Cube Puzzle, and Nativity Holy Family Rag Doll Set sponsored by Shining Light Dolls ($159.90 Value)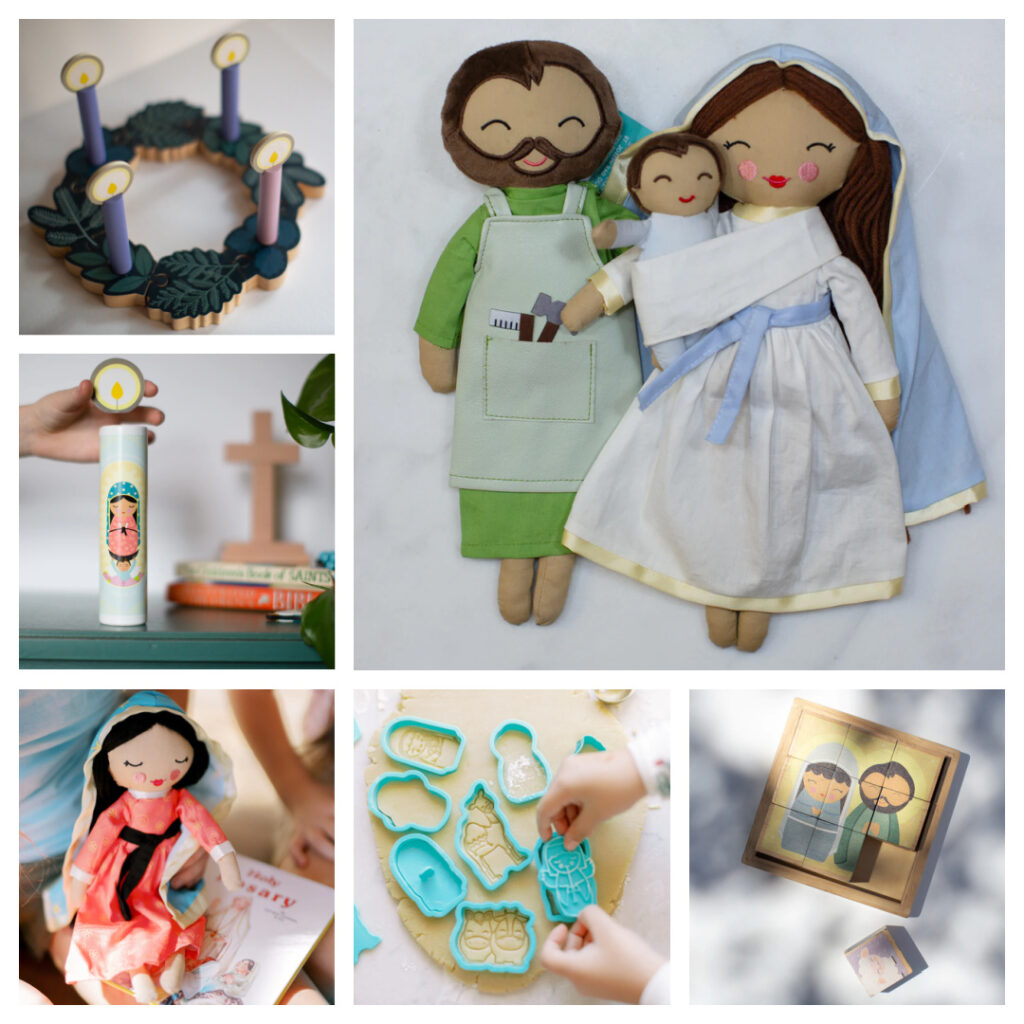 Save 10% with code SHOWEROFROSESBLOG
+ + +
Prize #05 – Calligraphy and Illustration of St. Therese of Lisieux, unframed. 7″ x 9″ Watercolor and Japanese Sumi inks on Bristol Board. Calligraphed quote of St. Therese: "We must sweeten our minds by charitable thoughts." Something nice to hang in the homeschool room, children's bedroom, home altar, kitchen, etc. 🙂 sponsored by Pelican Printery House ($150 Value)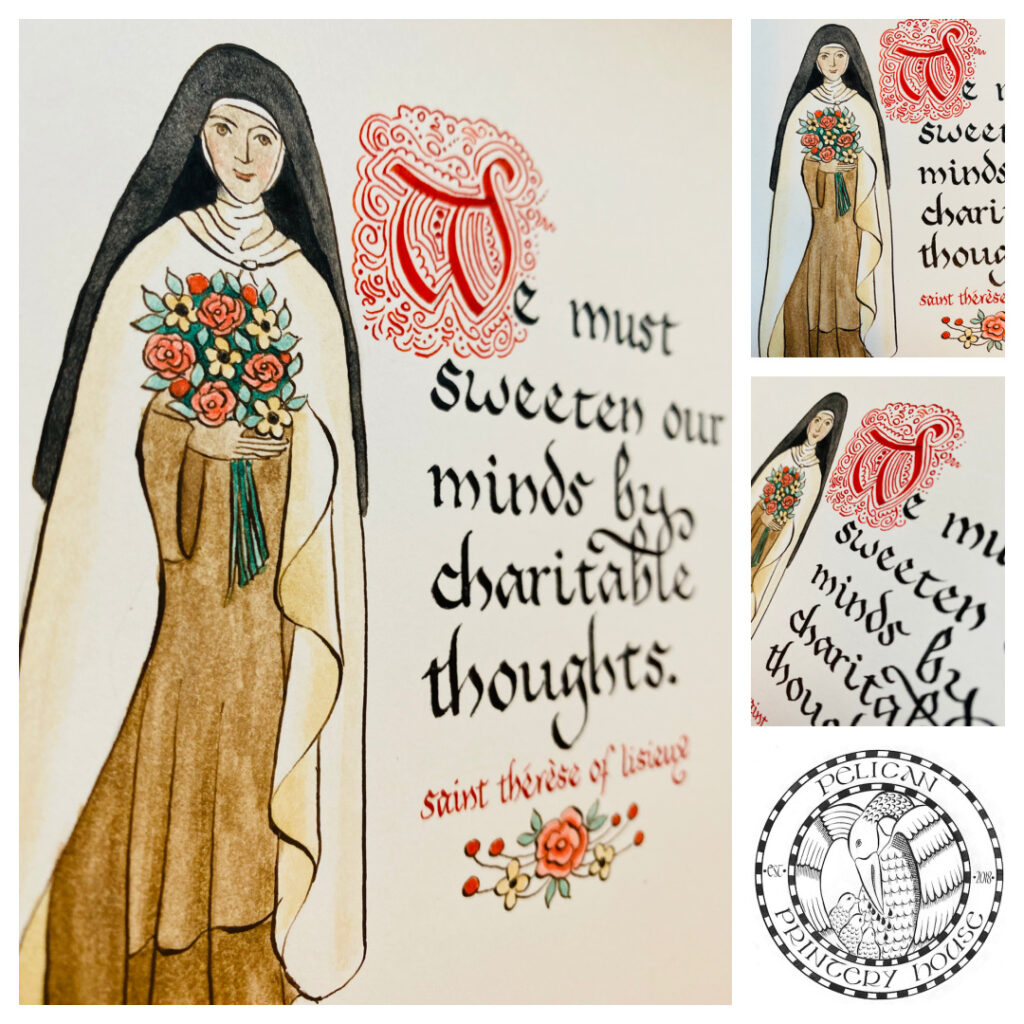 + + +
Prize #06 – Free subscription to our 2024 Quarterly Subscription Box! Each quarter a new item will arrive in the mail with a unique piece of jewelry and a special note behind the inspiration of each piece. Centered around the liturgical seasons, boxes will be sent within each quarter (April-May, July-September, October-December) with a theme related to a special feast day or celebration. By the end of 2024 recipients will receive four handmade gifts. Sponsored by Telos Art Shop ($150.00 Value)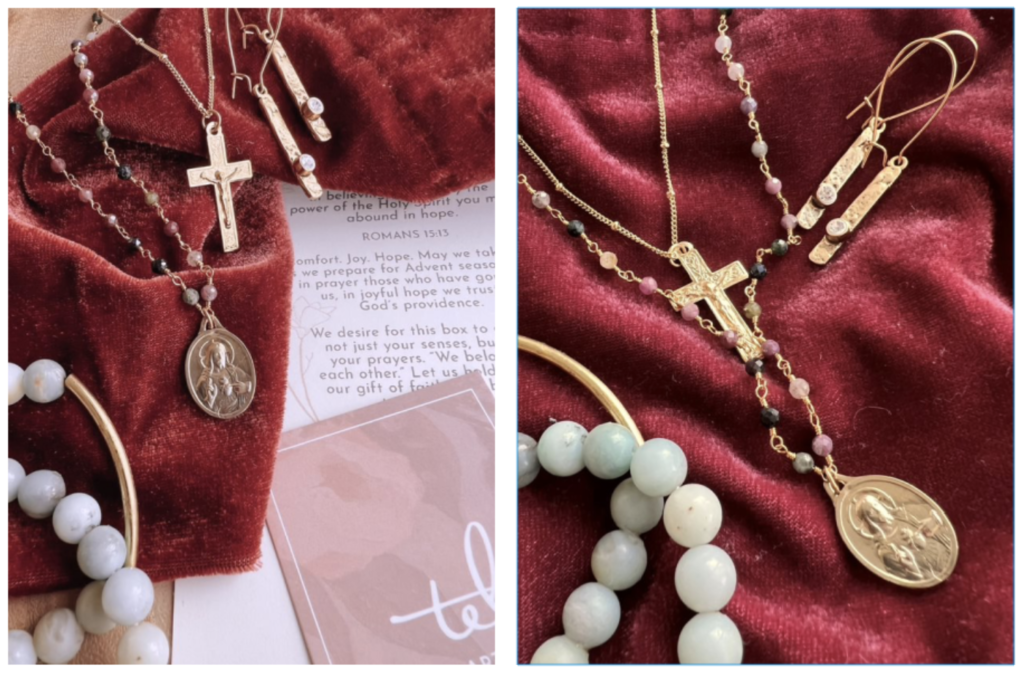 Save 10% with Coupon Code ROSES
+ + +
Prize #07 – 2024 Wall Calendar, 2024 Catholic Planner, Stations of the Cross Flip Book, Rosary Flipbook, Planner sticker sampler sponsored by Elizabeth Clare Shop ($140.00 Value)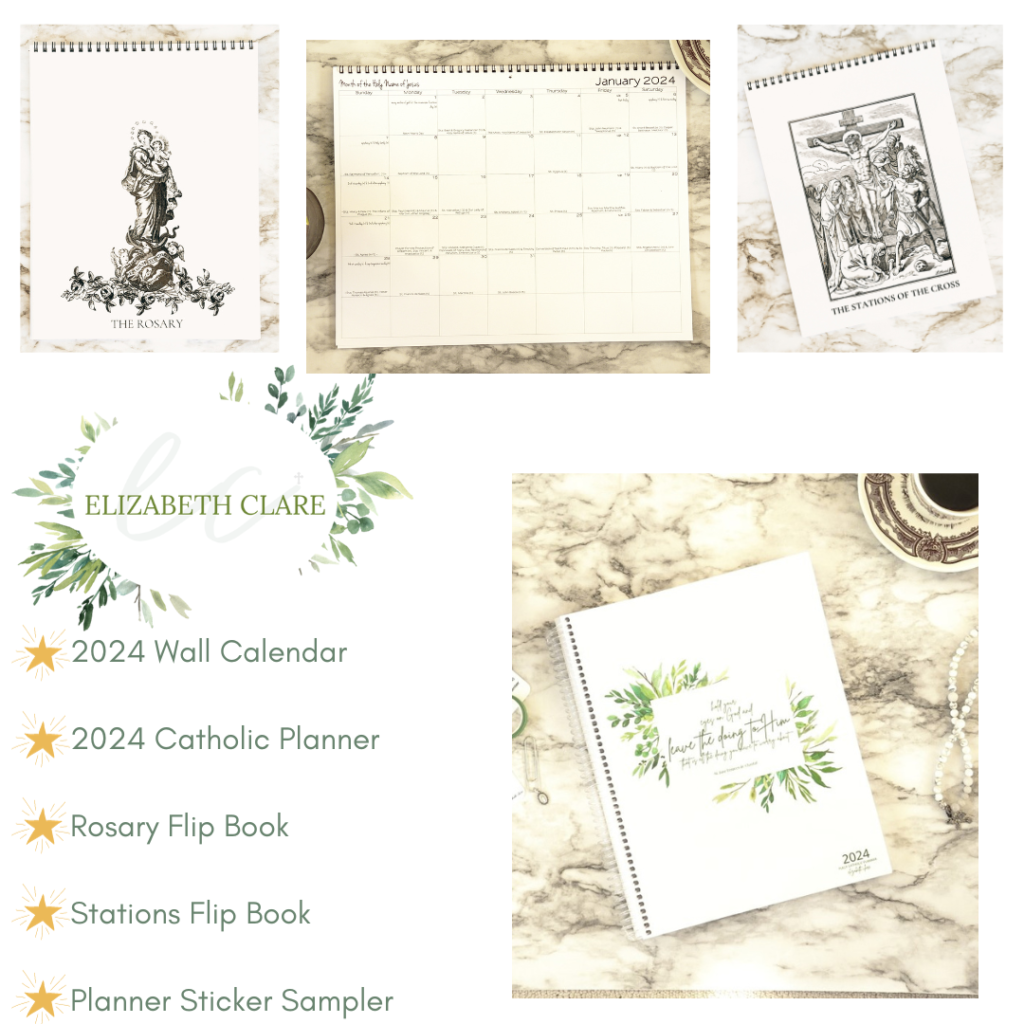 Coupon Code: "ROSES20" for 20% Etsy store through December 15, 2023
+ + +
Prize #08 – My Little Patron has created a special Immaculate Heart of Mary Rosary with pearl pink 10mm Ave beads and large blue resin heart Pater beads paired with a large 5×7 holy card, Our Lady of the Rosary wooden rosary hanger, saint stickers, printed saint bunting, a bundle of all the new printables made this year: Marian Bunting & Holy Cards, Jesus Bunting & Holy Cards, Set 4 Saint Holy Cards, School Holy Cards & Prayer Posters, Saints Bunting, and the Traditional Rosary Guide printable. Sponsored by My Little Patron ($121.00 Value)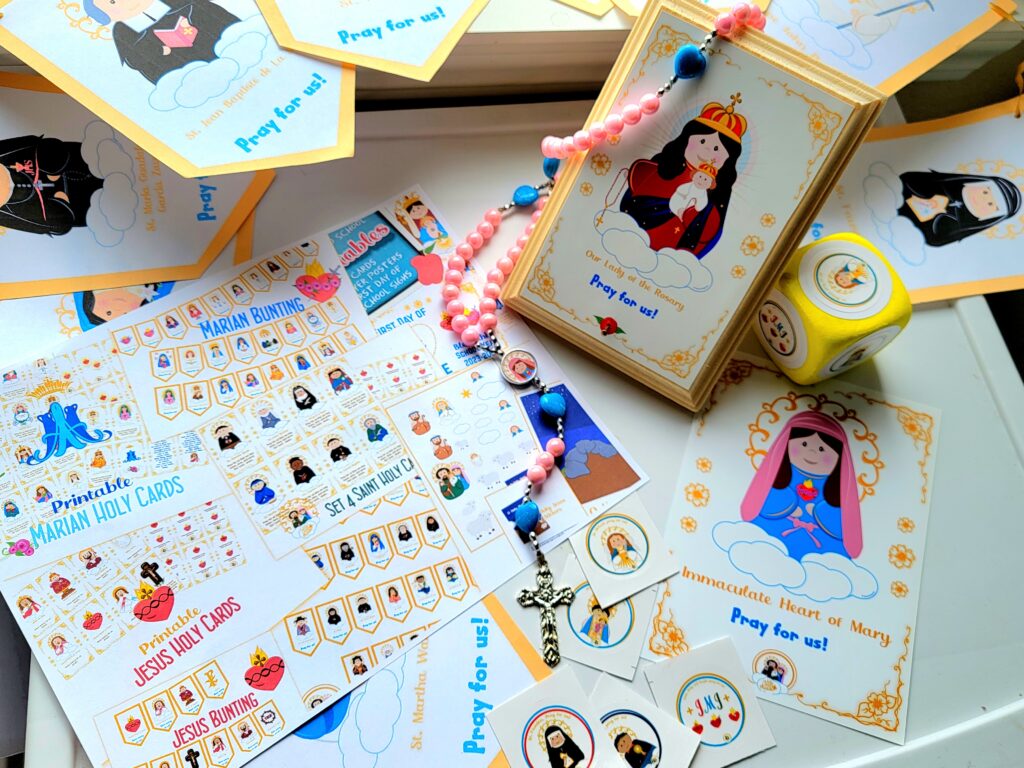 Enjoy the code ROSES30 for 30% off printables from Etsy
+ + +
Prize #09 – Shower your loved ones with prayerful gifts this Christmas! Joseph and Leane Ambrosio of Prayer Pillowcases are giving away this Family Advent + Gift Bundle specially chosen to nurture the faith in your family! Prayer Pillowcases are lovingly designed to bring Catholic art and prayer to families in practical way – who doesn't use a pillowcase? 😊 Their designs for all ages can be personalized too.
The Family Advent + Gift Bundle of 7 pillowcases includes two Holy Family designs, including a Child's Prayer for Advent, for joyful additions to your Christmas traditions. Looking for lasting stocking stuffers? Just roll and tie with a ribbon! You receive the essential prayer to St. Michael the Archangel, Our Lady of Good Counsel with the Hail Holy Queen, Mother Teresa's Peace Quote, and the Circle of Friends Saints, one for boys and one for girls. Sponsored by PrayerPillowcases.com ($104.00 Value)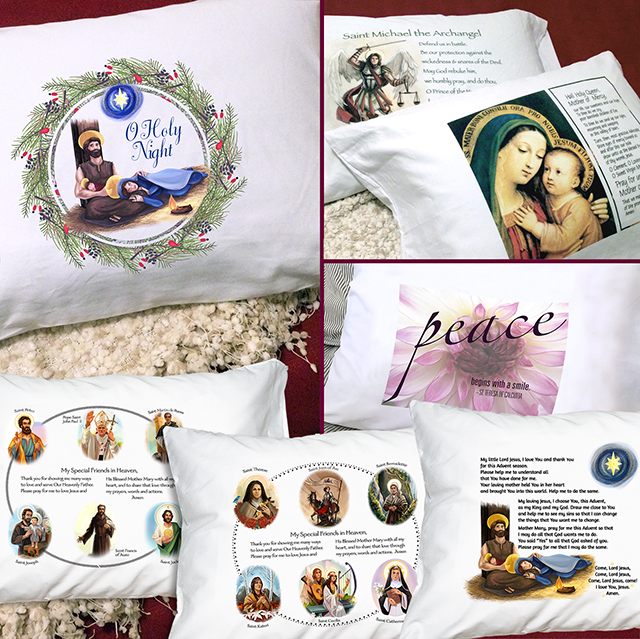 When you buy 3 you'll get one free with code: LoveRoses
+ + +
Prize #10 – Set of 8 Cookie Stamps with Recipe Booklet (Includes: #416 – Snow Star, #463 – Christmas Ornament, #020 – Frosty, #355 – Trumpeting Angel, #023 – Holly Sprig (1), #030 – Christmas Tree, # 368 – Nativity and #271 – Jolly Santa) sponsored by Rycraft Cookie Stamps ($103.92 Value)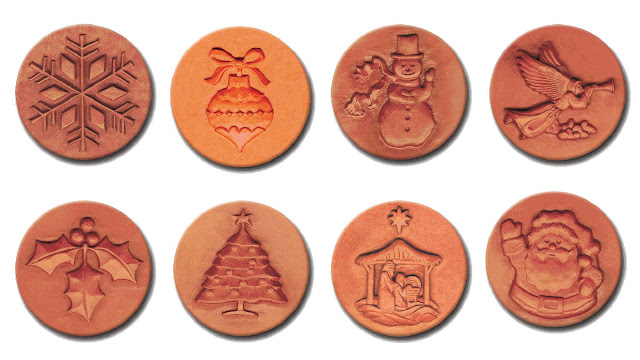 + + +
Prize #11 – Church Playset, the new Jonah and the Whale Bath Set, and the new Paint and Pray Canvas Paint Kit sponsored by Saintly Heart ($100.00 Value)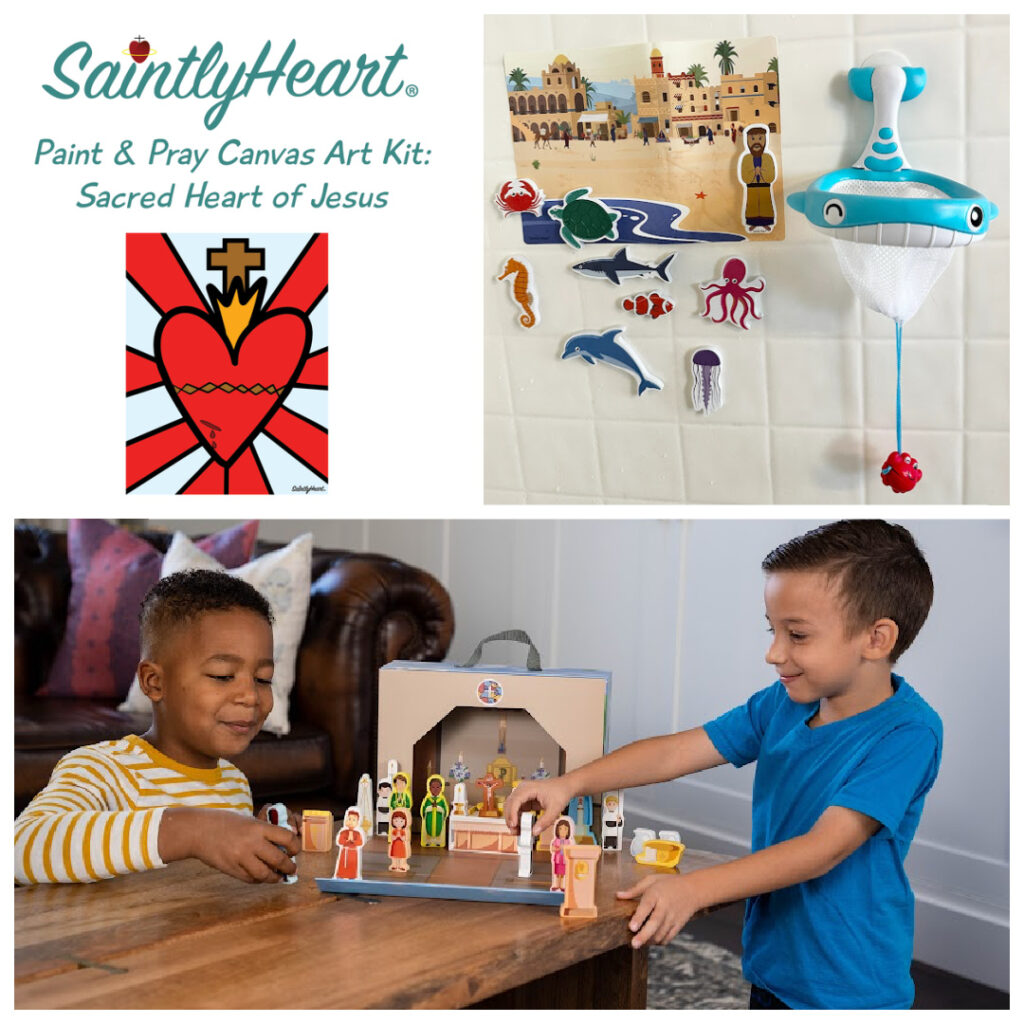 Use Coupon Code Roses15 for 15% off Regular Price Items
+ + +
Prize #12 – New! Solemnity BIG Block Set (7 Blocks) – These blocks are about 50% larger than AlmondRod's well-known and loved Saint Blocks. The newly designed and versatile set can be played with at a little prayer altar, or displayed above a fireplace. Check out the combinations these blocks can be used for during Advent, Christmas, Epiphany, the Annunciation, and the Feast of St Joseph. This is the first of four Solemnity BIG Block Sets that AlmondRod will be introducing in the coming liturgical year to help you celebrate every single Solemnity! sponsored by Almond Rod Toys ($98.00 Value)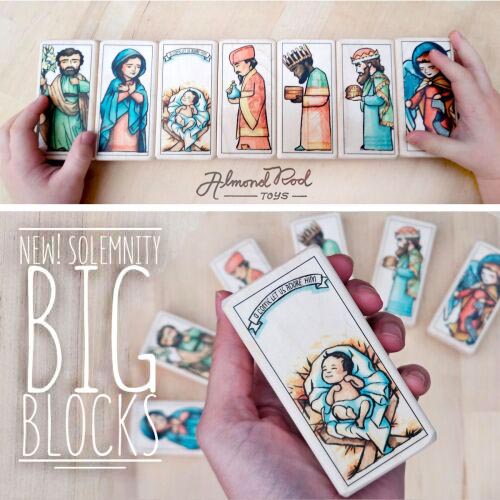 Use code ADOREMUS for 15% off www.AlmondRodToys.com through December 14th
+ + +
Prize #13 – Four books by Catholic author Haley Stewart including The Sister Seraphina Mysteries: The Pursuit of the Pilfered Cheese, The Curious Christmas Trail and The Strange Sound by the Sea, as well as a copy of Jane Austen's Genius Guide to Life: On Love, Friendship, and Becoming the Person God Created You to Be. ($91.80 Value)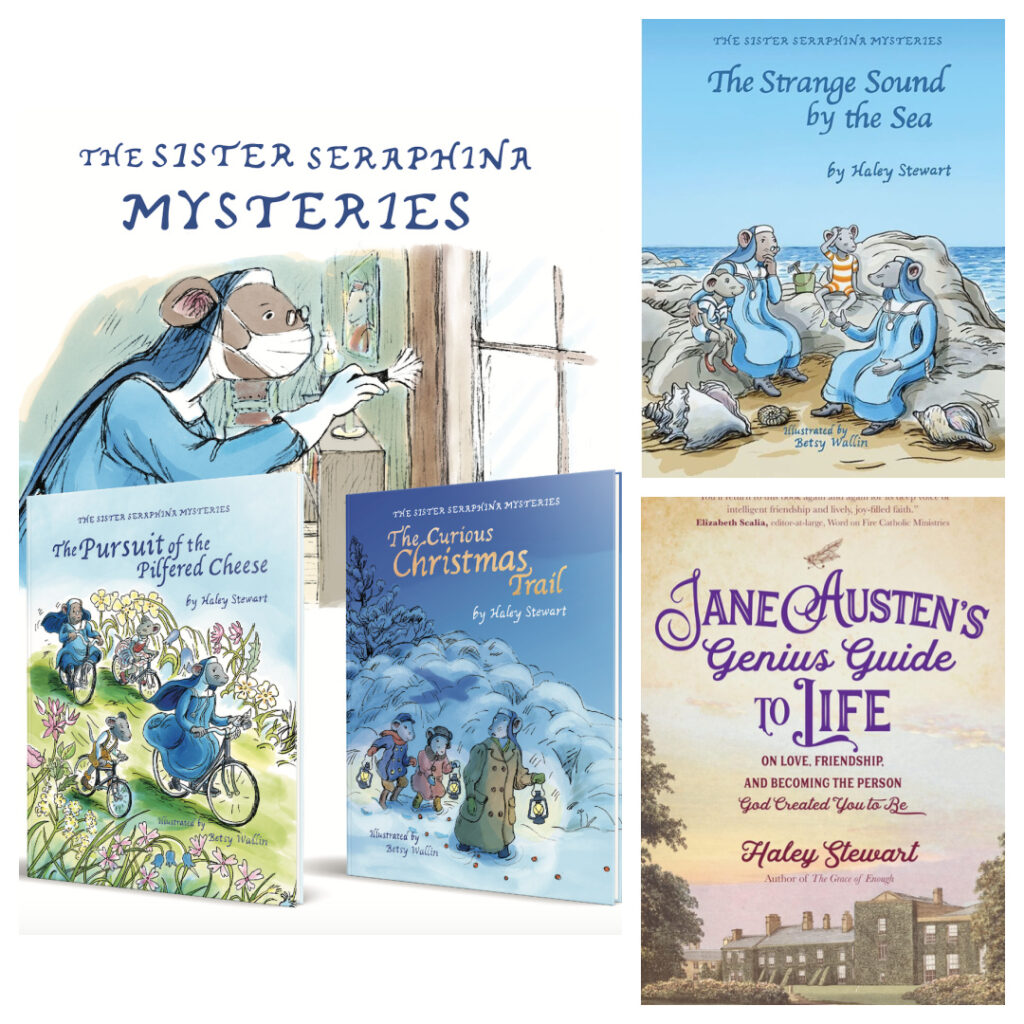 + + +
Prize #14 – Miraculous Medal Jasper Rosary, wire wrapped, from The Rose Picker ($85.97 Value)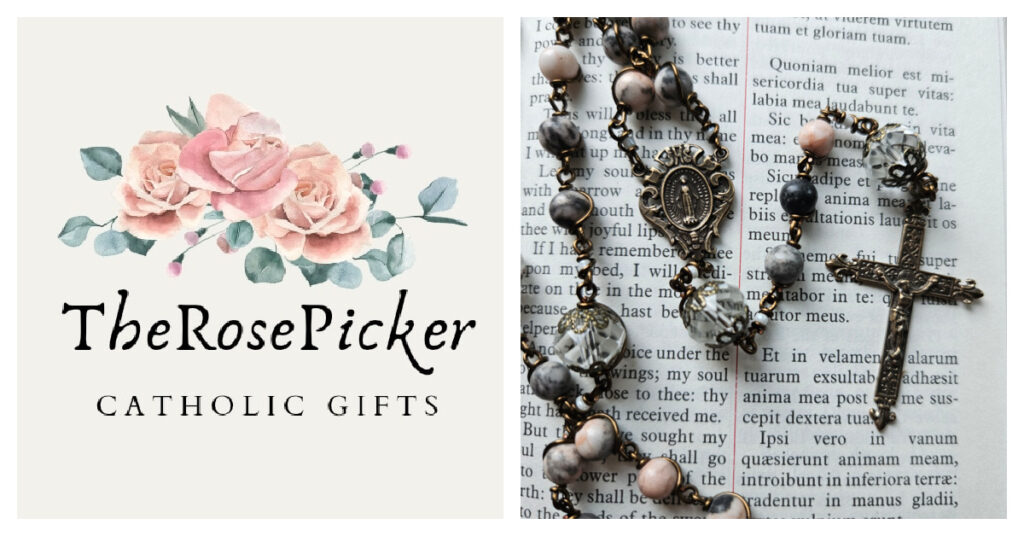 Save 10% off everything using code CHRISTMAS10 until 12/31/23
+ + +
Prize #15 – Include Fiat Traditional Catholic Planner, The Illustrated Liturgical Year Calendar (Christmas Cycle) , The Illustrated Liturgical Year Coloring Book Volume I : (Christmas Cycle 2023-2024) sponsored by Sophia Institute Press ($80.89 Value)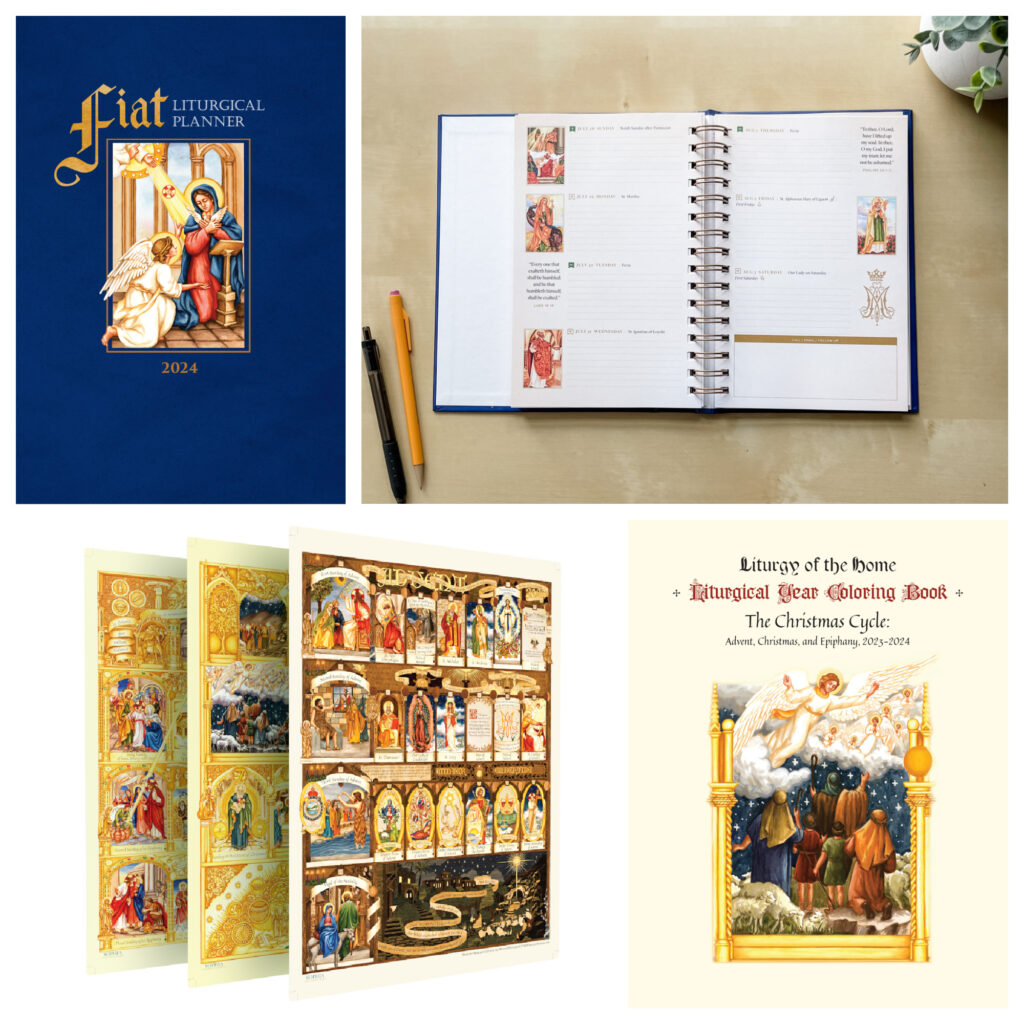 + + +
Prize #16 – St. Hubert Rosary sponsored by Faith Beads ($80 Value)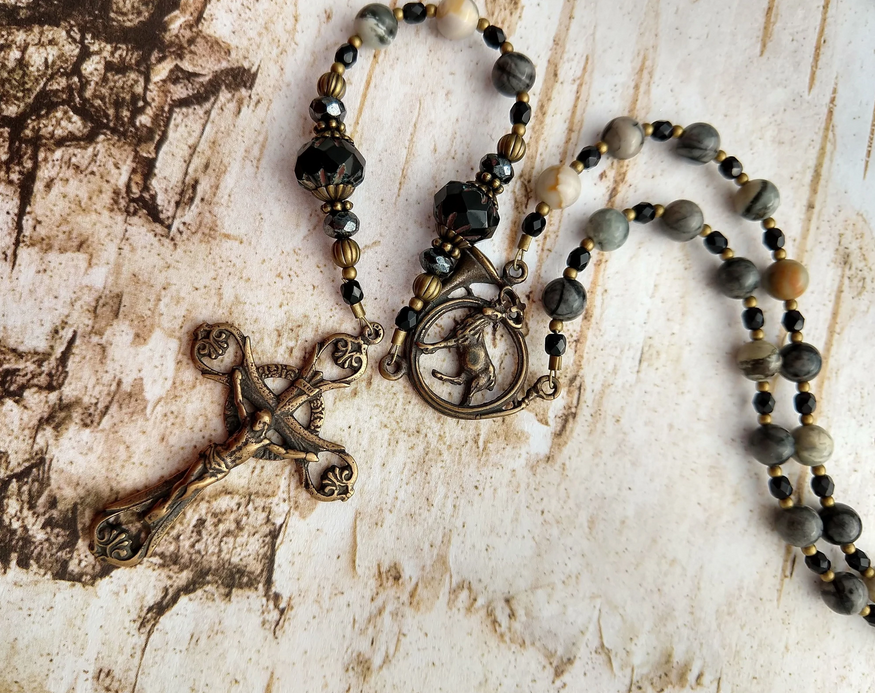 Coupon Code SHOWEROFROSES23 for 15% off thru Dec 15th
+ + +
Prize #17 – 12-month subscription to The Wanderlust Catholic! The winner will receive a full year of adventures and pilgrimages through snail-mail letters featuring fictional pilgrim Bona Therese. Explore the treasures of our faith in this beautiful, engaging journey. Sponsored by Annunciation Designs ($72.00 Value)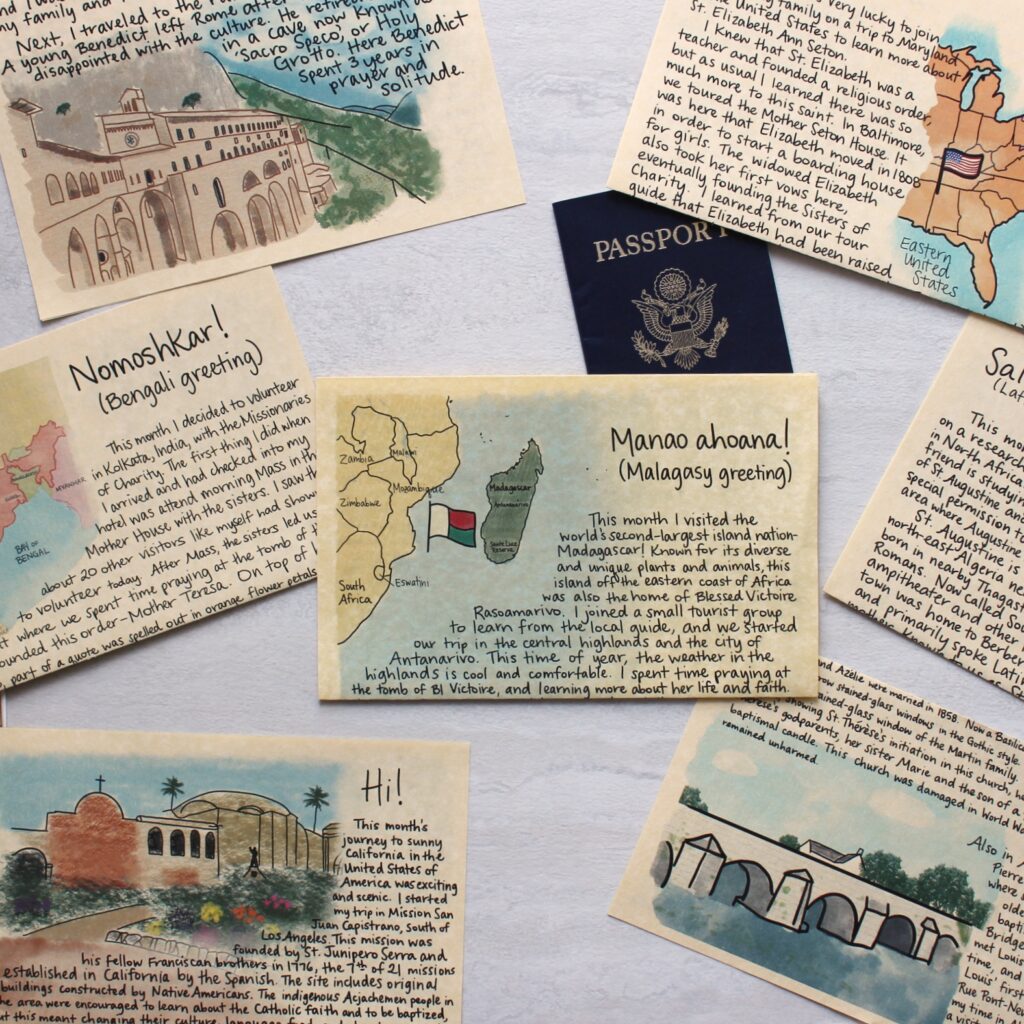 + + +
Prize #18 – Includes the first three books in the In the Shadows of Rome series along with the first three books in The Loupio Series. Sponsored by Ignatius Press ($65.94 Value)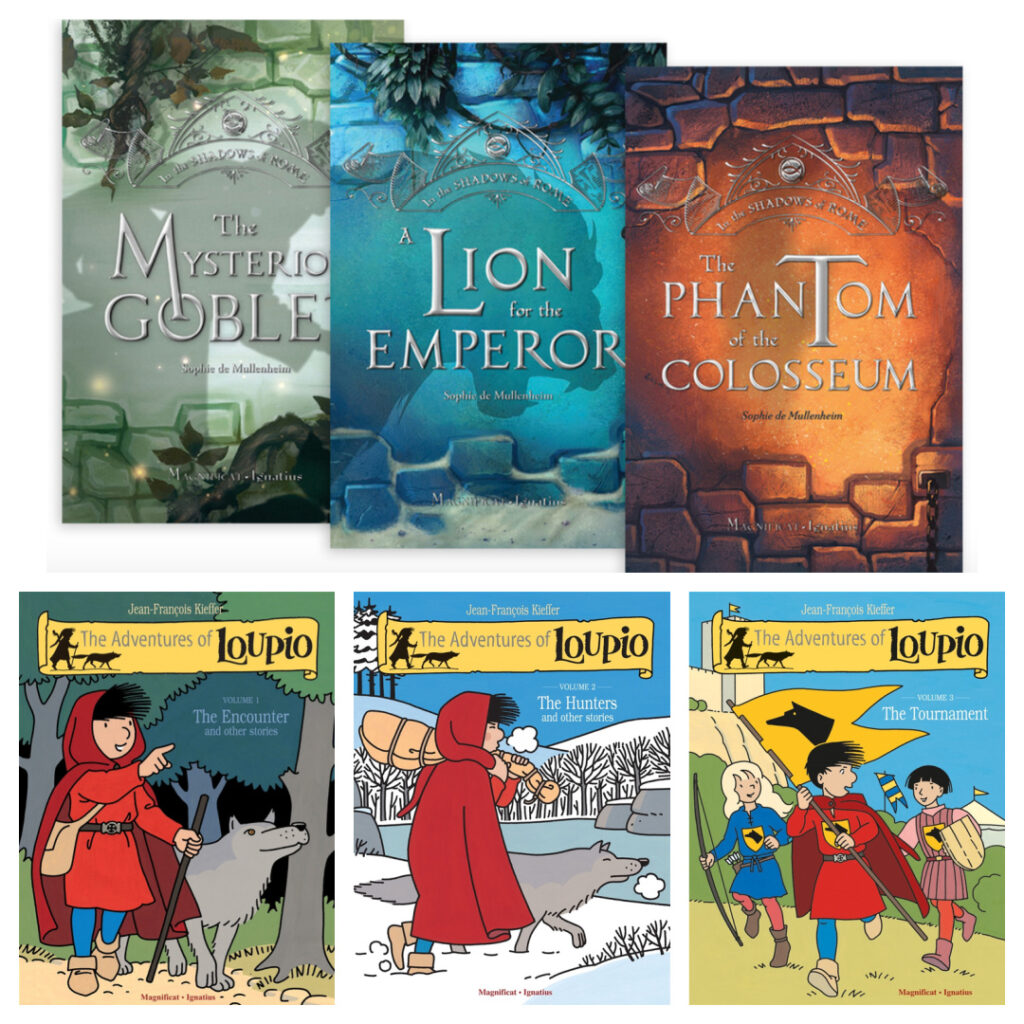 Currently offering Buy one get one 50% off on certain series and these series are both included! Discount will be reflected in cart.
+ + +
Prize #19 – The Purgative Way Board Game sponsored by The Purgative Way ($64.99 Value)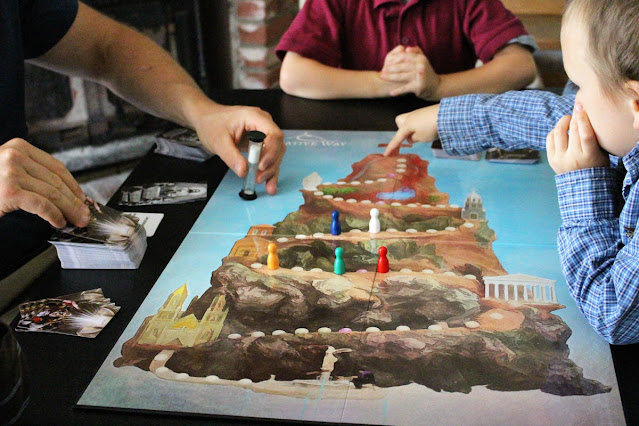 + + +
Prize #20 – Pray by Sticker, Mass Ring, Alleluia Card Games, Rosary Ring and Marian Edition: Catholic Playing Cards sponsored by Catholic Family Crate ($64.00 Value)
Catholic Family Crate makes Catholic educational resources, games, art, stickers, subscription boxes, and more to make growing in the Catholic faith easy and fun. They are on a mission to revolutionize Catholic resources and make them affordable, accessible, high-quality, and engaging.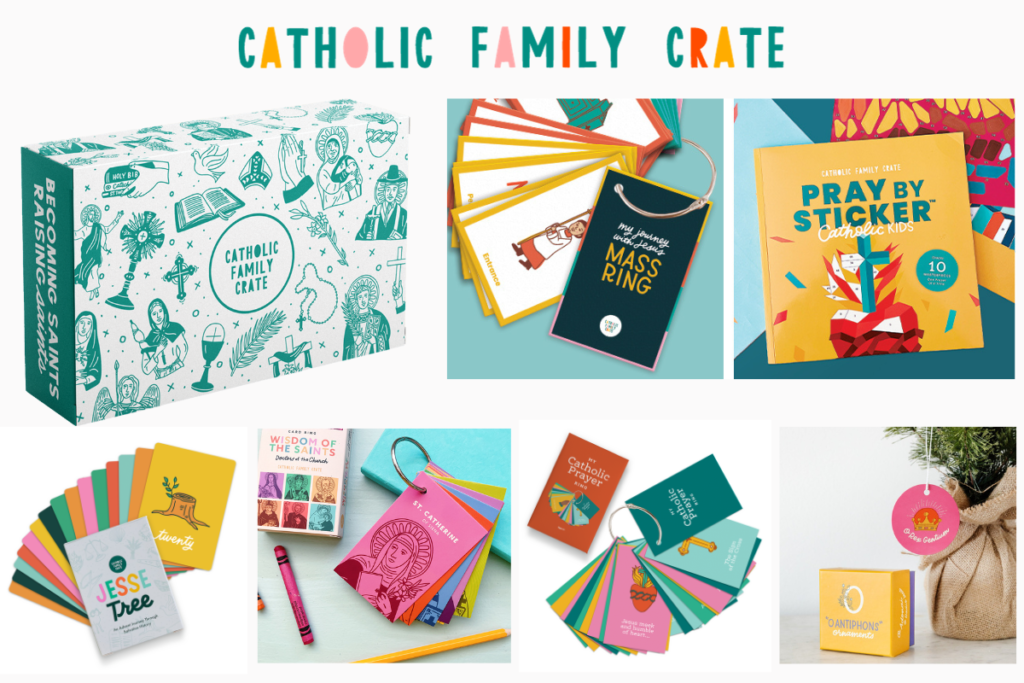 Bonus: Check out the following links for a FREE 12 Days of Christmas Planner & Activity Pack and a FREE Jesse Tree Activity Pack.
Discount code: SHOWEROFROSES23 for 20% off for CFC items valid until December 31, 2023, and for 1x use per customer
+ + +
Prize #21 – Our Friends in Heaven Trilogy which includes: The Blessed Virgin: Mary Our Mother, Saint Nicholas: Patron Saint of Children, and Saint Francis: The Little Poor Man, as well as a copy of The First Christmas for Our Dear Little Ones sponsored by St. Augustine Academy Press ($63.70 Value)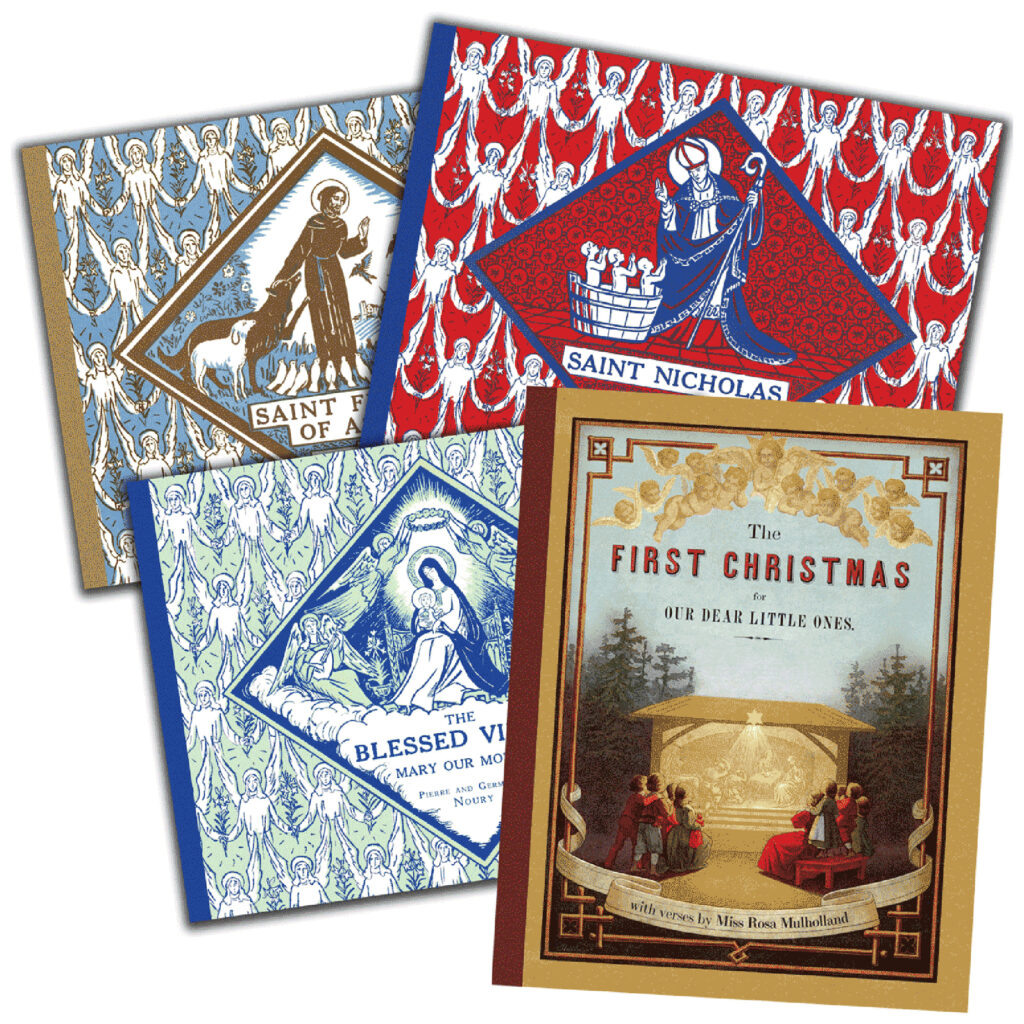 Save 20% with coupon code GRATIAS2023 – Good from Wednesday, November 22nd through midnight on Monday, November 27th, 2023
+ + +
Prize #22 – Agnes Dei Calendar & 12-Month Planner for 2024 and JMJ 12-Month Daily Planner sponsored by TAN Books ($61.90 Value)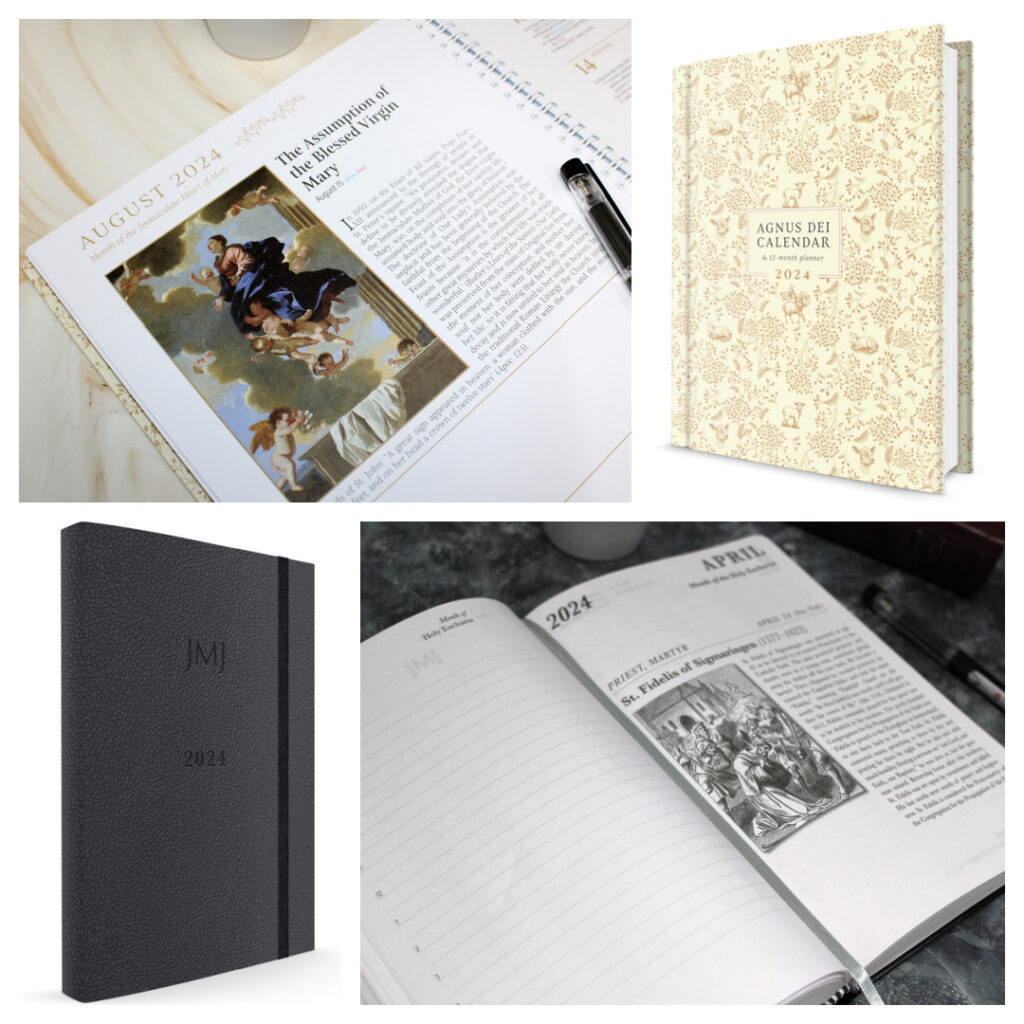 + + +
Prize #23 – Catholic author, Leslea Wahl, is giving away signed copies of two of her teen mysteries. Also included in the prize pack is a copy of a short story, one of the CatholicTeenBooks.com anthologies, a wooden puzzle, and a gift bag with ribbon bookmark, Bible verse magnet, and decorative soap. ($60.00 Value)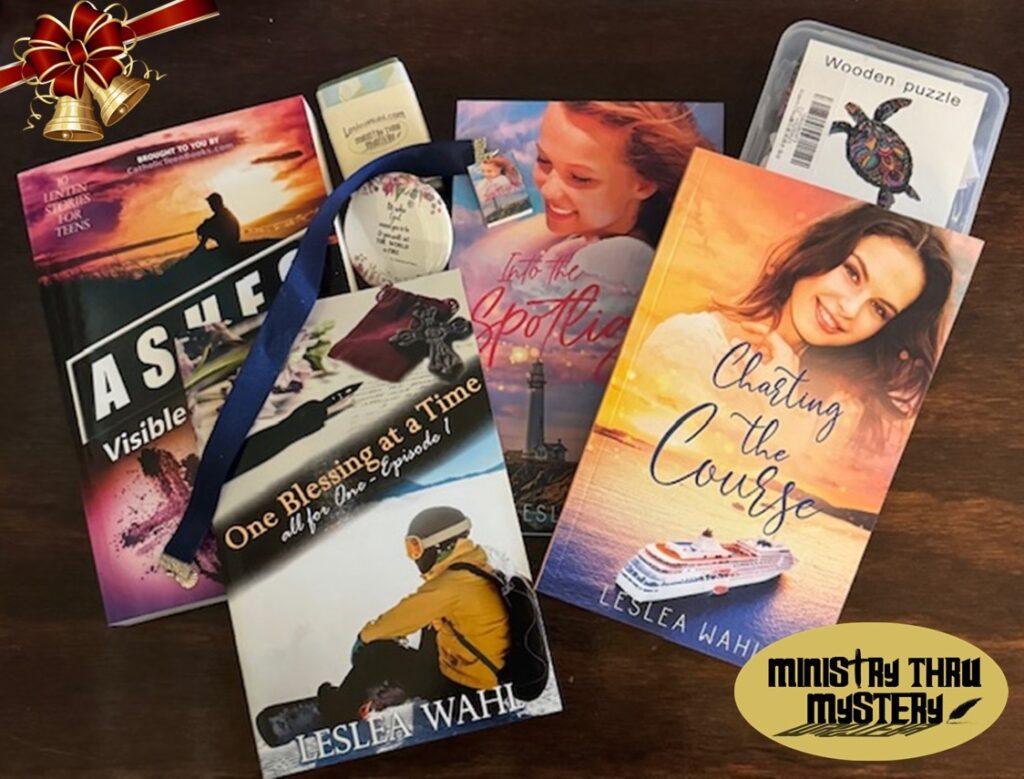 + + +
Prize #24 – FeastDay! Board Game plus an expansion pack sponsored by Holy Heroes ($58.90 Value)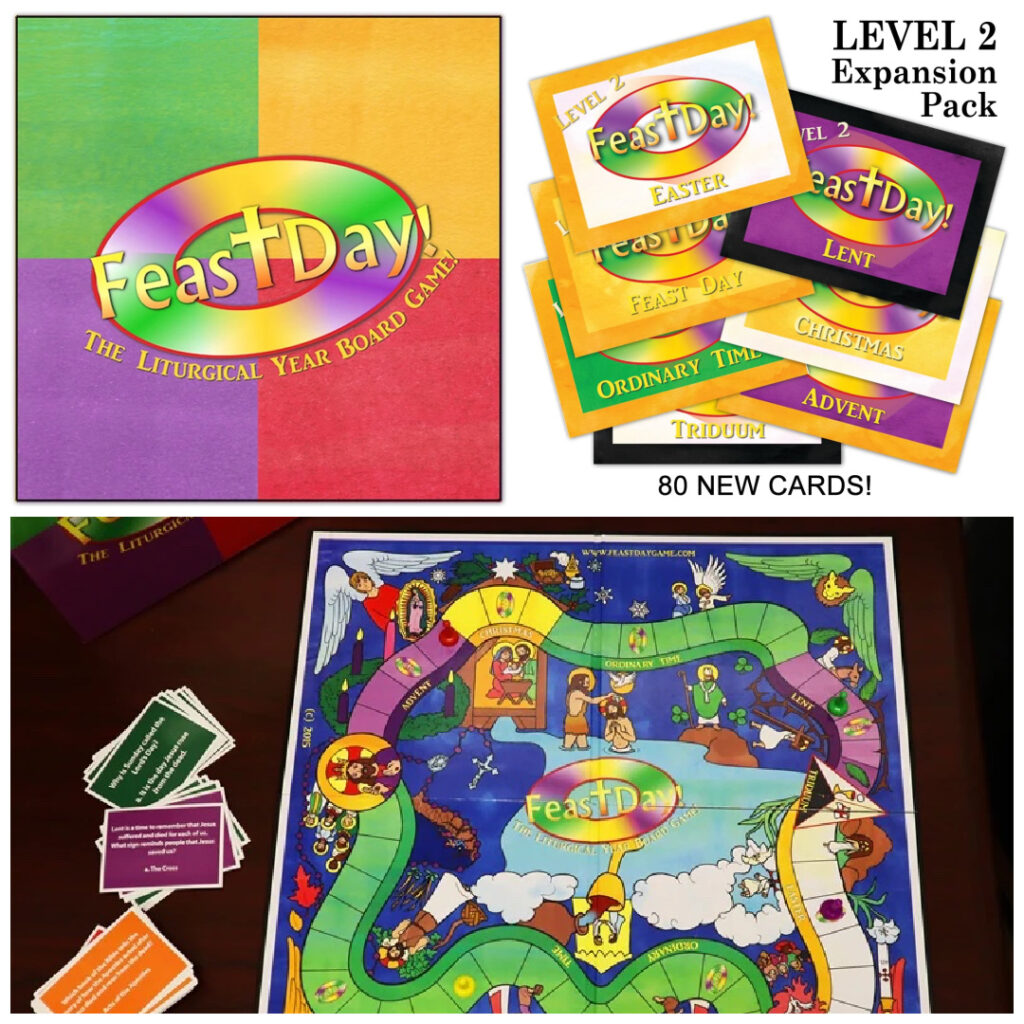 SAVE 15% off your order with coupon code SHOWER15 through 12/5/23
+ + +
Prize #25 – Includes ONE YEAR Subscription for St. Mary's Messenger Magazine (valued at $19.95), SANCTUS, SANCTUS, SANCTUS An Introductory Latin Missal for Children, TAN Books (valued at $22.95), PRAY by STICKER Catholic KIDS from CATHOLIC FAMILY CRATE (valued at $9.95), 7-DAY Preparation for Family Consecration To Jesus, through Mary, in Union with St. Joseph (valued at $4.99) Apostolate for Family Consecration sponsored by St. Mary's Messenger ($57.94 Value)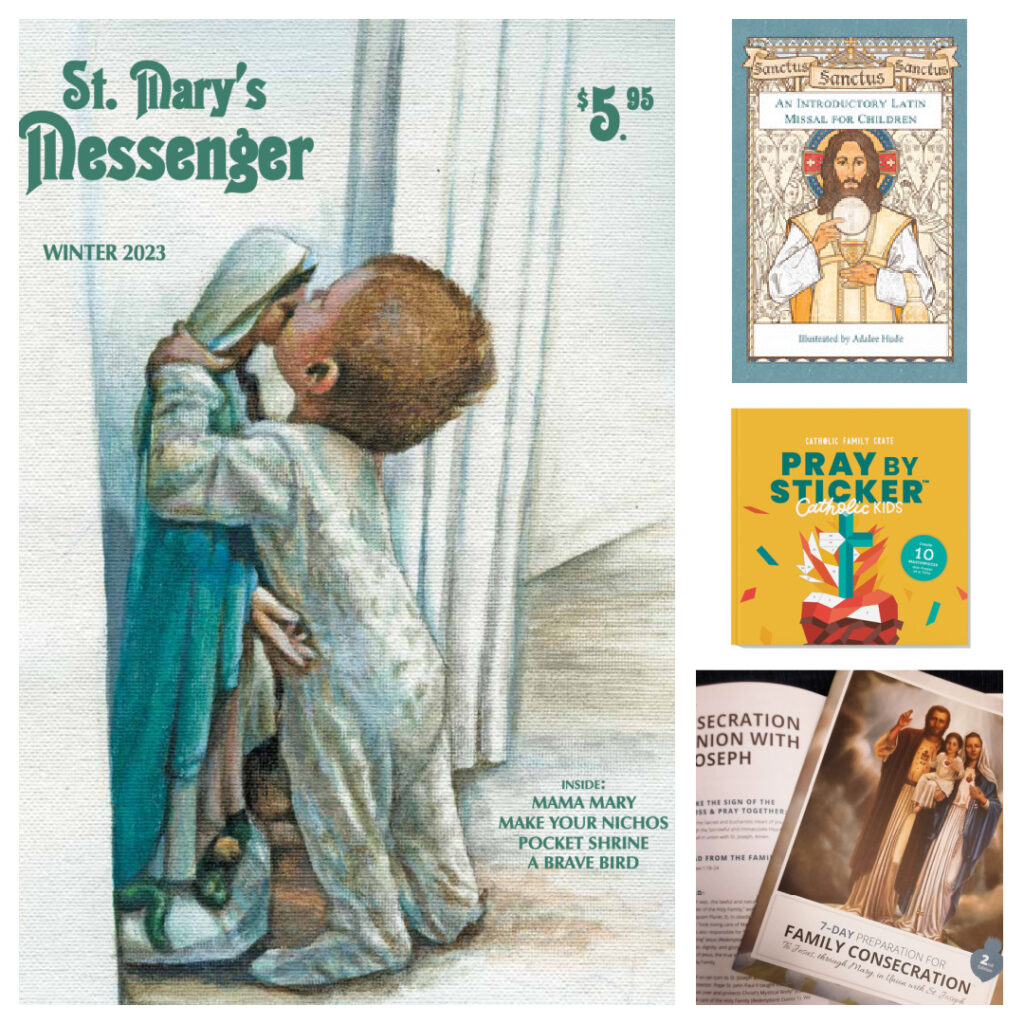 + + +
Prize #26 – Autographed hardcover editions of Courtship of the Saints: How the Saints Met Their Spouses and Parents of the Saints: The Hidden Heroes Behind Our Favorite Saints. Available to purchase from TAN Books or Amazon.Sponsored by Catholic author Patrick O'Hearn. Visit the author's website here! ($55.90 Value)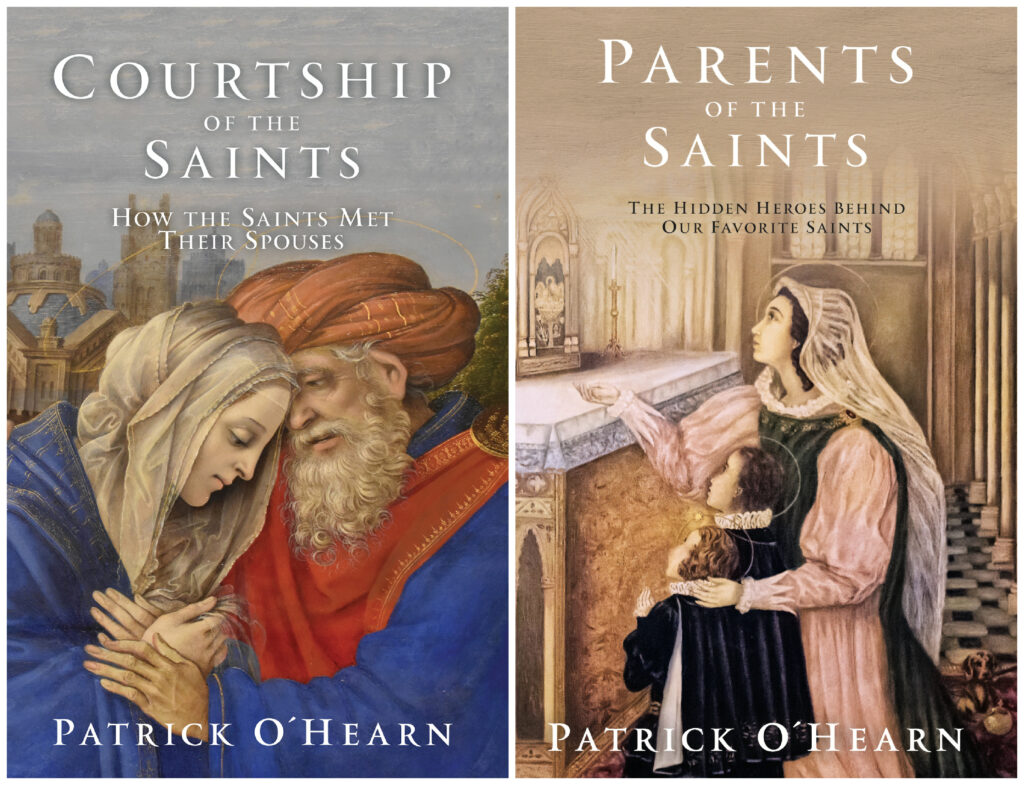 + + +
Prize #27 – Sacré Cœur Beeswax Candle, Sacred Heart Matches and a Brass Wick Trimmer sponsored by Hohme Candle Co. ($54.25 Value)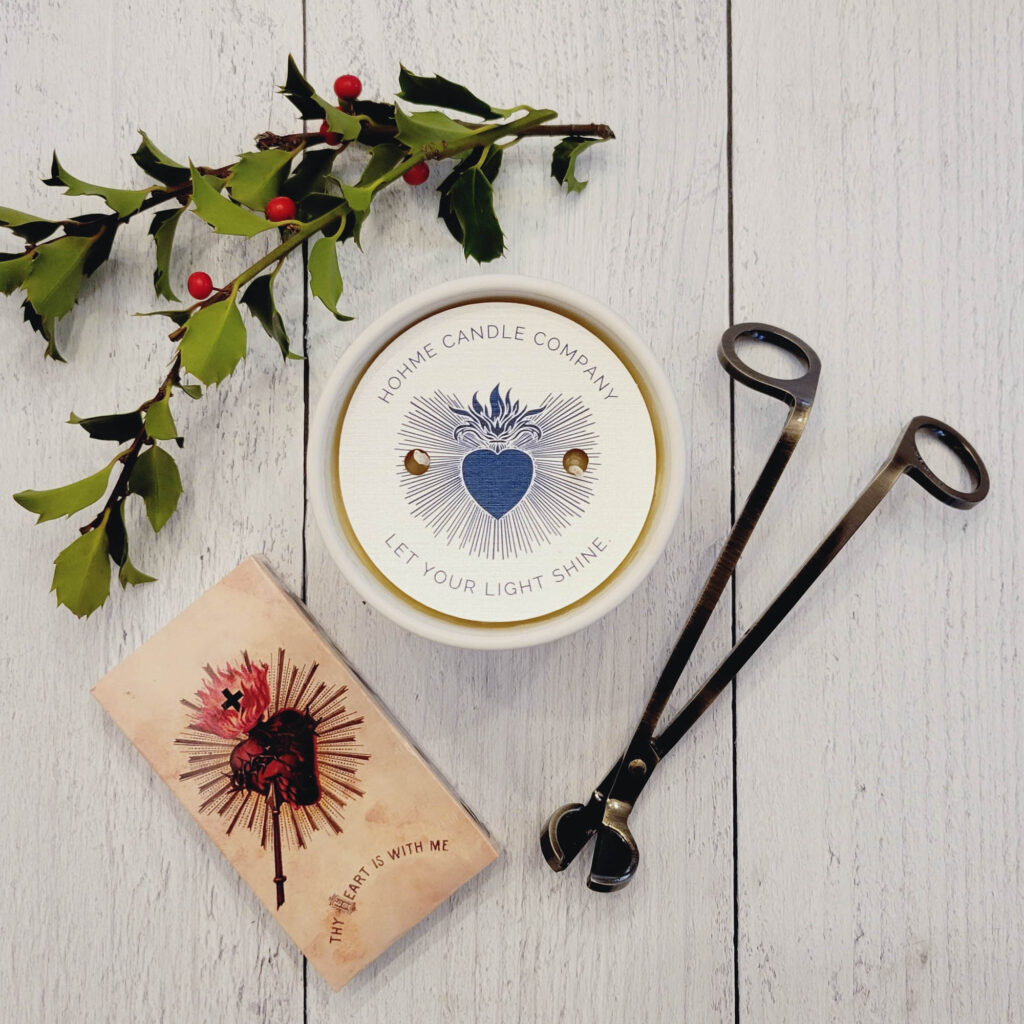 + + +
Prize #28 – Hardcover edition of The Whisper of Wings and paperback edition of Morning Star. "Our hope is to bring to life the traditions of the Church by immersing young readers in the truths of the Faith, encouraging them to strive to become saints." Visit the website here and watch the book trailers over at YouTube! Sponsored by Celestine Publications. ($51.96 Value with shipping)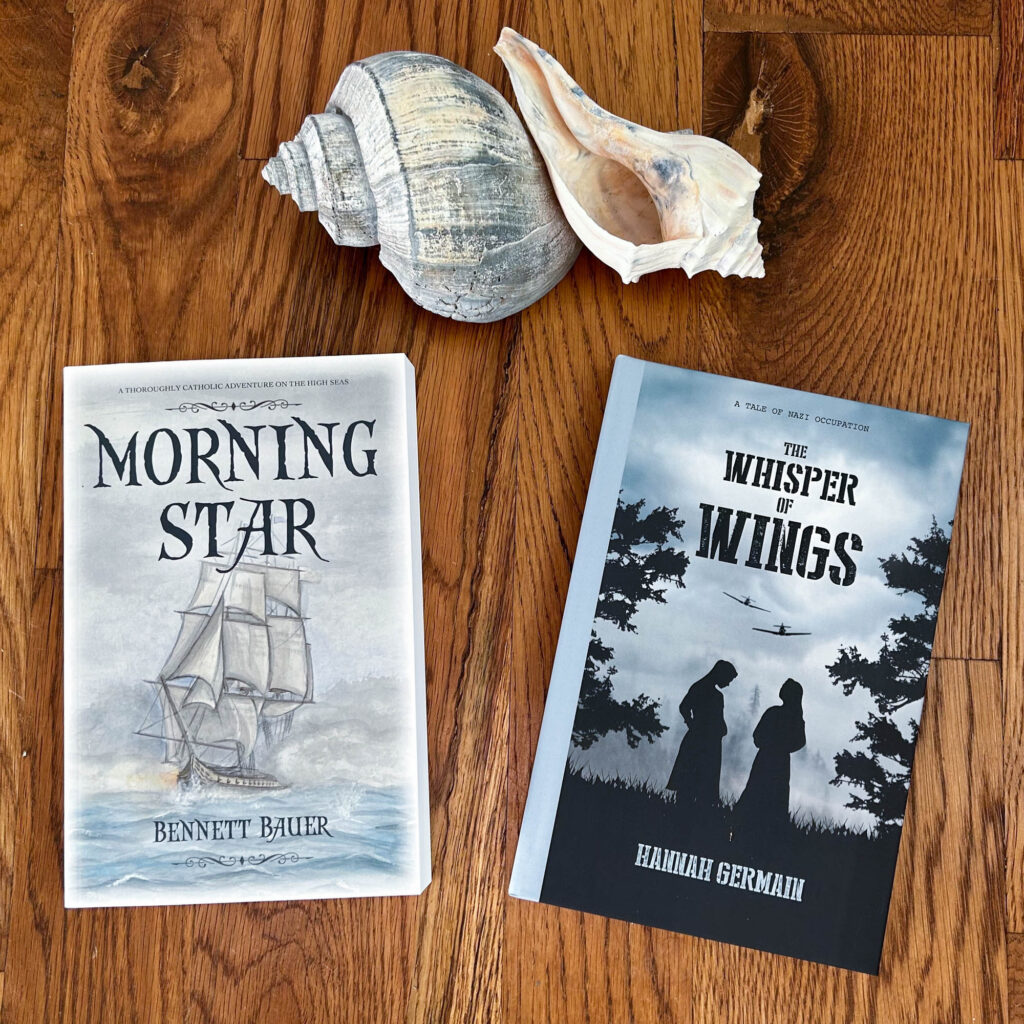 + + +
Prize #29 – Includes: Trimming the Tree with Nicholas and Receiving a Mother's Love from Our Lady of Guadalupe. Trimming the Tree is a Pine, Citrus and Spice scent. Receiving a Mother's Love is a Rose and Incense scent. Sponsored by Forestville Candle Company ($50.00 Value with shipping)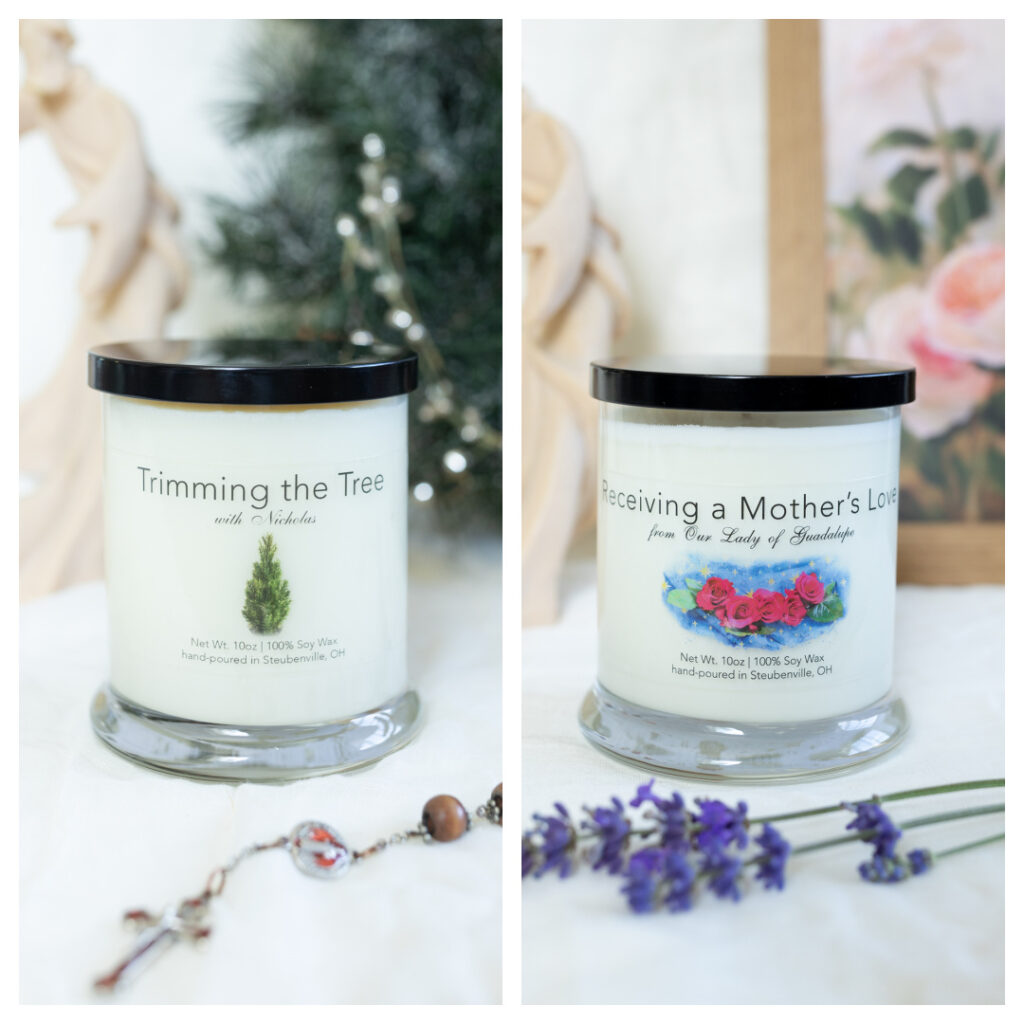 + + +
Prize # 30 – Three bags of Coffee (not necessarily those pictured) sponsored by Catholic owned Heartwood Coffee Roasters in Ohio! ($50+ Value)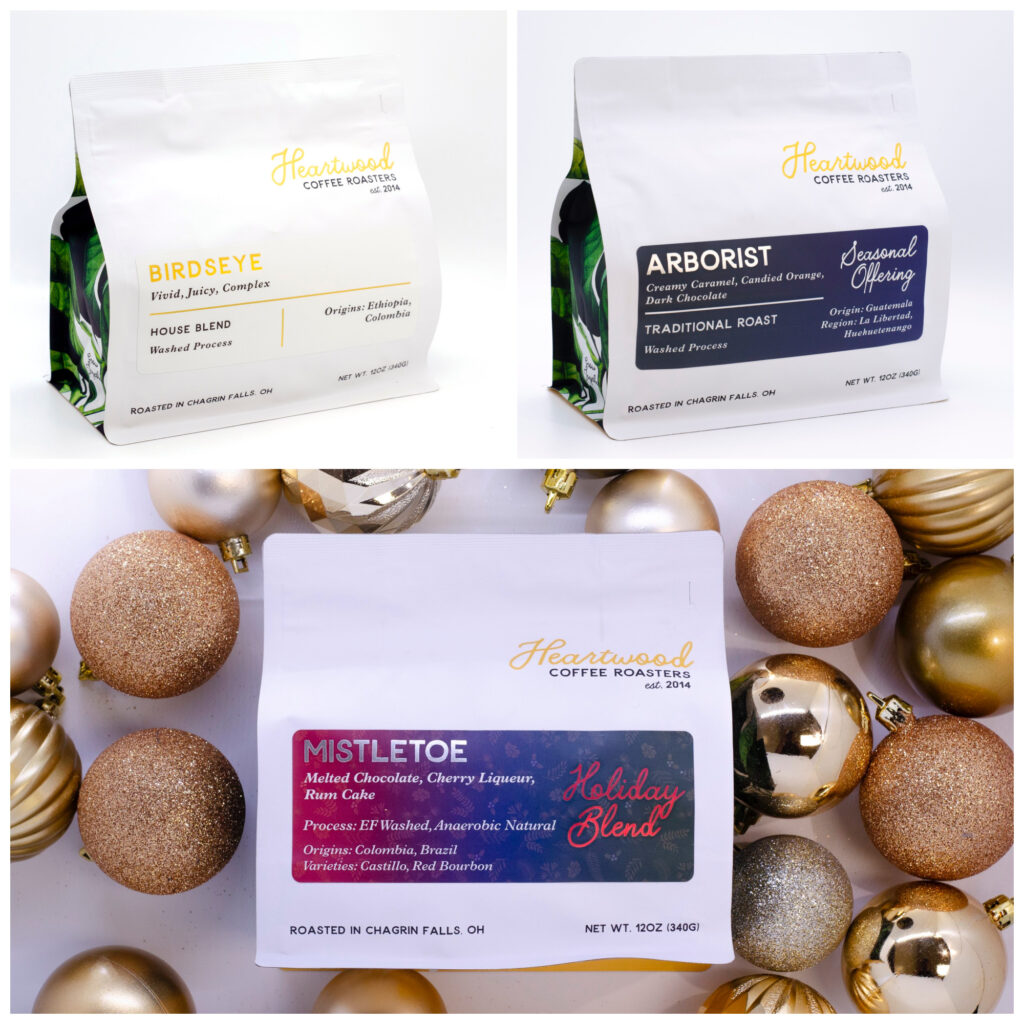 + + +
Join the Giveaway: Enter via the Rafflecopter Box Below
Earn numerous bonus entries by exploring the sponsors' websites and social media! Giveaway concludes at 11:59 PM PST on December 5, 2023. Winners will be revealed on December 6, 2023 – the Feast of St. Nicholas!
a Rafflecopter giveaway
Having issues with Rafflecopter? Feel free to reach out via email or message with your name and email address, and I'll manually add you.
Explore our book lists, our 2023 Advent Book Basket (coming soon – past book baskets), and the selection of books our children will receive this year on the feast of St. Nicholas. Find Advent planning tips in our Archive and The Advent Season in Our Catholic Home.
For additional inspiration, check out our Gift Guides from 2015 to 2022.