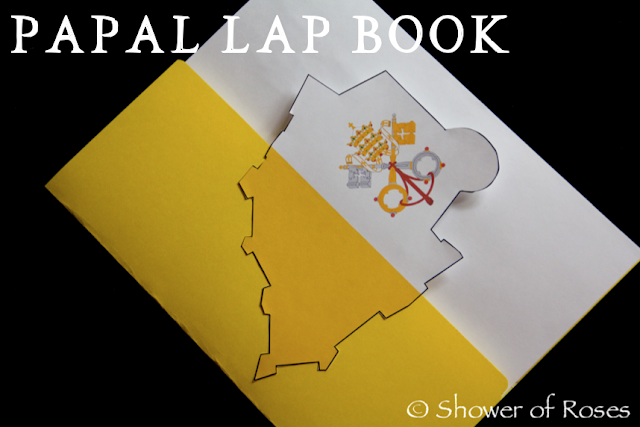 Could you tell from my last post how excited I am about this Lap Book/Unit Study? As I was printing the pages for my daughters' Lent Lap Books last week I started thinking how nice it would be to create a Papal Lap Book right now, during this special historic time in our Church. I mentioned it to my husband and quickly dismissed the idea since a quick google search didn't reveal much in the way of Lap Book resources and it would "take way too much work." However, it seemed that perhaps the Holy Spirit was prompting me to create this, since the very next day – the feast of the Chair of St. Peter – I had an unusual amount of "free time." I started with the cover and then the mini-books just started falling into place. I ended up spending most of the weekend finishing my documents and compiling a sample to share with you all. I am really looking forward to completing this unit study with my children, teaching them even more about our beautiful Catholic faith, the Primacy of Peter, and the Papal office!
Here is a list of the supplies I used for creating our Papal Lap Book:
Yellow File Folder – I usually purchase file folders in assorted colors by the case made by Smead or Staples so I always have them on hand. However, here is another link to a smaller pack – they are two tone, but it does include purple for your Lenten Lap Book! 😉
White Card Stock and Paper – 4 pieces per lap book, 2 to attach to the book, 1 on which to print the flag cover, and 1 more on which to print the St. Peter's Basilica Pop-Up.
Scissors
Glue Stick
Tape
Red Ribbon – This is used to tie shut the "Who is the Pope?" mini-book.
Optional: Red Paper and/or Card Stock (or color of choice) – We used red paper to accent "What Happens When A Pope Dies?", and red card stock for our "Amazing Pope Facts," "Selceting a New Pope," and "Some Special Popes."
Note: Thank you to everyone who has generously offered to pay me for the use of my documents and the time spent creating this Lap Book! My husband has been encouraging me to sell the Lap Book printables, but I know that there are many other families, like our own, struggling to keep up each month… I wanted to make sure that everyone has the opportunity to use this with their families if they would like to do so. Let's just say it is a gift of service and form of almsgiving for me this Lent, especially since we are not able to give very much financially at the moment. However, if some of you still feel inspired to perhaps "buy me a coffee" or send "some alms" our direction I've included a paypal button. I would be more than grateful and will put the funds towards filling our children's Easter Baskets this year! And everyone else, please just offer a prayer for my family! Thank you, and may God reward you!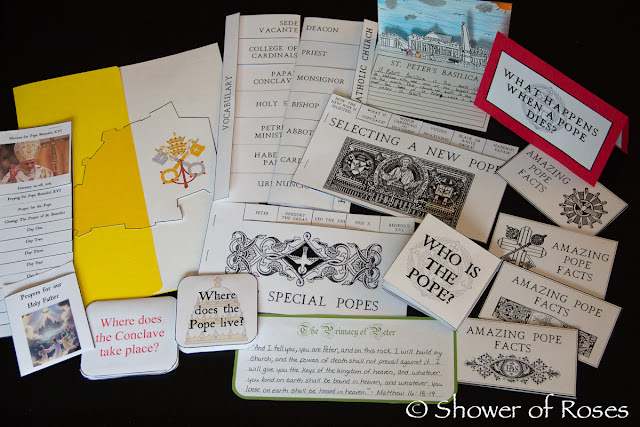 *All documents are printed on white paper, except where noted.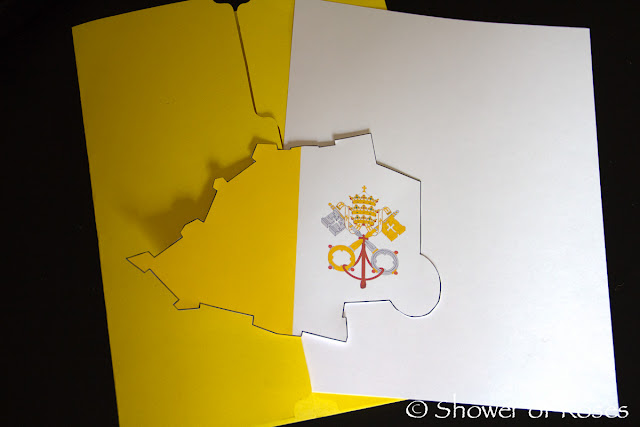 For those that are new to creating Lap Books, you can watch a brief tutorial here on how to fold the file folder for a Basic Lap Book.
Since I wanted the cover of my book to look like the flag of Vatican City I then glued a piece of White Card Stock to the outside of the right yellow flap.
I then cut out the Vatican City Flag (shaped like the Country) and glued the yellow side to the left yellow flap as shown in the pictures.
Since the White Card Stock is slightly shorter in length than the file folder I then trimmed the edges, so it lined up nicely.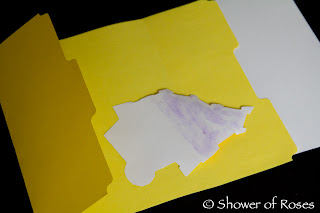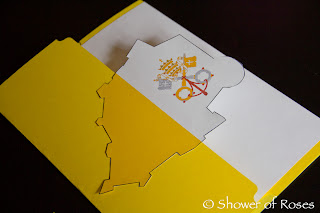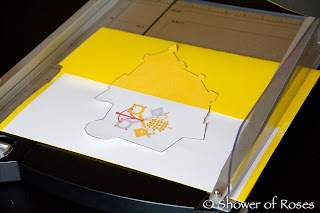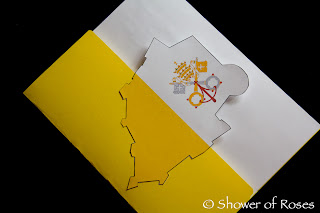 I also added a second piece of White Card Stock to the Center of the Lap Book to create an Extension Page. To do so tape both sides of the white card stock to the top center of the yellow file folder.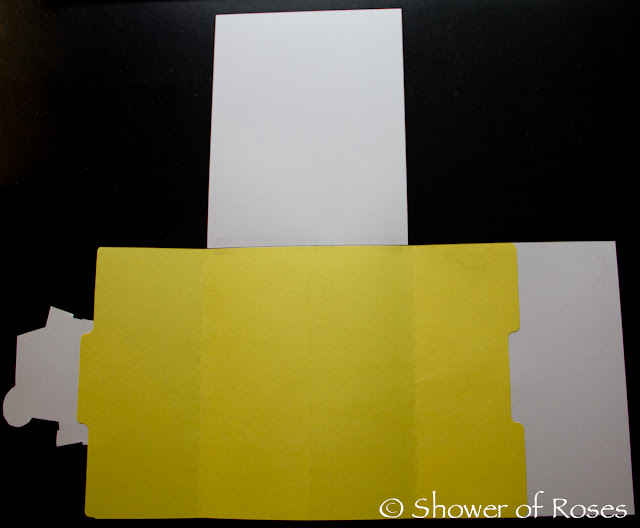 View of Inside of Folder – Completely Opened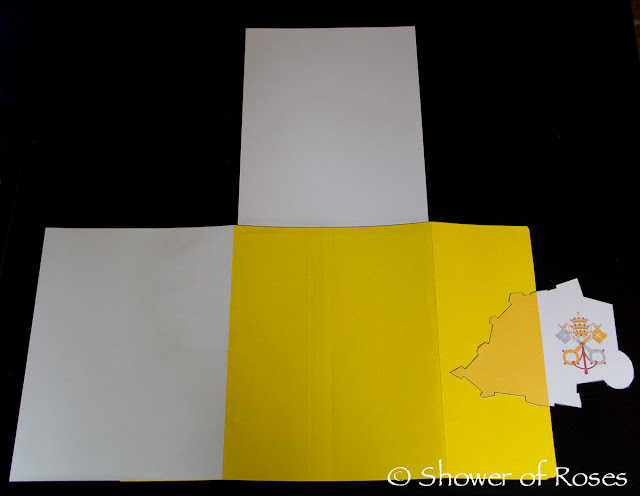 View of Outside of Folder – Completely Opened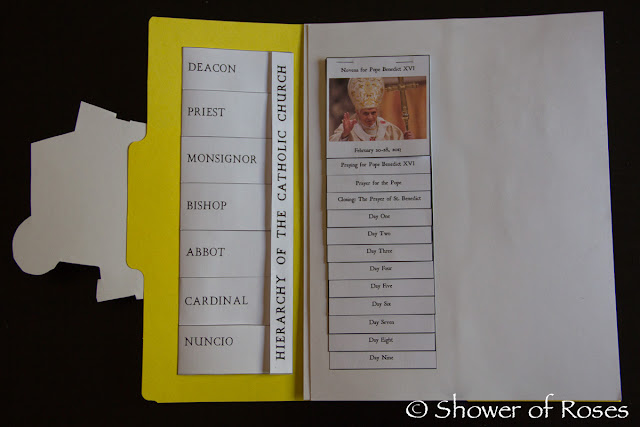 Left Flap:
"Hierarchy of the Catholic Church" Flap Book with Definitions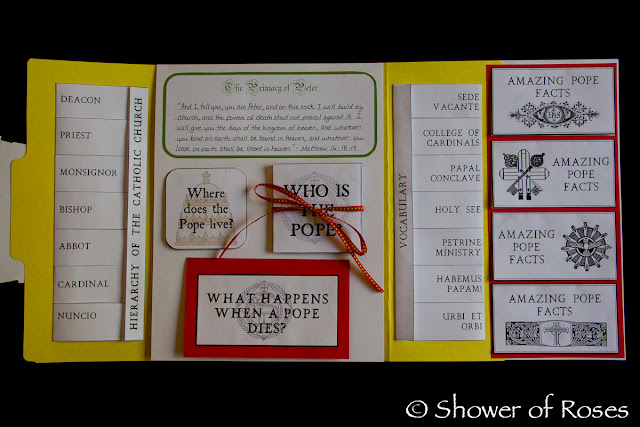 White Center Extension:
"The Primacy of Peter" Copywork
"Where does the Pope live?" Trifold Book *Note: I originally intended this to be on the next page/swapped with "What Are the Chief Powers of the Pope" but mixed them up when assembling. It doesn't really matter, but I do think it goes better with the books on the other page.
"Who is the Pope?" Accordion Book
"What happens when a pope dies?" Simple Fold Book
Right Page/Flap:
"Vocabulary" Flap Book with Definitions (see above picture)
"Amazing Pope Facts" Four Simple Fold Books, attached to red card stock
Copy Matthew 16:18-19 from the Bible.
Copy or research and write your own text in the middle of this trifold book.
This accordion book takes a little bit of assembly as shown, gluing each strip together before folding and adding it to the Lap Book. Wrap the book with a red ribbon before glueing it into place. This will keep the book closed when it is not in use.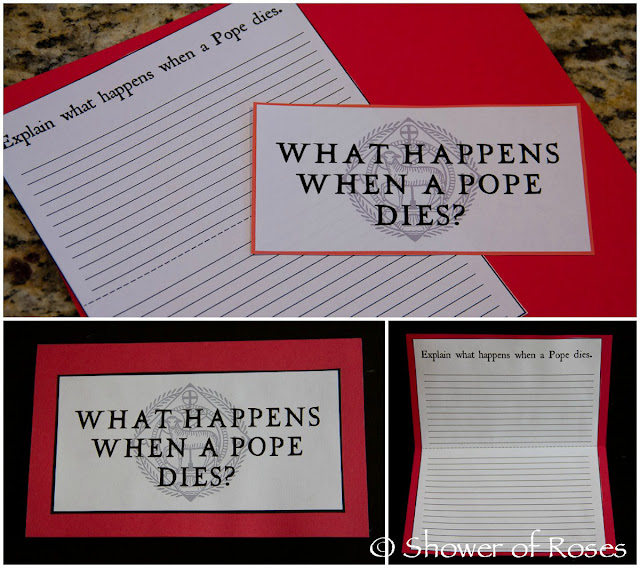 To assemble this book I cut out the white basic fold mini-book and glued it to a piece of red copy paper. I then glued the cover picture (which I went back and changed from red and black to just black and white, as you can see). The children will need to research this topic and write a paragraph in their own words explaining what happens when a Pope dies. (Did you know in the past they would strike the Pope on the head with a hammer three times, to make sure he was dead?!)
Fill these mini-books with various facts about past Popes of your choice.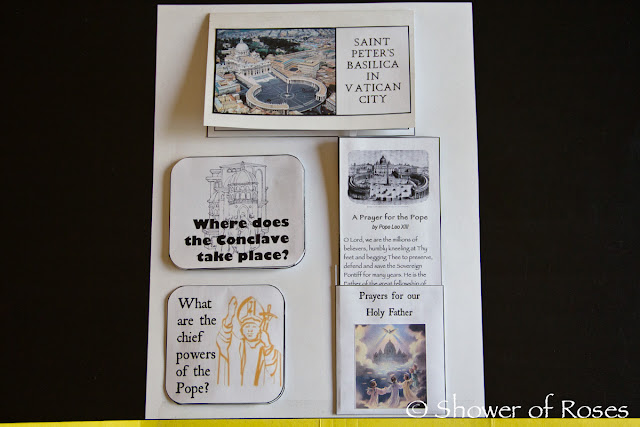 Back of White Center Extension:
"St. Peter's Basilica" Pop-up Book (printed on cardstock) with "St. Peter Pop-Up Cover Picture"
"Where Does the Conclave take Place?" Shutterflap Book
"What are the chief powers of the Pope?" Trifold Book *Note: I originally intended this to be on the previous page/swapped with "Where does the Pope live" but mixed them up when assembling. It doesn't really matter, but I do think it goes better with the books on the other page.
"Prayers for our Holy Father" Pocket
"Prayers for our Holy Father" Prayer Cards
I love this Pop Up Book and so do the kids! They had so much fun creating them on Friday! They are pretty easy to assemble, but I did take a few pictures for you all…
I did include a few pictures of the inside of the Sistine Chapel on this mini book. The younger children can copy or paste in the text provided, and my older children will be required to write a little about the Sistine Chapel.
Assemble and use the pocket provided to store these prayer cards or additional cards of your choice.
Center of File Folder, behind white extension flap:
"Selecting A New Pope" Tab Book
"Some Special Popes" Tab Book
Research these topics and write a paragraph on each to include in this book.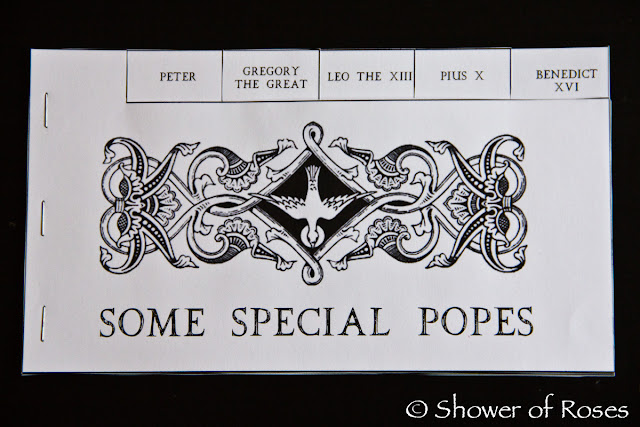 I chose some (of many!) special popes for my children to research and write about for their Lap Books. They will each be asked to write a paragraph about St. Peter the First Pope, a paragraph about Pope Gregory the Great and the invention of Gregorian Chant, a paragraph about Pope Leo the XIII and how he wrote the prayer to St. Michael the Archangel (or they can copy the St. Michael prayer in Latin since they are working on memorizing it this year), a paragraph about Pope Pius X and how he lowered the age for children to receive their First Holy Communion, and either a summary about one of our many books about Pope Benedict (or a favorite quote or memory).
I'm still trying to decide what we will attach to the back cover. At this point I am leaning towards a coloring picture or an illustration, though it might be a perfect spot to put something about our new Papa once he is announced!
In the meantime here are a couple coloring page options and I will continue adding more as I find them:
All of my children asked to choose their own. We printed out pictures of each of their adopted cardinals and they plan to pray for them each day, that the Holy Spirit will guide them during the Conclave, and then add them to their Lap Books following the election!
If you have any questions feel free to ask them in the comment box and I will do my best to answer them as I have the time. If any of you do end up using the Lap Book with your children and post pictures, I'd love to see them!