At the beginning of the year, each of the girls received a white tote bag (I purchased them on sale at JoAnns for a few dollars each) to carry their notebook, member's guide and other Little Flowers Girls' Club items. I had tried to figure out a way to decorate the bags, but wasn't really sure which direction I wanted to go…
Well, another mom ended up using some of the clipart from Catholic Artworks to iron-on a picture to her daughter's tote. (These particular images came from the Faith Keepers Combo… Each image can be printed in both color or black & white!) So, after our meeting we printed out a couple more to do my girls totes too! Didn't they turn out adorable?!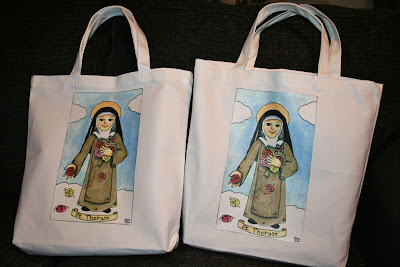 So we could tell whose bag was whose, we then printed out a picture of each of my girls' favorite saints for on the other side of their bags. They were SOOO excited!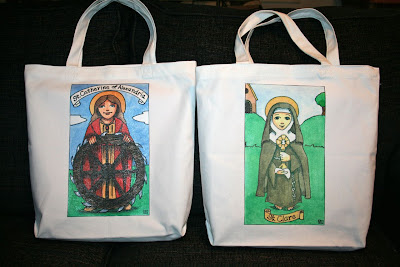 We then moved on to making St. Therese t-shirts for the girls. I had purchased t-shirts from Michaels when they were on sale for $2.50 each and the 5-pack (which we only used 3) of dark iron-on paper was only $11.00, so we were able to make each of the girls a t-shirt for just over $3.00 each!
The t-shirts didn't turn out exactly how we had planned, and we ended up needing to cut the cut border and name off the picture since we didn't read the directions for "dark" iron-on paper versus the "light" paper used on the totes, and had to peel them off and start over… Oh well, next time we'll know how to do it right the first time!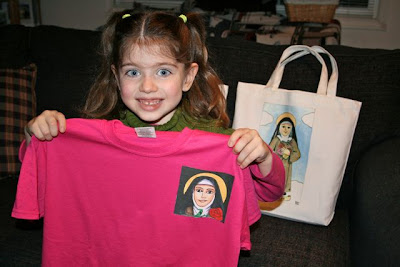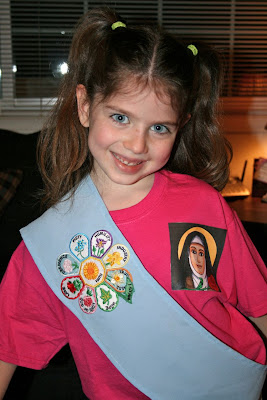 They still turned out nicely and my girls were smilin' from ear to ear!