Prayer of Mothers
Father in heaven, grant me the grace to appreciate the dignity which you have conferred on me. Let me realize that not even the Angels have been blessed with such a privilege—to share in your creative miracle and bring new Saints to heaven. Make me a good mother to all my children after the example of Mary, the Mother of your Son. Through the intercession of Jesus and Mary I ask your continued blessings on my family. Let us all be dedicated to your service on earth and attain the eternal happiness of your kingdom in heaven. Amen.
Powered by
Our Family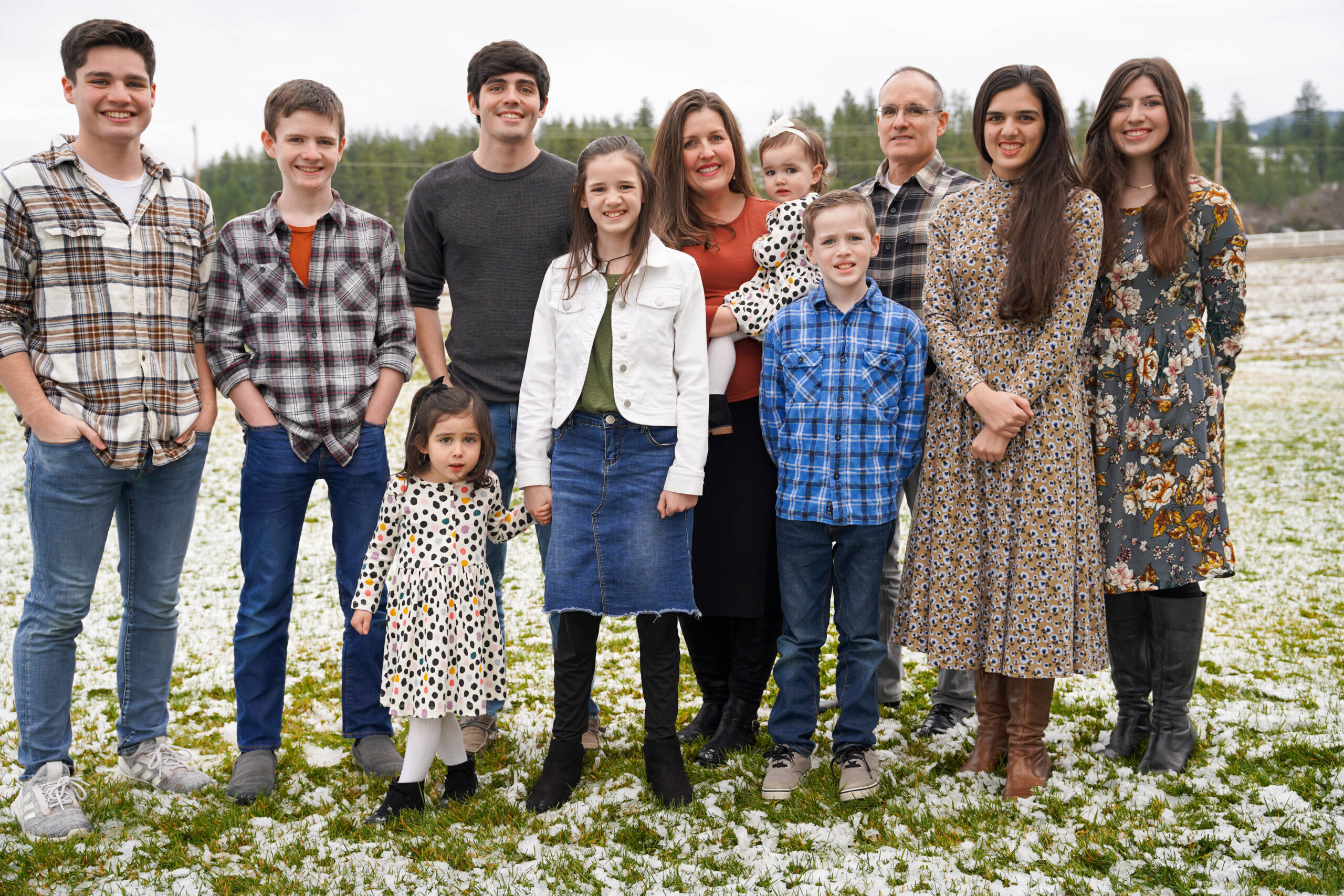 A Little About Me
Hi! I'm Jessica, a Roman Catholic wife and home educating mother to our nine children. I was home educated myself, along with my eleven younger siblings. I have a special devotion to St. Therese, through whom I have been given much help and many blessings--the beautiful "Shower of Roses" that she has sent my way! Here I will record a few of the blessings I treasure. Please remember that what you see here is just a little glimpse at our lives, so please say a prayer for us, as we continue to strive for holiness.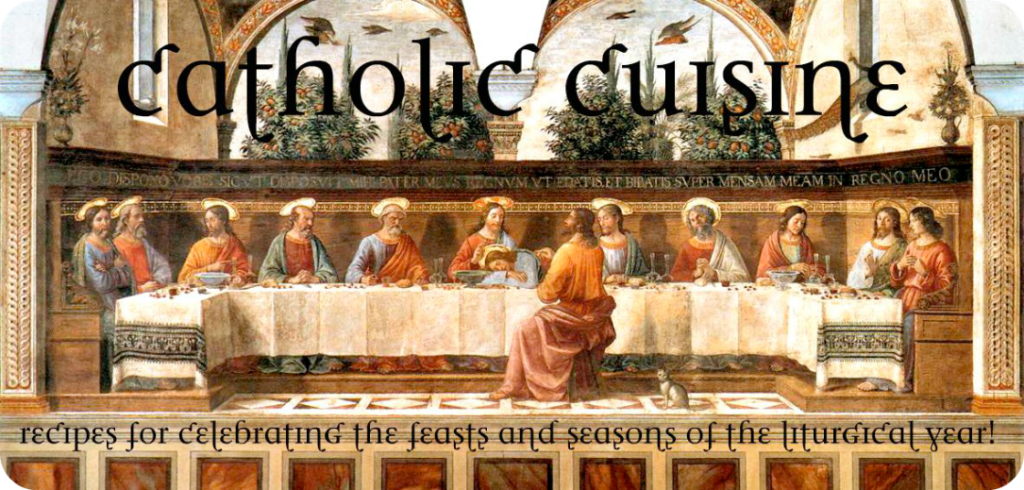 Please Visit My Sponsors…
This Week's Popular Posts
Shower of Roses Affiliate Links
Our Advent & Christmas Books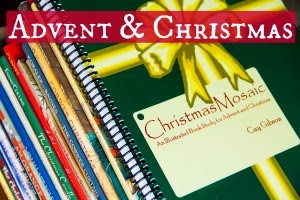 Shower of Roses Christmas Gift Guides
Looking for Something?
Looking Back

collapsArch options:
Array
(
    [title] => 
    [noTitle] => 
    [inExcludeCat] => exclude
    [inExcludeCats] => 
    [inExcludeYear] => exclude
    [inExcludeYears] => 
    [showPages] => 
    [sort] => DESC
    [linkToArch] => 
    [showYearCount] => 1
    [expandCurrentYear] => 1
    [expandMonths] => 1
    [expandYears] => 1
    [expandCurrentMonth] => 1
    [showMonthCount] => 1
    [showPostTitle] => 1
    [expand] => 0
    [showPostDate] => 1
    [debug] => 1
    [postDateFormat] => m/d
    [postDateAppend] => after
    [accordion] => 1
    [useCookies] => 1
    [post_type] => post
    [taxoncmy] => category
    [postTitleLength] => 
    [showPostCount] => 1
    [style] => custom
    [archSortOrder] => DESC
    [showPosts] => 
    [customExpand] => 
    [customCollapse] => 
    [taxonomy] => both
    [number] => 2
)
POST QUERY:
 SELECT 5ZXkguJ4_terms.slug, 5ZXkguJ4_posts.ID,
    5ZXkguJ4_posts.post_name, 5ZXkguJ4_posts.post_title, 5ZXkguJ4_posts.post_author,
    5ZXkguJ4_posts.post_date, YEAR(5ZXkguJ4_posts.post_date) AS 'year',
    MONTH(5ZXkguJ4_posts.post_date) AS 'month' ,
    5ZXkguJ4_posts.post_type
    FROM 5ZXkguJ4_posts LEFT JOIN 5ZXkguJ4_term_relationships ON 5ZXkguJ4_posts.ID =
    5ZXkguJ4_term_relationships.object_id 
		LEFT JOIN 5ZXkguJ4_term_taxonomy ON 5ZXkguJ4_term_taxonomy.term_taxonomy_id =
																			5ZXkguJ4_term_relationships.term_taxonomy_id
		LEFT JOIN 5ZXkguJ4_terms ON 5ZXkguJ4_terms.term_id = 
		                          5ZXkguJ4_term_taxonomy.term_id 
  WHERE post_status='publish' AND 5ZXkguJ4_posts.post_type='post'   
  GROUP BY 5ZXkguJ4_posts.ID 
  ORDER BY 5ZXkguJ4_posts.post_date DESC

POST QUERY RESULTS
Array
(
    [0] => stdClass Object
        (
            [slug] => fssp
            [ID] => 105377
            [post_name] => father-terrence-gordon-fssp
            [post_title] => Requiescat in Pace: Fr. Terrence Gordon, FSSP
            [post_author] => 3
            [post_date] => 2023-05-25 19:37:16
            [year] => 2023
            [month] => 5
            [post_type] => post
        )

    [1] => stdClass Object
        (
            [slug] => advent-and-christmas
            [ID] => 53055
            [post_name] => a-christmas-carol-book-review
            [post_title] => A Christmas Carol {Book Review}
            [post_author] => 3
            [post_date] => 2022-12-22 17:31:00
            [year] => 2022
            [month] => 12
            [post_type] => post
        )

    [2] => stdClass Object
        (
            [slug] => reviews
            [ID] => 53056
            [post_name] => beloved-son
            [post_title] => Beloved Son: Joseph and Jesus {Book Review}
            [post_author] => 3
            [post_date] => 2022-12-17 17:00:00
            [year] => 2022
            [month] => 12
            [post_type] => post
        )

    [3] => stdClass Object
        (
            [slug] => advent-and-christmas
            [ID] => 53057
            [post_name] => o-antiphons
            [post_title] => The Great O Antiphons, The Golden Nights
            [post_author] => 3
            [post_date] => 2022-12-17 16:00:00
            [year] => 2022
            [month] => 12
            [post_type] => post
        )

    [4] => stdClass Object
        (
            [slug] => advent-and-christmas
            [ID] => 53059
            [post_name] => rorate-caeli-mass-in-honor-of-our-lady
            [post_title] => Rorate Caeli Mass in Honor of Our Lady
            [post_author] => 3
            [post_date] => 2022-12-10 17:34:00
            [year] => 2022
            [month] => 12
            [post_type] => post
        )

    [5] => stdClass Object
        (
            [slug] => high-school
            [ID] => 53063
            [post_name] => curriculum-2
            [post_title] => Our 2022-2023 Curriculum {And How We Homeschool High School}
            [post_author] => 3
            [post_date] => 2022-12-08 05:11:00
            [year] => 2022
            [month] => 12
            [post_type] => post
        )

    [6] => stdClass Object
        (
            [slug] => reviews
            [ID] => 53065
            [post_name] => our-lady-guadalupe
            [post_title] => Our Lady of Guadalupe and Her Dear Juanito
            [post_author] => 3
            [post_date] => 2022-12-01 22:15:00
            [year] => 2022
            [month] => 12
            [post_type] => post
        )

    [7] => stdClass Object
        (
            [slug] => advent-and-christmas
            [ID] => 53068
            [post_name] => advent-book-basket
            [post_title] => Our 2022 Advent Book Basket and Printable Labels {Plus Giveaway!}
            [post_author] => 3
            [post_date] => 2022-11-27 04:44:00
            [year] => 2022
            [month] => 11
            [post_type] => post
        )

    [8] => stdClass Object
        (
            [slug] => reviews
            [ID] => 53070
            [post_name] => regina-martyrum-productions-cyber
            [post_title] => Regina Martyrum Productions Cyber Monday Sale
            [post_author] => 3
            [post_date] => 2022-11-26 05:01:00
            [year] => 2022
            [month] => 11
            [post_type] => post
        )

    [9] => stdClass Object
        (
            [slug] => giveaway
            [ID] => 53071
            [post_name] => gift-guide
            [post_title] => 2022 Christmas Gift Ideas & Stocking Stuffers {Plus Another Sleighful of Giveaways}
            [post_author] => 3
            [post_date] => 2022-11-22 09:46:00
            [year] => 2022
            [month] => 11
            [post_type] => post
        )

    [10] => stdClass Object
        (
            [slug] => cake-decorating
            [ID] => 53072
            [post_name] => praline-pecan-cheesecake
            [post_title] => Praline Pecan Cheesecake
            [post_author] => 3
            [post_date] => 2022-11-18 18:59:00
            [year] => 2022
            [month] => 11
            [post_type] => post
        )

    [11] => stdClass Object
        (
            [slug] => advent-and-christmas
            [ID] => 53073
            [post_name] => saint-nicholas
            [post_title] => New Christmas Books for the Feast of St. Nicholas {and a St. Nicholas Giveaway!}
            [post_author] => 3
            [post_date] => 2022-11-16 22:53:00
            [year] => 2022
            [month] => 11
            [post_type] => post
        )

    [12] => stdClass Object
        (
            [slug] => advent-and-christmas
            [ID] => 53074
            [post_name] => the-wise-men-who-found-christmas-book
            [post_title] => The Wise Men Who Found Christmas {Book Review}
            [post_author] => 3
            [post_date] => 2022-11-15 06:34:00
            [year] => 2022
            [month] => 11
            [post_type] => post
        )

    [13] => stdClass Object
        (
            [slug] => bargain-books
            [ID] => 53075
            [post_name] => blog-post
            [post_title] => Bargain Priced Books: Get 3 for the Price of 2 Sale!
            [post_author] => 3
            [post_date] => 2022-11-12 21:31:00
            [year] => 2022
            [month] => 11
            [post_type] => post
        )

    [14] => stdClass Object
        (
            [slug] => saint-o-lanterns
            [ID] => 53077
            [post_name] => saint-o-lanterns
            [post_title] => Saint-O-Lanterns
            [post_author] => 3
            [post_date] => 2022-11-11 07:30:00
            [year] => 2022
            [month] => 11
            [post_type] => post
        )

    [15] => stdClass Object
        (
            [slug] => all-saints-day
            [ID] => 53078
            [post_name] => saints
            [post_title] => Celebrating the Saints :: Our 2022 Costumes
            [post_author] => 3
            [post_date] => 2022-11-09 23:29:00
            [year] => 2022
            [month] => 11
            [post_type] => post
        )

    [16] => stdClass Object
        (
            [slug] => saint-o-lanterns
            [ID] => 53082
            [post_name] => on-feast-of-st-hubert
            [post_title] => On the Feast of St. Hubert
            [post_author] => 3
            [post_date] => 2022-11-03 14:47:00
            [year] => 2022
            [month] => 11
            [post_type] => post
        )

    [17] => stdClass Object
        (
            [slug] => marian
            [ID] => 53083
            [post_name] => crown
            [post_title] => Crafting a Crown Fit for a Queen
            [post_author] => 3
            [post_date] => 2022-10-30 17:17:00
            [year] => 2022
            [month] => 10
            [post_type] => post
        )

    [18] => stdClass Object
        (
            [slug] => all-hallows-eve
            [ID] => 53085
            [post_name] => late-october-daybook
            [post_title] => Late October Daybook
            [post_author] => 3
            [post_date] => 2022-10-29 17:32:00
            [year] => 2022
            [month] => 10
            [post_type] => post
        )

    [19] => stdClass Object
        (
            [slug] => st-luke
            [ID] => 53086
            [post_name] => colors
            [post_title] => Little Saints Preschool :: Colors & Guardian Angels
            [post_author] => 3
            [post_date] => 2022-10-27 20:55:00
            [year] => 2022
            [month] => 10
            [post_type] => post
        )

    [20] => stdClass Object
        (
            [slug] => state-by-state
            [ID] => 53087
            [post_name] => hersheys-brownies
            [post_title] => State-by-State Baking :: Pennsylvania - Hershey's Chocolate Cheesecake Brownies
            [post_author] => 3
            [post_date] => 2022-10-27 03:04:00
            [year] => 2022
            [month] => 10
            [post_type] => post
        )

    [21] => stdClass Object
        (
            [slug] => state-by-state
            [ID] => 53088
            [post_name] => pretzels
            [post_title] => State-by-State Baking :: Pennsylvania - Philadelphia Soft Pretzels
            [post_author] => 3
            [post_date] => 2022-10-26 13:39:00
            [year] => 2022
            [month] => 10
            [post_type] => post
        )

    [22] => stdClass Object
        (
            [slug] => reviews
            [ID] => 53091
            [post_name] => catholic-dresses-for-little-girls
            [post_title] => Catholic Dresses for Little Girls
            [post_author] => 3
            [post_date] => 2022-10-25 21:23:00
            [year] => 2022
            [month] => 10
            [post_type] => post
        )

    [23] => stdClass Object
        (
            [slug] => advent-and-christmas
            [ID] => 53092
            [post_name] => advent-candles
            [post_title] => PSA: Order Your Advent Candles Now
            [post_author] => 3
            [post_date] => 2022-10-24 16:04:00
            [year] => 2022
            [month] => 10
            [post_type] => post
        )

    [24] => stdClass Object
        (
            [slug] => reviews
            [ID] => 53093
            [post_name] => grisley-grisell-tale-of-wars-of-roses
            [post_title] => Grisley Grisell: A Tale of the Wars of the Roses {Review + Giveaway}
            [post_author] => 3
            [post_date] => 2022-10-23 23:56:00
            [year] => 2022
            [month] => 10
            [post_type] => post
        )

    [25] => stdClass Object
        (
            [slug] => marian
            [ID] => 53095
            [post_name] => back-to-school-2022-2023
            [post_title] => Back-to-School :: 2022-2023
            [post_author] => 3
            [post_date] => 2022-10-22 16:54:00
            [year] => 2022
            [month] => 10
            [post_type] => post
        )

    [26] => stdClass Object
        (
            [slug] => recipes
            [ID] => 53096
            [post_name] => chili-for-crowd
            [post_title] => Chili for a Crowd
            [post_author] => 3
            [post_date] => 2022-10-21 00:34:00
            [year] => 2022
            [month] => 10
            [post_type] => post
        )

    [27] => stdClass Object
        (
            [slug] => picture-books
            [ID] => 53099
            [post_name] => little-saints-pre-school-i-belong-to-god
            [post_title] => Little Saints Preschool :: I Belong to God
            [post_author] => 3
            [post_date] => 2022-10-19 16:17:00
            [year] => 2022
            [month] => 10
            [post_type] => post
        )

    [28] => stdClass Object
        (
            [slug] => state-by-state
            [ID] => 53102
            [post_name] => state-by-state-baking-delaware-peach
            [post_title] => State-by-State Baking :: Delaware Peach Galette
            [post_author] => 3
            [post_date] => 2022-10-17 20:58:00
            [year] => 2022
            [month] => 10
            [post_type] => post
        )

    [29] => stdClass Object
        (
            [slug] => daybook
            [ID] => 53105
            [post_name] => early-october-daybook
            [post_title] => Early October Daybook
            [post_author] => 3
            [post_date] => 2022-10-07 23:00:00
            [year] => 2022
            [month] => 10
            [post_type] => post
        )

    [30] => stdClass Object
        (
            [slug] => fssp
            [ID] => 53106
            [post_name] => holy-land-pilgrimage-part-8-kerak
            [post_title] => Holy Land Pilgrimage Part 8 - Kerak Castle Crusader Fortress
            [post_author] => 3
            [post_date] => 2022-10-07 06:30:00
            [year] => 2022
            [month] => 10
            [post_type] => post
        )

    [31] => stdClass Object
        (
            [slug] => fssp
            [ID] => 53107
            [post_name] => holy-land-pilgrimage-part-7-petra
            [post_title] => Holy Land Pilgrimage Part 7 - Petra
            [post_author] => 3
            [post_date] => 2022-09-27 06:30:00
            [year] => 2022
            [month] => 9
            [post_type] => post
        )

    [32] => stdClass Object
        (
            [slug] => fssp
            [ID] => 53109
            [post_name] => holy-land-pilgrimage-part-6-mount
            [post_title] => Holy Land Pilgrimage Part 6 - Mount Carmel on the Feast of Our Lady of Mount Carmel and David & Goliath
            [post_author] => 3
            [post_date] => 2022-09-21 14:31:00
            [year] => 2022
            [month] => 9
            [post_type] => post
        )

    [33] => stdClass Object
        (
            [slug] => fssp
            [ID] => 53110
            [post_name] => holy-land-pilgrimage-part-5-jerusalem
            [post_title] => Holy Land Pilgrimage Part 5 - Jerusalem
            [post_author] => 3
            [post_date] => 2022-09-13 15:43:00
            [year] => 2022
            [month] => 9
            [post_type] => post
        )

    [34] => stdClass Object
        (
            [slug] => fssp
            [ID] => 53113
            [post_name] => holy-land-pilgrimage-part-4-bethlehem
            [post_title] => Holy Land Pilgrimage Part 4 - Bethlehem
            [post_author] => 3
            [post_date] => 2022-09-06 01:43:00
            [year] => 2022
            [month] => 9
            [post_type] => post
        )

    [35] => stdClass Object
        (
            [slug] => fssp
            [ID] => 53114
            [post_name] => holy-land-3
            [post_title] => Holy Land Pilgrimage Part 3 - River Jordan, Jericho & Dead Sea Swimming
            [post_author] => 3
            [post_date] => 2022-08-30 06:30:00
            [year] => 2022
            [month] => 8
            [post_type] => post
        )

    [36] => stdClass Object
        (
            [slug] => fssp
            [ID] => 53115
            [post_name] => holy-land-part-2
            [post_title] => Holy Land Pilgrimage Part 2 - The Sea of Galilee
            [post_author] => 3
            [post_date] => 2022-08-25 15:07:00
            [year] => 2022
            [month] => 8
            [post_type] => post
        )

    [37] => stdClass Object
        (
            [slug] => fssp
            [ID] => 53116
            [post_name] => holy-land
            [post_title] => Holy Land Pilgrimage Part 1
            [post_author] => 3
            [post_date] => 2022-08-23 04:53:00
            [year] => 2022
            [month] => 8
            [post_type] => post
        )

    [38] => stdClass Object
        (
            [slug] => fssp
            [ID] => 53119
            [post_name] => holy-land-pilgrimage-summer-22
            [post_title] => Holy Land Pilgrimage Summer '22
            [post_author] => 3
            [post_date] => 2022-05-04 03:20:00
            [year] => 2022
            [month] => 5
            [post_type] => post
        )

    [39] => stdClass Object
        (
            [slug] => curriculum
            [ID] => 53120
            [post_name] => fix-it-grammar
            [post_title] => Fix It! Grammar
            [post_author] => 3
            [post_date] => 2022-04-29 05:00:00
            [year] => 2022
            [month] => 4
            [post_type] => post
        )

    [40] => stdClass Object
        (
            [slug] => divine-mercy
            [ID] => 53121
            [post_name] => divine-mercy-montessori-activities
            [post_title] => Divine Mercy Montessori Activities
            [post_author] => 3
            [post_date] => 2022-04-24 18:20:00
            [year] => 2022
            [month] => 4
            [post_type] => post
        )

    [41] => stdClass Object
        (
            [slug] => reviews
            [ID] => 53122
            [post_name] => the-purgative-way
            [post_title] => The Purgative Way {Review & Giveaway}
            [post_author] => 3
            [post_date] => 2022-04-15 06:30:00
            [year] => 2022
            [month] => 4
            [post_type] => post
        )

    [42] => stdClass Object
        (
            [slug] => giveaway
            [ID] => 53124
            [post_name] => baskets-of-books-for-easter
            [post_title] => Baskets of Books for Easter {and a Giveaway!}
            [post_author] => 3
            [post_date] => 2022-04-14 06:30:00
            [year] => 2022
            [month] => 4
            [post_type] => post
        )

    [43] => stdClass Object
        (
            [slug] => marian
            [ID] => 53127
            [post_name] => annunciation
            [post_title] => The Annunciation Puzzle
            [post_author] => 3
            [post_date] => 2022-03-13 22:49:00
            [year] => 2022
            [month] => 3
            [post_type] => post
        )

    [44] => stdClass Object
        (
            [slug] => reviews
            [ID] => 53129
            [post_name] => the-liturgical-year-calendar-easter
            [post_title] => The Liturgical Year Calendar: Easter Cycle
            [post_author] => 3
            [post_date] => 2022-02-23 20:08:00
            [year] => 2022
            [month] => 2
            [post_type] => post
        )

    [45] => stdClass Object
        (
            [slug] => marian
            [ID] => 53131
            [post_name] => grotto-craft
            [post_title] => Our Lady of Lourdes Grotto Craft
            [post_author] => 3
            [post_date] => 2022-02-12 00:50:00
            [year] => 2022
            [month] => 2
            [post_type] => post
        )

    [46] => stdClass Object
        (
            [slug] => latin-mass
            [ID] => 53132
            [post_name] => preserve-latin-mass-petition
            [post_title] => Preserve the Latin Mass Petition
            [post_author] => 3
            [post_date] => 2022-02-04 17:20:00
            [year] => 2022
            [month] => 2
            [post_type] => post
        )

    [47] => stdClass Object
        (
            [slug] => ski
            [ID] => 53134
            [post_name] => ski-day
            [post_title] => Back to the Mountain for Another Ski Day
            [post_author] => 3
            [post_date] => 2022-02-01 07:30:00
            [year] => 2022
            [month] => 2
            [post_type] => post
        )

    [48] => stdClass Object
        (
            [slug] => ski
            [ID] => 53136
            [post_name] => ski-vacation
            [post_title] => Family Ski Trip to Schweitzer Mountain Resort
            [post_author] => 3
            [post_date] => 2022-01-29 23:15:00
            [year] => 2022
            [month] => 1
            [post_type] => post
        )

    [49] => stdClass Object
        (
            [slug] => advent-and-christmas
            [ID] => 53137
            [post_name] => santa-lucia-day
            [post_title] => Santa Lucia Day
            [post_author] => 3
            [post_date] => 2021-12-17 15:30:00
            [year] => 2021
            [month] => 12
            [post_type] => post
        )

    [50] => stdClass Object
        (
            [slug] => advent-and-christmas
            [ID] => 53138
            [post_name] => santa-lucia
            [post_title] => Late Night Baking on the Eve of Santa Lucia Day
            [post_author] => 3
            [post_date] => 2021-12-13 08:30:00
            [year] => 2021
            [month] => 12
            [post_type] => post
        )

    [51] => stdClass Object
        (
            [slug] => advent-and-christmas
            [ID] => 53139
            [post_name] => guadalupe-brunch
            [post_title] => Our Lady of Guadalupe Brunch on Gaudete Sunday
            [post_author] => 3
            [post_date] => 2021-12-13 07:30:00
            [year] => 2021
            [month] => 12
            [post_type] => post
        )

    [52] => stdClass Object
        (
            [slug] => advent-and-christmas
            [ID] => 53141
            [post_name] => gaudete
            [post_title] => On the Eve of the Feast of Our Lady of Guadalupe
            [post_author] => 3
            [post_date] => 2021-12-12 07:30:00
            [year] => 2021
            [month] => 12
            [post_type] => post
        )

    [53] => stdClass Object
        (
            [slug] => advent-and-christmas
            [ID] => 53142
            [post_name] => st-nicholas
            [post_title] => Celebrating the Feast of St. Nicholas :: 2021
            [post_author] => 3
            [post_date] => 2021-12-11 07:30:00
            [year] => 2021
            [month] => 12
            [post_type] => post
        )

    [54] => stdClass Object
        (
            [slug] => advent-and-christmas
            [ID] => 53143
            [post_name] => this-moment
            [post_title] => On the Eve of St. Nicholas Day
            [post_author] => 3
            [post_date] => 2021-12-11 07:00:00
            [year] => 2021
            [month] => 12
            [post_type] => post
        )

    [55] => stdClass Object
        (
            [slug] => advent-and-christmas
            [ID] => 53146
            [post_name] => advent-book-basket
            [post_title] => Our 2021 Advent Book Basket and Printable Labels {Plus Giveaway!}
            [post_author] => 3
            [post_date] => 2021-11-28 21:36:00
            [year] => 2021
            [month] => 11
            [post_type] => post
        )

    [56] => stdClass Object
        (
            [slug] => giveaway
            [ID] => 53148
            [post_name] => regina-martyrum-productions
            [post_title] => Regina Martyrum Productions
            [post_author] => 3
            [post_date] => 2021-11-27 17:59:00
            [year] => 2021
            [month] => 11
            [post_type] => post
        )

    [57] => stdClass Object
        (
            [slug] => gift-guide
            [ID] => 53149
            [post_name] => gift-guide
            [post_title] => 2021 Christmas Gift Ideas & Stocking Stuffers {Plus Another Sleighful of Giveaways}
            [post_author] => 3
            [post_date] => 2021-11-20 20:04:00
            [year] => 2021
            [month] => 11
            [post_type] => post
        )

    [58] => stdClass Object
        (
            [slug] => precious-moments-09
            [ID] => 53150
            [post_name] => this-moment
            [post_title] => {this moment}
            [post_author] => 3
            [post_date] => 2021-11-19 01:53:00
            [year] => 2021
            [month] => 11
            [post_type] => post
        )

    [59] => stdClass Object
        (
            [slug] => home-education
            [ID] => 53152
            [post_name] => blueberry-math
            [post_title] => Blueberry Math
            [post_author] => 3
            [post_date] => 2021-11-18 15:50:00
            [year] => 2021
            [month] => 11
            [post_type] => post
        )

    [60] => stdClass Object
        (
            [slug] => st-gertrude
            [ID] => 53153
            [post_name] => saint-gertrude
            [post_title] => On the Feast of Saint Gertrude
            [post_author] => 3
            [post_date] => 2021-11-17 01:05:00
            [year] => 2021
            [month] => 11
            [post_type] => post
        )

    [61] => stdClass Object
        (
            [slug] => advent-and-christmas
            [ID] => 53154
            [post_name] => advent-calendar
            [post_title] => The Liturgical Year Calendar: Christmas Cycle
            [post_author] => 3
            [post_date] => 2021-11-15 18:45:00
            [year] => 2021
            [month] => 11
            [post_type] => post
        )

    [62] => stdClass Object
        (
            [slug] => giveaway
            [ID] => 53155
            [post_name] => saint-nick
            [post_title] => New Christmas Books for the Feast of St. Nicholas {and a St. Nicholas Giveaway!}
            [post_author] => 3
            [post_date] => 2021-11-13 16:40:00
            [year] => 2021
            [month] => 11
            [post_type] => post
        )

    [63] => stdClass Object
        (
            [slug] => martinmas
            [ID] => 53156
            [post_name] => martinmas
            [post_title] => Celebrating Martinmas
            [post_author] => 3
            [post_date] => 2021-11-12 07:30:00
            [year] => 2021
            [month] => 11
            [post_type] => post
        )

    [64] => stdClass Object
        (
            [slug] => all-saints-day
            [ID] => 53157
            [post_name] => all-saints-party
            [post_title] => St. Joan of Arc's 2021 All Saints Party
            [post_author] => 3
            [post_date] => 2021-11-07 18:56:00
            [year] => 2021
            [month] => 11
            [post_type] => post
        )

    [65] => stdClass Object
        (
            [slug] => saint-o-lanterns
            [ID] => 53159
            [post_name] => saint-o-lanterns
            [post_title] => Saint-O-Lanterns
            [post_author] => 3
            [post_date] => 2021-11-04 22:46:00
            [year] => 2021
            [month] => 11
            [post_type] => post
        )

    [66] => stdClass Object
        (
            [slug] => all-saints-day
            [ID] => 53160
            [post_name] => celebrating-saints
            [post_title] => Celebrating the Saints :: Our 2021 Costumes
            [post_author] => 3
            [post_date] => 2021-11-02 04:44:00
            [year] => 2021
            [month] => 11
            [post_type] => post
        )

    [67] => stdClass Object
        (
            [slug] => reviews
            [ID] => 53161
            [post_name] => saints-around-world
            [post_title] => Saints Around the World
            [post_author] => 3
            [post_date] => 2021-11-01 19:53:00
            [year] => 2021
            [month] => 11
            [post_type] => post
        )

    [68] => stdClass Object
        (
            [slug] => all-saints-guessing-jars
            [ID] => 53162
            [post_name] => all-saints-guessing-jars
            [post_title] => All Saints Guessing Jars {2021 Edition}
            [post_author] => 3
            [post_date] => 2021-10-30 15:43:00
            [year] => 2021
            [month] => 10
            [post_type] => post
        )

    [69] => stdClass Object
        (
            [slug] => advent-and-christmas
            [ID] => 53163
            [post_name] => psa-order-your-advent-candles-now
            [post_title] => PSA: Order Your Advent Candles Now
            [post_author] => 3
            [post_date] => 2021-10-27 19:41:00
            [year] => 2021
            [month] => 10
            [post_type] => post
        )

    [70] => stdClass Object
        (
            [slug] => all-saints-day
            [ID] => 53164
            [post_name] => all-saints-party
            [post_title] => St. Joan of Arc's Annual All Saints Party
            [post_author] => 3
            [post_date] => 2021-10-26 17:37:00
            [year] => 2021
            [month] => 10
            [post_type] => post
        )

    [71] => stdClass Object
        (
            [slug] => high-school
            [ID] => 53165
            [post_name] => graduation
            [post_title] => High School Graduation Party {Class of 2021}
            [post_author] => 3
            [post_date] => 2021-10-25 23:18:00
            [year] => 2021
            [month] => 10
            [post_type] => post
        )

    [72] => stdClass Object
        (
            [slug] => latin-mass
            [ID] => 53166
            [post_name] => pray-for-carmelites
            [post_title] => Pray for the Carmelites
            [post_author] => 3
            [post_date] => 2021-10-02 04:06:00
            [year] => 2021
            [month] => 10
            [post_type] => post
        )

    [73] => stdClass Object
        (
            [slug] => end-of-school
            [ID] => 53169
            [post_name] => end-of-school-interviews
            [post_title] => End-of-School Interviews
            [post_author] => 3
            [post_date] => 2021-09-22 16:04:00
            [year] => 2021
            [month] => 9
            [post_type] => post
        )

    [74] => stdClass Object
        (
            [slug] => reviews
            [ID] => 53170
            [post_name] => the-fourteen-holy-helpers
            [post_title] => The Fourteen Holy Helpers
            [post_author] => 3
            [post_date] => 2021-09-09 19:39:00
            [year] => 2021
            [month] => 9
            [post_type] => post
        )

    [75] => stdClass Object
        (
            [slug] => back-to-school
            [ID] => 53171
            [post_name] => back-to-school-2021-2022
            [post_title] => Back to School :: 2021-2022
            [post_author] => 3
            [post_date] => 2021-09-08 18:30:00
            [year] => 2021
            [month] => 9
            [post_type] => post
        )

    [76] => stdClass Object
        (
            [slug] => precious-moments-04
            [ID] => 53172
            [post_name] => small-things-with-great-love
            [post_title] => Small Things with Great Love
            [post_author] => 3
            [post_date] => 2021-09-07 06:30:00
            [year] => 2021
            [month] => 9
            [post_type] => post
        )

    [77] => stdClass Object
        (
            [slug] => latin-mass
            [ID] => 53176
            [post_name] => pray-hope-and-dont-worry
            [post_title] => 'Pray, Hope, and Don't Worry'
            [post_author] => 3
            [post_date] => 2021-07-25 19:57:00
            [year] => 2021
            [month] => 7
            [post_type] => post
        )

    [78] => stdClass Object
        (
            [slug] => reviews
            [ID] => 53177
            [post_name] => ignatius-critical-editions
            [post_title] => Ignatius Critical Editions {Review & Giveaway}
            [post_author] => 3
            [post_date] => 2021-07-19 20:11:00
            [year] => 2021
            [month] => 7
            [post_type] => post
        )

    [79] => stdClass Object
        (
            [slug] => parade
            [ID] => 53179
            [post_name] => celebrating-4th-of-july
            [post_title] => Celebrating the 4th of July
            [post_author] => 3
            [post_date] => 2021-07-06 05:42:00
            [year] => 2021
            [month] => 7
            [post_type] => post
        )

    [80] => stdClass Object
        (
            [slug] => precious-moments-07
            [ID] => 53180
            [post_name] => a-back-yard-movie
            [post_title] => A Back Yard War Film
            [post_author] => 3
            [post_date] => 2021-07-03 17:10:00
            [year] => 2021
            [month] => 7
            [post_type] => post
        )

    [81] => stdClass Object
        (
            [slug] => carmel
            [ID] => 53182
            [post_name] => summer-2020-nun-run-part-two
            [post_title] => Summer 2020 :: The "Nun Run" Part Two
            [post_author] => 3
            [post_date] => 2021-07-02 16:40:00
            [year] => 2021
            [month] => 7
            [post_type] => post
        )

    [82] => stdClass Object
        (
            [slug] => precious-moments-01
            [ID] => 53183
            [post_name] => patriotic-berry-pie
            [post_title] => Patriotic Berry Pie
            [post_author] => 3
            [post_date] => 2021-07-02 05:26:00
            [year] => 2021
            [month] => 7
            [post_type] => post
        )

    [83] => stdClass Object
        (
            [slug] => nun-run
            [ID] => 53184
            [post_name] => summer-2020-nun-run-part-one
            [post_title] => Summer 2020 :: The "Nun Run" Part One
            [post_author] => 3
            [post_date] => 2021-06-12 00:56:00
            [year] => 2021
            [month] => 6
            [post_type] => post
        )

    [84] => stdClass Object
        (
            [slug] => st-joseph
            [ID] => 53186
            [post_name] => st-joseph
            [post_title] => St. Joseph's Day
            [post_author] => 3
            [post_date] => 2021-05-01 22:30:00
            [year] => 2021
            [month] => 5
            [post_type] => post
        )

    [85] => stdClass Object
        (
            [slug] => birthday-parties
            [ID] => 53187
            [post_name] => a-masquerade-murder-mystery-sweet
            [post_title] => A Masquerade Murder Mystery Sweet Sixteen Birthday Party
            [post_author] => 3
            [post_date] => 2021-04-27 06:30:00
            [year] => 2021
            [month] => 4
            [post_type] => post
        )

    [86] => stdClass Object
        (
            [slug] => golf
            [ID] => 53188
            [post_name] => golf
            [post_title] => Golf Tournament at Hayden Lake Country Club
            [post_author] => 3
            [post_date] => 2021-04-24 17:36:00
            [year] => 2021
            [month] => 4
            [post_type] => post
        )

    [87] => stdClass Object
        (
            [slug] => recipes
            [ID] => 53189
            [post_name] => hot-cross-buns
            [post_title] => Hot Cross Buns
            [post_author] => 3
            [post_date] => 2021-04-01 14:32:00
            [year] => 2021
            [month] => 4
            [post_type] => post
        )

    [88] => stdClass Object
        (
            [slug] => recipes
            [ID] => 53190
            [post_name] => chicken-curry-soup
            [post_title] => Chicken Curry Soup
            [post_author] => 3
            [post_date] => 2021-03-28 16:21:00
            [year] => 2021
            [month] => 3
            [post_type] => post
        )

    [89] => stdClass Object
        (
            [slug] => books
            [ID] => 53191
            [post_name] => baskets-of-books-for-easter
            [post_title] => Baskets of Books for Easter {and a Giveaway!}
            [post_author] => 3
            [post_date] => 2021-03-19 20:28:00
            [year] => 2021
            [month] => 3
            [post_type] => post
        )

    [90] => stdClass Object
        (
            [slug] => reviews
            [ID] => 53192
            [post_name] => where-is-jesus-hidden
            [post_title] => Where is Jesus Hidden?
            [post_author] => 3
            [post_date] => 2021-03-05 01:07:00
            [year] => 2021
            [month] => 3
            [post_type] => post
        )

    [91] => stdClass Object
        (
            [slug] => reviews
            [ID] => 53193
            [post_name] => bible-stories-for-baby-hands
            [post_title] => Bible Stories for Baby Hands
            [post_author] => 3
            [post_date] => 2021-03-02 18:10:00
            [year] => 2021
            [month] => 3
            [post_type] => post
        )

    [92] => stdClass Object
        (
            [slug] => written-by-twinkle-toes
            [ID] => 53194
            [post_name] => summer-2020-gettysburg
            [post_title] => Summer 2020 :: Gettysburg
            [post_author] => 3
            [post_date] => 2021-02-27 04:59:00
            [year] => 2021
            [month] => 2
            [post_type] => post
        )

    [93] => stdClass Object
        (
            [slug] => lent
            [ID] => 53196
            [post_name] => lent-calendars
            [post_title] => Lent Calendars
            [post_author] => 3
            [post_date] => 2021-02-24 18:08:00
            [year] => 2021
            [month] => 2
            [post_type] => post
        )

    [94] => stdClass Object
        (
            [slug] => written-by-twinkle-toes
            [ID] => 53197
            [post_name] => summer-2020-national-shrine-of-saint
            [post_title] => Summer 2020 :: The National Shrine of Saint Elizabeth Ann Seton
            [post_author] => 3
            [post_date] => 2021-02-20 18:48:00
            [year] => 2021
            [month] => 2
            [post_type] => post
        )

    [95] => stdClass Object
        (
            [slug] => washington-dc
            [ID] => 53199
            [post_name] => summer-2020-our-first-flight-washington
            [post_title] => Summer 2020 :: Our First Flight & Washington DC
            [post_author] => 3
            [post_date] => 2021-02-13 01:34:00
            [year] => 2021
            [month] => 2
            [post_type] => post
        )

    [96] => stdClass Object
        (
            [slug] => fssp
            [ID] => 53200
            [post_name] => celebrating-candlemas
            [post_title] => Celebrating Candlemas
            [post_author] => 3
            [post_date] => 2021-02-04 06:46:00
            [year] => 2021
            [month] => 2
            [post_type] => post
        )

    [97] => stdClass Object
        (
            [slug] => uncategorized
            [ID] => 53202
            [post_name] => merry-christmas
            [post_title] => Merry Christmas
            [post_author] => 3
            [post_date] => 2020-12-26 07:30:00
            [year] => 2020
            [month] => 12
            [post_type] => post
        )

    [98] => stdClass Object
        (
            [slug] => birthday-parties
            [ID] => 53203
            [post_name] => hobbit-birthday
            [post_title] => Another Hobbit Birthday Party!
            [post_author] => 3
            [post_date] => 2020-12-21 17:03:00
            [year] => 2020
            [month] => 12
            [post_type] => post
        )

    [99] => stdClass Object
        (
            [slug] => advent-and-christmas
            [ID] => 53204
            [post_name] => O%20Antiphons
            [post_title] => The Great O Antiphons, The Golden Nights
            [post_author] => 3
            [post_date] => 2020-12-17 18:05:00
            [year] => 2020
            [month] => 12
            [post_type] => post
        )

    [100] => stdClass Object
        (
            [slug] => reviews
            [ID] => 53205
            [post_name] => saintly-heart
            [post_title] => Saintly Heart :: Franciscan Friends Lacing Set
            [post_author] => 3
            [post_date] => 2020-12-14 22:57:00
            [year] => 2020
            [month] => 12
            [post_type] => post
        )

    [101] => stdClass Object
        (
            [slug] => advent-book-basket
            [ID] => 53206
            [post_name] => this-moment
            [post_title] => {this moment}
            [post_author] => 3
            [post_date] => 2020-12-03 08:00:00
            [year] => 2020
            [month] => 12
            [post_type] => post
        )

    [102] => stdClass Object
        (
            [slug] => advent-and-christmas
            [ID] => 53207
            [post_name] => st-andrew
            [post_title] => On the Feast of St. Andrew
            [post_author] => 3
            [post_date] => 2020-12-03 05:41:00
            [year] => 2020
            [month] => 12
            [post_type] => post
        )

    [103] => stdClass Object
        (
            [slug] => advent-and-christmas
            [ID] => 53208
            [post_name] => advent
            [post_title] => The Advent Season In Our Catholic Home
            [post_author] => 3
            [post_date] => 2020-11-30 20:46:00
            [year] => 2020
            [month] => 11
            [post_type] => post
        )

    [104] => stdClass Object
        (
            [slug] => giveaway
            [ID] => 53209
            [post_name] => 2020-christmas-gift-ideas-stocking
            [post_title] => 2020 Christmas Gift Ideas & Stocking Stuffers {Plus Another Sleighful of Giveaways}
            [post_author] => 3
            [post_date] => 2020-11-29 20:10:00
            [year] => 2020
            [month] => 11
            [post_type] => post
        )

    [105] => stdClass Object
        (
            [slug] => advent-and-christmas
            [ID] => 53210
            [post_name] => advent-book-basket
            [post_title] => Our 2020 Advent Book Basket and Printable Labels {Plus Giveaway!}
            [post_author] => 3
            [post_date] => 2020-11-23 19:07:00
            [year] => 2020
            [month] => 11
            [post_type] => post
        )

    [106] => stdClass Object
        (
            [slug] => reviews
            [ID] => 53211
            [post_name] => christmas-abc-book
            [post_title] => A Child's Christmas ABC Book
            [post_author] => 3
            [post_date] => 2020-11-20 21:42:00
            [year] => 2020
            [month] => 11
            [post_type] => post
        )

    [107] => stdClass Object
        (
            [slug] => st-nicholas
            [ID] => 53212
            [post_name] => saint-nick
            [post_title] => New Christmas Books for the Feast of St. Nicholas {and a St. Nicholas Giveaway!}
            [post_author] => 3
            [post_date] => 2020-11-16 04:17:00
            [year] => 2020
            [month] => 11
            [post_type] => post
        )

    [108] => stdClass Object
        (
            [slug] => fssp
            [ID] => 53213
            [post_name] => soldiers-of-christ
            [post_title] => Soldier of Christ: The Sacrament of Confirmation
            [post_author] => 3
            [post_date] => 2020-11-16 01:35:00
            [year] => 2020
            [month] => 11
            [post_type] => post
        )

    [109] => stdClass Object
        (
            [slug] => all-saints-day
            [ID] => 53214
            [post_name] => celebrating-saints
            [post_title] => Celebrating the Saints :: Our 2020 Costumes
            [post_author] => 3
            [post_date] => 2020-11-11 00:24:00
            [year] => 2020
            [month] => 11
            [post_type] => post
        )

    [110] => stdClass Object
        (
            [slug] => reviews
            [ID] => 53215
            [post_name] => sleepytime-saints
            [post_title] => Sleepytime Saints A to Z
            [post_author] => 3
            [post_date] => 2020-11-10 17:37:00
            [year] => 2020
            [month] => 11
            [post_type] => post
        )

    [111] => stdClass Object
        (
            [slug] => marian
            [ID] => 53216
            [post_name] => ave-ave-ave-maria
            [post_title] => Ave, Ave, Ave Maria!
            [post_author] => 3
            [post_date] => 2020-11-08 05:46:00
            [year] => 2020
            [month] => 11
            [post_type] => post
        )

    [112] => stdClass Object
        (
            [slug] => saint-o-lanterns
            [ID] => 53217
            [post_name] => saint-o-lanterns
            [post_title] => Saint-O-Lanterns
            [post_author] => 3
            [post_date] => 2020-11-03 20:49:00
            [year] => 2020
            [month] => 11
            [post_type] => post
        )

    [113] => stdClass Object
        (
            [slug] => all-saints-guessing-jars
            [ID] => 53218
            [post_name] => all-saints-guessing-jars
            [post_title] => All Saints Guessing Jars
            [post_author] => 3
            [post_date] => 2020-10-31 18:00:00
            [year] => 2020
            [month] => 10
            [post_type] => post
        )

    [114] => stdClass Object
        (
            [slug] => fssp
            [ID] => 53219
            [post_name] => eucharistic-procession-in-honor-of
            [post_title] => Eucharistic Procession in Honor of Christ the King
            [post_author] => 3
            [post_date] => 2020-10-25 22:41:00
            [year] => 2020
            [month] => 10
            [post_type] => post
        )

    [115] => stdClass Object
        (
            [slug] => costumes
            [ID] => 53220
            [post_name] => the-little-flower
            [post_title] => The Little Flower :: DIY St. Therese Infant Costume
            [post_author] => 3
            [post_date] => 2020-10-23 22:14:00
            [year] => 2020
            [month] => 10
            [post_type] => post
        )

    [116] => stdClass Object
        (
            [slug] => advent-and-christmas
            [ID] => 53221
            [post_name] => advent-candles
            [post_title] => PSA: Order Your Advent Candles Now
            [post_author] => 3
            [post_date] => 2020-10-23 20:08:00
            [year] => 2020
            [month] => 10
            [post_type] => post
        )

    [117] => stdClass Object
        (
            [slug] => st-therese
            [ID] => 53222
            [post_name] => baking-eclairs
            [post_title] => Baking Éclairs on the Feast of St. Thérèse
            [post_author] => 3
            [post_date] => 2020-10-09 16:28:00
            [year] => 2020
            [month] => 10
            [post_type] => post
        )

    [118] => stdClass Object
        (
            [slug] => angels
            [ID] => 53223
            [post_name] => angel-of-god
            [post_title] => Angel of God, My Guardian Dear
            [post_author] => 3
            [post_date] => 2020-10-08 16:31:00
            [year] => 2020
            [month] => 10
            [post_type] => post
        )

    [119] => stdClass Object
        (
            [slug] => reviews
            [ID] => 53224
            [post_name] => a-is-for-angel
            [post_title] => A is for Angel: The Alphabet in Sacred Art
            [post_author] => 3
            [post_date] => 2020-10-02 22:32:00
            [year] => 2020
            [month] => 10
            [post_type] => post
        )

    [120] => stdClass Object
        (
            [slug] => st-therese
            [ID] => 53225
            [post_name] => morning-prayer
            [post_title] => Morning Prayer by St. Thérèse
            [post_author] => 3
            [post_date] => 2020-10-01 15:40:00
            [year] => 2020
            [month] => 10
            [post_type] => post
        )

    [121] => stdClass Object
        (
            [slug] => st-jerome
            [ID] => 53226
            [post_name] => st-jerome-and-lion
            [post_title] => St. Jerome and the Lion
            [post_author] => 3
            [post_date] => 2020-10-01 06:30:00
            [year] => 2020
            [month] => 10
            [post_type] => post
        )

    [122] => stdClass Object
        (
            [slug] => angels
            [ID] => 53227
            [post_name] => celebrating-michaelmas
            [post_title] => Celebrating Michaelmas
            [post_author] => 3
            [post_date] => 2020-09-30 06:30:00
            [year] => 2020
            [month] => 9
            [post_type] => post
        )

    [123] => stdClass Object
        (
            [slug] => just-for-fun
            [ID] => 53228
            [post_name] => take-two
            [post_title] => Tooth Trauma {Take Two}
            [post_author] => 3
            [post_date] => 2020-09-27 18:32:00
            [year] => 2020
            [month] => 9
            [post_type] => post
        )

    [124] => stdClass Object
        (
            [slug] => curriculum
            [ID] => 53229
            [post_name] => 2020-2021-curriculum
            [post_title] => Our 2020-2021 Curriculum
            [post_author] => 3
            [post_date] => 2020-09-22 18:05:00
            [year] => 2020
            [month] => 9
            [post_type] => post
        )

    [125] => stdClass Object
        (
            [slug] => giveaway
            [ID] => 53230
            [post_name] => back-to-school-2020-2021
            [post_title] => Back-to-School :: 2020-2021
            [post_author] => 3
            [post_date] => 2020-09-09 16:40:00
            [year] => 2020
            [month] => 9
            [post_type] => post
        )

    [126] => stdClass Object
        (
            [slug] => marian
            [ID] => 53231
            [post_name] => blessed-mother
            [post_title] => On the Nativity of the Blessed Virgin Mary
            [post_author] => 3
            [post_date] => 2020-09-09 06:30:00
            [year] => 2020
            [month] => 9
            [post_type] => post
        )

    [127] => stdClass Object
        (
            [slug] => precious-moments-08
            [ID] => 53232
            [post_name] => rose
            [post_title] => St. Rose of Lima, Ora Pro Nobis!
            [post_author] => 3
            [post_date] => 2020-08-24 05:00:00
            [year] => 2020
            [month] => 8
            [post_type] => post
        )

    [128] => stdClass Object
        (
            [slug] => carmel
            [ID] => 53233
            [post_name] => christendom-bound
            [post_title] => Christendom Bound :: A Cross-Country Road Trip
            [post_author] => 3
            [post_date] => 2020-08-24 00:29:00
            [year] => 2020
            [month] => 8
            [post_type] => post
        )

    [129] => stdClass Object
        (
            [slug] => sponsors
            [ID] => 53234
            [post_name] => sponsor-love
            [post_title] => Sponsor Love: Updates & Current Specials
            [post_author] => 3
            [post_date] => 2020-07-25 06:30:00
            [year] => 2020
            [month] => 7
            [post_type] => post
        )

    [130] => stdClass Object
        (
            [slug] => precious-moments-09
            [ID] => 53235
            [post_name] => sacred-heart
            [post_title] => The Catholic Child and the Sacred Heart
            [post_author] => 3
            [post_date] => 2020-07-12 21:32:00
            [year] => 2020
            [month] => 7
            [post_type] => post
        )

    [131] => stdClass Object
        (
            [slug] => birthday-parties
            [ID] => 53239
            [post_name] => donut-birthday
            [post_title] => Donut Ever Grow Up :: A 3rd Birthday Party
            [post_author] => 3
            [post_date] => 2020-06-16 02:12:00
            [year] => 2020
            [month] => 6
            [post_type] => post
        )

    [132] => stdClass Object
        (
            [slug] => pentecost
            [ID] => 53240
            [post_name] => pentecost-sunday
            [post_title] => Celebrating Pentecost, the Birthday of the Church
            [post_author] => 3
            [post_date] => 2020-06-01 23:56:00
            [year] => 2020
            [month] => 6
            [post_type] => post
        )

    [133] => stdClass Object
        (
            [slug] => marian
            [ID] => 53241
            [post_name] => may-sandwiches
            [post_title] => Flower Fruit Sandwiches in May
            [post_author] => 3
            [post_date] => 2020-05-29 17:38:00
            [year] => 2020
            [month] => 5
            [post_type] => post
        )

    [134] => stdClass Object
        (
            [slug] => end-of-school
            [ID] => 53242
            [post_name] => interviews
            [post_title] => End-of-School Interviews
            [post_author] => 3
            [post_date] => 2020-05-27 23:10:00
            [year] => 2020
            [month] => 5
            [post_type] => post
        )

    [135] => stdClass Object
        (
            [slug] => nature
            [ID] => 53243
            [post_name] => mothers-day
            [post_title] => Hiking on Mother's Day
            [post_author] => 3
            [post_date] => 2020-05-18 23:55:00
            [year] => 2020
            [month] => 5
            [post_type] => post
        )

    [136] => stdClass Object
        (
            [slug] => our-lady-of-fatima
            [ID] => 53245
            [post_name] => our-lady-of-fatima
            [post_title] => On the Feast of Our Lady of Fatima
            [post_author] => 3
            [post_date] => 2020-05-14 06:30:00
            [year] => 2020
            [month] => 5
            [post_type] => post
        )

    [137] => stdClass Object
        (
            [slug] => catholic-cuisine
            [ID] => 53246
            [post_name] => saint-george-and-dragon
            [post_title] => Saint George and the Dragon
            [post_author] => 3
            [post_date] => 2020-04-25 18:10:00
            [year] => 2020
            [month] => 4
            [post_type] => post
        )

    [138] => stdClass Object
        (
            [slug] => happy-birthday
            [ID] => 53247
            [post_name] => birthday
            [post_title] => A Happy 15th Birthday
            [post_author] => 3
            [post_date] => 2020-04-23 20:21:00
            [year] => 2020
            [month] => 4
            [post_type] => post
        )

    [139] => stdClass Object
        (
            [slug] => easter
            [ID] => 53248
            [post_name] => easter-calendar
            [post_title] => Painting an Easter Calendar
            [post_author] => 3
            [post_date] => 2020-04-18 20:01:00
            [year] => 2020
            [month] => 4
            [post_type] => post
        )

    [140] => stdClass Object
        (
            [slug] => lent
            [ID] => 53250
            [post_name] => good-friday
            [post_title] => Good Friday Lenten Dinner for Children
            [post_author] => 3
            [post_date] => 2020-04-11 06:30:00
            [year] => 2020
            [month] => 4
            [post_type] => post
        )

    [141] => stdClass Object
        (
            [slug] => holy-thursday
            [ID] => 53251
            [post_name] => holy-thursday
            [post_title] => Holy Thursday Lenten Dinner
            [post_author] => 3
            [post_date] => 2020-04-10 06:30:00
            [year] => 2020
            [month] => 4
            [post_type] => post
        )

    [142] => stdClass Object
        (
            [slug] => holy-thursday
            [ID] => 53252
            [post_name] => holy-thursday-2019
            [post_title] => Holy Thursday 2019
            [post_author] => 3
            [post_date] => 2020-04-10 06:00:00
            [year] => 2020
            [month] => 4
            [post_type] => post
        )

    [143] => stdClass Object
        (
            [slug] => lent
            [ID] => 53253
            [post_name] => palm-sunday
            [post_title] => Pictures from Palm Sunday
            [post_author] => 3
            [post_date] => 2020-04-06 06:30:00
            [year] => 2020
            [month] => 4
            [post_type] => post
        )

    [144] => stdClass Object
        (
            [slug] => reviews
            [ID] => 53254
            [post_name] => st-conrad-and-wildfire
            [post_title] => St. Conrad and the Wildfire
            [post_author] => 3
            [post_date] => 2020-04-03 04:26:00
            [year] => 2020
            [month] => 4
            [post_type] => post
        )

    [145] => stdClass Object
        (
            [slug] => reviews
            [ID] => 53255
            [post_name] => the-gardener-rosary-from-west-coast
            [post_title] => The Gardener Rosary from West Coast Catholic
            [post_author] => 3
            [post_date] => 2020-04-01 20:29:00
            [year] => 2020
            [month] => 4
            [post_type] => post
        )

    [146] => stdClass Object
        (
            [slug] => picture-books
            [ID] => 53256
            [post_name] => books
            [post_title] => Stacks of Books on Epiphany
            [post_author] => 3
            [post_date] => 2020-04-01 06:30:00
            [year] => 2020
            [month] => 4
            [post_type] => post
        )

    [147] => stdClass Object
        (
            [slug] => books
            [ID] => 53257
            [post_name] => baskets-of-books-for-easter
            [post_title] => Baskets of Books for Easter {and a Giveaway!}
            [post_author] => 3
            [post_date] => 2020-03-30 23:27:00
            [year] => 2020
            [month] => 3
            [post_type] => post
        )

    [148] => stdClass Object
        (
            [slug] => fssp
            [ID] => 53258
            [post_name] => prayer-in-times-of-epidemics
            [post_title] => Prayer in Times of Epidemics
            [post_author] => 3
            [post_date] => 2020-03-15 17:47:00
            [year] => 2020
            [month] => 3
            [post_type] => post
        )

    [149] => stdClass Object
        (
            [slug] => requiescat-in-pace
            [ID] => 53260
            [post_name] => veronica-cools
            [post_title] => "Veronica has gone to God."
            [post_author] => 3
            [post_date] => 2020-03-01 03:36:00
            [year] => 2020
            [month] => 3
            [post_type] => post
        )

    [150] => stdClass Object
        (
            [slug] => leap-day
            [ID] => 53261
            [post_name] => leap-day-time-capsule
            [post_title] => Leap Day Time Capsule {free printable}
            [post_author] => 3
            [post_date] => 2020-02-29 17:34:00
            [year] => 2020
            [month] => 2
            [post_type] => post
        )

    [151] => stdClass Object
        (
            [slug] => pro-life
            [ID] => 53262
            [post_name] => pro-life-valentines
            [post_title] => Pro-Life Valentines
            [post_author] => 3
            [post_date] => 2020-02-12 15:38:00
            [year] => 2020
            [month] => 2
            [post_type] => post
        )

    [152] => stdClass Object
        (
            [slug] => marian
            [ID] => 53263
            [post_name] => cocoa-pebbles-grotto
            [post_title] => Cocoa Pebbles Grotto
            [post_author] => 3
            [post_date] => 2020-02-12 01:00:00
            [year] => 2020
            [month] => 2
            [post_type] => post
        )

    [153] => stdClass Object
        (
            [slug] => precious-moments-04
            [ID] => 53264
            [post_name] => whatever-god-wants
            [post_title] => Whatever God Wants
            [post_author] => 3
            [post_date] => 2020-01-03 22:38:00
            [year] => 2020
            [month] => 1
            [post_type] => post
        )

    [154] => stdClass Object
        (
            [slug] => advent-and-christmas
            [ID] => 53265
            [post_name] => golden-nights
            [post_title] => The Great O Antiphons, The Golden Nights
            [post_author] => 3
            [post_date] => 2019-12-17 21:53:00
            [year] => 2019
            [month] => 12
            [post_type] => post
        )

    [155] => stdClass Object
        (
            [slug] => advent-and-christmas
            [ID] => 53266
            [post_name] => santa-lucia-day
            [post_title] => Santa Lucia Day in the Evening
            [post_author] => 3
            [post_date] => 2019-12-14 06:00:00
            [year] => 2019
            [month] => 12
            [post_type] => post
        )

    [156] => stdClass Object
        (
            [slug] => advent-and-christmas
            [ID] => 53267
            [post_name] => lucia-day
            [post_title] => Santa Lucia Day in the Morning
            [post_author] => 3
            [post_date] => 2019-12-14 03:13:00
            [year] => 2019
            [month] => 12
            [post_type] => post
        )

    [157] => stdClass Object
        (
            [slug] => advent-and-christmas
            [ID] => 53268
            [post_name] => saint-nicholas-chocolate-coins
            [post_title] => St. Nicholas Chocolate Coins
            [post_author] => 3
            [post_date] => 2019-12-04 17:02:00
            [year] => 2019
            [month] => 12
            [post_type] => post
        )

    [158] => stdClass Object
        (
            [slug] => gift-guide
            [ID] => 53269
            [post_name] => christmas-gift-guide
            [post_title] => 2019 Christmas Gift Ideas & Stocking Stuffers {Plus Another Sleighful of Giveaways}
            [post_author] => 3
            [post_date] => 2019-12-03 00:59:00
            [year] => 2019
            [month] => 12
            [post_type] => post
        )

    [159] => stdClass Object
        (
            [slug] => precious-moments-09
            [ID] => 53271
            [post_name] => three-months
            [post_title] => Three Months
            [post_author] => 3
            [post_date] => 2019-11-25 02:05:00
            [year] => 2019
            [month] => 11
            [post_type] => post
        )

    [160] => stdClass Object
        (
            [slug] => wooden-saint-blocks
            [ID] => 53272
            [post_name] => interlocking-blocks
            [post_title] => Interlocking Wooden Blocks
            [post_author] => 3
            [post_date] => 2019-11-25 01:21:00
            [year] => 2019
            [month] => 11
            [post_type] => post
        )

    [161] => stdClass Object
        (
            [slug] => catholic-cuisine
            [ID] => 53273
            [post_name] => christ-king
            [post_title] => On the Last Sunday of the Liturgical Year
            [post_author] => 3
            [post_date] => 2019-11-25 00:45:00
            [year] => 2019
            [month] => 11
            [post_type] => post
        )

    [162] => stdClass Object
        (
            [slug] => advent-book-basket
            [ID] => 53275
            [post_name] => our-2019-advent-book-basket-and
            [post_title] => Our 2019 Advent Book Basket and Printable Labels {Plus Lots of Christmas Books to Giveaway!}
            [post_author] => 3
            [post_date] => 2019-11-22 21:40:00
            [year] => 2019
            [month] => 11
            [post_type] => post
        )

    [163] => stdClass Object
        (
            [slug] => advent-and-christmas
            [ID] => 53276
            [post_name] => christmas-carols
            [post_title] => Christmas Carols (Little Golden Book)
            [post_author] => 3
            [post_date] => 2019-11-18 17:21:00
            [year] => 2019
            [month] => 11
            [post_type] => post
        )

    [164] => stdClass Object
        (
            [slug] => advent-and-christmas
            [ID] => 53277
            [post_name] => new-christmas-books
            [post_title] => New Christmas Books for the Feast of St. Nicholas {and a St. Nicholas Giveaway!}
            [post_author] => 3
            [post_date] => 2019-11-15 20:33:00
            [year] => 2019
            [month] => 11
            [post_type] => post
        )

    [165] => stdClass Object
        (
            [slug] => martinmas
            [ID] => 53278
            [post_name] => martinmas-lantern-walk
            [post_title] => Martinmas Lantern Walk
            [post_author] => 3
            [post_date] => 2019-11-13 08:28:00
            [year] => 2019
            [month] => 11
            [post_type] => post
        )

    [166] => stdClass Object
        (
            [slug] => book-cart
            [ID] => 53279
            [post_name] => november-book-cart
            [post_title] => November Book Cart
            [post_author] => 3
            [post_date] => 2019-11-12 22:10:00
            [year] => 2019
            [month] => 11
            [post_type] => post
        )

    [167] => stdClass Object
        (
            [slug] => saints-around-the-world
            [ID] => 53280
            [post_name] => saints-around-world
            [post_title] => Saints Around the World :: St. Martin de Porres
            [post_author] => 3
            [post_date] => 2019-11-12 19:48:00
            [year] => 2019
            [month] => 11
            [post_type] => post
        )

    [168] => stdClass Object
        (
            [slug] => cousins
            [ID] => 53281
            [post_name] => veterans-day-wreaths
            [post_title] => Veteran's Day Wreaths Across America Fundraiser
            [post_author] => 3
            [post_date] => 2019-11-11 20:17:00
            [year] => 2019
            [month] => 11
            [post_type] => post
        )

    [169] => stdClass Object
        (
            [slug] => christendom-college
            [ID] => 53282
            [post_name] => wheres-waldo
            [post_title] => Where's Waldo?
            [post_author] => 3
            [post_date] => 2019-11-09 18:01:00
            [year] => 2019
            [month] => 11
            [post_type] => post
        )

    [170] => stdClass Object
        (
            [slug] => all-saints-guessing-jars
            [ID] => 53283
            [post_name] => all-saints-guessing-jars
            [post_title] => All Saints Guessing Jars {Printable Guess Pages}
            [post_author] => 3
            [post_date] => 2019-11-09 17:23:00
            [year] => 2019
            [month] => 11
            [post_type] => post
        )

    [171] => stdClass Object
        (
            [slug] => all-saints-day
            [ID] => 53284
            [post_name] => all-hallows-eve-party
            [post_title] => All Hallows' Eve Party at St. Joan of Arc Parish
            [post_author] => 3
            [post_date] => 2019-11-06 01:09:00
            [year] => 2019
            [month] => 11
            [post_type] => post
        )

    [172] => stdClass Object
        (
            [slug] => saint-o-lanterns
            [ID] => 53285
            [post_name] => saint-o-lanterns
            [post_title] => Saint-O-Lanterns
            [post_author] => 3
            [post_date] => 2019-11-02 23:35:00
            [year] => 2019
            [month] => 11
            [post_type] => post
        )

    [173] => stdClass Object
        (
            [slug] => saint-o-lanterns
            [ID] => 53286
            [post_name] => carving-pumpkins
            [post_title] => Carving Our 2019 Saint-O-Lanterns
            [post_author] => 3
            [post_date] => 2019-11-02 23:30:00
            [year] => 2019
            [month] => 11
            [post_type] => post
        )

    [174] => stdClass Object
        (
            [slug] => all-souls-day
            [ID] => 53287
            [post_name] => all-souls
            [post_title] => The Catholic Child and the Souls in Purgatory
            [post_author] => 3
            [post_date] => 2019-11-02 17:07:00
            [year] => 2019
            [month] => 11
            [post_type] => post
        )

    [175] => stdClass Object
        (
            [slug] => all-saints-day
            [ID] => 53288
            [post_name] => celebrating-saints
            [post_title] => Celebrating the Saints :: Our 2019 Costumes
            [post_author] => 3
            [post_date] => 2019-11-02 01:54:00
            [year] => 2019
            [month] => 11
            [post_type] => post
        )

    [176] => stdClass Object
        (
            [slug] => all-saints-guessing-jars
            [ID] => 53289
            [post_name] => 8-more-all-saints-guessing-jars
            [post_title] => All Saints Guessing Jars {8 More Saints!}
            [post_author] => 3
            [post_date] => 2019-10-30 19:10:00
            [year] => 2019
            [month] => 10
            [post_type] => post
        )

    [177] => stdClass Object
        (
            [slug] => all-saints-guessing-jars
            [ID] => 53290
            [post_name] => all-saints-guessing-jars-dye-free
            [post_title] => All Saints Guessing Jars {Dye-Free Edition}
            [post_author] => 3
            [post_date] => 2019-10-29 20:20:00
            [year] => 2019
            [month] => 10
            [post_type] => post
        )

    [178] => stdClass Object
        (
            [slug] => fssp
            [ID] => 53291
            [post_name] => dr-seuss-birthday-cake
            [post_title] => A Dr. Seuss Birthday Cake for Father Gordon
            [post_author] => 3
            [post_date] => 2019-10-21 21:49:00
            [year] => 2019
            [month] => 10
            [post_type] => post
        )

    [179] => stdClass Object
        (
            [slug] => st-francis-of-assisi
            [ID] => 53292
            [post_name] => sermon-to-birds
            [post_title] => St. Francis of Assisi's Sermon to the Birds
            [post_author] => 3
            [post_date] => 2019-10-04 16:45:00
            [year] => 2019
            [month] => 10
            [post_type] => post
        )

    [180] => stdClass Object
        (
            [slug] => daybook
            [ID] => 53293
            [post_name] => michaelmas
            [post_title] => Michaelmas Daybook
            [post_author] => 3
            [post_date] => 2019-09-30 04:38:00
            [year] => 2019
            [month] => 9
            [post_type] => post
        )

    [181] => stdClass Object
        (
            [slug] => giveaway
            [ID] => 53295
            [post_name] => lisieux-nail-polish
            [post_title] => Lisieux Nail Polish {Giveaway}
            [post_author] => 3
            [post_date] => 2019-09-28 22:09:00
            [year] => 2019
            [month] => 9
            [post_type] => post
        )

    [182] => stdClass Object
        (
            [slug] => prayer-request
            [ID] => 53296
            [post_name] => please-continue-to-pray
            [post_title] => Please Continue to Pray for Veronica Cools
            [post_author] => 3
            [post_date] => 2019-09-23 17:38:00
            [year] => 2019
            [month] => 9
            [post_type] => post
        )

    [183] => stdClass Object
        (
            [slug] => prayer-request
            [ID] => 53297
            [post_name] => veronica-cools
            [post_title] => Please Join Me in Helping a Family in Need
            [post_author] => 3
            [post_date] => 2019-09-01 22:37:00
            [year] => 2019
            [month] => 9
            [post_type] => post
        )

    [184] => stdClass Object
        (
            [slug] => requiescat-in-pace
            [ID] => 53298
            [post_name] => prayer-request
            [post_title] => + Requiescat in Pace +
            [post_author] => 3
            [post_date] => 2019-08-30 06:30:00
            [year] => 2019
            [month] => 8
            [post_type] => post
        )

    [185] => stdClass Object
        (
            [slug] => american-girl
            [ID] => 53299
            [post_name] => saint-jane
            [post_title] => On the Traditional Feast of Saint Jane
            [post_author] => 3
            [post_date] => 2019-08-22 02:35:00
            [year] => 2019
            [month] => 8
            [post_type] => post
        )

    [186] => stdClass Object
        (
            [slug] => crafts
            [ID] => 53300
            [post_name] => pretty-happy-funny-real
            [post_title] => {pretty, happy, funny, real}
            [post_author] => 3
            [post_date] => 2019-08-08 06:30:00
            [year] => 2019
            [month] => 8
            [post_type] => post
        )

    [187] => stdClass Object
        (
            [slug] => idaho
            [ID] => 53301
            [post_name] => pre-baby-instagram-recap
            [post_title] => Instagram Recap: DMV, French Toast & Hello Sugar!
            [post_author] => 3
            [post_date] => 2019-08-03 06:30:00
            [year] => 2019
            [month] => 8
            [post_type] => post
        )

    [188] => stdClass Object
        (
            [slug] => giveaway
            [ID] => 53302
            [post_name] => padre-pio
            [post_title] => Saints Around the World :: St. Pio of Pietrelcina {Back-to-School Giveaway}
            [post_author] => 3
            [post_date] => 2019-08-02 02:24:00
            [year] => 2019
            [month] => 8
            [post_type] => post
        )

    [189] => stdClass Object
        (
            [slug] => precious-moments-09
            [ID] => 53303
            [post_name] => baby-updates
            [post_title] => Baby Updates & Online Baby Pool
            [post_author] => 3
            [post_date] => 2019-07-31 06:30:00
            [year] => 2019
            [month] => 7
            [post_type] => post
        )

    [190] => stdClass Object
        (
            [slug] => kolbe-academy
            [ID] => 53304
            [post_name] => high-school-graduation-party
            [post_title] => High School Graduation Party {Class of 2019}
            [post_author] => 3
            [post_date] => 2019-07-25 23:55:00
            [year] => 2019
            [month] => 7
            [post_type] => post
        )

    [191] => stdClass Object
        (
            [slug] => graduation
            [ID] => 53305
            [post_name] => graduation-candy-buffet
            [post_title] => Graduation Party Candy Buffet {Free Printables}
            [post_author] => 3
            [post_date] => 2019-07-25 22:35:00
            [year] => 2019
            [month] => 7
            [post_type] => post
        )

    [192] => stdClass Object
        (
            [slug] => cake-decorating
            [ID] => 53306
            [post_name] => graduation-cap-cupcakes
            [post_title] => Graduation Cap Cupcakes
            [post_author] => 3
            [post_date] => 2019-07-24 17:24:00
            [year] => 2019
            [month] => 7
            [post_type] => post
        )

    [193] => stdClass Object
        (
            [slug] => our-lady-of-mount-carmel
            [ID] => 53307
            [post_name] => our-lady-of-mount-carmel
            [post_title] => On the Feast of Our Lady of Mount Carmel
            [post_author] => 3
            [post_date] => 2019-07-17 06:30:00
            [year] => 2019
            [month] => 7
            [post_type] => post
        )

    [194] => stdClass Object
        (
            [slug] => st-benedict
            [ID] => 53308
            [post_name] => saint-benedict
            [post_title] => Books, Brews and Crux S. Patris Benedicti Pizza on the Feast of Saint Benedict
            [post_author] => 3
            [post_date] => 2019-07-12 06:30:00
            [year] => 2019
            [month] => 7
            [post_type] => post
        )

    [195] => stdClass Object
        (
            [slug] => party-games
            [ID] => 53309
            [post_name] => wedding-activity-book
            [post_title] => Wedding Reception Activity Book for Children
            [post_author] => 3
            [post_date] => 2019-07-09 22:51:00
            [year] => 2019
            [month] => 7
            [post_type] => post
        )

    [196] => stdClass Object
        (
            [slug] => birthday-parties
            [ID] => 53310
            [post_name] => puppy-pawty
            [post_title] => Puppy Paw-ty
            [post_author] => 3
            [post_date] => 2019-06-25 12:41:00
            [year] => 2019
            [month] => 6
            [post_type] => post
        )

    [197] => stdClass Object
        (
            [slug] => fssp
            [ID] => 53311
            [post_name] => st-johns-bonfire
            [post_title] => St. John's Bonfire + 30th Anniversary Celebration
            [post_author] => 3
            [post_date] => 2019-06-25 01:45:00
            [year] => 2019
            [month] => 6
            [post_type] => post
        )

    [198] => stdClass Object
        (
            [slug] => summer
            [ID] => 53312
            [post_name] => strawberry-patch
            [post_title] => Picking Berries at the Strawberry Patch
            [post_author] => 3
            [post_date] => 2019-06-18 04:00:00
            [year] => 2019
            [month] => 6
            [post_type] => post
        )

    [199] => stdClass Object
        (
            [slug] => precious-moments-09
            [ID] => 53313
            [post_name] => baby-updates
            [post_title] => Baby Updates :: 30 Weeks and Counting
            [post_author] => 3
            [post_date] => 2019-06-13 20:23:00
            [year] => 2019
            [month] => 6
            [post_type] => post
        )

    [200] => stdClass Object
        (
            [slug] => precious-moments-08
            [ID] => 53314
            [post_name] => saints
            [post_title] => The Catholic Child and the Saints
            [post_author] => 3
            [post_date] => 2019-05-16 17:46:00
            [year] => 2019
            [month] => 5
            [post_type] => post
        )

    [201] => stdClass Object
        (
            [slug] => fssp
            [ID] => 53315
            [post_name] => last-week-of-high-school
            [post_title] => Last Week of High School for our Two Graduates
            [post_author] => 3
            [post_date] => 2019-05-12 01:56:00
            [year] => 2019
            [month] => 5
            [post_type] => post
        )

    [202] => stdClass Object
        (
            [slug] => easter
            [ID] => 53316
            [post_name] => easter-outfits
            [post_title] => Easter Outfits for the Girls on Holy Saturday
            [post_author] => 3
            [post_date] => 2019-04-21 06:30:00
            [year] => 2019
            [month] => 4
            [post_type] => post
        )

    [203] => stdClass Object
        (
            [slug] => precious-moments-08
            [ID] => 53317
            [post_name] => palm-sunday
            [post_title] => Palm Sunday
            [post_author] => 3
            [post_date] => 2019-04-14 14:59:00
            [year] => 2019
            [month] => 4
            [post_type] => post
        )

    [204] => stdClass Object
        (
            [slug] => giveaway
            [ID] => 53318
            [post_name] => prayer-pillowcases
            [post_title] => Beautiful Prayer Pillowcases for Easter Baskets
            [post_author] => 3
            [post_date] => 2019-04-10 05:08:00
            [year] => 2019
            [month] => 4
            [post_type] => post
        )

    [205] => stdClass Object
        (
            [slug] => books
            [ID] => 53319
            [post_name] => easter-books
            [post_title] => Baskets of Books for Easter {and a Giveaway!}
            [post_author] => 3
            [post_date] => 2019-03-30 19:24:00
            [year] => 2019
            [month] => 3
            [post_type] => post
        )

    [206] => stdClass Object
        (
            [slug] => marian
            [ID] => 53320
            [post_name] => annunciation
            [post_title] => Beautiful Solemn High Mass at Carmel for the Annunciation and Lady Day Feasting
            [post_author] => 3
            [post_date] => 2019-03-27 02:23:00
            [year] => 2019
            [month] => 3
            [post_type] => post
        )

    [207] => stdClass Object
        (
            [slug] => st-joseph
            [ID] => 53321
            [post_name] => saint-josephs-day
            [post_title] => Saint Joseph's Day
            [post_author] => 3
            [post_date] => 2019-03-27 01:31:00
            [year] => 2019
            [month] => 3
            [post_type] => post
        )

    [208] => stdClass Object
        (
            [slug] => st-patricks-day
            [ID] => 53322
            [post_name] => saint-patrick
            [post_title] => Celebrating the Feast of Saint Patrick
            [post_author] => 3
            [post_date] => 2019-03-24 23:17:00
            [year] => 2019
            [month] => 3
            [post_type] => post
        )

    [209] => stdClass Object
        (
            [slug] => art
            [ID] => 53323
            [post_name] => spring-birds
            [post_title] => Paint by Number :: Spring Birds
            [post_author] => 3
            [post_date] => 2019-03-21 01:00:00
            [year] => 2019
            [month] => 3
            [post_type] => post
        )

    [210] => stdClass Object
        (
            [slug] => st-patricks-day
            [ID] => 53324
            [post_name] => st-patricks-day-parade
            [post_title] => St. Patrick's Day Parade
            [post_author] => 3
            [post_date] => 2019-03-17 14:45:00
            [year] => 2019
            [month] => 3
            [post_type] => post
        )

    [211] => stdClass Object
        (
            [slug] => st-jean-marie-vianney
            [ID] => 53326
            [post_name] => heart-of-priest
            [post_title] => The Heart of a Priest
            [post_author] => 3
            [post_date] => 2019-03-09 07:30:00
            [year] => 2019
            [month] => 3
            [post_type] => post
        )

    [212] => stdClass Object
        (
            [slug] => cake-decorating
            [ID] => 53327
            [post_name] => pink-or-blue
            [post_title] => A St. Valentine's Day Surprise
            [post_author] => 3
            [post_date] => 2019-02-15 06:30:00
            [year] => 2019
            [month] => 2
            [post_type] => post
        )

    [213] => stdClass Object
        (
            [slug] => fssp
            [ID] => 53330
            [post_name] => saint-brigid
            [post_title] => On the Feast of Saint Brigid
            [post_author] => 3
            [post_date] => 2019-02-02 07:30:00
            [year] => 2019
            [month] => 2
            [post_type] => post
        )

    [214] => stdClass Object
        (
            [slug] => precious-moments-09
            [ID] => 53331
            [post_name] => christmas-surprise
            [post_title] => A Christmas Surprise
            [post_author] => 3
            [post_date] => 2019-01-22 00:19:00
            [year] => 2019
            [month] => 1
            [post_type] => post
        )

    [215] => stdClass Object
        (
            [slug] => advent-and-christmas
            [ID] => 53333
            [post_name] => o-antiphons
            [post_title] => The Great O Antiphons, The Golden Nights
            [post_author] => 3
            [post_date] => 2018-12-18 05:29:00
            [year] => 2018
            [month] => 12
            [post_type] => post
        )

    [216] => stdClass Object
        (
            [slug] => advent-and-christmas
            [ID] => 53335
            [post_name] => stamped-shortbread-cookies
            [post_title] => Stamped Shortbread Cookies (AIP, Paleo, Vegan)
            [post_author] => 3
            [post_date] => 2018-12-14 22:17:00
            [year] => 2018
            [month] => 12
            [post_type] => post
        )

    [217] => stdClass Object
        (
            [slug] => advent-book-basket
            [ID] => 53337
            [post_name] => advent-book-basket
            [post_title] => Our 2018 Advent Book Basket and Printable Labels {Plus Lots of Christmas Books to Giveaway!}
            [post_author] => 3
            [post_date] => 2018-11-19 20:15:00
            [year] => 2018
            [month] => 11
            [post_type] => post
        )

    [218] => stdClass Object
        (
            [slug] => home-improvement
            [ID] => 53339
            [post_name] => this-moment-home-sweet-home
            [post_title] => {this moment} Saying Goodbye
            [post_author] => 3
            [post_date] => 2018-11-17 07:00:00
            [year] => 2018
            [month] => 11
            [post_type] => post
        )

    [219] => stdClass Object
        (
            [slug] => home-sweet-home
            [ID] => 53340
            [post_name] => home-sweet-home
            [post_title] => Home Sweet Home
            [post_author] => 3
            [post_date] => 2018-11-17 06:30:00
            [year] => 2018
            [month] => 11
            [post_type] => post
        )

    [220] => stdClass Object
        (
            [slug] => advent-and-christmas
            [ID] => 53341
            [post_name] => new-christmas-books
            [post_title] => New Christmas Books for the Feast of St. Nicholas {and a St. Nicholas Giveaway!}
            [post_author] => 3
            [post_date] => 2018-11-13 18:12:00
            [year] => 2018
            [month] => 11
            [post_type] => post
        )

    [221] => stdClass Object
        (
            [slug] => martinmas
            [ID] => 53342
            [post_name] => celebrating-martinmas
            [post_title] => Celebrating Martinmas
            [post_author] => 3
            [post_date] => 2018-11-11 23:54:00
            [year] => 2018
            [month] => 11
            [post_type] => post
        )

    [222] => stdClass Object
        (
            [slug] => cake-decorating
            [ID] => 53343
            [post_name] => st-john-lateran-basilica
            [post_title] => Prayer for the Holy Father on the Feast of the Dedication of St. John Lateran Basilica
            [post_author] => 3
            [post_date] => 2018-11-10 01:19:00
            [year] => 2018
            [month] => 11
            [post_type] => post
        )

    [223] => stdClass Object
        (
            [slug] => sponsors
            [ID] => 53344
            [post_name] => sponsors
            [post_title] => Sponsor Love :: Quarterly Update & Current Specials
            [post_author] => 3
            [post_date] => 2018-11-07 20:34:00
            [year] => 2018
            [month] => 11
            [post_type] => post
        )

    [224] => stdClass Object
        (
            [slug] => giveaway
            [ID] => 53345
            [post_name] => rosary
            [post_title] => New Books for October: The Complete Illuminated Rosary {Sponsored Review and Giveaway!}
            [post_author] => 3
            [post_date] => 2018-10-17 00:46:00
            [year] => 2018
            [month] => 10
            [post_type] => post
        )

    [225] => stdClass Object
        (
            [slug] => st-francis-of-assisi
            [ID] => 53346
            [post_name] => saint-francis-and-wolf
            [post_title] => Saint Francis and the Wolf
            [post_author] => 3
            [post_date] => 2018-10-05 02:40:00
            [year] => 2018
            [month] => 10
            [post_type] => post
        )

    [226] => stdClass Object
        (
            [slug] => st-therese
            [ID] => 53347
            [post_name] => roses
            [post_title] => Roses from St. Therese {and we bought a house!}
            [post_author] => 3
            [post_date] => 2018-10-03 06:30:00
            [year] => 2018
            [month] => 10
            [post_type] => post
        )

    [227] => stdClass Object
        (
            [slug] => novena-to-saint-teresa-of-the-infant-jesus
            [ID] => 53348
            [post_name] => novena-ninth-day
            [post_title] => Novena to Saint Teresa of the Infant Jesus: Day 9
            [post_author] => 3
            [post_date] => 2018-10-01 03:01:00
            [year] => 2018
            [month] => 10
            [post_type] => post
        )

    [228] => stdClass Object
        (
            [slug] => catholic-cuisine
            [ID] => 53349
            [post_name] => st-jerome-and-lion
            [post_title] => St. Jerome and the Lion
            [post_author] => 3
            [post_date] => 2018-10-01 01:59:00
            [year] => 2018
            [month] => 10
            [post_type] => post
        )

    [229] => stdClass Object
        (
            [slug] => angels
            [ID] => 53350
            [post_name] => michaelmas
            [post_title] => Celebrating Michaelmas
            [post_author] => 3
            [post_date] => 2018-09-30 03:49:00
            [year] => 2018
            [month] => 9
            [post_type] => post
        )

    [230] => stdClass Object
        (
            [slug] => novena-to-saint-teresa-of-the-infant-jesus
            [ID] => 53351
            [post_name] => novena-eighth-day
            [post_title] => Novena to Saint Teresa of the Infant Jesus: Day 8
            [post_author] => 3
            [post_date] => 2018-09-29 23:38:00
            [year] => 2018
            [month] => 9
            [post_type] => post
        )

    [231] => stdClass Object
        (
            [slug] => novena-to-saint-teresa-of-the-infant-jesus
            [ID] => 53352
            [post_name] => novena-seventh-day
            [post_title] => Novena to Saint Teresa of the Infant Jesus: Day 7
            [post_author] => 3
            [post_date] => 2018-09-29 02:44:00
            [year] => 2018
            [month] => 9
            [post_type] => post
        )

    [232] => stdClass Object
        (
            [slug] => novena-to-saint-teresa-of-the-infant-jesus
            [ID] => 53353
            [post_name] => novena-sixth-day
            [post_title] => Novena to Saint Teresa of the Infant Jesus: Day 6
            [post_author] => 3
            [post_date] => 2018-09-28 02:54:00
            [year] => 2018
            [month] => 9
            [post_type] => post
        )

    [233] => stdClass Object
        (
            [slug] => novena-to-saint-teresa-of-the-infant-jesus
            [ID] => 53354
            [post_name] => novena-fifth-day
            [post_title] => Novena to Saint Teresa of the Infant Jesus: Day 5
            [post_author] => 3
            [post_date] => 2018-09-27 02:01:00
            [year] => 2018
            [month] => 9
            [post_type] => post
        )

    [234] => stdClass Object
        (
            [slug] => novena-to-saint-teresa-of-the-infant-jesus
            [ID] => 53356
            [post_name] => novena-fourth-day
            [post_title] => Novena to Saint Teresa of the Infant Jesus: Day 4
            [post_author] => 3
            [post_date] => 2018-09-26 02:41:00
            [year] => 2018
            [month] => 9
            [post_type] => post
        )

    [235] => stdClass Object
        (
            [slug] => novena-to-saint-teresa-of-the-infant-jesus
            [ID] => 53358
            [post_name] => novena-third-day
            [post_title] => Novena to Saint Teresa of the Infant Jesus: Day 3
            [post_author] => 3
            [post_date] => 2018-09-25 01:34:00
            [year] => 2018
            [month] => 9
            [post_type] => post
        )

    [236] => stdClass Object
        (
            [slug] => idaho
            [ID] => 53359
            [post_name] => pray-hope-and-dont-worry
            [post_title] => Seven Quick Takes :: Pray, Hope and Don't Worry
            [post_author] => 3
            [post_date] => 2018-09-24 00:02:00
            [year] => 2018
            [month] => 9
            [post_type] => post
        )

    [237] => stdClass Object
        (
            [slug] => novena-to-saint-teresa-of-the-infant-jesus
            [ID] => 53360
            [post_name] => novena-second-day
            [post_title] => Novena to Saint Teresa of the Infant Jesus: Day 2
            [post_author] => 3
            [post_date] => 2018-09-23 16:00:00
            [year] => 2018
            [month] => 9
            [post_type] => post
        )

    [238] => stdClass Object
        (
            [slug] => novena-to-saint-teresa-of-the-infant-jesus
            [ID] => 53361
            [post_name] => novena-first-day
            [post_title] => Novena to Saint Teresa of the Infant Jesus: First Day
            [post_author] => 3
            [post_date] => 2018-09-22 19:00:00
            [year] => 2018
            [month] => 9
            [post_type] => post
        )

    [239] => stdClass Object
        (
            [slug] => kids-in-the-kitchen
            [ID] => 53362
            [post_name] => exaltation-of-holy-cross
            [post_title] => Exaltation of the Holy Cross
            [post_author] => 3
            [post_date] => 2018-09-15 03:37:00
            [year] => 2018
            [month] => 9
            [post_type] => post
        )

    [240] => stdClass Object
        (
            [slug] => american-girl
            [ID] => 53365
            [post_name] => small-things-great-love
            [post_title] => Small Things With Great Love
            [post_author] => 3
            [post_date] => 2018-09-07 04:23:00
            [year] => 2018
            [month] => 9
            [post_type] => post
        )

    [241] => stdClass Object
        (
            [slug] => happy-birthday
            [ID] => 53366
            [post_name] => fifteen
            [post_title] => {pretty, happy, funny, real} :: Fifteen
            [post_author] => 3
            [post_date] => 2018-08-31 06:30:00
            [year] => 2018
            [month] => 8
            [post_type] => post
        )

    [242] => stdClass Object
        (
            [slug] => uncategorized
            [ID] => 53367
            [post_name] => assumption
            [post_title] => On the Solemnity of the Assumption
            [post_author] => 3
            [post_date] => 2018-08-16 04:09:00
            [year] => 2018
            [month] => 8
            [post_type] => post
        )

    [243] => stdClass Object
        (
            [slug] => book-sale
            [ID] => 53368
            [post_name] => book-sale
            [post_title] => 8th Annual Curriculum Sale Blog Hop
            [post_author] => 3
            [post_date] => 2018-08-15 19:50:00
            [year] => 2018
            [month] => 8
            [post_type] => post
        )

    [244] => stdClass Object
        (
            [slug] => book-sale
            [ID] => 53369
            [post_name] => our-2018-used-book-sale
            [post_title] => Our 2018 Used Book Sale :: Moving Sale
            [post_author] => 3
            [post_date] => 2018-08-15 19:49:00
            [year] => 2018
            [month] => 8
            [post_type] => post
        )

    [245] => stdClass Object
        (
            [slug] => sponsors
            [ID] => 53370
            [post_name] => sponsor-love
            [post_title] => Sponsor Love :: Quarterly Update & Current Specials
            [post_author] => 3
            [post_date] => 2018-08-03 06:16:00
            [year] => 2018
            [month] => 8
            [post_type] => post
        )

    [246] => stdClass Object
        (
            [slug] => crafts
            [ID] => 53372
            [post_name] => bird-feeders
            [post_title] => For the Birds :: Simple Popsicle Stick Bird Feeders
            [post_author] => 3
            [post_date] => 2018-07-19 20:51:00
            [year] => 2018
            [month] => 7
            [post_type] => post
        )

    [247] => stdClass Object
        (
            [slug] => catholic-cuisine
            [ID] => 53374
            [post_name] => forest-cupcakes
            [post_title] => Cupcake Forest on the Feast of St. John Gualbert
            [post_author] => 3
            [post_date] => 2018-07-12 23:35:00
            [year] => 2018
            [month] => 7
            [post_type] => post
        )

    [248] => stdClass Object
        (
            [slug] => fssp
            [ID] => 53375
            [post_name] => daybook
            [post_title] => Summer Daybook :: Big Changes Ahead
            [post_author] => 3
            [post_date] => 2018-07-10 23:06:00
            [year] => 2018
            [month] => 7
            [post_type] => post
        )

    [249] => stdClass Object
        (
            [slug] => fssp
            [ID] => 53376
            [post_name] => from-sea-to-shining-sea
            [post_title] => From Sea to Shining Sea
            [post_author] => 3
            [post_date] => 2018-07-07 06:31:00
            [year] => 2018
            [month] => 7
            [post_type] => post
        )

    [250] => stdClass Object
        (
            [slug] => giveaway
            [ID] => 53377
            [post_name] => secrets-visible-and-invisible-sponsored
            [post_title] => Secrets: Visible and Invisible {Sponsored Giveaway}
            [post_author] => 3
            [post_date] => 2018-07-04 07:00:00
            [year] => 2018
            [month] => 7
            [post_type] => post
        )

    [251] => stdClass Object
        (
            [slug] => giveaway
            [ID] => 53378
            [post_name] => my-first-communion-journal
            [post_title] => My First Communion Journal {Sponsored Giveaway}
            [post_author] => 3
            [post_date] => 2018-06-22 22:32:00
            [year] => 2018
            [month] => 6
            [post_type] => post
        )

    [252] => stdClass Object
        (
            [slug] => birthday-parties
            [ID] => 53379
            [post_name] => wild-one-birthday
            [post_title] => Wild One Birthday Party
            [post_author] => 3
            [post_date] => 2018-06-14 18:15:00
            [year] => 2018
            [month] => 6
            [post_type] => post
        )

    [253] => stdClass Object
        (
            [slug] => st-anthony
            [ID] => 53381
            [post_name] => st-anthony
            [post_title] => Dear St. Anthony
            [post_author] => 3
            [post_date] => 2018-06-14 06:08:00
            [year] => 2018
            [month] => 6
            [post_type] => post
        )

    [254] => stdClass Object
        (
            [slug] => st-anthony
            [ID] => 53382
            [post_name] => sermon-to-fishes
            [post_title] => St. Anthony's Sermon to the Fishes
            [post_author] => 3
            [post_date] => 2018-06-13 18:29:00
            [year] => 2018
            [month] => 6
            [post_type] => post
        )

    [255] => stdClass Object
        (
            [slug] => cake-decorating
            [ID] => 53383
            [post_name] => wild-one-birthday-cake
            [post_title] => Wild One Birthday Cake
            [post_author] => 3
            [post_date] => 2018-06-08 23:20:00
            [year] => 2018
            [month] => 6
            [post_type] => post
        )

    [256] => stdClass Object
        (
            [slug] => precious-moments-08
            [ID] => 53384
            [post_name] => this-moment
            [post_title] => {this moment}
            [post_author] => 3
            [post_date] => 2018-06-08 06:45:00
            [year] => 2018
            [month] => 6
            [post_type] => post
        )

    [257] => stdClass Object
        (
            [slug] => science
            [ID] => 53385
            [post_name] => front-porch-bird-watching
            [post_title] => Front Porch Bird Watching :: House Finch Nest
            [post_author] => 3
            [post_date] => 2018-06-06 05:00:00
            [year] => 2018
            [month] => 6
            [post_type] => post
        )

    [258] => stdClass Object
        (
            [slug] => curriculum
            [ID] => 53387
            [post_name] => curriculum
            [post_title] => Our 2017-2018 Curriculum
            [post_author] => 3
            [post_date] => 2018-06-01 22:04:00
            [year] => 2018
            [month] => 6
            [post_type] => post
        )

    [259] => stdClass Object
        (
            [slug] => fssp
            [ID] => 53388
            [post_name] => 10th-anniversary
            [post_title] => 10th Anniversary of Ordination & First Mass
            [post_author] => 3
            [post_date] => 2018-05-31 03:17:00
            [year] => 2018
            [month] => 5
            [post_type] => post
        )

    [260] => stdClass Object
        (
            [slug] => st-joan-of-arc
            [ID] => 53389
            [post_name] => saint-joan
            [post_title] => Paper Dolls on the Feast of Saint Joan of Arc
            [post_author] => 3
            [post_date] => 2018-05-31 02:57:00
            [year] => 2018
            [month] => 5
            [post_type] => post
        )

    [261] => stdClass Object
        (
            [slug] => cake-decorating
            [ID] => 53390
            [post_name] => golf-cake
            [post_title] => Another Quick and Easy Golf Cake
            [post_author] => 3
            [post_date] => 2018-05-31 00:29:00
            [year] => 2018
            [month] => 5
            [post_type] => post
        )

    [262] => stdClass Object
        (
            [slug] => golf
            [ID] => 53391
            [post_name] => state
            [post_title] => 2018 State High School Golf Championships
            [post_author] => 3
            [post_date] => 2018-05-30 18:17:00
            [year] => 2018
            [month] => 5
            [post_type] => post
        )

    [263] => stdClass Object
        (
            [slug] => golf
            [ID] => 53392
            [post_name] => 2018-state-qualifiers
            [post_title] => 2018 State Qualifiers
            [post_author] => 3
            [post_date] => 2018-05-30 06:08:00
            [year] => 2018
            [month] => 5
            [post_type] => post
        )

    [264] => stdClass Object
        (
            [slug] => precious-moments-08
            [ID] => 53393
            [post_name] => 11-months
            [post_title] => 11 Months
            [post_author] => 3
            [post_date] => 2018-05-28 05:21:00
            [year] => 2018
            [month] => 5
            [post_type] => post
        )

    [265] => stdClass Object
        (
            [slug] => baby-grace
            [ID] => 53394
            [post_name] => babys-1st-boat-ride
            [post_title] => Baby's 1st Boat Ride
            [post_author] => 3
            [post_date] => 2018-05-27 05:13:00
            [year] => 2018
            [month] => 5
            [post_type] => post
        )

    [266] => stdClass Object
        (
            [slug] => precious-moments-03
            [ID] => 53395
            [post_name] => regionals
            [post_title] => Girls' Regional Championship at Running Y Resort
            [post_author] => 3
            [post_date] => 2018-05-26 04:41:00
            [year] => 2018
            [month] => 5
            [post_type] => post
        )

    [267] => stdClass Object
        (
            [slug] => reviews
            [ID] => 53396
            [post_name] => pentecost
            [post_title] => Building the Way to Heaven: The Tower of Babel and Pentecost  {Review & Giveaway}
            [post_author] => 3
            [post_date] => 2018-05-21 00:00:00
            [year] => 2018
            [month] => 5
            [post_type] => post
        )

    [268] => stdClass Object
        (
            [slug] => sponsors
            [ID] => 53397
            [post_name] => sponsor-love
            [post_title] => Sponsor Love :: Quarterly Update & Current Specials
            [post_author] => 3
            [post_date] => 2018-05-05 03:07:00
            [year] => 2018
            [month] => 5
            [post_type] => post
        )

    [269] => stdClass Object
        (
            [slug] => baskets-of-books-for-easter
            [ID] => 53399
            [post_name] => easter-baskets
            [post_title] => Easter Baskets
            [post_author] => 3
            [post_date] => 2018-04-29 01:55:00
            [year] => 2018
            [month] => 4
            [post_type] => post
        )

    [270] => stdClass Object
        (
            [slug] => precious-moments-08
            [ID] => 53400
            [post_name] => babys-first-easter
            [post_title] => Baby's First Easter
            [post_author] => 3
            [post_date] => 2018-04-28 06:30:00
            [year] => 2018
            [month] => 4
            [post_type] => post
        )

    [271] => stdClass Object
        (
            [slug] => reviews
            [ID] => 53403
            [post_name] => catechism-of-seven-sacraments
            [post_title] => Catechism of the Seven Sacraments {Giveaway}
            [post_author] => 3
            [post_date] => 2018-04-25 19:10:00
            [year] => 2018
            [month] => 4
            [post_type] => post
        )

    [272] => stdClass Object
        (
            [slug] => reviews
            [ID] => 53405
            [post_name] => saint-cards
            [post_title] => SaintCards on the Feast of St. George
            [post_author] => 3
            [post_date] => 2018-04-24 05:09:00
            [year] => 2018
            [month] => 4
            [post_type] => post
        )

    [273] => stdClass Object
        (
            [slug] => precious-moments-08
            [ID] => 53407
            [post_name] => npltd18
            [post_title] => National Pro-Life T-Shirt Day 2018
            [post_author] => 3
            [post_date] => 2018-04-20 22:37:00
            [year] => 2018
            [month] => 4
            [post_type] => post
        )

    [274] => stdClass Object
        (
            [slug] => easter
            [ID] => 53408
            [post_name] => easter-dresses
            [post_title] => Easter Dresses
            [post_author] => 3
            [post_date] => 2018-04-19 17:12:00
            [year] => 2018
            [month] => 4
            [post_type] => post
        )

    [275] => stdClass Object
        (
            [slug] => easter
            [ID] => 53409
            [post_name] => peacock
            [post_title] => Easter Peacock
            [post_author] => 3
            [post_date] => 2018-04-19 01:19:00
            [year] => 2018
            [month] => 4
            [post_type] => post
        )

    [276] => stdClass Object
        (
            [slug] => books
            [ID] => 53410
            [post_name] => giveaway
            [post_title] => New Additions to Our Book Baskets + Giveaway
            [post_author] => 3
            [post_date] => 2018-04-18 01:52:00
            [year] => 2018
            [month] => 4
            [post_type] => post
        )

    [277] => stdClass Object
        (
            [slug] => uncategorized
            [ID] => 53411
            [post_name] => happy-easter
            [post_title] => Happy Easter
            [post_author] => 3
            [post_date] => 2018-04-05 02:52:00
            [year] => 2018
            [month] => 4
            [post_type] => post
        )

    [278] => stdClass Object
        (
            [slug] => good-friday
            [ID] => 53412
            [post_name] => good-friday
            [post_title] => Good Friday
            [post_author] => 3
            [post_date] => 2018-03-31 02:43:00
            [year] => 2018
            [month] => 3
            [post_type] => post
        )

    [279] => stdClass Object
        (
            [slug] => lent
            [ID] => 53413
            [post_name] => holy-thursday-lenten-dinner
            [post_title] => Holy Thursday Lenten Dinner
            [post_author] => 3
            [post_date] => 2018-03-30 06:54:00
            [year] => 2018
            [month] => 3
            [post_type] => post
        )

    [280] => stdClass Object
        (
            [slug] => pro-life
            [ID] => 53414
            [post_name] => npltd
            [post_title] => National Pro-Life T-Shirt Day 2018
            [post_author] => 3
            [post_date] => 2018-03-28 05:30:00
            [year] => 2018
            [month] => 3
            [post_type] => post
        )

    [281] => stdClass Object
        (
            [slug] => giveaway
            [ID] => 53415
            [post_name] => the-easter-book
            [post_title] => The Easter Book & Religion In Life Curriculum Teacher's Manuals {Giveaway}
            [post_author] => 3
            [post_date] => 2018-03-26 18:30:00
            [year] => 2018
            [month] => 3
            [post_type] => post
        )

    [282] => stdClass Object
        (
            [slug] => baby-grace
            [ID] => 53416
            [post_name] => nine-months
            [post_title] => Nine Months
            [post_author] => 3
            [post_date] => 2018-03-24 06:44:00
            [year] => 2018
            [month] => 3
            [post_type] => post
        )

    [283] => stdClass Object
        (
            [slug] => prayer-request
            [ID] => 53417
            [post_name] => prayers-for-murphys
            [post_title] => Prayers for the Murphy Family
            [post_author] => 3
            [post_date] => 2018-03-21 22:54:00
            [year] => 2018
            [month] => 3
            [post_type] => post
        )

    [284] => stdClass Object
        (
            [slug] => picture-books
            [ID] => 53419
            [post_name] => baby-basket
            [post_title] => Another New Addition to Our March Book Basket {Runaway Bunny Edition}
            [post_author] => 3
            [post_date] => 2018-03-06 20:37:00
            [year] => 2018
            [month] => 3
            [post_type] => post
        )

    [285] => stdClass Object
        (
            [slug] => giveaway
            [ID] => 53420
            [post_name] => baskets-of-books
            [post_title] => Baskets of Books for Easter {and a Giveaway!}
            [post_author] => 3
            [post_date] => 2018-03-05 22:57:00
            [year] => 2018
            [month] => 3
            [post_type] => post
        )

    [286] => stdClass Object
        (
            [slug] => art
            [ID] => 53423
            [post_name] => cezanne
            [post_title] => Meet the Masters :: Paul Cézanne
            [post_author] => 3
            [post_date] => 2018-02-25 03:32:00
            [year] => 2018
            [month] => 2
            [post_type] => post
        )

    [287] => stdClass Object
        (
            [slug] => this-moment
            [ID] => 53424
            [post_name] => playing-cars
            [post_title] => {this moment}
            [post_author] => 3
            [post_date] => 2018-02-23 21:57:00
            [year] => 2018
            [month] => 2
            [post_type] => post
        )

    [288] => stdClass Object
        (
            [slug] => baby-grace
            [ID] => 53425
            [post_name] => 8-months
            [post_title] => Eight Months
            [post_author] => 3
            [post_date] => 2018-02-13 22:09:00
            [year] => 2018
            [month] => 2
            [post_type] => post
        )

    [289] => stdClass Object
        (
            [slug] => printables
            [ID] => 53426
            [post_name] => narnia-valentines
            [post_title] => Courage, dear heart :: Narnia vaLENTines
            [post_author] => 3
            [post_date] => 2018-02-13 17:54:00
            [year] => 2018
            [month] => 2
            [post_type] => post
        )

    [290] => stdClass Object
        (
            [slug] => picture-books
            [ID] => 53427
            [post_name] => ferdinand-valentines
            [post_title] => Ferdinand Valentines {with free printable}
            [post_author] => 3
            [post_date] => 2018-02-13 17:53:00
            [year] => 2018
            [month] => 2
            [post_type] => post
        )

    [291] => stdClass Object
        (
            [slug] => printables
            [ID] => 53428
            [post_name] => valentines
            [post_title] => Reese's Valentines {with free printable}
            [post_author] => 3
            [post_date] => 2018-02-13 07:30:00
            [year] => 2018
            [month] => 2
            [post_type] => post
        )

    [292] => stdClass Object
        (
            [slug] => crafts
            [ID] => 53429
            [post_name] => hobbit-valentines
            [post_title] => Hobbit Hole Valentines :: An Unexpected Adventure
            [post_author] => 3
            [post_date] => 2018-02-12 04:53:00
            [year] => 2018
            [month] => 2
            [post_type] => post
        )

    [293] => stdClass Object
        (
            [slug] => precious-moments-08
            [ID] => 53430
            [post_name] => this-moment
            [post_title] => {this moment}
            [post_author] => 3
            [post_date] => 2018-02-09 18:36:00
            [year] => 2018
            [month] => 2
            [post_type] => post
        )

    [294] => stdClass Object
        (
            [slug] => birthday-parties
            [ID] => 53431
            [post_name] => escape-room-birthday
            [post_title] => Escape the Dragon's Lair :: 16th Birthday
            [post_author] => 3
            [post_date] => 2018-02-08 21:27:00
            [year] => 2018
            [month] => 2
            [post_type] => post
        )

    [295] => stdClass Object
        (
            [slug] => sponsors
            [ID] => 53432
            [post_name] => sponsor-love
            [post_title] => Sponsor Love :: Quarterly Update & Current Specials
            [post_author] => 3
            [post_date] => 2018-02-07 07:30:00
            [year] => 2018
            [month] => 2
            [post_type] => post
        )

    [296] => stdClass Object
        (
            [slug] => candlemas
            [ID] => 53433
            [post_name] => candlemas
            [post_title] => Candlemas Day, Fair and Bright
            [post_author] => 3
            [post_date] => 2018-02-03 07:47:00
            [year] => 2018
            [month] => 2
            [post_type] => post
        )

    [297] => stdClass Object
        (
            [slug] => books
            [ID] => 53434
            [post_name] => brigid-and-butter
            [post_title] => Brigid and the Butter
            [post_author] => 3
            [post_date] => 2018-02-02 03:34:00
            [year] => 2018
            [month] => 2
            [post_type] => post
        )

    [298] => stdClass Object
        (
            [slug] => advent-and-christmas
            [ID] => 53435
            [post_name] => christmas-books
            [post_title] => Stacks of Books on Epiphany {Little Christmas}
            [post_author] => 3
            [post_date] => 2018-02-01 06:16:00
            [year] => 2018
            [month] => 2
            [post_type] => post
        )

    [299] => stdClass Object
        (
            [slug] => advent-and-christmas
            [ID] => 53436
            [post_name] => celebrating-epiphany
            [post_title] => Celebrating Epiphany
            [post_author] => 3
            [post_date] => 2018-01-29 03:33:00
            [year] => 2018
            [month] => 1
            [post_type] => post
        )

    [300] => stdClass Object
        (
            [slug] => baby-grace
            [ID] => 53437
            [post_name] => seven-months
            [post_title] => Seven Months
            [post_author] => 3
            [post_date] => 2018-01-27 01:14:00
            [year] => 2018
            [month] => 1
            [post_type] => post
        )

    [301] => stdClass Object
        (
            [slug] => happy-birthday
            [ID] => 53438
            [post_name] => forty
            [post_title] => {pretty, happy, funny, real} :: forty
            [post_author] => 3
            [post_date] => 2018-01-26 01:11:00
            [year] => 2018
            [month] => 1
            [post_type] => post
        )

    [302] => stdClass Object
        (
            [slug] => pro-life
            [ID] => 53439
            [post_name] => life-is-most-beautiful-gift-of-god
            [post_title] => Life is the Most Beautiful Gift of God
            [post_author] => 3
            [post_date] => 2018-01-15 21:41:00
            [year] => 2018
            [month] => 1
            [post_type] => post
        )

    [303] => stdClass Object
        (
            [slug] => advent-and-christmas
            [ID] => 53440
            [post_name] => new-years-daybook
            [post_title] => New Year's Daybook
            [post_author] => 3
            [post_date] => 2018-01-13 06:00:00
            [year] => 2018
            [month] => 1
            [post_type] => post
        )

    [304] => stdClass Object
        (
            [slug] => advent-and-christmas
            [ID] => 53441
            [post_name] => happy-birthday-baby-jesus
            [post_title] => Happy Birthday, Baby Jesus!
            [post_author] => 3
            [post_date] => 2017-12-26 05:57:00
            [year] => 2017
            [month] => 12
            [post_type] => post
        )

    [305] => stdClass Object
        (
            [slug] => advent-and-christmas
            [ID] => 53442
            [post_name] => advent-wreath
            [post_title] => The Year of the Hanging Advent Wreath
            [post_author] => 3
            [post_date] => 2017-12-24 05:00:00
            [year] => 2017
            [month] => 12
            [post_type] => post
        )

    [306] => stdClass Object
        (
            [slug] => precious-moments-08
            [ID] => 53443
            [post_name] => six-months
            [post_title] => Six Months
            [post_author] => 3
            [post_date] => 2017-12-21 05:35:00
            [year] => 2017
            [month] => 12
            [post_type] => post
        )

    [307] => stdClass Object
        (
            [slug] => requiescat-in-pace
            [ID] => 53444
            [post_name] => saying-goodbye-for-now
            [post_title] => Saying Goodbye For Now
            [post_author] => 3
            [post_date] => 2017-12-19 02:00:00
            [year] => 2017
            [month] => 12
            [post_type] => post
        )

    [308] => stdClass Object
        (
            [slug] => advent-and-christmas
            [ID] => 53446
            [post_name] => santa-lucia-day
            [post_title] => Santa Lucia Day
            [post_author] => 3
            [post_date] => 2017-12-14 05:23:00
            [year] => 2017
            [month] => 12
            [post_type] => post
        )

    [309] => stdClass Object
        (
            [slug] => o-antiphons
            [ID] => 53447
            [post_name] => o-antiphons
            [post_title] => O Antiphon Ornaments & Gift Package Giveaway
            [post_author] => 3
            [post_date] => 2017-12-03 07:30:00
            [year] => 2017
            [month] => 12
            [post_type] => post
        )

    [310] => stdClass Object
        (
            [slug] => st-andrew-the-apostle
            [ID] => 53448
            [post_name] => on-feast-of-st-andrew
            [post_title] => On the Feast of St. Andrew
            [post_author] => 3
            [post_date] => 2017-12-01 05:12:00
            [year] => 2017
            [month] => 12
            [post_type] => post
        )

    [311] => stdClass Object
        (
            [slug] => thanksgiving
            [ID] => 53449
            [post_name] => thanksgiving-daybook
            [post_title] => Thanksgiving Daybook
            [post_author] => 3
            [post_date] => 2017-11-29 18:59:00
            [year] => 2017
            [month] => 11
            [post_type] => post
        )

    [312] => stdClass Object
        (
            [slug] => giveaway
            [ID] => 53453
            [post_name] => christmas-gifts
            [post_title] => 2017 Christmas Gift Ideas & Stocking Stuffers {Plus Another Sleighful of Giveaways}
            [post_author] => 3
            [post_date] => 2017-11-20 07:54:00
            [year] => 2017
            [month] => 11
            [post_type] => post
        )

    [313] => stdClass Object
        (
            [slug] => cake-decorating
            [ID] => 53454
            [post_name] => hot-cocoa-cupcakes
            [post_title] => Hot Cocoa Cupcakes
            [post_author] => 3
            [post_date] => 2017-11-18 23:50:00
            [year] => 2017
            [month] => 11
            [post_type] => post
        )

    [314] => stdClass Object
        (
            [slug] => books
            [ID] => 53457
            [post_name] => anne-of-green-gables-birthday-party
            [post_title] => Anne of Green Gables Birthday Party
            [post_author] => 3
            [post_date] => 2017-11-16 00:52:00
            [year] => 2017
            [month] => 11
            [post_type] => post
        )

    [315] => stdClass Object
        (
            [slug] => advent-and-christmas
            [ID] => 53458
            [post_name] => advent-book-basket
            [post_title] => Our 2017 Advent Book Basket and Printable Labels {Plus Christmas Mosaic & Advent Giveaway!}
            [post_author] => 3
            [post_date] => 2017-11-13 02:17:00
            [year] => 2017
            [month] => 11
            [post_type] => post
        )

    [316] => stdClass Object
        (
            [slug] => martinmas
            [ID] => 53459
            [post_name] => martinmas
            [post_title] => Celebrating Martinmas
            [post_author] => 3
            [post_date] => 2017-11-12 04:10:00
            [year] => 2017
            [month] => 11
            [post_type] => post
        )

    [317] => stdClass Object
        (
            [slug] => st-therese
            [ID] => 53460
            [post_name] => letterboard-updates
            [post_title] => Letter Board Updates for All Saints and All Souls
            [post_author] => 3
            [post_date] => 2017-11-10 02:49:00
            [year] => 2017
            [month] => 11
            [post_type] => post
        )

    [318] => stdClass Object
        (
            [slug] => advent-and-christmas
            [ID] => 53462
            [post_name] => new-christmas-books
            [post_title] => New Christmas Books for the Feast of St. Nicholas {and a St. Nicholas Giveaway!}
            [post_author] => 3
            [post_date] => 2017-11-05 18:00:00
            [year] => 2017
            [month] => 11
            [post_type] => post
        )

    [319] => stdClass Object
        (
            [slug] => sponsors
            [ID] => 53463
            [post_name] => sponsor-love
            [post_title] => Sponsor Love :: Quarterly Update & Current Specials {scroll to the bottom for a feast day giveaway!}
            [post_author] => 3
            [post_date] => 2017-11-04 17:55:00
            [year] => 2017
            [month] => 11
            [post_type] => post
        )

    [320] => stdClass Object
        (
            [slug] => saint-o-lanterns
            [ID] => 53464
            [post_name] => saint-o-lanterns
            [post_title] => Saint-O-Lanterns
            [post_author] => 3
            [post_date] => 2017-11-04 03:05:00
            [year] => 2017
            [month] => 11
            [post_type] => post
        )

    [321] => stdClass Object
        (
            [slug] => saint-o-lanterns
            [ID] => 53465
            [post_name] => carving-pumpkins
            [post_title] => Carving Our 2017 Saint-O-Lanterns
            [post_author] => 3
            [post_date] => 2017-11-04 02:36:00
            [year] => 2017
            [month] => 11
            [post_type] => post
        )

    [322] => stdClass Object
        (
            [slug] => all-souls-day
            [ID] => 53466
            [post_name] => all-souls-day-mass
            [post_title] => All Souls' Day Mass at the Cemetery
            [post_author] => 3
            [post_date] => 2017-11-02 23:11:00
            [year] => 2017
            [month] => 11
            [post_type] => post
        )

    [323] => stdClass Object
        (
            [slug] => our-lady-of-guadalupe
            [ID] => 53467
            [post_name] => celebrating-saints
            [post_title] => Celebrating the Saints :: Our 2017 Costumes
            [post_author] => 3
            [post_date] => 2017-11-01 20:58:00
            [year] => 2017
            [month] => 11
            [post_type] => post
        )

    [324] => stdClass Object
        (
            [slug] => all-saints-guessing-jars
            [ID] => 53469
            [post_name] => all-saints-guessing-jars
            [post_title] => All Saints Guessing Jars {Trader Joe's Edition}
            [post_author] => 3
            [post_date] => 2017-10-29 10:00:00
            [year] => 2017
            [month] => 10
            [post_type] => post
        )

    [325] => stdClass Object
        (
            [slug] => latin-mass
            [ID] => 53470
            [post_name] => holy-sacrifice-mass
            [post_title] => Bargain Priced Books :: Holy Sacrifice of The Mass
            [post_author] => 3
            [post_date] => 2017-10-28 16:00:00
            [year] => 2017
            [month] => 10
            [post_type] => post
        )

    [326] => stdClass Object
        (
            [slug] => field-trips
            [ID] => 53471
            [post_name] => oregon-zoo
            [post_title] => Visiting the Oregon Zoo on the Feast of St. Jerome
            [post_author] => 3
            [post_date] => 2017-10-28 15:43:00
            [year] => 2017
            [month] => 10
            [post_type] => post
        )

    [327] => stdClass Object
        (
            [slug] => field-trips
            [ID] => 53472
            [post_name] => michaelmas
            [post_title] => Silver Falls Park on Michaelmas
            [post_author] => 3
            [post_date] => 2017-10-28 03:26:00
            [year] => 2017
            [month] => 10
            [post_type] => post
        )

    [328] => stdClass Object
        (
            [slug] => latin-mass
            [ID] => 53473
            [post_name] => soldiers-of-christ
            [post_title] => Soldiers of Christ :: The Sacrament of Confirmation in the Extraordinary Form
            [post_author] => 3
            [post_date] => 2017-10-26 21:27:00
            [year] => 2017
            [month] => 10
            [post_type] => post
        )

    [329] => stdClass Object
        (
            [slug] => picture-books
            [ID] => 53474
            [post_name] => all-saints-day-party
            [post_title] => New Picture Book for Our November Book Basket: The All Saints' Day Party {Giveaway}
            [post_author] => 3
            [post_date] => 2017-10-21 21:16:00
            [year] => 2017
            [month] => 10
            [post_type] => post
        )

    [330] => stdClass Object
        (
            [slug] => marian
            [ID] => 53475
            [post_name] => fatima
            [post_title] => Commemorating the 100th Anniversary of Our Lady of Fatima and the Miracle of the Sun
            [post_author] => 3
            [post_date] => 2017-10-21 01:58:00
            [year] => 2017
            [month] => 10
            [post_type] => post
        )

    [331] => stdClass Object
        (
            [slug] => marian
            [ID] => 53476
            [post_name] => our-ladys-rosary
            [post_title] => Our Lady's Rosary
            [post_author] => 3
            [post_date] => 2017-10-13 07:00:00
            [year] => 2017
            [month] => 10
            [post_type] => post
        )

    [332] => stdClass Object
        (
            [slug] => baby-grace
            [ID] => 53477
            [post_name] => four-months
            [post_title] => Four Months
            [post_author] => 3
            [post_date] => 2017-10-10 22:03:00
            [year] => 2017
            [month] => 10
            [post_type] => post
        )

    [333] => stdClass Object
        (
            [slug] => columbus-day
            [ID] => 53478
            [post_name] => columbus-day
            [post_title] => Constellation Pies, Spanish Cocoa and Stargazing
            [post_author] => 3
            [post_date] => 2017-10-10 05:06:00
            [year] => 2017
            [month] => 10
            [post_type] => post
        )

    [334] => stdClass Object
        (
            [slug] => marian
            [ID] => 53479
            [post_name] => our-lady-of-fatima
            [post_title] => Soft Saints + Our Lady of Fatima Giveaway
            [post_author] => 3
            [post_date] => 2017-10-07 01:57:00
            [year] => 2017
            [month] => 10
            [post_type] => post
        )

    [335] => stdClass Object
        (
            [slug] => recipes
            [ID] => 53480
            [post_name] => baked-pumpkin-pie-oatmeal
            [post_title] => Baked Pumpkin Pie Oatmeal
            [post_author] => 3
            [post_date] => 2017-10-06 17:35:00
            [year] => 2017
            [month] => 10
            [post_type] => post
        )

    [336] => stdClass Object
        (
            [slug] => st-therese
            [ID] => 53481
            [post_name] => lisieux
            [post_title] => Lisieux For You
            [post_author] => 3
            [post_date] => 2017-10-04 06:30:00
            [year] => 2017
            [month] => 10
            [post_type] => post
        )

    [337] => stdClass Object
        (
            [slug] => reviews
            [ID] => 53482
            [post_name] => be-yourself
            [post_title] => Be Yourself!: A Journal for Catholic Girls
            [post_author] => 3
            [post_date] => 2017-09-21 15:57:00
            [year] => 2017
            [month] => 9
            [post_type] => post
        )

    [338] => stdClass Object
        (
            [slug] => st-benedict
            [ID] => 53483
            [post_name] => benedict
            [post_title] => Ora et Labora
            [post_author] => 3
            [post_date] => 2017-09-21 00:18:00
            [year] => 2017
            [month] => 9
            [post_type] => post
        )

    [339] => stdClass Object
        (
            [slug] => birthday-parties
            [ID] => 53484
            [post_name] => jane-austen-birthday-party
            [post_title] => Jane Austen Birthday Party
            [post_author] => 3
            [post_date] => 2017-09-20 02:25:00
            [year] => 2017
            [month] => 9
            [post_type] => post
        )

    [340] => stdClass Object
        (
            [slug] => recipes
            [ID] => 53485
            [post_name] => mr-collins-cheese-ball
            [post_title] => Mr. Collins Cheese-ball
            [post_author] => 3
            [post_date] => 2017-09-20 00:56:00
            [year] => 2017
            [month] => 9
            [post_type] => post
        )

    [341] => stdClass Object
        (
            [slug] => precious-moments-08
            [ID] => 53486
            [post_name] => three-months
            [post_title] => Three Months
            [post_author] => 3
            [post_date] => 2017-09-19 00:47:00
            [year] => 2017
            [month] => 9
            [post_type] => post
        )

    [342] => stdClass Object
        (
            [slug] => bargain-books
            [ID] => 53487
            [post_name] => highway-to-heaven
            [post_title] => Bargain Priced Books :: Highway to Heaven Series:
            [post_author] => 3
            [post_date] => 2017-09-15 03:26:00
            [year] => 2017
            [month] => 9
            [post_type] => post
        )

    [343] => stdClass Object
        (
            [slug] => marian
            [ID] => 53488
            [post_name] => our-lady-of-fatima
            [post_title] => Our Lady of Fatima {100 Years Later}
            [post_author] => 3
            [post_date] => 2017-09-14 02:35:00
            [year] => 2017
            [month] => 9
            [post_type] => post
        )

    [344] => stdClass Object
        (
            [slug] => mother-teresa
            [ID] => 53489
            [post_name] => teresa-of-calcutta
            [post_title] => On the Feast of St. Teresa of Calcutta
            [post_author] => 3
            [post_date] => 2017-09-06 02:21:00
            [year] => 2017
            [month] => 9
            [post_type] => post
        )

    [345] => stdClass Object
        (
            [slug] => daybook
            [ID] => 53490
            [post_name] => two-month-daybook
            [post_title] => Two Month Daybook
            [post_author] => 3
            [post_date] => 2017-09-04 17:00:00
            [year] => 2017
            [month] => 9
            [post_type] => post
        )

    [346] => stdClass Object
        (
            [slug] => marian
            [ID] => 53491
            [post_name] => ave-maria
            [post_title] => Back to School Giveaway :: Ave Maria
            [post_author] => 3
            [post_date] => 2017-08-25 16:37:00
            [year] => 2017
            [month] => 8
            [post_type] => post
        )

    [347] => stdClass Object
        (
            [slug] => end-of-school
            [ID] => 53492
            [post_name] => end-of-school-interviews
            [post_title] => End of School Interviews 2016-2017
            [post_author] => 3
            [post_date] => 2017-08-23 16:04:00
            [year] => 2017
            [month] => 8
            [post_type] => post
        )

    [348] => stdClass Object
        (
            [slug] => science
            [ID] => 53493
            [post_name] => solar-eclipse
            [post_title] => Solar Eclipse
            [post_author] => 3
            [post_date] => 2017-08-22 00:05:00
            [year] => 2017
            [month] => 8
            [post_type] => post
        )

    [349] => stdClass Object
        (
            [slug] => giveaway
            [ID] => 53494
            [post_name] => catholic-teen-books
            [post_title] => Back to School Giveaway :: Catholic Teen Books
            [post_author] => 3
            [post_date] => 2017-08-18 19:01:00
            [year] => 2017
            [month] => 8
            [post_type] => post
        )

    [350] => stdClass Object
        (
            [slug] => picture-books
            [ID] => 53495
            [post_name] => manners-in-gods-house
            [post_title] => Bargain Priced Books :: Manners in God's House
            [post_author] => 3
            [post_date] => 2017-08-09 19:51:00
            [year] => 2017
            [month] => 8
            [post_type] => post
        )

    [351] => stdClass Object
        (
            [slug] => book-sale
            [ID] => 53496
            [post_name] => our-2017-used-book-sale
            [post_title] => Our 2017 Used Book Sale
            [post_author] => 3
            [post_date] => 2017-08-05 00:56:00
            [year] => 2017
            [month] => 8
            [post_type] => post
        )

    [352] => stdClass Object
        (
            [slug] => book-sale
            [ID] => 53497
            [post_name] => book-sale
            [post_title] => 7th Annual Curriculum Sale Blog Hop
            [post_author] => 3
            [post_date] => 2017-08-04 17:54:00
            [year] => 2017
            [month] => 8
            [post_type] => post
        )

    [353] => stdClass Object
        (
            [slug] => sponsors
            [ID] => 53498
            [post_name] => sponsor-love
            [post_title] => Sponsor Love :: Quarterly Update & Current Specials
            [post_author] => 3
            [post_date] => 2017-08-01 18:47:00
            [year] => 2017
            [month] => 8
            [post_type] => post
        )

    [354] => stdClass Object
        (
            [slug] => mother-teresa
            [ID] => 53499
            [post_name] => catholic-t-shirt-club
            [post_title] => Catholic T-Shirt Club
            [post_author] => 3
            [post_date] => 2017-07-28 03:04:00
            [year] => 2017
            [month] => 7
            [post_type] => post
        )

    [355] => stdClass Object
        (
            [slug] => kids-in-the-kitchen
            [ID] => 53500
            [post_name] => flowering-rod-of-jesse
            [post_title] => Flowering Rod of Jesse Cake
            [post_author] => 3
            [post_date] => 2017-07-27 05:12:00
            [year] => 2017
            [month] => 7
            [post_type] => post
        )

    [356] => stdClass Object
        (
            [slug] => catholic-cuisine
            [ID] => 53501
            [post_name] => on-feast-of-st-james
            [post_title] => On the Feast of St. James
            [post_author] => 3
            [post_date] => 2017-07-26 05:02:00
            [year] => 2017
            [month] => 7
            [post_type] => post
        )

    [357] => stdClass Object
        (
            [slug] => latin-mass
            [ID] => 53502
            [post_name] => this-moment16
            [post_title] => {this moment}
            [post_author] => 3
            [post_date] => 2017-07-14 15:28:00
            [year] => 2017
            [month] => 7
            [post_type] => post
        )

    [358] => stdClass Object
        (
            [slug] => precious-moments-08
            [ID] => 53503
            [post_name] => cardinal-burke
            [post_title] => A Blessing from His Eminence, Raymond Leo Cardinal Burke
            [post_author] => 3
            [post_date] => 2017-07-14 05:51:00
            [year] => 2017
            [month] => 7
            [post_type] => post
        )

    [359] => stdClass Object
        (
            [slug] => archbishop
            [ID] => 53504
            [post_name] => pontifical-mass
            [post_title] => Pontifical Mass of the Diocesan Bishop
            [post_author] => 3
            [post_date] => 2017-07-13 17:24:00
            [year] => 2017
            [month] => 7
            [post_type] => post
        )

    [360] => stdClass Object
        (
            [slug] => st-therese
            [ID] => 53505
            [post_name] => on-feast-of-saints-louis-and-zelie
            [post_title] => On the Feast of Saints Louis and Zélie Martin
            [post_author] => 3
            [post_date] => 2017-07-13 06:30:00
            [year] => 2017
            [month] => 7
            [post_type] => post
        )

    [361] => stdClass Object
        (
            [slug] => marian
            [ID] => 53506
            [post_name] => churching-of-women
            [post_title] => Churching of Women
            [post_author] => 3
            [post_date] => 2017-07-11 02:05:00
            [year] => 2017
            [month] => 7
            [post_type] => post
        )

    [362] => stdClass Object
        (
            [slug] => fssp
            [ID] => 53507
            [post_name] => baptismal-grace
            [post_title] => Baptismal Grace
            [post_author] => 3
            [post_date] => 2017-07-10 23:04:00
            [year] => 2017
            [month] => 7
            [post_type] => post
        )

    [363] => stdClass Object
        (
            [slug] => fssp
            [ID] => 53508
            [post_name] => one-month-daybook
            [post_title] => One Month Daybook
            [post_author] => 3
            [post_date] => 2017-07-09 06:00:00
            [year] => 2017
            [month] => 7
            [post_type] => post
        )

    [364] => stdClass Object
        (
            [slug] => american-girl
            [ID] => 53509
            [post_name] => my-little-doll-baby-four-weeks
            [post_title] => My Little Doll Baby :: Four Weeks
            [post_author] => 3
            [post_date] => 2017-07-07 01:15:00
            [year] => 2017
            [month] => 7
            [post_type] => post
        )

    [365] => stdClass Object
        (
            [slug] => fssp
            [ID] => 53510
            [post_name] => celebrating-4th-of-july
            [post_title] => Celebrating the 4th of July
            [post_author] => 3
            [post_date] => 2017-07-05 06:30:00
            [year] => 2017
            [month] => 7
            [post_type] => post
        )

    [366] => stdClass Object
        (
            [slug] => latin-mass
            [ID] => 53511
            [post_name] => babys-first-mass
            [post_title] => Baby's First Mass
            [post_author] => 3
            [post_date] => 2017-07-04 06:30:00
            [year] => 2017
            [month] => 7
            [post_type] => post
        )

    [367] => stdClass Object
        (
            [slug] => precious-moments-08
            [ID] => 53513
            [post_name] => three-weeks
            [post_title] => Three Weeks
            [post_author] => 3
            [post_date] => 2017-07-02 05:57:00
            [year] => 2017
            [month] => 7
            [post_type] => post
        )

    [368] => stdClass Object
        (
            [slug] => organization
            [ID] => 53514
            [post_name] => life-planner
            [post_title] => Painted Petals Life Planner & More
            [post_author] => 3
            [post_date] => 2017-06-27 05:31:00
            [year] => 2017
            [month] => 6
            [post_type] => post
        )

    [369] => stdClass Object
        (
            [slug] => daybook
            [ID] => 53516
            [post_name] => due-date-daybook
            [post_title] => Due Date Daybook
            [post_author] => 3
            [post_date] => 2017-06-24 22:00:00
            [year] => 2017
            [month] => 6
            [post_type] => post
        )

    [370] => stdClass Object
        (
            [slug] => sacred-heart
            [ID] => 53517
            [post_name] => sacred-heart-of-jesus
            [post_title] => Most Sacred Heart of Jesus
            [post_author] => 3
            [post_date] => 2017-06-23 17:56:00
            [year] => 2017
            [month] => 6
            [post_type] => post
        )

    [371] => stdClass Object
        (
            [slug] => fathers-day
            [ID] => 53518
            [post_name] => fathers-day
            [post_title] => Father's Day
            [post_author] => 3
            [post_date] => 2017-06-19 06:30:00
            [year] => 2017
            [month] => 6
            [post_type] => post
        )

    [372] => stdClass Object
        (
            [slug] => baby-grace
            [ID] => 53519
            [post_name] => one-week
            [post_title] => One Week
            [post_author] => 3
            [post_date] => 2017-06-16 18:50:00
            [year] => 2017
            [month] => 6
            [post_type] => post
        )

    [373] => stdClass Object
        (
            [slug] => baby-grace
            [ID] => 53520
            [post_name] => instagram-recap
            [post_title] => Instagram Recap & Other Special Moments
            [post_author] => 3
            [post_date] => 2017-06-16 07:00:00
            [year] => 2017
            [month] => 6
            [post_type] => post
        )

    [374] => stdClass Object
        (
            [slug] => precious-moments-08
            [ID] => 53521
            [post_name] => on-day-you-were-born
            [post_title] => On the Day You Were Born
            [post_author] => 3
            [post_date] => 2017-06-16 05:36:00
            [year] => 2017
            [month] => 6
            [post_type] => post
        )

    [375] => stdClass Object
        (
            [slug] => precious-moments-08
            [ID] => 53523
            [post_name] => grace-upon-grace
            [post_title] => Grace upon Grace
            [post_author] => 3
            [post_date] => 2017-06-11 04:34:00
            [year] => 2017
            [month] => 6
            [post_type] => post
        )

    [376] => stdClass Object
        (
            [slug] => precious-moments-08
            [ID] => 53524
            [post_name] => prayer-for-happy-delivery
            [post_title] => Prayer for a Happy Delivery
            [post_author] => 3
            [post_date] => 2017-06-08 03:00:00
            [year] => 2017
            [month] => 6
            [post_type] => post
        )

    [377] => stdClass Object
        (
            [slug] => fssp
            [ID] => 53525
            [post_name] => requiscat-in-pace
            [post_title] => + Requiescat in Pace +
            [post_author] => 3
            [post_date] => 2017-06-07 22:00:00
            [year] => 2017
            [month] => 6
            [post_type] => post
        )

    [378] => stdClass Object
        (
            [slug] => my-siblings
            [ID] => 53526
            [post_name] => murphy-family-reunion
            [post_title] => Murphy Family Reunion
            [post_author] => 3
            [post_date] => 2017-06-04 04:01:00
            [year] => 2017
            [month] => 6
            [post_type] => post
        )

    [379] => stdClass Object
        (
            [slug] => precious-moments-08
            [ID] => 53527
            [post_name] => pregnancy-pictures
            [post_title] => Pregnancy Pictures & Online Baby Pool
            [post_author] => 3
            [post_date] => 2017-06-01 03:10:00
            [year] => 2017
            [month] => 6
            [post_type] => post
        )

    [380] => stdClass Object
        (
            [slug] => precious-moments-08
            [ID] => 53528
            [post_name] => baby-shower
            [post_title] => A Baby Shower in May
            [post_author] => 3
            [post_date] => 2017-05-28 06:58:00
            [year] => 2017
            [month] => 5
            [post_type] => post
        )

    [381] => stdClass Object
        (
            [slug] => fssp
            [ID] => 53529
            [post_name] => baptism-and-blessings
            [post_title] => Our Godson's Baptism and Pregnancy Blessings
            [post_author] => 3
            [post_date] => 2017-05-21 17:07:00
            [year] => 2017
            [month] => 5
            [post_type] => post
        )

    [382] => stdClass Object
        (
            [slug] => books
            [ID] => 53530
            [post_name] => saint-dymphna
            [post_title] => The King's Prey: Saint Dymphna of Ireland {Sponsored Giveaway}
            [post_author] => 3
            [post_date] => 2017-05-15 16:32:00
            [year] => 2017
            [month] => 5
            [post_type] => post
        )

    [383] => stdClass Object
        (
            [slug] => godparents
            [ID] => 53531
            [post_name] => congratulations-joyfilledfamily
            [post_title] => Congratulations JOY{filled} Family
            [post_author] => 3
            [post_date] => 2017-05-09 18:37:00
            [year] => 2017
            [month] => 5
            [post_type] => post
        )

    [384] => stdClass Object
        (
            [slug] => baskets-of-books-for-easter
            [ID] => 53532
            [post_name] => easter-baskets
            [post_title] => Easter Baskets On Easter Sunday
            [post_author] => 3
            [post_date] => 2017-05-08 16:15:00
            [year] => 2017
            [month] => 5
            [post_type] => post
        )

    [385] => stdClass Object
        (
            [slug] => jesus-make-me-worthy
            [ID] => 53533
            [post_name] => first-holy-communion-gift
            [post_title] => A First Holy Communion Gift for our Godson
            [post_author] => 3
            [post_date] => 2017-05-07 23:21:00
            [year] => 2017
            [month] => 5
            [post_type] => post
        )

    [386] => stdClass Object
        (
            [slug] => baby-showers
            [ID] => 53534
            [post_name] => spiritual-bouquet
            [post_title] => A Spiritual Bouquet and Baby Gift for Lena
            [post_author] => 3
            [post_date] => 2017-05-05 17:30:00
            [year] => 2017
            [month] => 5
            [post_type] => post
        )

    [387] => stdClass Object
        (
            [slug] => sponsors
            [ID] => 53535
            [post_name] => sponsor-love
            [post_title] => Sponsor Love :: Quarterly Update & Current Specials
            [post_author] => 3
            [post_date] => 2017-05-02 06:30:00
            [year] => 2017
            [month] => 5
            [post_type] => post
        )

    [388] => stdClass Object
        (
            [slug] => divine-mercy
            [ID] => 53536
            [post_name] => catholic-t-shirt-club
            [post_title] => Catholic T-Shirt Club {An Early Confirmation Gift}
            [post_author] => 3
            [post_date] => 2017-05-01 00:26:00
            [year] => 2017
            [month] => 5
            [post_type] => post
        )

    [389] => stdClass Object
        (
            [slug] => kids-in-the-kitchen
            [ID] => 53537
            [post_name] => emoji-cookies
            [post_title] => Baking Emoji Shortbread Sugar Cookies
            [post_author] => 3
            [post_date] => 2017-04-30 23:55:00
            [year] => 2017
            [month] => 4
            [post_type] => post
        )

    [390] => stdClass Object
        (
            [slug] => divine-mercy
            [ID] => 53538
            [post_name] => divine-mercy-sunday
            [post_title] => Brunch on Divine Mercy Sunday
            [post_author] => 3
            [post_date] => 2017-04-23 23:42:00
            [year] => 2017
            [month] => 4
            [post_type] => post
        )

    [391] => stdClass Object
        (
            [slug] => divine-mercy
            [ID] => 53539
            [post_name] => divine-mercy-cinnamon-rolls
            [post_title] => Divine Mercy Cinnamon Rolls
            [post_author] => 3
            [post_date] => 2017-04-22 18:06:00
            [year] => 2017
            [month] => 4
            [post_type] => post
        )

    [392] => stdClass Object
        (
            [slug] => birthday-parties
            [ID] => 53540
            [post_name] => narnia-birthday
            [post_title] => Chronicles of Narnia Birthday Party
            [post_author] => 3
            [post_date] => 2017-04-22 04:07:00
            [year] => 2017
            [month] => 4
            [post_type] => post
        )

    [393] => stdClass Object
        (
            [slug] => easter
            [ID] => 53541
            [post_name] => holy-saturday-in-pictures
            [post_title] => Holy Saturday in Pictures
            [post_author] => 3
            [post_date] => 2017-04-19 06:30:00
            [year] => 2017
            [month] => 4
            [post_type] => post
        )

    [394] => stdClass Object
        (
            [slug] => latin-mass
            [ID] => 53542
            [post_name] => requiem
            [post_title] => Requiem - The Fraternity {Sponsored Giveaway}
            [post_author] => 3
            [post_date] => 2017-04-15 21:50:00
            [year] => 2017
            [month] => 4
            [post_type] => post
        )

    [395] => stdClass Object
        (
            [slug] => lent
            [ID] => 53543
            [post_name] => good-friday
            [post_title] => Good Friday
            [post_author] => 3
            [post_date] => 2017-04-15 06:30:00
            [year] => 2017
            [month] => 4
            [post_type] => post
        )

    [396] => stdClass Object
        (
            [slug] => holy-thursday
            [ID] => 53544
            [post_name] => holy-thursday
            [post_title] => Holy Thursday
            [post_author] => 3
            [post_date] => 2017-04-14 06:30:00
            [year] => 2017
            [month] => 4
            [post_type] => post
        )

    [397] => stdClass Object
        (
            [slug] => field-trips
            [ID] => 53545
            [post_name] => stout-grove
            [post_title] => Stout Grove :: Visiting the Coastal Redwoods
            [post_author] => 3
            [post_date] => 2017-04-13 17:40:00
            [year] => 2017
            [month] => 4
            [post_type] => post
        )

    [398] => stdClass Object
        (
            [slug] => golf
            [ID] => 53546
            [post_name] => overnight-getaway
            [post_title] => Overnight Getaway to the Coast
            [post_author] => 3
            [post_date] => 2017-04-12 16:52:00
            [year] => 2017
            [month] => 4
            [post_type] => post
        )

    [399] => stdClass Object
        (
            [slug] => lent
            [ID] => 53547
            [post_name] => on-palm-sunday
            [post_title] => On Palm Sunday
            [post_author] => 3
            [post_date] => 2017-04-09 11:59:00
            [year] => 2017
            [month] => 4
            [post_type] => post
        )

    [400] => stdClass Object
        (
            [slug] => crafts
            [ID] => 53548
            [post_name] => jesus-tree
            [post_title] => The Jesus Tree :: A Lenten Craft and Bible Study
            [post_author] => 3
            [post_date] => 2017-03-30 17:05:00
            [year] => 2017
            [month] => 3
            [post_type] => post
        )

    [401] => stdClass Object
        (
            [slug] => reviews
            [ID] => 53549
            [post_name] => shadow-of-his-wings
            [post_title] => The Shadow of His Wings: A Graphic Biography {Book Review & Giveaway}
            [post_author] => 3
            [post_date] => 2017-03-29 01:28:00
            [year] => 2017
            [month] => 3
            [post_type] => post
        )

    [402] => stdClass Object
        (
            [slug] => st-joseph
            [ID] => 53550
            [post_name] => saint-joseph
            [post_title] => The Catholic Child and Saint Joseph
            [post_author] => 3
            [post_date] => 2017-03-28 01:49:00
            [year] => 2017
            [month] => 3
            [post_type] => post
        )

    [403] => stdClass Object
        (
            [slug] => marian
            [ID] => 53551
            [post_name] => annunciation
            [post_title] => Celebrating the Solemnity of the Annunciation {Swedish Waffles and AIP Waffles for Lady Day}
            [post_author] => 3
            [post_date] => 2017-03-25 22:26:00
            [year] => 2017
            [month] => 3
            [post_type] => post
        )

    [404] => stdClass Object
        (
            [slug] => st-patricks-day
            [ID] => 53552
            [post_name] => saint-patrick
            [post_title] => Celebrating the Feast of Saint Patrick
            [post_author] => 3
            [post_date] => 2017-03-25 02:46:00
            [year] => 2017
            [month] => 3
            [post_type] => post
        )

    [405] => stdClass Object
        (
            [slug] => books
            [ID] => 53553
            [post_name] => baskets-of-books-for-easter
            [post_title] => Baskets of Books for Easter {and a Giveaway!}
            [post_author] => 3
            [post_date] => 2017-03-16 19:07:00
            [year] => 2017
            [month] => 3
            [post_type] => post
        )

    [406] => stdClass Object
        (
            [slug] => books
            [ID] => 53554
            [post_name] => books-for-lent
            [post_title] => Another Basket of Books for Lent
            [post_author] => 3
            [post_date] => 2017-03-08 21:02:00
            [year] => 2017
            [month] => 3
            [post_type] => post
        )

    [407] => stdClass Object
        (
            [slug] => bargain-books
            [ID] => 53555
            [post_name] => fionas-lace
            [post_title] => Bargain Priced Books :: Fiona's Lace and More
            [post_author] => 3
            [post_date] => 2017-03-07 17:29:00
            [year] => 2017
            [month] => 3
            [post_type] => post
        )

    [408] => stdClass Object
        (
            [slug] => picture-books
            [ID] => 53557
            [post_name] => march-picture-books
            [post_title] => New Additions to Our March Book Basket
            [post_author] => 3
            [post_date] => 2017-03-05 18:43:00
            [year] => 2017
            [month] => 3
            [post_type] => post
        )

    [409] => stdClass Object
        (
            [slug] => lent
            [ID] => 53558
            [post_name] => stations-of-cross
            [post_title] => The Stations or The Way of the Cross
            [post_author] => 3
            [post_date] => 2017-03-04 06:21:00
            [year] => 2017
            [month] => 3
            [post_type] => post
        )

    [410] => stdClass Object
        (
            [slug] => lent
            [ID] => 53559
            [post_name] => our-annual-lenten-calendar
            [post_title] => Our Annual Lenten Calendar
            [post_author] => 3
            [post_date] => 2017-03-03 19:41:00
            [year] => 2017
            [month] => 3
            [post_type] => post
        )

    [411] => stdClass Object
        (
            [slug] => history
            [ID] => 53560
            [post_name] => lego-neuschwanstein-castle
            [post_title] => LEGO Ideas :: Neuschwanstein Castle
            [post_author] => 3
            [post_date] => 2017-02-26 21:31:00
            [year] => 2017
            [month] => 2
            [post_type] => post
        )

    [412] => stdClass Object
        (
            [slug] => art
            [ID] => 53561
            [post_name] => pro-life-prints
            [post_title] => Pro-Life Prints :: Praying for Others
            [post_author] => 3
            [post_date] => 2017-02-25 22:02:00
            [year] => 2017
            [month] => 2
            [post_type] => post
        )

    [413] => stdClass Object
        (
            [slug] => st-valentines-day
            [ID] => 53562
            [post_name] => saint-valentines-day
            [post_title] => On Saint Valentine's Day {and Baby Update}
            [post_author] => 3
            [post_date] => 2017-02-24 16:35:00
            [year] => 2017
            [month] => 2
            [post_type] => post
        )

    [414] => stdClass Object
        (
            [slug] => kids-in-the-kitchen
            [ID] => 53563
            [post_name] => little-way-valentines
            [post_title] => Little Way Valentines
            [post_author] => 3
            [post_date] => 2017-02-14 19:41:00
            [year] => 2017
            [month] => 2
            [post_type] => post
        )

    [415] => stdClass Object
        (
            [slug] => kids-in-the-kitchen
            [ID] => 53564
            [post_name] => nutter-butter-cookie-hearts
            [post_title] => Nutter Butter Heart Cookie Valentines
            [post_author] => 3
            [post_date] => 2017-02-13 22:16:00
            [year] => 2017
            [month] => 2
            [post_type] => post
        )

    [416] => stdClass Object
        (
            [slug] => marian
            [ID] => 53565
            [post_name] => our-lady-of-lourdes
            [post_title] => On the Feast of Our Lady of Lourdes
            [post_author] => 3
            [post_date] => 2017-02-12 07:30:00
            [year] => 2017
            [month] => 2
            [post_type] => post
        )

    [417] => stdClass Object
        (
            [slug] => cake-decorating
            [ID] => 53566
            [post_name] => ski-cake
            [post_title] => Snowy Mountain Ski Resort Birthday Cake
            [post_author] => 3
            [post_date] => 2017-02-08 04:58:00
            [year] => 2017
            [month] => 2
            [post_type] => post
        )

    [418] => stdClass Object
        (
            [slug] => sponsors
            [ID] => 53567
            [post_name] => sponsor-love
            [post_title] => Sponsor Love:: Quarterly Update & Current Specials {scroll to the bottom for a feast day giveaway!}
            [post_author] => 3
            [post_date] => 2017-02-04 06:16:00
            [year] => 2017
            [month] => 2
            [post_type] => post
        )

    [419] => stdClass Object
        (
            [slug] => candlemas
            [ID] => 53568
            [post_name] => presentation-of-lord
            [post_title] => On the Feast of the Presentation of the Lord
            [post_author] => 3
            [post_date] => 2017-02-03 04:37:00
            [year] => 2017
            [month] => 2
            [post_type] => post
        )

    [420] => stdClass Object
        (
            [slug] => picture-books
            [ID] => 53569
            [post_name] => saint-brigid
            [post_title] => On the Feast of Saint Brigid
            [post_author] => 3
            [post_date] => 2017-02-02 01:30:00
            [year] => 2017
            [month] => 2
            [post_type] => post
        )

    [421] => stdClass Object
        (
            [slug] => picture-books
            [ID] => 53570
            [post_name] => pro-life-prints-helping-others
            [post_title] => Pro-Life Prints :: Helping Others
            [post_author] => 3
            [post_date] => 2017-01-26 01:11:00
            [year] => 2017
            [month] => 1
            [post_type] => post
        )

    [422] => stdClass Object
        (
            [slug] => recipes
            [ID] => 53571
            [post_name] => paleo-bacon-wrapped-filet-mignon
            [post_title] => Bacon Wrapped Filet Mignon {Autoimmune Paleo}
            [post_author] => 3
            [post_date] => 2017-01-25 19:32:00
            [year] => 2017
            [month] => 1
            [post_type] => post
        )

    [423] => stdClass Object
        (
            [slug] => art
            [ID] => 53572
            [post_name] => pro-life-prints-day-two
            [post_title] => Pro-Life Prints :: I Am Unique
            [post_author] => 3
            [post_date] => 2017-01-25 03:30:00
            [year] => 2017
            [month] => 1
            [post_type] => post
        )

    [424] => stdClass Object
        (
            [slug] => art
            [ID] => 53573
            [post_name] => pro-life-prints
            [post_title] => Pro-Life Prints :: Preborn Babies
            [post_author] => 3
            [post_date] => 2017-01-23 22:08:00
            [year] => 2017
            [month] => 1
            [post_type] => post
        )

    [425] => stdClass Object
        (
            [slug] => kids-in-the-kitchen
            [ID] => 53574
            [post_name] => white-house-cookie-kit
            [post_title] => White House Cookie Kit on Inauguration Day
            [post_author] => 3
            [post_date] => 2017-01-21 19:40:00
            [year] => 2017
            [month] => 1
            [post_type] => post
        )

    [426] => stdClass Object
        (
            [slug] => birthday-parties
            [ID] => 53575
            [post_name] => birthday-blessings
            [post_title] => Birthday Blessings
            [post_author] => 3
            [post_date] => 2017-01-17 04:53:00
            [year] => 2017
            [month] => 1
            [post_type] => post
        )

    [427] => stdClass Object
        (
            [slug] => stacks-of-books-for-christmas
            [ID] => 53576
            [post_name] => christmas-books
            [post_title] => Stacks of Books on Epiphany {Little Christmas}
            [post_author] => 3
            [post_date] => 2017-01-15 21:30:00
            [year] => 2017
            [month] => 1
            [post_type] => post
        )

    [428] => stdClass Object
        (
            [slug] => epiphany
            [ID] => 53577
            [post_name] => celebrating-epiphany
            [post_title] => Celebrating Epiphany
            [post_author] => 3
            [post_date] => 2017-01-15 16:31:00
            [year] => 2017
            [month] => 1
            [post_type] => post
        )

    [429] => stdClass Object
        (
            [slug] => favorite-toys
            [ID] => 53578
            [post_name] => the-dolls-christmas
            [post_title] => The Dolls' Christmas
            [post_author] => 3
            [post_date] => 2017-01-14 23:44:00
            [year] => 2017
            [month] => 1
            [post_type] => post
        )

    [430] => stdClass Object
        (
            [slug] => latin-mass
            [ID] => 53579
            [post_name] => sacred-liturgy-conference
            [post_title] => Sacred Liturgy Conference :: Register Now!
            [post_author] => 3
            [post_date] => 2017-01-14 18:08:00
            [year] => 2017
            [month] => 1
            [post_type] => post
        )

    [431] => stdClass Object
        (
            [slug] => daybook
            [ID] => 53580
            [post_name] => new-year-daybook
            [post_title] => New Year Daybook :: Snow Days
            [post_author] => 3
            [post_date] => 2017-01-13 18:22:00
            [year] => 2017
            [month] => 1
            [post_type] => post
        )

    [432] => stdClass Object
        (
            [slug] => advent-and-christmas
            [ID] => 53581
            [post_name] => boy-or-girl
            [post_title] => Boy or Girl?
            [post_author] => 3
            [post_date] => 2016-12-25 21:00:00
            [year] => 2016
            [month] => 12
            [post_type] => post
        )

    [433] => stdClass Object
        (
            [slug] => advent-and-christmas
            [ID] => 53583
            [post_name] => merry-christmas
            [post_title] => Merry Christmas
            [post_author] => 3
            [post_date] => 2016-12-25 16:10:00
            [year] => 2016
            [month] => 12
            [post_type] => post
        )

    [434] => stdClass Object
        (
            [slug] => birthday-parties
            [ID] => 53584
            [post_name] => snow-white-rose-red
            [post_title] => Snow White and Rose Red Birthday Party
            [post_author] => 3
            [post_date] => 2016-12-16 07:42:00
            [year] => 2016
            [month] => 12
            [post_type] => post
        )

    [435] => stdClass Object
        (
            [slug] => advent-and-christmas
            [ID] => 53585
            [post_name] => santa-lucia
            [post_title] => Santa Lucia, Santa Lucia!
            [post_author] => 3
            [post_date] => 2016-12-14 01:24:00
            [year] => 2016
            [month] => 12
            [post_type] => post
        )

    [436] => stdClass Object
        (
            [slug] => saints
            [ID] => 53586
            [post_name] => saint-catherine-of-alexandria
            [post_title] => Saint Catherine of Alexandria
            [post_author] => 3
            [post_date] => 2016-12-12 01:00:00
            [year] => 2016
            [month] => 12
            [post_type] => post
        )

    [437] => stdClass Object
        (
            [slug] => thanksgiving
            [ID] => 53587
            [post_name] => thanksgiving-daybook
            [post_title] => Thanksgiving Daybook
            [post_author] => 3
            [post_date] => 2016-12-11 01:00:00
            [year] => 2016
            [month] => 12
            [post_type] => post
        )

    [438] => stdClass Object
        (
            [slug] => advent-and-christmas
            [ID] => 53588
            [post_name] => honeycomb-cake
            [post_title] => Honeycomb Cake on the Feast of St. Ambrose
            [post_author] => 3
            [post_date] => 2016-12-07 23:04:00
            [year] => 2016
            [month] => 12
            [post_type] => post
        )

    [439] => stdClass Object
        (
            [slug] => advent-and-christmas
            [ID] => 53589
            [post_name] => o-antiphons
            [post_title] => O Antiphons Ornaments & Gift Package Giveaway
            [post_author] => 3
            [post_date] => 2016-12-04 05:27:00
            [year] => 2016
            [month] => 12
            [post_type] => post
        )

    [440] => stdClass Object
        (
            [slug] => advent-and-christmas
            [ID] => 53590
            [post_name] => saint-andrew
            [post_title] => Celebrating the Saints :: Saint Andrew Cupcakes
            [post_author] => 3
            [post_date] => 2016-12-01 03:56:00
            [year] => 2016
            [month] => 12
            [post_type] => post
        )

    [441] => stdClass Object
        (
            [slug] => precious-moments-08
            [ID] => 53591
            [post_name] => saint-andrew-novena
            [post_title] => Saint Andrew Novena
            [post_author] => 3
            [post_date] => 2016-11-30 18:32:00
            [year] => 2016
            [month] => 11
            [post_type] => post
        )

    [442] => stdClass Object
        (
            [slug] => st-therese
            [ID] => 53592
            [post_name] => bargain-priced-toys-shining-light-dolls
            [post_title] => Bargain Priced Toys :: Shining Light Dolls
            [post_author] => 3
            [post_date] => 2016-11-28 18:42:00
            [year] => 2016
            [month] => 11
            [post_type] => post
        )

    [443] => stdClass Object
        (
            [slug] => advent-and-christmas
            [ID] => 53593
            [post_name] => jesse-tree
            [post_title] => The Jesse Tree :: Read-Aloud Book of Bible Stories
            [post_author] => 3
            [post_date] => 2016-11-28 05:58:00
            [year] => 2016
            [month] => 11
            [post_type] => post
        )

    [444] => stdClass Object
        (
            [slug] => advent-and-christmas
            [ID] => 53594
            [post_name] => bargain-priced-books-coupon-codes-for
            [post_title] => Bargain Priced Books :: Coupon Codes for Christmas
            [post_author] => 3
            [post_date] => 2016-11-26 21:04:00
            [year] => 2016
            [month] => 11
            [post_type] => post
        )

    [445] => stdClass Object
        (
            [slug] => thanksgiving
            [ID] => 53595
            [post_name] => happy-thanksgiving
            [post_title] => Happy Thanksgiving
            [post_author] => 3
            [post_date] => 2016-11-25 04:59:00
            [year] => 2016
            [month] => 11
            [post_type] => post
        )

    [446] => stdClass Object
        (
            [slug] => advent-and-christmas
            [ID] => 53596
            [post_name] => christmas-gift-ideas
            [post_title] => Christmas Gift Ideas & A Special Prayer Request {Plus Another Sleighful of Giveaways}
            [post_author] => 3
            [post_date] => 2016-11-20 17:19:00
            [year] => 2016
            [month] => 11
            [post_type] => post
        )

    [447] => stdClass Object
        (
            [slug] => favorite-toys
            [ID] => 53597
            [post_name] => lakeside-lodge
            [post_title] => Bargain Priced Toys :: LEGO Lakeside Lodge
            [post_author] => 3
            [post_date] => 2016-11-19 23:11:00
            [year] => 2016
            [month] => 11
            [post_type] => post
        )

    [448] => stdClass Object
        (
            [slug] => advent-and-christmas
            [ID] => 53598
            [post_name] => advent-book-basket
            [post_title] => Our 2016 Advent Book Basket and Printable Labels {Plus Christmas Mosaic & Picture Book Giveaway!}
            [post_author] => 3
            [post_date] => 2016-11-13 23:57:00
            [year] => 2016
            [month] => 11
            [post_type] => post
        )

    [449] => stdClass Object
        (
            [slug] => history
            [ID] => 53599
            [post_name] => us-elections-lap-book
            [post_title] => U.S. Elections Lap Book
            [post_author] => 3
            [post_date] => 2016-11-08 22:35:00
            [year] => 2016
            [month] => 11
            [post_type] => post
        )

    [450] => stdClass Object
        (
            [slug] => advent-and-christmas
            [ID] => 53600
            [post_name] => new-christmas-books
            [post_title] => New Christmas Books for the Feast of St. Nicholas {and a St. Nicholas Giveaway!}
            [post_author] => 3
            [post_date] => 2016-11-06 23:24:00
            [year] => 2016
            [month] => 11
            [post_type] => post
        )

    [451] => stdClass Object
        (
            [slug] => picture-books
            [ID] => 53601
            [post_name] => saints-on-go
            [post_title] => Saints on the Go!
            [post_author] => 3
            [post_date] => 2016-11-06 16:45:00
            [year] => 2016
            [month] => 11
            [post_type] => post
        )

    [452] => stdClass Object
        (
            [slug] => all-souls-day
            [ID] => 53602
            [post_name] => all-souls-mass
            [post_title] => All Souls' Day Mass at the Cemetery
            [post_author] => 3
            [post_date] => 2016-11-03 01:48:00
            [year] => 2016
            [month] => 11
            [post_type] => post
        )

    [453] => stdClass Object
        (
            [slug] => sponsors
            [ID] => 53603
            [post_name] => sponsor-love
            [post_title] => Sponsor Love:: Quarterly Update & Current Specials {scroll to the bottom for a giveaway!}
            [post_author] => 3
            [post_date] => 2016-11-01 18:24:00
            [year] => 2016
            [month] => 11
            [post_type] => post
        )

    [454] => stdClass Object
        (
            [slug] => all-saints-day
            [ID] => 53604
            [post_name] => celebrating-saints
            [post_title] => Celebrating the Saints :: Our 2016 Costumes
            [post_author] => 3
            [post_date] => 2016-10-31 18:32:00
            [year] => 2016
            [month] => 10
            [post_type] => post
        )

    [455] => stdClass Object
        (
            [slug] => reviews
            [ID] => 53605
            [post_name] => shining-light-dolls
            [post_title] => New Picture Book for Our November Book Basket: Saints on the Go! {Review & Giveaway}
            [post_author] => 3
            [post_date] => 2016-10-30 20:07:00
            [year] => 2016
            [month] => 10
            [post_type] => post
        )

    [456] => stdClass Object
        (
            [slug] => all-saints-day
            [ID] => 53606
            [post_name] => all-saints-guessing-jars
            [post_title] => All Saints Guessing Jars {18 More Saints!}
            [post_author] => 3
            [post_date] => 2016-10-28 21:23:00
            [year] => 2016
            [month] => 10
            [post_type] => post
        )

    [457] => stdClass Object
        (
            [slug] => all-saints-day
            [ID] => 53607
            [post_name] => all-saints-scavenger-hunt
            [post_title] => All Saints Scavenger Hunt {Third Edition}
            [post_author] => 3
            [post_date] => 2016-10-25 19:54:00
            [year] => 2016
            [month] => 10
            [post_type] => post
        )

    [458] => stdClass Object
        (
            [slug] => advent-and-christmas
            [ID] => 53608
            [post_name] => advent-candles
            [post_title] => Advent, Christmas Eve & Epiphany Candles
            [post_author] => 3
            [post_date] => 2016-10-21 19:21:00
            [year] => 2016
            [month] => 10
            [post_type] => post
        )

    [459] => stdClass Object
        (
            [slug] => recipes
            [ID] => 53609
            [post_name] => four-favorite-aip-fall-breakfasts
            [post_title] => Four Favorite AIP Fall Breakfasts
            [post_author] => 3
            [post_date] => 2016-10-18 06:39:00
            [year] => 2016
            [month] => 10
            [post_type] => post
        )

    [460] => stdClass Object
        (
            [slug] => curriculum
            [ID] => 53610
            [post_name] => curriculum-plans
            [post_title] => Our 2016-2017 Curriculum Plans and Checklists
            [post_author] => 3
            [post_date] => 2016-10-15 01:51:00
            [year] => 2016
            [month] => 10
            [post_type] => post
        )

    [461] => stdClass Object
        (
            [slug] => st-therese
            [ID] => 53611
            [post_name] => saint-therese
            [post_title] => Shining Light Dolls :: Saint Thérèse of Lisieux
            [post_author] => 3
            [post_date] => 2016-10-14 03:28:00
            [year] => 2016
            [month] => 10
            [post_type] => post
        )

    [462] => stdClass Object
        (
            [slug] => marian
            [ID] => 53612
            [post_name] => virgin-mary-cake
            [post_title] => The Virgin Mary Around the World Birthday Cake
            [post_author] => 3
            [post_date] => 2016-10-14 03:00:00
            [year] => 2016
            [month] => 10
            [post_type] => post
        )

    [463] => stdClass Object
        (
            [slug] => birthday-parties
            [ID] => 53614
            [post_name] => heartie-party
            [post_title] => When Calls the Heart Birthday Party
            [post_author] => 3
            [post_date] => 2016-10-12 03:06:00
            [year] => 2016
            [month] => 10
            [post_type] => post
        )

    [464] => stdClass Object
        (
            [slug] => pumpkin-patch
            [ID] => 53615
            [post_name] => daybook
            [post_title] => Autumn Daybook
            [post_author] => 3
            [post_date] => 2016-10-11 03:39:00
            [year] => 2016
            [month] => 10
            [post_type] => post
        )

    [465] => stdClass Object
        (
            [slug] => reviews
            [ID] => 53616
            [post_name] => dolls-from-heaven
            [post_title] => Dolls from Heaven {Review & Coupon Code}
            [post_author] => 3
            [post_date] => 2016-10-05 20:49:00
            [year] => 2016
            [month] => 10
            [post_type] => post
        )

    [466] => stdClass Object
        (
            [slug] => all-saints-day
            [ID] => 53618
            [post_name] => st-michaels-stomp
            [post_title] => St. Michael's Stomp
            [post_author] => 3
            [post_date] => 2016-09-29 17:55:00
            [year] => 2016
            [month] => 9
            [post_type] => post
        )

    [467] => stdClass Object
        (
            [slug] => reviews
            [ID] => 53619
            [post_name] => hidden-garden
            [post_title] => Search for the Hidden Garden: A Discovery with Saint Thérèse {Book Review & Giveaway}
            [post_author] => 3
            [post_date] => 2016-09-27 19:42:00
            [year] => 2016
            [month] => 9
            [post_type] => post
        )

    [468] => stdClass Object
        (
            [slug] => little-saints-preschool
            [ID] => 53620
            [post_name] => fall-is-here
            [post_title] => Little Saints Preschool :: Fall is Here!
            [post_author] => 3
            [post_date] => 2016-09-25 00:27:00
            [year] => 2016
            [month] => 9
            [post_type] => post
        )

    [469] => stdClass Object
        (
            [slug] => crafts
            [ID] => 53621
            [post_name] => leaf-man
            [post_title] => Leaf Man :: A Picture Book Inspired Craft for Fall
            [post_author] => 3
            [post_date] => 2016-09-23 05:16:00
            [year] => 2016
            [month] => 9
            [post_type] => post
        )

    [470] => stdClass Object
        (
            [slug] => little-saints-preschool
            [ID] => 53622
            [post_name] => alphabet-fun
            [post_title] => Little Saints Preschool :: Alphabet Fun
            [post_author] => 3
            [post_date] => 2016-09-17 13:20:00
            [year] => 2016
            [month] => 9
            [post_type] => post
        )

    [471] => stdClass Object
        (
            [slug] => lego
            [ID] => 53624
            [post_name] => dutch-bros-coffee
            [post_title] => LEGO Ideas :: Dutch Bros. Coffee Drive-Thru
            [post_author] => 3
            [post_date] => 2016-09-16 18:20:00
            [year] => 2016
            [month] => 9
            [post_type] => post
        )

    [472] => stdClass Object
        (
            [slug] => crafts
            [ID] => 53625
            [post_name] => mother-teresa-pencil
            [post_title] => St. Teresa of Calcutta Back-to-School Treat
            [post_author] => 3
            [post_date] => 2016-09-15 18:25:00
            [year] => 2016
            [month] => 9
            [post_type] => post
        )

    [473] => stdClass Object
        (
            [slug] => marian
            [ID] => 53627
            [post_name] => happy-birthday-blessed-mother
            [post_title] => Happy Birthday, Blessed Mother
            [post_author] => 3
            [post_date] => 2016-09-09 05:47:00
            [year] => 2016
            [month] => 9
            [post_type] => post
        )

    [474] => stdClass Object
        (
            [slug] => home-education
            [ID] => 53628
            [post_name] => archbishop-sample
            [post_title] => Encouraging Words for Parents from Archbishop Sample as We Begin Our New School Year
            [post_author] => 3
            [post_date] => 2016-09-08 16:15:00
            [year] => 2016
            [month] => 9
            [post_type] => post
        )

    [475] => stdClass Object
        (
            [slug] => advent-and-christmas
            [ID] => 53629
            [post_name] => christmastime-in-new-orleans-cd
            [post_title] => Christmastime in New Orleans by The Nola Players {Sponsored Giveaway}
            [post_author] => 3
            [post_date] => 2016-09-07 15:20:00
            [year] => 2016
            [month] => 9
            [post_type] => post
        )

    [476] => stdClass Object
        (
            [slug] => catholic-cuisine
            [ID] => 53630
            [post_name] => mother-teresa
            [post_title] => Commemorating the Canonization of Mother Teresa
            [post_author] => 3
            [post_date] => 2016-09-03 08:15:00
            [year] => 2016
            [month] => 9
            [post_type] => post
        )

    [477] => stdClass Object
        (
            [slug] => reviews
            [ID] => 53631
            [post_name] => mother-teresa-picture-books
            [post_title] => Two Brand New Mother Teresa Picture Books {Sponsored Review & Giveaway}
            [post_author] => 3
            [post_date] => 2016-08-29 02:33:00
            [year] => 2016
            [month] => 8
            [post_type] => post
        )

    [478] => stdClass Object
        (
            [slug] => lego
            [ID] => 53632
            [post_name] => ancient-rome
            [post_title] => LEGO Ideas :: Ancient History Inspired Mini City
            [post_author] => 3
            [post_date] => 2016-08-27 20:32:00
            [year] => 2016
            [month] => 8
            [post_type] => post
        )

    [479] => stdClass Object
        (
            [slug] => latin-mass
            [ID] => 53633
            [post_name] => road-trip-to-portland
            [post_title] => Road Trip to Portland
            [post_author] => 3
            [post_date] => 2016-08-26 16:08:00
            [year] => 2016
            [month] => 8
            [post_type] => post
        )

    [480] => stdClass Object
        (
            [slug] => daybook
            [ID] => 53634
            [post_name] => end-of-summer-daybook
            [post_title] => End-of-Summer Daybook
            [post_author] => 3
            [post_date] => 2016-08-19 17:00:00
            [year] => 2016
            [month] => 8
            [post_type] => post
        )

    [481] => stdClass Object
        (
            [slug] => reviews
            [ID] => 53635
            [post_name] => the-story-of-civilization
            [post_title] => The Story of Civilization: Vol. I - The Ancient World {Review & Giveaway}
            [post_author] => 3
            [post_date] => 2016-08-13 19:25:00
            [year] => 2016
            [month] => 8
            [post_type] => post
        )

    [482] => stdClass Object
        (
            [slug] => bargain-books
            [ID] => 53636
            [post_name] => saints-calendar
            [post_title] => Bargain Priced Books :: 2017 Saints Calendar
            [post_author] => 3
            [post_date] => 2016-08-10 17:11:00
            [year] => 2016
            [month] => 8
            [post_type] => post
        )

    [483] => stdClass Object
        (
            [slug] => book-sale
            [ID] => 53637
            [post_name] => 6th-annual-book-sale
            [post_title] => 6th Annual Curriculum Sale Blog Hop
            [post_author] => 3
            [post_date] => 2016-08-05 22:04:00
            [year] => 2016
            [month] => 8
            [post_type] => post
        )

    [484] => stdClass Object
        (
            [slug] => book-sale
            [ID] => 53638
            [post_name] => our-2016-used-book-sale
            [post_title] => Our 2016 Used Book Sale
            [post_author] => 3
            [post_date] => 2016-08-05 21:55:00
            [year] => 2016
            [month] => 8
            [post_type] => post
        )

    [485] => stdClass Object
        (
            [slug] => book-sale
            [ID] => 53639
            [post_name] => listing-more-books-for-my-mom
            [post_title] => Listing more books for my mom...
            [post_author] => 3
            [post_date] => 2016-08-05 21:54:00
            [year] => 2016
            [month] => 8
            [post_type] => post
        )

    [486] => stdClass Object
        (
            [slug] => book-sale
            [ID] => 53640
            [post_name] => book-sale
            [post_title] => Coming Soon :: 6th Annual Curriculum Sale
            [post_author] => 3
            [post_date] => 2016-08-03 18:20:00
            [year] => 2016
            [month] => 8
            [post_type] => post
        )

    [487] => stdClass Object
        (
            [slug] => sponsors
            [ID] => 53641
            [post_name] => sponsor-love
            [post_title] => Sponsor Love:: Quarterly Update & Current Specials {scroll to the bottom for a giveaway!}
            [post_author] => 3
            [post_date] => 2016-08-01 21:43:00
            [year] => 2016
            [month] => 8
            [post_type] => post
        )

    [488] => stdClass Object
        (
            [slug] => curriculum
            [ID] => 53642
            [post_name] => 2015-2016-curriculum
            [post_title] => Looking Back :: Our 2015-2016 Curriculum
            [post_author] => 3
            [post_date] => 2016-07-27 21:46:00
            [year] => 2016
            [month] => 7
            [post_type] => post
        )

    [489] => stdClass Object
        (
            [slug] => st-anne
            [ID] => 53643
            [post_name] => saint-annes-colors
            [post_title] => Saint Anne's Colors
            [post_author] => 3
            [post_date] => 2016-07-27 03:29:00
            [year] => 2016
            [month] => 7
            [post_type] => post
        )

    [490] => stdClass Object
        (
            [slug] => catholic-cuisine
            [ID] => 53644
            [post_name] => on-feast-of-st-james
            [post_title] => Feast of St. James the Greater
            [post_author] => 3
            [post_date] => 2016-07-26 04:13:00
            [year] => 2016
            [month] => 7
            [post_type] => post
        )

    [491] => stdClass Object
        (
            [slug] => reviews
            [ID] => 53645
            [post_name] => the-summer-book-of-days
            [post_title] => The Summer Book of Days
            [post_author] => 3
            [post_date] => 2016-07-24 05:30:00
            [year] => 2016
            [month] => 7
            [post_type] => post
        )

    [492] => stdClass Object
        (
            [slug] => recipes
            [ID] => 53646
            [post_name] => guacamole
            [post_title] => The Autoimmune Protocol :: Homemade Guacamole
            [post_author] => 3
            [post_date] => 2016-07-23 19:44:00
            [year] => 2016
            [month] => 7
            [post_type] => post
        )

    [493] => stdClass Object
        (
            [slug] => celebrating-the-saints
            [ID] => 53647
            [post_name] => saint-mary-magdalene
            [post_title] => Feast of Saint Mary Magdalene
            [post_author] => 3
            [post_date] => 2016-07-23 05:57:00
            [year] => 2016
            [month] => 7
            [post_type] => post
        )

    [494] => stdClass Object
        (
            [slug] => birthday-parties
            [ID] => 53648
            [post_name] => captain-america-birthday-party
            [post_title] => Marvel's Avengers :: Captain America Birthday Party
            [post_author] => 3
            [post_date] => 2016-07-22 19:32:00
            [year] => 2016
            [month] => 7
            [post_type] => post
        )

    [495] => stdClass Object
        (
            [slug] => birthday-parties
            [ID] => 53649
            [post_name] => captain-americas-shield
            [post_title] => Captain America's Shield :: An Avenger Themed Birthday Cake {Dye-Free}
            [post_author] => 3
            [post_date] => 2016-07-21 21:25:00
            [year] => 2016
            [month] => 7
            [post_type] => post
        )

    [496] => stdClass Object
        (
            [slug] => happy-birthday
            [ID] => 53650
            [post_name] => captain-america
            [post_title] => Captain America Movie Night & Birthday Golf
            [post_author] => 3
            [post_date] => 2016-07-21 20:17:00
            [year] => 2016
            [month] => 7
            [post_type] => post
        )

    [497] => stdClass Object
        (
            [slug] => giveaway
            [ID] => 53652
            [post_name] => saint-camillus
            [post_title] => A Soldier Surrenders: The Conversion of Saint Camillus de Lellis {Book Review & Giveaway}
            [post_author] => 3
            [post_date] => 2016-07-18 15:00:00
            [year] => 2016
            [month] => 7
            [post_type] => post
        )

    [498] => stdClass Object
        (
            [slug] => marian
            [ID] => 53653
            [post_name] => our-lady-of-mount-carmel
            [post_title] => Feast of Our Lady of Mount Carmel
            [post_author] => 3
            [post_date] => 2016-07-17 03:19:00
            [year] => 2016
            [month] => 7
            [post_type] => post
        )

    [499] => stdClass Object
        (
            [slug] => st-therese
            [ID] => 53654
            [post_name] => louis-and-zelie-martin
            [post_title] => Celebrating the Saints :: Sts. Louis & Zélie Martin
            [post_author] => 3
            [post_date] => 2016-07-13 02:43:00
            [year] => 2016
            [month] => 7
            [post_type] => post
        )

    [500] => stdClass Object
        (
            [slug] => latin-mass
            [ID] => 53655
            [post_name] => instagram-recap
            [post_title] => {pretty, happy, funny, real} Instagram Recap
            [post_author] => 3
            [post_date] => 2016-07-08 06:30:00
            [year] => 2016
            [month] => 7
            [post_type] => post
        )

    [501] => stdClass Object
        (
            [slug] => cake-decorating
            [ID] => 53657
            [post_name] => independence-day
            [post_title] => Celebrating the 4th of July
            [post_author] => 3
            [post_date] => 2016-07-05 19:37:00
            [year] => 2016
            [month] => 7
            [post_type] => post
        )

    [502] => stdClass Object
        (
            [slug] => crafts
            [ID] => 53658
            [post_name] => handprint-flag
            [post_title] => 4th of July Handprint Flag
            [post_author] => 3
            [post_date] => 2016-07-05 06:30:00
            [year] => 2016
            [month] => 7
            [post_type] => post
        )

    [503] => stdClass Object
        (
            [slug] => american-girl
            [ID] => 53659
            [post_name] => molly-birthday
            [post_title] => Molly McIntire :: An American Girl Birthday Party
            [post_author] => 3
            [post_date] => 2016-07-03 19:00:00
            [year] => 2016
            [month] => 7
            [post_type] => post
        )

    [504] => stdClass Object
        (
            [slug] => bargain-books
            [ID] => 53663
            [post_name] => saint-magnus
            [post_title] => Bargain Priced Books :: Saint Magnus The Last Viking
            [post_author] => 3
            [post_date] => 2016-07-01 13:02:00
            [year] => 2016
            [month] => 7
            [post_type] => post
        )

    [505] => stdClass Object
        (
            [slug] => bargain-books
            [ID] => 53665
            [post_name] => the-paleo-approach
            [post_title] => Bargain Priced Books :: The Paleo Approach
            [post_author] => 3
            [post_date] => 2016-06-29 15:02:00
            [year] => 2016
            [month] => 6
            [post_type] => post
        )

    [506] => stdClass Object
        (
            [slug] => art
            [ID] => 53666
            [post_name] => rosa-bonheur
            [post_title] => Meet the Masters :: Rosa Bonheur
            [post_author] => 3
            [post_date] => 2016-06-28 16:40:00
            [year] => 2016
            [month] => 6
            [post_type] => post
        )

    [507] => stdClass Object
        (
            [slug] => avengers
            [ID] => 53667
            [post_name] => thors-hammer
            [post_title] => Metal Earth :: Thor's Hammer
            [post_author] => 3
            [post_date] => 2016-06-27 22:32:00
            [year] => 2016
            [month] => 6
            [post_type] => post
        )

    [508] => stdClass Object
        (
            [slug] => books
            [ID] => 53668
            [post_name] => summer-reading
            [post_title] => Summer Reading...
            [post_author] => 3
            [post_date] => 2016-06-27 02:48:00
            [year] => 2016
            [month] => 6
            [post_type] => post
        )

    [509] => stdClass Object
        (
            [slug] => birthday-parties
            [ID] => 53669
            [post_name] => knights-dragons-birthday-party
            [post_title] => Brave Knights & Dragons Birthday Party
            [post_author] => 3
            [post_date] => 2016-06-25 21:24:00
            [year] => 2016
            [month] => 6
            [post_type] => post
        )

    [510] => stdClass Object
        (
            [slug] => birthday-parties
            [ID] => 53670
            [post_name] => castle-cake
            [post_title] => Medieval Castle Cake & Brave Knights Cupcakes
            [post_author] => 3
            [post_date] => 2016-06-22 19:34:00
            [year] => 2016
            [month] => 6
            [post_type] => post
        )

    [511] => stdClass Object
        (
            [slug] => conference
            [ID] => 53671
            [post_name] => rocky-mountain-conference
            [post_title] => The 2016 Rocky Mountain Catholic Home Educators Conference
            [post_author] => 3
            [post_date] => 2016-06-18 15:44:00
            [year] => 2016
            [month] => 6
            [post_type] => post
        )

    [512] => stdClass Object
        (
            [slug] => art
            [ID] => 53672
            [post_name] => joan-miro
            [post_title] => Meet the Masters :: Joan Miró
            [post_author] => 3
            [post_date] => 2016-06-17 13:40:00
            [year] => 2016
            [month] => 6
            [post_type] => post
        )

    [513] => stdClass Object
        (
            [slug] => high-school
            [ID] => 53673
            [post_name] => pretty-happy-funny-real
            [post_title] => {pretty, happy, funny, real}
            [post_author] => 3
            [post_date] => 2016-06-17 02:47:00
            [year] => 2016
            [month] => 6
            [post_type] => post
        )

    [514] => stdClass Object
        (
            [slug] => celebrating-the-saints
            [ID] => 53674
            [post_name] => saint-germaine
            [post_title] => Celebrating the Saints :: Saint Germaine
            [post_author] => 3
            [post_date] => 2016-06-15 23:19:00
            [year] => 2016
            [month] => 6
            [post_type] => post
        )

    [515] => stdClass Object
        (
            [slug] => giveaway
            [ID] => 53675
            [post_name] => saint-anthony
            [post_title] => Celebrating the Saints :: Saint Anthony of Padua
            [post_author] => 3
            [post_date] => 2016-06-14 04:16:00
            [year] => 2016
            [month] => 6
            [post_type] => post
        )

    [516] => stdClass Object
        (
            [slug] => end-of-school
            [ID] => 53676
            [post_name] => end-of-school-interviews
            [post_title] => End-of-School Interviews for 2015-2016
            [post_author] => 3
            [post_date] => 2016-06-12 05:24:00
            [year] => 2016
            [month] => 6
            [post_type] => post
        )

    [517] => stdClass Object
        (
            [slug] => cake-decorating
            [ID] => 53677
            [post_name] => golf-cupcakes
            [post_title] => Golf Cupcakes Fore! PAR-Tee Time
            [post_author] => 3
            [post_date] => 2016-06-10 21:03:00
            [year] => 2016
            [month] => 6
            [post_type] => post
        )

    [518] => stdClass Object
        (
            [slug] => saints
            [ID] => 53678
            [post_name] => st-colum
            [post_title] => Celebrating the Saints :: St. Colum and the Crane
            [post_author] => 3
            [post_date] => 2016-06-10 03:07:00
            [year] => 2016
            [month] => 6
            [post_type] => post
        )

    [519] => stdClass Object
        (
            [slug] => precious-moments-07
            [ID] => 53679
            [post_name] => phfr
            [post_title] => {pretty, happy, funny, real}
            [post_author] => 3
            [post_date] => 2016-06-09 00:46:00
            [year] => 2016
            [month] => 6
            [post_type] => post
        )

    [520] => stdClass Object
        (
            [slug] => this-moment
            [ID] => 53680
            [post_name] => this-moment
            [post_title] => {this moment}
            [post_author] => 3
            [post_date] => 2016-06-04 21:11:00
            [year] => 2016
            [month] => 6
            [post_type] => post
        )

    [521] => stdClass Object
        (
            [slug] => st-joan-of-arc
            [ID] => 53681
            [post_name] => joan-of-arc
            [post_title] => On the Feast of St. Joan of Arc
            [post_author] => 3
            [post_date] => 2016-05-31 06:05:00
            [year] => 2016
            [month] => 5
            [post_type] => post
        )

    [522] => stdClass Object
        (
            [slug] => art
            [ID] => 53682
            [post_name] => rembrandt
            [post_title] => Meet the Masters :: Rembrandt van Rijn
            [post_author] => 3
            [post_date] => 2016-05-24 02:17:00
            [year] => 2016
            [month] => 5
            [post_type] => post
        )

    [523] => stdClass Object
        (
            [slug] => field-trips
            [ID] => 53683
            [post_name] => burning-down-house
            [post_title] => Burning Down the House
            [post_author] => 3
            [post_date] => 2016-05-23 03:02:00
            [year] => 2016
            [month] => 5
            [post_type] => post
        )

    [524] => stdClass Object
        (
            [slug] => high-school
            [ID] => 53684
            [post_name] => pretty-happy-funny-real
            [post_title] => {pretty, happy, funny, real}
            [post_author] => 3
            [post_date] => 2016-05-22 22:43:00
            [year] => 2016
            [month] => 5
            [post_type] => post
        )

    [525] => stdClass Object
        (
            [slug] => birthday-parties
            [ID] => 53685
            [post_name] => ring-toss
            [post_title] => Old Fashioned Party Games :: Ring Toss & Fabric Wrapped Hula Hoops
            [post_author] => 3
            [post_date] => 2016-05-18 21:48:00
            [year] => 2016
            [month] => 5
            [post_type] => post
        )

    [526] => stdClass Object
        (
            [slug] => pentecost
            [ID] => 53686
            [post_name] => pentecost
            [post_title] => Celebrating Pentecost, the Birthday of the Church
            [post_author] => 3
            [post_date] => 2016-05-16 01:12:00
            [year] => 2016
            [month] => 5
            [post_type] => post
        )

    [527] => stdClass Object
        (
            [slug] => teatime
            [ID] => 53687
            [post_name] => tea-party
            [post_title] => A Mother Daughter Tea Party in May
            [post_author] => 3
            [post_date] => 2016-05-15 03:13:00
            [year] => 2016
            [month] => 5
            [post_type] => post
        )

    [528] => stdClass Object
        (
            [slug] => marian
            [ID] => 53688
            [post_name] => our-lady-of-fatima
            [post_title] => On the Feast of Our Lady of Fatima
            [post_author] => 3
            [post_date] => 2016-05-14 06:30:00
            [year] => 2016
            [month] => 5
            [post_type] => post
        )

    [529] => stdClass Object
        (
            [slug] => golf
            [ID] => 53689
            [post_name] => phfr
            [post_title] => {pretty, happy, funny, real} Pacific Coast
            [post_author] => 3
            [post_date] => 2016-05-13 03:29:00
            [year] => 2016
            [month] => 5
            [post_type] => post
        )

    [530] => stdClass Object
        (
            [slug] => uncategorized
            [ID] => 53690
            [post_name] => mothers-day
            [post_title] => A Prayer of Mothers for their Children
            [post_author] => 3
            [post_date] => 2016-05-09 04:48:00
            [year] => 2016
            [month] => 5
            [post_type] => post
        )

    [531] => stdClass Object
        (
            [slug] => sponsors
            [ID] => 53691
            [post_name] => sponsor-love
            [post_title] => Sponsor Love :: Quarterly Update & Current Specials {scroll to the bottom for a little giveaway!}
            [post_author] => 3
            [post_date] => 2016-05-02 06:20:00
            [year] => 2016
            [month] => 5
            [post_type] => post
        )

    [532] => stdClass Object
        (
            [slug] => st-george
            [ID] => 53692
            [post_name] => saint-george-and-dragon
            [post_title] => Saint George and the Dragon
            [post_author] => 3
            [post_date] => 2016-05-01 06:30:00
            [year] => 2016
            [month] => 5
            [post_type] => post
        )

    [533] => stdClass Object
        (
            [slug] => birthday-parties
            [ID] => 53693
            [post_name] => little-house-birthday
            [post_title] => Little House on the Prairie Birthday Party
            [post_author] => 3
            [post_date] => 2016-04-27 17:49:00
            [year] => 2016
            [month] => 4
            [post_type] => post
        )

    [534] => stdClass Object
        (
            [slug] => cake-decorating
            [ID] => 53694
            [post_name] => instagram-recap
            [post_title] => {pretty, happy, funny, real} Instagram Recap
            [post_author] => 3
            [post_date] => 2016-04-26 01:40:00
            [year] => 2016
            [month] => 4
            [post_type] => post
        )

    [535] => stdClass Object
        (
            [slug] => recipes
            [ID] => 53695
            [post_name] => autoimmune-paleo-pizza
            [post_title] => Autoimmune Paleo Pizza
            [post_author] => 3
            [post_date] => 2016-04-08 06:24:00
            [year] => 2016
            [month] => 4
            [post_type] => post
        )

    [536] => stdClass Object
        (
            [slug] => reviews
            [ID] => 53696
            [post_name] => into-sea-out-of-tomb
            [post_title] => Into the Sea, Out of the Tomb: Jonah and Jesus {Sponsored Review & Giveaway}
            [post_author] => 3
            [post_date] => 2016-04-03 07:00:00
            [year] => 2016
            [month] => 4
            [post_type] => post
        )

    [537] => stdClass Object
        (
            [slug] => arizona-trip-2016
            [ID] => 53697
            [post_name] => arizona-trip
            [post_title] => Visting Grandparents
            [post_author] => 3
            [post_date] => 2016-04-02 19:44:00
            [year] => 2016
            [month] => 4
            [post_type] => post
        )

    [538] => stdClass Object
        (
            [slug] => road-trip
            [ID] => 53698
            [post_name] => palm-sunday
            [post_title] => Pictures from Palm Sunday
            [post_author] => 3
            [post_date] => 2016-04-02 05:38:00
            [year] => 2016
            [month] => 4
            [post_type] => post
        )

    [539] => stdClass Object
        (
            [slug] => recipes
            [ID] => 53700
            [post_name] => strawberry-milkshake
            [post_title] => Strawberry Milkshake
            [post_author] => 3
            [post_date] => 2016-04-01 02:10:00
            [year] => 2016
            [month] => 4
            [post_type] => post
        )

    [540] => stdClass Object
        (
            [slug] => easter
            [ID] => 53701
            [post_name] => pretty-happy-funny-real
            [post_title] => {pretty, happy, funny, real}
            [post_author] => 3
            [post_date] => 2016-04-01 01:23:00
            [year] => 2016
            [month] => 4
            [post_type] => post
        )

    [541] => stdClass Object
        (
            [slug] => crafts
            [ID] => 53702
            [post_name] => easter-symbols-candy
            [post_title] => Easter Symbols Candy
            [post_author] => 3
            [post_date] => 2016-03-26 17:25:00
            [year] => 2016
            [month] => 3
            [post_type] => post
        )

    [542] => stdClass Object
        (
            [slug] => lent
            [ID] => 53703
            [post_name] => good-friday
            [post_title] => Good Friday
            [post_author] => 3
            [post_date] => 2016-03-26 06:30:00
            [year] => 2016
            [month] => 3
            [post_type] => post
        )

    [543] => stdClass Object
        (
            [slug] => books
            [ID] => 53704
            [post_name] => books-for-boys
            [post_title] => Books for Boys :: A Closer Look at the Bookshelf
            [post_author] => 3
            [post_date] => 2016-03-22 06:30:00
            [year] => 2016
            [month] => 3
            [post_type] => post
        )

    [544] => stdClass Object
        (
            [slug] => fssp
            [ID] => 53705
            [post_name] => st-josephs-day
            [post_title] => St. Joseph's Day
            [post_author] => 3
            [post_date] => 2016-03-20 02:43:00
            [year] => 2016
            [month] => 3
            [post_type] => post
        )

    [545] => stdClass Object
        (
            [slug] => recipes
            [ID] => 53706
            [post_name] => garlic-rubbed-tostones
            [post_title] => Garlic-Rubbed Tostones with Cilantro Chimichurri
            [post_author] => 3
            [post_date] => 2016-03-18 22:38:00
            [year] => 2016
            [month] => 3
            [post_type] => post
        )

    [546] => stdClass Object
        (
            [slug] => latin-mass
            [ID] => 53707
            [post_name] => st-patricks-day-book
            [post_title] => St. Patrick's Day-book
            [post_author] => 3
            [post_date] => 2016-03-18 06:30:00
            [year] => 2016
            [month] => 3
            [post_type] => post
        )

    [547] => stdClass Object
        (
            [slug] => crafts
            [ID] => 53708
            [post_name] => glory-be-prayer-poster
            [post_title] => Blessed Trinity Shamrock "Glory Be" Prayer Poster {Catechism Craft with Free Printable!}
            [post_author] => 3
            [post_date] => 2016-03-16 08:04:00
            [year] => 2016
            [month] => 3
            [post_type] => post
        )

    [548] => stdClass Object
        (
            [slug] => giveaway
            [ID] => 53709
            [post_name] => easter-symbols
            [post_title] => Easter Symbols :: More Easter Basket Stuffers & Catholic Gift Ideas {Plus a Basketful of Giveaways!}
            [post_author] => 3
            [post_date] => 2016-03-14 06:30:00
            [year] => 2016
            [month] => 3
            [post_type] => post
        )

    [549] => stdClass Object
        (
            [slug] => books
            [ID] => 53710
            [post_name] => word-to-caesar
            [post_title] => Word to Caesar
            [post_author] => 3
            [post_date] => 2016-03-12 17:27:00
            [year] => 2016
            [month] => 3
            [post_type] => post
        )

    [550] => stdClass Object
        (
            [slug] => recipes
            [ID] => 53711
            [post_name] => tuna-wraps
            [post_title] => Chunky Tuna Salad Wraps
            [post_author] => 3
            [post_date] => 2016-03-11 18:56:00
            [year] => 2016
            [month] => 3
            [post_type] => post
        )

    [551] => stdClass Object
        (
            [slug] => christmas-picture-books
            [ID] => 53712
            [post_name] => stacks-of-books-on-christmas
            [post_title] => Stacks of Books on Christmas Morning
            [post_author] => 3
            [post_date] => 2016-03-10 02:52:00
            [year] => 2016
            [month] => 3
            [post_type] => post
        )

    [552] => stdClass Object
        (
            [slug] => easter
            [ID] => 53713
            [post_name] => build-bouquet
            [post_title] => Bargain Priced Toys :: Build-a-Bouquet and More!
            [post_author] => 3
            [post_date] => 2016-03-07 20:37:00
            [year] => 2016
            [month] => 3
            [post_type] => post
        )

    [553] => stdClass Object
        (
            [slug] => books
            [ID] => 53714
            [post_name] => baskets-of-books-for-easter
            [post_title] => Baskets of Books for Easter {and a Giveaway!}
            [post_author] => 3
            [post_date] => 2016-03-07 06:09:00
            [year] => 2016
            [month] => 3
            [post_type] => post
        )

    [554] => stdClass Object
        (
            [slug] => picture-books
            [ID] => 53715
            [post_name] => bargain-priced-board-books-for-easter
            [post_title] => Bargain Priced Board Books for Easter Baskets
            [post_author] => 3
            [post_date] => 2016-03-04 20:20:00
            [year] => 2016
            [month] => 3
            [post_type] => post
        )

    [555] => stdClass Object
        (
            [slug] => st-joseph
            [ID] => 53716
            [post_name] => leap-day
            [post_title] => {pretty, happy, funny, real} :: Leap Day
            [post_author] => 3
            [post_date] => 2016-03-04 07:30:00
            [year] => 2016
            [month] => 3
            [post_type] => post
        )

    [556] => stdClass Object
        (
            [slug] => leap-day
            [ID] => 53717
            [post_name] => leap-day-time-capsule
            [post_title] => Leap Day Time Capsule {Free Printable}
            [post_author] => 3
            [post_date] => 2016-02-29 20:04:00
            [year] => 2016
            [month] => 2
            [post_type] => post
        )

    [557] => stdClass Object
        (
            [slug] => st-patricks-day
            [ID] => 53718
            [post_name] => new-march-books
            [post_title] => New Additions to Our March Book Basket
            [post_author] => 3
            [post_date] => 2016-02-29 01:45:00
            [year] => 2016
            [month] => 2
            [post_type] => post
        )

    [558] => stdClass Object
        (
            [slug] => reviews
            [ID] => 53719
            [post_name] => gospel-time-trekkers
            [post_title] => Gospel Time Trekkers {Sponsored Review}
            [post_author] => 3
            [post_date] => 2016-02-28 01:36:00
            [year] => 2016
            [month] => 2
            [post_type] => post
        )

    [559] => stdClass Object
        (
            [slug] => recipes
            [ID] => 53720
            [post_name] => hearty-healing-beef-stew
            [post_title] => Hearty Healing Beef Stew
            [post_author] => 3
            [post_date] => 2016-02-23 16:04:00
            [year] => 2016
            [month] => 2
            [post_type] => post
        )

    [560] => stdClass Object
        (
            [slug] => uncategorized
            [ID] => 53721
            [post_name] => benedictines-of-mary-queen-of-apostles
            [post_title] => Benedictines of Mary, Queen of Apostles {Sponsored Giveaway}
            [post_author] => 3
            [post_date] => 2016-02-22 01:37:00
            [year] => 2016
            [month] => 2
            [post_type] => post
        )

    [561] => stdClass Object
        (
            [slug] => birthday-parties
            [ID] => 53722
            [post_name] => thors-hammer
            [post_title] => Thor's Hammer :: An Avenger Themed Birthday Cake
            [post_author] => 3
            [post_date] => 2016-02-17 21:30:00
            [year] => 2016
            [month] => 2
            [post_type] => post
        )

    [562] => stdClass Object
        (
            [slug] => picture-books
            [ID] => 53723
            [post_name] => little-flower
            [post_title] => The Little Flower: A Parable of St. Thérèse of Liseux {Sponsored Review & Giveaway}
            [post_author] => 3
            [post_date] => 2016-02-14 23:41:00
            [year] => 2016
            [month] => 2
            [post_type] => post
        )

    [563] => stdClass Object
        (
            [slug] => saint-books
            [ID] => 53724
            [post_name] => st-valentine
            [post_title] => No Greater Love - The Story of St. Valentine
            [post_author] => 3
            [post_date] => 2016-02-14 04:59:00
            [year] => 2016
            [month] => 2
            [post_type] => post
        )

    [564] => stdClass Object
        (
            [slug] => birthday-parties
            [ID] => 53725
            [post_name] => thor-birthday-party
            [post_title] => Marvel's Avengers :: Thor Birthday Party
            [post_author] => 3
            [post_date] => 2016-02-09 05:19:00
            [year] => 2016
            [month] => 2
            [post_type] => post
        )

    [565] => stdClass Object
        (
            [slug] => sponsors
            [ID] => 53726
            [post_name] => sponsor-love
            [post_title] => Sponsor Love :: Quarterly Update & Current Specials {scroll to the bottom for a little giveaway!}
            [post_author] => 3
            [post_date] => 2016-02-06 19:42:00
            [year] => 2016
            [month] => 2
            [post_type] => post
        )

    [566] => stdClass Object
        (
            [slug] => pro-life
            [ID] => 53727
            [post_name] => praying-for-lizz
            [post_title] => Praying for Lizz
            [post_author] => 3
            [post_date] => 2016-02-04 18:43:00
            [year] => 2016
            [month] => 2
            [post_type] => post
        )

    [567] => stdClass Object
        (
            [slug] => candlemas
            [ID] => 53728
            [post_name] => candlemas-cookies
            [post_title] => Candlemas Cookies
            [post_author] => 3
            [post_date] => 2016-02-03 06:57:00
            [year] => 2016
            [month] => 2
            [post_type] => post
        )

    [568] => stdClass Object
        (
            [slug] => picture-books
            [ID] => 53729
            [post_name] => saint-valentine
            [post_title] => Bargain Priced Books :: Saint Valentine
            [post_author] => 3
            [post_date] => 2016-01-27 00:41:00
            [year] => 2016
            [month] => 1
            [post_type] => post
        )

    [569] => stdClass Object
        (
            [slug] => marian
            [ID] => 53730
            [post_name] => ladybug-warriors
            [post_title] => Ladybug Warriors :: Praying for the Unborn
            [post_author] => 3
            [post_date] => 2016-01-23 07:02:00
            [year] => 2016
            [month] => 1
            [post_type] => post
        )

    [570] => stdClass Object
        (
            [slug] => lego
            [ID] => 53731
            [post_name] => under-construction
            [post_title] => Under Construction :: A LEGO Cathedral, Phase 2
            [post_author] => 3
            [post_date] => 2016-01-21 01:49:00
            [year] => 2016
            [month] => 1
            [post_type] => post
        )

    [571] => stdClass Object
        (
            [slug] => daybook
            [ID] => 53732
            [post_name] => 38th-birthday
            [post_title] => 38th Birthday Daybook
            [post_author] => 3
            [post_date] => 2016-01-18 03:39:00
            [year] => 2016
            [month] => 1
            [post_type] => post
        )

    [572] => stdClass Object
        (
            [slug] => happy-birthday
            [ID] => 53733
            [post_name] => this-moment
            [post_title] => {this moment}
            [post_author] => 3
            [post_date] => 2016-01-16 03:25:00
            [year] => 2016
            [month] => 1
            [post_type] => post
        )

    [573] => stdClass Object
        (
            [slug] => lego
            [ID] => 53734
            [post_name] => lego-cathedral
            [post_title] => Under Construction :: A LEGO Cathedral
            [post_author] => 3
            [post_date] => 2016-01-14 00:39:00
            [year] => 2016
            [month] => 1
            [post_type] => post
        )

    [574] => stdClass Object
        (
            [slug] => precious-moments-05
            [ID] => 53735
            [post_name] => reading-aloud
            [post_title] => Reading Aloud at the Rink
            [post_author] => 3
            [post_date] => 2016-01-13 01:46:00
            [year] => 2016
            [month] => 1
            [post_type] => post
        )

    [575] => stdClass Object
        (
            [slug] => advent-and-christmas
            [ID] => 53736
            [post_name] => the-little-lambs-wish
            [post_title] => Free Christmas Story :: The Little Lamb's Wish
            [post_author] => 3
            [post_date] => 2016-01-10 03:22:00
            [year] => 2016
            [month] => 1
            [post_type] => post
        )

    [576] => stdClass Object
        (
            [slug] => advent-and-christmas
            [ID] => 53737
            [post_name] => epiphany
            [post_title] => Celebrating Epiphany
            [post_author] => 3
            [post_date] => 2016-01-07 06:18:00
            [year] => 2016
            [month] => 1
            [post_type] => post
        )

    [577] => stdClass Object
        (
            [slug] => advent-and-christmas
            [ID] => 53738
            [post_name] => gingerbread-houses
            [post_title] => Gingerbread Houses on New Year's Eve
            [post_author] => 3
            [post_date] => 2016-01-03 06:12:00
            [year] => 2016
            [month] => 1
            [post_type] => post
        )

    [578] => stdClass Object
        (
            [slug] => advent-and-christmas
            [ID] => 53739
            [post_name] => gingerbread-cookies
            [post_title] => Gingerbread House Cookies
            [post_author] => 3
            [post_date] => 2016-01-03 05:47:00
            [year] => 2016
            [month] => 1
            [post_type] => post
        )

    [579] => stdClass Object
        (
            [slug] => marian
            [ID] => 53740
            [post_name] => mother-mary
            [post_title] => Mary, the Holy Mother of God
            [post_author] => 3
            [post_date] => 2016-01-02 02:02:00
            [year] => 2016
            [month] => 1
            [post_type] => post
        )

    [580] => stdClass Object
        (
            [slug] => marian
            [ID] => 53741
            [post_name] => christmas-eve
            [post_title] => A Statue of the Holy Family for Dad and Mom
            [post_author] => 3
            [post_date] => 2015-12-27 23:57:00
            [year] => 2015
            [month] => 12
            [post_type] => post
        )

    [581] => stdClass Object
        (
            [slug] => chapel-veil
            [ID] => 53742
            [post_name] => instagram-recap
            [post_title] => A Few Pictures From Instagram & Car Seat Update
            [post_author] => 3
            [post_date] => 2015-12-27 22:02:00
            [year] => 2015
            [month] => 12
            [post_type] => post
        )

    [582] => stdClass Object
        (
            [slug] => prayer-request
            [ID] => 53743
            [post_name] => prayer-request
            [post_title] => A Little Request for Prayers & Car Seat Advice...
            [post_author] => 3
            [post_date] => 2015-12-22 03:28:00
            [year] => 2015
            [month] => 12
            [post_type] => post
        )

    [583] => stdClass Object
        (
            [slug] => advent-and-christmas
            [ID] => 53744
            [post_name] => o-antiphons
            [post_title] => The Great O Antiphons, The Golden Nights
            [post_author] => 3
            [post_date] => 2015-12-18 06:43:00
            [year] => 2015
            [month] => 12
            [post_type] => post
        )

    [584] => stdClass Object
        (
            [slug] => advent-and-christmas
            [ID] => 53745
            [post_name] => o-antiphon-chocolate-coins
            [post_title] => O Antiphon Chocolate Coins
            [post_author] => 3
            [post_date] => 2015-12-18 02:28:00
            [year] => 2015
            [month] => 12
            [post_type] => post
        )

    [585] => stdClass Object
        (
            [slug] => advent-and-christmas
            [ID] => 53746
            [post_name] => santa-lucia-day
            [post_title] => Santa Lucia Day
            [post_author] => 3
            [post_date] => 2015-12-16 19:54:00
            [year] => 2015
            [month] => 12
            [post_type] => post
        )

    [586] => stdClass Object
        (
            [slug] => snow
            [ID] => 53747
            [post_name] => snow-day
            [post_title] => Snow Day
            [post_author] => 3
            [post_date] => 2015-12-14 04:15:00
            [year] => 2015
            [month] => 12
            [post_type] => post
        )

    [587] => stdClass Object
        (
            [slug] => advent-and-christmas
            [ID] => 53748
            [post_name] => feast-of-st-nicholas
            [post_title] => Celebrating the Feast of St. Nicholas :: 2015
            [post_author] => 3
            [post_date] => 2015-12-09 20:50:00
            [year] => 2015
            [month] => 12
            [post_type] => post
        )

    [588] => stdClass Object
        (
            [slug] => advent-and-christmas
            [ID] => 53749
            [post_name] => on-feast-of-immaculate-conception
            [post_title] => On the Solemnity of the Immaculate Conception
            [post_author] => 3
            [post_date] => 2015-12-09 00:40:00
            [year] => 2015
            [month] => 12
            [post_type] => post
        )

    [589] => stdClass Object
        (
            [slug] => advent-and-christmas
            [ID] => 53750
            [post_name] => little-blue-trucks-christmas
            [post_title] => Bargain Priced Books :: Little Blue Truck's Christmas, Kristoph and the First Christmas Tree & More
            [post_author] => 3
            [post_date] => 2015-12-07 23:49:00
            [year] => 2015
            [month] => 12
            [post_type] => post
        )

    [590] => stdClass Object
        (
            [slug] => bargain-toys
            [ID] => 53751
            [post_name] => bargain-priced-toys-my-first-tug-boat
            [post_title] => Bargain Priced Toys :: My First Tug Boat
            [post_author] => 3
            [post_date] => 2015-12-07 20:05:00
            [year] => 2015
            [month] => 12
            [post_type] => post
        )

    [591] => stdClass Object
        (
            [slug] => board-games
            [ID] => 53752
            [post_name] => ticket-to-ride
            [post_title] => Bargain Priced Toys :: Ticket to Ride
            [post_author] => 3
            [post_date] => 2015-12-04 15:32:00
            [year] => 2015
            [month] => 12
            [post_type] => post
        )

    [592] => stdClass Object
        (
            [slug] => advent-and-christmas
            [ID] => 53753
            [post_name] => christmas-giveaway
            [post_title] => Christmas Giveaway Reminder & Prayer Request
            [post_author] => 3
            [post_date] => 2015-12-03 02:28:00
            [year] => 2015
            [month] => 12
            [post_type] => post
        )

    [593] => stdClass Object
        (
            [slug] => advent-and-christmas
            [ID] => 53754
            [post_name] => saint-nicholas
            [post_title] => Saint Nicholas & the Nine Gold Coins
            [post_author] => 3
            [post_date] => 2015-11-28 17:50:00
            [year] => 2015
            [month] => 11
            [post_type] => post
        )

    [594] => stdClass Object
        (
            [slug] => books
            [ID] => 53755
            [post_name] => puffin-in-bloom
            [post_title] => Bargain Priced Books :: Puffin in Bloom Collection
            [post_author] => 3
            [post_date] => 2015-11-26 16:25:00
            [year] => 2015
            [month] => 11
            [post_type] => post
        )

    [595] => stdClass Object
        (
            [slug] => thanksgiving
            [ID] => 53756
            [post_name] => cinnamon-roll-turkeys
            [post_title] => Cinnamon Roll Turkeys
            [post_author] => 3
            [post_date] => 2015-11-24 18:50:00
            [year] => 2015
            [month] => 11
            [post_type] => post
        )

    [596] => stdClass Object
        (
            [slug] => advent-and-christmas
            [ID] => 53757
            [post_name] => christmas-gifts
            [post_title] => Christmas Gift Ideas {Plus a Sleighful of Giveaways}
            [post_author] => 3
            [post_date] => 2015-11-23 22:18:00
            [year] => 2015
            [month] => 11
            [post_type] => post
        )

    [597] => stdClass Object
        (
            [slug] => advent-and-christmas
            [ID] => 53758
            [post_name] => new-christmas-books
            [post_title] => New Christmas Books for the Feast of St. Nicholas
            [post_author] => 3
            [post_date] => 2015-11-21 16:58:00
            [year] => 2015
            [month] => 11
            [post_type] => post
        )

    [598] => stdClass Object
        (
            [slug] => precious-moments-06
            [ID] => 53759
            [post_name] => first-lost-tooth
            [post_title] => {pretty, happy, funny, real} :: Rose's First Lost Tooth
            [post_author] => 3
            [post_date] => 2015-11-20 04:05:00
            [year] => 2015
            [month] => 11
            [post_type] => post
        )

    [599] => stdClass Object
        (
            [slug] => saint-books
            [ID] => 53760
            [post_name] => saint-elizabeth
            [post_title] => Saint Elizabeth of Hungary, Pray for Us!
            [post_author] => 3
            [post_date] => 2015-11-18 02:43:00
            [year] => 2015
            [month] => 11
            [post_type] => post
        )

    [600] => stdClass Object
        (
            [slug] => advent-and-christmas
            [ID] => 53761
            [post_name] => christmas-mosaic
            [post_title] => Christmas Mosaic :: A Review & Featured Book List
            [post_author] => 3
            [post_date] => 2015-11-17 03:04:00
            [year] => 2015
            [month] => 11
            [post_type] => post
        )

    [601] => stdClass Object
        (
            [slug] => advent-and-christmas
            [ID] => 53763
            [post_name] => advent-book-basket
            [post_title] => Our 2015 Advent Book Basket and Printable Labels {and a Christmas Mosaic Giveaway!}
            [post_author] => 3
            [post_date] => 2015-11-15 22:04:00
            [year] => 2015
            [month] => 11
            [post_type] => post
        )

    [602] => stdClass Object
        (
            [slug] => latin-mass
            [ID] => 53764
            [post_name] => the-bishop-as-guarantor-of-liturgy
            [post_title] => Recent Talk on the Liturgy from our Archbishop
            [post_author] => 3
            [post_date] => 2015-11-15 07:11:00
            [year] => 2015
            [month] => 11
            [post_type] => post
        )

    [603] => stdClass Object
        (
            [slug] => this-moment
            [ID] => 53765
            [post_name] => this-moment
            [post_title] => {this moment}
            [post_author] => 3
            [post_date] => 2015-11-14 01:30:00
            [year] => 2015
            [month] => 11
            [post_type] => post
        )

    [604] => stdClass Object
        (
            [slug] => advent-and-christmas
            [ID] => 53766
            [post_name] => katys-christmas-gift
            [post_title] => Bargain Priced Books :: Katy's Christmas Gift
            [post_author] => 3
            [post_date] => 2015-11-10 16:26:00
            [year] => 2015
            [month] => 11
            [post_type] => post
        )

    [605] => stdClass Object
        (
            [slug] => martinmas
            [ID] => 53767
            [post_name] => from-combox
            [post_title] => "How do you do all that you do?"
            [post_author] => 3
            [post_date] => 2015-11-08 23:25:00
            [year] => 2015
            [month] => 11
            [post_type] => post
        )

    [606] => stdClass Object
        (
            [slug] => costumes
            [ID] => 53768
            [post_name] => outtakes
            [post_title] => Seven Quick {Out} Takes
            [post_author] => 3
            [post_date] => 2015-11-06 15:48:00
            [year] => 2015
            [month] => 11
            [post_type] => post
        )

    [607] => stdClass Object
        (
            [slug] => sponsors
            [ID] => 53769
            [post_name] => sponsor-love
            [post_title] => Sponsor Love :: Quarterly Update & Current Specials {scroll to the bottom for a little giveaway!}
            [post_author] => 3
            [post_date] => 2015-11-05 05:17:00
            [year] => 2015
            [month] => 11
            [post_type] => post
        )

    [608] => stdClass Object
        (
            [slug] => all-souls-day
            [ID] => 53770
            [post_name] => all-souls-mass
            [post_title] => Our 10th Annual Mass at the Cemetery...
            [post_author] => 3
            [post_date] => 2015-11-03 05:41:00
            [year] => 2015
            [month] => 11
            [post_type] => post
        )

    [609] => stdClass Object
        (
            [slug] => all-saints-day
            [ID] => 53771
            [post_name] => all-saints-day
            [post_title] => Celebrating the Saints : Our 2015 Costumes
            [post_author] => 3
            [post_date] => 2015-11-01 23:05:00
            [year] => 2015
            [month] => 11
            [post_type] => post
        )

    [610] => stdClass Object
        (
            [slug] => all-saints-day
            [ID] => 53772
            [post_name] => blessed-mother-teresa-and-saint-john
            [post_title] => Blessed Mother Teresa and Saint John Paul II
            [post_author] => 3
            [post_date] => 2015-10-31 16:10:00
            [year] => 2015
            [month] => 10
            [post_type] => post
        )

    [611] => stdClass Object
        (
            [slug] => all-saints-day
            [ID] => 53774
            [post_name] => saint-costume-crowns
            [post_title] => Quick & Easy Homemade Paper Crowns
            [post_author] => 3
            [post_date] => 2015-10-29 21:23:00
            [year] => 2015
            [month] => 10
            [post_type] => post
        )

    [612] => stdClass Object
        (
            [slug] => all-saints-day
            [ID] => 53775
            [post_name] => all-hallows-eve-party
            [post_title] => Celebrating the Saints :: Our Annual All Hallows' Eve Party {2014 Edition}
            [post_author] => 3
            [post_date] => 2015-10-27 02:21:00
            [year] => 2015
            [month] => 10
            [post_type] => post
        )

    [613] => stdClass Object
        (
            [slug] => all-saints-day
            [ID] => 53776
            [post_name] => all-saints-party-printables
            [post_title] => All Saints Party Printables
            [post_author] => 3
            [post_date] => 2015-10-25 07:00:00
            [year] => 2015
            [month] => 10
            [post_type] => post
        )

    [614] => stdClass Object
        (
            [slug] => puzzles
            [ID] => 53777
            [post_name] => neuschwanstein-fairytale-castle
            [post_title] => Neuschwanstein, The Fairytale Castle
            [post_author] => 3
            [post_date] => 2015-10-21 17:58:00
            [year] => 2015
            [month] => 10
            [post_type] => post
        )

    [615] => stdClass Object
        (
            [slug] => model-kits
            [ID] => 53778
            [post_name] => neuschwanstein-castle
            [post_title] => Metal Earth :: Neuschwanstein Castle
            [post_author] => 3
            [post_date] => 2015-10-20 06:18:00
            [year] => 2015
            [month] => 10
            [post_type] => post
        )

    [616] => stdClass Object
        (
            [slug] => advent-and-christmas
            [ID] => 53779
            [post_name] => saints-of-christmas
            [post_title] => Bargain Priced Books :: Saints of Christmas
            [post_author] => 3
            [post_date] => 2015-10-19 20:09:00
            [year] => 2015
            [month] => 10
            [post_type] => post
        )

    [617] => stdClass Object
        (
            [slug] => st-therese
            [ID] => 53780
            [post_name] => canonization-of-louis-and-zelie-martin
            [post_title] => Commemorating the Canonization of the Parents of Saint Thérèse, Saints Louis and Zélie Martin
            [post_author] => 3
            [post_date] => 2015-10-18 08:00:00
            [year] => 2015
            [month] => 10
            [post_type] => post
        )

    [618] => stdClass Object
        (
            [slug] => back-to-school
            [ID] => 53781
            [post_name] => back-to-school-2015-2016
            [post_title] => Back-to-School :: 2015-2016
            [post_author] => 3
            [post_date] => 2015-10-17 02:53:00
            [year] => 2015
            [month] => 10
            [post_type] => post
        )

    [619] => stdClass Object
        (
            [slug] => giveaway
            [ID] => 53782
            [post_name] => shining-light-dolls-giveaway-winners
            [post_title] => Shining Light Dolls Giveaway Winners
            [post_author] => 3
            [post_date] => 2015-10-16 18:04:00
            [year] => 2015
            [month] => 10
            [post_type] => post
        )

    [620] => stdClass Object
        (
            [slug] => advent-and-christmas
            [ID] => 53783
            [post_name] => advent-candles
            [post_title] => Advent Candles
            [post_author] => 3
            [post_date] => 2015-10-15 18:02:00
            [year] => 2015
            [month] => 10
            [post_type] => post
        )

    [621] => stdClass Object
        (
            [slug] => bargain-books
            [ID] => 53784
            [post_name] => more-bargain-books
            [post_title] => More Bargain Priced Books and Promotions
            [post_author] => 3
            [post_date] => 2015-10-14 17:41:00
            [year] => 2015
            [month] => 10
            [post_type] => post
        )

    [622] => stdClass Object
        (
            [slug] => bargain-books
            [ID] => 53785
            [post_name] => song-of-stars
            [post_title] => Bargain Priced Books :: Song of the Stars
            [post_author] => 3
            [post_date] => 2015-10-13 17:18:00
            [year] => 2015
            [month] => 10
            [post_type] => post
        )

    [623] => stdClass Object
        (
            [slug] => columbus-day
            [ID] => 53786
            [post_name] => new-world-map-craft
            [post_title] => Columbus Day Craft :: New World Map
            [post_author] => 3
            [post_date] => 2015-10-12 23:17:00
            [year] => 2015
            [month] => 10
            [post_type] => post
        )

    [624] => stdClass Object
        (
            [slug] => our-lady-of-guadalupe
            [ID] => 53787
            [post_name] => shining-light-dolls
            [post_title] => New Shining Light Dolls {and a Giveaway!}
            [post_author] => 3
            [post_date] => 2015-10-09 21:29:00
            [year] => 2015
            [month] => 10
            [post_type] => post
        )

    [625] => stdClass Object
        (
            [slug] => picture-books
            [ID] => 53788
            [post_name] => october-book-basket
            [post_title] => New Additions to Our October Book Basket
            [post_author] => 3
            [post_date] => 2015-10-06 17:12:00
            [year] => 2015
            [month] => 10
            [post_type] => post
        )

    [626] => stdClass Object
        (
            [slug] => st-therese
            [ID] => 53789
            [post_name] => saint-therese
            [post_title] => On the Traditional Feast of Saint Thérèse
            [post_author] => 3
            [post_date] => 2015-10-03 22:36:00
            [year] => 2015
            [month] => 10
            [post_type] => post
        )

    [627] => stdClass Object
        (
            [slug] => happy-anniversary
            [ID] => 53790
            [post_name] => our-wedding-anniversary-memory-book
            [post_title] => Sweet Sixteen
            [post_author] => 3
            [post_date] => 2015-10-02 23:20:00
            [year] => 2015
            [month] => 10
            [post_type] => post
        )

    [628] => stdClass Object
        (
            [slug] => st-therese
            [ID] => 53791
            [post_name] => a-morning-prayer-written-by-saint
            [post_title] => A Morning Prayer Written by Saint Thérèse
            [post_author] => 3
            [post_date] => 2015-10-01 17:34:00
            [year] => 2015
            [month] => 10
            [post_type] => post
        )

    [629] => stdClass Object
        (
            [slug] => st-therese
            [ID] => 53792
            [post_name] => st-therese-worksheets
            [post_title] => Free Printable St. Thérèse Worksheets
            [post_author] => 3
            [post_date] => 2015-10-01 16:06:00
            [year] => 2015
            [month] => 10
            [post_type] => post
        )

    [630] => stdClass Object
        (
            [slug] => st-jerome
            [ID] => 53793
            [post_name] => st-jerome-and-lion
            [post_title] => St. Jerome and the Lion
            [post_author] => 3
            [post_date] => 2015-10-01 01:39:00
            [year] => 2015
            [month] => 10
            [post_type] => post
        )

    [631] => stdClass Object
        (
            [slug] => angels
            [ID] => 53794
            [post_name] => celebrating-michaelmas
            [post_title] => Celebrating Michaelmas
            [post_author] => 3
            [post_date] => 2015-09-30 03:48:00
            [year] => 2015
            [month] => 9
            [post_type] => post
        )

    [632] => stdClass Object
        (
            [slug] => giveaway
            [ID] => 53795
            [post_name] => art-angel
            [post_title] => Art Angel Gallery {Sponsored Giveaway}
            [post_author] => 3
            [post_date] => 2015-09-27 02:30:00
            [year] => 2015
            [month] => 9
            [post_type] => post
        )

    [633] => stdClass Object
        (
            [slug] => pope-francis
            [ID] => 53796
            [post_name] => cathedral-mass
            [post_title] => Pope Francis Visits the Home
            [post_author] => 3
            [post_date] => 2015-09-26 14:49:00
            [year] => 2015
            [month] => 9
            [post_type] => post
        )

    [634] => stdClass Object
        (
            [slug] => pope-francis
            [ID] => 53797
            [post_name] => junipero-serra
            [post_title] => Commemorating the Canonization of Junípero Serra
            [post_author] => 3
            [post_date] => 2015-09-23 08:00:00
            [year] => 2015
            [month] => 9
            [post_type] => post
        )

    [635] => stdClass Object
        (
            [slug] => michaelmas
            [ID] => 53798
            [post_name] => 5-ways-to-celebrate-michaelmas
            [post_title] => 5 Ways to Celebrate Michaelmas
            [post_author] => 3
            [post_date] => 2015-09-23 00:03:00
            [year] => 2015
            [month] => 9
            [post_type] => post
        )

    [636] => stdClass Object
        (
            [slug] => st-matthew
            [ID] => 53799
            [post_name] => saint-matthew
            [post_title] => On the Feast of Saint Matthew
            [post_author] => 3
            [post_date] => 2015-09-21 20:09:00
            [year] => 2015
            [month] => 9
            [post_type] => post
        )

    [637] => stdClass Object
        (
            [slug] => pro-life
            [ID] => 53800
            [post_name] => angel-in-waters
            [post_title] => Life Is Precious :: Miracle of Life Picture Books
            [post_author] => 3
            [post_date] => 2015-09-18 17:55:00
            [year] => 2015
            [month] => 9
            [post_type] => post
        )

    [638] => stdClass Object
        (
            [slug] => precious-moments-01
            [ID] => 53801
            [post_name] => hang-on-mama
            [post_title] => So... This happened today!
            [post_author] => 3
            [post_date] => 2015-09-17 00:43:00
            [year] => 2015
            [month] => 9
            [post_type] => post
        )

    [639] => stdClass Object
        (
            [slug] => favorite-toys
            [ID] => 53802
            [post_name] => shining-light-dolls
            [post_title] => Bargain Priced Toys :: Shining Light Dolls
            [post_author] => 3
            [post_date] => 2015-09-15 14:17:00
            [year] => 2015
            [month] => 9
            [post_type] => post
        )

    [640] => stdClass Object
        (
            [slug] => latin-mass
            [ID] => 53803
            [post_name] => this-moment
            [post_title] => {this moment}
            [post_author] => 3
            [post_date] => 2015-09-14 04:27:00
            [year] => 2015
            [month] => 9
            [post_type] => post
        )

    [641] => stdClass Object
        (
            [slug] => reviews
            [ID] => 53804
            [post_name] => life-is-precious
            [post_title] => Life Is Precious {Sponsored Review & Giveaway}
            [post_author] => 3
            [post_date] => 2015-09-09 22:56:00
            [year] => 2015
            [month] => 9
            [post_type] => post
        )

    [642] => stdClass Object
        (
            [slug] => marian
            [ID] => 53805
            [post_name] => happy-birthday-blessed-mother
            [post_title] => Happy Birthday, Blessed Mother!
            [post_author] => 3
            [post_date] => 2015-09-09 05:19:00
            [year] => 2015
            [month] => 9
            [post_type] => post
        )

    [643] => stdClass Object
        (
            [slug] => daybook
            [ID] => 53806
            [post_name] => end-of-summer-daybook
            [post_title] => End-of-Summer Daybook
            [post_author] => 3
            [post_date] => 2015-09-08 06:30:00
            [year] => 2015
            [month] => 9
            [post_type] => post
        )

    [644] => stdClass Object
        (
            [slug] => little-flowers
            [ID] => 53807
            [post_name] => wreath-i-crafting-pages
            [post_title] => Little Flowers Girls' Club :: Wreath I Crafting Pages
            [post_author] => 3
            [post_date] => 2015-09-05 00:30:00
            [year] => 2015
            [month] => 9
            [post_type] => post
        )

    [645] => stdClass Object
        (
            [slug] => little-flowers
            [ID] => 53808
            [post_name] => wreath-ii-crafting-pages
            [post_title] => Little Flowers Girls' Club :: Wreath II Crafting Pages
            [post_author] => 3
            [post_date] => 2015-09-05 00:00:00
            [year] => 2015
            [month] => 9
            [post_type] => post
        )

    [646] => stdClass Object
        (
            [slug] => little-flowers
            [ID] => 53809
            [post_name] => wreath-iii-crafting-pages
            [post_title] => Little Flowers Girls' Club :: Wreath III Crafting Pages
            [post_author] => 3
            [post_date] => 2015-09-02 02:00:00
            [year] => 2015
            [month] => 9
            [post_type] => post
        )

    [647] => stdClass Object
        (
            [slug] => saint-books
            [ID] => 53810
            [post_name] => new-additions-to-our-september-book_1
            [post_title] => New Additions to Our September Book Basket
            [post_author] => 3
            [post_date] => 2015-09-01 21:45:00
            [year] => 2015
            [month] => 9
            [post_type] => post
        )

    [648] => stdClass Object
        (
            [slug] => autoimmune-protocol
            [ID] => 53811
            [post_name] => seven-snacks
            [post_title] => The Autoimmune Protocol :: Seven Snacks That Helped Me Survive the AIP Diet
            [post_author] => 3
            [post_date] => 2015-08-28 19:59:00
            [year] => 2015
            [month] => 8
            [post_type] => post
        )

    [649] => stdClass Object
        (
            [slug] => little-flowers
            [ID] => 53813
            [post_name] => wreath-iv-crafting-pages
            [post_title] => Little Flowers Girls' Club :: Wreath IV Crafting Pages
            [post_author] => 3
            [post_date] => 2015-08-26 21:07:00
            [year] => 2015
            [month] => 8
            [post_type] => post
        )

    [650] => stdClass Object
        (
            [slug] => autoimmune-protocol
            [ID] => 53814
            [post_name] => the-autoimmune-protocol
            [post_title] => The Autoimmune Protocol :: My Journey Towards Better Health & Weight Loss with the AIP Diet
            [post_author] => 3
            [post_date] => 2015-08-21 17:48:00
            [year] => 2015
            [month] => 8
            [post_type] => post
        )

    [651] => stdClass Object
        (
            [slug] => fssp
            [ID] => 53815
            [post_name] => 2015-camp-saint-joan-of-arc
            [post_title] => 2015 Camp Saint Joan of Arc
            [post_author] => 3
            [post_date] => 2015-08-19 18:36:00
            [year] => 2015
            [month] => 8
            [post_type] => post
        )

    [652] => stdClass Object
        (
            [slug] => reviews
            [ID] => 53816
            [post_name] => the-story-of-bible-review-giveaway
            [post_title] => The Story of the Bible {Review & Giveaway}
            [post_author] => 3
            [post_date] => 2015-08-16 18:17:00
            [year] => 2015
            [month] => 8
            [post_type] => post
        )

    [653] => stdClass Object
        (
            [slug] => fssp
            [ID] => 53817
            [post_name] => 2015-camp-saint-joseph
            [post_title] => 2015 Camp Saint Joseph
            [post_author] => 3
            [post_date] => 2015-08-15 18:29:00
            [year] => 2015
            [month] => 8
            [post_type] => post
        )

    [654] => stdClass Object
        (
            [slug] => pro-life
            [ID] => 53818
            [post_name] => patrick-gabriel
            [post_title] => {this moment}
            [post_author] => 3
            [post_date] => 2015-08-14 23:04:00
            [year] => 2015
            [month] => 8
            [post_type] => post
        )

    [655] => stdClass Object
        (
            [slug] => saint-books
            [ID] => 53819
            [post_name] => new-saint-books-for-august
            [post_title] => New Additions to Our August Book Basket
            [post_author] => 3
            [post_date] => 2015-08-11 16:13:00
            [year] => 2015
            [month] => 8
            [post_type] => post
        )

    [656] => stdClass Object
        (
            [slug] => daybook
            [ID] => 53820
            [post_name] => my-daybook-august-10-2015
            [post_title] => My Daybook :: August 10, 2015
            [post_author] => 3
            [post_date] => 2015-08-11 06:23:00
            [year] => 2015
            [month] => 8
            [post_type] => post
        )

    [657] => stdClass Object
        (
            [slug] => precious-moments-07
            [ID] => 53821
            [post_name] => wooden-saint-dolls-blocks
            [post_title] => Wooden Saint Dolls & Nesting Blocks
            [post_author] => 3
            [post_date] => 2015-08-08 14:52:00
            [year] => 2015
            [month] => 8
            [post_type] => post
        )

    [658] => stdClass Object
        (
            [slug] => skirts
            [ID] => 53822
            [post_name] => summer-skirts
            [post_title] => Summer Skirts
            [post_author] => 3
            [post_date] => 2015-08-07 21:38:00
            [year] => 2015
            [month] => 8
            [post_type] => post
        )

    [659] => stdClass Object
        (
            [slug] => field-trips
            [ID] => 53823
            [post_name] => craters-of-moon
            [post_title] => Mt. Thielsen, Mt. Mazama and Craters of the Moon: The First Two Days of Our Summer Road Trip
            [post_author] => 3
            [post_date] => 2015-08-06 18:42:00
            [year] => 2015
            [month] => 8
            [post_type] => post
        )

    [660] => stdClass Object
        (
            [slug] => road-trip
            [ID] => 53824
            [post_name] => rv-roadtrip-checklist
            [post_title] => RV Road Trip Checklist & Tour
            [post_author] => 3
            [post_date] => 2015-08-06 06:24:00
            [year] => 2015
            [month] => 8
            [post_type] => post
        )

    [661] => stdClass Object
        (
            [slug] => field-trips
            [ID] => 53826
            [post_name] => bandon-by-sea
            [post_title] => Bandon-by-the-Sea
            [post_author] => 3
            [post_date] => 2015-08-04 00:35:00
            [year] => 2015
            [month] => 8
            [post_type] => post
        )

    [662] => stdClass Object
        (
            [slug] => sponsors
            [ID] => 53827
            [post_name] => sponsor-love-quarterly-update-current
            [post_title] => Sponsor Love :: Quarterly Update & Current Specials
            [post_author] => 3
            [post_date] => 2015-08-02 01:16:00
            [year] => 2015
            [month] => 8
            [post_type] => post
        )

    [663] => stdClass Object
        (
            [slug] => giveaway
            [ID] => 53828
            [post_name] => gails-designs-sponsored-giveaway
            [post_title] => Gail's Designs {Sponsored Giveaway}
            [post_author] => 3
            [post_date] => 2015-07-28 17:12:00
            [year] => 2015
            [month] => 7
            [post_type] => post
        )

    [664] => stdClass Object
        (
            [slug] => giveaway
            [ID] => 53829
            [post_name] => aurelius-cabrini-sponsored-giveaway
            [post_title] => Aurelius Cabrini {Sponsored Giveaway}
            [post_author] => 3
            [post_date] => 2015-07-28 02:17:00
            [year] => 2015
            [month] => 7
            [post_type] => post
        )

    [665] => stdClass Object
        (
            [slug] => road-trip
            [ID] => 53830
            [post_name] => home-again
            [post_title] => On the Feast of St. Christopher
            [post_author] => 3
            [post_date] => 2015-07-26 04:49:00
            [year] => 2015
            [month] => 7
            [post_type] => post
        )

    [666] => stdClass Object
        (
            [slug] => latin-mass
            [ID] => 53831
            [post_name] => first-communion-day
            [post_title] => First Communion Day
            [post_author] => 3
            [post_date] => 2015-07-25 00:42:00
            [year] => 2015
            [month] => 7
            [post_type] => post
        )

    [667] => stdClass Object
        (
            [slug] => end-of-school
            [ID] => 53832
            [post_name] => end-of-school-interview
            [post_title] => End-of-School Interviews for 2014-2015
            [post_author] => 3
            [post_date] => 2015-07-19 06:30:00
            [year] => 2015
            [month] => 7
            [post_type] => post
        )

    [668] => stdClass Object
        (
            [slug] => phfr
            [ID] => 53833
            [post_name] => amongst-lovely-things
            [post_title] => {pretty, happy, funny, real} :: Amongst Lovely Things
            [post_author] => 3
            [post_date] => 2015-07-18 06:30:00
            [year] => 2015
            [month] => 7
            [post_type] => post
        )

    [669] => stdClass Object
        (
            [slug] => home-education
            [ID] => 53834
            [post_name] => end-of-school-year-teacher-appreciation
            [post_title] => Teacher Appreciation Gifts {with Free Printables!}
            [post_author] => 3
            [post_date] => 2015-07-17 05:10:00
            [year] => 2015
            [month] => 7
            [post_type] => post
        )

    [670] => stdClass Object
        (
            [slug] => field-trips
            [ID] => 53835
            [post_name] => end-of-school-party
            [post_title] => End-of-School Party at the Family Fun Center
            [post_author] => 3
            [post_date] => 2015-07-16 06:00:00
            [year] => 2015
            [month] => 7
            [post_type] => post
        )

    [671] => stdClass Object
        (
            [slug] => july-4th
            [ID] => 53836
            [post_name] => celebrating-traditional-american-family
            [post_title] => July 4th: Celebrating Our Traditional American Family
            [post_author] => 3
            [post_date] => 2015-07-04 21:31:00
            [year] => 2015
            [month] => 7
            [post_type] => post
        )

    [672] => stdClass Object
        (
            [slug] => birthday-parties
            [ID] => 53837
            [post_name] => hockey-birthday-party
            [post_title] => A Hockey Birthday
            [post_author] => 3
            [post_date] => 2015-07-02 15:12:00
            [year] => 2015
            [month] => 7
            [post_type] => post
        )

    [673] => stdClass Object
        (
            [slug] => birthday-parties
            [ID] => 53838
            [post_name] => stanley-cup-ice-cream-cones
            [post_title] => Stanley Cup Ice Cream Cones
            [post_author] => 3
            [post_date] => 2015-06-30 20:47:00
            [year] => 2015
            [month] => 6
            [post_type] => post
        )

    [674] => stdClass Object
        (
            [slug] => phfr
            [ID] => 53839
            [post_name] => st-john-baptist
            [post_title] => Celebrating the Birthday of St. John the Baptist
            [post_author] => 3
            [post_date] => 2015-06-25 06:30:00
            [year] => 2015
            [month] => 6
            [post_type] => post
        )

    [675] => stdClass Object
        (
            [slug] => cake-decorating
            [ID] => 53840
            [post_name] => face-off-puck-cakes
            [post_title] => Hot Chocolate & Marshmallow Face-Off Puck Cakes {Hockey Themed Cupcakes}
            [post_author] => 3
            [post_date] => 2015-06-24 06:30:00
            [year] => 2015
            [month] => 6
            [post_type] => post
        )

    [676] => stdClass Object
        (
            [slug] => cake-decorating
            [ID] => 53841
            [post_name] => hockey-jersey-birthday-cake
            [post_title] => A Hockey Jersey Birthday Cake
            [post_author] => 3
            [post_date] => 2015-06-23 06:30:00
            [year] => 2015
            [month] => 6
            [post_type] => post
        )

    [677] => stdClass Object
        (
            [slug] => book-sale
            [ID] => 53842
            [post_name] => 5th-annual-book-sale
            [post_title] => 5th Annual Curriculum Sale Blog Hop
            [post_author] => 3
            [post_date] => 2015-06-16 00:13:00
            [year] => 2015
            [month] => 6
            [post_type] => post
        )

    [678] => stdClass Object
        (
            [slug] => book-sale
            [ID] => 53843
            [post_name] => our-2015-used-book-sale
            [post_title] => Our 2015 Used Book Sale
            [post_author] => 3
            [post_date] => 2015-06-16 00:11:00
            [year] => 2015
            [month] => 6
            [post_type] => post
        )

    [679] => stdClass Object
        (
            [slug] => advent-and-christmas
            [ID] => 53844
            [post_name] => seven-quick-takes
            [post_title] => Seven Quick Takes :: Upcoming Book Sale, Coupon Codes, Special Feast Days, and Animals of God!
            [post_author] => 3
            [post_date] => 2015-06-12 23:42:00
            [year] => 2015
            [month] => 6
            [post_type] => post
        )

    [680] => stdClass Object
        (
            [slug] => autoimmune-protocol
            [ID] => 53845
            [post_name] => pretty-happy-funny-real_11
            [post_title] => {pretty, happy, funny, real}
            [post_author] => 3
            [post_date] => 2015-06-12 03:46:00
            [year] => 2015
            [month] => 6
            [post_type] => post
        )

    [681] => stdClass Object
        (
            [slug] => altar-boys
            [ID] => 53846
            [post_name] => corpus-christi-mass-procession
            [post_title] => Corpus Christi Mass & Procession
            [post_author] => 3
            [post_date] => 2015-06-08 02:54:00
            [year] => 2015
            [month] => 6
            [post_type] => post
        )

    [682] => stdClass Object
        (
            [slug] => this-moment
            [ID] => 53847
            [post_name] => this-moment
            [post_title] => {this moment}
            [post_author] => 3
            [post_date] => 2015-06-07 01:11:00
            [year] => 2015
            [month] => 6
            [post_type] => post
        )

    [683] => stdClass Object
        (
            [slug] => precious-moments-07
            [ID] => 53848
            [post_name] => pretty-happy-funny-real
            [post_title] => {pretty, happy, funny, real}
            [post_author] => 3
            [post_date] => 2015-06-06 19:38:00
            [year] => 2015
            [month] => 6
            [post_type] => post
        )

    [684] => stdClass Object
        (
            [slug] => latin-mass
            [ID] => 53849
            [post_name] => homeschool-family-camp-pentecost-sunday
            [post_title] => Homeschool Family Camp & Pentecost Sunday
            [post_author] => 3
            [post_date] => 2015-06-04 06:49:00
            [year] => 2015
            [month] => 6
            [post_type] => post
        )

    [685] => stdClass Object
        (
            [slug] => field-trips
            [ID] => 53850
            [post_name] => lava-river-cave
            [post_title] => Lava River Cave
            [post_author] => 3
            [post_date] => 2015-06-01 22:01:00
            [year] => 2015
            [month] => 6
            [post_type] => post
        )

    [686] => stdClass Object
        (
            [slug] => this-moment
            [ID] => 53851
            [post_name] => this-moment
            [post_title] => {this moment}
            [post_author] => 3
            [post_date] => 2015-05-30 20:30:00
            [year] => 2015
            [month] => 5
            [post_type] => post
        )

    [687] => stdClass Object
        (
            [slug] => marian
            [ID] => 53852
            [post_name] => benedicta-marian-chant-from-norcia
            [post_title] => BENEDICTA: Marian Chant from Norcia {Review & "Win It Before You Can Buy It" Giveaway!}
            [post_author] => 3
            [post_date] => 2015-05-18 21:30:00
            [year] => 2015
            [month] => 5
            [post_type] => post
        )

    [688] => stdClass Object
        (
            [slug] => marian
            [ID] => 53853
            [post_name] => sunday-of-rose
            [post_title] => Sunday of the Rose
            [post_author] => 3
            [post_date] => 2015-05-17 14:59:00
            [year] => 2015
            [month] => 5
            [post_type] => post
        )

    [689] => stdClass Object
        (
            [slug] => pro-life
            [ID] => 53854
            [post_name] => california-coast
            [post_title] => A Day Trip to the California Coast
            [post_author] => 3
            [post_date] => 2015-05-17 14:00:00
            [year] => 2015
            [month] => 5
            [post_type] => post
        )

    [690] => stdClass Object
        (
            [slug] => pro-life
            [ID] => 53855
            [post_name] => npltw
            [post_title] => {pretty, happy, funny, real} :: NPLTW 2015
            [post_author] => 3
            [post_date] => 2015-05-17 04:00:00
            [year] => 2015
            [month] => 5
            [post_type] => post
        )

    [691] => stdClass Object
        (
            [slug] => pro-life
            [ID] => 53856
            [post_name] => seven-quick-takes
            [post_title] => Seven Quick Takes :: Instagram Recap & More
            [post_author] => 3
            [post_date] => 2015-05-15 18:41:00
            [year] => 2015
            [month] => 5
            [post_type] => post
        )

    [692] => stdClass Object
        (
            [slug] => ascension
            [ID] => 53857
            [post_name] => ascension-thursday-picnic
            [post_title] => Our Annual Ascension Thursday Picnic
            [post_author] => 3
            [post_date] => 2015-05-15 05:43:00
            [year] => 2015
            [month] => 5
            [post_type] => post
        )

    [693] => stdClass Object
        (
            [slug] => curriculum
            [ID] => 53858
            [post_name] => our-2014-2015-curriculum-plans
            [post_title] => Our 2014-2015 Curriculum Plans and Checklists
            [post_author] => 3
            [post_date] => 2015-05-13 18:22:00
            [year] => 2015
            [month] => 5
            [post_type] => post
        )

    [694] => stdClass Object
        (
            [slug] => pro-life
            [ID] => 53859
            [post_name] => life-is-precious
            [post_title] => Decorating Cookies on Mother's Day
            [post_author] => 3
            [post_date] => 2015-05-11 03:47:00
            [year] => 2015
            [month] => 5
            [post_type] => post
        )

    [695] => stdClass Object
        (
            [slug] => precious-moments-07
            [ID] => 53860
            [post_name] => april-pictures
            [post_title] => {pretty, happy, funny, real} :: A Few More Pictures from April
            [post_author] => 3
            [post_date] => 2015-05-07 16:43:00
            [year] => 2015
            [month] => 5
            [post_type] => post
        )

    [696] => stdClass Object
        (
            [slug] => pro-life
            [ID] => 53861
            [post_name] => instagram-recap-national-pro-life-t
            [post_title] => Instagram Recap :: National Pro-Life T-Shirt Week
            [post_author] => 3
            [post_date] => 2015-05-07 05:30:00
            [year] => 2015
            [month] => 5
            [post_type] => post
        )

    [697] => stdClass Object
        (
            [slug] => happy-birthday
            [ID] => 53862
            [post_name] => april-instagram-recap
            [post_title] => April Instagram Recap
            [post_author] => 3
            [post_date] => 2015-05-07 00:06:00
            [year] => 2015
            [month] => 5
            [post_type] => post
        )

    [698] => stdClass Object
        (
            [slug] => sponsors
            [ID] => 53863
            [post_name] => sponsor-love-quarterly-update-current
            [post_title] => Sponsor Love :: Quarterly Update & Current Specials
            [post_author] => 3
            [post_date] => 2015-05-02 21:32:00
            [year] => 2015
            [month] => 5
            [post_type] => post
        )

    [699] => stdClass Object
        (
            [slug] => books
            [ID] => 53864
            [post_name] => new-additions-to-our-may-book-basket
            [post_title] => New Additions to Our May Book Basket
            [post_author] => 3
            [post_date] => 2015-05-01 17:09:00
            [year] => 2015
            [month] => 5
            [post_type] => post
        )

    [700] => stdClass Object
        (
            [slug] => cake-decorating
            [ID] => 53865
            [post_name] => good-shepherd-sunday
            [post_title] => Good Shepherd Sunday
            [post_author] => 3
            [post_date] => 2015-04-27 04:46:00
            [year] => 2015
            [month] => 4
            [post_type] => post
        )

    [701] => stdClass Object
        (
            [slug] => american-girl
            [ID] => 53866
            [post_name] => chocolate-roll-cake
            [post_title] => Happy Birthday, Kit! :: Chocolate Roll Cake
            [post_author] => 3
            [post_date] => 2015-04-25 19:03:00
            [year] => 2015
            [month] => 4
            [post_type] => post
        )

    [702] => stdClass Object
        (
            [slug] => saints
            [ID] => 53867
            [post_name] => saint-george-and-dragon
            [post_title] => Saint George and the Dragon
            [post_author] => 3
            [post_date] => 2015-04-24 05:06:00
            [year] => 2015
            [month] => 4
            [post_type] => post
        )

    [703] => stdClass Object
        (
            [slug] => pro-life
            [ID] => 53868
            [post_name] => getting-ready-for-national-pro-life-t
            [post_title] => Getting Ready for National Pro-Life T-Shirt Week
            [post_author] => 3
            [post_date] => 2015-04-22 23:21:00
            [year] => 2015
            [month] => 4
            [post_type] => post
        )

    [704] => stdClass Object
        (
            [slug] => saints
            [ID] => 53869
            [post_name] => celebrating-saints-st-magnus-of-orkney
            [post_title] => Celebrating the Saints :: St. Magnus of Orkney
            [post_author] => 3
            [post_date] => 2015-04-16 19:37:00
            [year] => 2015
            [month] => 4
            [post_type] => post
        )

    [705] => stdClass Object
        (
            [slug] => lent
            [ID] => 53870
            [post_name] => the-easter-story-lego-edition
            [post_title] => The Easter Story {LEGO Edition}
            [post_author] => 3
            [post_date] => 2015-04-15 23:15:00
            [year] => 2015
            [month] => 4
            [post_type] => post
        )

    [706] => stdClass Object
        (
            [slug] => american-girl
            [ID] => 53871
            [post_name] => jesus-i-trust-in-you
            [post_title] => Jesus, I Trust in You
            [post_author] => 3
            [post_date] => 2015-04-12 19:36:00
            [year] => 2015
            [month] => 4
            [post_type] => post
        )

    [707] => stdClass Object
        (
            [slug] => birthday-parties
            [ID] => 53872
            [post_name] => farmer-boy-birthday
            [post_title] => Farmer Boy :: Big Red Barn Birthday
            [post_author] => 3
            [post_date] => 2015-04-11 18:03:00
            [year] => 2015
            [month] => 4
            [post_type] => post
        )

    [708] => stdClass Object
        (
            [slug] => birthday-parties
            [ID] => 53873
            [post_name] => farmer-boy-barnyard-birthday-cake
            [post_title] => Farmer Boy Barnyard Birthday Cake
            [post_author] => 3
            [post_date] => 2015-04-11 00:40:00
            [year] => 2015
            [month] => 4
            [post_type] => post
        )

    [709] => stdClass Object
        (
            [slug] => lent
            [ID] => 53874
            [post_name] => a-lenten-dinner-on-holy-saturday
            [post_title] => Good Friday Lenten Dinner {on Holy Saturday}
            [post_author] => 3
            [post_date] => 2015-04-10 17:05:00
            [year] => 2015
            [month] => 4
            [post_type] => post
        )

    [710] => stdClass Object
        (
            [slug] => lent
            [ID] => 53875
            [post_name] => pretty-happy-funny-real-instagram-recap
            [post_title] => {pretty, happy, funny, real} :: Instagram Recap
            [post_author] => 3
            [post_date] => 2015-04-08 23:28:00
            [year] => 2015
            [month] => 4
            [post_type] => post
        )

    [711] => stdClass Object
        (
            [slug] => holy-thursday
            [ID] => 53876
            [post_name] => palm-sunday-lenten-dinner
            [post_title] => A Lenten Dinner on Palm Sunday
            [post_author] => 3
            [post_date] => 2015-04-08 18:11:00
            [year] => 2015
            [month] => 4
            [post_type] => post
        )

    [712] => stdClass Object
        (
            [slug] => easter
            [ID] => 53877
            [post_name] => happy-easter-from-our-family-to-yours
            [post_title] => Happy Easter from Our Family To Yours!
            [post_author] => 3
            [post_date] => 2015-04-07 23:28:00
            [year] => 2015
            [month] => 4
            [post_type] => post
        )

    [713] => stdClass Object
        (
            [slug] => prayer-request
            [ID] => 53878
            [post_name] => a-special-prayer-request-for-snodgrass
            [post_title] => A Special Prayer Request for the Snodgrass Family
            [post_author] => 3
            [post_date] => 2015-04-06 06:50:00
            [year] => 2015
            [month] => 4
            [post_type] => post
        )

    [714] => stdClass Object
        (
            [slug] => daybook
            [ID] => 53879
            [post_name] => march-daybook
            [post_title] => March Daybook
            [post_author] => 3
            [post_date] => 2015-04-01 03:25:00
            [year] => 2015
            [month] => 4
            [post_type] => post
        )

    [715] => stdClass Object
        (
            [slug] => cake-decorating
            [ID] => 53880
            [post_name] => saint-josephs-day-cathedral-cake
            [post_title] => Saint Joseph's Day Cathedral Cake
            [post_author] => 3
            [post_date] => 2015-04-01 03:08:00
            [year] => 2015
            [month] => 4
            [post_type] => post
        )

    [716] => stdClass Object
        (
            [slug] => st-patricks-day
            [ID] => 53881
            [post_name] => saint-patricks-day
            [post_title] => Saint Patrick's Day
            [post_author] => 3
            [post_date] => 2015-04-01 02:03:00
            [year] => 2015
            [month] => 4
            [post_type] => post
        )

    [717] => stdClass Object
        (
            [slug] => precious-moments-01
            [ID] => 53882
            [post_name] => pretty-happy-funny-real-pi-day
            [post_title] => {pretty, happy, funny, real} :: Pi Day
            [post_author] => 3
            [post_date] => 2015-04-01 02:00:00
            [year] => 2015
            [month] => 4
            [post_type] => post
        )

    [718] => stdClass Object
        (
            [slug] => marian
            [ID] => 53883
            [post_name] => the-angel-of-lord-declared-unto-mary
            [post_title] => The Angel of the Lord declared Unto Mary...
            [post_author] => 3
            [post_date] => 2015-03-26 00:04:00
            [year] => 2015
            [month] => 3
            [post_type] => post
        )

    [719] => stdClass Object
        (
            [slug] => latin-mass
            [ID] => 53884
            [post_name] => a-house-divided
            [post_title] => A House Divided...
            [post_author] => 3
            [post_date] => 2015-03-24 22:33:00
            [year] => 2015
            [month] => 3
            [post_type] => post
        )

    [720] => stdClass Object
        (
            [slug] => favorite-toys
            [ID] => 53885
            [post_name] => bargain-priced-toys-lego-great-vehicles
            [post_title] => Bargain Priced Toys :: LEGO Great Vehicles
            [post_author] => 3
            [post_date] => 2015-03-24 19:21:00
            [year] => 2015
            [month] => 3
            [post_type] => post
        )

    [721] => stdClass Object
        (
            [slug] => giveaway
            [ID] => 53886
            [post_name] => 100-easter-basket-stuffers-catholic
            [post_title] => 100+ Easter Basket Stuffers & Catholic Gift Ideas {Plus a Basketful of Giveaways!}
            [post_author] => 3
            [post_date] => 2015-03-08 21:18:00
            [year] => 2015
            [month] => 3
            [post_type] => post
        )

    [722] => stdClass Object
        (
            [slug] => this-moment
            [ID] => 53887
            [post_name] => this-moment
            [post_title] => {this moment}
            [post_author] => 3
            [post_date] => 2015-03-07 07:49:00
            [year] => 2015
            [month] => 3
            [post_type] => post
        )

    [723] => stdClass Object
        (
            [slug] => christmas-picture-books
            [ID] => 53888
            [post_name] => stacks-of-books-on-christmas-morning
            [post_title] => Stacks of Books on Christmas Morning
            [post_author] => 3
            [post_date] => 2015-03-07 05:49:00
            [year] => 2015
            [month] => 3
            [post_type] => post
        )

    [724] => stdClass Object
        (
            [slug] => lap-books
            [ID] => 53889
            [post_name] => the-ten-commandments-lap-book-catechism
            [post_title] => The Ten Commandments Lap Book {Catechism Craft with Free Printables!}
            [post_author] => 3
            [post_date] => 2015-03-04 19:56:00
            [year] => 2015
            [month] => 3
            [post_type] => post
        )

    [725] => stdClass Object
        (
            [slug] => books
            [ID] => 53890
            [post_name] => baskets-of-books-for-easter-and-giveaway
            [post_title] => Baskets of Books for Easter {and a Giveaway!}
            [post_author] => 3
            [post_date] => 2015-03-03 00:05:00
            [year] => 2015
            [month] => 3
            [post_type] => post
        )

    [726] => stdClass Object
        (
            [slug] => sponsors
            [ID] => 53891
            [post_name] => meet-my-new-sponsors
            [post_title] => Meet My New Sponsors
            [post_author] => 3
            [post_date] => 2015-03-02 07:30:00
            [year] => 2015
            [month] => 3
            [post_type] => post
        )

    [727] => stdClass Object
        (
            [slug] => books
            [ID] => 53892
            [post_name] => new-additions-to-our-march-book-basket
            [post_title] => New Additions to Our March Book Basket
            [post_author] => 3
            [post_date] => 2015-02-28 21:39:00
            [year] => 2015
            [month] => 2
            [post_type] => post
        )

    [728] => stdClass Object
        (
            [slug] => daybook
            [ID] => 53893
            [post_name] => february-daybook
            [post_title] => February Daybook
            [post_author] => 3
            [post_date] => 2015-02-28 06:30:00
            [year] => 2015
            [month] => 2
            [post_type] => post
        )

    [729] => stdClass Object
        (
            [slug] => giveaway
            [ID] => 53894
            [post_name] => easter-at-ephesus
            [post_title] => Easter at Ephesus :: Another Brand New Release from the Benedictines of Mary, Queen of Apostles {and a "Win It Before You Can Buy It" Giveaway!}
            [post_author] => 3
            [post_date] => 2015-02-23 17:28:00
            [year] => 2015
            [month] => 2
            [post_type] => post
        )

    [730] => stdClass Object
        (
            [slug] => science
            [ID] => 53895
            [post_name] => ashes-physics-and-piano-recital
            [post_title] => {pretty, happy, funny, real} :: Ash Wednesday, Physics, and a Piano Recital
            [post_author] => 3
            [post_date] => 2015-02-23 07:00:00
            [year] => 2015
            [month] => 2
            [post_type] => post
        )

    [731] => stdClass Object
        (
            [slug] => lent
            [ID] => 53898
            [post_name] => a-lenten-calendar-for-catholic-children
            [post_title] => A Lenten Calendar for Catholic Children {revised}
            [post_author] => 3
            [post_date] => 2015-02-18 17:20:00
            [year] => 2015
            [month] => 2
            [post_type] => post
        )

    [732] => stdClass Object
        (
            [slug] => shrove-tuesday
            [ID] => 53899
            [post_name] => shrove-tuesday
            [post_title] => Shrove Tuesday
            [post_author] => 3
            [post_date] => 2015-02-18 02:00:00
            [year] => 2015
            [month] => 2
            [post_type] => post
        )

    [733] => stdClass Object
        (
            [slug] => sacred-heart
            [ID] => 53900
            [post_name] => strawberry-hearts-sweet-simple-treat
            [post_title] => Strawberry Hearts {A Sweet & Simple Treat}
            [post_author] => 3
            [post_date] => 2015-02-16 21:38:00
            [year] => 2015
            [month] => 2
            [post_type] => post
        )

    [734] => stdClass Object
        (
            [slug] => st-valentines-day
            [ID] => 53901
            [post_name] => st-valentines-day
            [post_title] => Celebrating St. Valentine's Day
            [post_author] => 3
            [post_date] => 2015-02-16 20:17:00
            [year] => 2015
            [month] => 2
            [post_type] => post
        )

    [735] => stdClass Object
        (
            [slug] => st-valentines-day
            [ID] => 53902
            [post_name] => pretty-happy-funny-real-instagram-recap
            [post_title] => {pretty, happy, funny, real} :: Instagram Recap
            [post_author] => 3
            [post_date] => 2015-02-15 19:34:00
            [year] => 2015
            [month] => 2
            [post_type] => post
        )

    [736] => stdClass Object
        (
            [slug] => birthday-parties
            [ID] => 53903
            [post_name] => a-rangers-apprentice-birthday-party
            [post_title] => A Ranger's Apprentice Birthday Party
            [post_author] => 3
            [post_date] => 2015-02-12 04:04:00
            [year] => 2015
            [month] => 2
            [post_type] => post
        )

    [737] => stdClass Object
        (
            [slug] => birthday-parties
            [ID] => 53904
            [post_name] => archery-cake
            [post_title] => Ranger's Apprentice Archery Target Cake
            [post_author] => 3
            [post_date] => 2015-02-09 18:39:00
            [year] => 2015
            [month] => 2
            [post_type] => post
        )

    [738] => stdClass Object
        (
            [slug] => american-girl
            [ID] => 53905
            [post_name] => celebrating-saints-st-brigid
            [post_title] => Celebrating the Saints :: St. Brigid of Ireland
            [post_author] => 3
            [post_date] => 2015-02-03 20:19:00
            [year] => 2015
            [month] => 2
            [post_type] => post
        )

    [739] => stdClass Object
        (
            [slug] => sponsors
            [ID] => 53906
            [post_name] => sponsor-love-quarterly-update-current
            [post_title] => Sponsor Love: Quarterly Update & Current Specials
            [post_author] => 3
            [post_date] => 2015-02-02 07:30:00
            [year] => 2015
            [month] => 2
            [post_type] => post
        )

    [740] => stdClass Object
        (
            [slug] => books
            [ID] => 53907
            [post_name] => harvey-house-publishing-sponsored
            [post_title] => Harvey House Publishing {Sponsored Giveaway}
            [post_author] => 3
            [post_date] => 2015-01-31 18:31:00
            [year] => 2015
            [month] => 1
            [post_type] => post
        )

    [741] => stdClass Object
        (
            [slug] => books
            [ID] => 53908
            [post_name] => new-additions-to-our-february-book
            [post_title] => New Additions to Our February Book Basket
            [post_author] => 3
            [post_date] => 2015-01-31 00:34:00
            [year] => 2015
            [month] => 1
            [post_type] => post
        )

    [742] => stdClass Object
        (
            [slug] => phfr
            [ID] => 53909
            [post_name] => pretty-happy-funny-real-iphone-photos
            [post_title] => {pretty, happy, funny, real} :: iPhone Photos
            [post_author] => 3
            [post_date] => 2015-01-30 07:30:00
            [year] => 2015
            [month] => 1
            [post_type] => post
        )

    [743] => stdClass Object
        (
            [slug] => books
            [ID] => 53910
            [post_name] => anne-of-green-gables-chocolates
            [post_title] => Anne of Green Gables Chocolates {Free Printable}
            [post_author] => 3
            [post_date] => 2015-01-27 23:48:00
            [year] => 2015
            [month] => 1
            [post_type] => post
        )

    [744] => stdClass Object
        (
            [slug] => latin-mass
            [ID] => 53911
            [post_name] => book-review-treasure-and-tradition
            [post_title] => Book Review :: Treasure and Tradition: The Ultimate Guide to the Latin Mass
            [post_author] => 3
            [post_date] => 2015-01-25 19:06:00
            [year] => 2015
            [month] => 1
            [post_type] => post
        )

    [745] => stdClass Object
        (
            [slug] => recipes
            [ID] => 53912
            [post_name] => january-daybook
            [post_title] => January Daybook
            [post_author] => 3
            [post_date] => 2015-01-25 00:11:00
            [year] => 2015
            [month] => 1
            [post_type] => post
        )

    [746] => stdClass Object
        (
            [slug] => cake-decorating
            [ID] => 53913
            [post_name] => made-with-love-chocolate-cake
            [post_title] => Made with Love :: Chocolate Cake, Strawberries & Thirty-Seven Candles!
            [post_author] => 3
            [post_date] => 2015-01-22 03:29:00
            [year] => 2015
            [month] => 1
            [post_type] => post
        )

    [747] => stdClass Object
        (
            [slug] => cake-decorating
            [ID] => 53914
            [post_name] => dairy-free-cappuccino-almond-fudge-mud_20
            [post_title] => Dairy-Free Cappuccino Almond Fudge Mud Pie
            [post_author] => 3
            [post_date] => 2015-01-21 01:01:00
            [year] => 2015
            [month] => 1
            [post_type] => post
        )

    [748] => stdClass Object
        (
            [slug] => advent-and-christmas
            [ID] => 53915
            [post_name] => pretty-happy-funny-real-instagram-recap
            [post_title] => {pretty, happy, funny, real} :: Instagram Recap
            [post_author] => 3
            [post_date] => 2015-01-16 04:47:00
            [year] => 2015
            [month] => 1
            [post_type] => post
        )

    [749] => stdClass Object
        (
            [slug] => advent-and-christmas
            [ID] => 53916
            [post_name] => pretty-happy-funny-real-few-pictures
            [post_title] => {pretty, happy, funny, real} :: A Few Pictures from Christmas Day
            [post_author] => 3
            [post_date] => 2015-01-08 19:08:00
            [year] => 2015
            [month] => 1
            [post_type] => post
        )

    [750] => stdClass Object
        (
            [slug] => instagram-recap
            [ID] => 53917
            [post_name] => twelve-days-of-christmas-instagram-recap
            [post_title] => Twelve Days of Christmas Instagram Recap
            [post_author] => 3
            [post_date] => 2015-01-06 21:16:00
            [year] => 2015
            [month] => 1
            [post_type] => post
        )

    [751] => stdClass Object
        (
            [slug] => just-for-fun
            [ID] => 53919
            [post_name] => sledding-on-new-years-eve
            [post_title] => Sledding on New Year's Eve
            [post_author] => 3
            [post_date] => 2015-01-01 17:05:00
            [year] => 2015
            [month] => 1
            [post_type] => post
        )

    [752] => stdClass Object
        (
            [slug] => advent-and-christmas
            [ID] => 53920
            [post_name] => happy-birthday-baby-jesus
            [post_title] => Happy Birthday, Baby Jesus!
            [post_author] => 3
            [post_date] => 2014-12-26 07:30:00
            [year] => 2014
            [month] => 12
            [post_type] => post
        )

    [753] => stdClass Object
        (
            [slug] => instagram-recap
            [ID] => 53921
            [post_name] => instagram-recap_23
            [post_title] => Instagram Recap
            [post_author] => 3
            [post_date] => 2014-12-23 21:43:00
            [year] => 2014
            [month] => 12
            [post_type] => post
        )

    [754] => stdClass Object
        (
            [slug] => cake-decorating
            [ID] => 53922
            [post_name] => happy-3rd-birthday-bud
            [post_title] => Happy 3rd Birthday Bud!
            [post_author] => 3
            [post_date] => 2014-12-19 21:04:00
            [year] => 2014
            [month] => 12
            [post_type] => post
        )

    [755] => stdClass Object
        (
            [slug] => advent-and-christmas
            [ID] => 53924
            [post_name] => celebrating-feast-of-st-nicholas-2014
            [post_title] => Celebrating the Feast of St. Nicholas :: 2014
            [post_author] => 3
            [post_date] => 2014-12-18 01:27:00
            [year] => 2014
            [month] => 12
            [post_type] => post
        )

    [756] => stdClass Object
        (
            [slug] => field-trips
            [ID] => 53925
            [post_name] => the-historic-st-josephs-catholic-rectory
            [post_title] => The Historic St. Joseph's Catholic Rectory
            [post_author] => 3
            [post_date] => 2014-12-17 19:57:00
            [year] => 2014
            [month] => 12
            [post_type] => post
        )

    [757] => stdClass Object
        (
            [slug] => giveaway
            [ID] => 53926
            [post_name] => regina-martyrum-productions-sponsored
            [post_title] => Regina Martyrum Productions {Sponsored Giveaway}
            [post_author] => 3
            [post_date] => 2014-12-17 07:07:00
            [year] => 2014
            [month] => 12
            [post_type] => post
        )

    [758] => stdClass Object
        (
            [slug] => books
            [ID] => 53927
            [post_name] => roses-in-snow-brand-new-picture-book
            [post_title] => Roses in the Snow {A Brand New Picture Book!}
            [post_author] => 3
            [post_date] => 2014-12-15 19:30:00
            [year] => 2014
            [month] => 12
            [post_type] => post
        )

    [759] => stdClass Object
        (
            [slug] => advent-and-christmas
            [ID] => 53928
            [post_name] => santa-lucia-saint-of-light
            [post_title] => Santa Lucia, Saint of Light
            [post_author] => 3
            [post_date] => 2014-12-14 07:48:00
            [year] => 2014
            [month] => 12
            [post_type] => post
        )

    [760] => stdClass Object
        (
            [slug] => advent-and-christmas
            [ID] => 53929
            [post_name] => celebrating-o-antiphons-golden-nights
            [post_title] => Celebrating the O Antiphons :: The Golden Nights
            [post_author] => 3
            [post_date] => 2014-12-12 21:16:00
            [year] => 2014
            [month] => 12
            [post_type] => post
        )

    [761] => stdClass Object
        (
            [slug] => instagram-recap
            [ID] => 53930
            [post_name] => instagram-recap
            [post_title] => Instagram Recap
            [post_author] => 3
            [post_date] => 2014-12-10 21:49:00
            [year] => 2014
            [month] => 12
            [post_type] => post
        )

    [762] => stdClass Object
        (
            [slug] => advent-and-christmas
            [ID] => 53931
            [post_name] => preparing-for-christmas-seven-fun-finds
            [post_title] => Preparing for Christmas :: Seven Fun Finds for Advent
            [post_author] => 3
            [post_date] => 2014-12-05 20:08:00
            [year] => 2014
            [month] => 12
            [post_type] => post
        )

    [763] => stdClass Object
        (
            [slug] => books
            [ID] => 53932
            [post_name] => feasts-seasons-our-december-book-basket
            [post_title] => Feasts & Seasons :: Our December Book Basket
            [post_author] => 3
            [post_date] => 2014-12-04 18:00:00
            [year] => 2014
            [month] => 12
            [post_type] => post
        )

    [764] => stdClass Object
        (
            [slug] => saints
            [ID] => 53933
            [post_name] => saints-n-stitches
            [post_title] => Saints n' Stitches
            [post_author] => 3
            [post_date] => 2014-12-03 23:04:00
            [year] => 2014
            [month] => 12
            [post_type] => post
        )

    [765] => stdClass Object
        (
            [slug] => advent-and-christmas
            [ID] => 53934
            [post_name] => celebrating-saints-st-andrew
            [post_title] => Celebrating the Saints :: St. Andrew the Apostle
            [post_author] => 3
            [post_date] => 2014-12-02 07:30:00
            [year] => 2014
            [month] => 12
            [post_type] => post
        )

    [766] => stdClass Object
        (
            [slug] => advent-and-christmas
            [ID] => 53935
            [post_name] => advent-book-basket
            [post_title] => Our 2014 Advent Book Basket and Printable Labels
            [post_author] => 3
            [post_date] => 2014-11-30 04:11:00
            [year] => 2014
            [month] => 11
            [post_type] => post
        )

    [767] => stdClass Object
        (
            [slug] => cake-decorating
            [ID] => 53936
            [post_name] => instagram-recap_29
            [post_title] => Instagram Recap
            [post_author] => 3
            [post_date] => 2014-11-30 03:47:00
            [year] => 2014
            [month] => 11
            [post_type] => post
        )

    [768] => stdClass Object
        (
            [slug] => bargain-books
            [ID] => 53937
            [post_name] => bargain-priced-books-year-of-perfect
            [post_title] => Bargain Priced Books :: The Year of the Perfect Christmas Tree & Little House 9-Book Box Set
            [post_author] => 3
            [post_date] => 2014-11-29 23:07:00
            [year] => 2014
            [month] => 11
            [post_type] => post
        )

    [769] => stdClass Object
        (
            [slug] => uncategorized
            [ID] => 53938
            [post_name] => advent-chirstmas-favorites-catholic-child
            [post_title] => Advent & Christmas Favorites from Catholic Child {plus Coupon Code & Infant Jesus Giveaway!}
            [post_author] => 3
            [post_date] => 2014-11-29 20:06:00
            [year] => 2014
            [month] => 11
            [post_type] => post
        )

    [770] => stdClass Object
        (
            [slug] => giveaway
            [ID] => 53939
            [post_name] => gail-giron-design-sponsored-giveaway
            [post_title] => Gail Girón Design {Sponsored Giveaway}
            [post_author] => 3
            [post_date] => 2014-11-29 19:16:00
            [year] => 2014
            [month] => 11
            [post_type] => post
        )

    [771] => stdClass Object
        (
            [slug] => giveaway
            [ID] => 53940
            [post_name] => saints-365-sponsored-giveaway
            [post_title] => Saints 365 {Sponsored Giveaway}
            [post_author] => 3
            [post_date] => 2014-11-29 16:47:00
            [year] => 2014
            [month] => 11
            [post_type] => post
        )

    [772] => stdClass Object
        (
            [slug] => giveaway
            [ID] => 53941
            [post_name] => prayer-pillowcases-sponsored-giveaway
            [post_title] => Prayer Pillowcases {Sponsored Giveaway}
            [post_author] => 3
            [post_date] => 2014-11-28 23:00:00
            [year] => 2014
            [month] => 11
            [post_type] => post
        )

    [773] => stdClass Object
        (
            [slug] => uncategorized
            [ID] => 53942
            [post_name] => lilla-rose-hair-accessories-and-giveaway
            [post_title] => Lilla Rose Hair Accessories {and a Giveaway!}
            [post_author] => 3
            [post_date] => 2014-11-28 21:02:00
            [year] => 2014
            [month] => 11
            [post_type] => post
        )

    [774] => stdClass Object
        (
            [slug] => home-education
            [ID] => 53943
            [post_name] => logic-101-course-now-available
            [post_title] => Logic 101 Course Now Available
            [post_author] => 3
            [post_date] => 2014-11-28 18:48:00
            [year] => 2014
            [month] => 11
            [post_type] => post
        )

    [775] => stdClass Object
        (
            [slug] => favorite-toys
            [ID] => 53944
            [post_name] => calico-critters
            [post_title] => Calico Critters
            [post_author] => 3
            [post_date] => 2014-11-27 04:49:00
            [year] => 2014
            [month] => 11
            [post_type] => post
        )

    [776] => stdClass Object
        (
            [slug] => precious-moments-03
            [ID] => 53945
            [post_name] => glasses
            [post_title] => Glasses
            [post_author] => 3
            [post_date] => 2014-11-24 03:57:00
            [year] => 2014
            [month] => 11
            [post_type] => post
        )

    [777] => stdClass Object
        (
            [slug] => organization
            [ID] => 53946
            [post_name] => mamas-notebooks-sponsored-giveaway
            [post_title] => Mama's Notebooks {Sponsored Giveaway}
            [post_author] => 3
            [post_date] => 2014-11-23 22:33:00
            [year] => 2014
            [month] => 11
            [post_type] => post
        )

    [778] => stdClass Object
        (
            [slug] => favorite-toys
            [ID] => 53947
            [post_name] => instagram-recap
            [post_title] => Instagram Recap
            [post_author] => 3
            [post_date] => 2014-11-22 18:54:00
            [year] => 2014
            [month] => 11
            [post_type] => post
        )

    [779] => stdClass Object
        (
            [slug] => thanksgiving
            [ID] => 53948
            [post_name] => five-favorites-for-thanksgiving
            [post_title] => Five Favorites for Thanksgiving
            [post_author] => 3
            [post_date] => 2014-11-21 17:44:00
            [year] => 2014
            [month] => 11
            [post_type] => post
        )

    [780] => stdClass Object
        (
            [slug] => uncategorized
            [ID] => 53949
            [post_name] => for-all-saints-artist-trading-card-swap
            [post_title] => For All the Saints Artist Trading Card Swap 2014
            [post_author] => 3
            [post_date] => 2014-11-21 16:19:00
            [year] => 2014
            [month] => 11
            [post_type] => post
        )

    [781] => stdClass Object
        (
            [slug] => bargain-books
            [ID] => 53950
            [post_name] => bargain-priced-books-alphabet-of-saints
            [post_title] => Bargain Priced Books :: An Alphabet of Saints
            [post_author] => 3
            [post_date] => 2014-11-21 07:30:00
            [year] => 2014
            [month] => 11
            [post_type] => post
        )

    [782] => stdClass Object
        (
            [slug] => advent-and-christmas
            [ID] => 53951
            [post_name] => favorite-christmas-books
            [post_title] => 35 Favorite Christmas Picture Books for Children
            [post_author] => 3
            [post_date] => 2014-11-17 19:59:00
            [year] => 2014
            [month] => 11
            [post_type] => post
        )

    [783] => stdClass Object
        (
            [slug] => advent-and-christmas
            [ID] => 53952
            [post_name] => feasts-seasons-advent-christmas
            [post_title] => Feasts & Seasons :: Advent & Christmas Collection
            [post_author] => 3
            [post_date] => 2014-11-17 19:56:00
            [year] => 2014
            [month] => 11
            [post_type] => post
        )

    [784] => stdClass Object
        (
            [slug] => advent-and-christmas
            [ID] => 53953
            [post_name] => advent-christmas-favorites-from-holy
            [post_title] => Advent & Christmas Favorites from Holy Heroes
            [post_author] => 3
            [post_date] => 2014-11-16 18:55:00
            [year] => 2014
            [month] => 11
            [post_type] => post
        )

    [785] => stdClass Object
        (
            [slug] => giveaway
            [ID] => 53954
            [post_name] => a-merry-nest-sponsored-giveaway
            [post_title] => A Merry Nest {Sponsored Giveaway}
            [post_author] => 3
            [post_date] => 2014-11-15 19:19:00
            [year] => 2014
            [month] => 11
            [post_type] => post
        )

    [786] => stdClass Object
        (
            [slug] => advent-and-christmas
            [ID] => 53955
            [post_name] => new-christmas-books-for-feast-of-st
            [post_title] => New Christmas Books for the Feast of St. Nicholas
            [post_author] => 3
            [post_date] => 2014-11-14 22:17:00
            [year] => 2014
            [month] => 11
            [post_type] => post
        )

    [787] => stdClass Object
        (
            [slug] => bargain-books
            [ID] => 53956
            [post_name] => bargain-priced-books-latsch-valley-farm
            [post_title] => Bargain Priced Books :: Latsch Valley Farm Series
            [post_author] => 3
            [post_date] => 2014-11-12 21:35:00
            [year] => 2014
            [month] => 11
            [post_type] => post
        )

    [788] => stdClass Object
        (
            [slug] => all-souls-day
            [ID] => 53957
            [post_name] => our-9th-annual-mass-at-cemetery
            [post_title] => Our 9th Annual Mass at the Cemetery...
            [post_author] => 3
            [post_date] => 2014-11-10 17:54:00
            [year] => 2014
            [month] => 11
            [post_type] => post
        )

    [789] => stdClass Object
        (
            [slug] => cake-decorating
            [ID] => 53958
            [post_name] => cathedral-cake-on-feast-of-dedication
            [post_title] => Cathedral Cake on the Feast of the Dedication of Saint John Lateran Basilica in Rome
            [post_author] => 3
            [post_date] => 2014-11-09 22:50:00
            [year] => 2014
            [month] => 11
            [post_type] => post
        )

    [790] => stdClass Object
        (
            [slug] => american-girl
            [ID] => 53959
            [post_name] => the-little-habit-sponsored-giveaway
            [post_title] => The Little Habit {Sponsored Giveaway}
            [post_author] => 3
            [post_date] => 2014-11-08 17:38:00
            [year] => 2014
            [month] => 11
            [post_type] => post
        )

    [791] => stdClass Object
        (
            [slug] => books
            [ID] => 53960
            [post_name] => pretty-happy-funny-real
            [post_title] => {pretty, happy, funny, real}
            [post_author] => 3
            [post_date] => 2014-11-07 07:30:00
            [year] => 2014
            [month] => 11
            [post_type] => post
        )

    [792] => stdClass Object
        (
            [slug] => books
            [ID] => 53961
            [post_name] => new-saint-books-for-november-book-basket
            [post_title] => New Saint Books for the November Book Basket
            [post_author] => 3
            [post_date] => 2014-11-04 20:58:00
            [year] => 2014
            [month] => 11
            [post_type] => post
        )

    [793] => stdClass Object
        (
            [slug] => sponsors
            [ID] => 53962
            [post_name] => sponsor-update
            [post_title] => Sponsor Love: Quarterly Update & Current Specials
            [post_author] => 3
            [post_date] => 2014-11-04 00:03:00
            [year] => 2014
            [month] => 11
            [post_type] => post
        )

    [794] => stdClass Object
        (
            [slug] => all-saints-day
            [ID] => 53964
            [post_name] => celebrating-saints-our-2014-costumes
            [post_title] => Celebrating the Saints :: Our 2014 Costumes
            [post_author] => 3
            [post_date] => 2014-11-02 00:45:00
            [year] => 2014
            [month] => 11
            [post_type] => post
        )

    [795] => stdClass Object
        (
            [slug] => all-souls-day
            [ID] => 53965
            [post_name] => ora-pro-nobis-candy-boxes
            [post_title] => Ora Pro Nobis Candy Boxes
            [post_author] => 3
            [post_date] => 2014-11-01 20:18:00
            [year] => 2014
            [month] => 11
            [post_type] => post
        )

    [796] => stdClass Object
        (
            [slug] => saint-o-lanterns
            [ID] => 53966
            [post_name] => happy-all-hallows-eve
            [post_title] => Happy All Hallows' Eve!
            [post_author] => 3
            [post_date] => 2014-10-31 07:02:00
            [year] => 2014
            [month] => 10
            [post_type] => post
        )

    [797] => stdClass Object
        (
            [slug] => saint-o-lanterns
            [ID] => 53967
            [post_name] => carving-our-2014-saint-o-lanterns
            [post_title] => Carving Our 2014 Saint-O-Lanterns
            [post_author] => 3
            [post_date] => 2014-10-31 06:11:00
            [year] => 2014
            [month] => 10
            [post_type] => post
        )

    [798] => stdClass Object
        (
            [slug] => all-saints-day
            [ID] => 53968
            [post_name] => more-saint-themed-guessing-jars
            [post_title] => 12 More Saint Themed Guessing Jars
            [post_author] => 3
            [post_date] => 2014-10-29 23:54:00
            [year] => 2014
            [month] => 10
            [post_type] => post
        )

    [799] => stdClass Object
        (
            [slug] => daybook
            [ID] => 53969
            [post_name] => october-daybook
            [post_title] => October Daybook
            [post_author] => 3
            [post_date] => 2014-10-28 18:37:00
            [year] => 2014
            [month] => 10
            [post_type] => post
        )

    [800] => stdClass Object
        (
            [slug] => pumpkin-patch
            [ID] => 53970
            [post_name] => pumpkin-patch-pictures
            [post_title] => Pumpkin Patch Pictures
            [post_author] => 3
            [post_date] => 2014-10-26 19:12:00
            [year] => 2014
            [month] => 10
            [post_type] => post
        )

    [801] => stdClass Object
        (
            [slug] => all-saints-day
            [ID] => 53971
            [post_name] => all-saints-scavenger-hunt
            [post_title] => All Saints Scavenger Hunt {Another Printable Party Game Featuring 16 Additional Saints & New Clues!}
            [post_author] => 3
            [post_date] => 2014-10-21 23:12:00
            [year] => 2014
            [month] => 10
            [post_type] => post
        )

    [802] => stdClass Object
        (
            [slug] => advent-and-christmas
            [ID] => 53972
            [post_name] => bargain-priced-books-little-drummer-boy
            [post_title] => Bargain Priced Books :: The Little Drummer Boy
            [post_author] => 3
            [post_date] => 2014-10-20 22:52:00
            [year] => 2014
            [month] => 10
            [post_type] => post
        )

    [803] => stdClass Object
        (
            [slug] => fssp
            [ID] => 53973
            [post_name] => our-lady-of-czestochowa-by-saint-luke
            [post_title] => Our Lady of Czestochowa by Saint Luke
            [post_author] => 3
            [post_date] => 2014-10-18 03:35:00
            [year] => 2014
            [month] => 10
            [post_type] => post
        )

    [804] => stdClass Object
        (
            [slug] => this-moment
            [ID] => 53974
            [post_name] => this-moment
            [post_title] => {this moment}
            [post_author] => 3
            [post_date] => 2014-10-17 23:13:00
            [year] => 2014
            [month] => 10
            [post_type] => post
        )

    [805] => stdClass Object
        (
            [slug] => seven-quick-takes
            [ID] => 53975
            [post_name] => catholic-women-rejoice-in-seven-quick
            [post_title] => Catholic Women Rejoice in Seven Quick Takes
            [post_author] => 3
            [post_date] => 2014-10-17 17:50:00
            [year] => 2014
            [month] => 10
            [post_type] => post
        )

    [806] => stdClass Object
        (
            [slug] => american-girl
            [ID] => 53976
            [post_name] => our-visit-to-american-girl-store
            [post_title] => Our Visit to the American Girl Store
            [post_author] => 3
            [post_date] => 2014-10-15 04:02:00
            [year] => 2014
            [month] => 10
            [post_type] => post
        )

    [807] => stdClass Object
        (
            [slug] => fssp
            [ID] => 53978
            [post_name] => seven-quick-takes-from-seattle
            [post_title] => Seven Quick Takes from Seattle
            [post_author] => 3
            [post_date] => 2014-10-10 19:00:00
            [year] => 2014
            [month] => 10
            [post_type] => post
        )

    [808] => stdClass Object
        (
            [slug] => latin-mass
            [ID] => 53979
            [post_name] => pretty-happy-funny-real-road-trip-with_9
            [post_title] => {pretty, happy, funny, real} :: Road Trip with the Girls!
            [post_author] => 3
            [post_date] => 2014-10-10 03:03:00
            [year] => 2014
            [month] => 10
            [post_type] => post
        )

    [809] => stdClass Object
        (
            [slug] => advent-and-christmas
            [ID] => 53980
            [post_name] => the-boys-of-st-pauls-choir-school
            [post_title] => The Boys of St. Paul's Choir School: Christmas in Harvard Square {Christmas Gift Idea & Giveaway!}
            [post_author] => 3
            [post_date] => 2014-10-08 00:25:00
            [year] => 2014
            [month] => 10
            [post_type] => post
        )

    [810] => stdClass Object
        (
            [slug] => books
            [ID] => 53981
            [post_name] => feasts-seasons-our-october-book-basket
            [post_title] => Feasts & Seasons :: Our October Book Basket
            [post_author] => 3
            [post_date] => 2014-10-07 06:50:00
            [year] => 2014
            [month] => 10
            [post_type] => post
        )

    [811] => stdClass Object
        (
            [slug] => giveaway
            [ID] => 53982
            [post_name] => harvey-house-publishing-sponsored
            [post_title] => Harvey House Publishing {Sponsored Giveaway}
            [post_author] => 3
            [post_date] => 2014-10-06 06:50:00
            [year] => 2014
            [month] => 10
            [post_type] => post
        )

    [812] => stdClass Object
        (
            [slug] => angels
            [ID] => 53983
            [post_name] => 15-years-ago-on-feast-of-guardian-angels
            [post_title] => 15 Years Ago on the Feast of the Guardian Angels
            [post_author] => 3
            [post_date] => 2014-10-03 02:05:00
            [year] => 2014
            [month] => 10
            [post_type] => post
        )

    [813] => stdClass Object
        (
            [slug] => cake-decorating
            [ID] => 53984
            [post_name] => rose-cupcakes-for-st-therese
            [post_title] => Rose Cupcakes for St. Thérèse
            [post_author] => 3
            [post_date] => 2014-10-02 03:37:00
            [year] => 2014
            [month] => 10
            [post_type] => post
        )

    [814] => stdClass Object
        (
            [slug] => st-therese
            [ID] => 53985
            [post_name] => the-catholic-child-and-saints-little
            [post_title] => The Catholic Child and the Saints :: Little Flower
            [post_author] => 3
            [post_date] => 2014-10-02 03:21:00
            [year] => 2014
            [month] => 10
            [post_type] => post
        )

    [815] => stdClass Object
        (
            [slug] => st-jerome
            [ID] => 53986
            [post_name] => st-jerome-and-lion
            [post_title] => St. Jerome and the Lion
            [post_author] => 3
            [post_date] => 2014-10-01 01:12:00
            [year] => 2014
            [month] => 10
            [post_type] => post
        )

    [816] => stdClass Object
        (
            [slug] => angels
            [ID] => 53987
            [post_name] => celebrating-michaelmas
            [post_title] => Celebrating Michaelmas
            [post_author] => 3
            [post_date] => 2014-09-30 04:17:00
            [year] => 2014
            [month] => 9
            [post_type] => post
        )

    [817] => stdClass Object
        (
            [slug] => novena-to-saint-therese
            [ID] => 53989
            [post_name] => novena-to-saint-therese
            [post_title] => Novena to Saint Thérèse
            [post_author] => 3
            [post_date] => 2014-09-24 16:02:00
            [year] => 2014
            [month] => 9
            [post_type] => post
        )

    [818] => stdClass Object
        (
            [slug] => crafts
            [ID] => 53990
            [post_name] => the-seven-sacraments-stained-glass
            [post_title] => The Seven Sacraments Stained Glass Window {Catechism Craft with Free Printable!}
            [post_author] => 3
            [post_date] => 2014-09-22 12:46:00
            [year] => 2014
            [month] => 9
            [post_type] => post
        )

    [819] => stdClass Object
        (
            [slug] => giveaway
            [ID] => 53991
            [post_name] => jesse-tree-treasures-sponsored-giveaway
            [post_title] => Jesse Tree Treasures {Sponsored Giveaway}
            [post_author] => 3
            [post_date] => 2014-09-20 14:12:00
            [year] => 2014
            [month] => 9
            [post_type] => post
        )

    [820] => stdClass Object
        (
            [slug] => conference
            [ID] => 53992
            [post_name] => a-conference-for-catholic-women-in
            [post_title] => A Conference for Catholic Women in the Pacific Northwest!
            [post_author] => 3
            [post_date] => 2014-09-20 00:00:00
            [year] => 2014
            [month] => 9
            [post_type] => post
        )

    [821] => stdClass Object
        (
            [slug] => costumes
            [ID] => 53993
            [post_name] => pretty-happy-funny-real-all-saints
            [post_title] => {pretty, happy, funny, real} :: All Saints' Costumes, New Picture Books, Hockey Lessons, and Super Simplified Back-to-School Schultütes. . .
            [post_author] => 3
            [post_date] => 2014-09-19 06:30:00
            [year] => 2014
            [month] => 9
            [post_type] => post
        )

    [822] => stdClass Object
        (
            [slug] => marian
            [ID] => 53994
            [post_name] => my-daybook-september-16-2014
            [post_title] => My Daybook :: September 16, 2014
            [post_author] => 3
            [post_date] => 2014-09-17 02:33:00
            [year] => 2014
            [month] => 9
            [post_type] => post
        )

    [823] => stdClass Object
        (
            [slug] => camping
            [ID] => 53995
            [post_name] => sunset-on-beach
            [post_title] => Sunset on the Beach
            [post_author] => 3
            [post_date] => 2014-09-16 16:24:00
            [year] => 2014
            [month] => 9
            [post_type] => post
        )

    [824] => stdClass Object
        (
            [slug] => camping
            [ID] => 53996
            [post_name] => morning-on-beach
            [post_title] => Morning on the Beach
            [post_author] => 3
            [post_date] => 2014-09-16 16:24:00
            [year] => 2014
            [month] => 9
            [post_type] => post
        )

    [825] => stdClass Object
        (
            [slug] => field-trips
            [ID] => 53997
            [post_name] => face-rock-creamery
            [post_title] => Face Rock Creamery
            [post_author] => 3
            [post_date] => 2014-09-16 05:15:00
            [year] => 2014
            [month] => 9
            [post_type] => post
        )

    [826] => stdClass Object
        (
            [slug] => field-trips
            [ID] => 53998
            [post_name] => coquille-river-lighthouse
            [post_title] => Coquille River Lighthouse
            [post_author] => 3
            [post_date] => 2014-09-14 02:03:00
            [year] => 2014
            [month] => 9
            [post_type] => post
        )

    [827] => stdClass Object
        (
            [slug] => this-moment
            [ID] => 53999
            [post_name] => this-moment
            [post_title] => {this moment}
            [post_author] => 3
            [post_date] => 2014-09-13 05:28:00
            [year] => 2014
            [month] => 9
            [post_type] => post
        )

    [828] => stdClass Object
        (
            [slug] => phfr
            [ID] => 54000
            [post_name] => pretty-happy-funny-real-bandon-boardwalk_11
            [post_title] => {pretty, happy, funny, real} Bandon Boardwalk
            [post_author] => 3
            [post_date] => 2014-09-12 01:42:00
            [year] => 2014
            [month] => 9
            [post_type] => post
        )

    [829] => stdClass Object
        (
            [slug] => marian
            [ID] => 54001
            [post_name] => celebrating-feast-of-nativity-of
            [post_title] => Celebrating the Feast of the Nativity of the Blessed Virgin Mary
            [post_author] => 3
            [post_date] => 2014-09-08 20:43:00
            [year] => 2014
            [month] => 9
            [post_type] => post
        )

    [830] => stdClass Object
        (
            [slug] => reviews
            [ID] => 54002
            [post_name] => back-to-home-school-giveaway-your
            [post_title] => Back to {Home} School Giveaway :: Your School of Love: A Spiritual Companion for Teaching Mothers & Mama's Notebooks
            [post_author] => 3
            [post_date] => 2014-09-07 16:21:00
            [year] => 2014
            [month] => 9
            [post_type] => post
        )

    [831] => stdClass Object
        (
            [slug] => reviews
            [ID] => 54003
            [post_name] => back-to-home-school-giveaway-rc-history
            [post_title] => Back to {Home} School Giveaway :: RC History
            [post_author] => 3
            [post_date] => 2014-09-06 21:06:00
            [year] => 2014
            [month] => 9
            [post_type] => post
        )

    [832] => stdClass Object
        (
            [slug] => giveaway
            [ID] => 54004
            [post_name] => back-to-home-school-giveaway-st-marys
            [post_title] => Back to {Home} School Giveaway :: St. Mary's Messenger
            [post_author] => 3
            [post_date] => 2014-09-05 20:49:00
            [year] => 2014
            [month] => 9
            [post_type] => post
        )

    [833] => stdClass Object
        (
            [slug] => reviews
            [ID] => 54005
            [post_name] => back-to-home-school-giveaway-arx
            [post_title] => Back to {Home} School Giveaway :: Arx Publishing
            [post_author] => 3
            [post_date] => 2014-09-04 20:23:00
            [year] => 2014
            [month] => 9
            [post_type] => post
        )

    [834] => stdClass Object
        (
            [slug] => giveaway
            [ID] => 54006
            [post_name] => back-to-home-school-giveaway-homeschool
            [post_title] => Back to {Home} School Giveaway :: Homeschool in the Woods Publishing
            [post_author] => 3
            [post_date] => 2014-09-04 01:11:00
            [year] => 2014
            [month] => 9
            [post_type] => post
        )

    [835] => stdClass Object
        (
            [slug] => reviews
            [ID] => 54007
            [post_name] => back-to-home-school-giveaway-saint
            [post_title] => Back to {Home} School Giveaway :: Saint Magnus, The Last Viking
            [post_author] => 3
            [post_date] => 2014-09-02 17:09:00
            [year] => 2014
            [month] => 9
            [post_type] => post
        )

    [836] => stdClass Object
        (
            [slug] => giveaway
            [ID] => 54008
            [post_name] => back-to-home-school-giveaway-holy-heroes
            [post_title] => Back to {Home} School Giveaway :: Holy Heroes
            [post_author] => 3
            [post_date] => 2014-09-01 17:22:00
            [year] => 2014
            [month] => 9
            [post_type] => post
        )

    [837] => stdClass Object
        (
            [slug] => books
            [ID] => 54009
            [post_name] => feasts-seasons-our-september-book-basket
            [post_title] => Feasts & Seasons :: Our September Book Basket
            [post_author] => 3
            [post_date] => 2014-08-29 19:55:00
            [year] => 2014
            [month] => 8
            [post_type] => post
        )

    [838] => stdClass Object
        (
            [slug] => fssp
            [ID] => 54010
            [post_name] => camp-saint-joseph
            [post_title] => Camp Saint Joseph
            [post_author] => 3
            [post_date] => 2014-08-28 02:46:00
            [year] => 2014
            [month] => 8
            [post_type] => post
        )

    [839] => stdClass Object
        (
            [slug] => art
            [ID] => 54011
            [post_name] => meet-masters-claude-monet
            [post_title] => Meet the Masters :: Claude Monet
            [post_author] => 3
            [post_date] => 2014-08-27 03:37:00
            [year] => 2014
            [month] => 8
            [post_type] => post
        )

    [840] => stdClass Object
        (
            [slug] => art
            [ID] => 54012
            [post_name] => meet-masters-pablo-picasso
            [post_title] => Meet the Masters :: Pablo Picasso
            [post_author] => 3
            [post_date] => 2014-08-25 23:57:00
            [year] => 2014
            [month] => 8
            [post_type] => post
        )

    [841] => stdClass Object
        (
            [slug] => father-carmelo
            [ID] => 54013
            [post_name] => cathedral-of-immaculate-heart-of-mary
            [post_title] => Cathedral of the Immaculate Heart of Mary
            [post_author] => 3
            [post_date] => 2014-08-22 22:40:00
            [year] => 2014
            [month] => 8
            [post_type] => post
        )

    [842] => stdClass Object
        (
            [slug] => hobbit
            [ID] => 54014
            [post_name] => lego-display-case
            [post_title] => Hobbit and Lord of the Rings LEGO Minifigures :: The Boys' Storage and Display Case
            [post_author] => 3
            [post_date] => 2014-08-21 16:39:00
            [year] => 2014
            [month] => 8
            [post_type] => post
        )

    [843] => stdClass Object
        (
            [slug] => books
            [ID] => 54015
            [post_name] => book-for-girls
            [post_title] => Books for Girls :: A Closer Look at the Bookshelf
            [post_author] => 3
            [post_date] => 2014-08-20 17:57:00
            [year] => 2014
            [month] => 8
            [post_type] => post
        )

    [844] => stdClass Object
        (
            [slug] => daybook
            [ID] => 54016
            [post_name] => summer-daybook-camping-at-willow-lake
            [post_title] => Summer Daybook :: Camping at Willow Lake
            [post_author] => 3
            [post_date] => 2014-08-20 01:57:00
            [year] => 2014
            [month] => 8
            [post_type] => post
        )

    [845] => stdClass Object
        (
            [slug] => home-education
            [ID] => 54017
            [post_name] => end-of-school-interviews-for-2013-2014
            [post_title] => End-of-School Interviews for 2013-2014
            [post_author] => 3
            [post_date] => 2014-08-13 18:52:00
            [year] => 2014
            [month] => 8
            [post_type] => post
        )

    [846] => stdClass Object
        (
            [slug] => daybook
            [ID] => 54019
            [post_name] => summer-daybook-august-12-2014
            [post_title] => Summer Daybook :: August 12, 2014
            [post_author] => 3
            [post_date] => 2014-08-12 17:08:00
            [year] => 2014
            [month] => 8
            [post_type] => post
        )

    [847] => stdClass Object
        (
            [slug] => giveaway
            [ID] => 54020
            [post_name] => gail-giron-design-sponsored-giveaway_9
            [post_title] => Gail Girón Design {Sponsored Giveaway}
            [post_author] => 3
            [post_date] => 2014-08-09 07:00:00
            [year] => 2014
            [month] => 8
            [post_type] => post
        )

    [848] => stdClass Object
        (
            [slug] => american-girl
            [ID] => 54021
            [post_name] => the-big-girls-bedroom-and-how-we
            [post_title] => The Big Girls' Bedroom {and How We Organize Their American Girl Dolls and Clothes}
            [post_author] => 3
            [post_date] => 2014-08-07 02:30:00
            [year] => 2014
            [month] => 8
            [post_type] => post
        )

    [849] => stdClass Object
        (
            [slug] => art
            [ID] => 54022
            [post_name] => summer-fun-paint-by-number
            [post_title] => Summer Fun :: Paint By Number
            [post_author] => 3
            [post_date] => 2014-08-05 21:53:00
            [year] => 2014
            [month] => 8
            [post_type] => post
        )

    [850] => stdClass Object
        (
            [slug] => wildfire
            [ID] => 54023
            [post_name] => looking-down
            [post_title] => Looking Down…
            [post_author] => 3
            [post_date] => 2014-08-05 06:50:00
            [year] => 2014
            [month] => 8
            [post_type] => post
        )

    [851] => stdClass Object
        (
            [slug] => giveaway
            [ID] => 54024
            [post_name] => st-michael-cap-sponsored-giveaway
            [post_title] => St. Michael Cap {Sponsored Giveaway}
            [post_author] => 3
            [post_date] => 2014-08-03 07:00:00
            [year] => 2014
            [month] => 8
            [post_type] => post
        )

    [852] => stdClass Object
        (
            [slug] => book-sale
            [ID] => 54025
            [post_name] => 4th-annual-online-curriculum-sale-blog_1
            [post_title] => 4th Annual Online Curriculum Sale Blog Hop {August 1-7, 2014}
            [post_author] => 3
            [post_date] => 2014-08-01 16:10:00
            [year] => 2014
            [month] => 8
            [post_type] => post
        )

    [853] => stdClass Object
        (
            [slug] => book-sale
            [ID] => 54026
            [post_name] => our-2014-used-book-sale-part-2
            [post_title] => Our 2014 Used Book Sale {August 1-7, 2014}
            [post_author] => 3
            [post_date] => 2014-08-01 16:00:00
            [year] => 2014
            [month] => 8
            [post_type] => post
        )

    [854] => stdClass Object
        (
            [slug] => sponsors
            [ID] => 54027
            [post_name] => sponsor-love-quarterly-update-current
            [post_title] => Sponsor Love: Quarterly Update & Current Specials
            [post_author] => 3
            [post_date] => 2014-07-31 22:07:00
            [year] => 2014
            [month] => 7
            [post_type] => post
        )

    [855] => stdClass Object
        (
            [slug] => books
            [ID] => 54028
            [post_name] => feasts-seasons-our-august-book-basket
            [post_title] => Feasts & Seasons :: Our August Book Basket
            [post_author] => 3
            [post_date] => 2014-07-30 20:29:00
            [year] => 2014
            [month] => 7
            [post_type] => post
        )

    [856] => stdClass Object
        (
            [slug] => daybook
            [ID] => 54029
            [post_name] => my-daybook-july-28-2014
            [post_title] => My Daybook :: July 28, 2014
            [post_author] => 3
            [post_date] => 2014-07-29 06:58:00
            [year] => 2014
            [month] => 7
            [post_type] => post
        )

    [857] => stdClass Object
        (
            [slug] => marian
            [ID] => 54030
            [post_name] => saints-joachim-anne-faith-folder
            [post_title] => Saints Joachim & Anne Faith Folder
            [post_author] => 3
            [post_date] => 2014-07-25 02:59:00
            [year] => 2014
            [month] => 7
            [post_type] => post
        )

    [858] => stdClass Object
        (
            [slug] => birthday-parties
            [ID] => 54031
            [post_name] => a-bacon-birthday-party
            [post_title] => A Bacon Birthday Party!
            [post_author] => 3
            [post_date] => 2014-07-23 16:40:00
            [year] => 2014
            [month] => 7
            [post_type] => post
        )

    [859] => stdClass Object
        (
            [slug] => recipes
            [ID] => 54032
            [post_name] => maple-bacon-party-mix
            [post_title] => Maple Bacon Party Mix
            [post_author] => 3
            [post_date] => 2014-07-23 06:30:00
            [year] => 2014
            [month] => 7
            [post_type] => post
        )

    [860] => stdClass Object
        (
            [slug] => cake-decorating
            [ID] => 54033
            [post_name] => maple-bacon-upside-down-birthday-cake
            [post_title] => Maple Bacon Upside Down Birthday Cake
            [post_author] => 3
            [post_date] => 2014-07-22 06:29:00
            [year] => 2014
            [month] => 7
            [post_type] => post
        )

    [861] => stdClass Object
        (
            [slug] => precious-moments-01
            [ID] => 54034
            [post_name] => this-moment
            [post_title] => {this moment}
            [post_author] => 3
            [post_date] => 2014-07-19 23:20:00
            [year] => 2014
            [month] => 7
            [post_type] => post
        )

    [862] => stdClass Object
        (
            [slug] => fssp
            [ID] => 54035
            [post_name] => my-daybook-july-18-2014
            [post_title] => My Daybook :: July 18, 2014
            [post_author] => 3
            [post_date] => 2014-07-18 19:18:00
            [year] => 2014
            [month] => 7
            [post_type] => post
        )

    [863] => stdClass Object
        (
            [slug] => prayer-request
            [ID] => 54036
            [post_name] => please-join-me-in-helping-family-in-need
            [post_title] => Please Join Me in Helping a Family in Need
            [post_author] => 3
            [post_date] => 2014-07-15 15:27:00
            [year] => 2014
            [month] => 7
            [post_type] => post
        )

    [864] => stdClass Object
        (
            [slug] => prayer-request
            [ID] => 54037
            [post_name] => urgent-prayer-request
            [post_title] => Urgent Prayer Request
            [post_author] => 3
            [post_date] => 2014-07-14 00:45:00
            [year] => 2014
            [month] => 7
            [post_type] => post
        )

    [865] => stdClass Object
        (
            [slug] => marian
            [ID] => 54039
            [post_name] => holy-learning-sponsored-giveaway
            [post_title] => Holy Learning {Sponsored Giveaway}
            [post_author] => 3
            [post_date] => 2014-07-13 00:08:00
            [year] => 2014
            [month] => 7
            [post_type] => post
        )

    [866] => stdClass Object
        (
            [slug] => july-4th
            [ID] => 54040
            [post_name] => celebrating-4th-of-july
            [post_title] => Celebrating the 4th of July
            [post_author] => 3
            [post_date] => 2014-07-12 05:30:00
            [year] => 2014
            [month] => 7
            [post_type] => post
        )

    [867] => stdClass Object
        (
            [slug] => parade
            [ID] => 54041
            [post_name] => pictures-from-parade
            [post_title] => Pictures from the Parade
            [post_author] => 3
            [post_date] => 2014-07-10 05:30:00
            [year] => 2014
            [month] => 7
            [post_type] => post
        )

    [868] => stdClass Object
        (
            [slug] => giveaway
            [ID] => 54042
            [post_name] => mamas-notebooks-sponsored-giveaway
            [post_title] => Mama's Notebooks {Sponsored Giveaway}
            [post_author] => 3
            [post_date] => 2014-07-08 17:30:00
            [year] => 2014
            [month] => 7
            [post_type] => post
        )

    [869] => stdClass Object
        (
            [slug] => latin-mass
            [ID] => 54043
            [post_name] => frequently-asked-questions-about-latin
            [post_title] => Frequently Asked Questions About the Latin Mass
            [post_author] => 3
            [post_date] => 2014-07-07 18:46:00
            [year] => 2014
            [month] => 7
            [post_type] => post
        )

    [870] => stdClass Object
        (
            [slug] => just-for-fun
            [ID] => 54044
            [post_name] => play-doh-party
            [post_title] => Play-Doh Party
            [post_author] => 3
            [post_date] => 2014-07-03 05:28:00
            [year] => 2014
            [month] => 7
            [post_type] => post
        )

    [871] => stdClass Object
        (
            [slug] => books
            [ID] => 54045
            [post_name] => feasts-seasons-our-july-book-basket
            [post_title] => Feasts & Seasons :: Our July Book Basket
            [post_author] => 3
            [post_date] => 2014-07-02 19:58:00
            [year] => 2014
            [month] => 7
            [post_type] => post
        )

    [872] => stdClass Object
        (
            [slug] => picture-books
            [ID] => 54046
            [post_name] => bargain-priced-books-4th-of-july-story
            [post_title] => Bargain Priced Books :: The 4th of July Story
            [post_author] => 3
            [post_date] => 2014-07-02 06:39:00
            [year] => 2014
            [month] => 7
            [post_type] => post
        )

    [873] => stdClass Object
        (
            [slug] => books
            [ID] => 54047
            [post_name] => feasts-seasons-our-june-book-basket
            [post_title] => Feasts & Seasons :: Our June Book Basket
            [post_author] => 3
            [post_date] => 2014-07-01 00:54:00
            [year] => 2014
            [month] => 7
            [post_type] => post
        )

    [874] => stdClass Object
        (
            [slug] => daybook
            [ID] => 54048
            [post_name] => a-summer-daybook-on-last-day-of-june
            [post_title] => A Summer Daybook on the Last Day of June
            [post_author] => 3
            [post_date] => 2014-06-30 20:45:00
            [year] => 2014
            [month] => 6
            [post_type] => post
        )

    [875] => stdClass Object
        (
            [slug] => happy-birthday
            [ID] => 54052
            [post_name] => pretty-happy-funny-real
            [post_title] => {pretty, happy, funny, real}
            [post_author] => 3
            [post_date] => 2014-06-26 17:25:00
            [year] => 2014
            [month] => 6
            [post_type] => post
        )

    [876] => stdClass Object
        (
            [slug] => birthday-parties
            [ID] => 54053
            [post_name] => par-tee-time-golf-birthday-at-7th-hole
            [post_title] => Par-Tee Time! {A Golf Birthday at the 7th Hole}
            [post_author] => 3
            [post_date] => 2014-06-26 00:12:00
            [year] => 2014
            [month] => 6
            [post_type] => post
        )

    [877] => stdClass Object
        (
            [slug] => birthday-parties
            [ID] => 54054
            [post_name] => golf-birthday-cake
            [post_title] => Golf Birthday Cake
            [post_author] => 3
            [post_date] => 2014-06-23 17:09:00
            [year] => 2014
            [month] => 6
            [post_type] => post
        )

    [878] => stdClass Object
        (
            [slug] => golf
            [ID] => 54055
            [post_name] => golf-camp-tournament
            [post_title] => Golf Camp & Tournament
            [post_author] => 3
            [post_date] => 2014-06-21 06:45:00
            [year] => 2014
            [month] => 6
            [post_type] => post
        )

    [879] => stdClass Object
        (
            [slug] => field-trips
            [ID] => 54056
            [post_name] => civil-war-day
            [post_title] => Civil War Day
            [post_author] => 3
            [post_date] => 2014-06-18 18:36:00
            [year] => 2014
            [month] => 6
            [post_type] => post
        )

    [880] => stdClass Object
        (
            [slug] => prayer
            [ID] => 54057
            [post_name] => on-feast-of-st-anthony-of-padua
            [post_title] => On the Feast of St. Anthony of Padua
            [post_author] => 3
            [post_date] => 2014-06-14 22:54:00
            [year] => 2014
            [month] => 6
            [post_type] => post
        )

    [881] => stdClass Object
        (
            [slug] => pregnancy
            [ID] => 54058
            [post_name] => gods-will-be-done
            [post_title] => God's Will Be Done
            [post_author] => 3
            [post_date] => 2014-06-13 01:57:00
            [year] => 2014
            [month] => 6
            [post_type] => post
        )

    [882] => stdClass Object
        (
            [slug] => fssp
            [ID] => 54059
            [post_name] => please-pray
            [post_title] => Please Pray
            [post_author] => 3
            [post_date] => 2014-06-12 14:31:00
            [year] => 2014
            [month] => 6
            [post_type] => post
        )

    [883] => stdClass Object
        (
            [slug] => field-trips
            [ID] => 54060
            [post_name] => hiking-gorge-trail
            [post_title] => Hiking the Gorge Trail
            [post_author] => 3
            [post_date] => 2014-06-12 13:59:00
            [year] => 2014
            [month] => 6
            [post_type] => post
        )

    [884] => stdClass Object
        (
            [slug] => phfr
            [ID] => 54061
            [post_name] => pretty-happy-funny-real-camping
            [post_title] => {pretty, happy, funny, real} Camping
            [post_author] => 3
            [post_date] => 2014-06-12 13:48:00
            [year] => 2014
            [month] => 6
            [post_type] => post
        )

    [885] => stdClass Object
        (
            [slug] => daybook
            [ID] => 54062
            [post_name] => maiden-voyage-daybook-following-our
            [post_title] => Maiden Voyage :: A Daybook Following our First Camping Trip of the Summer!
            [post_author] => 3
            [post_date] => 2014-06-12 03:10:00
            [year] => 2014
            [month] => 6
            [post_type] => post
        )

    [886] => stdClass Object
        (
            [slug] => books
            [ID] => 54063
            [post_name] => a-secret-garden-birthday-on-easter_6
            [post_title] => A Secret Garden Birthday on Easter Sunday
            [post_author] => 3
            [post_date] => 2014-06-06 17:06:00
            [year] => 2014
            [month] => 6
            [post_type] => post
        )

    [887] => stdClass Object
        (
            [slug] => birthday-parties
            [ID] => 54064
            [post_name] => secret-garden-birthday-cake
            [post_title] => Secret Garden Birthday Cake
            [post_author] => 3
            [post_date] => 2014-06-04 15:00:00
            [year] => 2014
            [month] => 6
            [post_type] => post
        )

    [888] => stdClass Object
        (
            [slug] => field-trips
            [ID] => 54065
            [post_name] => railroad-park
            [post_title] => Railroad Park
            [post_author] => 3
            [post_date] => 2014-06-03 20:55:00
            [year] => 2014
            [month] => 6
            [post_type] => post
        )

    [889] => stdClass Object
        (
            [slug] => field-trips
            [ID] => 54066
            [post_name] => young-hunters-day-2014
            [post_title] => Young Hunters Day 2014
            [post_author] => 3
            [post_date] => 2014-06-03 18:08:00
            [year] => 2014
            [month] => 6
            [post_type] => post
        )

    [890] => stdClass Object
        (
            [slug] => daybook
            [ID] => 54067
            [post_name] => my-daybook-may-31-2014
            [post_title] => My Daybook :: May 31, 2014
            [post_author] => 3
            [post_date] => 2014-06-01 03:23:00
            [year] => 2014
            [month] => 6
            [post_type] => post
        )

    [891] => stdClass Object
        (
            [slug] => baskets-of-books-for-easter
            [ID] => 54068
            [post_name] => on-easter-morning-our-2014-easter
            [post_title] => On Easter Morning {Our 2014 Easter Baskets!}
            [post_author] => 3
            [post_date] => 2014-05-28 17:20:00
            [year] => 2014
            [month] => 5
            [post_type] => post
        )

    [892] => stdClass Object
        (
            [slug] => easter
            [ID] => 54069
            [post_name] => pictures-from-easter-sunday
            [post_title] => Pictures from Easter Sunday
            [post_author] => 3
            [post_date] => 2014-05-28 06:50:00
            [year] => 2014
            [month] => 5
            [post_type] => post
        )

    [893] => stdClass Object
        (
            [slug] => easter
            [ID] => 54070
            [post_name] => our-annual-easter-sunday-egg-hunt
            [post_title] => Our Annual Easter Sunday Egg Hunt
            [post_author] => 3
            [post_date] => 2014-05-28 06:30:00
            [year] => 2014
            [month] => 5
            [post_type] => post
        )

    [894] => stdClass Object
        (
            [slug] => giveaway
            [ID] => 54071
            [post_name] => catholic-child-sponsored-giveaway
            [post_title] => Catholic Child {Sponsored Giveaway}
            [post_author] => 3
            [post_date] => 2014-05-26 15:11:00
            [year] => 2014
            [month] => 5
            [post_type] => post
        )

    [895] => stdClass Object
        (
            [slug] => prayer-request
            [ID] => 54072
            [post_name] => prayers-for-friend
            [post_title] => Prayers for a Friend
            [post_author] => 3
            [post_date] => 2014-05-22 19:25:00
            [year] => 2014
            [month] => 5
            [post_type] => post
        )

    [896] => stdClass Object
        (
            [slug] => pregnancy
            [ID] => 54073
            [post_name] => the-best-mothers-day-gift-ever
            [post_title] => The Best Mother's Day Gift Ever . . .
            [post_author] => 3
            [post_date] => 2014-05-22 02:29:00
            [year] => 2014
            [month] => 5
            [post_type] => post
        )

    [897] => stdClass Object
        (
            [slug] => marian
            [ID] => 54074
            [post_name] => art-for-our-lady-marian-atc-swap
            [post_title] => Art for Our Lady {Marian ATC Swap}
            [post_author] => 3
            [post_date] => 2014-05-21 22:12:00
            [year] => 2014
            [month] => 5
            [post_type] => post
        )

    [898] => stdClass Object
        (
            [slug] => field-trips
            [ID] => 54075
            [post_name] => sunday-coastal-road-trip
            [post_title] => Sunday Coastal Road Trip
            [post_author] => 3
            [post_date] => 2014-05-20 21:55:00
            [year] => 2014
            [month] => 5
            [post_type] => post
        )

    [899] => stdClass Object
        (
            [slug] => daybook
            [ID] => 54076
            [post_name] => 7qt-meeting-my-godson-spending-time_17
            [post_title] => 7QT: Meeting my godson, spending time with friends, orthodontia updates, and other craziness. . .
            [post_author] => 3
            [post_date] => 2014-05-17 18:07:00
            [year] => 2014
            [month] => 5
            [post_type] => post
        )

    [900] => stdClass Object
        (
            [slug] => home-education
            [ID] => 54077
            [post_name] => all-about-reading-or-primary-arts-of
            [post_title] => All About Reading or Primary Arts of Language?
            [post_author] => 3
            [post_date] => 2014-05-15 04:26:00
            [year] => 2014
            [month] => 5
            [post_type] => post
        )

    [901] => stdClass Object
        (
            [slug] => curriculum
            [ID] => 54078
            [post_name] => our-school-year-in-review
            [post_title] => Our School Year in Review
            [post_author] => 3
            [post_date] => 2014-05-12 19:40:00
            [year] => 2014
            [month] => 5
            [post_type] => post
        )

    [902] => stdClass Object
        (
            [slug] => latin-mass
            [ID] => 54079
            [post_name] => mothers-day
            [post_title] => Mother's Day
            [post_author] => 3
            [post_date] => 2014-05-12 05:11:00
            [year] => 2014
            [month] => 5
            [post_type] => post
        )

    [903] => stdClass Object
        (
            [slug] => uncategorized
            [ID] => 54080
            [post_name] => sacred-heart-books-and-gifts-sponsored
            [post_title] => Sacred Heart Books and Gifts {Sponsored Giveaway}
            [post_author] => 3
            [post_date] => 2014-05-11 04:00:00
            [year] => 2014
            [month] => 5
            [post_type] => post
        )

    [904] => stdClass Object
        (
            [slug] => home-videos
            [ID] => 54081
            [post_name] => outside-my-window
            [post_title] => Outside My Window…
            [post_author] => 3
            [post_date] => 2014-05-08 19:00:00
            [year] => 2014
            [month] => 5
            [post_type] => post
        )

    [905] => stdClass Object
        (
            [slug] => book-sale
            [ID] => 54082
            [post_name] => 4th-annual-online-curriculum-sale-blog
            [post_title] => 4th Annual Online Curriculum Sale Blog Hop
            [post_author] => 3
            [post_date] => 2014-05-05 13:28:00
            [year] => 2014
            [month] => 5
            [post_type] => post
        )

    [906] => stdClass Object
        (
            [slug] => book-sale
            [ID] => 54083
            [post_name] => our-2014-used-book-sale
            [post_title] => Our 2014 Used Book Sale
            [post_author] => 3
            [post_date] => 2014-05-05 13:27:00
            [year] => 2014
            [month] => 5
            [post_type] => post
        )

    [907] => stdClass Object
        (
            [slug] => book-sale
            [ID] => 54084
            [post_name] => trinas-used-book-sale
            [post_title] => Trina's Used Book Sale
            [post_author] => 3
            [post_date] => 2014-05-05 13:26:00
            [year] => 2014
            [month] => 5
            [post_type] => post
        )

    [908] => stdClass Object
        (
            [slug] => book-sale
            [ID] => 54085
            [post_name] => listing-few-more-books-for-my-mom
            [post_title] => Listing a few more books for my mom...
            [post_author] => 3
            [post_date] => 2014-05-05 13:25:00
            [year] => 2014
            [month] => 5
            [post_type] => post
        )

    [909] => stdClass Object
        (
            [slug] => sponsors
            [ID] => 54086
            [post_name] => a-mothers-day-giveaway
            [post_title] => A Mother's Day Giveaway
            [post_author] => 3
            [post_date] => 2014-05-04 07:00:00
            [year] => 2014
            [month] => 5
            [post_type] => post
        )

    [910] => stdClass Object
        (
            [slug] => precious-moments-07
            [ID] => 54087
            [post_name] => picture-books-and-raging-battles
            [post_title] => Picture Books and Raging Battles
            [post_author] => 3
            [post_date] => 2014-05-03 15:42:00
            [year] => 2014
            [month] => 5
            [post_type] => post
        )

    [911] => stdClass Object
        (
            [slug] => sponsors
            [ID] => 54088
            [post_name] => sponsor-love-quarterly-update-current
            [post_title] => Sponsor Love: Quarterly Update & Current Specials
            [post_author] => 3
            [post_date] => 2014-05-03 02:02:00
            [year] => 2014
            [month] => 5
            [post_type] => post
        )

    [912] => stdClass Object
        (
            [slug] => books
            [ID] => 54089
            [post_name] => feasts-seasons-our-may-book-basket
            [post_title] => Feasts & Seasons :: Our May Book Basket
            [post_author] => 3
            [post_date] => 2014-04-30 15:52:00
            [year] => 2014
            [month] => 4
            [post_type] => post
        )

    [913] => stdClass Object
        (
            [slug] => lent
            [ID] => 54090
            [post_name] => lenten-dinner-for-children
            [post_title] => Lenten Dinner for our Children on Good Friday
            [post_author] => 3
            [post_date] => 2014-04-30 04:35:00
            [year] => 2014
            [month] => 4
            [post_type] => post
        )

    [914] => stdClass Object
        (
            [slug] => just-for-fun
            [ID] => 54091
            [post_name] => public-service-announcement_28
            [post_title] => Public Service Announcement
            [post_author] => 3
            [post_date] => 2014-04-29 04:43:00
            [year] => 2014
            [month] => 4
            [post_type] => post
        )

    [915] => stdClass Object
        (
            [slug] => divine-mercy
            [ID] => 54092
            [post_name] => commemorating-canonization-of-two-popes
            [post_title] => Commemorating the Canonization of Two Popes
            [post_author] => 3
            [post_date] => 2014-04-27 18:47:00
            [year] => 2014
            [month] => 4
            [post_type] => post
        )

    [916] => stdClass Object
        (
            [slug] => liturgical-year
            [ID] => 54093
            [post_name] => saint-george-and-dragon
            [post_title] => Saint George and the Dragon
            [post_author] => 3
            [post_date] => 2014-04-23 22:32:00
            [year] => 2014
            [month] => 4
            [post_type] => post
        )

    [917] => stdClass Object
        (
            [slug] => easter
            [ID] => 54094
            [post_name] => happy-easter-from-our-family-to-yours
            [post_title] => Happy Easter from Our Family to Yours!
            [post_author] => 3
            [post_date] => 2014-04-21 17:05:00
            [year] => 2014
            [month] => 4
            [post_type] => post
        )

    [918] => stdClass Object
        (
            [slug] => holy-thursday
            [ID] => 54095
            [post_name] => holy-thursday-lenten-dinner
            [post_title] => Holy Thursday Lenten Dinner
            [post_author] => 3
            [post_date] => 2014-04-18 06:30:00
            [year] => 2014
            [month] => 4
            [post_type] => post
        )

    [919] => stdClass Object
        (
            [slug] => daybook
            [ID] => 54096
            [post_name] => a-daybook-during-holy-week
            [post_title] => A Daybook During Holy Week
            [post_author] => 3
            [post_date] => 2014-04-17 06:30:00
            [year] => 2014
            [month] => 4
            [post_type] => post
        )

    [920] => stdClass Object
        (
            [slug] => art
            [ID] => 54097
            [post_name] => meet-masters-piet-mondrian
            [post_title] => Meet the Masters :: Piet Mondrian
            [post_author] => 3
            [post_date] => 2014-04-09 16:07:00
            [year] => 2014
            [month] => 4
            [post_type] => post
        )

    [921] => stdClass Object
        (
            [slug] => books
            [ID] => 54098
            [post_name] => baskets-of-books-for-easter
            [post_title] => Baskets of Books for Easter {and a Giveaway!}
            [post_author] => 3
            [post_date] => 2014-04-06 03:38:00
            [year] => 2014
            [month] => 4
            [post_type] => post
        )

    [922] => stdClass Object
        (
            [slug] => sponsors
            [ID] => 54099
            [post_name] => sew-sweet-by-shannon-sponsored-giveaway
            [post_title] => Sew Sweet by Shannon {Sponsored Giveaway}
            [post_author] => 3
            [post_date] => 2014-04-05 03:32:00
            [year] => 2014
            [month] => 4
            [post_type] => post
        )

    [923] => stdClass Object
        (
            [slug] => books
            [ID] => 54100
            [post_name] => feasts-seasons-our-april-book-basket
            [post_title] => Feasts & Seasons :: Our April Book Basket
            [post_author] => 3
            [post_date] => 2014-04-04 06:23:00
            [year] => 2014
            [month] => 4
            [post_type] => post
        )

    [924] => stdClass Object
        (
            [slug] => daybook
            [ID] => 54101
            [post_name] => my-daybook-april-2-2014
            [post_title] => My Daybook :: April 2, 2014
            [post_author] => 3
            [post_date] => 2014-04-02 20:04:00
            [year] => 2014
            [month] => 4
            [post_type] => post
        )

    [925] => stdClass Object
        (
            [slug] => pacific-ocean
            [ID] => 54102
            [post_name] => a-quick-visit-to-ocean
            [post_title] => A Quick Visit to the Ocean
            [post_author] => 3
            [post_date] => 2014-04-01 13:00:00
            [year] => 2014
            [month] => 4
            [post_type] => post
        )

    [926] => stdClass Object
        (
            [slug] => priests
            [ID] => 54103
            [post_name] => our-trip-to-childrens-hospital
            [post_title] => Our Trip to the Children's Hospital
            [post_author] => 3
            [post_date] => 2014-03-27 21:11:00
            [year] => 2014
            [month] => 3
            [post_type] => post
        )

    [927] => stdClass Object
        (
            [slug] => giveaway
            [ID] => 54104
            [post_name] => catholic-embroidery-sponsored-review
            [post_title] => Catholic Embroidery {Sponsored Review & Giveaway}
            [post_author] => 3
            [post_date] => 2014-03-23 06:06:00
            [year] => 2014
            [month] => 3
            [post_type] => post
        )

    [928] => stdClass Object
        (
            [slug] => daybook
            [ID] => 54105
            [post_name] => st-patricks-day
            [post_title] => A March Daybook on the Feast of St. Patrick
            [post_author] => 3
            [post_date] => 2014-03-18 06:30:00
            [year] => 2014
            [month] => 3
            [post_type] => post
        )

    [929] => stdClass Object
        (
            [slug] => giveaway
            [ID] => 54106
            [post_name] => prayer-pillowcases-sponsored-review
            [post_title] => Prayer Pillowcases {Sponsored Review & Giveaway}
            [post_author] => 3
            [post_date] => 2014-03-15 19:52:00
            [year] => 2014
            [month] => 3
            [post_type] => post
        )

    [930] => stdClass Object
        (
            [slug] => science
            [ID] => 54107
            [post_name] => seven-quick-takes-at-end-of-quiet-week
            [post_title] => {Seven Quick Takes} At the end of a quiet week...
            [post_author] => 3
            [post_date] => 2014-03-14 17:44:00
            [year] => 2014
            [month] => 3
            [post_type] => post
        )

    [931] => stdClass Object
        (
            [slug] => latin-mass
            [ID] => 54108
            [post_name] => 1st-pontifical-high-mass-at-throne
            [post_title] => 1st Pontifical High Mass at the Throne
            [post_author] => 3
            [post_date] => 2014-03-09 18:08:00
            [year] => 2014
            [month] => 3
            [post_type] => post
        )

    [932] => stdClass Object
        (
            [slug] => giveaway
            [ID] => 54109
            [post_name] => gail-giron-design-sponsored-review
            [post_title] => Gail Girón Design {Sponsored Review & Giveaway}
            [post_author] => 3
            [post_date] => 2014-03-08 19:39:00
            [year] => 2014
            [month] => 3
            [post_type] => post
        )

    [933] => stdClass Object
        (
            [slug] => lent
            [ID] => 54110
            [post_name] => catholic-family-lent
            [post_title] => The Lenten Season In Our Catholic Home
            [post_author] => 3
            [post_date] => 2014-03-05 03:30:00
            [year] => 2014
            [month] => 3
            [post_type] => post
        )

    [934] => stdClass Object
        (
            [slug] => lent
            [ID] => 54111
            [post_name] => lenten-calendar
            [post_title] => A Lenten Calendar for Catholic Children
            [post_author] => 3
            [post_date] => 2014-03-04 08:05:00
            [year] => 2014
            [month] => 3
            [post_type] => post
        )

    [935] => stdClass Object
        (
            [slug] => books
            [ID] => 54112
            [post_name] => feasts-seasons-our-march-book-basket
            [post_title] => Feasts & Seasons :: Our March Book Basket
            [post_author] => 3
            [post_date] => 2014-03-03 17:11:00
            [year] => 2014
            [month] => 3
            [post_type] => post
        )

    [936] => stdClass Object
        (
            [slug] => giveaway
            [ID] => 54113
            [post_name] => st-lukes-brush-sponsored-review-giveaway
            [post_title] => St. Luke's Brush {Sponsored Review & Giveaway}
            [post_author] => 3
            [post_date] => 2014-03-02 20:30:00
            [year] => 2014
            [month] => 3
            [post_type] => post
        )

    [937] => stdClass Object
        (
            [slug] => phfr
            [ID] => 54114
            [post_name] => pretty-happy-funny-real-baby-shower-for
            [post_title] => Rainbow Connection: A Baby Shower for Kristin
            [post_author] => 3
            [post_date] => 2014-02-28 19:46:00
            [year] => 2014
            [month] => 2
            [post_type] => post
        )

    [938] => stdClass Object
        (
            [slug] => chapel-veil
            [ID] => 54115
            [post_name] => veiling-lenten-sacrifice-i-grew-to-love
            [post_title] => Veiling :: A Lenten Sacrifice I Grew to Love
            [post_author] => 3
            [post_date] => 2014-02-27 04:45:00
            [year] => 2014
            [month] => 2
            [post_type] => post
        )

    [939] => stdClass Object
        (
            [slug] => whats-in-my-bag
            [ID] => 54116
            [post_name] => the-big-purse-dump
            [post_title] => The Big Purse Dump
            [post_author] => 3
            [post_date] => 2014-02-26 04:37:00
            [year] => 2014
            [month] => 2
            [post_type] => post
        )

    [940] => stdClass Object
        (
            [slug] => state-by-state
            [ID] => 54117
            [post_name] => state-by-state-baking-texas-cookies
            [post_title] => State-by-State Baking :: Texas Cookies
            [post_author] => 3
            [post_date] => 2014-02-25 04:12:00
            [year] => 2014
            [month] => 2
            [post_type] => post
        )

    [941] => stdClass Object
        (
            [slug] => state-by-state
            [ID] => 54118
            [post_name] => state-by-state-scrapbook-texas
            [post_title] => State-by-State Scrapbook :: Texas
            [post_author] => 3
            [post_date] => 2014-02-25 04:09:00
            [year] => 2014
            [month] => 2
            [post_type] => post
        )

    [942] => stdClass Object
        (
            [slug] => state-by-state
            [ID] => 54119
            [post_name] => state-by-state-scrapbook-florida
            [post_title] => State-by-State Scrapbook :: Florida
            [post_author] => 3
            [post_date] => 2014-02-24 21:16:00
            [year] => 2014
            [month] => 2
            [post_type] => post
        )

    [943] => stdClass Object
        (
            [slug] => state-by-state
            [ID] => 54120
            [post_name] => state-by-state-scrapbook-michigan
            [post_title] => State-by-State Scrapbook :: Michigan
            [post_author] => 3
            [post_date] => 2014-02-24 20:46:00
            [year] => 2014
            [month] => 2
            [post_type] => post
        )

    [944] => stdClass Object
        (
            [slug] => state-by-state
            [ID] => 54121
            [post_name] => state-by-state-scrapbook-arkansas
            [post_title] => State-by-State Scrapbook :: Arkansas
            [post_author] => 3
            [post_date] => 2014-02-24 20:44:00
            [year] => 2014
            [month] => 2
            [post_type] => post
        )

    [945] => stdClass Object
        (
            [slug] => state-by-state
            [ID] => 54122
            [post_name] => state-by-state-scrapbook-missouri
            [post_title] => State-by-State Scrapbook :: Missouri
            [post_author] => 3
            [post_date] => 2014-02-24 20:43:00
            [year] => 2014
            [month] => 2
            [post_type] => post
        )

    [946] => stdClass Object
        (
            [slug] => giveaway
            [ID] => 54124
            [post_name] => sew-many-booties-sponsored-review
            [post_title] => Sew Many Booties {Sponsored Review & Giveaway}
            [post_author] => 3
            [post_date] => 2014-02-22 18:19:00
            [year] => 2014
            [month] => 2
            [post_type] => post
        )

    [947] => stdClass Object
        (
            [slug] => seven-quick-takes
            [ID] => 54125
            [post_name] => seven-quick-takes-iphone-photos
            [post_title] => {Seven Quick Takes} iPhone Photos
            [post_author] => 3
            [post_date] => 2014-02-22 02:09:00
            [year] => 2014
            [month] => 2
            [post_type] => post
        )

    [948] => stdClass Object
        (
            [slug] => comment-policy
            [ID] => 54126
            [post_name] => comment-policy
            [post_title] => Comment Policy
            [post_author] => 3
            [post_date] => 2014-02-20 04:17:00
            [year] => 2014
            [month] => 2
            [post_type] => post
        )

    [949] => stdClass Object
        (
            [slug] => st-valentines-day
            [ID] => 54127
            [post_name] => st-valentines-day-cards-party
            [post_title] => St. Valentine's Day Cards & Party
            [post_author] => 3
            [post_date] => 2014-02-19 01:19:00
            [year] => 2014
            [month] => 2
            [post_type] => post
        )

    [950] => stdClass Object
        (
            [slug] => giveaway
            [ID] => 54128
            [post_name] => jesus-tree-walk-with-jesus-through-lent
            [post_title] => Jesus Tree - Walk with Jesus Through Lent {Sponsored Review & Giveaway}
            [post_author] => 3
            [post_date] => 2014-02-16 17:41:00
            [year] => 2014
            [month] => 2
            [post_type] => post
        )

    [951] => stdClass Object
        (
            [slug] => advent-and-christmas
            [ID] => 54129
            [post_name] => madonna-child-valentine-cards
            [post_title] => Madonna and Child Valentine Cards
            [post_author] => 3
            [post_date] => 2014-02-12 20:32:00
            [year] => 2014
            [month] => 2
            [post_type] => post
        )

    [952] => stdClass Object
        (
            [slug] => printables
            [ID] => 54130
            [post_name] => conversation-hearts-bible-verse
            [post_title] => Conversation Hearts Bible Verse Valentines
            [post_author] => 3
            [post_date] => 2014-02-11 23:12:00
            [year] => 2014
            [month] => 2
            [post_type] => post
        )

    [953] => stdClass Object
        (
            [slug] => birthday-parties
            [ID] => 54131
            [post_name] => a-12th-birthday-filled-with-surprises
            [post_title] => A 12th Birthday Filled with Surprises!
            [post_author] => 3
            [post_date] => 2014-02-10 21:15:00
            [year] => 2014
            [month] => 2
            [post_type] => post
        )

    [954] => stdClass Object
        (
            [slug] => giveaway
            [ID] => 54132
            [post_name] => mamas-notebooks-sponsored-review
            [post_title] => Mama's Notebooks {Sponsored Review & Giveaway}
            [post_author] => 3
            [post_date] => 2014-02-09 00:38:00
            [year] => 2014
            [month] => 2
            [post_type] => post
        )

    [955] => stdClass Object
        (
            [slug] => printables
            [ID] => 54133
            [post_name] => bible-candy-valentines-tutorial-free
            [post_title] => Bible Candy Valentines {Tutorial & Free Printable}
            [post_author] => 3
            [post_date] => 2014-02-07 07:58:00
            [year] => 2014
            [month] => 2
            [post_type] => post
        )

    [956] => stdClass Object
        (
            [slug] => art
            [ID] => 54134
            [post_name] => meet-masters-mary-cassatt
            [post_title] => Meet the Masters :: Mary Cassatt
            [post_author] => 3
            [post_date] => 2014-02-06 07:30:00
            [year] => 2014
            [month] => 2
            [post_type] => post
        )

    [957] => stdClass Object
        (
            [slug] => art
            [ID] => 54135
            [post_name] => meet-masters-vincent-van-gogh
            [post_title] => Meet the Masters :: Vincent van Gogh
            [post_author] => 3
            [post_date] => 2014-02-04 21:39:00
            [year] => 2014
            [month] => 2
            [post_type] => post
        )

    [958] => stdClass Object
        (
            [slug] => daybook
            [ID] => 54136
            [post_name] => february-daybook
            [post_title] => February Daybook on the Feast of St. Blaise
            [post_author] => 3
            [post_date] => 2014-02-04 02:05:00
            [year] => 2014
            [month] => 2
            [post_type] => post
        )

    [959] => stdClass Object
        (
            [slug] => books
            [ID] => 54137
            [post_name] => usborne-books-sponsored-review-giveaway
            [post_title] => Usborne Books {Sponsored Review & Giveaway}
            [post_author] => 3
            [post_date] => 2014-02-01 19:27:00
            [year] => 2014
            [month] => 2
            [post_type] => post
        )

    [960] => stdClass Object
        (
            [slug] => sponsors
            [ID] => 54138
            [post_name] => sponsor-love-quarterly-update-current
            [post_title] => Sponsor Love: Quarterly Update & Current Specials
            [post_author] => 3
            [post_date] => 2014-01-31 22:53:00
            [year] => 2014
            [month] => 1
            [post_type] => post
        )

    [961] => stdClass Object
        (
            [slug] => uncategorized
            [ID] => 54139
            [post_name] => the-fragua-course-donate-and-help
            [post_title] => The Fragua Course :: Donate and Help Change Lives!
            [post_author] => 3
            [post_date] => 2014-01-31 07:40:00
            [year] => 2014
            [month] => 1
            [post_type] => post
        )

    [962] => stdClass Object
        (
            [slug] => books
            [ID] => 54141
            [post_name] => feasts-seasons-our-february-book-basket
            [post_title] => Feasts & Seasons :: Our February Book Basket
            [post_author] => 3
            [post_date] => 2014-01-28 08:00:00
            [year] => 2014
            [month] => 1
            [post_type] => post
        )

    [963] => stdClass Object
        (
            [slug] => reviews
            [ID] => 54142
            [post_name] => the-catechism-in-pictures
            [post_title] => The Catechism in Pictures
            [post_author] => 3
            [post_date] => 2014-01-26 20:08:00
            [year] => 2014
            [month] => 1
            [post_type] => post
        )

    [964] => stdClass Object
        (
            [slug] => hobbit
            [ID] => 54143
            [post_name] => lord-of-rings-hand-painted-action
            [post_title] => Lord of the Rings Hand-Painted Action Figures
            [post_author] => 3
            [post_date] => 2014-01-24 20:16:00
            [year] => 2014
            [month] => 1
            [post_type] => post
        )

    [965] => stdClass Object
        (
            [slug] => celebrating-the-saints
            [ID] => 54144
            [post_name] => celebrating-saints-st-agnes-of-rome
            [post_title] => Celebrating the Saints :: St. Agnes of Rome
            [post_author] => 3
            [post_date] => 2014-01-22 07:45:00
            [year] => 2014
            [month] => 1
            [post_type] => post
        )

    [966] => stdClass Object
        (
            [slug] => daybook
            [ID] => 54145
            [post_name] => my-daybook-january-20-2014
            [post_title] => My Daybook :: January 20, 2014
            [post_author] => 3
            [post_date] => 2014-01-20 19:47:00
            [year] => 2014
            [month] => 1
            [post_type] => post
        )

    [967] => stdClass Object
        (
            [slug] => puzzles
            [ID] => 54146
            [post_name] => building-great-cathedrals
            [post_title] => Building the Great Cathedrals
            [post_author] => 3
            [post_date] => 2014-01-19 08:00:00
            [year] => 2014
            [month] => 1
            [post_type] => post
        )

    [968] => stdClass Object
        (
            [slug] => happy-birthday
            [ID] => 54148
            [post_name] => pretty-happy-funny-real-36th-birthday
            [post_title] => {pretty, happy, funny, real} :: 36th Birthday Edition
            [post_author] => 3
            [post_date] => 2014-01-18 20:31:00
            [year] => 2014
            [month] => 1
            [post_type] => post
        )

    [969] => stdClass Object
        (
            [slug] => cake-decorating
            [ID] => 54149
            [post_name] => made-with-love-another-birthday-cake
            [post_title] => Made with Love :: Another Birthday Cake for Mom!
            [post_author] => 3
            [post_date] => 2014-01-17 06:56:00
            [year] => 2014
            [month] => 1
            [post_type] => post
        )

    [970] => stdClass Object
        (
            [slug] => picture-books
            [ID] => 54150
            [post_name] => saint-felix-and-the-spider
            [post_title] => Celebrating the Saints :: St. Felix of Nola
            [post_author] => 3
            [post_date] => 2014-01-15 17:08:00
            [year] => 2014
            [month] => 1
            [post_type] => post
        )

    [971] => stdClass Object
        (
            [slug] => picture-books
            [ID] => 54151
            [post_name] => bargain-priced-books-for-spring
            [post_title] => Bargain Priced Books for Spring
            [post_author] => 3
            [post_date] => 2014-01-13 22:47:00
            [year] => 2014
            [month] => 1
            [post_type] => post
        )

    [972] => stdClass Object
        (
            [slug] => advent-and-christmas
            [ID] => 54152
            [post_name] => in-nomine-patris-et-filii-et-spiritus
            [post_title] => In Nomine Patris, et Filii, et Spiritus Sancti. . .
            [post_author] => 3
            [post_date] => 2014-01-12 01:12:00
            [year] => 2014
            [month] => 1
            [post_type] => post
        )

    [973] => stdClass Object
        (
            [slug] => advent-and-christmas
            [ID] => 54153
            [post_name] => christmas-day-2013
            [post_title] => Christmas Day :: December 25, 2013
            [post_author] => 3
            [post_date] => 2014-01-11 00:37:00
            [year] => 2014
            [month] => 1
            [post_type] => post
        )

    [974] => stdClass Object
        (
            [slug] => advent-and-christmas
            [ID] => 54154
            [post_name] => noahs-ark-invitation-1000-piece-puzzle
            [post_title] => Noah's Ark - The Invitation :: A 1,000 Piece Puzzle
            [post_author] => 3
            [post_date] => 2014-01-10 07:37:00
            [year] => 2014
            [month] => 1
            [post_type] => post
        )

    [975] => stdClass Object
        (
            [slug] => advent-and-christmas
            [ID] => 54155
            [post_name] => stacks-of-books-on-christmas-morning
            [post_title] => Stacks of Books on Christmas Morning
            [post_author] => 3
            [post_date] => 2014-01-08 22:25:00
            [year] => 2014
            [month] => 1
            [post_type] => post
        )

    [976] => stdClass Object
        (
            [slug] => advent-and-christmas
            [ID] => 54156
            [post_name] => celebrating-epiphany
            [post_title] => Celebrating Epiphany
            [post_author] => 3
            [post_date] => 2014-01-07 06:51:00
            [year] => 2014
            [month] => 1
            [post_type] => post
        )

    [977] => stdClass Object
        (
            [slug] => books
            [ID] => 54157
            [post_name] => january-book-basket
            [post_title] => Feasts & Seasons :: Our January Book Basket
            [post_author] => 3
            [post_date] => 2014-01-05 00:08:00
            [year] => 2014
            [month] => 1
            [post_type] => post
        )

    [978] => stdClass Object
        (
            [slug] => advent-and-christmas
            [ID] => 54158
            [post_name] => roses-for-baby-jesus
            [post_title] => Roses for Baby Jesus
            [post_author] => 3
            [post_date] => 2014-01-03 20:22:00
            [year] => 2014
            [month] => 1
            [post_type] => post
        )

    [979] => stdClass Object
        (
            [slug] => year-in-review
            [ID] => 54159
            [post_name] => a-few-highlights-from-2013
            [post_title] => A Few Highlights from 2013. . .
            [post_author] => 3
            [post_date] => 2013-12-31 21:06:00
            [year] => 2013
            [month] => 12
            [post_type] => post
        )

    [980] => stdClass Object
        (
            [slug] => my-siblings
            [ID] => 54160
            [post_name] => ice-skating-and-pizza-on-6th-day-of
            [post_title] => Ice Skating and Pizza on the 6th Day of Christmas
            [post_author] => 3
            [post_date] => 2013-12-31 15:31:00
            [year] => 2013
            [month] => 12
            [post_type] => post
        )

    [981] => stdClass Object
        (
            [slug] => advent-and-christmas
            [ID] => 54161
            [post_name] => the-twelve-days-of-christmas-cathedral
            [post_title] => The Twelve Days of Christmas & Cathedral Windows
            [post_author] => 3
            [post_date] => 2013-12-29 21:56:00
            [year] => 2013
            [month] => 12
            [post_type] => post
        )

    [982] => stdClass Object
        (
            [slug] => advent-and-christmas
            [ID] => 54162
            [post_name] => on-feast-of-st-john_28
            [post_title] => On the Feast of St. John
            [post_author] => 3
            [post_date] => 2013-12-28 19:53:00
            [year] => 2013
            [month] => 12
            [post_type] => post
        )

    [983] => stdClass Object
        (
            [slug] => advent-and-christmas
            [ID] => 54163
            [post_name] => christmas-eve-in-pictures
            [post_title] => Christmas Eve in Pictures
            [post_author] => 3
            [post_date] => 2013-12-27 21:45:00
            [year] => 2013
            [month] => 12
            [post_type] => post
        )

    [984] => stdClass Object
        (
            [slug] => advent-and-christmas
            [ID] => 54164
            [post_name] => on-feast-of-stephen
            [post_title] => On the Feast of Stephen. . .
            [post_author] => 3
            [post_date] => 2013-12-27 04:38:00
            [year] => 2013
            [month] => 12
            [post_type] => post
        )

    [985] => stdClass Object
        (
            [slug] => advent-and-christmas
            [ID] => 54165
            [post_name] => merry-christmas
            [post_title] => Merry Christmas!
            [post_author] => 3
            [post_date] => 2013-12-26 07:45:00
            [year] => 2013
            [month] => 12
            [post_type] => post
        )

    [986] => stdClass Object
        (
            [slug] => advent-and-christmas
            [ID] => 54166
            [post_name] => over-river-and-through-woods
            [post_title] => Over the River and Through the Woods...
            [post_author] => 3
            [post_date] => 2013-12-24 04:52:00
            [year] => 2013
            [month] => 12
            [post_type] => post
        )

    [987] => stdClass Object
        (
            [slug] => birthday-parties
            [ID] => 54167
            [post_name] => a-deer-in-woods-birthday-party
            [post_title] => A "Deer in the Woods" Birthday Party
            [post_author] => 3
            [post_date] => 2013-12-21 18:47:00
            [year] => 2013
            [month] => 12
            [post_type] => post
        )

    [988] => stdClass Object
        (
            [slug] => just-for-fun
            [ID] => 54168
            [post_name] => o-christmas-tree
            [post_title] => O Christmas Tree
            [post_author] => 3
            [post_date] => 2013-12-21 18:40:00
            [year] => 2013
            [month] => 12
            [post_type] => post
        )

    [989] => stdClass Object
        (
            [slug] => advent-and-christmas
            [ID] => 54169
            [post_name] => checking-it-twice-christmas-gifts-2013
            [post_title] => Checking it Twice... {Christmas Gifts 2013 Edition}
            [post_author] => 3
            [post_date] => 2013-12-19 07:59:00
            [year] => 2013
            [month] => 12
            [post_type] => post
        )

    [990] => stdClass Object
        (
            [slug] => birthday-parties
            [ID] => 54170
            [post_name] => a-perfectly-pink-princess-birthday-on
            [post_title] => A Perfectly Pink Princess Birthday on Rose Sunday
            [post_author] => 3
            [post_date] => 2013-12-16 19:57:00
            [year] => 2013
            [month] => 12
            [post_type] => post
        )

    [991] => stdClass Object
        (
            [slug] => advent-and-christmas
            [ID] => 54171
            [post_name] => santa-lucia-day
            [post_title] => Santa Lucia Day
            [post_author] => 3
            [post_date] => 2013-12-14 06:00:00
            [year] => 2013
            [month] => 12
            [post_type] => post
        )

    [992] => stdClass Object
        (
            [slug] => our-lady-of-guadalupe
            [ID] => 54172
            [post_name] => a-brunch-on-feast-of-our-lady-of
            [post_title] => A Brunch on the Feast of Our Lady of Guadalupe
            [post_author] => 3
            [post_date] => 2013-12-13 07:12:00
            [year] => 2013
            [month] => 12
            [post_type] => post
        )

    [993] => stdClass Object
        (
            [slug] => advent-and-christmas
            [ID] => 54173
            [post_name] => my-daybook-second-week-of-advent
            [post_title] => My Daybook :: The Second Week of Advent
            [post_author] => 3
            [post_date] => 2013-12-13 01:37:00
            [year] => 2013
            [month] => 12
            [post_type] => post
        )

    [994] => stdClass Object
        (
            [slug] => this-moment
            [ID] => 54174
            [post_name] => this-moment
            [post_title] => {this moment}
            [post_author] => 3
            [post_date] => 2013-12-13 01:33:00
            [year] => 2013
            [month] => 12
            [post_type] => post
        )

    [995] => stdClass Object
        (
            [slug] => advent-and-christmas
            [ID] => 54175
            [post_name] => celebrating-feast-of-st-nicholas-2013
            [post_title] => Celebrating the Feast of St. Nicholas :: 2013
            [post_author] => 3
            [post_date] => 2013-12-10 06:42:00
            [year] => 2013
            [month] => 12
            [post_type] => post
        )

    [996] => stdClass Object
        (
            [slug] => advent-and-christmas
            [ID] => 54176
            [post_name] => bargain-priced-books-celebrating-advent
            [post_title] => Bargain Priced Books :: Celebrating Advent And Christmas With Children {Currently Free For Kindle!}
            [post_author] => 3
            [post_date] => 2013-12-09 17:09:00
            [year] => 2013
            [month] => 12
            [post_type] => post
        )

    [997] => stdClass Object
        (
            [slug] => advent-and-christmas
            [ID] => 54177
            [post_name] => my-daybook-first-week-of-advent
            [post_title] => My Daybook :: The First Week of Advent
            [post_author] => 3
            [post_date] => 2013-12-06 20:02:00
            [year] => 2013
            [month] => 12
            [post_type] => post
        )

    [998] => stdClass Object
        (
            [slug] => favorite-toys
            [ID] => 54178
            [post_name] => metal-earth-3d-laser-cut-models
            [post_title] => Metal Earth {3D Laser Cut Models}
            [post_author] => 3
            [post_date] => 2013-12-04 22:11:00
            [year] => 2013
            [month] => 12
            [post_type] => post
        )

    [999] => stdClass Object
        (
            [slug] => jesse-tree-ornament-swap
            [ID] => 54179
            [post_name] => a-jesse-tree-ornament-swap
            [post_title] => A Jesse Tree Ornament Swap
            [post_author] => 3
            [post_date] => 2013-12-04 19:17:00
            [year] => 2013
            [month] => 12
            [post_type] => post
        )

    [1000] => stdClass Object
        (
            [slug] => advent-and-christmas
            [ID] => 54180
            [post_name] => preparing-for-christmas-seven-fun-finds
            [post_title] => Preparing for Christmas :: Seven Fun Finds for Advent
            [post_author] => 3
            [post_date] => 2013-12-01 22:00:00
            [year] => 2013
            [month] => 12
            [post_type] => post
        )

    [1001] => stdClass Object
        (
            [slug] => giveaway
            [ID] => 54181
            [post_name] => a-brand-new-glory-stories-cd-secrets
            [post_title] => A Brand New Glory Stories CD - Secrets From Heaven {and a St. Mary's Messenger Giveaway!}
            [post_author] => 3
            [post_date] => 2013-11-30 19:49:00
            [year] => 2013
            [month] => 11
            [post_type] => post
        )

    [1002] => stdClass Object
        (
            [slug] => thanksgiving
            [ID] => 54182
            [post_name] => celebrating-thanksgiving
            [post_title] => Celebrating Thanksgiving
            [post_author] => 3
            [post_date] => 2013-11-30 05:25:00
            [year] => 2013
            [month] => 11
            [post_type] => post
        )

    [1003] => stdClass Object
        (
            [slug] => advent-and-christmas
            [ID] => 54183
            [post_name] => our-festive-raspberry-cranberry-jello
            [post_title] => Our Festive Raspberry Cranberry Jello Mold
            [post_author] => 3
            [post_date] => 2013-11-30 05:22:00
            [year] => 2013
            [month] => 11
            [post_type] => post
        )

    [1004] => stdClass Object
        (
            [slug] => thanksgiving
            [ID] => 54184
            [post_name] => praline-pecan-and-mallow-topped-sweet
            [post_title] => Praline Pecan and Mallow-Topped Sweet Potatoes
            [post_author] => 3
            [post_date] => 2013-11-27 21:13:00
            [year] => 2013
            [month] => 11
            [post_type] => post
        )

    [1005] => stdClass Object
        (
            [slug] => christmas-2013
            [ID] => 54185
            [post_name] => root-of-jesse-ornaments-for-jesse-tree
            [post_title] => "Root of Jesse" Ornaments for the Jesse Tree Swap
            [post_author] => 3
            [post_date] => 2013-11-26 17:22:00
            [year] => 2013
            [month] => 11
            [post_type] => post
        )

    [1006] => stdClass Object
        (
            [slug] => crafts
            [ID] => 54186
            [post_name] => a-choir-of-angels-for-jesse-tree
            [post_title] => A Choir of Angels for the Jesse Tree Ornament Swap
            [post_author] => 3
            [post_date] => 2013-11-26 16:52:00
            [year] => 2013
            [month] => 11
            [post_type] => post
        )

    [1007] => stdClass Object
        (
            [slug] => giveaway
            [ID] => 54187
            [post_name] => my-daybook-november-25-2013-and-rose
            [post_title] => My Daybook :: November 25, 2013
            [post_author] => 3
            [post_date] => 2013-11-25 23:00:00
            [year] => 2013
            [month] => 11
            [post_type] => post
        )

    [1008] => stdClass Object
        (
            [slug] => american-girl
            [ID] => 54188
            [post_name] => saint-cecilia-sweet-and-simple
            [post_title] => On the Feast of St. Cecilia :: A Sweet and Simple Treat
            [post_author] => 3
            [post_date] => 2013-11-23 04:46:00
            [year] => 2013
            [month] => 11
            [post_type] => post
        )

    [1009] => stdClass Object
        (
            [slug] => advent-and-christmas
            [ID] => 54189
            [post_name] => bargain-priced-books-bakers-dozen
            [post_title] => Bargain Priced Books :: The Baker's Dozen
            [post_author] => 3
            [post_date] => 2013-11-21 21:13:00
            [year] => 2013
            [month] => 11
            [post_type] => post
        )

    [1010] => stdClass Object
        (
            [slug] => all-saints-day
            [ID] => 54190
            [post_name] => celebrating-saints-our-annual-all
            [post_title] => Celebrating the Saints :: Our Annual All Hallows' Eve Party!
            [post_author] => 3
            [post_date] => 2013-11-21 08:46:00
            [year] => 2013
            [month] => 11
            [post_type] => post
        )

    [1011] => stdClass Object
        (
            [slug] => advent-and-christmas
            [ID] => 54191
            [post_name] => our-2013-advent-christmas-book-baskets
            [post_title] => Our 2013 Advent & Christmas Book Baskets
            [post_author] => 3
            [post_date] => 2013-11-17 00:33:00
            [year] => 2013
            [month] => 11
            [post_type] => post
        )

    [1012] => stdClass Object
        (
            [slug] => christmas-picture-books
            [ID] => 54192
            [post_name] => new-christmas-books-for-feast-of-st
            [post_title] => New Christmas Books for the Feast of St. Nicholas
            [post_author] => 3
            [post_date] => 2013-11-15 02:25:00
            [year] => 2013
            [month] => 11
            [post_type] => post
        )

    [1013] => stdClass Object
        (
            [slug] => martinmas
            [ID] => 54193
            [post_name] => celebrating-saints-st-martin-of-tours
            [post_title] => Celebrating the Saints :: St. Martin of Tours
            [post_author] => 3
            [post_date] => 2013-11-13 00:07:00
            [year] => 2013
            [month] => 11
            [post_type] => post
        )

    [1014] => stdClass Object
        (
            [slug] => crafts
            [ID] => 54194
            [post_name] => martinmas-lanterns
            [post_title] => Martinmas Lanterns
            [post_author] => 3
            [post_date] => 2013-11-11 06:56:00
            [year] => 2013
            [month] => 11
            [post_type] => post
        )

    [1015] => stdClass Object
        (
            [slug] => just-for-fun
            [ID] => 54195
            [post_name] => a-lego-perplexus
            [post_title] => A Lego Perplexus
            [post_author] => 3
            [post_date] => 2013-11-08 09:03:00
            [year] => 2013
            [month] => 11
            [post_type] => post
        )

    [1016] => stdClass Object
        (
            [slug] => latin-mass
            [ID] => 54196
            [post_name] => pretty-happy-funny-real-few-pictures
            [post_title] => {pretty, happy, funny, real} :: From Instagram
            [post_author] => 3
            [post_date] => 2013-11-07 22:57:00
            [year] => 2013
            [month] => 11
            [post_type] => post
        )

    [1017] => stdClass Object
        (
            [slug] => books
            [ID] => 54197
            [post_name] => feasts-seasons-our-november-book-basket
            [post_title] => Feasts & Seasons :: Our November Book Basket
            [post_author] => 3
            [post_date] => 2013-11-06 16:55:00
            [year] => 2013
            [month] => 11
            [post_type] => post
        )

    [1018] => stdClass Object
        (
            [slug] => christmas-2013
            [ID] => 54198
            [post_name] => christmas-pajamas-and-nightgowns
            [post_title] => √ Christmas Pajamas and Nightgowns
            [post_author] => 3
            [post_date] => 2013-11-05 19:09:00
            [year] => 2013
            [month] => 11
            [post_type] => post
        )

    [1019] => stdClass Object
        (
            [slug] => all-souls-day
            [ID] => 54199
            [post_name] => our-8th-annual-mass-at-cemetery
            [post_title] => Our 8th Annual Mass at the Cemetery...
            [post_author] => 3
            [post_date] => 2013-11-04 17:44:00
            [year] => 2013
            [month] => 11
            [post_type] => post
        )

    [1020] => stdClass Object
        (
            [slug] => all-saints-day
            [ID] => 54200
            [post_name] => celebrating-saints-our-2013-costumes
            [post_title] => Celebrating the Saints :: Our 2013 Costumes!
            [post_author] => 3
            [post_date] => 2013-10-31 21:01:00
            [year] => 2013
            [month] => 10
            [post_type] => post
        )

    [1021] => stdClass Object
        (
            [slug] => books
            [ID] => 54201
            [post_name] => little-blessings
            [post_title] => Little Blessings
            [post_author] => 3
            [post_date] => 2013-10-30 18:29:00
            [year] => 2013
            [month] => 10
            [post_type] => post
        )

    [1022] => stdClass Object
        (
            [slug] => all-saints-day
            [ID] => 54202
            [post_name] => all-saints-guessing-jars
            [post_title] => All Saints' Party Games :: Saint Themed Guessing Jars
            [post_author] => 3
            [post_date] => 2013-10-29 23:30:00
            [year] => 2013
            [month] => 10
            [post_type] => post
        )

    [1023] => stdClass Object
        (
            [slug] => pumpkin-patch
            [ID] => 54203
            [post_name] => a-trip-to-pumpkin-patch
            [post_title] => A Trip to the Pumpkin Patch
            [post_author] => 3
            [post_date] => 2013-10-29 01:17:00
            [year] => 2013
            [month] => 10
            [post_type] => post
        )

    [1024] => stdClass Object
        (
            [slug] => american-girl
            [ID] => 54204
            [post_name] => the-dolls-saint-costumes-with-links-to
            [post_title] => The Dolls' Saint Costumes {with links to our children's past Saint Costumes!}
            [post_author] => 3
            [post_date] => 2013-10-25 21:23:00
            [year] => 2013
            [month] => 10
            [post_type] => post
        )

    [1025] => stdClass Object
        (
            [slug] => books
            [ID] => 54205
            [post_name] => tan-books-acquires-neumann-press
            [post_title] => Tan Books Acquires Neumann Press!
            [post_author] => 3
            [post_date] => 2013-10-23 16:43:00
            [year] => 2013
            [month] => 10
            [post_type] => post
        )

    [1026] => stdClass Object
        (
            [slug] => precious-moments-07
            [ID] => 54206
            [post_name] => home-again
            [post_title] => Home Again!
            [post_author] => 3
            [post_date] => 2013-10-21 21:20:00
            [year] => 2013
            [month] => 10
            [post_type] => post
        )

    [1027] => stdClass Object
        (
            [slug] => art
            [ID] => 54207
            [post_name] => meet-masters-art-portfolios
            [post_title] => Meet the Masters :: Art Portfolios
            [post_author] => 3
            [post_date] => 2013-10-18 16:49:00
            [year] => 2013
            [month] => 10
            [post_type] => post
        )

    [1028] => stdClass Object
        (
            [slug] => archbishop
            [ID] => 54208
            [post_name] => pretty-happy-funny-real-blessed
            [post_title] => {pretty, happy, funny, real}  :: Blessed
            [post_author] => 3
            [post_date] => 2013-10-18 05:03:00
            [year] => 2013
            [month] => 10
            [post_type] => post
        )

    [1029] => stdClass Object
        (
            [slug] => science
            [ID] => 54209
            [post_name] => making-marshmallow-molecules
            [post_title] => Making Marshmallow Molecules!
            [post_author] => 3
            [post_date] => 2013-10-15 06:45:00
            [year] => 2013
            [month] => 10
            [post_type] => post
        )

    [1030] => stdClass Object
        (
            [slug] => daybook
            [ID] => 54210
            [post_name] => my-daybook-october-13-2013
            [post_title] => My Daybook :: October 13, 2013
            [post_author] => 3
            [post_date] => 2013-10-13 17:00:00
            [year] => 2013
            [month] => 10
            [post_type] => post
        )

    [1031] => stdClass Object
        (
            [slug] => advent-and-christmas
            [ID] => 54211
            [post_name] => advent-preparations-jesse-tree-ornament
            [post_title] => Advent Preparations & A Jesse Tree Ornament Swap!
            [post_author] => 3
            [post_date] => 2013-10-08 23:07:00
            [year] => 2013
            [month] => 10
            [post_type] => post
        )

    [1032] => stdClass Object
        (
            [slug] => giveaway
            [ID] => 54212
            [post_name] => a-prayer-request-and-giveaway-winners
            [post_title] => A Prayer Request and Giveaway Winners
            [post_author] => 3
            [post_date] => 2013-10-07 23:58:00
            [year] => 2013
            [month] => 10
            [post_type] => post
        )

    [1033] => stdClass Object
        (
            [slug] => recipes
            [ID] => 54213
            [post_name] => celebrating-saints-st-francis-of-assisi
            [post_title] => Celebrating the Saints :: St. Francis of Assisi
            [post_author] => 3
            [post_date] => 2013-10-05 03:54:00
            [year] => 2013
            [month] => 10
            [post_type] => post
        )

    [1034] => stdClass Object
        (
            [slug] => giveaway
            [ID] => 54214
            [post_name] => on-traditional-feast-of-little-flower
            [post_title] => On the Traditional Feast of the Little Flower
            [post_author] => 3
            [post_date] => 2013-10-04 06:13:00
            [year] => 2013
            [month] => 10
            [post_type] => post
        )

    [1035] => stdClass Object
        (
            [slug] => science
            [ID] => 54215
            [post_name] => pretty-happy-funny-real
            [post_title] => {pretty, happy, funny, real}
            [post_author] => 3
            [post_date] => 2013-10-04 05:06:00
            [year] => 2013
            [month] => 10
            [post_type] => post
        )

    [1036] => stdClass Object
        (
            [slug] => giveaway
            [ID] => 54216
            [post_name] => angel-of-god-my-guardian-dear
            [post_title] => Angel of God, My Guardian Dear...
            [post_author] => 3
            [post_date] => 2013-10-03 06:51:00
            [year] => 2013
            [month] => 10
            [post_type] => post
        )

    [1037] => stdClass Object
        (
            [slug] => giveaway
            [ID] => 54217
            [post_name] => in-honor-of-feast-of-st-therese-apple
            [post_title] => In Honor of the Feast of St. Thérèse :: Apple Roses, A Novena & Another Giveaway!
            [post_author] => 3
            [post_date] => 2013-10-01 08:18:00
            [year] => 2013
            [month] => 10
            [post_type] => post
        )

    [1038] => stdClass Object
        (
            [slug] => giveaway
            [ID] => 54218
            [post_name] => st-jerome-and-lion-and-catholic-mosaic
            [post_title] => St. Jerome and the Lion
            [post_author] => 3
            [post_date] => 2013-09-30 20:12:00
            [year] => 2013
            [month] => 9
            [post_type] => post
        )

    [1039] => stdClass Object
        (
            [slug] => michaelmas
            [ID] => 54219
            [post_name] => celebrating-michaelmas
            [post_title] => Celebrating Michaelmas
            [post_author] => 3
            [post_date] => 2013-09-30 05:50:00
            [year] => 2013
            [month] => 9
            [post_type] => post
        )

    [1040] => stdClass Object
        (
            [slug] => picture-books
            [ID] => 54220
            [post_name] => this-moment
            [post_title] => {this moment}
            [post_author] => 3
            [post_date] => 2013-09-27 18:11:00
            [year] => 2013
            [month] => 9
            [post_type] => post
        )

    [1041] => stdClass Object
        (
            [slug] => marian
            [ID] => 54221
            [post_name] => pretty-happy-funny-real
            [post_title] => {pretty, happy, funny, real}
            [post_author] => 3
            [post_date] => 2013-09-27 02:37:00
            [year] => 2013
            [month] => 9
            [post_type] => post
        )

    [1042] => stdClass Object
        (
            [slug] => american-girl
            [ID] => 54223
            [post_name] => happy-birthday-caroline-american-girl
            [post_title] => Happy Birthday, Caroline! :: An American Girl Party
            [post_author] => 3
            [post_date] => 2013-09-23 21:59:00
            [year] => 2013
            [month] => 9
            [post_type] => post
        )

    [1043] => stdClass Object
        (
            [slug] => home-sweet-home
            [ID] => 54224
            [post_name] => an-early-anniversary-gift
            [post_title] => An Early Anniversary Gift
            [post_author] => 3
            [post_date] => 2013-09-20 22:24:00
            [year] => 2013
            [month] => 9
            [post_type] => post
        )

    [1044] => stdClass Object
        (
            [slug] => latin-mass
            [ID] => 54225
            [post_name] => phfr
            [post_title] => {pretty, happy, funny, real}
            [post_author] => 3
            [post_date] => 2013-09-19 18:05:00
            [year] => 2013
            [month] => 9
            [post_type] => post
        )

    [1045] => stdClass Object
        (
            [slug] => american-girl
            [ID] => 54226
            [post_name] => carolines-bonnet-10th-birthday-cake
            [post_title] => Caroline's Bonnet :: A 10th Birthday Cake
            [post_author] => 3
            [post_date] => 2013-09-17 21:42:00
            [year] => 2013
            [month] => 9
            [post_type] => post
        )

    [1046] => stdClass Object
        (
            [slug] => latin-mass
            [ID] => 54227
            [post_name] => celebrating-feast-of-exaltation-of-holy
            [post_title] => Celebrating the Feast of the Exaltation of the Holy Cross and the Anniversary of the Implementation of Summorum Pontificum
            [post_author] => 3
            [post_date] => 2013-09-14 22:23:00
            [year] => 2013
            [month] => 9
            [post_type] => post
        )

    [1047] => stdClass Object
        (
            [slug] => home-education
            [ID] => 54228
            [post_name] => privileged
            [post_title] => Privileged
            [post_author] => 3
            [post_date] => 2013-09-13 20:59:00
            [year] => 2013
            [month] => 9
            [post_type] => post
        )

    [1048] => stdClass Object
        (
            [slug] => back-to-school
            [ID] => 54229
            [post_name] => back-to-school-2013-2014
            [post_title] => Back-to-School :: 2013-2014
            [post_author] => 3
            [post_date] => 2013-09-12 05:43:00
            [year] => 2013
            [month] => 9
            [post_type] => post
        )

    [1049] => stdClass Object
        (
            [slug] => crafts
            [ID] => 54230
            [post_name] => back-to-school-schultutes-simplified
            [post_title] => Back-to-School Schultütes {Simplified}
            [post_author] => 3
            [post_date] => 2013-09-12 03:33:00
            [year] => 2013
            [month] => 9
            [post_type] => post
        )

    [1050] => stdClass Object
        (
            [slug] => daybook
            [ID] => 54231
            [post_name] => back-to-school-daybook-september-10-2013
            [post_title] => Back-to-School Daybook :: September 10, 2013
            [post_author] => 3
            [post_date] => 2013-09-10 18:45:00
            [year] => 2013
            [month] => 9
            [post_type] => post
        )

    [1051] => stdClass Object
        (
            [slug] => home-education
            [ID] => 54232
            [post_name] => back-to-school-blessings
            [post_title] => Back-to-School Blessings
            [post_author] => 3
            [post_date] => 2013-09-09 21:39:00
            [year] => 2013
            [month] => 9
            [post_type] => post
        )

    [1052] => stdClass Object
        (
            [slug] => american-girl
            [ID] => 54233
            [post_name] => a-quick-hello-and-giveaway
            [post_title] => A Quick Hello and a Giveaway!
            [post_author] => 3
            [post_date] => 2013-09-04 02:34:00
            [year] => 2013
            [month] => 9
            [post_type] => post
        )

    [1053] => stdClass Object
        (
            [slug] => curriculum
            [ID] => 54234
            [post_name] => curriculum-plans
            [post_title] => Our 2013-2014 Curriculum Plans and Checklists
            [post_author] => 3
            [post_date] => 2013-08-29 20:05:00
            [year] => 2013
            [month] => 8
            [post_type] => post
        )

    [1054] => stdClass Object
        (
            [slug] => curriculum
            [ID] => 54235
            [post_name] => little-saints-pre-school
            [post_title] => Our Little Saints Preschool
            [post_author] => 3
            [post_date] => 2013-08-29 19:56:00
            [year] => 2013
            [month] => 8
            [post_type] => post
        )

    [1055] => stdClass Object
        (
            [slug] => american-girl
            [ID] => 54236
            [post_name] => pretty-happy-funny-real-from-my-iphone
            [post_title] => {pretty, happy, funny, real} :: From My iPhone
            [post_author] => 3
            [post_date] => 2013-08-29 16:37:00
            [year] => 2013
            [month] => 8
            [post_type] => post
        )

    [1056] => stdClass Object
        (
            [slug] => alphabet-path
            [ID] => 54237
            [post_name] => c-is-for-cookies-corn-cowboys-and-church
            [post_title] => "C" is for Cookies, Corn, Cowboys, and The Church!
            [post_author] => 3
            [post_date] => 2013-08-28 19:10:00
            [year] => 2013
            [month] => 8
            [post_type] => post
        )

    [1057] => stdClass Object
        (
            [slug] => books
            [ID] => 54238
            [post_name] => a-few-memories-and-childhood-treasure
            [post_title] => A Few Memories and a Childhood Treasure
            [post_author] => 3
            [post_date] => 2013-08-28 04:07:00
            [year] => 2013
            [month] => 8
            [post_type] => post
        )

    [1058] => stdClass Object
        (
            [slug] => precious-moments-07
            [ID] => 54239
            [post_name] => a-couple-home-videos
            [post_title] => A Couple Home Videos...
            [post_author] => 3
            [post_date] => 2013-08-26 22:51:00
            [year] => 2013
            [month] => 8
            [post_type] => post
        )

    [1059] => stdClass Object
        (
            [slug] => recipes
            [ID] => 54240
            [post_name] => seven-quick-takes-from-our-trip-last
            [post_title] => Seven Quick Takes From Our Trip Last Weekend
            [post_author] => 3
            [post_date] => 2013-08-23 18:40:00
            [year] => 2013
            [month] => 8
            [post_type] => post
        )

    [1060] => stdClass Object
        (
            [slug] => playing-mass
            [ID] => 54241
            [post_name] => in-nomine-patris-et-filii-et-spiritus
            [post_title] => In nomine Patris, et Filii, et Spiritus Sancti...
            [post_author] => 3
            [post_date] => 2013-08-21 23:01:00
            [year] => 2013
            [month] => 8
            [post_type] => post
        )

    [1061] => stdClass Object
        (
            [slug] => altar-boys
            [ID] => 54242
            [post_name] => our-goddaughters-holy-sacrament-of
            [post_title] => Our Goddaughter's Holy Sacrament of Baptism
            [post_author] => 3
            [post_date] => 2013-08-20 17:20:00
            [year] => 2013
            [month] => 8
            [post_type] => post
        )

    [1062] => stdClass Object
        (
            [slug] => poetry
            [ID] => 54243
            [post_name] => the-assumption
            [post_title] => Celebrating the Assumption
            [post_author] => 3
            [post_date] => 2013-08-16 04:33:00
            [year] => 2013
            [month] => 8
            [post_type] => post
        )

    [1063] => stdClass Object
        (
            [slug] => kids-artwork
            [ID] => 54244
            [post_name] => celebrating-feast-of-st-maximilian-kolbe
            [post_title] => Celebrating the Feast of St. Maximilian Kolbe
            [post_author] => 3
            [post_date] => 2013-08-15 06:51:00
            [year] => 2013
            [month] => 8
            [post_type] => post
        )

    [1064] => stdClass Object
        (
            [slug] => latin-mass
            [ID] => 54245
            [post_name] => video-highlights-from-our-3rd-latin-mass
            [post_title] => Video Highlights From Our 3rd Latin Mass
            [post_author] => 3
            [post_date] => 2013-08-15 04:02:00
            [year] => 2013
            [month] => 8
            [post_type] => post
        )

    [1065] => stdClass Object
        (
            [slug] => picture-books
            [ID] => 54246
            [post_name] => summer-daybook-august-13-2013
            [post_title] => Summer Daybook :: August 13 and 14, 2013
            [post_author] => 3
            [post_date] => 2013-08-14 15:56:00
            [year] => 2013
            [month] => 8
            [post_type] => post
        )

    [1066] => stdClass Object
        (
            [slug] => giveaway
            [ID] => 54247
            [post_name] => curriculum-sale-blog-hop-thank-you
            [post_title] => Curriculum Sale Blog Hop :: Thank You & Giveaway!
            [post_author] => 3
            [post_date] => 2013-08-09 18:04:00
            [year] => 2013
            [month] => 8
            [post_type] => post
        )

    [1067] => stdClass Object
        (
            [slug] => precious-moments-07
            [ID] => 54248
            [post_name] => a-boy-and-his-blocks
            [post_title] => A Boy and His Blocks
            [post_author] => 3
            [post_date] => 2013-08-09 16:06:00
            [year] => 2013
            [month] => 8
            [post_type] => post
        )

    [1068] => stdClass Object
        (
            [slug] => precious-moments-01
            [ID] => 54249
            [post_name] => pretty-happy-funny-real
            [post_title] => {pretty, happy, funny, real}
            [post_author] => 3
            [post_date] => 2013-08-08 17:07:00
            [year] => 2013
            [month] => 8
            [post_type] => post
        )

    [1069] => stdClass Object
        (
            [slug] => latin-mass
            [ID] => 54250
            [post_name] => smokey-summer-daybook-august-7-2013
            [post_title] => Smokey Summer Daybook :: August 7, 2013
            [post_author] => 3
            [post_date] => 2013-08-08 06:00:00
            [year] => 2013
            [month] => 8
            [post_type] => post
        )

    [1070] => stdClass Object
        (
            [slug] => book-sale
            [ID] => 54251
            [post_name] => 2013-Curriculum-Sale-Blog-Hop
            [post_title] => 3rd Annual Online Curriculum Sale Blog Hop
            [post_author] => 3
            [post_date] => 2013-08-06 09:05:00
            [year] => 2013
            [month] => 8
            [post_type] => post
        )

    [1071] => stdClass Object
        (
            [slug] => book-sale
            [ID] => 54252
            [post_name] => one-more-used-book-sale-listing-books
            [post_title] => One Last Used Book Sale {Listing Books for my Mom}
            [post_author] => 3
            [post_date] => 2013-08-06 09:01:00
            [year] => 2013
            [month] => 8
            [post_type] => post
        )

    [1072] => stdClass Object
        (
            [slug] => book-sale
            [ID] => 54253
            [post_name] => our-2013-used-book-sale-2
            [post_title] => Our 2013 Used Book Sale #2
            [post_author] => 3
            [post_date] => 2013-08-03 21:49:00
            [year] => 2013
            [month] => 8
            [post_type] => post
        )

    [1073] => stdClass Object
        (
            [slug] => book-sale
            [ID] => 54254
            [post_name] => our-2013-used-book-sale
            [post_title] => Our 2013 Used Book Sale
            [post_author] => 3
            [post_date] => 2013-08-01 19:34:00
            [year] => 2013
            [month] => 8
            [post_type] => post
        )

    [1074] => stdClass Object
        (
            [slug] => mount-rushmore
            [ID] => 54255
            [post_name] => industrial-revolution-through-great_31
            [post_title] => Industrial Revolution through the Great Depression Unit Study and Lap Book
            [post_author] => 3
            [post_date] => 2013-07-31 16:16:00
            [year] => 2013
            [month] => 7
            [post_type] => post
        )

    [1075] => stdClass Object
        (
            [slug] => uncategorized
            [ID] => 54257
            [post_name] => summer-daybook-july-29-2013
            [post_title] => Summer Daybook :: July 29, 2013
            [post_author] => 3
            [post_date] => 2013-07-29 20:45:00
            [year] => 2013
            [month] => 7
            [post_type] => post
        )

    [1076] => stdClass Object
        (
            [slug] => wildfire
            [ID] => 54258
            [post_name] => wildfire
            [post_title] => Wildfire
            [post_author] => 3
            [post_date] => 2013-07-28 16:26:00
            [year] => 2013
            [month] => 7
            [post_type] => post
        )

    [1077] => stdClass Object
        (
            [slug] => wildfire
            [ID] => 54259
            [post_name] => fire-season
            [post_title] => Fire Season
            [post_author] => 3
            [post_date] => 2013-07-27 14:13:00
            [year] => 2013
            [month] => 7
            [post_type] => post
        )

    [1078] => stdClass Object
        (
            [slug] => precious-moments-07
            [ID] => 54260
            [post_name] => 7-quick-takes-on-feast-of-sts-joachim
            [post_title] => 7 Quick Takes on the Feast of Sts. Joachim and Anne
            [post_author] => 3
            [post_date] => 2013-07-26 20:13:00
            [year] => 2013
            [month] => 7
            [post_type] => post
        )

    [1079] => stdClass Object
        (
            [slug] => saints
            [ID] => 54261
            [post_name] => on-feast-of-st-james
            [post_title] => On the Feast of St. James
            [post_author] => 3
            [post_date] => 2013-07-26 01:27:00
            [year] => 2013
            [month] => 7
            [post_type] => post
        )

    [1080] => stdClass Object
        (
            [slug] => home-sweet-home
            [ID] => 54262
            [post_name] => the-boys-bedroom-and-triple-bunk-bed
            [post_title] => The Boys' Bedroom and Triple Bunk Bed
            [post_author] => 3
            [post_date] => 2013-07-24 16:09:00
            [year] => 2013
            [month] => 7
            [post_type] => post
        )

    [1081] => stdClass Object
        (
            [slug] => birthday-parties
            [ID] => 54263
            [post_name] => a-long-expected-party
            [post_title] => A Long Expected Party
            [post_author] => 3
            [post_date] => 2013-07-23 07:00:00
            [year] => 2013
            [month] => 7
            [post_type] => post
        )

    [1082] => stdClass Object
        (
            [slug] => birthday-parties
            [ID] => 54264
            [post_name] => one-ring-to-rule-them-all
            [post_title] => One Ring to Rule Them All
            [post_author] => 3
            [post_date] => 2013-07-22 07:00:00
            [year] => 2013
            [month] => 7
            [post_type] => post
        )

    [1083] => stdClass Object
        (
            [slug] => precious-moments-01
            [ID] => 54265
            [post_name] => no-admittance-except-on-party-business
            [post_title] => No Admittance Except on Party Business
            [post_author] => 3
            [post_date] => 2013-07-20 20:49:00
            [year] => 2013
            [month] => 7
            [post_type] => post
        )

    [1084] => stdClass Object
        (
            [slug] => american-history
            [ID] => 54266
            [post_name] => the-civil-war-unit-study-and-lap-book
            [post_title] => The Civil War Unit Study and Lap Book
            [post_author] => 3
            [post_date] => 2013-07-18 22:46:00
            [year] => 2013
            [month] => 7
            [post_type] => post
        )

    [1085] => stdClass Object
        (
            [slug] => precious-moments-05
            [ID] => 54267
            [post_name] => pretty-happy-funny-real_18
            [post_title] => {pretty, happy, funny, real}
            [post_author] => 3
            [post_date] => 2013-07-18 19:36:00
            [year] => 2013
            [month] => 7
            [post_type] => post
        )

    [1086] => stdClass Object
        (
            [slug] => sewing
            [ID] => 54268
            [post_name] => headtime-story-kids-sewing-101
            [post_title] => Headtime Story :: Kids' Sewing 101
            [post_author] => 3
            [post_date] => 2013-07-10 04:49:00
            [year] => 2013
            [month] => 7
            [post_type] => post
        )

    [1087] => stdClass Object
        (
            [slug] => july-4th
            [ID] => 54269
            [post_name] => celebrating-4th-of-july_5
            [post_title] => Celebrating the 4th of July
            [post_author] => 3
            [post_date] => 2013-07-05 23:46:00
            [year] => 2013
            [month] => 7
            [post_type] => post
        )

    [1088] => stdClass Object
        (
            [slug] => cake-decorating
            [ID] => 54270
            [post_name] => star-spangled-berry-cake
            [post_title] => Star Spangled Berry Cake
            [post_author] => 3
            [post_date] => 2013-07-05 18:03:00
            [year] => 2013
            [month] => 7
            [post_type] => post
        )

    [1089] => stdClass Object
        (
            [slug] => parade
            [ID] => 54272
            [post_name] => pretty-happy-funny-real
            [post_title] => {pretty, happy, funny, real}
            [post_author] => 3
            [post_date] => 2013-07-04 14:43:00
            [year] => 2013
            [month] => 7
            [post_type] => post
        )

    [1090] => stdClass Object
        (
            [slug] => uncategorized
            [ID] => 54273
            [post_name] => a-virtual-baby-shower-for-sarah-and-her
            [post_title] => A Virtual Baby Shower for Sarah and her TWINS!
            [post_author] => 3
            [post_date] => 2013-07-01 16:46:00
            [year] => 2013
            [month] => 7
            [post_type] => post
        )

    [1091] => stdClass Object
        (
            [slug] => organization
            [ID] => 54274
            [post_name] => the-2014-saints-calendar-16-month
            [post_title] => The 2014 Saints Calendar & 16-Month Planner
            [post_author] => 3
            [post_date] => 2013-06-29 15:17:00
            [year] => 2013
            [month] => 6
            [post_type] => post
        )

    [1092] => stdClass Object
        (
            [slug] => field-trips
            [ID] => 54275
            [post_name] => tidepooling
            [post_title] => Tidepooling
            [post_author] => 3
            [post_date] => 2013-06-27 16:30:00
            [year] => 2013
            [month] => 6
            [post_type] => post
        )

    [1093] => stdClass Object
        (
            [slug] => pacific-ocean
            [ID] => 54276
            [post_name] => another-trip-to-ocean
            [post_title] => Another Trip to the Ocean
            [post_author] => 3
            [post_date] => 2013-06-27 16:27:00
            [year] => 2013
            [month] => 6
            [post_type] => post
        )

    [1094] => stdClass Object
        (
            [slug] => precious-moments-07
            [ID] => 54277
            [post_name] => pretty-happy-funny-real_27
            [post_title] => {pretty, happy, funny, real}
            [post_author] => 3
            [post_date] => 2013-06-27 16:25:00
            [year] => 2013
            [month] => 6
            [post_type] => post
        )

    [1095] => stdClass Object
        (
            [slug] => marian
            [ID] => 54278
            [post_name] => if-only
            [post_title] => If Only
            [post_author] => 3
            [post_date] => 2013-06-27 02:16:00
            [year] => 2013
            [month] => 6
            [post_type] => post
        )

    [1096] => stdClass Object
        (
            [slug] => birthday-parties
            [ID] => 54279
            [post_name] => hi-yo-silver-lone-ranger-birthday-party
            [post_title] => Hi-Yo Silver!  A Lone Ranger Birthday Party
            [post_author] => 3
            [post_date] => 2013-06-26 22:22:00
            [year] => 2013
            [month] => 6
            [post_type] => post
        )

    [1097] => stdClass Object
        (
            [slug] => birthday-parties
            [ID] => 54280
            [post_name] => a-campfire-cake
            [post_title] => A Lone Ranger Campfire Cake
            [post_author] => 3
            [post_date] => 2013-06-22 18:39:00
            [year] => 2013
            [month] => 6
            [post_type] => post
        )

    [1098] => stdClass Object
        (
            [slug] => birthday-parties
            [ID] => 54281
            [post_name] => on-first-day-of-summer
            [post_title] => On the First Day of Summer...
            [post_author] => 3
            [post_date] => 2013-06-21 16:08:00
            [year] => 2013
            [month] => 6
            [post_type] => post
        )

    [1099] => stdClass Object
        (
            [slug] => precious-moments-03
            [ID] => 54282
            [post_name] => pretty-happy-funny-real
            [post_title] => {pretty, happy, funny, real}
            [post_author] => 3
            [post_date] => 2013-06-20 17:59:00
            [year] => 2013
            [month] => 6
            [post_type] => post
        )

    [1100] => stdClass Object
        (
            [slug] => home-education
            [ID] => 54284
            [post_name] => end-of-school-interviews
            [post_title] => End-of-School Interviews for 2012-2013
            [post_author] => 3
            [post_date] => 2013-06-12 21:10:00
            [year] => 2013
            [month] => 6
            [post_type] => post
        )

    [1101] => stdClass Object
        (
            [slug] => books
            [ID] => 54285
            [post_name] => our-neumann-press-book-collection
            [post_title] => Our Neumann Press Book Collection
            [post_author] => 3
            [post_date] => 2013-06-09 21:43:00
            [year] => 2013
            [month] => 6
            [post_type] => post
        )

    [1102] => stdClass Object
        (
            [slug] => marian
            [ID] => 54286
            [post_name] => the-catholic-child-and-blessed-virgin
            [post_title] => The Catholic Child and The Blessed Virgin
            [post_author] => 3
            [post_date] => 2013-06-09 03:10:00
            [year] => 2013
            [month] => 6
            [post_type] => post
        )

    [1103] => stdClass Object
        (
            [slug] => prayers-for-children
            [ID] => 54287
            [post_name] => the-catholic-child-and-sacred-heart
            [post_title] => The Catholic Child and the Sacred Heart
            [post_author] => 3
            [post_date] => 2013-06-08 05:34:00
            [year] => 2013
            [month] => 6
            [post_type] => post
        )

    [1104] => stdClass Object
        (
            [slug] => summer
            [ID] => 54288
            [post_name] => great-suggestions-for-incredible-summer
            [post_title] => Great Suggestions for an Incredible Summer
            [post_author] => 3
            [post_date] => 2013-06-07 00:59:00
            [year] => 2013
            [month] => 6
            [post_type] => post
        )

    [1105] => stdClass Object
        (
            [slug] => phfr
            [ID] => 54289
            [post_name] => Hadley-HopeFundraiser
            [post_title] => {pretty, happy, funny, real} :: Vegas in the Valley!
            [post_author] => 3
            [post_date] => 2013-06-06 17:56:00
            [year] => 2013
            [month] => 6
            [post_type] => post
        )

    [1106] => stdClass Object
        (
            [slug] => picture-books
            [ID] => 54290
            [post_name] => my-daybook-june-4-2013
            [post_title] => My Daybook :: June 4, 2013
            [post_author] => 3
            [post_date] => 2013-06-05 04:58:00
            [year] => 2013
            [month] => 6
            [post_type] => post
        )

    [1107] => stdClass Object
        (
            [slug] => state-by-state
            [ID] => 54291
            [post_name] => state-by-state-baking-maines-white-pine
            [post_title] => State-by-State Baking :: Maine's White Pine Cone and Tassel Snack
            [post_author] => 3
            [post_date] => 2013-06-03 22:31:00
            [year] => 2013
            [month] => 6
            [post_type] => post
        )

    [1108] => stdClass Object
        (
            [slug] => state-by-state
            [ID] => 54292
            [post_name] => state-by-state-scrapbook-maine
            [post_title] => State-by-State Scrapbook :: Maine
            [post_author] => 3
            [post_date] => 2013-06-03 21:12:00
            [year] => 2013
            [month] => 6
            [post_type] => post
        )

    [1109] => stdClass Object
        (
            [slug] => phfr
            [ID] => 54293
            [post_name] => pretty-happy-funny-real-beautiful-smiles
            [post_title] => {pretty, happy, funny, real} :: Beautiful Smiles!
            [post_author] => 3
            [post_date] => 2013-06-01 06:30:00
            [year] => 2013
            [month] => 6
            [post_type] => post
        )

    [1110] => stdClass Object
        (
            [slug] => mothers-day
            [ID] => 54295
            [post_name] => blessed-locket-for-mothers-day
            [post_title] => Blessed :: A Locket for Mother's Day!
            [post_author] => 3
            [post_date] => 2013-05-28 17:17:00
            [year] => 2013
            [month] => 5
            [post_type] => post
        )

    [1111] => stdClass Object
        (
            [slug] => picture-books
            [ID] => 54296
            [post_name] => a-saturday-morning-in-may
            [post_title] => A Saturday Morning in May
            [post_author] => 3
            [post_date] => 2013-05-26 05:14:00
            [year] => 2013
            [month] => 5
            [post_type] => post
        )

    [1112] => stdClass Object
        (
            [slug] => pentecost
            [ID] => 54297
            [post_name] => pretty-happy-funny-real_24
            [post_title] => {pretty, happy, funny, real}
            [post_author] => 3
            [post_date] => 2013-05-24 17:58:00
            [year] => 2013
            [month] => 5
            [post_type] => post
        )

    [1113] => stdClass Object
        (
            [slug] => precious-moments-07
            [ID] => 54298
            [post_name] => celebrating-pentecost-birthday-of-church
            [post_title] => Celebrating Pentecost, the Birthday of the Church
            [post_author] => 3
            [post_date] => 2013-05-20 18:00:00
            [year] => 2013
            [month] => 5
            [post_type] => post
        )

    [1114] => stdClass Object
        (
            [slug] => christmas-picture-books
            [ID] => 54299
            [post_name] => bargain-priced-books
            [post_title] => Bargain Priced Books Illustrated by Gennady Spirin
            [post_author] => 3
            [post_date] => 2013-05-19 00:48:00
            [year] => 2013
            [month] => 5
            [post_type] => post
        )

    [1115] => stdClass Object
        (
            [slug] => curriculum
            [ID] => 54300
            [post_name] => seven-not-so-quick-takes-our-school
            [post_title] => Seven Not-So-Quick Takes :: Our School Year in Review and a Few of Our Plans for Next Year
            [post_author] => 3
            [post_date] => 2013-05-17 17:51:00
            [year] => 2013
            [month] => 5
            [post_type] => post
        )

    [1116] => stdClass Object
        (
            [slug] => reviews
            [ID] => 54301
            [post_name] => benedictines-of-mary-angels-and-saints
            [post_title] => Benedictines of Mary Angels and Saints at Ephesus Debuts At #1 Classical Traditional Chart
            [post_author] => 3
            [post_date] => 2013-05-16 19:06:00
            [year] => 2013
            [month] => 5
            [post_type] => post
        )

    [1117] => stdClass Object
        (
            [slug] => golf
            [ID] => 54302
            [post_name] => pretty-happy-funny-real-2013-state-high
            [post_title] => {pretty, happy, funny, real} :: 2013 State High School Golf Championships
            [post_author] => 3
            [post_date] => 2013-05-15 22:13:00
            [year] => 2013
            [month] => 5
            [post_type] => post
        )

    [1118] => stdClass Object
        (
            [slug] => prayer
            [ID] => 54303
            [post_name] => on-mothers-day
            [post_title] => On Mother's Day
            [post_author] => 3
            [post_date] => 2013-05-12 21:37:00
            [year] => 2013
            [month] => 5
            [post_type] => post
        )

    [1119] => stdClass Object
        (
            [slug] => ascension
            [ID] => 54304
            [post_name] => our-2013-annual-ascension-thursday
            [post_title] => Our 2013 Annual Ascension Thursday Picnic
            [post_author] => 3
            [post_date] => 2013-05-10 17:04:00
            [year] => 2013
            [month] => 5
            [post_type] => post
        )

    [1120] => stdClass Object
        (
            [slug] => lego
            [ID] => 54305
            [post_name] => pretty-happy-funny-real_10
            [post_title] => {pretty, happy, funny, real}
            [post_author] => 3
            [post_date] => 2013-05-10 16:06:00
            [year] => 2013
            [month] => 5
            [post_type] => post
        )

    [1121] => stdClass Object
        (
            [slug] => marian
            [ID] => 54306
            [post_name] => may-magnificat
            [post_title] => The May Magnificat {and Giveaway Winners!}
            [post_author] => 3
            [post_date] => 2013-05-07 00:31:00
            [year] => 2013
            [month] => 5
            [post_type] => post
        )

    [1122] => stdClass Object
        (
            [slug] => precious-moments-03
            [ID] => 54307
            [post_name] => pretty-happy-funny-real
            [post_title] => {pretty, happy, funny, real}
            [post_author] => 3
            [post_date] => 2013-05-03 19:15:00
            [year] => 2013
            [month] => 5
            [post_type] => post
        )

    [1123] => stdClass Object
        (
            [slug] => marian
            [ID] => 54308
            [post_name] => may-day-giveaway
            [post_title] => May Day Giveaway in Honor of Our Queen and Mother
            [post_author] => 3
            [post_date] => 2013-05-02 04:48:00
            [year] => 2013
            [month] => 5
            [post_type] => post
        )

    [1124] => stdClass Object
        (
            [slug] => latin-mass
            [ID] => 54309
            [post_name] => catholic-planners
            [post_title] => Catholic Daily Planners and the Church Calendar
            [post_author] => 3
            [post_date] => 2013-04-29 18:32:00
            [year] => 2013
            [month] => 4
            [post_type] => post
        )

    [1125] => stdClass Object
        (
            [slug] => latin-mass
            [ID] => 54310
            [post_name] => altar-boy-resources
            [post_title] => Altar Boy Resources
            [post_author] => 3
            [post_date] => 2013-04-28 18:19:00
            [year] => 2013
            [month] => 4
            [post_type] => post
        )

    [1126] => stdClass Object
        (
            [slug] => precious-moments-07
            [ID] => 54311
            [post_name] => pretty-happy-funny-real_25
            [post_title] => {pretty, happy, funny, real}
            [post_author] => 3
            [post_date] => 2013-04-26 04:52:00
            [year] => 2013
            [month] => 4
            [post_type] => post
        )

    [1127] => stdClass Object
        (
            [slug] => books
            [ID] => 54312
            [post_name] => please-pray-for-soul-of-neumann-press
            [post_title] => Please Pray for the Soul of Neumann Press Founder
            [post_author] => 3
            [post_date] => 2013-04-25 15:35:00
            [year] => 2013
            [month] => 4
            [post_type] => post
        )

    [1128] => stdClass Object
        (
            [slug] => kids-in-the-kitchen
            [ID] => 54313
            [post_name] => saint-george-and-dragon-3-d-sugar
            [post_title] => Saint George and the Dragon :: A 3-D Sugar Cookie Story Quilt
            [post_author] => 3
            [post_date] => 2013-04-25 03:42:00
            [year] => 2013
            [month] => 4
            [post_type] => post
        )

    [1129] => stdClass Object
        (
            [slug] => american-girl
            [ID] => 54314
            [post_name] => feliz-cumpleanos-chiquita-josefina
            [post_title] => Feliz Cumpleaños Chiquita :: A "Josefina" Birthday!
            [post_author] => 3
            [post_date] => 2013-04-23 18:19:00
            [year] => 2013
            [month] => 4
            [post_type] => post
        )

    [1130] => stdClass Object
        (
            [slug] => american-girl
            [ID] => 54315
            [post_name] => josefina-birthday-cake
            [post_title] => Josefina's Primroses in a Pouch Birthday Cake
            [post_author] => 3
            [post_date] => 2013-04-21 19:41:00
            [year] => 2013
            [month] => 4
            [post_type] => post
        )

    [1131] => stdClass Object
        (
            [slug] => teatime
            [ID] => 54316
            [post_name] => our-annual-little-flowers-mother
            [post_title] => Our Annual Little Flowers Mother-Daughter Tea Party
            [post_author] => 3
            [post_date] => 2013-04-18 18:14:00
            [year] => 2013
            [month] => 4
            [post_type] => post
        )

    [1132] => stdClass Object
        (
            [slug] => art
            [ID] => 54317
            [post_name] => pretty-happy-funny-real
            [post_title] => {pretty, happy, funny, real}
            [post_author] => 3
            [post_date] => 2013-04-18 18:12:00
            [year] => 2013
            [month] => 4
            [post_type] => post
        )

    [1133] => stdClass Object
        (
            [slug] => party-games
            [ID] => 54318
            [post_name] => indoor-tea-party-games
            [post_title] => Indoor Tea Party Games
            [post_author] => 3
            [post_date] => 2013-04-17 16:34:00
            [year] => 2013
            [month] => 4
            [post_type] => post
        )

    [1134] => stdClass Object
        (
            [slug] => pentecost
            [ID] => 54319
            [post_name] => the-maypole-and-beauty-of-our-catholic
            [post_title] => The Maypole and our Beautiful Catholic Faith
            [post_author] => 3
            [post_date] => 2013-04-16 18:32:00
            [year] => 2013
            [month] => 4
            [post_type] => post
        )

    [1135] => stdClass Object
        (
            [slug] => party-games
            [ID] => 54320
            [post_name] => the-game-of-graces
            [post_title] => The Game of Graces
            [post_author] => 3
            [post_date] => 2013-04-16 15:57:00
            [year] => 2013
            [month] => 4
            [post_type] => post
        )

    [1136] => stdClass Object
        (
            [slug] => party-games
            [ID] => 54321
            [post_name] => beginning-with-bocce-ball-and-few-group
            [post_title] => Beginning with Bocce Ball {and a few Group Photos!}
            [post_author] => 3
            [post_date] => 2013-04-16 05:40:00
            [year] => 2013
            [month] => 4
            [post_type] => post
        )

    [1137] => stdClass Object
        (
            [slug] => st-therese
            [ID] => 54322
            [post_name] => maypole-tea-party-favor
            [post_title] => Little Flowers "Maypole" Tea Party Favors and Prizes
            [post_author] => 3
            [post_date] => 2013-04-15 23:39:00
            [year] => 2013
            [month] => 4
            [post_type] => post
        )

    [1138] => stdClass Object
        (
            [slug] => birthday-parties
            [ID] => 54323
            [post_name] => 7-quick-takes-birthday-party-and-pony
            [post_title] => 7 Quick Takes :: A Birthday Party and Pony Rides!
            [post_author] => 3
            [post_date] => 2013-04-13 05:39:00
            [year] => 2013
            [month] => 4
            [post_type] => post
        )

    [1139] => stdClass Object
        (
            [slug] => field-trips
            [ID] => 54324
            [post_name] => pretty-happy-funny-real-sound-of-music
            [post_title] => {pretty, happy, funny, real} :: The Sound of Music
            [post_author] => 3
            [post_date] => 2013-04-12 17:16:00
            [year] => 2013
            [month] => 4
            [post_type] => post
        )

    [1140] => stdClass Object
        (
            [slug] => easter
            [ID] => 54325
            [post_name] => an-easter-coloring-contest
            [post_title] => An Easter Coloring Contest
            [post_author] => 3
            [post_date] => 2013-04-10 21:48:00
            [year] => 2013
            [month] => 4
            [post_type] => post
        )

    [1141] => stdClass Object
        (
            [slug] => party-games
            [ID] => 54326
            [post_name] => little-flowers-girls-club-tea-party
            [post_title] => Little Flowers Girls' Club Tea Party Games
            [post_author] => 3
            [post_date] => 2013-04-09 21:07:00
            [year] => 2013
            [month] => 4
            [post_type] => post
        )

    [1142] => stdClass Object
        (
            [slug] => reviews
            [ID] => 54327
            [post_name] => a-brand-new-release-from-benedictines
            [post_title] => A Brand New Release from the Benedictines of Mary
            [post_author] => 3
            [post_date] => 2013-04-09 06:07:00
            [year] => 2013
            [month] => 4
            [post_type] => post
        )

    [1143] => stdClass Object
        (
            [slug] => divine-mercy
            [ID] => 54328
            [post_name] => on-divine-mercy-sunday
            [post_title] => On Divine Mercy Sunday
            [post_author] => 3
            [post_date] => 2013-04-08 00:45:00
            [year] => 2013
            [month] => 4
            [post_type] => post
        )

    [1144] => stdClass Object
        (
            [slug] => easter
            [ID] => 54329
            [post_name] => on-easter-morning-our-2013-easter
            [post_title] => On Easter Morning {Our 2013 Easter Baskets!}
            [post_author] => 3
            [post_date] => 2013-04-07 17:48:00
            [year] => 2013
            [month] => 4
            [post_type] => post
        )

    [1145] => stdClass Object
        (
            [slug] => books
            [ID] => 54330
            [post_name] => a-couple-more-bargain-priced-books
            [post_title] => A Couple More Bargain Priced Books
            [post_author] => 3
            [post_date] => 2013-04-05 20:53:00
            [year] => 2013
            [month] => 4
            [post_type] => post
        )

    [1146] => stdClass Object
        (
            [slug] => easter
            [ID] => 54331
            [post_name] => seven-quick-easter-takes
            [post_title] => Seven Quick Easter Takes
            [post_author] => 3
            [post_date] => 2013-04-05 18:35:00
            [year] => 2013
            [month] => 4
            [post_type] => post
        )

    [1147] => stdClass Object
        (
            [slug] => cake-decorating
            [ID] => 54332
            [post_name] => pretty-happy-funny-real-2013-easter
            [post_title] => {pretty, happy, funny, real} :: Easter Edition
            [post_author] => 3
            [post_date] => 2013-04-04 05:03:00
            [year] => 2013
            [month] => 4
            [post_type] => post
        )

    [1148] => stdClass Object
        (
            [slug] => easter
            [ID] => 54333
            [post_name] => our-annual-easter-sunday-egg-hunt
            [post_title] => Our Annual Easter Sunday Egg Hunt
            [post_author] => 3
            [post_date] => 2013-04-03 20:17:00
            [year] => 2013
            [month] => 4
            [post_type] => post
        )

    [1149] => stdClass Object
        (
            [slug] => books
            [ID] => 54334
            [post_name] => fyi-great-price-on-brand-new-book
            [post_title] => FYI:  A Great Price on a Brand New Book!
            [post_author] => 3
            [post_date] => 2013-04-03 00:26:00
            [year] => 2013
            [month] => 4
            [post_type] => post
        )

    [1150] => stdClass Object
        (
            [slug] => daybook
            [ID] => 54335
            [post_name] => an-eastertide-daybook-christus
            [post_title] => An Eastertide Daybook: Christus Resurrexit!
            [post_author] => 3
            [post_date] => 2013-04-02 18:54:00
            [year] => 2013
            [month] => 4
            [post_type] => post
        )

    [1151] => stdClass Object
        (
            [slug] => good-friday
            [ID] => 54336
            [post_name] => easter-baking
            [post_title] => Easter Baking
            [post_author] => 3
            [post_date] => 2013-03-30 06:15:00
            [year] => 2013
            [month] => 3
            [post_type] => post
        )

    [1152] => stdClass Object
        (
            [slug] => lent
            [ID] => 54337
            [post_name] => a-childs-way-of-cross
            [post_title] => A Child's Way of the Cross
            [post_author] => 3
            [post_date] => 2013-03-29 20:16:00
            [year] => 2013
            [month] => 3
            [post_type] => post
        )

    [1153] => stdClass Object
        (
            [slug] => daybook
            [ID] => 54338
            [post_name] => my-daybook-march-24th-2013
            [post_title] => My Daybook :: March 24th, 2013
            [post_author] => 3
            [post_date] => 2013-03-27 02:47:00
            [year] => 2013
            [month] => 3
            [post_type] => post
        )

    [1154] => stdClass Object
        (
            [slug] => reviews
            [ID] => 54339
            [post_name] => blessed-with-baskets-of-books-for-easter
            [post_title] => Blessed with Baskets of Books for Easter
            [post_author] => 3
            [post_date] => 2013-03-22 19:41:00
            [year] => 2013
            [month] => 3
            [post_type] => post
        )

    [1155] => stdClass Object
        (
            [slug] => st-patricks-day
            [ID] => 54340
            [post_name] => pretty-happy-funny-real
            [post_title] => {pretty, happy, funny, real}
            [post_author] => 3
            [post_date] => 2013-03-22 01:55:00
            [year] => 2013
            [month] => 3
            [post_type] => post
        )

    [1156] => stdClass Object
        (
            [slug] => precious-moments-01
            [ID] => 54341
            [post_name] => we-have-pope-lego-edition
            [post_title] => We Have A Pope! :: Lego Edition
            [post_author] => 3
            [post_date] => 2013-03-20 17:18:00
            [year] => 2013
            [month] => 3
            [post_type] => post
        )

    [1157] => stdClass Object
        (
            [slug] => st-joseph
            [ID] => 54342
            [post_name] => our-2013-st-josephs-altar
            [post_title] => Our 2013 St. Joseph Altar
            [post_author] => 3
            [post_date] => 2013-03-20 07:29:00
            [year] => 2013
            [month] => 3
            [post_type] => post
        )

    [1158] => stdClass Object
        (
            [slug] => st-joseph
            [ID] => 54343
            [post_name] => on-feast-of-st-joseph
            [post_title] => On the Feast of St. Joseph
            [post_author] => 3
            [post_date] => 2013-03-20 03:23:00
            [year] => 2013
            [month] => 3
            [post_type] => post
        )

    [1159] => stdClass Object
        (
            [slug] => st-patricks-day
            [ID] => 54344
            [post_name] => irish-dancing-on-st-patricks-day
            [post_title] => Irish Dancing on St. Patrick's Day
            [post_author] => 3
            [post_date] => 2013-03-18 21:03:00
            [year] => 2013
            [month] => 3
            [post_type] => post
        )

    [1160] => stdClass Object
        (
            [slug] => giveaway
            [ID] => 54345
            [post_name] => the-lucky-winner
            [post_title] => The Lucky Winner...
            [post_author] => 3
            [post_date] => 2013-03-18 06:55:00
            [year] => 2013
            [month] => 3
            [post_type] => post
        )

    [1161] => stdClass Object
        (
            [slug] => pope-francis
            [ID] => 54347
            [post_name] => 7-quick-takes-habemus-papam
            [post_title] => 7 Quick Takes :: Habemus Papam!
            [post_author] => 3
            [post_date] => 2013-03-15 22:30:00
            [year] => 2013
            [month] => 3
            [post_type] => post
        )

    [1162] => stdClass Object
        (
            [slug] => papal-unit-study
            [ID] => 54349
            [post_name] => papal-lap-book-unit-three-hierarchy-of
            [post_title] => Papal Lap Book Unit Three: The Hierarchy of the Catholic Church
            [post_author] => 3
            [post_date] => 2013-03-13 06:47:00
            [year] => 2013
            [month] => 3
            [post_type] => post
        )

    [1163] => stdClass Object
        (
            [slug] => fssp
            [ID] => 54351
            [post_name] => jacobs-toy-box-review-easter-give-away
            [post_title] => Jacob's Toy Box {A Review & Easter Give-away!}
            [post_author] => 3
            [post_date] => 2013-03-11 22:31:00
            [year] => 2013
            [month] => 3
            [post_type] => post
        )

    [1164] => stdClass Object
        (
            [slug] => state-by-state
            [ID] => 54352
            [post_name] => state-by-state-baking-alabama-fried
            [post_title] => State-by-State Baking :: Alabama Fried Cherry Pies
            [post_author] => 3
            [post_date] => 2013-03-11 04:19:00
            [year] => 2013
            [month] => 3
            [post_type] => post
        )

    [1165] => stdClass Object
        (
            [slug] => state-by-state
            [ID] => 54353
            [post_name] => state-by-state-scrapbook-alabama
            [post_title] => State-by-State Scrapbook :: Alabama
            [post_author] => 3
            [post_date] => 2013-03-11 04:14:00
            [year] => 2013
            [month] => 3
            [post_type] => post
        )

    [1166] => stdClass Object
        (
            [slug] => home-sweet-home
            [ID] => 54354
            [post_name] => organizing-our-little-school-room
            [post_title] => Our Little School Room
            [post_author] => 3
            [post_date] => 2013-03-08 23:13:00
            [year] => 2013
            [month] => 3
            [post_type] => post
        )

    [1167] => stdClass Object
        (
            [slug] => this-moment
            [ID] => 54355
            [post_name] => this-moment
            [post_title] => {this moment}
            [post_author] => 3
            [post_date] => 2013-03-08 06:35:00
            [year] => 2013
            [month] => 3
            [post_type] => post
        )

    [1168] => stdClass Object
        (
            [slug] => papal-unit-study
            [ID] => 54356
            [post_name] => papal-lap-book-unit-two-holy-fathers
            [post_title] => Papal Lap Book Unit Two: The Holy Fathers, Past and Present
            [post_author] => 3
            [post_date] => 2013-03-07 05:18:00
            [year] => 2013
            [month] => 3
            [post_type] => post
        )

    [1169] => stdClass Object
        (
            [slug] => picture-books
            [ID] => 54357
            [post_name] => our-lent-easter-book-baskets
            [post_title] => Our Lent & Easter Book Baskets
            [post_author] => 3
            [post_date] => 2013-03-05 04:30:00
            [year] => 2013
            [month] => 3
            [post_type] => post
        )

    [1170] => stdClass Object
        (
            [slug] => precious-moments-07
            [ID] => 54358
            [post_name] => on-church-steps
            [post_title] => On the Church Steps...
            [post_author] => 3
            [post_date] => 2013-03-02 22:31:00
            [year] => 2013
            [month] => 3
            [post_type] => post
        )

    [1171] => stdClass Object
        (
            [slug] => timeline
            [ID] => 54359
            [post_name] => papal-lap-book-unit-one-st-peter-first
            [post_title] => Papal Lap Book Unit One: St. Peter, The First Pope
            [post_author] => 3
            [post_date] => 2013-02-28 04:39:00
            [year] => 2013
            [month] => 2
            [post_type] => post
        )

    [1172] => stdClass Object
        (
            [slug] => books
            [ID] => 54360
            [post_name] => papal-unit-study
            [post_title] => The Primacy of Peter: A Papal Unit Study & Lap Book
            [post_author] => 3
            [post_date] => 2013-02-25 11:50:00
            [year] => 2013
            [month] => 2
            [post_type] => post
        )

    [1173] => stdClass Object
        (
            [slug] => lap-books
            [ID] => 54361
            [post_name] => 7-quick-takes-on-feast-of-chair-of-st
            [post_title] => 7 Quick Takes on the Feast of the Chair of St. Peter
            [post_author] => 3
            [post_date] => 2013-02-23 01:15:00
            [year] => 2013
            [month] => 2
            [post_type] => post
        )

    [1174] => stdClass Object
        (
            [slug] => lent
            [ID] => 54362
            [post_name] => pretty-happy-funny-real-lenten-days
            [post_title] => {pretty, happy, funny, real} :: Lenten Days
            [post_author] => 3
            [post_date] => 2013-02-22 04:09:00
            [year] => 2013
            [month] => 2
            [post_type] => post
        )

    [1175] => stdClass Object
        (
            [slug] => history
            [ID] => 54363
            [post_name] => the-early-19th-century-unit-study-and
            [post_title] => The Early 19th Century Unit Study and Lap Book
            [post_author] => 3
            [post_date] => 2013-02-20 22:52:00
            [year] => 2013
            [month] => 2
            [post_type] => post
        )

    [1176] => stdClass Object
        (
            [slug] => state-by-state
            [ID] => 54364
            [post_name] => state-by-state-baking-illinois-deep
            [post_title] => State-by-State Baking :: Illinois Deep-Dish Pizza
            [post_author] => 3
            [post_date] => 2013-02-20 03:24:00
            [year] => 2013
            [month] => 2
            [post_type] => post
        )

    [1177] => stdClass Object
        (
            [slug] => state-by-state
            [ID] => 54365
            [post_name] => state-by-state-scrapbook-illinois
            [post_title] => State-by-State Scrapbook :: Illinois
            [post_author] => 3
            [post_date] => 2013-02-19 18:02:00
            [year] => 2013
            [month] => 2
            [post_type] => post
        )

    [1178] => stdClass Object
        (
            [slug] => american-girl
            [ID] => 54366
            [post_name] => 1824-josefina-american-girl-lap-book
            [post_title] => 1824 - Josefina :: An American Girl Lap Book and Unit Study
            [post_author] => 3
            [post_date] => 2013-02-18 22:10:00
            [year] => 2013
            [month] => 2
            [post_type] => post
        )

    [1179] => stdClass Object
        (
            [slug] => st-valentines-day
            [ID] => 54367
            [post_name] => celebrating-st-valentines-day-2013
            [post_title] => Celebrating St. Valentine's Day 2013
            [post_author] => 3
            [post_date] => 2013-02-17 22:46:00
            [year] => 2013
            [month] => 2
            [post_type] => post
        )

    [1180] => stdClass Object
        (
            [slug] => precious-moments-07
            [ID] => 54368
            [post_name] => pretty-happy-funny-real-toddler-days
            [post_title] => {pretty, happy, funny, real}  :: Toddler Days
            [post_author] => 3
            [post_date] => 2013-02-17 19:30:00
            [year] => 2013
            [month] => 2
            [post_type] => post
        )

    [1181] => stdClass Object
        (
            [slug] => latin-mass
            [ID] => 54369
            [post_name] => a-few-more-pictures-from-our-latin-mass
            [post_title] => A Few More Pictures From Our Latin Mass
            [post_author] => 3
            [post_date] => 2013-02-17 18:53:00
            [year] => 2013
            [month] => 2
            [post_type] => post
        )

    [1182] => stdClass Object
        (
            [slug] => precious-moments-07
            [ID] => 54370
            [post_name] => beignets-and-babys-first-steps
            [post_title] => Beignets and Baby's First Steps...
            [post_author] => 3
            [post_date] => 2013-02-13 03:12:00
            [year] => 2013
            [month] => 2
            [post_type] => post
        )

    [1183] => stdClass Object
        (
            [slug] => our-lady-of-lourdes
            [ID] => 54371
            [post_name] => celebrating-feast-of-our-lady-of-lourdes
            [post_title] => Celebrating the Feast of Our Lady of Lourdes
            [post_author] => 3
            [post_date] => 2013-02-12 03:21:00
            [year] => 2013
            [month] => 2
            [post_type] => post
        )

    [1184] => stdClass Object
        (
            [slug] => latin-mass
            [ID] => 54372
            [post_name] => our-first-latin-mass-quinquagesima
            [post_title] => Our First Latin Mass :: Quinquagesima Sunday
            [post_author] => 3
            [post_date] => 2013-02-11 07:52:00
            [year] => 2013
            [month] => 2
            [post_type] => post
        )

    [1185] => stdClass Object
        (
            [slug] => birthday-parties
            [ID] => 54373
            [post_name] => hobbit-birthday-party
            [post_title] => A Hobbit Birthday Party!
            [post_author] => 3
            [post_date] => 2013-02-09 21:54:00
            [year] => 2013
            [month] => 2
            [post_type] => post
        )

    [1186] => stdClass Object
        (
            [slug] => birthday-parties
            [ID] => 54374
            [post_name] => pretty-happy-funny-real-rascals-hobbit
            [post_title] => {pretty, happy, funny, real} :: Rascal's Hobbit Birthday
            [post_author] => 3
            [post_date] => 2013-02-08 20:43:00
            [year] => 2013
            [month] => 2
            [post_type] => post
        )

    [1187] => stdClass Object
        (
            [slug] => cake-decorating
            [ID] => 54375
            [post_name] => bilbos-hobbit-hole-hobbit-themed
            [post_title] => Bilbo's Hobbit Hole :: A Hobbit Themed Birthday Cake
            [post_author] => 3
            [post_date] => 2013-02-07 05:51:00
            [year] => 2013
            [month] => 2
            [post_type] => post
        )

    [1188] => stdClass Object
        (
            [slug] => 17-day-diet
            [ID] => 54376
            [post_name] => my-new-years-resolution-150-miles-later
            [post_title] => My New Year's Resolution {150 Miles Later!}
            [post_author] => 3
            [post_date] => 2013-02-05 00:19:00
            [year] => 2013
            [month] => 2
            [post_type] => post
        )

    [1189] => stdClass Object
        (
            [slug] => candlemas
            [ID] => 54377
            [post_name] => celebrating-candlemas
            [post_title] => Celebrating Candlemas
            [post_author] => 3
            [post_date] => 2013-02-02 21:27:00
            [year] => 2013
            [month] => 2
            [post_type] => post
        )

    [1190] => stdClass Object
        (
            [slug] => state-by-state
            [ID] => 54378
            [post_name] => state-by-state-baking-mississippi-mud
            [post_title] => State-by-State Baking :: Mississippi Mud Pie
            [post_author] => 3
            [post_date] => 2013-02-02 07:32:00
            [year] => 2013
            [month] => 2
            [post_type] => post
        )

    [1191] => stdClass Object
        (
            [slug] => state-by-state
            [ID] => 54379
            [post_name] => state-by-state-scrapbook-mississippi
            [post_title] => State-by-State Scrapbook :: Mississippi
            [post_author] => 3
            [post_date] => 2013-02-02 07:30:00
            [year] => 2013
            [month] => 2
            [post_type] => post
        )

    [1192] => stdClass Object
        (
            [slug] => timeline
            [ID] => 54380
            [post_name] => sparkle
            [post_title] => +Sparkle
            [post_author] => 3
            [post_date] => 2013-01-31 04:56:00
            [year] => 2013
            [month] => 1
            [post_type] => post
        )

    [1193] => stdClass Object
        (
            [slug] => all-saints-day
            [ID] => 54381
            [post_name] => all-saints-day-banner-tutorial
            [post_title] => All Saints' Day Banner Tutorial {including Printable!}
            [post_author] => 3
            [post_date] => 2013-01-30 19:33:00
            [year] => 2013
            [month] => 1
            [post_type] => post
        )

    [1194] => stdClass Object
        (
            [slug] => latin-mass
            [ID] => 54382
            [post_name] => our-new-archbishop
            [post_title] => Our New Archbishop!
            [post_author] => 3
            [post_date] => 2013-01-29 23:21:00
            [year] => 2013
            [month] => 1
            [post_type] => post
        )

    [1195] => stdClass Object
        (
            [slug] => crafts
            [ID] => 54383
            [post_name] => an-alphabet-of-saints-b-is-for-blocks
            [post_title] => An Alphabet of Saints :: B is for Blocks
            [post_author] => 3
            [post_date] => 2013-01-28 20:10:00
            [year] => 2013
            [month] => 1
            [post_type] => post
        )

    [1196] => stdClass Object
        (
            [slug] => precious-moments-07
            [ID] => 54384
            [post_name] => pretty-happy-funny-real_26
            [post_title] => {pretty, happy, funny, real}
            [post_author] => 3
            [post_date] => 2013-01-26 20:43:00
            [year] => 2013
            [month] => 1
            [post_type] => post
        )

    [1197] => stdClass Object
        (
            [slug] => daybook
            [ID] => 54385
            [post_name] => well-hello-there
            [post_title] => Well, Hello There!
            [post_author] => 3
            [post_date] => 2013-01-24 01:42:00
            [year] => 2013
            [month] => 1
            [post_type] => post
        )

    [1198] => stdClass Object
        (
            [slug] => cake-decorating
            [ID] => 54386
            [post_name] => pretty-happy-funny-real-35th-birthday
            [post_title] => {pretty, happy, funny, real} :: 35th Birthday Edition
            [post_author] => 3
            [post_date] => 2013-01-18 20:56:00
            [year] => 2013
            [month] => 1
            [post_type] => post
        )

    [1199] => stdClass Object
        (
            [slug] => giveaway
            [ID] => 54387
            [post_name] => announcing-winner
            [post_title] => Announcing the Winner...
            [post_author] => 3
            [post_date] => 2013-01-18 01:03:00
            [year] => 2013
            [month] => 1
            [post_type] => post
        )

    [1200] => stdClass Object
        (
            [slug] => cake-decorating
            [ID] => 54388
            [post_name] => made-with-love-birthday-cake-for-mom
            [post_title] => Made with Love :: A Birthday Cake for Mom!
            [post_author] => 3
            [post_date] => 2013-01-16 22:28:00
            [year] => 2013
            [month] => 1
            [post_type] => post
        )

    [1201] => stdClass Object
        (
            [slug] => giveaway
            [ID] => 54389
            [post_name] => a-few-changes-and-giveaway
            [post_title] => A Few Changes and A Saints Calendar Giveaway!
            [post_author] => 3
            [post_date] => 2013-01-14 21:32:00
            [year] => 2013
            [month] => 1
            [post_type] => post
        )

    [1202] => stdClass Object
        (
            [slug] => advent-and-christmas
            [ID] => 54390
            [post_name] => christmas-day-in-morning
            [post_title] => Christmas Day in the Morning
            [post_author] => 3
            [post_date] => 2013-01-14 07:28:00
            [year] => 2013
            [month] => 1
            [post_type] => post
        )

    [1203] => stdClass Object
        (
            [slug] => advent-and-christmas
            [ID] => 54391
            [post_name] => our-christmas-day-christkindl-family
            [post_title] => Our Christmas Day Christkindl Family Gift Exchange
            [post_author] => 3
            [post_date] => 2013-01-14 01:18:00
            [year] => 2013
            [month] => 1
            [post_type] => post
        )

    [1204] => stdClass Object
        (
            [slug] => advent-and-christmas
            [ID] => 54392
            [post_name] => christmas-eve-in-pictures
            [post_title] => Christmas Eve in Pictures
            [post_author] => 3
            [post_date] => 2013-01-11 20:09:00
            [year] => 2013
            [month] => 1
            [post_type] => post
        )

    [1205] => stdClass Object
        (
            [slug] => christmas-2012
            [ID] => 54393
            [post_name] => at-tree-farm
            [post_title] => At the Tree Farm
            [post_author] => 3
            [post_date] => 2013-01-11 20:07:00
            [year] => 2013
            [month] => 1
            [post_type] => post
        )

    [1206] => stdClass Object
        (
            [slug] => daybook
            [ID] => 54394
            [post_name] => my-daybook-january-10-2012
            [post_title] => My Daybook :: January 10, 2013
            [post_author] => 3
            [post_date] => 2013-01-10 17:30:00
            [year] => 2013
            [month] => 1
            [post_type] => post
        )

    [1207] => stdClass Object
        (
            [slug] => twelve-days-of-christmas
            [ID] => 54395
            [post_name] => Twelve-Days-Christmas-Party
            [post_title] => Our Twelve Days of Christmas Dinner Party on Twelfth Night!
            [post_author] => 3
            [post_date] => 2013-01-08 01:41:00
            [year] => 2013
            [month] => 1
            [post_type] => post
        )

    [1208] => stdClass Object
        (
            [slug] => twelve-days-of-christmas
            [ID] => 54396
            [post_name] => a-twelve-days-of-christmas-dinner-party
            [post_title] => A Twelve Days of Christmas Dinner Party on Twelfth Night
            [post_author] => 3
            [post_date] => 2013-01-05 01:08:00
            [year] => 2013
            [month] => 1
            [post_type] => post
        )

    [1209] => stdClass Object
        (
            [slug] => advent-and-christmas
            [ID] => 54398
            [post_name] => the-christmas-cookie-sprinkle-snitcher
            [post_title] => The Christmas Cookie Sprinkle Snitcher
            [post_author] => 3
            [post_date] => 2013-01-04 23:02:00
            [year] => 2013
            [month] => 1
            [post_type] => post
        )

    [1210] => stdClass Object
        (
            [slug] => prayer
            [ID] => 54399
            [post_name] => praying-for-all-pregnant-women
            [post_title] => Praying for all Pregnant Women...
            [post_author] => 3
            [post_date] => 2013-01-04 06:51:00
            [year] => 2013
            [month] => 1
            [post_type] => post
        )

    [1211] => stdClass Object
        (
            [slug] => advent-and-christmas
            [ID] => 54400
            [post_name] => cookie-cutters-tell-story-of-christmas
            [post_title] => Cookie Cutters Tell the Story of Christmas
            [post_author] => 3
            [post_date] => 2013-01-04 02:02:00
            [year] => 2013
            [month] => 1
            [post_type] => post
        )

    [1212] => stdClass Object
        (
            [slug] => hobbit
            [ID] => 54401
            [post_name] => pretty-happy-funny-real
            [post_title] => {pretty, happy, funny, real}
            [post_author] => 3
            [post_date] => 2013-01-03 18:37:00
            [year] => 2013
            [month] => 1
            [post_type] => post
        )

    [1213] => stdClass Object
        (
            [slug] => precious-moments-07
            [ID] => 54402
            [post_name] => on-9th-day-of-christmas_2
            [post_title] => On the 9th Day of Christmas...
            [post_author] => 3
            [post_date] => 2013-01-03 06:09:00
            [year] => 2013
            [month] => 1
            [post_type] => post
        )

    [1214] => stdClass Object
        (
            [slug] => precious-moments-05
            [ID] => 54403
            [post_name] => wordless-wednesday
            [post_title] => Wordless Wednesday
            [post_author] => 3
            [post_date] => 2013-01-03 02:49:00
            [year] => 2013
            [month] => 1
            [post_type] => post
        )

    [1215] => stdClass Object
        (
            [slug] => precious-moments-07
            [ID] => 54404
            [post_name] => precious-moments-babys-1st-haircut-on
            [post_title] => Precious Moments :: Baby's 1st Haircut on the 1st!
            [post_author] => 3
            [post_date] => 2013-01-02 01:54:00
            [year] => 2013
            [month] => 1
            [post_type] => post
        )

    [1216] => stdClass Object
        (
            [slug] => thanksgiving
            [ID] => 54405
            [post_name] => a-few-highlights-from-2012
            [post_title] => A Few Highlights from 2012...
            [post_author] => 3
            [post_date] => 2013-01-01 04:29:00
            [year] => 2013
            [month] => 1
            [post_type] => post
        )

    [1217] => stdClass Object
        (
            [slug] => advent-and-christmas
            [ID] => 54406
            [post_name] => my-christmas-daybook
            [post_title] => My Christmas Daybook
            [post_author] => 3
            [post_date] => 2012-12-31 21:18:00
            [year] => 2012
            [month] => 12
            [post_type] => post
        )

    [1218] => stdClass Object
        (
            [slug] => st-thomas-becket
            [ID] => 54407
            [post_name] => on-5th-day-of-christmas
            [post_title] => On the 5th Day of Christmas...
            [post_author] => 3
            [post_date] => 2012-12-30 03:27:00
            [year] => 2012
            [month] => 12
            [post_type] => post
        )

    [1219] => stdClass Object
        (
            [slug] => cake-decorating
            [ID] => 54408
            [post_name] => on-3rd-day-of-christmas
            [post_title] => On the 3rd Day of Christmas...
            [post_author] => 3
            [post_date] => 2012-12-28 07:55:00
            [year] => 2012
            [month] => 12
            [post_type] => post
        )

    [1220] => stdClass Object
        (
            [slug] => latin-mass
            [ID] => 54409
            [post_name] => pretty-happy-funny-real-on-christmas-eve
            [post_title] => {pretty, happy, funny, real} :: On Christmas Eve
            [post_author] => 3
            [post_date] => 2012-12-27 23:28:00
            [year] => 2012
            [month] => 12
            [post_type] => post
        )

    [1221] => stdClass Object
        (
            [slug] => advent-and-christmas
            [ID] => 54410
            [post_name] => wishing-you-all
            [post_title] => Wishing you all...
            [post_author] => 3
            [post_date] => 2012-12-24 19:49:00
            [year] => 2012
            [month] => 12
            [post_type] => post
        )

    [1222] => stdClass Object
        (
            [slug] => prayer-request
            [ID] => 54411
            [post_name] => some-peace-on-earth-in-remembrance-of
            [post_title] => Some Peace On Earth {In Remembrance of Fallen Troops}
            [post_author] => 3
            [post_date] => 2012-12-24 19:44:00
            [year] => 2012
            [month] => 12
            [post_type] => post
        )

    [1223] => stdClass Object
        (
            [slug] => advent-and-christmas
            [ID] => 54412
            [post_name] => decorating-ornaments-on-december-8th
            [post_title] => Decorating Christmas Ornaments on December 8th, the Feast of the Immaculate Conception
            [post_author] => 3
            [post_date] => 2012-12-24 03:56:00
            [year] => 2012
            [month] => 12
            [post_type] => post
        )

    [1224] => stdClass Object
        (
            [slug] => birthday-parties
            [ID] => 54413
            [post_name] => a-winter-onederland-birthday-party
            [post_title] => A Winter ONEderland Birthday Party!
            [post_author] => 3
            [post_date] => 2012-12-21 23:24:00
            [year] => 2012
            [month] => 12
            [post_type] => post
        )

    [1225] => stdClass Object
        (
            [slug] => happy-birthday
            [ID] => 54414
            [post_name] => pretty-happy-funny-real
            [post_title] => {pretty, happy, funny, real}
            [post_author] => 3
            [post_date] => 2012-12-21 07:52:00
            [year] => 2012
            [month] => 12
            [post_type] => post
        )

    [1226] => stdClass Object
        (
            [slug] => happy-birthday
            [ID] => 54415
            [post_name] => snowman-pancakes-for-birthday-boy
            [post_title] => Snowman Pancakes for the Birthday Boy!
            [post_author] => 3
            [post_date] => 2012-12-19 20:15:00
            [year] => 2012
            [month] => 12
            [post_type] => post
        )

    [1227] => stdClass Object
        (
            [slug] => advent-and-christmas
            [ID] => 54416
            [post_name] => checking-it-twice
            [post_title] => Checking it Twice...
            [post_author] => 3
            [post_date] => 2012-12-18 04:55:00
            [year] => 2012
            [month] => 12
            [post_type] => post
        )

    [1228] => stdClass Object
        (
            [slug] => birthday-parties
            [ID] => 54417
            [post_name] => my-favorite-things-sound-of-music
            [post_title] => My Favorite Things :: A Sound of Music Birthday Party!
            [post_author] => 3
            [post_date] => 2012-12-17 04:35:00
            [year] => 2012
            [month] => 12
            [post_type] => post
        )

    [1229] => stdClass Object
        (
            [slug] => cake-decorating
            [ID] => 54418
            [post_name] => im-just-curious
            [post_title] => I'm just curious...
            [post_author] => 3
            [post_date] => 2012-12-17 00:15:00
            [year] => 2012
            [month] => 12
            [post_type] => post
        )

    [1230] => stdClass Object
        (
            [slug] => happy-birthday
            [ID] => 54419
            [post_name] => the-birthday-girl
            [post_title] => The Birthday Girl
            [post_author] => 3
            [post_date] => 2012-12-15 16:37:00
            [year] => 2012
            [month] => 12
            [post_type] => post
        )

    [1231] => stdClass Object
        (
            [slug] => advent-and-christmas
            [ID] => 54420
            [post_name] => santa-lucia-day-in-morning-our-2012
            [post_title] => Santa Lucia Day in the Morning {Our 2012 Celebration}
            [post_author] => 3
            [post_date] => 2012-12-14 19:57:00
            [year] => 2012
            [month] => 12
            [post_type] => post
        )

    [1232] => stdClass Object
        (
            [slug] => our-lady-of-guadalupe
            [ID] => 54421
            [post_name] => celebrating-feast-of-our-lady-of
            [post_title] => Celebrating the Feast of Our Lady of Guadalupe
            [post_author] => 3
            [post_date] => 2012-12-13 07:55:00
            [year] => 2012
            [month] => 12
            [post_type] => post
        )

    [1233] => stdClass Object
        (
            [slug] => just-for-fun
            [ID] => 54422
            [post_name] => hold-bridge
            [post_title] => Hold the Bridge!
            [post_author] => 3
            [post_date] => 2012-12-12 00:06:00
            [year] => 2012
            [month] => 12
            [post_type] => post
        )

    [1234] => stdClass Object
        (
            [slug] => uncategorized
            [ID] => 54423
            [post_name] => my-daybook-december-11-2012
            [post_title] => My Daybook ::  December 11, 2012
            [post_author] => 3
            [post_date] => 2012-12-11 18:45:00
            [year] => 2012
            [month] => 12
            [post_type] => post
        )

    [1235] => stdClass Object
        (
            [slug] => advent-and-christmas
            [ID] => 54424
            [post_name] => glorious-nativity-puzzle-for-advent
            [post_title] => Glorious Nativity :: A Puzzle for Advent
            [post_author] => 3
            [post_date] => 2012-12-09 20:10:00
            [year] => 2012
            [month] => 12
            [post_type] => post
        )

    [1236] => stdClass Object
        (
            [slug] => advent-and-christmas
            [ID] => 54425
            [post_name] => nativity-sets-for-children
            [post_title] => Nativity Sets for Children
            [post_author] => 3
            [post_date] => 2012-12-09 17:20:00
            [year] => 2012
            [month] => 12
            [post_type] => post
        )

    [1237] => stdClass Object
        (
            [slug] => advent-and-christmas
            [ID] => 54426
            [post_name] => dress-suggestions-for-santa-lucia-day
            [post_title] => Dress Suggestions for Santa Lucia Day
            [post_author] => 3
            [post_date] => 2012-12-09 05:05:00
            [year] => 2012
            [month] => 12
            [post_type] => post
        )

    [1238] => stdClass Object
        (
            [slug] => advent-and-christmas
            [ID] => 54427
            [post_name] => celebrating-feast-of-st-nicholas-2012
            [post_title] => Celebrating the Feast of St. Nicholas :: 2012
            [post_author] => 3
            [post_date] => 2012-12-08 07:55:00
            [year] => 2012
            [month] => 12
            [post_type] => post
        )

    [1239] => stdClass Object
        (
            [slug] => advent-and-christmas
            [ID] => 54428
            [post_name] => the-bakers-dozen-saint-nicholas-tale
            [post_title] => The Baker's Dozen :: A Saint Nicholas Tale and Baking Cookies for the Feast!
            [post_author] => 3
            [post_date] => 2012-12-07 07:44:00
            [year] => 2012
            [month] => 12
            [post_type] => post
        )

    [1240] => stdClass Object
        (
            [slug] => advent-and-christmas
            [ID] => 54429
            [post_name] => pretty-happy-funny-real-christkindl
            [post_title] => {pretty, happy, funny, real} :: Christkindl
            [post_author] => 3
            [post_date] => 2012-12-05 23:35:00
            [year] => 2012
            [month] => 12
            [post_type] => post
        )

    [1241] => stdClass Object
        (
            [slug] => advent-and-christmas
            [ID] => 54430
            [post_name] => precious-moments-adding-first-ornaments
            [post_title] => Precious Moments :: Adding the First Ornaments...
            [post_author] => 3
            [post_date] => 2012-12-05 22:07:00
            [year] => 2012
            [month] => 12
            [post_type] => post
        )

    [1242] => stdClass Object
        (
            [slug] => advent-and-christmas
            [ID] => 54431
            [post_name] => lighting-our-advent-wreath-on-first
            [post_title] => Lighting our Advent Wreath on the First Sunday of Advent
            [post_author] => 3
            [post_date] => 2012-12-04 18:13:00
            [year] => 2012
            [month] => 12
            [post_type] => post
        )

    [1243] => stdClass Object
        (
            [slug] => advent-and-christmas
            [ID] => 54432
            [post_name] => this-years-advent-christmas-book
            [post_title] => This Year's Advent & Christmas Book Baskets {with a little peek at our plans!}
            [post_author] => 3
            [post_date] => 2012-12-03 10:05:00
            [year] => 2012
            [month] => 12
            [post_type] => post
        )

    [1244] => stdClass Object
        (
            [slug] => giveaway
            [ID] => 54433
            [post_name] => a-guest-post-from-bud-fundraiser-and
            [post_title] => A Guest Post from Bud, a Fundraiser, and a Quiltie Giveaway!
            [post_author] => 3
            [post_date] => 2012-12-02 22:08:00
            [year] => 2012
            [month] => 12
            [post_type] => post
        )

    [1245] => stdClass Object
        (
            [slug] => advent-and-christmas
            [ID] => 54434
            [post_name] => a-few-more-jesse-tree-resources-and
            [post_title] => A Few More Jesse Tree Resources and a Link-Up!
            [post_author] => 3
            [post_date] => 2012-12-02 04:09:00
            [year] => 2012
            [month] => 12
            [post_type] => post
        )

    [1246] => stdClass Object
        (
            [slug] => precious-moments-07
            [ID] => 54435
            [post_name] => celebrating-feast-of-st-andrew-and
            [post_title] => Celebrating the Feast of St. Andrew
            [post_author] => 3
            [post_date] => 2012-12-01 06:33:00
            [year] => 2012
            [month] => 12
            [post_type] => post
        )

    [1247] => stdClass Object
        (
            [slug] => advent-and-christmas
            [ID] => 54436
            [post_name] => on-feast-of-st-andrew
            [post_title] => On the Feast of St. Andrew
            [post_author] => 3
            [post_date] => 2012-11-30 23:00:00
            [year] => 2012
            [month] => 11
            [post_type] => post
        )

    [1248] => stdClass Object
        (
            [slug] => advent-and-christmas
            [ID] => 54437
            [post_name] => preparing-for-advent-o-antiphon-gifts
            [post_title] => Preparing for Advent :: O Antiphon Gifts
            [post_author] => 3
            [post_date] => 2012-11-30 01:13:00
            [year] => 2012
            [month] => 11
            [post_type] => post
        )

    [1249] => stdClass Object
        (
            [slug] => picture-books
            [ID] => 54438
            [post_name] => a-little-golden-books-baby-shower
            [post_title] => A Little Golden Books Baby Shower
            [post_author] => 3
            [post_date] => 2012-11-28 21:38:00
            [year] => 2012
            [month] => 11
            [post_type] => post
        )

    [1250] => stdClass Object
        (
            [slug] => cake-decorating
            [ID] => 54439
            [post_name] => a-golden-book-baby-shower-cake-and
            [post_title] => A Golden Books Baby Shower Cake and Cupcakes!
            [post_author] => 3
            [post_date] => 2012-11-28 07:42:00
            [year] => 2012
            [month] => 11
            [post_type] => post
        )

    [1251] => stdClass Object
        (
            [slug] => st-catherine-of-alexandria
            [ID] => 54440
            [post_name] => on-feast-of-st-catherine-of-alexandria
            [post_title] => On the Feast of St. Catherine of Alexandria
            [post_author] => 3
            [post_date] => 2012-11-26 00:00:00
            [year] => 2012
            [month] => 11
            [post_type] => post
        )

    [1252] => stdClass Object
        (
            [slug] => happy-birthday
            [ID] => 54441
            [post_name] => a-special-gift
            [post_title] => A Special Gift...
            [post_author] => 3
            [post_date] => 2012-11-25 04:07:00
            [year] => 2012
            [month] => 11
            [post_type] => post
        )

    [1253] => stdClass Object
        (
            [slug] => precious-moments-05
            [ID] => 54442
            [post_name] => precious-moments-on-feast-of-blessed
            [post_title] => Precious Moments :: On the Feast of Bl. Miguel Pro
            [post_author] => 3
            [post_date] => 2012-11-24 07:23:00
            [year] => 2012
            [month] => 11
            [post_type] => post
        )

    [1254] => stdClass Object
        (
            [slug] => thanksgiving
            [ID] => 54443
            [post_name] => wishing-you-happy-thanksgiving
            [post_title] => Wishing you a Happy Thanksgiving!
            [post_author] => 3
            [post_date] => 2012-11-22 20:52:00
            [year] => 2012
            [month] => 11
            [post_type] => post
        )

    [1255] => stdClass Object
        (
            [slug] => movies
            [ID] => 54444
            [post_name] => twenty-favorite-movies
            [post_title] => Twenty Favorite Movies
            [post_author] => 3
            [post_date] => 2012-11-20 19:26:00
            [year] => 2012
            [month] => 11
            [post_type] => post
        )

    [1256] => stdClass Object
        (
            [slug] => picture-books
            [ID] => 54445
            [post_name] => fire-camp-greek-orthodox-monastery-and
            [post_title] => Fire Camp, a Greek Orthodox Monastery, and a New Book
            [post_author] => 3
            [post_date] => 2012-11-19 05:41:00
            [year] => 2012
            [month] => 11
            [post_type] => post
        )

    [1257] => stdClass Object
        (
            [slug] => advent-and-christmas
            [ID] => 54446
            [post_name] => preparing-our-hearts-for-christmas-soft
            [post_title] => Preparing our Hearts for Christmas :: A Soft Manger, Christkindl, and a Letter to the Christ Child
            [post_author] => 3
            [post_date] => 2012-11-17 05:52:00
            [year] => 2012
            [month] => 11
            [post_type] => post
        )

    [1258] => stdClass Object
        (
            [slug] => advent-and-christmas
            [ID] => 54447
            [post_name] => preparing-for-advent-few-fun-finds-for
            [post_title] => Preparing for Advent :: A Few Fun Finds for 2012
            [post_author] => 3
            [post_date] => 2012-11-16 01:22:00
            [year] => 2012
            [month] => 11
            [post_type] => post
        )

    [1259] => stdClass Object
        (
            [slug] => advent-and-christmas
            [ID] => 54448
            [post_name] => almost-wordless-wednesday-christmas-2004
            [post_title] => Almost Wordless Wednesday {Christmas 2004}
            [post_author] => 3
            [post_date] => 2012-11-15 07:19:00
            [year] => 2012
            [month] => 11
            [post_type] => post
        )

    [1260] => stdClass Object
        (
            [slug] => jesse-tree-ornament-swap
            [ID] => 54449
            [post_name] => a-jesse-tree-ornament-swap
            [post_title] => A Jesse Tree Ornament Swap!
            [post_author] => 3
            [post_date] => 2012-11-15 04:45:00
            [year] => 2012
            [month] => 11
            [post_type] => post
        )

    [1261] => stdClass Object
        (
            [slug] => advent-and-christmas
            [ID] => 54450
            [post_name] => the-jesse-tree-no-sew-picture-tutorial
            [post_title] => The Jesse Tree :: A No-Sew Picture Tutorial with Readings
            [post_author] => 3
            [post_date] => 2012-11-13 23:48:00
            [year] => 2012
            [month] => 11
            [post_type] => post
        )

    [1262] => stdClass Object
        (
            [slug] => advent-and-christmas
            [ID] => 54451
            [post_name] => new-christmas-books-for-feast-of-st
            [post_title] => New Christmas Books for the Feast of St. Nicholas
            [post_author] => 3
            [post_date] => 2012-11-12 06:14:00
            [year] => 2012
            [month] => 11
            [post_type] => post
        )

    [1263] => stdClass Object
        (
            [slug] => uncategorized
            [ID] => 54452
            [post_name] => the-2012-artist-trading-card-swap-for
            [post_title] => The 2012 Artist Trading Card Swap: For All the Saints!
            [post_author] => 3
            [post_date] => 2012-11-10 21:19:00
            [year] => 2012
            [month] => 11
            [post_type] => post
        )

    [1264] => stdClass Object
        (
            [slug] => all-saints-day
            [ID] => 54453
            [post_name] => celebrating-saints-our-annual-all
            [post_title] => Celebrating the Saints :: Our Annual All Hallows' Eve Party!
            [post_author] => 3
            [post_date] => 2012-11-10 01:03:00
            [year] => 2012
            [month] => 11
            [post_type] => post
        )

    [1265] => stdClass Object
        (
            [slug] => thanksgiving
            [ID] => 54454
            [post_name] => caramel-apple-turkey
            [post_title] => Caramel Apple Turkey
            [post_author] => 3
            [post_date] => 2012-11-09 01:54:00
            [year] => 2012
            [month] => 11
            [post_type] => post
        )

    [1266] => stdClass Object
        (
            [slug] => all-saints-day
            [ID] => 54455
            [post_name] => joan-of-arc-maid-of-lorraine-all-saints
            [post_title] => St. Joan of Arc, Maid of Lorraine :: All Saints' Day Costume
            [post_author] => 3
            [post_date] => 2012-11-09 01:19:00
            [year] => 2012
            [month] => 11
            [post_type] => post
        )

    [1267] => stdClass Object
        (
            [slug] => costumes
            [ID] => 54456
            [post_name] => pretty-happy-funny-real
            [post_title] => {pretty, happy, funny, real}
            [post_author] => 3
            [post_date] => 2012-11-08 18:39:00
            [year] => 2012
            [month] => 11
            [post_type] => post
        )

    [1268] => stdClass Object
        (
            [slug] => all-saints-day
            [ID] => 54457
            [post_name] => st-michael-archangel
            [post_title] => St. Michael the Archangel...
            [post_author] => 3
            [post_date] => 2012-11-07 18:00:00
            [year] => 2012
            [month] => 11
            [post_type] => post
        )

    [1269] => stdClass Object
        (
            [slug] => costumes
            [ID] => 54458
            [post_name] => in-nomine-patris-et-filii-et-spiritus
            [post_title] => In nomine Patris, et Filii, et Spiritus Sancti...
            [post_author] => 3
            [post_date] => 2012-11-07 04:10:00
            [year] => 2012
            [month] => 11
            [post_type] => post
        )

    [1270] => stdClass Object
        (
            [slug] => history
            [ID] => 54459
            [post_name] => presidential-election-lap-books-and
            [post_title] => Presidential Election Lap Books and Unit Study
            [post_author] => 3
            [post_date] => 2012-11-06 21:26:00
            [year] => 2012
            [month] => 11
            [post_type] => post
        )

    [1271] => stdClass Object
        (
            [slug] => all-saints-day
            [ID] => 54460
            [post_name] => my-daybook-november-5-2012
            [post_title] => My Daybook :: November 5, 2012
            [post_author] => 3
            [post_date] => 2012-11-05 17:41:00
            [year] => 2012
            [month] => 11
            [post_type] => post
        )

    [1272] => stdClass Object
        (
            [slug] => pampered-chef
            [ID] => 54461
            [post_name] => youre-invited-online-pampered-chef-party
            [post_title] => You're Invited :: An Online Pampered Chef Party!
            [post_author] => 3
            [post_date] => 2012-11-05 02:02:00
            [year] => 2012
            [month] => 11
            [post_type] => post
        )

    [1273] => stdClass Object
        (
            [slug] => books
            [ID] => 54462
            [post_name] => martin-de-porres-rose-in-desert
            [post_title] => Martin de Porres: The Rose in the Desert
            [post_author] => 3
            [post_date] => 2012-11-03 18:47:00
            [year] => 2012
            [month] => 11
            [post_type] => post
        )

    [1274] => stdClass Object
        (
            [slug] => all-souls-day
            [ID] => 54463
            [post_name] => our-7th-annual-mass-at-cemetery
            [post_title] => Our 7th Annual Mass at the Cemetery...
            [post_author] => 3
            [post_date] => 2012-11-03 02:46:00
            [year] => 2012
            [month] => 11
            [post_type] => post
        )

    [1275] => stdClass Object
        (
            [slug] => precious-moments-01
            [ID] => 54464
            [post_name] => this-moment
            [post_title] => {This Moment}
            [post_author] => 3
            [post_date] => 2012-11-03 02:44:00
            [year] => 2012
            [month] => 11
            [post_type] => post
        )

    [1276] => stdClass Object
        (
            [slug] => all-saints-day
            [ID] => 54465
            [post_name] => our-cast-of-saints-2012
            [post_title] => Our Cast of Saints ~ 2012
            [post_author] => 3
            [post_date] => 2012-11-01 23:29:00
            [year] => 2012
            [month] => 11
            [post_type] => post
        )

    [1277] => stdClass Object
        (
            [slug] => pumpkin-patch
            [ID] => 54466
            [post_name] => pretty-happy-funny-real-lost-in-corn
            [post_title] => {pretty, happy, funny, real}  Lost in the Corn Maze
            [post_author] => 3
            [post_date] => 2012-11-01 23:28:00
            [year] => 2012
            [month] => 11
            [post_type] => post
        )

    [1278] => stdClass Object
        (
            [slug] => saint-o-lanterns
            [ID] => 54467
            [post_name] => happy-all-hallows-eve
            [post_title] => Happy All Hallows' Eve!
            [post_author] => 3
            [post_date] => 2012-11-01 06:45:00
            [year] => 2012
            [month] => 11
            [post_type] => post
        )

    [1279] => stdClass Object
        (
            [slug] => saint-o-lanterns
            [ID] => 54468
            [post_name] => carving-our-saint-o-lanterns-2012
            [post_title] => Carving our Saint-O-Lanterns ~ 2012
            [post_author] => 3
            [post_date] => 2012-11-01 06:40:00
            [year] => 2012
            [month] => 11
            [post_type] => post
        )

    [1280] => stdClass Object
        (
            [slug] => all-saints-day
            [ID] => 54469
            [post_name] => all-saints-scavenger-hunt-printable
            [post_title] => All Saints Scavenger Hunt {A Printable Party Game!}
            [post_author] => 3
            [post_date] => 2012-10-31 16:55:00
            [year] => 2012
            [month] => 10
            [post_type] => post
        )

    [1281] => stdClass Object
        (
            [slug] => daybook
            [ID] => 54470
            [post_name] => my-daybook-oct-30-2012
            [post_title] => My Daybook :: Oct 30, 2012
            [post_author] => 3
            [post_date] => 2012-10-31 01:05:00
            [year] => 2012
            [month] => 10
            [post_type] => post
        )

    [1282] => stdClass Object
        (
            [slug] => all-saints-day
            [ID] => 54471
            [post_name] => our-parish-all-saints-party-and-costume
            [post_title] => Our Parish All Saints' Party and Costume Contest
            [post_author] => 3
            [post_date] => 2012-10-30 16:59:00
            [year] => 2012
            [month] => 10
            [post_type] => post
        )

    [1283] => stdClass Object
        (
            [slug] => st-nicholas
            [ID] => 54472
            [post_name] => this-moment
            [post_title] => {This Moment}
            [post_author] => 3
            [post_date] => 2012-10-27 17:29:00
            [year] => 2012
            [month] => 10
            [post_type] => post
        )

    [1284] => stdClass Object
        (
            [slug] => all-saints-day
            [ID] => 54473
            [post_name] => all-saints-day-party-games-saintly
            [post_title] => All Saints' Day Party Games :: A Saintly Jigsaw Puzzle Race!
            [post_author] => 3
            [post_date] => 2012-10-26 21:25:00
            [year] => 2012
            [month] => 10
            [post_type] => post
        )

    [1285] => stdClass Object
        (
            [slug] => costumes
            [ID] => 54474
            [post_name] => oktoberfestcostume-party
            [post_title] => Oktoberfest/Costume Party
            [post_author] => 3
            [post_date] => 2012-10-25 15:34:00
            [year] => 2012
            [month] => 10
            [post_type] => post
        )

    [1286] => stdClass Object
        (
            [slug] => daybook
            [ID] => 54475
            [post_name] => my-post-trauma-daybook-october-23-2012
            [post_title] => My (Post-Trauma) Daybook :: October 23, 2012
            [post_author] => 3
            [post_date] => 2012-10-23 18:42:00
            [year] => 2012
            [month] => 10
            [post_type] => post
        )

    [1287] => stdClass Object
        (
            [slug] => precious-moments-02
            [ID] => 54476
            [post_name] => tooth-trauma
            [post_title] => Tooth Trauma
            [post_author] => 3
            [post_date] => 2012-10-22 17:01:00
            [year] => 2012
            [month] => 10
            [post_type] => post
        )

    [1288] => stdClass Object
        (
            [slug] => alphabet-path
            [ID] => 54477
            [post_name] => b-is-for-blueberries-bubbles-bibles-and
            [post_title] => "B" is for Blueberries, Bubbles, Bibles, and Blessings!
            [post_author] => 3
            [post_date] => 2012-10-18 16:37:00
            [year] => 2012
            [month] => 10
            [post_type] => post
        )

    [1289] => stdClass Object
        (
            [slug] => science
            [ID] => 54478
            [post_name] => pretty-happy-funny-real_18
            [post_title] => {pretty, happy, funny, real}
            [post_author] => 3
            [post_date] => 2012-10-18 16:27:00
            [year] => 2012
            [month] => 10
            [post_type] => post
        )

    [1290] => stdClass Object
        (
            [slug] => kids-in-the-kitchen
            [ID] => 54479
            [post_name] => b-is-for-baking-bread
            [post_title] => B is for Baking Bread
            [post_author] => 3
            [post_date] => 2012-10-18 16:22:00
            [year] => 2012
            [month] => 10
            [post_type] => post
        )

    [1291] => stdClass Object
        (
            [slug] => precious-moments-05
            [ID] => 54480
            [post_name] => wordless-wednesday
            [post_title] => Wordless Wednesday
            [post_author] => 3
            [post_date] => 2012-10-18 02:02:00
            [year] => 2012
            [month] => 10
            [post_type] => post
        )

    [1292] => stdClass Object
        (
            [slug] => crafts
            [ID] => 54481
            [post_name] => my-blessings-handprint-tree
            [post_title] => My Blessings Handprint Tree
            [post_author] => 3
            [post_date] => 2012-10-16 14:44:00
            [year] => 2012
            [month] => 10
            [post_type] => post
        )

    [1293] => stdClass Object
        (
            [slug] => daybook
            [ID] => 54482
            [post_name] => my-daybook-october-15-2012
            [post_title] => My Daybook :: October 15, 2012
            [post_author] => 3
            [post_date] => 2012-10-15 19:14:00
            [year] => 2012
            [month] => 10
            [post_type] => post
        )

    [1294] => stdClass Object
        (
            [slug] => state-by-state
            [ID] => 54483
            [post_name] => state-by-state-baking-louisiana-beignets
            [post_title] => State-by-State Baking :: Louisiana Beignets
            [post_author] => 3
            [post_date] => 2012-10-15 05:55:00
            [year] => 2012
            [month] => 10
            [post_type] => post
        )

    [1295] => stdClass Object
        (
            [slug] => state-by-state
            [ID] => 54484
            [post_name] => state-by-state-baking-ohio-buckeyes-and
            [post_title] => State-by-State Baking :: Ohio Buckeyes and Cincinnati Chili
            [post_author] => 3
            [post_date] => 2012-10-15 05:20:00
            [year] => 2012
            [month] => 10
            [post_type] => post
        )

    [1296] => stdClass Object
        (
            [slug] => state-by-state
            [ID] => 54485
            [post_name] => state-by-state-scrapbook-louisiana
            [post_title] => State-by-State Scrapbook :: Louisiana
            [post_author] => 3
            [post_date] => 2012-10-13 04:49:00
            [year] => 2012
            [month] => 10
            [post_type] => post
        )

    [1297] => stdClass Object
        (
            [slug] => state-by-state
            [ID] => 54486
            [post_name] => state-by-state-scrapbook-ohio
            [post_title] => State-by-State Scrapbook :: Ohio
            [post_author] => 3
            [post_date] => 2012-10-13 04:47:00
            [year] => 2012
            [month] => 10
            [post_type] => post
        )

    [1298] => stdClass Object
        (
            [slug] => state-by-state
            [ID] => 54487
            [post_name] => state-by-state-baking-tennessee-iris
            [post_title] => State-by-State Baking :: Tennessee Iris Lollipops
            [post_author] => 3
            [post_date] => 2012-10-12 16:08:00
            [year] => 2012
            [month] => 10
            [post_type] => post
        )

    [1299] => stdClass Object
        (
            [slug] => state-by-state
            [ID] => 54488
            [post_name] => state-by-state-scrapbook-tennessee
            [post_title] => State-by-State Scrapbook :: Tennessee
            [post_author] => 3
            [post_date] => 2012-10-12 16:04:00
            [year] => 2012
            [month] => 10
            [post_type] => post
        )

    [1300] => stdClass Object
        (
            [slug] => fssp
            [ID] => 54489
            [post_name] => pretty-happy-funny-real_11
            [post_title] => {pretty, happy, funny, real}
            [post_author] => 3
            [post_date] => 2012-10-11 17:20:00
            [year] => 2012
            [month] => 10
            [post_type] => post
        )

    [1301] => stdClass Object
        (
            [slug] => crafts
            [ID] => 54490
            [post_name] => b-is-for-blanket-no-sew-fleece-tie
            [post_title] => B is for Blanket :: A No Sew Fleece Tie Blanket Tutorial
            [post_author] => 3
            [post_date] => 2012-10-11 02:33:00
            [year] => 2012
            [month] => 10
            [post_type] => post
        )

    [1302] => stdClass Object
        (
            [slug] => home-education
            [ID] => 54491
            [post_name] => keeping-track-and-making-progress-daily
            [post_title] => Keeping Track and Making Progress {Daily Planners and Checklists for the School Year}
            [post_author] => 3
            [post_date] => 2012-10-09 22:34:00
            [year] => 2012
            [month] => 10
            [post_type] => post
        )

    [1303] => stdClass Object
        (
            [slug] => daybook
            [ID] => 54492
            [post_name] => my-daybook-october-8-2012
            [post_title] => My Daybook :: October 8, 2012
            [post_author] => 3
            [post_date] => 2012-10-09 06:59:00
            [year] => 2012
            [month] => 10
            [post_type] => post
        )

    [1304] => stdClass Object
        (
            [slug] => state-by-state
            [ID] => 54493
            [post_name] => state-by-state-baking-banana-berry
            [post_title] => State-by-State Baking :: Banana Berry Pancakes with Real Vermont Maple Syrup
            [post_author] => 3
            [post_date] => 2012-10-06 19:07:00
            [year] => 2012
            [month] => 10
            [post_type] => post
        )

    [1305] => stdClass Object
        (
            [slug] => state-by-state
            [ID] => 54494
            [post_name] => state-by-state-baking-kentucky-fried
            [post_title] => State-by-State Baking :: Kentucky Fried Chicken
            [post_author] => 3
            [post_date] => 2012-10-06 19:05:00
            [year] => 2012
            [month] => 10
            [post_type] => post
        )

    [1306] => stdClass Object
        (
            [slug] => state-by-state
            [ID] => 54495
            [post_name] => state-by-state-scrapbook-vermont
            [post_title] => State-by-State Scrapbook :: Vermont
            [post_author] => 3
            [post_date] => 2012-10-06 19:05:00
            [year] => 2012
            [month] => 10
            [post_type] => post
        )

    [1307] => stdClass Object
        (
            [slug] => state-by-state
            [ID] => 54496
            [post_name] => state-by-state-scrapbook-kentucky
            [post_title] => State-by-State Scrapbook :: Kentucky
            [post_author] => 3
            [post_date] => 2012-10-06 19:04:00
            [year] => 2012
            [month] => 10
            [post_type] => post
        )

    [1308] => stdClass Object
        (
            [slug] => state-by-state
            [ID] => 54497
            [post_name] => state-by-state-baking-rhode-island
            [post_title] => State-by-State Baking :: Rhode Island Johnnycakes
            [post_author] => 3
            [post_date] => 2012-10-05 18:17:00
            [year] => 2012
            [month] => 10
            [post_type] => post
        )

    [1309] => stdClass Object
        (
            [slug] => state-by-state
            [ID] => 54498
            [post_name] => state-by-state-scrapbook-rhode-island
            [post_title] => State-by-State Scrapbook :: Rhode Island
            [post_author] => 3
            [post_date] => 2012-10-05 18:16:00
            [year] => 2012
            [month] => 10
            [post_type] => post
        )

    [1310] => stdClass Object
        (
            [slug] => happy-anniversary
            [ID] => 54499
            [post_name] => pretty-happy-funny-real
            [post_title] => {pretty, happy, funny, real}
            [post_author] => 3
            [post_date] => 2012-10-04 18:06:00
            [year] => 2012
            [month] => 10
            [post_type] => post
        )

    [1311] => stdClass Object
        (
            [slug] => picture-books
            [ID] => 54500
            [post_name] => my-daybook-on-traditional-feast-of-st
            [post_title] => My Daybook :: On the Traditional Feast of St. Thérèse
            [post_author] => 3
            [post_date] => 2012-10-03 19:16:00
            [year] => 2012
            [month] => 10
            [post_type] => post
        )

    [1312] => stdClass Object
        (
            [slug] => happy-anniversary
            [ID] => 54501
            [post_name] => 13-years-ago-today
            [post_title] => 13 Years Ago Today
            [post_author] => 3
            [post_date] => 2012-10-03 00:44:00
            [year] => 2012
            [month] => 10
            [post_type] => post
        )

    [1313] => stdClass Object
        (
            [slug] => cake-decorating
            [ID] => 54502
            [post_name] => b-is-for-buttercream-happy-feast-of-st
            [post_title] => B is for Buttercream :: Happy Feast of St. Thérèse!
            [post_author] => 3
            [post_date] => 2012-10-01 20:42:00
            [year] => 2012
            [month] => 10
            [post_type] => post
        )

    [1314] => stdClass Object
        (
            [slug] => michaelmas
            [ID] => 54503
            [post_name] => celebrating-michaelmas
            [post_title] => Celebrating Michaelmas
            [post_author] => 3
            [post_date] => 2012-09-30 03:52:00
            [year] => 2012
            [month] => 9
            [post_type] => post
        )

    [1315] => stdClass Object
        (
            [slug] => angels
            [ID] => 54504
            [post_name] => a-is-for-apples-altar-st-aloysius-and
            [post_title] => "A" is for Apples, Altar, St. Aloysius, and Archangels!
            [post_author] => 3
            [post_date] => 2012-09-29 01:31:00
            [year] => 2012
            [month] => 9
            [post_type] => post
        )

    [1316] => stdClass Object
        (
            [slug] => alphabet-path
            [ID] => 54505
            [post_name] => highlights-from-z-week
            [post_title] => Highlights from "Z" Week
            [post_author] => 3
            [post_date] => 2012-09-27 16:41:00
            [year] => 2012
            [month] => 9
            [post_type] => post
        )

    [1317] => stdClass Object
        (
            [slug] => precious-moments-07
            [ID] => 54506
            [post_name] => precious-moments-blessings
            [post_title] => Precious Moments & Blessings
            [post_author] => 3
            [post_date] => 2012-09-27 00:30:00
            [year] => 2012
            [month] => 9
            [post_type] => post
        )

    [1318] => stdClass Object
        (
            [slug] => wooden-dolls
            [ID] => 54507
            [post_name] => an-alphabet-of-saints-painted-wooden
            [post_title] => An Alphabet of Saints :: Painted Wooden Peg Dolls
            [post_author] => 3
            [post_date] => 2012-09-25 22:33:00
            [year] => 2012
            [month] => 9
            [post_type] => post
        )

    [1319] => stdClass Object
        (
            [slug] => crafts
            [ID] => 54508
            [post_name] => angel-art-for-week
            [post_title] => Angel Art for A Week
            [post_author] => 3
            [post_date] => 2012-09-25 02:10:00
            [year] => 2012
            [month] => 9
            [post_type] => post
        )

    [1320] => stdClass Object
        (
            [slug] => curriculum
            [ID] => 54509
            [post_name] => along-alphabet-path-plan-for-2012-2013
            [post_title] => Along the Alphabet Path {The Plan for 2012-2013}
            [post_author] => 3
            [post_date] => 2012-09-23 19:19:00
            [year] => 2012
            [month] => 9
            [post_type] => post
        )

    [1321] => stdClass Object
        (
            [slug] => novena-to-saint-therese
            [ID] => 54510
            [post_name] => novena-to-saint-therese
            [post_title] => Novena to Saint Thérèse
            [post_author] => 3
            [post_date] => 2012-09-23 03:47:00
            [year] => 2012
            [month] => 9
            [post_type] => post
        )

    [1322] => stdClass Object
        (
            [slug] => state-by-state
            [ID] => 54511
            [post_name] => state-by-state-scrapbook-indiana
            [post_title] => State-by-State Scrapbook :: Indiana
            [post_author] => 3
            [post_date] => 2012-09-22 21:27:00
            [year] => 2012
            [month] => 9
            [post_type] => post
        )

    [1323] => stdClass Object
        (
            [slug] => state-by-state
            [ID] => 54512
            [post_name] => state-by-state-baking-indiana-bread
            [post_title] => State-by-State Baking :: Indiana Bread Pudding
            [post_author] => 3
            [post_date] => 2012-09-22 06:41:00
            [year] => 2012
            [month] => 9
            [post_type] => post
        )

    [1324] => stdClass Object
        (
            [slug] => feast-day-plans
            [ID] => 54513
            [post_name] => saint-matthew
            [post_title] => Ideas for Celebrating the Feast of St. Matthew
            [post_author] => 3
            [post_date] => 2012-09-21 05:59:00
            [year] => 2012
            [month] => 9
            [post_type] => post
        )

    [1325] => stdClass Object
        (
            [slug] => science
            [ID] => 54514
            [post_name] => pretty-pencils
            [post_title] => {pretty, happy, funny, real}
            [post_author] => 3
            [post_date] => 2012-09-20 17:37:00
            [year] => 2012
            [month] => 9
            [post_type] => post
        )

    [1326] => stdClass Object
        (
            [slug] => precious-moments-06
            [ID] => 54515
            [post_name] => wordless-wednesday-sunglasses-not
            [post_title] => Wordless Wednesday
            [post_author] => 3
            [post_date] => 2012-09-20 00:33:00
            [year] => 2012
            [month] => 9
            [post_type] => post
        )

    [1327] => stdClass Object
        (
            [slug] => giveaway
            [ID] => 54516
            [post_name] => a-shower-of-roses-announcing-giveaway
            [post_title] => A Shower of Roses {Announcing the Giveaway Winner!}
            [post_author] => 3
            [post_date] => 2012-09-19 17:24:00
            [year] => 2012
            [month] => 9
            [post_type] => post
        )

    [1328] => stdClass Object
        (
            [slug] => st-therese
            [ID] => 54517
            [post_name] => little-flowers-bingo-flowers-gems-and
            [post_title] => Little Flowers Bingo: Flowers & Gems {and other Printables!}
            [post_author] => 3
            [post_date] => 2012-09-19 06:28:00
            [year] => 2012
            [month] => 9
            [post_type] => post
        )

    [1329] => stdClass Object
        (
            [slug] => puzzles
            [ID] => 54518
            [post_name] => cupcake-puzzle-race
            [post_title] => Tea Party Games :: A Cupcake Jigsaw Puzzle Race!
            [post_author] => 3
            [post_date] => 2012-09-15 17:28:00
            [year] => 2012
            [month] => 9
            [post_type] => post
        )

    [1330] => stdClass Object
        (
            [slug] => this-moment
            [ID] => 54519
            [post_name] => this-moment
            [post_title] => {this moment}
            [post_author] => 3
            [post_date] => 2012-09-15 01:39:00
            [year] => 2012
            [month] => 9
            [post_type] => post
        )

    [1331] => stdClass Object
        (
            [slug] => party-games
            [ID] => 54520
            [post_name] => she-loves-it-she-loves-it-not
            [post_title] => Tea Party Games :: She Loves It... She Loves It Not!
            [post_author] => 3
            [post_date] => 2012-09-14 16:16:00
            [year] => 2012
            [month] => 9
            [post_type] => post
        )

    [1332] => stdClass Object
        (
            [slug] => precious-moments-03
            [ID] => 54521
            [post_name] => pretty-happy-funny-real_13
            [post_title] => {pretty, happy, funny, real}
            [post_author] => 3
            [post_date] => 2012-09-14 06:41:00
            [year] => 2012
            [month] => 9
            [post_type] => post
        )

    [1333] => stdClass Object
        (
            [slug] => teatime
            [ID] => 54522
            [post_name] => our-little-flowers-girls-club-mother
            [post_title] => Our Little Flowers Girls' Club Mother-Daughter Tea Party
            [post_author] => 3
            [post_date] => 2012-09-12 18:58:00
            [year] => 2012
            [month] => 9
            [post_type] => post
        )

    [1334] => stdClass Object
        (
            [slug] => marian
            [ID] => 54523
            [post_name] => 2000thPostGiveaway
            [post_title] => Celebrating Our Lady's Birthday {and a 2000th Post Giveaway!}
            [post_author] => 3
            [post_date] => 2012-09-11 20:08:00
            [year] => 2012
            [month] => 9
            [post_type] => post
        )

    [1335] => stdClass Object
        (
            [slug] => marian
            [ID] => 54524
            [post_name] => a-votive-mass-for-our-lady
            [post_title] => A Votive Mass for Our Lady
            [post_author] => 3
            [post_date] => 2012-09-10 21:03:00
            [year] => 2012
            [month] => 9
            [post_type] => post
        )

    [1336] => stdClass Object
        (
            [slug] => marian
            [ID] => 54525
            [post_name] => tea-time
            [post_title] => Tea Time
            [post_author] => 3
            [post_date] => 2012-09-08 16:30:00
            [year] => 2012
            [month] => 9
            [post_type] => post
        )

    [1337] => stdClass Object
        (
            [slug] => phfr
            [ID] => 54526
            [post_name] => pretty-happy-funny-real
            [post_title] => {pretty, happy, funny, real}
            [post_author] => 3
            [post_date] => 2012-09-06 18:26:00
            [year] => 2012
            [month] => 9
            [post_type] => post
        )

    [1338] => stdClass Object
        (
            [slug] => precious-moments-01
            [ID] => 54527
            [post_name] => the-big-day
            [post_title] => The Big Day
            [post_author] => 3
            [post_date] => 2012-09-06 01:14:00
            [year] => 2012
            [month] => 9
            [post_type] => post
        )

    [1339] => stdClass Object
        (
            [slug] => precious-moments-07
            [ID] => 54528
            [post_name] => just-for-fun
            [post_title] => Just for Fun
            [post_author] => 3
            [post_date] => 2012-09-05 15:14:00
            [year] => 2012
            [month] => 9
            [post_type] => post
        )

    [1340] => stdClass Object
        (
            [slug] => back-to-school
            [ID] => 54529
            [post_name] => back-to-school-2012-2013
            [post_title] => Back-to-School :: 2012-2013
            [post_author] => 3
            [post_date] => 2012-09-05 06:58:00
            [year] => 2012
            [month] => 9
            [post_type] => post
        )

    [1341] => stdClass Object
        (
            [slug] => home-education
            [ID] => 54530
            [post_name] => why-homeschool
            [post_title] => Inspiration for the New School Year
            [post_author] => 3
            [post_date] => 2012-09-04 07:53:00
            [year] => 2012
            [month] => 9
            [post_type] => post
        )

    [1342] => stdClass Object
        (
            [slug] => birthday-parties
            [ID] => 54531
            [post_name] => happy-9th-birthday-twinkle-toes
            [post_title] => Happy 9th Birthday, Twinkle Toes!
            [post_author] => 3
            [post_date] => 2012-09-04 06:51:00
            [year] => 2012
            [month] => 9
            [post_type] => post
        )

    [1343] => stdClass Object
        (
            [slug] => cake-decorating
            [ID] => 54532
            [post_name] => a-camping-themed-birthday-cake
            [post_title] => A Camping Themed Birthday Cake
            [post_author] => 3
            [post_date] => 2012-08-30 17:19:00
            [year] => 2012
            [month] => 8
            [post_type] => post
        )

    [1344] => stdClass Object
        (
            [slug] => precious-moments-03
            [ID] => 54533
            [post_name] => pretty-happy-funny-real_31
            [post_title] => {pretty, happy, funny, real}
            [post_author] => 3
            [post_date] => 2012-08-30 17:00:00
            [year] => 2012
            [month] => 8
            [post_type] => post
        )

    [1345] => stdClass Object
        (
            [slug] => world-history
            [ID] => 54534
            [post_name] => vikings
            [post_title] => Let's Travel Back to the World of the Vikings!
            [post_author] => 3
            [post_date] => 2012-08-29 19:46:00
            [year] => 2012
            [month] => 8
            [post_type] => post
        )

    [1346] => stdClass Object
        (
            [slug] => daybook
            [ID] => 54535
            [post_name] => my-daybook
            [post_title] => My Daybook: August 29, 2012
            [post_author] => 3
            [post_date] => 2012-08-29 19:46:00
            [year] => 2012
            [month] => 8
            [post_type] => post
        )

    [1347] => stdClass Object
        (
            [slug] => latin-mass
            [ID] => 54536
            [post_name] => a-sunday-drive
            [post_title] => A Sunday Drive
            [post_author] => 3
            [post_date] => 2012-08-27 22:27:00
            [year] => 2012
            [month] => 8
            [post_type] => post
        )

    [1348] => stdClass Object
        (
            [slug] => marian
            [ID] => 54537
            [post_name] => lavender-cookies
            [post_title] => In Honor of the Immaculate Heart of Mary
            [post_author] => 3
            [post_date] => 2012-08-25 14:52:00
            [year] => 2012
            [month] => 8
            [post_type] => post
        )

    [1349] => stdClass Object
        (
            [slug] => daybook
            [ID] => 54538
            [post_name] => my-daybook-august-21-2012
            [post_title] => My Daybook :: August 21, 2012
            [post_author] => 3
            [post_date] => 2012-08-21 21:43:00
            [year] => 2012
            [month] => 8
            [post_type] => post
        )

    [1350] => stdClass Object
        (
            [slug] => little-flowers
            [ID] => 54540
            [post_name] => little-flowers-girls-club-gift-of-fear
            [post_title] => Little Flowers Girls' Club ~ The Gift of Fear of the Lord
            [post_author] => 3
            [post_date] => 2012-08-17 17:53:00
            [year] => 2012
            [month] => 8
            [post_type] => post
        )

    [1351] => stdClass Object
        (
            [slug] => precious-moments-01
            [ID] => 54541
            [post_name] => this-moment
            [post_title] => {this moment}
            [post_author] => 3
            [post_date] => 2012-08-17 07:39:00
            [year] => 2012
            [month] => 8
            [post_type] => post
        )

    [1352] => stdClass Object
        (
            [slug] => precious-moments-07
            [ID] => 54542
            [post_name] => pretty-happy-funny-real_16
            [post_title] => {pretty, happy, funny, real}
            [post_author] => 3
            [post_date] => 2012-08-17 06:50:00
            [year] => 2012
            [month] => 8
            [post_type] => post
        )

    [1353] => stdClass Object
        (
            [slug] => little-flowers
            [ID] => 54543
            [post_name] => little-flowers-girls-club-notebook
            [post_title] => Little Flowers Girls Club ~ Notebook Pages
            [post_author] => 3
            [post_date] => 2012-08-16 19:07:00
            [year] => 2012
            [month] => 8
            [post_type] => post
        )

    [1354] => stdClass Object
        (
            [slug] => recipes
            [ID] => 54544
            [post_name] => mexican-polenta-pie
            [post_title] => Mexican Polenta Pie
            [post_author] => 3
            [post_date] => 2012-08-15 21:19:00
            [year] => 2012
            [month] => 8
            [post_type] => post
        )

    [1355] => stdClass Object
        (
            [slug] => curriculum
            [ID] => 54545
            [post_name] => our-curriculum-plans-2012-2013
            [post_title] => Our Curriculum Plans :: 2012-2013
            [post_author] => 3
            [post_date] => 2012-08-13 23:31:00
            [year] => 2012
            [month] => 8
            [post_type] => post
        )

    [1356] => stdClass Object
        (
            [slug] => daybook
            [ID] => 54546
            [post_name] => my-daybook-august-10-2012
            [post_title] => My Daybook :: August 10, 2012
            [post_author] => 3
            [post_date] => 2012-08-10 16:18:00
            [year] => 2012
            [month] => 8
            [post_type] => post
        )

    [1357] => stdClass Object
        (
            [slug] => phfr
            [ID] => 54547
            [post_name] => pretty-happy-funny-real
            [post_title] => {pretty, happy, funny, real}
            [post_author] => 3
            [post_date] => 2012-08-09 16:46:00
            [year] => 2012
            [month] => 8
            [post_type] => post
        )

    [1358] => stdClass Object
        (
            [slug] => book-sale
            [ID] => 54548
            [post_name] => 2nd-annual-online-curriculum-sale-blog
            [post_title] => 2nd Annual Online Curriculum Sale Blog Hop
            [post_author] => 3
            [post_date] => 2012-08-06 22:00:00
            [year] => 2012
            [month] => 8
            [post_type] => post
        )

    [1359] => stdClass Object
        (
            [slug] => book-sale
            [ID] => 54549
            [post_name] => another-used-book-sale-listing-books
            [post_title] => Another Used Book Sale {Listing Books for my Mom}
            [post_author] => 3
            [post_date] => 2012-08-06 21:54:00
            [year] => 2012
            [month] => 8
            [post_type] => post
        )

    [1360] => stdClass Object
        (
            [slug] => this-moment
            [ID] => 54550
            [post_name] => this-moment-little-flowers-girls-club
            [post_title] => {This Moment}  Little Flowers Girls' Club from Start to Finish!
            [post_author] => 3
            [post_date] => 2012-08-03 19:59:00
            [year] => 2012
            [month] => 8
            [post_type] => post
        )

    [1361] => stdClass Object
        (
            [slug] => book-sale
            [ID] => 54551
            [post_name] => our-2012-used-book-sale
            [post_title] => Our 2012 Used Book Sale
            [post_author] => 3
            [post_date] => 2012-08-01 07:52:00
            [year] => 2012
            [month] => 8
            [post_type] => post
        )

    [1362] => stdClass Object
        (
            [slug] => magazines
            [ID] => 54552
            [post_name] => stmarysmessenger
            [post_title] => A Catholic Magazine for Children
            [post_author] => 3
            [post_date] => 2012-07-31 16:19:00
            [year] => 2012
            [month] => 7
            [post_type] => post
        )

    [1363] => stdClass Object
        (
            [slug] => daybook
            [ID] => 54553
            [post_name] => my-daybook-july-30-2013
            [post_title] => My Daybook :: July 30, 2013
            [post_author] => 3
            [post_date] => 2012-07-31 01:34:00
            [year] => 2012
            [month] => 7
            [post_type] => post
        )

    [1364] => stdClass Object
        (
            [slug] => st-anne
            [ID] => 54554
            [post_name] => celebrating-st-annes-day
            [post_title] => Celebrating St. Anne's Day
            [post_author] => 3
            [post_date] => 2012-07-27 05:01:00
            [year] => 2012
            [month] => 7
            [post_type] => post
        )

    [1365] => stdClass Object
        (
            [slug] => kids-in-the-kitchen
            [ID] => 54555
            [post_name] => a-few-pictures-from-feast-of-sts-james
            [post_title] => A Few Pictures from the Feast of Sts. James & Christopher
            [post_author] => 3
            [post_date] => 2012-07-26 23:39:00
            [year] => 2012
            [month] => 7
            [post_type] => post
        )

    [1366] => stdClass Object
        (
            [slug] => precious-moments-01
            [ID] => 54556
            [post_name] => pretty-happy-funny-real_26
            [post_title] => {pretty, happy, funny, real}
            [post_author] => 3
            [post_date] => 2012-07-26 21:46:00
            [year] => 2012
            [month] => 7
            [post_type] => post
        )

    [1367] => stdClass Object
        (
            [slug] => daybook
            [ID] => 54557
            [post_name] => my-daybook-july-25-2012
            [post_title] => My Daybook :: July 25, 2012
            [post_author] => 3
            [post_date] => 2012-07-25 08:42:00
            [year] => 2012
            [month] => 7
            [post_type] => post
        )

    [1368] => stdClass Object
        (
            [slug] => birthday-parties
            [ID] => 54558
            [post_name] => a-settlers-of-catan-birthday-party-and
            [post_title] => A Settlers of Catan Birthday Party and Game Night
            [post_author] => 3
            [post_date] => 2012-07-23 17:48:00
            [year] => 2012
            [month] => 7
            [post_type] => post
        )

    [1369] => stdClass Object
        (
            [slug] => cake-decorating
            [ID] => 54559
            [post_name] => cupcakes-of-catan
            [post_title] => Cupcakes of Catan
            [post_author] => 3
            [post_date] => 2012-07-22 19:37:00
            [year] => 2012
            [month] => 7
            [post_type] => post
        )

    [1370] => stdClass Object
        (
            [slug] => this-moment
            [ID] => 54560
            [post_name] => this-moment
            [post_title] => {this moment}
            [post_author] => 3
            [post_date] => 2012-07-20 19:51:00
            [year] => 2012
            [month] => 7
            [post_type] => post
        )

    [1371] => stdClass Object
        (
            [slug] => precious-moments-07
            [ID] => 54561
            [post_name] => 7-months-old-today
            [post_title] => 7 Months Old Today...
            [post_author] => 3
            [post_date] => 2012-07-20 04:28:00
            [year] => 2012
            [month] => 7
            [post_type] => post
        )

    [1372] => stdClass Object
        (
            [slug] => prayer-request
            [ID] => 54562
            [post_name] => lighting-candle
            [post_title] => Lighting a candle...
            [post_author] => 3
            [post_date] => 2012-07-19 19:05:00
            [year] => 2012
            [month] => 7
            [post_type] => post
        )

    [1373] => stdClass Object
        (
            [slug] => prayer-request
            [ID] => 54563
            [post_name] => blessings
            [post_title] => Blessings
            [post_author] => 3
            [post_date] => 2012-07-19 17:05:00
            [year] => 2012
            [month] => 7
            [post_type] => post
        )

    [1374] => stdClass Object
        (
            [slug] => marian
            [ID] => 54564
            [post_name] => simple-caramel-applesauce-crown-cake
            [post_title] => A Simple Caramel Applesauce Crown Cake
            [post_author] => 3
            [post_date] => 2012-07-17 01:19:00
            [year] => 2012
            [month] => 7
            [post_type] => post
        )

    [1375] => stdClass Object
        (
            [slug] => daybook
            [ID] => 54565
            [post_name] => my-daybook-july-15-2012
            [post_title] => My Daybook :: July 15, 2012
            [post_author] => 3
            [post_date] => 2012-07-15 17:45:00
            [year] => 2012
            [month] => 7
            [post_type] => post
        )

    [1376] => stdClass Object
        (
            [slug] => summer
            [ID] => 54566
            [post_name] => summer-bingo-our-2012-cardsprintables
            [post_title] => Summer Bingo {Our 2012 Cards/Printables}
            [post_author] => 3
            [post_date] => 2012-07-15 17:45:00
            [year] => 2012
            [month] => 7
            [post_type] => post
        )

    [1377] => stdClass Object
        (
            [slug] => july-4th
            [ID] => 54567
            [post_name] => celebrating-4th-of-july-pictures-from
            [post_title] => Celebrating the 4th of July {pictures from the party}
            [post_author] => 3
            [post_date] => 2012-07-06 14:30:00
            [year] => 2012
            [month] => 7
            [post_type] => post
        )

    [1378] => stdClass Object
        (
            [slug] => kids-in-the-kitchen
            [ID] => 54568
            [post_name] => 6-patriotic-treats-for-4th-of-july
            [post_title] => 6 Patriotic Treats for the 4th of July
            [post_author] => 3
            [post_date] => 2012-07-05 20:26:00
            [year] => 2012
            [month] => 7
            [post_type] => post
        )

    [1379] => stdClass Object
        (
            [slug] => parade
            [ID] => 54569
            [post_name] => pretty-happy-funny-real
            [post_title] => {pretty, happy, funny, real}
            [post_author] => 3
            [post_date] => 2012-07-05 19:46:00
            [year] => 2012
            [month] => 7
            [post_type] => post
        )

    [1380] => stdClass Object
        (
            [slug] => daybook
            [ID] => 54570
            [post_name] => my-daybook-june-29-2012
            [post_title] => My Daybook :: June 29, 2012
            [post_author] => 3
            [post_date] => 2012-06-29 22:34:00
            [year] => 2012
            [month] => 6
            [post_type] => post
        )

    [1381] => stdClass Object
        (
            [slug] => this-moment
            [ID] => 54571
            [post_name] => this-moment
            [post_title] => {this moment}
            [post_author] => 3
            [post_date] => 2012-06-29 15:38:00
            [year] => 2012
            [month] => 6
            [post_type] => post
        )

    [1382] => stdClass Object
        (
            [slug] => precious-moments-05
            [ID] => 54572
            [post_name] => pretty-happy-funny-real_28
            [post_title] => {pretty, happy, funny, real}
            [post_author] => 3
            [post_date] => 2012-06-29 00:41:00
            [year] => 2012
            [month] => 6
            [post_type] => post
        )

    [1383] => stdClass Object
        (
            [slug] => precious-moments-07
            [ID] => 54573
            [post_name] => summer-golf-camp
            [post_title] => Summer Golf Camp
            [post_author] => 3
            [post_date] => 2012-06-25 16:21:00
            [year] => 2012
            [month] => 6
            [post_type] => post
        )

    [1384] => stdClass Object
        (
            [slug] => happy-birthday
            [ID] => 54574
            [post_name] => happy-birthday-to-you
            [post_title] => Happy Birthday to You
            [post_author] => 3
            [post_date] => 2012-06-24 22:54:00
            [year] => 2012
            [month] => 6
            [post_type] => post
        )

    [1385] => stdClass Object
        (
            [slug] => birthday-parties
            [ID] => 54575
            [post_name] => cars-themed-birthday-party
            [post_title] => A Cars Themed Birthday Party
            [post_author] => 3
            [post_date] => 2012-06-23 18:43:00
            [year] => 2012
            [month] => 6
            [post_type] => post
        )

    [1386] => stdClass Object
        (
            [slug] => birthday-parties
            [ID] => 54576
            [post_name] => ka-chow-lightning-mcqueen-themed
            [post_title] => Ka-chow!  A Lightning McQueen Birthday Cake
            [post_author] => 3
            [post_date] => 2012-06-21 18:27:00
            [year] => 2012
            [month] => 6
            [post_type] => post
        )

    [1387] => stdClass Object
        (
            [slug] => daybook
            [ID] => 54577
            [post_name] => my-daybook-june-20-2012
            [post_title] => My Daybook :: June 20, 2012
            [post_author] => 3
            [post_date] => 2012-06-21 03:08:00
            [year] => 2012
            [month] => 6
            [post_type] => post
        )

    [1388] => stdClass Object
        (
            [slug] => precious-moments-07
            [ID] => 54578
            [post_name] => six-months-old-today
            [post_title] => Six Months Old Today...
            [post_author] => 3
            [post_date] => 2012-06-20 02:00:00
            [year] => 2012
            [month] => 6
            [post_type] => post
        )

    [1389] => stdClass Object
        (
            [slug] => fathers
            [ID] => 54579
            [post_name] => for-my-husband-on-fathers-day-2012
            [post_title] => For My Husband {On Father's Day 2012}
            [post_author] => 3
            [post_date] => 2012-06-18 02:04:00
            [year] => 2012
            [month] => 6
            [post_type] => post
        )

    [1390] => stdClass Object
        (
            [slug] => crafts
            [ID] => 54580
            [post_name] => sacred-heart-tie-dyed-t-shirts
            [post_title] => Sacred Heart Tie Dyed T-Shirts
            [post_author] => 3
            [post_date] => 2012-06-14 17:41:00
            [year] => 2012
            [month] => 6
            [post_type] => post
        )

    [1391] => stdClass Object
        (
            [slug] => feast-day-plans
            [ID] => 54581
            [post_name] => on-feast-of-st-anthony
            [post_title] => A Simple Celebration on the Feast of St. Anthony
            [post_author] => 3
            [post_date] => 2012-06-14 01:03:00
            [year] => 2012
            [month] => 6
            [post_type] => post
        )

    [1392] => stdClass Object
        (
            [slug] => daybook
            [ID] => 54582
            [post_name] => my-daybook-june-11-2012-its-summertime
            [post_title] => My Daybook :: June 11, 2012 {It's Summertime!}
            [post_author] => 3
            [post_date] => 2012-06-11 23:15:00
            [year] => 2012
            [month] => 6
            [post_type] => post
        )

    [1393] => stdClass Object
        (
            [slug] => home-education
            [ID] => 54583
            [post_name] => end-of-school-interviews
            [post_title] => End-of-School Interviews
            [post_author] => 3
            [post_date] => 2012-06-08 00:57:00
            [year] => 2012
            [month] => 6
            [post_type] => post
        )

    [1394] => stdClass Object
        (
            [slug] => precious-moments-03
            [ID] => 54584
            [post_name] => pretty-happy-funny-real
            [post_title] => {pretty, happy, funny, real}
            [post_author] => 3
            [post_date] => 2012-06-07 23:44:00
            [year] => 2012
            [month] => 6
            [post_type] => post
        )

    [1395] => stdClass Object
        (
            [slug] => state-by-state
            [ID] => 54585
            [post_name] => state-by-state-baking-north-carolina
            [post_title] => State-by-State Baking :: North Carolina Dogwood Bark
            [post_author] => 3
            [post_date] => 2012-06-06 16:52:00
            [year] => 2012
            [month] => 6
            [post_type] => post
        )

    [1396] => stdClass Object
        (
            [slug] => state-by-state
            [ID] => 54586
            [post_name] => state-by-state-scrapbook-north-carolina
            [post_title] => State-by-State Scrapbook :: North Carolina
            [post_author] => 3
            [post_date] => 2012-06-06 16:47:00
            [year] => 2012
            [month] => 6
            [post_type] => post
        )

    [1397] => stdClass Object
        (
            [slug] => american-history
            [ID] => 54587
            [post_name] => american-revolution-unit-study-and-lap
            [post_title] => The American Revolution Unit Study and Lap Book
            [post_author] => 3
            [post_date] => 2012-06-05 18:55:00
            [year] => 2012
            [month] => 6
            [post_type] => post
        )

    [1398] => stdClass Object
        (
            [slug] => field-trips
            [ID] => 54588
            [post_name] => young-hunters-day-2012
            [post_title] => Young Hunters Day 2012
            [post_author] => 3
            [post_date] => 2012-06-04 23:33:00
            [year] => 2012
            [month] => 6
            [post_type] => post
        )

    [1399] => stdClass Object
        (
            [slug] => precious-moments-04
            [ID] => 54589
            [post_name] => locks-of-love
            [post_title] => Locks of Love
            [post_author] => 3
            [post_date] => 2012-06-02 00:21:00
            [year] => 2012
            [month] => 6
            [post_type] => post
        )

    [1400] => stdClass Object
        (
            [slug] => phfr
            [ID] => 54590
            [post_name] => pretty-happy-funny-real-memorial-day
            [post_title] => {pretty, happy, funny, real}  Memorial Day 2012
            [post_author] => 3
            [post_date] => 2012-05-31 17:26:00
            [year] => 2012
            [month] => 5
            [post_type] => post
        )

    [1401] => stdClass Object
        (
            [slug] => home-education
            [ID] => 54591
            [post_name] => end-of-school-year-teacher-appreciation
            [post_title] => End of School Year Teacher Appreciation Gifts
            [post_author] => 3
            [post_date] => 2012-05-31 04:48:00
            [year] => 2012
            [month] => 5
            [post_type] => post
        )

    [1402] => stdClass Object
        (
            [slug] => science
            [ID] => 54592
            [post_name] => watching-solar-eclipse-may-20-2012
            [post_title] => Watching the Solar Eclipse {May 20, 2012}
            [post_author] => 3
            [post_date] => 2012-05-31 03:24:00
            [year] => 2012
            [month] => 5
            [post_type] => post
        )

    [1403] => stdClass Object
        (
            [slug] => precious-moments-07
            [ID] => 54593
            [post_name] => babys-first-food
            [post_title] => Baby's First Food
            [post_author] => 3
            [post_date] => 2012-05-29 17:00:00
            [year] => 2012
            [month] => 5
            [post_type] => post
        )

    [1404] => stdClass Object
        (
            [slug] => pentecost
            [ID] => 54594
            [post_name] => celebrating-pentecost-birthday-of
            [post_title] => Celebrating Pentecost, the Birthday of the Church :: 2012 Edition
            [post_author] => 3
            [post_date] => 2012-05-28 01:25:00
            [year] => 2012
            [month] => 5
            [post_type] => post
        )

    [1405] => stdClass Object
        (
            [slug] => garden-of-the-good-shepherd
            [ID] => 54595
            [post_name] => good-shepherds-garden-party-week-seven
            [post_title] => The Good Shepherd's Garden Party :: Week Seven
            [post_author] => 3
            [post_date] => 2012-05-27 03:30:00
            [year] => 2012
            [month] => 5
            [post_type] => post
        )

    [1406] => stdClass Object
        (
            [slug] => this-moment
            [ID] => 54596
            [post_name] => this-moment
            [post_title] => {this moment}
            [post_author] => 3
            [post_date] => 2012-05-25 16:53:00
            [year] => 2012
            [month] => 5
            [post_type] => post
        )

    [1407] => stdClass Object
        (
            [slug] => marian
            [ID] => 54597
            [post_name] => alphabet-of-mary
            [post_title] => An Alphabet of Mary
            [post_author] => 3
            [post_date] => 2012-05-25 15:12:00
            [year] => 2012
            [month] => 5
            [post_type] => post
        )

    [1408] => stdClass Object
        (
            [slug] => ordinations
            [ID] => 54598
            [post_name] => highlights-of-ordination-of-bishop-liam
            [post_title] => Highlights of the Ordination of Bishop Liam Cary
            [post_author] => 3
            [post_date] => 2012-05-24 23:58:00
            [year] => 2012
            [month] => 5
            [post_type] => post
        )

    [1409] => stdClass Object
        (
            [slug] => priests
            [ID] => 54599
            [post_name] => pretty-happy-funny-real_24
            [post_title] => {pretty, happy, funny, real}
            [post_author] => 3
            [post_date] => 2012-05-24 21:26:00
            [year] => 2012
            [month] => 5
            [post_type] => post
        )

    [1410] => stdClass Object
        (
            [slug] => state-by-state
            [ID] => 54600
            [post_name] => state-by-state-scrapbook-new-york
            [post_title] => State-by-State Scrapbook :: New York
            [post_author] => 3
            [post_date] => 2012-05-24 20:39:00
            [year] => 2012
            [month] => 5
            [post_type] => post
        )

    [1411] => stdClass Object
        (
            [slug] => state-by-state
            [ID] => 54601
            [post_name] => state-by-state-baking-new-york
            [post_title] => State-by-State Baking :: New York Cheesecake
            [post_author] => 3
            [post_date] => 2012-05-22 21:28:00
            [year] => 2012
            [month] => 5
            [post_type] => post
        )

    [1412] => stdClass Object
        (
            [slug] => fathers
            [ID] => 54602
            [post_name] => on-fatherhood
            [post_title] => On Fatherhood
            [post_author] => 3
            [post_date] => 2012-05-21 21:19:00
            [year] => 2012
            [month] => 5
            [post_type] => post
        )

    [1413] => stdClass Object
        (
            [slug] => marian
            [ID] => 54603
            [post_name] => good-shepherds-garden-party-week-six
            [post_title] => Good Shepherd's Garden Party :: Week Six {and May Crowning!}
            [post_author] => 3
            [post_date] => 2012-05-21 20:37:00
            [year] => 2012
            [month] => 5
            [post_type] => post
        )

    [1414] => stdClass Object
        (
            [slug] => priests
            [ID] => 54604
            [post_name] => ordination-mass-of-father-liam-cary-as
            [post_title] => The Ordination Mass of Father Liam Cary as Bishop of Baker
            [post_author] => 3
            [post_date] => 2012-05-18 16:29:00
            [year] => 2012
            [month] => 5
            [post_type] => post
        )

    [1415] => stdClass Object
        (
            [slug] => summer
            [ID] => 54605
            [post_name] => pretty-happy-funny-real_17
            [post_title] => {pretty, happy, funny, real}
            [post_author] => 3
            [post_date] => 2012-05-17 16:21:00
            [year] => 2012
            [month] => 5
            [post_type] => post
        )

    [1416] => stdClass Object
        (
            [slug] => st-therese
            [ID] => 54606
            [post_name] => little-flowers-girls-club-gift-of-piety
            [post_title] => Little Flowers Girls' Club ~ The Gift of Piety
            [post_author] => 3
            [post_date] => 2012-05-15 16:16:00
            [year] => 2012
            [month] => 5
            [post_type] => post
        )

    [1417] => stdClass Object
        (
            [slug] => mothers-day
            [ID] => 54607
            [post_name] => good-shepherds-garden-party-week-5
            [post_title] => The Good Shepherd's Garden Party :: Week 5
            [post_author] => 3
            [post_date] => 2012-05-14 19:47:00
            [year] => 2012
            [month] => 5
            [post_type] => post
        )

    [1418] => stdClass Object
        (
            [slug] => prayer
            [ID] => 54608
            [post_name] => on-mothers-day
            [post_title] => On Mother's Day
            [post_author] => 3
            [post_date] => 2012-05-13 20:39:00
            [year] => 2012
            [month] => 5
            [post_type] => post
        )

    [1419] => stdClass Object
        (
            [slug] => catholic-cuisine
            [ID] => 54609
            [post_name] => pretty-happy-funny-real_10
            [post_title] => {pretty, happy, funny, real}
            [post_author] => 3
            [post_date] => 2012-05-10 22:23:00
            [year] => 2012
            [month] => 5
            [post_type] => post
        )

    [1420] => stdClass Object
        (
            [slug] => field-trips
            [ID] => 54610
            [post_name] => wildlife-images
            [post_title] => Wildlife Images
            [post_author] => 3
            [post_date] => 2012-05-09 16:04:00
            [year] => 2012
            [month] => 5
            [post_type] => post
        )

    [1421] => stdClass Object
        (
            [slug] => reviews
            [ID] => 54611
            [post_name] => book-review-past-suspicion
            [post_title] => Book Review :: Past Suspicion
            [post_author] => 3
            [post_date] => 2012-05-09 02:50:00
            [year] => 2012
            [month] => 5
            [post_type] => post
        )

    [1422] => stdClass Object
        (
            [slug] => home-education
            [ID] => 54612
            [post_name] => my-daybook-may-7-2012
            [post_title] => My Daybook :: May 7, 2012
            [post_author] => 3
            [post_date] => 2012-05-07 21:58:00
            [year] => 2012
            [month] => 5
            [post_type] => post
        )

    [1423] => stdClass Object
        (
            [slug] => cake-decorating
            [ID] => 54613
            [post_name] => good-shepherds-garden-party-week-four
            [post_title] => The Good Shepherd's Garden Party :: Week Four
            [post_author] => 3
            [post_date] => 2012-05-07 06:53:00
            [year] => 2012
            [month] => 5
            [post_type] => post
        )

    [1424] => stdClass Object
        (
            [slug] => phfr
            [ID] => 54614
            [post_name] => pretty-happy-funny-real
            [post_title] => {pretty, happy, funny, real}
            [post_author] => 3
            [post_date] => 2012-05-05 17:19:00
            [year] => 2012
            [month] => 5
            [post_type] => post
        )

    [1425] => stdClass Object
        (
            [slug] => archives-monthly
            [ID] => 54615
            [post_name] => may-month-dedicated-to-blessed-virgin
            [post_title] => May :: Month Dedicated to the Blessed Virgin Mary
            [post_author] => 3
            [post_date] => 2012-05-04 00:18:00
            [year] => 2012
            [month] => 5
            [post_type] => post
        )

    [1426] => stdClass Object
        (
            [slug] => st-joan-of-arc
            [ID] => 54616
            [post_name] => little-flowers-girls-club-gift-of
            [post_title] => Little Flowers Girls' Club ~ The Gift of Fortitude
            [post_author] => 3
            [post_date] => 2012-05-01 17:05:00
            [year] => 2012
            [month] => 5
            [post_type] => post
        )

    [1427] => stdClass Object
        (
            [slug] => good-shepherds-garden-party
            [ID] => 54617
            [post_name] => good-shepherds-garden-party-week-three
            [post_title] => The Good Shepherd's Garden Party :: Week Three
            [post_author] => 3
            [post_date] => 2012-04-29 23:38:00
            [year] => 2012
            [month] => 4
            [post_type] => post
        )

    [1428] => stdClass Object
        (
            [slug] => this-moment
            [ID] => 54618
            [post_name] => this-moment
            [post_title] => {this moment}
            [post_author] => 3
            [post_date] => 2012-04-27 14:19:00
            [year] => 2012
            [month] => 4
            [post_type] => post
        )

    [1429] => stdClass Object
        (
            [slug] => birthday-parties
            [ID] => 54619
            [post_name] => pretty-happy-funny-real_26
            [post_title] => {pretty, happy, funny, real}
            [post_author] => 3
            [post_date] => 2012-04-26 15:45:00
            [year] => 2012
            [month] => 4
            [post_type] => post
        )

    [1430] => stdClass Object
        (
            [slug] => birthday-parties
            [ID] => 54620
            [post_name] => happy-birthday-to-you-dr-seuss-thing-2
            [post_title] => Happy Birthday To You! {A Dr. Seuss Thing 2 Birthday Party}
            [post_author] => 3
            [post_date] => 2012-04-25 18:36:00
            [year] => 2012
            [month] => 4
            [post_type] => post
        )

    [1431] => stdClass Object
        (
            [slug] => precious-moments-06
            [ID] => 54621
            [post_name] => wordless-wednesday
            [post_title] => Wordless Wednesday
            [post_author] => 3
            [post_date] => 2012-04-25 16:29:00
            [year] => 2012
            [month] => 4
            [post_type] => post
        )

    [1432] => stdClass Object
        (
            [slug] => american-girl
            [ID] => 54622
            [post_name] => early-american-pioneer-birthday
            [post_title] => An Early American Pioneer Birthday
            [post_author] => 3
            [post_date] => 2012-04-24 15:04:00
            [year] => 2012
            [month] => 4
            [post_type] => post
        )

    [1433] => stdClass Object
        (
            [slug] => kids-in-the-kitchen
            [ID] => 54623
            [post_name] => st-george-and-dragon-sugar-cookie-story
            [post_title] => St. George and the Dragon :: A Sugar Cookie Story Quilt
            [post_author] => 3
            [post_date] => 2012-04-24 03:03:00
            [year] => 2012
            [month] => 4
            [post_type] => post
        )

    [1434] => stdClass Object
        (
            [slug] => good-shepherds-garden-party
            [ID] => 54624
            [post_name] => good-shepherds-garden-party-week-two
            [post_title] => The Good Shepherd's Garden Party :: Week Two
            [post_author] => 3
            [post_date] => 2012-04-23 02:16:00
            [year] => 2012
            [month] => 4
            [post_type] => post
        )

    [1435] => stdClass Object
        (
            [slug] => american-girl
            [ID] => 54625
            [post_name] => somebodys-seven
            [post_title] => Somebody's Seven
            [post_author] => 3
            [post_date] => 2012-04-21 01:32:00
            [year] => 2012
            [month] => 4
            [post_type] => post
        )

    [1436] => stdClass Object
        (
            [slug] => precious-moments-07
            [ID] => 54626
            [post_name] => pretty-happy-funny-real-4-months-old
            [post_title] => {pretty, happy, funny, real} :: 4 months old!
            [post_author] => 3
            [post_date] => 2012-04-19 16:07:00
            [year] => 2012
            [month] => 4
            [post_type] => post
        )

    [1437] => stdClass Object
        (
            [slug] => home-improvement
            [ID] => 54627
            [post_name] => almost-finished
            [post_title] => Almost Finished
            [post_author] => 3
            [post_date] => 2012-04-18 14:43:00
            [year] => 2012
            [month] => 4
            [post_type] => post
        )

    [1438] => stdClass Object
        (
            [slug] => home-improvement
            [ID] => 54628
            [post_name] => finishing-fireplace
            [post_title] => Finishing the Fireplace
            [post_author] => 3
            [post_date] => 2012-04-17 20:02:00
            [year] => 2012
            [month] => 4
            [post_type] => post
        )

    [1439] => stdClass Object
        (
            [slug] => good-shepherds-garden-party
            [ID] => 54629
            [post_name] => good-shepherds-garden-party-week-one
            [post_title] => The Good Shepherd's Garden Party  :: Week One
            [post_author] => 3
            [post_date] => 2012-04-16 17:00:00
            [year] => 2012
            [month] => 4
            [post_type] => post
        )

    [1440] => stdClass Object
        (
            [slug] => jesus-make-me-worthy
            [ID] => 54630
            [post_name] => first-holy-communion-gift-ideas
            [post_title] => First Holy Communion Gift Ideas
            [post_author] => 3
            [post_date] => 2012-04-13 17:24:00
            [year] => 2012
            [month] => 4
            [post_type] => post
        )

    [1441] => stdClass Object
        (
            [slug] => easter
            [ID] => 54631
            [post_name] => on-easter-morning
            [post_title] => On Easter Morning {Our 2012 Easter Baskets!}
            [post_author] => 3
            [post_date] => 2012-04-12 20:30:00
            [year] => 2012
            [month] => 4
            [post_type] => post
        )

    [1442] => stdClass Object
        (
            [slug] => easter
            [ID] => 54632
            [post_name] => pretty-happy-funny-real
            [post_title] => {pretty, happy, funny, real}
            [post_author] => 3
            [post_date] => 2012-04-12 18:42:00
            [year] => 2012
            [month] => 4
            [post_type] => post
        )

    [1443] => stdClass Object
        (
            [slug] => easter
            [ID] => 54633
            [post_name] => hunting-for-eggs-on-easter-sunday
            [post_title] => Hunting for Eggs on Easter Sunday
            [post_author] => 3
            [post_date] => 2012-04-11 18:41:00
            [year] => 2012
            [month] => 4
            [post_type] => post
        )

    [1444] => stdClass Object
        (
            [slug] => easter
            [ID] => 54634
            [post_name] => our-easter-dinner-easter-sunday-2012
            [post_title] => Our Easter Dinner ~ Easter Sunday, 2012
            [post_author] => 3
            [post_date] => 2012-04-10 23:15:00
            [year] => 2012
            [month] => 4
            [post_type] => post
        )

    [1445] => stdClass Object
        (
            [slug] => cake-decorating
            [ID] => 54635
            [post_name] => decorating-our-easter-cakes
            [post_title] => Decorating our Easter Cakes
            [post_author] => 3
            [post_date] => 2012-04-10 21:45:00
            [year] => 2012
            [month] => 4
            [post_type] => post
        )

    [1446] => stdClass Object
        (
            [slug] => lent
            [ID] => 54636
            [post_name] => our-4th-annual-lenten-dinner-on-good
            [post_title] => Our 4th Annual Lenten Dinner on Good Friday
            [post_author] => 3
            [post_date] => 2012-04-10 20:50:00
            [year] => 2012
            [month] => 4
            [post_type] => post
        )

    [1447] => stdClass Object
        (
            [slug] => easter
            [ID] => 54637
            [post_name] => christus-resurrexit
            [post_title] => Christus Resurrexit!
            [post_author] => 3
            [post_date] => 2012-04-09 20:08:00
            [year] => 2012
            [month] => 4
            [post_type] => post
        )

    [1448] => stdClass Object
        (
            [slug] => holy-thursday
            [ID] => 54638
            [post_name] => our-4th-annual-lenten-tea-on-holy
            [post_title] => Our 4th Annual Lenten Tea on Holy Thursday
            [post_author] => 3
            [post_date] => 2012-04-06 06:19:00
            [year] => 2012
            [month] => 4
            [post_type] => post
        )

    [1449] => stdClass Object
        (
            [slug] => crafts
            [ID] => 54639
            [post_name] => creating-our-paschal-candle-easter-2012
            [post_title] => Creating our Paschal Candle :: Easter 2012
            [post_author] => 3
            [post_date] => 2012-04-05 16:37:00
            [year] => 2012
            [month] => 4
            [post_type] => post
        )

    [1450] => stdClass Object
        (
            [slug] => easter
            [ID] => 54640
            [post_name] => small-successes-getting-ready-for
            [post_title] => Small Successes :: Getting Ready for Easter!
            [post_author] => 3
            [post_date] => 2012-04-05 06:29:00
            [year] => 2012
            [month] => 4
            [post_type] => post
        )

    [1451] => stdClass Object
        (
            [slug] => state-by-state
            [ID] => 54641
            [post_name] => state-by-state-baking-virginias-george
            [post_title] => State-by-State Baking :: Virginia's George Washington Cherry Turnovers
            [post_author] => 3
            [post_date] => 2012-04-05 05:37:00
            [year] => 2012
            [month] => 4
            [post_type] => post
        )

    [1452] => stdClass Object
        (
            [slug] => state-by-state
            [ID] => 54642
            [post_name] => state-by-state-scrapbook-virginia
            [post_title] => State-by-State Scrapbook :: Virginia
            [post_author] => 3
            [post_date] => 2012-04-04 06:46:00
            [year] => 2012
            [month] => 4
            [post_type] => post
        )

    [1453] => stdClass Object
        (
            [slug] => daybook
            [ID] => 54643
            [post_name] => my-daybook-april-2-2012-holy-week
            [post_title] => My Daybook :: April 2, 2012 {Holy Week}
            [post_author] => 3
            [post_date] => 2012-04-03 06:59:00
            [year] => 2012
            [month] => 4
            [post_type] => post
        )

    [1454] => stdClass Object
        (
            [slug] => phfr
            [ID] => 54644
            [post_name] => pretty-happy-funny-real
            [post_title] => {pretty, happy, funny, real}
            [post_author] => 3
            [post_date] => 2012-03-29 19:44:00
            [year] => 2012
            [month] => 3
            [post_type] => post
        )

    [1455] => stdClass Object
        (
            [slug] => easter-baskets
            [ID] => 54645
            [post_name] => easter-symbols-easter-basket-for-whole
            [post_title] => Easter Symbols {An Easter Basket for the Whole Family}
            [post_author] => 3
            [post_date] => 2012-03-26 16:06:00
            [year] => 2012
            [month] => 3
            [post_type] => post
        )

    [1456] => stdClass Object
        (
            [slug] => science
            [ID] => 54646
            [post_name] => hands-on-science-looking-back-to-2007
            [post_title] => Hands-On Science :: Looking Back to 2007
            [post_author] => 3
            [post_date] => 2012-03-26 04:19:00
            [year] => 2012
            [month] => 3
            [post_type] => post
        )

    [1457] => stdClass Object
        (
            [slug] => science
            [ID] => 54647
            [post_name] => hands-on-science
            [post_title] => Hands-On Science
            [post_author] => 3
            [post_date] => 2012-03-24 16:08:00
            [year] => 2012
            [month] => 3
            [post_type] => post
        )

    [1458] => stdClass Object
        (
            [slug] => state-by-state
            [ID] => 54648
            [post_name] => state-by-state-baking-maryland-crab
            [post_title] => State-by-State Baking :: Maryland Crab Cakes
            [post_author] => 3
            [post_date] => 2012-03-23 13:53:00
            [year] => 2012
            [month] => 3
            [post_type] => post
        )

    [1459] => stdClass Object
        (
            [slug] => birthday-parties
            [ID] => 54649
            [post_name] => pretty-happy-funny-real-look-whooos-two
            [post_title] => {pretty, happy, funny, real} :: A Look Whooo's Two Birthday Party!
            [post_author] => 3
            [post_date] => 2012-03-22 15:11:00
            [year] => 2012
            [month] => 3
            [post_type] => post
        )

    [1460] => stdClass Object
        (
            [slug] => precious-moments-01
            [ID] => 54650
            [post_name] => end-of-season-players-vs-parents-hockey
            [post_title] => The End of Season Players vs. Parents Hockey Game
            [post_author] => 3
            [post_date] => 2012-03-22 03:39:00
            [year] => 2012
            [month] => 3
            [post_type] => post
        )

    [1461] => stdClass Object
        (
            [slug] => st-patricks-day
            [ID] => 54651
            [post_name] => st-patricks-day-coffee-hour
            [post_title] => St. Patrick's Day Coffee Hour
            [post_author] => 3
            [post_date] => 2012-03-20 23:22:00
            [year] => 2012
            [month] => 3
            [post_type] => post
        )

    [1462] => stdClass Object
        (
            [slug] => st-joseph
            [ID] => 54653
            [post_name] => our-st-josephs-altar-2012
            [post_title] => Our 2012 St. Joseph's Altar
            [post_author] => 3
            [post_date] => 2012-03-20 07:45:00
            [year] => 2012
            [month] => 3
            [post_type] => post
        )

    [1463] => stdClass Object
        (
            [slug] => catholic-cuisine
            [ID] => 54654
            [post_name] => st-josephs-day-baking
            [post_title] => St. Joseph's Day Baking
            [post_author] => 3
            [post_date] => 2012-03-19 19:49:00
            [year] => 2012
            [month] => 3
            [post_type] => post
        )

    [1464] => stdClass Object
        (
            [slug] => fssp
            [ID] => 54655
            [post_name] => please-pray-for-our-priests
            [post_title] => Please Pray for our Priests
            [post_author] => 3
            [post_date] => 2012-03-19 18:38:00
            [year] => 2012
            [month] => 3
            [post_type] => post
        )

    [1465] => stdClass Object
        (
            [slug] => st-patricks-day
            [ID] => 54656
            [post_name] => irish-blessing
            [post_title] => An Irish Blessing
            [post_author] => 3
            [post_date] => 2012-03-17 15:41:00
            [year] => 2012
            [month] => 3
            [post_type] => post
        )

    [1466] => stdClass Object
        (
            [slug] => st-patricks-day
            [ID] => 54657
            [post_name] => pretty-happy-funny-real-preparing-for
            [post_title] => {pretty, happy, funny, real}   Preparing for St. Patrick's Day!
            [post_author] => 3
            [post_date] => 2012-03-16 00:39:00
            [year] => 2012
            [month] => 3
            [post_type] => post
        )

    [1467] => stdClass Object
        (
            [slug] => state-by-state
            [ID] => 54658
            [post_name] => state-by-state-baking-new-hampshire
            [post_title] => State-by-State Baking :: New Hampshire Apple Tea Cake
            [post_author] => 3
            [post_date] => 2012-03-15 03:58:00
            [year] => 2012
            [month] => 3
            [post_type] => post
        )

    [1468] => stdClass Object
        (
            [slug] => state-by-state
            [ID] => 54659
            [post_name] => state-by-state-baking-south-carolinas
            [post_title] => State-by-State Baking :: South Carolina's Butterfly Fruit Snack
            [post_author] => 3
            [post_date] => 2012-03-13 23:47:00
            [year] => 2012
            [month] => 3
            [post_type] => post
        )

    [1469] => stdClass Object
        (
            [slug] => state-by-state
            [ID] => 54660
            [post_name] => state-by-state-baking-massachusetts
            [post_title] => State-by-State Baking :: Massachusetts' Boston Baked Beans and Bouncy Basketball Treats
            [post_author] => 3
            [post_date] => 2012-03-13 03:11:00
            [year] => 2012
            [month] => 3
            [post_type] => post
        )

    [1470] => stdClass Object
        (
            [slug] => state-by-state
            [ID] => 54661
            [post_name] => state-by-state-baking-connecticuts-red
            [post_title] => State-by-State Baking :: Connecticut's Red Robin Hamburgers
            [post_author] => 3
            [post_date] => 2012-03-12 04:35:00
            [year] => 2012
            [month] => 3
            [post_type] => post
        )

    [1471] => stdClass Object
        (
            [slug] => precious-moments-01
            [ID] => 54662
            [post_name] => this-moment
            [post_title] => {this moment}
            [post_author] => 3
            [post_date] => 2012-03-09 19:09:00
            [year] => 2012
            [month] => 3
            [post_type] => post
        )

    [1472] => stdClass Object
        (
            [slug] => picture-books
            [ID] => 54663
            [post_name] => simon-and-easter-miracle-and-other-new
            [post_title] => Simon and the Easter Miracle {And Other New Books for Easter!}
            [post_author] => 3
            [post_date] => 2012-03-06 01:09:00
            [year] => 2012
            [month] => 3
            [post_type] => post
        )

    [1473] => stdClass Object
        (
            [slug] => uncategorized
            [ID] => 54664
            [post_name] => problems-with-pinterest
            [post_title] => Problems with Pinterest
            [post_author] => 3
            [post_date] => 2012-03-05 23:32:00
            [year] => 2012
            [month] => 3
            [post_type] => post
        )

    [1474] => stdClass Object
        (
            [slug] => lap-books
            [ID] => 54665
            [post_name] => lap-booking-and-timeline-questions
            [post_title] => Lap Booking {and Timeline} Questions Answered
            [post_author] => 3
            [post_date] => 2012-03-02 21:47:00
            [year] => 2012
            [month] => 3
            [post_type] => post
        )

    [1475] => stdClass Object
        (
            [slug] => daybook
            [ID] => 54666
            [post_name] => my-daybook-february-29-2012-leap-day
            [post_title] => My Daybook :: February 29, 2012  {Leap Day!}
            [post_author] => 3
            [post_date] => 2012-03-01 07:45:00
            [year] => 2012
            [month] => 3
            [post_type] => post
        )

    [1476] => stdClass Object
        (
            [slug] => american-history
            [ID] => 54667
            [post_name] => colonial-life-lap-book-and-unit-study
            [post_title] => Colonial Life Unit Study and Lap Book
            [post_author] => 3
            [post_date] => 2012-02-28 17:45:00
            [year] => 2012
            [month] => 2
            [post_type] => post
        )

    [1477] => stdClass Object
        (
            [slug] => precious-moments-06
            [ID] => 54668
            [post_name] => precious-moments-all-ready-to-play
            [post_title] => {Precious Moments} "All Ready" to Play Outside
            [post_author] => 3
            [post_date] => 2012-02-28 01:11:00
            [year] => 2012
            [month] => 2
            [post_type] => post
        )

    [1478] => stdClass Object
        (
            [slug] => lent
            [ID] => 54669
            [post_name] => shaking-off-bonds-of-stuff-40-day-plan
            [post_title] => Shaking off the Bonds of Stuff  :: A 40-Day Plan for Lent
            [post_author] => 3
            [post_date] => 2012-02-27 22:44:00
            [year] => 2012
            [month] => 2
            [post_type] => post
        )

    [1479] => stdClass Object
        (
            [slug] => this-moment
            [ID] => 54670
            [post_name] => this-moment_24
            [post_title] => {this moment}
            [post_author] => 3
            [post_date] => 2012-02-25 05:45:00
            [year] => 2012
            [month] => 2
            [post_type] => post
        )

    [1480] => stdClass Object
        (
            [slug] => altar-boys
            [ID] => 54671
            [post_name] => pretty-happy-funny-real_23
            [post_title] => {pretty, happy, funny, real}
            [post_author] => 3
            [post_date] => 2012-02-23 19:17:00
            [year] => 2012
            [month] => 2
            [post_type] => post
        )

    [1481] => stdClass Object
        (
            [slug] => home-sweet-home
            [ID] => 54672
            [post_name] => for-sarah
            [post_title] => For Sarah...
            [post_author] => 3
            [post_date] => 2012-02-18 01:31:00
            [year] => 2012
            [month] => 2
            [post_type] => post
        )

    [1482] => stdClass Object
        (
            [slug] => giveaway
            [ID] => 54673
            [post_name] => simple-homemade-granola-and-giveaway
            [post_title] => Simple Homemade Granola {and Giveaway Winner!}
            [post_author] => 3
            [post_date] => 2012-02-17 18:11:00
            [year] => 2012
            [month] => 2
            [post_type] => post
        )

    [1483] => stdClass Object
        (
            [slug] => precious-moments-03
            [ID] => 54674
            [post_name] => our-little-bud
            [post_title] => Our little Bud
            [post_author] => 3
            [post_date] => 2012-02-16 01:41:00
            [year] => 2012
            [month] => 2
            [post_type] => post
        )

    [1484] => stdClass Object
        (
            [slug] => st-valentines-day
            [ID] => 54675
            [post_name] => homemade-st-valentines-day-cards
            [post_title] => Homemade St. Valentine's Day Cards
            [post_author] => 3
            [post_date] => 2012-02-14 17:29:00
            [year] => 2012
            [month] => 2
            [post_type] => post
        )

    [1485] => stdClass Object
        (
            [slug] => recipes
            [ID] => 54676
            [post_name] => st-valentines-day-cocoa-with-sprinkles
            [post_title] => St. Valentine's Day Cocoa with Sprinkles
            [post_author] => 3
            [post_date] => 2012-02-14 05:14:00
            [year] => 2012
            [month] => 2
            [post_type] => post
        )

    [1486] => stdClass Object
        (
            [slug] => pictures
            [ID] => 54677
            [post_name] => snow-oh-oh-oh-oh
            [post_title] => Snow-oh-oh-oh-oh!
            [post_author] => 3
            [post_date] => 2012-02-14 01:35:00
            [year] => 2012
            [month] => 2
            [post_type] => post
        )

    [1487] => stdClass Object
        (
            [slug] => reviews
            [ID] => 54678
            [post_name] => more-treasures-for-lent-and-easter-and
            [post_title] => More Treasures for Lent and Easter {and a Giveaway!}
            [post_author] => 3
            [post_date] => 2012-02-11 22:46:00
            [year] => 2012
            [month] => 2
            [post_type] => post
        )

    [1488] => stdClass Object
        (
            [slug] => this-moment
            [ID] => 54679
            [post_name] => this-moment
            [post_title] => {this moment}
            [post_author] => 3
            [post_date] => 2012-02-10 20:13:00
            [year] => 2012
            [month] => 2
            [post_type] => post
        )

    [1489] => stdClass Object
        (
            [slug] => phfr
            [ID] => 54680
            [post_name] => pretty-happy-funny-real
            [post_title] => {pretty, happy, funny, real}
            [post_author] => 3
            [post_date] => 2012-02-10 04:09:00
            [year] => 2012
            [month] => 2
            [post_type] => post
        )

    [1490] => stdClass Object
        (
            [slug] => american-girl
            [ID] => 54681
            [post_name] => 1774-felicity-american-girl-lap-book
            [post_title] => 1774 - Felicity :: An American Girl Lap Book and Unit Study
            [post_author] => 3
            [post_date] => 2012-02-09 16:05:00
            [year] => 2012
            [month] => 2
            [post_type] => post
        )

    [1491] => stdClass Object
        (
            [slug] => birthday-parties
            [ID] => 54682
            [post_name] => world-war-ii-military-birthday-party
            [post_title] => A World War II Military Birthday Party
            [post_author] => 3
            [post_date] => 2012-02-09 02:06:00
            [year] => 2012
            [month] => 2
            [post_type] => post
        )

    [1492] => stdClass Object
        (
            [slug] => birthday-parties
            [ID] => 54683
            [post_name] => pinning-it-down-grenade-cake-pops
            [post_title] => Grenade Cake Pops
            [post_author] => 3
            [post_date] => 2012-02-07 20:49:00
            [year] => 2012
            [month] => 2
            [post_type] => post
        )

    [1493] => stdClass Object
        (
            [slug] => birthday-parties
            [ID] => 54684
            [post_name] => point-du-hoc-birthday-cake
            [post_title] => A Point du Hoc Birthday Cake
            [post_author] => 3
            [post_date] => 2012-02-07 07:31:00
            [year] => 2012
            [month] => 2
            [post_type] => post
        )

    [1494] => stdClass Object
        (
            [slug] => daybook
            [ID] => 54685
            [post_name] => my-daybook-february-6-2012
            [post_title] => My Daybook :: February 6, 2012
            [post_author] => 3
            [post_date] => 2012-02-06 17:59:00
            [year] => 2012
            [month] => 2
            [post_type] => post
        )

    [1495] => stdClass Object
        (
            [slug] => candlemas
            [ID] => 54686
            [post_name] => pretty-happy-funny-real-celebrating
            [post_title] => {pretty, happy, funny, real} ~ Celebrating Candlemas
            [post_author] => 3
            [post_date] => 2012-02-03 00:14:00
            [year] => 2012
            [month] => 2
            [post_type] => post
        )

    [1496] => stdClass Object
        (
            [slug] => archives-monthly
            [ID] => 54687
            [post_name] => links-for-february-month-dedicated-to
            [post_title] => Links for February :: Month Dedicated to the Holy Family
            [post_author] => 3
            [post_date] => 2012-01-28 21:41:00
            [year] => 2012
            [month] => 1
            [post_type] => post
        )

    [1497] => stdClass Object
        (
            [slug] => precious-moments-07
            [ID] => 54688
            [post_name] => pretty-happy-funny-real_26
            [post_title] => {pretty, happy, funny, real}
            [post_author] => 3
            [post_date] => 2012-01-27 01:01:00
            [year] => 2012
            [month] => 1
            [post_type] => post
        )

    [1498] => stdClass Object
        (
            [slug] => hockey
            [ID] => 54689
            [post_name] => good-old-hockey-game
            [post_title] => The Good Old Hockey Game
            [post_author] => 3
            [post_date] => 2012-01-25 22:04:00
            [year] => 2012
            [month] => 1
            [post_type] => post
        )

    [1499] => stdClass Object
        (
            [slug] => recipes
            [ID] => 54690
            [post_name] => pinning-it-down-mini-meatloafs
            [post_title] => Mini Meatloafs
            [post_author] => 3
            [post_date] => 2012-01-25 01:54:00
            [year] => 2012
            [month] => 1
            [post_type] => post
        )

    [1500] => stdClass Object
        (
            [slug] => baby-showers
            [ID] => 54691
            [post_name] => our-little-mans-baby-shower
            [post_title] => Our Little Man's Baby Shower
            [post_author] => 3
            [post_date] => 2012-01-22 19:44:00
            [year] => 2012
            [month] => 1
            [post_type] => post
        )

    [1501] => stdClass Object
        (
            [slug] => precious-moments-07
            [ID] => 54692
            [post_name] => our-baptized-baby-and-beautiful
            [post_title] => Our Baptized Baby and a Beautiful Baptismal Blanket
            [post_author] => 3
            [post_date] => 2012-01-20 18:07:00
            [year] => 2012
            [month] => 1
            [post_type] => post
        )

    [1502] => stdClass Object
        (
            [slug] => precious-moments-03
            [ID] => 54693
            [post_name] => this-moment-at-end-of-their-special-day
            [post_title] => {this moment}  :: At the End of Their Special Day!
            [post_author] => 3
            [post_date] => 2012-01-20 18:04:00
            [year] => 2012
            [month] => 1
            [post_type] => post
        )

    [1503] => stdClass Object
        (
            [slug] => precious-moments-01
            [ID] => 54694
            [post_name] => pretty-happy-funny-real_19
            [post_title] => {pretty, happy, funny, real}
            [post_author] => 3
            [post_date] => 2012-01-20 07:08:00
            [year] => 2012
            [month] => 1
            [post_type] => post
        )

    [1504] => stdClass Object
        (
            [slug] => first-communion
            [ID] => 54695
            [post_name] => my-first-holy-communion-party-favors
            [post_title] => "My First Holy Communion" Party Favors
            [post_author] => 3
            [post_date] => 2012-01-19 00:44:00
            [year] => 2012
            [month] => 1
            [post_type] => post
        )

    [1505] => stdClass Object
        (
            [slug] => baptisms
            [ID] => 54696
            [post_name] => my-baptism-scallop-shell-baptism-favors
            [post_title] => "My Baptism" :: Scallop Shell Baptism Favors and Printable Tag
            [post_author] => 3
            [post_date] => 2012-01-18 19:28:00
            [year] => 2012
            [month] => 1
            [post_type] => post
        )

    [1506] => stdClass Object
        (
            [slug] => cake-decorating
            [ID] => 54697
            [post_name] => baptism-and-first-holy-communion-cakes
            [post_title] => Baptism and First Holy Communion Cakes
            [post_author] => 3
            [post_date] => 2012-01-17 18:34:00
            [year] => 2012
            [month] => 1
            [post_type] => post
        )

    [1507] => stdClass Object
        (
            [slug] => happy-birthday
            [ID] => 54698
            [post_name] => one-more-year
            [post_title] => One More Year
            [post_author] => 3
            [post_date] => 2012-01-17 03:22:00
            [year] => 2012
            [month] => 1
            [post_type] => post
        )

    [1508] => stdClass Object
        (
            [slug] => fssp
            [ID] => 54699
            [post_name] => churching-of-women
            [post_title] => The Churching of Women
            [post_author] => 3
            [post_date] => 2012-01-15 16:42:00
            [year] => 2012
            [month] => 1
            [post_type] => post
        )

    [1509] => stdClass Object
        (
            [slug] => fssp
            [ID] => 54700
            [post_name] => baptism-on-traditional-feast-of-baptism
            [post_title] => A Baptism on the Traditional Feast of the Baptism of Our Lord
            [post_author] => 3
            [post_date] => 2012-01-15 03:22:00
            [year] => 2012
            [month] => 1
            [post_type] => post
        )

    [1510] => stdClass Object
        (
            [slug] => fssp
            [ID] => 54701
            [post_name] => traditional-latin-mass-and-first-holy
            [post_title] => A Traditional Latin Mass and First Holy Communions
            [post_author] => 3
            [post_date] => 2012-01-15 03:08:00
            [year] => 2012
            [month] => 1
            [post_type] => post
        )

    [1511] => stdClass Object
        (
            [slug] => precious-moments-03
            [ID] => 54702
            [post_name] => this-moment-my-first-holy-communion
            [post_title] => {this moment}  :: My First Holy Communion
            [post_author] => 3
            [post_date] => 2012-01-14 07:35:00
            [year] => 2012
            [month] => 1
            [post_type] => post
        )

    [1512] => stdClass Object
        (
            [slug] => crafts
            [ID] => 54703
            [post_name] => will-you-pray-for-me-first-holy
            [post_title] => Will you pray for me? :: A First Holy Communion Spiritual Bouquet Keepsake Book
            [post_author] => 3
            [post_date] => 2012-01-13 07:26:00
            [year] => 2012
            [month] => 1
            [post_type] => post
        )

    [1513] => stdClass Object
        (
            [slug] => archives-monthly
            [ID] => 54704
            [post_name] => links-for-january-month-dedicated-to
            [post_title] => Links for January :: Month Dedicated to the Most Holy Name of Jesus
            [post_author] => 3
            [post_date] => 2012-01-12 04:21:00
            [year] => 2012
            [month] => 1
            [post_type] => post
        )

    [1514] => stdClass Object
        (
            [slug] => advent-and-christmas
            [ID] => 54705
            [post_name] => christmas-day-in-morning
            [post_title] => Christmas Day in the Morning
            [post_author] => 3
            [post_date] => 2012-01-12 01:31:00
            [year] => 2012
            [month] => 1
            [post_type] => post
        )

    [1515] => stdClass Object
        (
            [slug] => kids-in-the-kitchen
            [ID] => 54706
            [post_name] => afternoon-with-auntie
            [post_title] => An Afternoon with Auntie
            [post_author] => 3
            [post_date] => 2012-01-12 01:28:00
            [year] => 2012
            [month] => 1
            [post_type] => post
        )

    [1516] => stdClass Object
        (
            [slug] => happy-birthday
            [ID] => 54707
            [post_name] => celebrating-two-years-already
            [post_title] => Celebrating Two Years... Already!
            [post_author] => 3
            [post_date] => 2012-01-12 01:19:00
            [year] => 2012
            [month] => 1
            [post_type] => post
        )

    [1517] => stdClass Object
        (
            [slug] => christmas-2011
            [ID] => 54708
            [post_name] => searching-for-perfect-christmas-tree
            [post_title] => Searching for the Perfect Christmas Tree
            [post_author] => 3
            [post_date] => 2012-01-12 01:17:00
            [year] => 2012
            [month] => 1
            [post_type] => post
        )

    [1518] => stdClass Object
        (
            [slug] => precious-moments-07
            [ID] => 54709
            [post_name] => three-weeks
            [post_title] => Three Weeks
            [post_author] => 3
            [post_date] => 2012-01-11 07:51:00
            [year] => 2012
            [month] => 1
            [post_type] => post
        )

    [1519] => stdClass Object
        (
            [slug] => first-communion
            [ID] => 54710
            [post_name] => girls-in-white-dresses
            [post_title] => Girls in White Dresses
            [post_author] => 3
            [post_date] => 2012-01-08 20:05:00
            [year] => 2012
            [month] => 1
            [post_type] => post
        )

    [1520] => stdClass Object
        (
            [slug] => advent-and-christmas
            [ID] => 54711
            [post_name] => on-12th-day-of-christmas
            [post_title] => On the 12th Day of Christmas
            [post_author] => 3
            [post_date] => 2012-01-07 06:43:00
            [year] => 2012
            [month] => 1
            [post_type] => post
        )

    [1521] => stdClass Object
        (
            [slug] => advent-and-christmas
            [ID] => 54712
            [post_name] => pretty-happy-funny-real
            [post_title] => {pretty, happy, funny, real}
            [post_author] => 3
            [post_date] => 2012-01-05 19:37:00
            [year] => 2012
            [month] => 1
            [post_type] => post
        )

    [1522] => stdClass Object
        (
            [slug] => precious-moments-07
            [ID] => 54713
            [post_name] => two-weeks-and-two-days
            [post_title] => Two Weeks and Two Days...
            [post_author] => 3
            [post_date] => 2012-01-05 05:32:00
            [year] => 2012
            [month] => 1
            [post_type] => post
        )

    [1523] => stdClass Object
        (
            [slug] => advent-and-christmas
            [ID] => 54714
            [post_name] => christmas-eve-in-pictures
            [post_title] => Christmas Eve in Pictures
            [post_author] => 3
            [post_date] => 2012-01-02 05:13:00
            [year] => 2012
            [month] => 1
            [post_type] => post
        )

    [1524] => stdClass Object
        (
            [slug] => advent-and-christmas
            [ID] => 54715
            [post_name] => gingerbread-fun-on-new-years-eve
            [post_title] => Gingerbread Fun on New Year's Eve!
            [post_author] => 3
            [post_date] => 2012-01-01 09:22:00
            [year] => 2012
            [month] => 1
            [post_type] => post
        )

    [1525] => stdClass Object
        (
            [slug] => precious-moments-07
            [ID] => 54716
            [post_name] => this-moment_30
            [post_title] => {this moment}
            [post_author] => 3
            [post_date] => 2011-12-31 01:30:00
            [year] => 2011
            [month] => 12
            [post_type] => post
        )

    [1526] => stdClass Object
        (
            [slug] => precious-moments-07
            [ID] => 54717
            [post_name] => babys-1st-christmas
            [post_title] => Baby's 1st Christmas
            [post_author] => 3
            [post_date] => 2011-12-26 02:51:00
            [year] => 2011
            [month] => 12
            [post_type] => post
        )

    [1527] => stdClass Object
        (
            [slug] => pictures
            [ID] => 54718
            [post_name] => merry-christmas-dear-friends
            [post_title] => Merry Christmas, dear friends!
            [post_author] => 3
            [post_date] => 2011-12-25 10:51:00
            [year] => 2011
            [month] => 12
            [post_type] => post
        )

    [1528] => stdClass Object
        (
            [slug] => precious-moments-01
            [ID] => 54719
            [post_name] => my-guys
            [post_title] => My Guys
            [post_author] => 3
            [post_date] => 2011-12-23 22:11:00
            [year] => 2011
            [month] => 12
            [post_type] => post
        )

    [1529] => stdClass Object
        (
            [slug] => this-moment
            [ID] => 54720
            [post_name] => this-moment_23
            [post_title] => {this moment}
            [post_author] => 3
            [post_date] => 2011-12-23 22:03:00
            [year] => 2011
            [month] => 12
            [post_type] => post
        )

    [1530] => stdClass Object
        (
            [slug] => precious-moments-07
            [ID] => 54721
            [post_name] => pretty-happy-funny-real-new-baby
            [post_title] => {pretty, happy, funny, real} ~ new baby edition!
            [post_author] => 3
            [post_date] => 2011-12-23 07:45:00
            [year] => 2011
            [month] => 12
            [post_type] => post
        )

    [1531] => stdClass Object
        (
            [slug] => happy-birthday
            [ID] => 54722
            [post_name] => hes-here
            [post_title] => He's Here!
            [post_author] => 3
            [post_date] => 2011-12-20 00:44:00
            [year] => 2011
            [month] => 12
            [post_type] => post
        )

    [1532] => stdClass Object
        (
            [slug] => advent-and-christmas
            [ID] => 54723
            [post_name] => celebrating-o-antiphons-golden-nights
            [post_title] => Celebrating the O Antiphons :: The Golden Nights
            [post_author] => 3
            [post_date] => 2011-12-17 16:04:00
            [year] => 2011
            [month] => 12
            [post_type] => post
        )

    [1533] => stdClass Object
        (
            [slug] => happy-birthday
            [ID] => 54724
            [post_name] => this-moment
            [post_title] => {this moment}
            [post_author] => 3
            [post_date] => 2011-12-17 07:59:00
            [year] => 2011
            [month] => 12
            [post_type] => post
        )

    [1534] => stdClass Object
        (
            [slug] => cake-decorating
            [ID] => 54725
            [post_name] => christmas-rose-birthday-cake
            [post_title] => A Christmas Rose Birthday Cake
            [post_author] => 3
            [post_date] => 2011-12-15 15:28:00
            [year] => 2011
            [month] => 12
            [post_type] => post
        )

    [1535] => stdClass Object
        (
            [slug] => st-lucy
            [ID] => 54726
            [post_name] => pretty-happy-funny-real
            [post_title] => {pretty, happy, funny, real}
            [post_author] => 3
            [post_date] => 2011-12-15 15:11:00
            [year] => 2011
            [month] => 12
            [post_type] => post
        )

    [1536] => stdClass Object
        (
            [slug] => advent-and-christmas
            [ID] => 54727
            [post_name] => starlight-cookies-for-christmas-eve
            [post_title] => Starlight Cookies for Christmas Eve
            [post_author] => 3
            [post_date] => 2011-12-15 06:56:00
            [year] => 2011
            [month] => 12
            [post_type] => post
        )

    [1537] => stdClass Object
        (
            [slug] => little-flowers
            [ID] => 54728
            [post_name] => little-flowers-girls-club-gift-of
            [post_title] => Little Flowers Girls' Club ~ The Gift of Counsel
            [post_author] => 3
            [post_date] => 2011-12-15 06:55:00
            [year] => 2011
            [month] => 12
            [post_type] => post
        )

    [1538] => stdClass Object
        (
            [slug] => advent-and-christmas
            [ID] => 54729
            [post_name] => south-pole-cupcakes
            [post_title] => South Pole Cupcakes...
            [post_author] => 3
            [post_date] => 2011-12-15 00:00:00
            [year] => 2011
            [month] => 12
            [post_type] => post
        )

    [1539] => stdClass Object
        (
            [slug] => advent-and-christmas
            [ID] => 54730
            [post_name] => santa-lucia-day-in-evening
            [post_title] => Santa Lucia Day in the Evening
            [post_author] => 3
            [post_date] => 2011-12-14 06:30:00
            [year] => 2011
            [month] => 12
            [post_type] => post
        )

    [1540] => stdClass Object
        (
            [slug] => daybook
            [ID] => 54731
            [post_name] => my-daybook-december-12-2011
            [post_title] => My Daybook :: December 12, 2011
            [post_author] => 3
            [post_date] => 2011-12-12 15:00:00
            [year] => 2011
            [month] => 12
            [post_type] => post
        )

    [1541] => stdClass Object
        (
            [slug] => advent-and-christmas
            [ID] => 54732
            [post_name] => nativity-in-woods-puzzle-for-advent
            [post_title] => Nativity in the Woods :: A Puzzle for Advent
            [post_author] => 3
            [post_date] => 2011-12-09 15:18:00
            [year] => 2011
            [month] => 12
            [post_type] => post
        )

    [1542] => stdClass Object
        (
            [slug] => precious-moments-07
            [ID] => 54733
            [post_name] => any-guesses
            [post_title] => Any Guesses?
            [post_author] => 3
            [post_date] => 2011-12-09 01:17:00
            [year] => 2011
            [month] => 12
            [post_type] => post
        )

    [1543] => stdClass Object
        (
            [slug] => advent-and-christmas
            [ID] => 54734
            [post_name] => celebrating-feast-of-st-nicholas
            [post_title] => Celebrating the Feast of St. Nicholas
            [post_author] => 3
            [post_date] => 2011-12-08 07:25:00
            [year] => 2011
            [month] => 12
            [post_type] => post
        )

    [1544] => stdClass Object
        (
            [slug] => field-trips
            [ID] => 54735
            [post_name] => field-trip-to-water-powered-grist-mill
            [post_title] => Field Trip to a Water-Powered Grist Mill
            [post_author] => 3
            [post_date] => 2011-12-05 20:08:00
            [year] => 2011
            [month] => 12
            [post_type] => post
        )

    [1545] => stdClass Object
        (
            [slug] => archives-monthly
            [ID] => 54736
            [post_name] => links-for-december-month-dedicated-to
            [post_title] => Links for December :: Month Dedicated to the Divine Infancy
            [post_author] => 3
            [post_date] => 2011-12-02 03:20:00
            [year] => 2011
            [month] => 12
            [post_type] => post
        )

    [1546] => stdClass Object
        (
            [slug] => christmas-picture-books
            [ID] => 54737
            [post_name] => our-lady-of-guadalupe-pop-up-book
            [post_title] => Our Lady of Guadalupe Pop-Up Book
            [post_author] => 3
            [post_date] => 2011-12-01 00:18:00
            [year] => 2011
            [month] => 12
            [post_type] => post
        )

    [1547] => stdClass Object
        (
            [slug] => christmas-picture-books
            [ID] => 54738
            [post_name] => favorite-advent-and-christmas-books
            [post_title] => Favorite Advent and Christmas Books Link-Up
            [post_author] => 3
            [post_date] => 2011-11-29 18:27:00
            [year] => 2011
            [month] => 11
            [post_type] => post
        )

    [1548] => stdClass Object
        (
            [slug] => daybook
            [ID] => 54739
            [post_name] => my-daybook-november-28-2010
            [post_title] => My Daybook :: November 28, 2011
            [post_author] => 3
            [post_date] => 2011-11-28 20:39:00
            [year] => 2011
            [month] => 11
            [post_type] => post
        )

    [1549] => stdClass Object
        (
            [slug] => advent-and-christmas
            [ID] => 54740
            [post_name] => new-christmas-books-for-feast-of-st
            [post_title] => New Christmas Books for the Feast of St. Nicholas
            [post_author] => 3
            [post_date] => 2011-11-27 19:22:00
            [year] => 2011
            [month] => 11
            [post_type] => post
        )

    [1550] => stdClass Object
        (
            [slug] => advent-and-christmas
            [ID] => 54741
            [post_name] => preparing-for-advent-book-baskets
            [post_title] => Preparing for Advent :: Book Baskets
            [post_author] => 3
            [post_date] => 2011-11-27 06:45:00
            [year] => 2011
            [month] => 11
            [post_type] => post
        )

    [1551] => stdClass Object
        (
            [slug] => thanksgiving
            [ID] => 54742
            [post_name] => wishing-you-happy-thanksgiving
            [post_title] => Wishing you a Happy Thanksgiving!
            [post_author] => 3
            [post_date] => 2011-11-24 21:31:00
            [year] => 2011
            [month] => 11
            [post_type] => post
        )

    [1552] => stdClass Object
        (
            [slug] => kids-in-the-kitchen
            [ID] => 54743
            [post_name] => edible-indian-corn
            [post_title] => Edible Indian Corn
            [post_author] => 3
            [post_date] => 2011-11-21 19:20:00
            [year] => 2011
            [month] => 11
            [post_type] => post
        )

    [1553] => stdClass Object
        (
            [slug] => columbus-day
            [ID] => 54744
            [post_name] => new-world-explorers-unit-study-and-lap
            [post_title] => New World Explorers Unit Study and Lap Book
            [post_author] => 3
            [post_date] => 2011-11-19 17:30:00
            [year] => 2011
            [month] => 11
            [post_type] => post
        )

    [1554] => stdClass Object
        (
            [slug] => precious-moments-03
            [ID] => 54745
            [post_name] => pretty-happy-funny-real_17
            [post_title] => {pretty, happy, funny, real}
            [post_author] => 3
            [post_date] => 2011-11-17 20:11:00
            [year] => 2011
            [month] => 11
            [post_type] => post
        )

    [1555] => stdClass Object
        (
            [slug] => american-girl
            [ID] => 54746
            [post_name] => 1764-kaya-american-girl-lap-book
            [post_title] => 1764 - Kaya :: An American Girl Lap Book
            [post_author] => 3
            [post_date] => 2011-11-15 17:29:00
            [year] => 2011
            [month] => 11
            [post_type] => post
        )

    [1556] => stdClass Object
        (
            [slug] => little-flowers
            [ID] => 54747
            [post_name] => little-flowers-girls-club-gift-of
            [post_title] => Little Flowers Girls' Club ~ The Gift of Knowledge
            [post_author] => 3
            [post_date] => 2011-11-15 15:24:00
            [year] => 2011
            [month] => 11
            [post_type] => post
        )

    [1557] => stdClass Object
        (
            [slug] => daybook
            [ID] => 54748
            [post_name] => my-daybook-november-14-2011
            [post_title] => My Daybook :: November 14, 2011
            [post_author] => 3
            [post_date] => 2011-11-15 02:06:00
            [year] => 2011
            [month] => 11
            [post_type] => post
        )

    [1558] => stdClass Object
        (
            [slug] => this-moment
            [ID] => 54749
            [post_name] => this-moment-at-symphony-with-daddy
            [post_title] => {this moment}  ::  At the Symphony with Daddy
            [post_author] => 3
            [post_date] => 2011-11-11 18:42:00
            [year] => 2011
            [month] => 11
            [post_type] => post
        )

    [1559] => stdClass Object
        (
            [slug] => precious-moments-07
            [ID] => 54750
            [post_name] => 32-weeks-and-4-days
            [post_title] => 32 Weeks and 4 days. . .
            [post_author] => 3
            [post_date] => 2011-11-10 18:17:00
            [year] => 2011
            [month] => 11
            [post_type] => post
        )

    [1560] => stdClass Object
        (
            [slug] => advent-and-christmas
            [ID] => 54751
            [post_name] => preparing-for-advent-few-fun-finds
            [post_title] => Preparing for Advent :: A Few Fun Finds
            [post_author] => 3
            [post_date] => 2011-11-09 18:56:00
            [year] => 2011
            [month] => 11
            [post_type] => post
        )

    [1561] => stdClass Object
        (
            [slug] => advent-and-christmas
            [ID] => 54752
            [post_name] => preparing-for-advent-advent-candles
            [post_title] => Preparing for Advent :: Advent Candles
            [post_author] => 3
            [post_date] => 2011-11-08 13:28:00
            [year] => 2011
            [month] => 11
            [post_type] => post
        )

    [1562] => stdClass Object
        (
            [slug] => reviews
            [ID] => 54753
            [post_name] => jesse-tree-treasures-for-advent
            [post_title] => Jesse Tree Treasures for Advent
            [post_author] => 3
            [post_date] => 2011-11-07 14:09:00
            [year] => 2011
            [month] => 11
            [post_type] => post
        )

    [1563] => stdClass Object
        (
            [slug] => all-souls-day
            [ID] => 54754
            [post_name] => little-prayer
            [post_title] => The Little Prayer
            [post_author] => 3
            [post_date] => 2011-11-05 15:15:00
            [year] => 2011
            [month] => 11
            [post_type] => post
        )

    [1564] => stdClass Object
        (
            [slug] => all-souls-day
            [ID] => 54755
            [post_name] => our-6th-annual-mass-at-cemetery
            [post_title] => Our 6th Annual Mass at the Cemetery...
            [post_author] => 3
            [post_date] => 2011-11-05 11:16:00
            [year] => 2011
            [month] => 11
            [post_type] => post
        )

    [1565] => stdClass Object
        (
            [slug] => all-saints-day
            [ID] => 54756
            [post_name] => sanctifying-halloween-celebrating
            [post_title] => Sanctifying Halloween ::  Celebrating the Saints!
            [post_author] => 3
            [post_date] => 2011-11-04 19:15:00
            [year] => 2011
            [month] => 11
            [post_type] => post
        )

    [1566] => stdClass Object
        (
            [slug] => hockey
            [ID] => 54757
            [post_name] => pretty-happy-funny-real
            [post_title] => {pretty, happy, funny, real}
            [post_author] => 3
            [post_date] => 2011-11-04 04:16:00
            [year] => 2011
            [month] => 11
            [post_type] => post
        )

    [1567] => stdClass Object
        (
            [slug] => costumes
            [ID] => 54758
            [post_name] => our-cast-of-saints-2011
            [post_title] => Our Cast of Saints ~ 2011
            [post_author] => 3
            [post_date] => 2011-11-02 23:32:00
            [year] => 2011
            [month] => 11
            [post_type] => post
        )

    [1568] => stdClass Object
        (
            [slug] => archives-monthly
            [ID] => 54759
            [post_name] => links-for-november-month-dedicated-to
            [post_title] => Links for November :: Month Dedicated to the Holy Souls
            [post_author] => 3
            [post_date] => 2011-11-01 07:00:00
            [year] => 2011
            [month] => 11
            [post_type] => post
        )

    [1569] => stdClass Object
        (
            [slug] => saint-o-lanterns
            [ID] => 54760
            [post_name] => carving-our-saint-o-lanterns-2011
            [post_title] => Carving our Saint-O-Lanterns ~ 2011
            [post_author] => 3
            [post_date] => 2011-10-31 19:24:00
            [year] => 2011
            [month] => 10
            [post_type] => post
        )

    [1570] => stdClass Object
        (
            [slug] => saint-o-lanterns
            [ID] => 54761
            [post_name] => happy-all-hallows-eve
            [post_title] => Happy All Hallows' Eve!
            [post_author] => 3
            [post_date] => 2011-10-31 19:24:00
            [year] => 2011
            [month] => 10
            [post_type] => post
        )

    [1571] => stdClass Object
        (
            [slug] => pumpkin-patch
            [ID] => 54762
            [post_name] => few-pictures
            [post_title] => A Few Pictures...
            [post_author] => 3
            [post_date] => 2011-10-31 06:53:00
            [year] => 2011
            [month] => 10
            [post_type] => post
        )

    [1572] => stdClass Object
        (
            [slug] => all-saints-day
            [ID] => 54763
            [post_name] => costume-for-st-catherine-of-alexandria
            [post_title] => A Costume for St. Catherine of Alexandria
            [post_author] => 3
            [post_date] => 2011-10-29 03:56:00
            [year] => 2011
            [month] => 10
            [post_type] => post
        )

    [1573] => stdClass Object
        (
            [slug] => this-moment
            [ID] => 54764
            [post_name] => this-moment-real-friends
            [post_title] => {this moment}  ::  "Real" Friends
            [post_author] => 3
            [post_date] => 2011-10-29 00:28:00
            [year] => 2011
            [month] => 10
            [post_type] => post
        )

    [1574] => stdClass Object
        (
            [slug] => all-saints-day
            [ID] => 54765
            [post_name] => all-saints-bingo-30-card-printable
            [post_title] => All Saints Bingo :: A 30 Card Printable Bingo Set
            [post_author] => 3
            [post_date] => 2011-10-27 21:23:00
            [year] => 2011
            [month] => 10
            [post_type] => post
        )

    [1575] => stdClass Object
        (
            [slug] => precious-moments-07
            [ID] => 54766
            [post_name] => week-30
            [post_title] => Week 30
            [post_author] => 3
            [post_date] => 2011-10-26 17:16:00
            [year] => 2011
            [month] => 10
            [post_type] => post
        )

    [1576] => stdClass Object
        (
            [slug] => baptisms
            [ID] => 54767
            [post_name] => our-precious-new-goddaughter
            [post_title] => Our Precious New Goddaughter
            [post_author] => 3
            [post_date] => 2011-10-24 20:59:00
            [year] => 2011
            [month] => 10
            [post_type] => post
        )

    [1577] => stdClass Object
        (
            [slug] => daybook
            [ID] => 54768
            [post_name] => my-daybook-october-18-2011
            [post_title] => My Daybook :: October 18, 2011
            [post_author] => 3
            [post_date] => 2011-10-19 23:47:00
            [year] => 2011
            [month] => 10
            [post_type] => post
        )

    [1578] => stdClass Object
        (
            [slug] => field-trips
            [ID] => 54769
            [post_name] => behind-scenes-at-harry-and-david
            [post_title] => Behind the Scenes at Harry and David
            [post_author] => 3
            [post_date] => 2011-10-18 05:29:00
            [year] => 2011
            [month] => 10
            [post_type] => post
        )

    [1579] => stdClass Object
        (
            [slug] => little-flowers
            [ID] => 54770
            [post_name] => little-flowers-girls-club-gift-of
            [post_title] => Little Flowers Girls' Club ~ The Gift of Understanding
            [post_author] => 3
            [post_date] => 2011-10-18 00:43:00
            [year] => 2011
            [month] => 10
            [post_type] => post
        )

    [1580] => stdClass Object
        (
            [slug] => little-flowers-online-girls-club
            [ID] => 54771
            [post_name] => shower-of-roses-little-flowers-girls
            [post_title] => Shower of Roses Little Flowers Girls' Club Link-up :: 2011-2012
            [post_author] => 3
            [post_date] => 2011-10-18 00:42:00
            [year] => 2011
            [month] => 10
            [post_type] => post
        )

    [1581] => stdClass Object
        (
            [slug] => precious-moments-03
            [ID] => 54772
            [post_name] => preparing-for-little-flowers
            [post_title] => Preparing for Little Flowers
            [post_author] => 3
            [post_date] => 2011-10-14 15:29:00
            [year] => 2011
            [month] => 10
            [post_type] => post
        )

    [1582] => stdClass Object
        (
            [slug] => american-history
            [ID] => 54773
            [post_name] => new-world-explorers-pueblo-diorama
            [post_title] => New World Explorers :: A Pueblo Diorama
            [post_author] => 3
            [post_date] => 2011-10-12 17:40:00
            [year] => 2011
            [month] => 10
            [post_type] => post
        )

    [1583] => stdClass Object
        (
            [slug] => little-saints-preschool
            [ID] => 54774
            [post_name] => little-saints-pre-school-colorsguardian
            [post_title] => Little Saints Pre-School :: Colors/Guardian Angels
            [post_author] => 3
            [post_date] => 2011-10-11 16:23:00
            [year] => 2011
            [month] => 10
            [post_type] => post
        )

    [1584] => stdClass Object
        (
            [slug] => recipes
            [ID] => 54775
            [post_name] => chocolate-caliente-on-columbus-day
            [post_title] => Chocolate Caliente on Columbus Day
            [post_author] => 3
            [post_date] => 2011-10-11 04:36:00
            [year] => 2011
            [month] => 10
            [post_type] => post
        )

    [1585] => stdClass Object
        (
            [slug] => little-saints-preschool
            [ID] => 54776
            [post_name] => little-saints-pre-school-alphabet-fun
            [post_title] => Little Saints Pre-School :: Alphabet Fun
            [post_author] => 3
            [post_date] => 2011-10-10 20:29:00
            [year] => 2011
            [month] => 10
            [post_type] => post
        )

    [1586] => stdClass Object
        (
            [slug] => field-trips
            [ID] => 54777
            [post_name] => missionary-saints-st-peter-apostle
            [post_title] => Missionary Saints :: St. Peter the Apostle
            [post_author] => 3
            [post_date] => 2011-10-08 01:31:00
            [year] => 2011
            [month] => 10
            [post_type] => post
        )

    [1587] => stdClass Object
        (
            [slug] => blue-knights-online-boys-club
            [ID] => 54778
            [post_name] => shower-of-roses-blue-knights-boys-club
            [post_title] => Shower of Roses Blue Knights Boys' Club Link-up :: 2011-2012
            [post_author] => 3
            [post_date] => 2011-10-08 01:10:00
            [year] => 2011
            [month] => 10
            [post_type] => post
        )

    [1588] => stdClass Object
        (
            [slug] => state-by-state
            [ID] => 54779
            [post_name] => state-by-state-baking-new-jersey-and
            [post_title] => State-by-State Baking :: A New Jersey and Georgia Inspired Lunch
            [post_author] => 3
            [post_date] => 2011-10-07 17:06:00
            [year] => 2011
            [month] => 10
            [post_type] => post
        )

    [1589] => stdClass Object
        (
            [slug] => picture-books
            [ID] => 54780
            [post_name] => francis-woke-up-early
            [post_title] => Francis Woke Up Early...
            [post_author] => 3
            [post_date] => 2011-10-06 22:08:00
            [year] => 2011
            [month] => 10
            [post_type] => post
        )

    [1590] => stdClass Object
        (
            [slug] => daybook
            [ID] => 54781
            [post_name] => my-daybook-on-traditional-feast-of-st
            [post_title] => My Daybook :: On the Traditional Feast of St. Thérèse
            [post_author] => 3
            [post_date] => 2011-10-04 05:03:00
            [year] => 2011
            [month] => 10
            [post_type] => post
        )

    [1591] => stdClass Object
        (
            [slug] => st-therese
            [ID] => 54782
            [post_name] => celebrating-feast-of-st-therese
            [post_title] => Celebrating the Feast of St. Therese
            [post_author] => 3
            [post_date] => 2011-10-03 08:18:00
            [year] => 2011
            [month] => 10
            [post_type] => post
        )

    [1592] => stdClass Object
        (
            [slug] => happy-anniversary
            [ID] => 54783
            [post_name] => wedding-memories-on-our-12th
            [post_title] => Wedding Memories on our 12th Anniversary!
            [post_author] => 3
            [post_date] => 2011-10-02 18:30:00
            [year] => 2011
            [month] => 10
            [post_type] => post
        )

    [1593] => stdClass Object
        (
            [slug] => st-therese
            [ID] => 54784
            [post_name] => happy-nameday
            [post_title] => Happy Nameday...
            [post_author] => 3
            [post_date] => 2011-10-02 02:36:00
            [year] => 2011
            [month] => 10
            [post_type] => post
        )

    [1594] => stdClass Object
        (
            [slug] => st-therese
            [ID] => 54785
            [post_name] => printable-activity-sheets-in-honor-of
            [post_title] => Printable Activity Sheets in honor of St. Thérèse
            [post_author] => 3
            [post_date] => 2011-10-01 17:17:00
            [year] => 2011
            [month] => 10
            [post_type] => post
        )

    [1595] => stdClass Object
        (
            [slug] => little-flowers
            [ID] => 54787
            [post_name] => little-flowers-girls-club-gift-of
            [post_title] => Little Flowers Girls' Club ~ The Gift of Wisdom
            [post_author] => 3
            [post_date] => 2011-09-30 19:57:00
            [year] => 2011
            [month] => 9
            [post_type] => post
        )

    [1596] => stdClass Object
        (
            [slug] => little-flowers-online-girls-club
            [ID] => 54788
            [post_name] => shower-of-roses-little-flowers-girls
            [post_title] => Shower of Roses Little Flowers Girls Club Link-up :: Our September/1st Meeting for the Year
            [post_author] => 3
            [post_date] => 2011-09-30 19:54:00
            [year] => 2011
            [month] => 9
            [post_type] => post
        )

    [1597] => stdClass Object
        (
            [slug] => little-flowers
            [ID] => 54789
            [post_name] => wreath-iv-notebook-pages-additional
            [post_title] => Wreath IV Notebook Pages & Additional Resources
            [post_author] => 3
            [post_date] => 2011-09-30 18:44:00
            [year] => 2011
            [month] => 9
            [post_type] => post
        )

    [1598] => stdClass Object
        (
            [slug] => nine-day-novena-to-st-therese
            [ID] => 54790
            [post_name] => novena-to-saint-therese-day-nine
            [post_title] => Novena to Saint Thérèse ~ Day Nine
            [post_author] => 3
            [post_date] => 2011-09-30 13:57:00
            [year] => 2011
            [month] => 9
            [post_type] => post
        )

    [1599] => stdClass Object
        (
            [slug] => daybook
            [ID] => 54791
            [post_name] => my-daybook-on-michaelmas-day
            [post_title] => My Daybook :: On Michaelmas Day
            [post_author] => 3
            [post_date] => 2011-09-29 19:38:00
            [year] => 2011
            [month] => 9
            [post_type] => post
        )

    [1600] => stdClass Object
        (
            [slug] => st-therese
            [ID] => 54792
            [post_name] => little-flowers-girls-club-wreath-iv-lap
            [post_title] => Little Flowers Girls' Club Wreath IV Lap Book
            [post_author] => 3
            [post_date] => 2011-09-29 17:09:00
            [year] => 2011
            [month] => 9
            [post_type] => post
        )

    [1601] => stdClass Object
        (
            [slug] => little-flowers
            [ID] => 54793
            [post_name] => our-crafts-plans-for-little-flowers
            [post_title] => Craft Plans and Ideas for Little Flowers Wreath IV
            [post_author] => 3
            [post_date] => 2011-09-29 09:00:00
            [year] => 2011
            [month] => 9
            [post_type] => post
        )

    [1602] => stdClass Object
        (
            [slug] => crafts
            [ID] => 54794
            [post_name] => st-therese-sacrifice-beads
            [post_title] => St. Therésè Sacrifice Beads
            [post_author] => 3
            [post_date] => 2011-09-29 08:55:00
            [year] => 2011
            [month] => 9
            [post_type] => post
        )

    [1603] => stdClass Object
        (
            [slug] => crafts
            [ID] => 54795
            [post_name] => ihs-candle-craft
            [post_title] => IHS Candle Craft
            [post_author] => 3
            [post_date] => 2011-09-29 08:52:00
            [year] => 2011
            [month] => 9
            [post_type] => post
        )

    [1604] => stdClass Object
        (
            [slug] => crafts
            [ID] => 54796
            [post_name] => crafting-holy-water-font
            [post_title] => Crafting a Holy Water Font
            [post_author] => 3
            [post_date] => 2011-09-29 08:49:00
            [year] => 2011
            [month] => 9
            [post_type] => post
        )

    [1605] => stdClass Object
        (
            [slug] => nine-day-novena-to-st-therese
            [ID] => 54797
            [post_name] => novena-to-saint-therese-day-eight
            [post_title] => Novena to Saint Thérèse ~ Day Eight
            [post_author] => 3
            [post_date] => 2011-09-29 08:05:00
            [year] => 2011
            [month] => 9
            [post_type] => post
        )

    [1606] => stdClass Object
        (
            [slug] => little-flowers-online-girls-club
            [ID] => 54798
            [post_name] => little-flowers-and-blue-knights
            [post_title] => Little Flowers and Blue Knights Registration Forms & Link-up Schedule
            [post_author] => 3
            [post_date] => 2011-09-28 15:38:00
            [year] => 2011
            [month] => 9
            [post_type] => post
        )

    [1607] => stdClass Object
        (
            [slug] => nine-day-novena-to-st-therese
            [ID] => 54799
            [post_name] => novena-to-saint-therese-day-seven
            [post_title] => Novena to Saint Thérèse ~ Day Seven
            [post_author] => 3
            [post_date] => 2011-09-28 07:40:00
            [year] => 2011
            [month] => 9
            [post_type] => post
        )

    [1608] => stdClass Object
        (
            [slug] => nine-day-novena-to-st-therese
            [ID] => 54800
            [post_name] => novena-to-saint-therese-day-six
            [post_title] => Novena to Saint Thérèse ~ Day Six
            [post_author] => 3
            [post_date] => 2011-09-27 07:00:00
            [year] => 2011
            [month] => 9
            [post_type] => post
        )

    [1609] => stdClass Object
        (
            [slug] => little-saints-preschool
            [ID] => 54801
            [post_name] => little-saints-pre-school-i-belong-to
            [post_title] => Little Saints Pre-School :: I Belong to God
            [post_author] => 3
            [post_date] => 2011-09-26 16:40:00
            [year] => 2011
            [month] => 9
            [post_type] => post
        )

    [1610] => stdClass Object
        (
            [slug] => state-by-state
            [ID] => 54802
            [post_name] => state-by-state-baking-pennsylvania
            [post_title] => State-by-State Baking :: Pennsylvania Hershey's Chocolate Breakfast Cake!
            [post_author] => 3
            [post_date] => 2011-09-26 07:49:00
            [year] => 2011
            [month] => 9
            [post_type] => post
        )

    [1611] => stdClass Object
        (
            [slug] => nine-day-novena-to-st-therese
            [ID] => 54803
            [post_name] => novena-to-saint-therese-day-five
            [post_title] => Novena to Saint Thérèse ~ Day Five
            [post_author] => 3
            [post_date] => 2011-09-26 07:00:00
            [year] => 2011
            [month] => 9
            [post_type] => post
        )

    [1612] => stdClass Object
        (
            [slug] => nine-day-novena-to-st-therese
            [ID] => 54804
            [post_name] => novena-to-saint-therese-day-four
            [post_title] => Novena to Saint Thérèse ~ Day Four
            [post_author] => 3
            [post_date] => 2011-09-25 07:00:00
            [year] => 2011
            [month] => 9
            [post_type] => post
        )

    [1613] => stdClass Object
        (
            [slug] => crafts
            [ID] => 54805
            [post_name] => st-therese-and-her-family-paper-dolls
            [post_title] => St. Therese and Her Family Paper Dolls
            [post_author] => 3
            [post_date] => 2011-09-24 19:32:00
            [year] => 2011
            [month] => 9
            [post_type] => post
        )

    [1614] => stdClass Object
        (
            [slug] => nine-day-novena-to-st-therese
            [ID] => 54806
            [post_name] => novena-to-saint-therese-day-three
            [post_title] => Novena to Saint Thérèse ~ Day Three
            [post_author] => 3
            [post_date] => 2011-09-24 07:00:00
            [year] => 2011
            [month] => 9
            [post_type] => post
        )

    [1615] => stdClass Object
        (
            [slug] => organization
            [ID] => 54807
            [post_name] => not-so-small-success
            [post_title] => A "Not So Small" Success!
            [post_author] => 3
            [post_date] => 2011-09-23 19:29:00
            [year] => 2011
            [month] => 9
            [post_type] => post
        )

    [1616] => stdClass Object
        (
            [slug] => nine-day-novena-to-st-therese
            [ID] => 54808
            [post_name] => novena-to-saint-therese-day-two
            [post_title] => Novena to Saint Thérèse ~ Day Two
            [post_author] => 3
            [post_date] => 2011-09-23 07:00:00
            [year] => 2011
            [month] => 9
            [post_type] => post
        )

    [1617] => stdClass Object
        (
            [slug] => nine-day-novena-to-st-therese
            [ID] => 54809
            [post_name] => novena-to-saint-therese
            [post_title] => Novena to Saint Thérèse
            [post_author] => 3
            [post_date] => 2011-09-22 07:35:00
            [year] => 2011
            [month] => 9
            [post_type] => post
        )

    [1618] => stdClass Object
        (
            [slug] => st-therese
            [ID] => 54810
            [post_name] => st-therese-lap-book
            [post_title] => St. Therese Lap Book
            [post_author] => 3
            [post_date] => 2011-09-21 17:03:00
            [year] => 2011
            [month] => 9
            [post_type] => post
        )

    [1619] => stdClass Object
        (
            [slug] => little-flowers
            [ID] => 54811
            [post_name] => shower-of-roses-online-little-flowers
            [post_title] => Shower of Roses Online Little Flowers Girls' Club
            [post_author] => 3
            [post_date] => 2011-09-20 17:04:00
            [year] => 2011
            [month] => 9
            [post_type] => post
        )

    [1620] => stdClass Object
        (
            [slug] => precious-moments-01
            [ID] => 54812
            [post_name] => funny-faces
            [post_title] => Funny Faces
            [post_author] => 3
            [post_date] => 2011-09-20 17:00:00
            [year] => 2011
            [month] => 9
            [post_type] => post
        )

    [1621] => stdClass Object
        (
            [slug] => crafts
            [ID] => 54813
            [post_name] => wisdom-of-saints-journal
            [post_title] => "Wisdom of the Saints" Journal
            [post_author] => 3
            [post_date] => 2011-09-19 19:25:00
            [year] => 2011
            [month] => 9
            [post_type] => post
        )

    [1622] => stdClass Object
        (
            [slug] => field-trips
            [ID] => 54814
            [post_name] => red-white-and-blue-history-tour
            [post_title] => A Red, White and Blue History Tour!
            [post_author] => 3
            [post_date] => 2011-09-19 17:26:00
            [year] => 2011
            [month] => 9
            [post_type] => post
        )

    [1623] => stdClass Object
        (
            [slug] => autumn
            [ID] => 54815
            [post_name] => canning-peaches-with-my-girls
            [post_title] => Canning Peaches with my Girls
            [post_author] => 3
            [post_date] => 2011-09-18 04:37:00
            [year] => 2011
            [month] => 9
            [post_type] => post
        )

    [1624] => stdClass Object
        (
            [slug] => state-by-state
            [ID] => 54816
            [post_name] => state-by-state-baking-delaware-peach
            [post_title] => State-by-State Baking :: Delaware Peach Crumble
            [post_author] => 3
            [post_date] => 2011-09-17 01:57:00
            [year] => 2011
            [month] => 9
            [post_type] => post
        )

    [1625] => stdClass Object
        (
            [slug] => home-videos
            [ID] => 54817
            [post_name] => nesting-project-2
            [post_title] => Nesting Project #2
            [post_author] => 3
            [post_date] => 2011-09-16 23:14:00
            [year] => 2011
            [month] => 9
            [post_type] => post
        )

    [1626] => stdClass Object
        (
            [slug] => this-moment
            [ID] => 54818
            [post_name] => this-moment
            [post_title] => {this moment}
            [post_author] => 3
            [post_date] => 2011-09-16 21:25:00
            [year] => 2011
            [month] => 9
            [post_type] => post
        )

    [1627] => stdClass Object
        (
            [slug] => home-sweet-home
            [ID] => 54819
            [post_name] => small-successes-september-15-2011
            [post_title] => Small Successes:  September 15, 2011
            [post_author] => 3
            [post_date] => 2011-09-15 22:41:00
            [year] => 2011
            [month] => 9
            [post_type] => post
        )

    [1628] => stdClass Object
        (
            [slug] => little-flowers
            [ID] => 54820
            [post_name] => flowers-of-wreath-iii-cupcakes
            [post_title] => The Flowers of Wreath III Cupcakes
            [post_author] => 3
            [post_date] => 2011-09-13 21:55:00
            [year] => 2011
            [month] => 9
            [post_type] => post
        )

    [1629] => stdClass Object
        (
            [slug] => daybook
            [ID] => 54821
            [post_name] => my-daybook-september-12-2011
            [post_title] => My Daybook :: September 12, 2011
            [post_author] => 3
            [post_date] => 2011-09-12 19:22:00
            [year] => 2011
            [month] => 9
            [post_type] => post
        )

    [1630] => stdClass Object
        (
            [slug] => marian
            [ID] => 54822
            [post_name] => celebrating-marys-birthday
            [post_title] => Celebrating Mary's Birthday
            [post_author] => 3
            [post_date] => 2011-09-09 06:50:00
            [year] => 2011
            [month] => 9
            [post_type] => post
        )

    [1631] => stdClass Object
        (
            [slug] => summer
            [ID] => 54823
            [post_name] => pretty-happy-funny-real
            [post_title] => {pretty, happy, funny, real}
            [post_author] => 3
            [post_date] => 2011-09-08 23:47:00
            [year] => 2011
            [month] => 9
            [post_type] => post
        )

    [1632] => stdClass Object
        (
            [slug] => prayer-request
            [ID] => 54824
            [post_name] => please-pray
            [post_title] => Please Pray...
            [post_author] => 3
            [post_date] => 2011-09-07 03:23:00
            [year] => 2011
            [month] => 9
            [post_type] => post
        )

    [1633] => stdClass Object
        (
            [slug] => home-education
            [ID] => 54825
            [post_name] => back-to-school-2011-2012
            [post_title] => Back-to-School :: 2011-2012
            [post_author] => 3
            [post_date] => 2011-09-06 22:03:00
            [year] => 2011
            [month] => 9
            [post_type] => post
        )

    [1634] => stdClass Object
        (
            [slug] => archives-monthly
            [ID] => 54826
            [post_name] => links-for-september-month-dedicated-to
            [post_title] => Links for September :: Month Dedicated to Our Lady of Sorrows
            [post_author] => 3
            [post_date] => 2011-09-05 07:00:00
            [year] => 2011
            [month] => 9
            [post_type] => post
        )

    [1635] => stdClass Object
        (
            [slug] => prayer-request
            [ID] => 54827
            [post_name] => please-pray-for-charlotte-and-cupcake
            [post_title] => Please Pray for Charlotte and Cupcake!
            [post_author] => 3
            [post_date] => 2011-09-01 20:40:00
            [year] => 2011
            [month] => 9
            [post_type] => post
        )

    [1636] => stdClass Object
        (
            [slug] => archives-monthly
            [ID] => 54786
            [post_name] => links-for-october-month-dedicated-to
            [post_title] => Links for October :: Month Dedicated to the Most Holy Rosary
            [post_author] => 3
            [post_date] => 2011-09-01 04:17:00
            [year] => 2011
            [month] => 9
            [post_type] => post
        )

    [1637] => stdClass Object
        (
            [slug] => birthday-parties
            [ID] => 54828
            [post_name] => partea-time-tea-themed-birthday
            [post_title] => ParTEA Time :: A Tea Themed Birthday!
            [post_author] => 3
            [post_date] => 2011-09-01 00:53:00
            [year] => 2011
            [month] => 9
            [post_type] => post
        )

    [1638] => stdClass Object
        (
            [slug] => birthday-parties
            [ID] => 54829
            [post_name] => marshmallow-teacup-cookies
            [post_title] => Marshmallow Teacup Cookies
            [post_author] => 3
            [post_date] => 2011-08-31 21:03:00
            [year] => 2011
            [month] => 8
            [post_type] => post
        )

    [1639] => stdClass Object
        (
            [slug] => cake-decorating
            [ID] => 54830
            [post_name] => pretty-pink-tea-pot-cake-tutorial
            [post_title] => A Pretty Pink Tea Pot Cake Tutorial
            [post_author] => 3
            [post_date] => 2011-08-31 17:13:00
            [year] => 2011
            [month] => 8
            [post_type] => post
        )

    [1640] => stdClass Object
        (
            [slug] => cake-decorating
            [ID] => 54831
            [post_name] => happy-8th-birthday-girl
            [post_title] => Happy 8th, Birthday Girl!
            [post_author] => 3
            [post_date] => 2011-08-30 16:47:00
            [year] => 2011
            [month] => 8
            [post_type] => post
        )

    [1641] => stdClass Object
        (
            [slug] => back-to-school
            [ID] => 54832
            [post_name] => back-to-school-schultutes
            [post_title] => Back-to-School Schultütes
            [post_author] => 3
            [post_date] => 2011-08-29 17:22:00
            [year] => 2011
            [month] => 8
            [post_type] => post
        )

    [1642] => stdClass Object
        (
            [slug] => home-education
            [ID] => 54833
            [post_name] => patron-of-students-back-to-school-treat
            [post_title] => A Patron of Students Back-to-School Treat!
            [post_author] => 3
            [post_date] => 2011-08-24 15:50:00
            [year] => 2011
            [month] => 8
            [post_type] => post
        )

    [1643] => stdClass Object
        (
            [slug] => home-education
            [ID] => 54834
            [post_name] => stocking-up
            [post_title] => Stocking Up
            [post_author] => 3
            [post_date] => 2011-08-23 22:55:00
            [year] => 2011
            [month] => 8
            [post_type] => post
        )

    [1644] => stdClass Object
        (
            [slug] => fssp
            [ID] => 54835
            [post_name] => visit-to-crater-lake
            [post_title] => A Visit to Crater Lake
            [post_author] => 3
            [post_date] => 2011-08-22 15:47:00
            [year] => 2011
            [month] => 8
            [post_type] => post
        )

    [1645] => stdClass Object
        (
            [slug] => awards
            [ID] => 54836
            [post_name] => catholic-new-media-awards
            [post_title] => Catholic New Media Awards
            [post_author] => 3
            [post_date] => 2011-08-20 14:34:00
            [year] => 2011
            [month] => 8
            [post_type] => post
        )

    [1646] => stdClass Object
        (
            [slug] => pregnancy
            [ID] => 54837
            [post_name] => pretty-happy-funny-real
            [post_title] => {pretty, happy, funny, real}
            [post_author] => 3
            [post_date] => 2011-08-19 18:34:00
            [year] => 2011
            [month] => 8
            [post_type] => post
        )

    [1647] => stdClass Object
        (
            [slug] => prayer-request
            [ID] => 54838
            [post_name] => please-pray
            [post_title] => Please Pray!
            [post_author] => 3
            [post_date] => 2011-08-19 00:56:00
            [year] => 2011
            [month] => 8
            [post_type] => post
        )

    [1648] => stdClass Object
        (
            [slug] => fssp
            [ID] => 54839
            [post_name] => wordless-wednesday-hiking-with-father
            [post_title] => Wordless Wednesday :: Hiking with Father
            [post_author] => 3
            [post_date] => 2011-08-18 02:26:00
            [year] => 2011
            [month] => 8
            [post_type] => post
        )

    [1649] => stdClass Object
        (
            [slug] => precious-moments-07
            [ID] => 54840
            [post_name] => thank-heaven
            [post_title] => Thank Heaven. . .
            [post_author] => 3
            [post_date] => 2011-08-17 03:44:00
            [year] => 2011
            [month] => 8
            [post_type] => post
        )

    [1650] => stdClass Object
        (
            [slug] => home-education
            [ID] => 54841
            [post_name] => my-daybook-august-15-2011
            [post_title] => My Daybook :: August 15, 2011
            [post_author] => 3
            [post_date] => 2011-08-16 02:40:00
            [year] => 2011
            [month] => 8
            [post_type] => post
        )

    [1651] => stdClass Object
        (
            [slug] => fssp
            [ID] => 54842
            [post_name] => on-eve-of-feast-of-st-clare
            [post_title] => On the Eve of the Feast of St. Clare. . .
            [post_author] => 3
            [post_date] => 2011-08-11 03:50:00
            [year] => 2011
            [month] => 8
            [post_type] => post
        )

    [1652] => stdClass Object
        (
            [slug] => birthday-parties
            [ID] => 54843
            [post_name] => medieval-knights-dragons-and-castles
            [post_title] => A Medieval Knights, Dragons and Castles Birthday
            [post_author] => 3
            [post_date] => 2011-08-05 16:37:00
            [year] => 2011
            [month] => 8
            [post_type] => post
        )

    [1653] => stdClass Object
        (
            [slug] => cake-decorating
            [ID] => 54844
            [post_name] => knights-castle-cake-tutorial
            [post_title] => A Knight's Castle Cake Tutorial
            [post_author] => 3
            [post_date] => 2011-08-05 16:10:00
            [year] => 2011
            [month] => 8
            [post_type] => post
        )

    [1654] => stdClass Object
        (
            [slug] => archives-monthly
            [ID] => 54845
            [post_name] => links-for-august-month-dedicated-to
            [post_title] => Links for August :: Month Dedicated to the Immaculate Heart of Mary
            [post_author] => 3
            [post_date] => 2011-08-04 17:10:00
            [year] => 2011
            [month] => 8
            [post_type] => post
        )

    [1655] => stdClass Object
        (
            [slug] => book-sale
            [ID] => 54846
            [post_name] => online-curriculum-sale-blog-hop
            [post_title] => An Online Curriculum Sale Blog Hop!
            [post_author] => 3
            [post_date] => 2011-08-01 14:07:00
            [year] => 2011
            [month] => 8
            [post_type] => post
        )

    [1656] => stdClass Object
        (
            [slug] => book-sale
            [ID] => 54847
            [post_name] => organizing-school-room-used-book-sale-2
            [post_title] => Organizing the School Room :: A Used Book Sale #2
            [post_author] => 3
            [post_date] => 2011-08-01 14:02:00
            [year] => 2011
            [month] => 8
            [post_type] => post
        )

    [1657] => stdClass Object
        (
            [slug] => recipes
            [ID] => 54848
            [post_name] => pretty-happy-funny-real_28
            [post_title] => {pretty, happy, funny, real}
            [post_author] => 3
            [post_date] => 2011-07-29 04:11:00
            [year] => 2011
            [month] => 7
            [post_type] => post
        )

    [1658] => stdClass Object
        (
            [slug] => recipes
            [ID] => 54849
            [post_name] => strawberry-peach-tea-cake
            [post_title] => Strawberry & Peach Tea Cake
            [post_author] => 3
            [post_date] => 2011-07-29 04:05:00
            [year] => 2011
            [month] => 7
            [post_type] => post
        )

    [1659] => stdClass Object
        (
            [slug] => home-education
            [ID] => 54850
            [post_name] => american-history-our-book-lists
            [post_title] => American History :: Our Book Lists & Plans
            [post_author] => 3
            [post_date] => 2011-07-27 21:11:00
            [year] => 2011
            [month] => 7
            [post_type] => post
        )

    [1660] => stdClass Object
        (
            [slug] => crafts
            [ID] => 54851
            [post_name] => on-feast-of-st-james
            [post_title] => On the Feast of St. James. . .
            [post_author] => 3
            [post_date] => 2011-07-26 04:42:00
            [year] => 2011
            [month] => 7
            [post_type] => post
        )

    [1661] => stdClass Object
        (
            [slug] => curriculum
            [ID] => 54852
            [post_name] => making-plans-2011-2012
            [post_title] => Making Plans :: 2011-2012
            [post_author] => 3
            [post_date] => 2011-07-22 01:48:00
            [year] => 2011
            [month] => 7
            [post_type] => post
        )

    [1662] => stdClass Object
        (
            [slug] => happy-birthday
            [ID] => 54853
            [post_name] => pretty-happy-funny-real
            [post_title] => {pretty, happy, funny, real}
            [post_author] => 3
            [post_date] => 2011-07-21 21:15:00
            [year] => 2011
            [month] => 7
            [post_type] => post
        )

    [1663] => stdClass Object
        (
            [slug] => cake-decorating
            [ID] => 54854
            [post_name] => hear-ye-hear-ye
            [post_title] => Hear Ye, Hear Ye!
            [post_author] => 3
            [post_date] => 2011-07-20 16:06:00
            [year] => 2011
            [month] => 7
            [post_type] => post
        )

    [1664] => stdClass Object
        (
            [slug] => science
            [ID] => 54855
            [post_name] => exploring-creation-with-botany-lap-book
            [post_title] => Exploring Creation with Botany Lap Book :: Part 2
            [post_author] => 3
            [post_date] => 2011-07-19 21:18:00
            [year] => 2011
            [month] => 7
            [post_type] => post
        )

    [1665] => stdClass Object
        (
            [slug] => daybook
            [ID] => 54856
            [post_name] => my-daybook-july-18-2011
            [post_title] => My Daybook :: July 18, 2011
            [post_author] => 3
            [post_date] => 2011-07-18 23:45:00
            [year] => 2011
            [month] => 7
            [post_type] => post
        )

    [1666] => stdClass Object
        (
            [slug] => golf
            [ID] => 54857
            [post_name] => junior-world-golf-championships
            [post_title] => The Junior World Golf Championships
            [post_author] => 3
            [post_date] => 2011-07-15 21:59:00
            [year] => 2011
            [month] => 7
            [post_type] => post
        )

    [1667] => stdClass Object
        (
            [slug] => little-flowers
            [ID] => 54858
            [post_name] => little-flowers-girls-club-fortitude
            [post_title] => Little Flowers Girls' Club ~ Fortitude
            [post_author] => 3
            [post_date] => 2011-07-13 22:00:00
            [year] => 2011
            [month] => 7
            [post_type] => post
        )

    [1668] => stdClass Object
        (
            [slug] => little-flowers
            [ID] => 54859
            [post_name] => little-flowers-girls-club-patience
            [post_title] => Little Flowers Girls' Club ~ Patience
            [post_author] => 3
            [post_date] => 2011-07-08 04:26:00
            [year] => 2011
            [month] => 7
            [post_type] => post
        )

    [1669] => stdClass Object
        (
            [slug] => book-sale
            [ID] => 54860
            [post_name] => organizing-school-room-used-book-sale
            [post_title] => Organizing the School Room :: A Used Book Sale!
            [post_author] => 3
            [post_date] => 2011-07-07 18:30:00
            [year] => 2011
            [month] => 7
            [post_type] => post
        )

    [1670] => stdClass Object
        (
            [slug] => saintly-summer-fun
            [ID] => 54861
            [post_name] => saintly-summer-fun-st-maria-goretti
            [post_title] => Saintly Summer Fun :: St. Maria Goretti
            [post_author] => 3
            [post_date] => 2011-07-07 01:42:00
            [year] => 2011
            [month] => 7
            [post_type] => post
        )

    [1671] => stdClass Object
        (
            [slug] => books
            [ID] => 54862
            [post_name] => king-of-golden-city
            [post_title] => The King of the Golden City
            [post_author] => 3
            [post_date] => 2011-07-06 15:33:00
            [year] => 2011
            [month] => 7
            [post_type] => post
        )

    [1672] => stdClass Object
        (
            [slug] => catholic-family-camp
            [ID] => 54863
            [post_name] => wordless-wednesday-my-husband-forester
            [post_title] => Wordless Wednesday :: My Husband, the Forester
            [post_author] => 3
            [post_date] => 2011-07-06 15:28:00
            [year] => 2011
            [month] => 7
            [post_type] => post
        )

    [1673] => stdClass Object
        (
            [slug] => science
            [ID] => 54864
            [post_name] => red-white-and-boom
            [post_title] => Red, White and Boom!
            [post_author] => 3
            [post_date] => 2011-07-06 03:52:00
            [year] => 2011
            [month] => 7
            [post_type] => post
        )

    [1674] => stdClass Object
        (
            [slug] => this-moment
            [ID] => 54865
            [post_name] => this-moment
            [post_title] => {this moment}
            [post_author] => 3
            [post_date] => 2011-07-01 20:27:00
            [year] => 2011
            [month] => 7
            [post_type] => post
        )

    [1675] => stdClass Object
        (
            [slug] => archives-monthly
            [ID] => 54866
            [post_name] => links-for-july-month-dedicated-to-most
            [post_title] => Links for July :: Month Dedicated to the Most Precious Blood
            [post_author] => 3
            [post_date] => 2011-07-01 16:13:00
            [year] => 2011
            [month] => 7
            [post_type] => post
        )

    [1676] => stdClass Object
        (
            [slug] => printables
            [ID] => 54867
            [post_name] => saintly-summer-fun-saints-peter-and
            [post_title] => Saintly Summer Fun :: Saints Peter and Paul
            [post_author] => 3
            [post_date] => 2011-06-30 01:20:00
            [year] => 2011
            [month] => 6
            [post_type] => post
        )

    [1677] => stdClass Object
        (
            [slug] => precious-moments-07
            [ID] => 54868
            [post_name] => wordless-wednesday-13-weeks
            [post_title] => Wordless Wednesday :: 13 Weeks!
            [post_author] => 3
            [post_date] => 2011-06-29 16:56:00
            [year] => 2011
            [month] => 6
            [post_type] => post
        )

    [1678] => stdClass Object
        (
            [slug] => music
            [ID] => 54869
            [post_name] => inspired-by-charlie-daniels
            [post_title] => Inspired by Charlie Daniels. . .
            [post_author] => 3
            [post_date] => 2011-06-29 03:51:00
            [year] => 2011
            [month] => 6
            [post_type] => post
        )

    [1679] => stdClass Object
        (
            [slug] => nature
            [ID] => 54870
            [post_name] => in-woods-today
            [post_title] => In the Woods Today. . .
            [post_author] => 3
            [post_date] => 2011-06-28 04:32:00
            [year] => 2011
            [month] => 6
            [post_type] => post
        )

    [1680] => stdClass Object
        (
            [slug] => daybook
            [ID] => 54871
            [post_name] => my-daybook-june-27-2011
            [post_title] => My Daybook :: June 27, 2011
            [post_author] => 3
            [post_date] => 2011-06-27 19:31:00
            [year] => 2011
            [month] => 6
            [post_type] => post
        )

    [1681] => stdClass Object
        (
            [slug] => giveaway
            [ID] => 54872
            [post_name] => my-little-cupcake-wrapping-up-baby
            [post_title] => My Little Cupcake :: Wrapping up the Baby Shower!
            [post_author] => 3
            [post_date] => 2011-06-24 23:51:00
            [year] => 2011
            [month] => 6
            [post_type] => post
        )

    [1682] => stdClass Object
        (
            [slug] => giveaway
            [ID] => 54873
            [post_name] => name-that-baby-announcing-winner
            [post_title] => Name that Baby :: Announcing the Winners!
            [post_author] => 3
            [post_date] => 2011-06-24 13:37:00
            [year] => 2011
            [month] => 6
            [post_type] => post
        )

    [1683] => stdClass Object
        (
            [slug] => baby-showers
            [ID] => 54874
            [post_name] => my-little-cupcake-last-day-to
            [post_title] => My Little Cupcake :: Last Day to Participate!
            [post_author] => 3
            [post_date] => 2011-06-23 16:58:00
            [year] => 2011
            [month] => 6
            [post_type] => post
        )

    [1684] => stdClass Object
        (
            [slug] => birthday-parties
            [ID] => 54875
            [post_name] => celebrating-4-years
            [post_title] => Happy 4th Birthday!
            [post_author] => 3
            [post_date] => 2011-06-22 15:00:00
            [year] => 2011
            [month] => 6
            [post_type] => post
        )

    [1685] => stdClass Object
        (
            [slug] => daybook
            [ID] => 54876
            [post_name] => my-daybook-june-21-2011
            [post_title] => My Daybook :: June 21, 2011
            [post_author] => 3
            [post_date] => 2011-06-21 22:03:00
            [year] => 2011
            [month] => 6
            [post_type] => post
        )

    [1686] => stdClass Object
        (
            [slug] => phfr
            [ID] => 54877
            [post_name] => pretty-happy-funny-real
            [post_title] => {pretty, happy, funny, real}
            [post_author] => 3
            [post_date] => 2011-06-16 14:41:00
            [year] => 2011
            [month] => 6
            [post_type] => post
        )

    [1687] => stdClass Object
        (
            [slug] => printables
            [ID] => 54878
            [post_name] => saintly-summer-fun-st-anthony-of-padua
            [post_title] => Saintly Summer Fun :: St. Anthony of Padua
            [post_author] => 3
            [post_date] => 2011-06-14 03:37:00
            [year] => 2011
            [month] => 6
            [post_type] => post
        )

    [1688] => stdClass Object
        (
            [slug] => pentecost
            [ID] => 54879
            [post_name] => celebrating-pentecost-birthday-of
            [post_title] => Celebrating Pentecost, the Birthday of the Church!
            [post_author] => 3
            [post_date] => 2011-06-13 00:42:00
            [year] => 2011
            [month] => 6
            [post_type] => post
        )

    [1689] => stdClass Object
        (
            [slug] => good-shepherds-garden-party
            [ID] => 54880
            [post_name] => good-shepherds-garden-party-week-seven
            [post_title] => The Good Shepherd's Garden Party :: Week Seven
            [post_author] => 3
            [post_date] => 2011-06-12 03:59:00
            [year] => 2011
            [month] => 6
            [post_type] => post
        )

    [1690] => stdClass Object
        (
            [slug] => archives-monthly
            [ID] => 54881
            [post_name] => links-for-june-month-dedicated-to-most
            [post_title] => Links for June :: Month Dedicated to The Most Sacred Heart
            [post_author] => 3
            [post_date] => 2011-06-10 18:24:00
            [year] => 2011
            [month] => 6
            [post_type] => post
        )

    [1691] => stdClass Object
        (
            [slug] => cake-decorating
            [ID] => 54882
            [post_name] => watermelon-cupcakes-fun-summertime
            [post_title] => Watermelon Cupcakes :: A Fun Summertime Treat!
            [post_author] => 3
            [post_date] => 2011-06-09 17:31:00
            [year] => 2011
            [month] => 6
            [post_type] => post
        )

    [1692] => stdClass Object
        (
            [slug] => daybook
            [ID] => 54883
            [post_name] => my-daybook-june-7-2011
            [post_title] => My Daybook :: June 8, 2011
            [post_author] => 3
            [post_date] => 2011-06-08 18:55:00
            [year] => 2011
            [month] => 6
            [post_type] => post
        )

    [1693] => stdClass Object
        (
            [slug] => giveaway
            [ID] => 54884
            [post_name] => my-little-cupcake-baby-shower-for
            [post_title] => My Little Cupcake :: A Baby Shower for Charlotte!
            [post_author] => 3
            [post_date] => 2011-06-06 12:00:00
            [year] => 2011
            [month] => 6
            [post_type] => post
        )

    [1694] => stdClass Object
        (
            [slug] => giveaway
            [ID] => 54885
            [post_name] => name-that-baby-catholic-cuisine-edition
            [post_title] => Name that Baby :: Catholic Cuisine Edition!
            [post_author] => 3
            [post_date] => 2011-06-06 11:59:00
            [year] => 2011
            [month] => 6
            [post_type] => post
        )

    [1695] => stdClass Object
        (
            [slug] => cake-decorating
            [ID] => 54886
            [post_name] => baby-rattle-cupcakes
            [post_title] => Baby Rattle Cupcakes
            [post_author] => 3
            [post_date] => 2011-06-06 11:58:00
            [year] => 2011
            [month] => 6
            [post_type] => post
        )

    [1696] => stdClass Object
        (
            [slug] => good-shepherds-garden-party
            [ID] => 54887
            [post_name] => good-shepherds-garden-party-week-six
            [post_title] => The Good Shepherd's Garden Party :: Week Six
            [post_author] => 3
            [post_date] => 2011-06-06 01:35:00
            [year] => 2011
            [month] => 6
            [post_type] => post
        )

    [1697] => stdClass Object
        (
            [slug] => puzzles
            [ID] => 54888
            [post_name] => pretty-happy-funny-real-ascension
            [post_title] => {pretty, happy, funny, real}  :: Ascension Thursday
            [post_author] => 3
            [post_date] => 2011-06-02 17:51:00
            [year] => 2011
            [month] => 6
            [post_type] => post
        )

    [1698] => stdClass Object
        (
            [slug] => precious-moments-07
            [ID] => 54889
            [post_name] => 9-weeks-or-so
            [post_title] => 9 Weeks... or so!
            [post_author] => 3
            [post_date] => 2011-06-01 21:32:00
            [year] => 2011
            [month] => 6
            [post_type] => post
        )

    [1699] => stdClass Object
        (
            [slug] => daybook
            [ID] => 54890
            [post_name] => my-daybook-june-1-2011
            [post_title] => My Daybook ::  June 1, 2011
            [post_author] => 3
            [post_date] => 2011-06-01 14:19:00
            [year] => 2011
            [month] => 6
            [post_type] => post
        )

    [1700] => stdClass Object
        (
            [slug] => good-shepherds-garden-party
            [ID] => 54891
            [post_name] => good-shepherds-garden-party-week-five
            [post_title] => The Good Shepherd's Garden Party :: Week Five
            [post_author] => 3
            [post_date] => 2011-05-30 02:21:00
            [year] => 2011
            [month] => 5
            [post_type] => post
        )

    [1701] => stdClass Object
        (
            [slug] => good-shepherds-garden-party
            [ID] => 54892
            [post_name] => good-shepherds-garden-party-week-four
            [post_title] => The Good Shepherd's Garden Party :: Week Four
            [post_author] => 3
            [post_date] => 2011-05-23 15:56:00
            [year] => 2011
            [month] => 5
            [post_type] => post
        )

    [1702] => stdClass Object
        (
            [slug] => marian
            [ID] => 54893
            [post_name] => marian-titles-may-crowning-luncheon
            [post_title] => A Marian Titles May Crowning Luncheon
            [post_author] => 3
            [post_date] => 2011-05-21 17:37:00
            [year] => 2011
            [month] => 5
            [post_type] => post
        )

    [1703] => stdClass Object
        (
            [slug] => little-flowers
            [ID] => 54894
            [post_name] => little-flowers-girls-club-cheerfulness
            [post_title] => Little Flowers Girls' Club ~ Cheerfulness
            [post_author] => 3
            [post_date] => 2011-05-21 17:01:00
            [year] => 2011
            [month] => 5
            [post_type] => post
        )

    [1704] => stdClass Object
        (
            [slug] => reviews
            [ID] => 54895
            [post_name] => book-review-gift-of-summer-snow
            [post_title] => Book Review:  The Gift of Summer Snow
            [post_author] => 3
            [post_date] => 2011-05-19 20:18:00
            [year] => 2011
            [month] => 5
            [post_type] => post
        )

    [1705] => stdClass Object
        (
            [slug] => geography
            [ID] => 54896
            [post_name] => our-journey-through-geography
            [post_title] => Our Journey Through Geography
            [post_author] => 3
            [post_date] => 2011-05-18 22:20:00
            [year] => 2011
            [month] => 5
            [post_type] => post
        )

    [1706] => stdClass Object
        (
            [slug] => schedule
            [ID] => 54897
            [post_name] => our-weekday-schedule-starting-point
            [post_title] => Our Weekday Schedule - A Starting Point...
            [post_author] => 3
            [post_date] => 2011-05-17 20:55:00
            [year] => 2011
            [month] => 5
            [post_type] => post
        )

    [1707] => stdClass Object
        (
            [slug] => good-shepherds-garden-party
            [ID] => 54898
            [post_name] => good-shepherds-garden-party-week-three-2
            [post_title] => The Good Shepherd's Garden Party :: Week Three
            [post_author] => 3
            [post_date] => 2011-05-16 16:15:00
            [year] => 2011
            [month] => 5
            [post_type] => post
        )

    [1708] => stdClass Object
        (
            [slug] => precious-moments-03
            [ID] => 54899
            [post_name] => pretty-happy-funny-real_13
            [post_title] => {pretty, happy, funny, real}
            [post_author] => 3
            [post_date] => 2011-05-13 21:51:00
            [year] => 2011
            [month] => 5
            [post_type] => post
        )

    [1709] => stdClass Object
        (
            [slug] => kids-artwork
            [ID] => 54900
            [post_name] => artist-trading-cards-marian-swap-and
            [post_title] => Artist Trading Cards:  A Marian Swap and a few pictures from the For all the Saints Swap!
            [post_author] => 3
            [post_date] => 2011-05-10 15:59:00
            [year] => 2011
            [month] => 5
            [post_type] => post
        )

    [1710] => stdClass Object
        (
            [slug] => good-shepherds-garden-party
            [ID] => 54901
            [post_name] => good-shepherds-garden-party-week-two
            [post_title] => The Good Shepherd's Garden Party :: Week Two
            [post_author] => 3
            [post_date] => 2011-05-10 03:02:00
            [year] => 2011
            [month] => 5
            [post_type] => post
        )

    [1711] => stdClass Object
        (
            [slug] => precious-moments-01
            [ID] => 54902
            [post_name] => this-moment
            [post_title] => {this moment} The Boys' First Fencing Tournament
            [post_author] => 3
            [post_date] => 2011-05-07 20:47:00
            [year] => 2011
            [month] => 5
            [post_type] => post
        )

    [1712] => stdClass Object
        (
            [slug] => easter
            [ID] => 54903
            [post_name] => pretty-happy-funny-real
            [post_title] => {Pretty, Happy, Funny, Real}
            [post_author] => 3
            [post_date] => 2011-05-05 07:00:00
            [year] => 2011
            [month] => 5
            [post_type] => post
        )

    [1713] => stdClass Object
        (
            [slug] => birthday-parties
            [ID] => 54904
            [post_name] => littlest-matryoshka-nesting-doll
            [post_title] => The Littlest Matryoshka :: A Nesting Doll Birthday
            [post_author] => 3
            [post_date] => 2011-05-04 12:00:00
            [year] => 2011
            [month] => 5
            [post_type] => post
        )

    [1714] => stdClass Object
        (
            [slug] => little-flowers-wreath-iii
            [ID] => 54905
            [post_name] => little-flowers-girls-club
            [post_title] => Little Flowers Girls' Club ~ Responsibility
            [post_author] => 3
            [post_date] => 2011-05-03 16:58:00
            [year] => 2011
            [month] => 5
            [post_type] => post
        )

    [1715] => stdClass Object
        (
            [slug] => good-shepherds-garden-party
            [ID] => 54906
            [post_name] => good-shepherds-garden-party-week-one
            [post_title] => The Good Shepherd's Garden Party  :: Week One
            [post_author] => 3
            [post_date] => 2011-05-02 17:26:00
            [year] => 2011
            [month] => 5
            [post_type] => post
        )

    [1716] => stdClass Object
        (
            [slug] => st-john-paul-ii
            [ID] => 54907
            [post_name] => celebrating-beatification-of-john-paul
            [post_title] => Celebrating the Beatification of John Paul II with. . .
            [post_author] => 3
            [post_date] => 2011-05-02 17:25:00
            [year] => 2011
            [month] => 5
            [post_type] => post
        )

    [1717] => stdClass Object
        (
            [slug] => little-flowers
            [ID] => 54908
            [post_name] => 50-off-all-little-flowers-books-and
            [post_title] => 50% OFF all Little Flowers Books, and More!
            [post_author] => 3
            [post_date] => 2011-04-30 16:41:00
            [year] => 2011
            [month] => 4
            [post_type] => post
        )

    [1718] => stdClass Object
        (
            [slug] => kids-in-the-kitchen
            [ID] => 54909
            [post_name] => royal-wedding-afternoon-tea
            [post_title] => A Royal Wedding Afternoon Tea
            [post_author] => 3
            [post_date] => 2011-04-30 01:53:00
            [year] => 2011
            [month] => 4
            [post_type] => post
        )

    [1719] => stdClass Object
        (
            [slug] => crafts
            [ID] => 54910
            [post_name] => cross-stitch-easter-egg
            [post_title] => A Cross Stitch Easter Egg
            [post_author] => 3
            [post_date] => 2011-04-29 14:03:00
            [year] => 2011
            [month] => 4
            [post_type] => post
        )

    [1720] => stdClass Object
        (
            [slug] => teatime
            [ID] => 54911
            [post_name] => garden-of-good-shepherd-sticker
            [post_title] => Teatime
            [post_author] => 3
            [post_date] => 2011-04-29 13:51:00
            [year] => 2011
            [month] => 4
            [post_type] => post
        )

    [1721] => stdClass Object
        (
            [slug] => easter
            [ID] => 54912
            [post_name] => pretty-happy-funny-real_28
            [post_title] => {pretty, happy, funny, real}
            [post_author] => 3
            [post_date] => 2011-04-29 01:30:00
            [year] => 2011
            [month] => 4
            [post_type] => post
        )

    [1722] => stdClass Object
        (
            [slug] => easter
            [ID] => 54913
            [post_name] => hunting-for-eggs
            [post_title] => Hunting for Eggs!
            [post_author] => 3
            [post_date] => 2011-04-29 01:28:00
            [year] => 2011
            [month] => 4
            [post_type] => post
        )

    [1723] => stdClass Object
        (
            [slug] => favorite-toys
            [ID] => 54914
            [post_name] => easter-story-with-playmobil-2011
            [post_title] => The Easter Story with Playmobil ~ 2011 Edition!
            [post_author] => 3
            [post_date] => 2011-04-28 16:17:00
            [year] => 2011
            [month] => 4
            [post_type] => post
        )

    [1724] => stdClass Object
        (
            [slug] => uncategorized
            [ID] => 54915
            [post_name] => its-back-in-stock
            [post_title] => It's Back in Stock!!
            [post_author] => 3
            [post_date] => 2011-04-27 17:07:00
            [year] => 2011
            [month] => 4
            [post_type] => post
        )

    [1725] => stdClass Object
        (
            [slug] => easter
            [ID] => 54916
            [post_name] => on-easter-morning
            [post_title] => On Easter Morning
            [post_author] => 3
            [post_date] => 2011-04-27 16:55:00
            [year] => 2011
            [month] => 4
            [post_type] => post
        )

    [1726] => stdClass Object
        (
            [slug] => easter
            [ID] => 54917
            [post_name] => making-chocolate-nests-for-easter
            [post_title] => Making Chocolate Nests for Easter
            [post_author] => 3
            [post_date] => 2011-04-27 16:52:00
            [year] => 2011
            [month] => 4
            [post_type] => post
        )

    [1727] => stdClass Object
        (
            [slug] => easter
            [ID] => 54918
            [post_name] => our-easter-dinner-easter-sunday-2011
            [post_title] => Our Easter Dinner ~ Easter Sunday, 2011
            [post_author] => 3
            [post_date] => 2011-04-26 20:21:00
            [year] => 2011
            [month] => 4
            [post_type] => post
        )

    [1728] => stdClass Object
        (
            [slug] => giveaway
            [ID] => 54919
            [post_name] => celebrating-easter-season-and-garden-of
            [post_title] => Celebrating the Easter Season and The Garden of the Good Shepherd Sticker Calendar Giveaway!
            [post_author] => 3
            [post_date] => 2011-04-25 18:30:00
            [year] => 2011
            [month] => 4
            [post_type] => post
        )

    [1729] => stdClass Object
        (
            [slug] => easter
            [ID] => 54920
            [post_name] => happy-and-joyous-easter
            [post_title] => A Happy and Joyous Easter...
            [post_author] => 3
            [post_date] => 2011-04-25 06:33:00
            [year] => 2011
            [month] => 4
            [post_type] => post
        )

    [1730] => stdClass Object
        (
            [slug] => easter
            [ID] => 54921
            [post_name] => our-easter-menu
            [post_title] => Our Easter Menu
            [post_author] => 3
            [post_date] => 2011-04-23 16:56:00
            [year] => 2011
            [month] => 4
            [post_type] => post
        )

    [1731] => stdClass Object
        (
            [slug] => lent
            [ID] => 54922
            [post_name] => lenten-dinner-on-good-friday
            [post_title] => A Lenten Dinner on Good Friday
            [post_author] => 3
            [post_date] => 2011-04-23 06:00:00
            [year] => 2011
            [month] => 4
            [post_type] => post
        )

    [1732] => stdClass Object
        (
            [slug] => lent
            [ID] => 54923
            [post_name] => on-good-friday
            [post_title] => On Good Friday
            [post_author] => 3
            [post_date] => 2011-04-22 18:34:00
            [year] => 2011
            [month] => 4
            [post_type] => post
        )

    [1733] => stdClass Object
        (
            [slug] => holy-thursday
            [ID] => 54924
            [post_name] => lenten-dinner-on-holy-thursday-2011
            [post_title] => A Lenten Dinner on Holy Thursday ~ 2011
            [post_author] => 3
            [post_date] => 2011-04-22 05:00:00
            [year] => 2011
            [month] => 4
            [post_type] => post
        )

    [1734] => stdClass Object
        (
            [slug] => precious-moments-01
            [ID] => 54925
            [post_name] => pretty-happy-funny-real_21
            [post_title] => {pretty, happy, funny, real}
            [post_author] => 3
            [post_date] => 2011-04-21 20:29:00
            [year] => 2011
            [month] => 4
            [post_type] => post
        )

    [1735] => stdClass Object
        (
            [slug] => birthday-parties
            [ID] => 54926
            [post_name] => littlest-matryoshka
            [post_title] => The Littlest Matryoshka
            [post_author] => 3
            [post_date] => 2011-04-20 19:21:00
            [year] => 2011
            [month] => 4
            [post_type] => post
        )

    [1736] => stdClass Object
        (
            [slug] => happy-birthday
            [ID] => 54927
            [post_name] => now-we-are-six
            [post_title] => Now We Are Six!
            [post_author] => 3
            [post_date] => 2011-04-20 16:22:00
            [year] => 2011
            [month] => 4
            [post_type] => post
        )

    [1737] => stdClass Object
        (
            [slug] => field-trips
            [ID] => 54928
            [post_name] => hiking-table-rock
            [post_title] => Hiking Table Rock
            [post_author] => 3
            [post_date] => 2011-04-19 07:41:00
            [year] => 2011
            [month] => 4
            [post_type] => post
        )

    [1738] => stdClass Object
        (
            [slug] => palm-sunday
            [ID] => 54929
            [post_name] => on-palm-sunday
            [post_title] => On Palm Sunday
            [post_author] => 3
            [post_date] => 2011-04-17 23:14:00
            [year] => 2011
            [month] => 4
            [post_type] => post
        )

    [1739] => stdClass Object
        (
            [slug] => precious-moments-06
            [ID] => 54930
            [post_name] => this-moment
            [post_title] => {this moment}
            [post_author] => 3
            [post_date] => 2011-04-16 00:43:00
            [year] => 2011
            [month] => 4
            [post_type] => post
        )

    [1740] => stdClass Object
        (
            [slug] => precious-moments-03
            [ID] => 54931
            [post_name] => pretty-happy-funny-real
            [post_title] => {pretty, happy, funny, real}
            [post_author] => 3
            [post_date] => 2011-04-15 01:36:00
            [year] => 2011
            [month] => 4
            [post_type] => post
        )

    [1741] => stdClass Object
        (
            [slug] => easter
            [ID] => 54932
            [post_name] => easter-symbols-handcrafted-candy-for
            [post_title] => Easter Symbols :: Handcrafted Candy for Easter
            [post_author] => 3
            [post_date] => 2011-04-14 17:54:00
            [year] => 2011
            [month] => 4
            [post_type] => post
        )

    [1742] => stdClass Object
        (
            [slug] => home-improvement
            [ID] => 54933
            [post_name] => new-furniture
            [post_title] => "New" Furniture
            [post_author] => 3
            [post_date] => 2011-04-14 03:56:00
            [year] => 2011
            [month] => 4
            [post_type] => post
        )

    [1743] => stdClass Object
        (
            [slug] => books
            [ID] => 54934
            [post_name] => book-review-olivias-gift
            [post_title] => Book Review: Olivia's Gift
            [post_author] => 3
            [post_date] => 2011-04-13 15:01:00
            [year] => 2011
            [month] => 4
            [post_type] => post
        )

    [1744] => stdClass Object
        (
            [slug] => science
            [ID] => 54935
            [post_name] => exploring-creation-with-botany-lap-book
            [post_title] => Exploring Creation with Botany Lap Book :: Part 1
            [post_author] => 3
            [post_date] => 2011-04-11 15:59:00
            [year] => 2011
            [month] => 4
            [post_type] => post
        )

    [1745] => stdClass Object
        (
            [slug] => precious-moments-03
            [ID] => 54936
            [post_name] => like-mother-like-daughter
            [post_title] => Like Mother, Like Daughter...
            [post_author] => 3
            [post_date] => 2011-04-11 00:22:00
            [year] => 2011
            [month] => 4
            [post_type] => post
        )

    [1746] => stdClass Object
        (
            [slug] => daybook
            [ID] => 54937
            [post_name] => my-daybook-april-8-2011
            [post_title] => My Daybook :: April  8, 2011
            [post_author] => 3
            [post_date] => 2011-04-08 22:23:00
            [year] => 2011
            [month] => 4
            [post_type] => post
        )

    [1747] => stdClass Object
        (
            [slug] => lent
            [ID] => 54938
            [post_name] => last-supper-another-1000-piece
            [post_title] => The Last Supper :: Another 1,000 Piece Challenge!
            [post_author] => 3
            [post_date] => 2011-04-06 18:43:00
            [year] => 2011
            [month] => 4
            [post_type] => post
        )

    [1748] => stdClass Object
        (
            [slug] => archives-monthly
            [ID] => 54939
            [post_name] => easter-ascension-from-archives
            [post_title] => Easter - Pentecost :: From the Archives
            [post_author] => 3
            [post_date] => 2011-04-04 16:01:00
            [year] => 2011
            [month] => 4
            [post_type] => post
        )

    [1749] => stdClass Object
        (
            [slug] => archives-monthly
            [ID] => 54940
            [post_name] => links-for-april-month-dedicated-to
            [post_title] => Links for April :: Month Dedicated to the Blessed Sacrament
            [post_author] => 3
            [post_date] => 2011-04-04 15:11:00
            [year] => 2011
            [month] => 4
            [post_type] => post
        )

    [1750] => stdClass Object
        (
            [slug] => laetare-sunday
            [ID] => 54941
            [post_name] => happy-ltare-sunday
            [post_title] => Happy Lætare Sunday!
            [post_author] => 3
            [post_date] => 2011-04-03 23:25:00
            [year] => 2011
            [month] => 4
            [post_type] => post
        )

    [1751] => stdClass Object
        (
            [slug] => birthday-parties
            [ID] => 54942
            [post_name] => candy-shoppe-birthday-party
            [post_title] => A Candy Shoppe Birthday Party
            [post_author] => 3
            [post_date] => 2011-04-03 06:11:00
            [year] => 2011
            [month] => 4
            [post_type] => post
        )

    [1752] => stdClass Object
        (
            [slug] => birthday-parties
            [ID] => 54943
            [post_name] => its-so-easy-its-like-taking-candy-from
            [post_title] => "It's so easy, it's like taking candy from a baby. . ."
            [post_author] => 3
            [post_date] => 2011-04-03 02:41:00
            [year] => 2011
            [month] => 4
            [post_type] => post
        )

    [1753] => stdClass Object
        (
            [slug] => crafts
            [ID] => 54944
            [post_name] => creating-our-paschal-candle-for-easter
            [post_title] => Creating our Paschal Candle for Easter
            [post_author] => 3
            [post_date] => 2011-04-01 17:20:00
            [year] => 2011
            [month] => 4
            [post_type] => post
        )

    [1754] => stdClass Object
        (
            [slug] => easter
            [ID] => 54945
            [post_name] => small-successes-getting-ready-for
            [post_title] => Small Successes :: Getting Ready for Easter!
            [post_author] => 3
            [post_date] => 2011-03-31 20:07:00
            [year] => 2011
            [month] => 3
            [post_type] => post
        )

    [1755] => stdClass Object
        (
            [slug] => little-flowers
            [ID] => 54946
            [post_name] => little-flowers-girls-club-self-control
            [post_title] => Little Flowers Girls' Club ~ Self-Control
            [post_author] => 3
            [post_date] => 2011-03-30 17:54:00
            [year] => 2011
            [month] => 3
            [post_type] => post
        )

    [1756] => stdClass Object
        (
            [slug] => easter
            [ID] => 54947
            [post_name] => catholic-easter-basket-ideas
            [post_title] => Catholic Easter Basket Ideas
            [post_author] => 3
            [post_date] => 2011-03-28 21:33:00
            [year] => 2011
            [month] => 3
            [post_type] => post
        )

    [1757] => stdClass Object
        (
            [slug] => pacific-ocean
            [ID] => 54948
            [post_name] => trip-to-ocean
            [post_title] => A Trip to the Ocean
            [post_author] => 3
            [post_date] => 2011-03-28 17:31:00
            [year] => 2011
            [month] => 3
            [post_type] => post
        )

    [1758] => stdClass Object
        (
            [slug] => happy-birthday
            [ID] => 54949
            [post_name] => seven-quick-takes-birthday-edition
            [post_title] => Seven Quick Takes  :: Birthday Edition!
            [post_author] => 3
            [post_date] => 2011-03-25 20:08:00
            [year] => 2011
            [month] => 3
            [post_type] => post
        )

    [1759] => stdClass Object
        (
            [slug] => happy-birthday
            [ID] => 54950
            [post_name] => this-moment
            [post_title] => {this moment}
            [post_author] => 3
            [post_date] => 2011-03-25 18:35:00
            [year] => 2011
            [month] => 3
            [post_type] => post
        )

    [1760] => stdClass Object
        (
            [slug] => just-for-fun
            [ID] => 54951
            [post_name] => under-attack
            [post_title] => Under Attack
            [post_author] => 3
            [post_date] => 2011-03-24 18:48:00
            [year] => 2011
            [month] => 3
            [post_type] => post
        )

    [1761] => stdClass Object
        (
            [slug] => st-patricks-day
            [ID] => 54952
            [post_name] => on-st-patricks-day
            [post_title] => On St. Patrick's Day
            [post_author] => 3
            [post_date] => 2011-03-22 07:06:00
            [year] => 2011
            [month] => 3
            [post_type] => post
        )

    [1762] => stdClass Object
        (
            [slug] => st-patricks-day
            [ID] => 54953
            [post_name] => on-feast-of-st-patrick
            [post_title] => On the Feast of St. Patrick
            [post_author] => 3
            [post_date] => 2011-03-17 18:48:00
            [year] => 2011
            [month] => 3
            [post_type] => post
        )

    [1763] => stdClass Object
        (
            [slug] => little-flowers
            [ID] => 54954
            [post_name] => little-flowers-girls-club-orderliness
            [post_title] => Little Flowers Girls' Club ~ Orderliness
            [post_author] => 3
            [post_date] => 2011-03-15 22:59:00
            [year] => 2011
            [month] => 3
            [post_type] => post
        )

    [1764] => stdClass Object
        (
            [slug] => nun-run
            [ID] => 54955
            [post_name] => nun-run-5k-runwalk
            [post_title] => The Nun Run :: 5K (Run/Walk)
            [post_author] => 3
            [post_date] => 2011-03-15 18:00:00
            [year] => 2011
            [month] => 3
            [post_type] => post
        )

    [1765] => stdClass Object
        (
            [slug] => crafts
            [ID] => 54956
            [post_name] => way-of-holy-cross
            [post_title] => Way of the Holy Cross
            [post_author] => 3
            [post_date] => 2011-03-13 01:19:00
            [year] => 2011
            [month] => 3
            [post_type] => post
        )

    [1766] => stdClass Object
        (
            [slug] => crafts
            [ID] => 54957
            [post_name] => crafting-our-stations-of-cross
            [post_title] => Crafting our Stations of the Cross
            [post_author] => 3
            [post_date] => 2011-03-12 01:29:00
            [year] => 2011
            [month] => 3
            [post_type] => post
        )

    [1767] => stdClass Object
        (
            [slug] => crafts
            [ID] => 54958
            [post_name] => oh-boy
            [post_title] => Oh boy. . .
            [post_author] => 3
            [post_date] => 2011-03-10 23:12:00
            [year] => 2011
            [month] => 3
            [post_type] => post
        )

    [1768] => stdClass Object
        (
            [slug] => lent
            [ID] => 54959
            [post_name] => jesus-tree-daily-readings-and-coloring
            [post_title] => The Jesus Tree, Daily Readings and Coloring Pages
            [post_author] => 3
            [post_date] => 2011-03-10 20:35:00
            [year] => 2011
            [month] => 3
            [post_type] => post
        )

    [1769] => stdClass Object
        (
            [slug] => daybook
            [ID] => 54960
            [post_name] => my-daybook-march-7-2011
            [post_title] => My Daybook :: March 7, 2011
            [post_author] => 3
            [post_date] => 2011-03-08 01:27:00
            [year] => 2011
            [month] => 3
            [post_type] => post
        )

    [1770] => stdClass Object
        (
            [slug] => liturgical-year
            [ID] => 54961
            [post_name] => links-for-march-month-dedicated-to-st
            [post_title] => Links for March :: Month Dedicated to St. Joseph
            [post_author] => 3
            [post_date] => 2011-03-04 19:31:00
            [year] => 2011
            [month] => 3
            [post_type] => post
        )

    [1771] => stdClass Object
        (
            [slug] => just-for-fun
            [ID] => 54962
            [post_name] => joy-of-pop-tart
            [post_title] => "The Joy of a Pop-Tart"
            [post_author] => 3
            [post_date] => 2011-03-04 16:09:00
            [year] => 2011
            [month] => 3
            [post_type] => post
        )

    [1772] => stdClass Object
        (
            [slug] => birthday-parties
            [ID] => 54963
            [post_name] => surprise-birthday-party-for-marc
            [post_title] => A "Surprise" Birthday Party for Marc
            [post_author] => 3
            [post_date] => 2011-03-03 07:59:00
            [year] => 2011
            [month] => 3
            [post_type] => post
        )

    [1773] => stdClass Object
        (
            [slug] => kids-in-the-kitchen
            [ID] => 54964
            [post_name] => this-moment_25
            [post_title] => {this moment}
            [post_author] => 3
            [post_date] => 2011-02-25 18:23:00
            [year] => 2011
            [month] => 2
            [post_type] => post
        )

    [1774] => stdClass Object
        (
            [slug] => lent
            [ID] => 54965
            [post_name] => preparing-for-lent-our-lenten-journey
            [post_title] => Preparing for Lent :: Our Lenten Journey
            [post_author] => 3
            [post_date] => 2011-02-24 08:00:00
            [year] => 2011
            [month] => 2
            [post_type] => post
        )

    [1775] => stdClass Object
        (
            [slug] => wordless-wednesday
            [ID] => 54966
            [post_name] => wordless-wednesday
            [post_title] => Wordless Wednesday
            [post_author] => 3
            [post_date] => 2011-02-23 21:28:00
            [year] => 2011
            [month] => 2
            [post_type] => post
        )

    [1776] => stdClass Object
        (
            [slug] => daybook
            [ID] => 54967
            [post_name] => my-daybook-february-22-2011
            [post_title] => My Daybook :: February 22, 2011
            [post_author] => 3
            [post_date] => 2011-02-22 19:17:00
            [year] => 2011
            [month] => 2
            [post_type] => post
        )

    [1777] => stdClass Object
        (
            [slug] => nature
            [ID] => 54968
            [post_name] => in-woods-today
            [post_title] => In the Woods Today. . .
            [post_author] => 3
            [post_date] => 2011-02-17 00:25:00
            [year] => 2011
            [month] => 2
            [post_type] => post
        )

    [1778] => stdClass Object
        (
            [slug] => st-valentines-day
            [ID] => 54969
            [post_name] => celebrating-st-valentines-day
            [post_title] => Celebrating St. Valentine's Day
            [post_author] => 3
            [post_date] => 2011-02-16 22:05:00
            [year] => 2011
            [month] => 2
            [post_type] => post
        )

    [1779] => stdClass Object
        (
            [slug] => printables
            [ID] => 54970
            [post_name] => st-valentines-day-printables
            [post_title] => St. Valentine's Day Printables
            [post_author] => 3
            [post_date] => 2011-02-14 16:04:00
            [year] => 2011
            [month] => 2
            [post_type] => post
        )

    [1780] => stdClass Object
        (
            [slug] => crafts
            [ID] => 54971
            [post_name] => st-valentines-day-mailboxes
            [post_title] => St. Valentine's Day Mailboxes
            [post_author] => 3
            [post_date] => 2011-02-14 00:19:00
            [year] => 2011
            [month] => 2
            [post_type] => post
        )

    [1781] => stdClass Object
        (
            [slug] => marian
            [ID] => 54972
            [post_name] => celebrating
            [post_title] => Celebrating. . .
            [post_author] => 3
            [post_date] => 2011-02-11 22:53:00
            [year] => 2011
            [month] => 2
            [post_type] => post
        )

    [1782] => stdClass Object
        (
            [slug] => board-games
            [ID] => 54973
            [post_name] => guess-who-patron-saints-edition
            [post_title] => Guess Who?  Patron Saints Edition!
            [post_author] => 3
            [post_date] => 2011-02-11 03:15:00
            [year] => 2011
            [month] => 2
            [post_type] => post
        )

    [1783] => stdClass Object
        (
            [slug] => home-videos
            [ID] => 54974
            [post_name] => chore-time
            [post_title] => Chore Time
            [post_author] => 3
            [post_date] => 2011-02-10 22:42:00
            [year] => 2011
            [month] => 2
            [post_type] => post
        )

    [1784] => stdClass Object
        (
            [slug] => birthday-parties
            [ID] => 54975
            [post_name] => lego-themed-birthday-party
            [post_title] => A Lego Themed Birthday Party
            [post_author] => 3
            [post_date] => 2011-02-09 16:45:00
            [year] => 2011
            [month] => 2
            [post_type] => post
        )

    [1785] => stdClass Object
        (
            [slug] => birthday-parties
            [ID] => 54976
            [post_name] => our-family-of-lego-mini-figures
            [post_title] => Our Family of Lego Mini-Figures
            [post_author] => 3
            [post_date] => 2011-02-08 16:55:00
            [year] => 2011
            [month] => 2
            [post_type] => post
        )

    [1786] => stdClass Object
        (
            [slug] => giveaway
            [ID] => 54977
            [post_name] => lego-mini-figures-guessing-game
            [post_title] => Lego Mini-Figures Guessing Game
            [post_author] => 3
            [post_date] => 2011-02-08 00:18:00
            [year] => 2011
            [month] => 2
            [post_type] => post
        )

    [1787] => stdClass Object
        (
            [slug] => happy-birthday
            [ID] => 54978
            [post_name] => happy-9th-birthday
            [post_title] => Happy 9th Birthday...
            [post_author] => 3
            [post_date] => 2011-02-07 17:26:00
            [year] => 2011
            [month] => 2
            [post_type] => post
        )

    [1788] => stdClass Object
        (
            [slug] => this-moment
            [ID] => 54979
            [post_name] => this-moment
            [post_title] => {this moment}
            [post_author] => 3
            [post_date] => 2011-02-06 20:26:00
            [year] => 2011
            [month] => 2
            [post_type] => post
        )

    [1789] => stdClass Object
        (
            [slug] => kids-in-the-kitchen
            [ID] => 54980
            [post_name] => on-feast-of-st-blaise-bishop-and-martyr
            [post_title] => On the Feast of St. Blaise, Bishop and Martyr
            [post_author] => 3
            [post_date] => 2011-02-06 20:03:00
            [year] => 2011
            [month] => 2
            [post_type] => post
        )

    [1790] => stdClass Object
        (
            [slug] => candlemas
            [ID] => 54981
            [post_name] => celebrating-candlemas
            [post_title] => Celebrating Candlemas
            [post_author] => 3
            [post_date] => 2011-02-03 21:25:00
            [year] => 2011
            [month] => 2
            [post_type] => post
        )

    [1791] => stdClass Object
        (
            [slug] => st-brigid
            [ID] => 54982
            [post_name] => st-brigids-day-arts-crafts
            [post_title] => St. Brigid's Day Arts & Crafts
            [post_author] => 3
            [post_date] => 2011-02-03 01:20:00
            [year] => 2011
            [month] => 2
            [post_type] => post
        )

    [1792] => stdClass Object
        (
            [slug] => crochet
            [ID] => 54983
            [post_name] => wanna-be-yarn-along
            [post_title] => A Wanna-Be Yarn Along
            [post_author] => 3
            [post_date] => 2011-02-02 23:56:00
            [year] => 2011
            [month] => 2
            [post_type] => post
        )

    [1793] => stdClass Object
        (
            [slug] => books
            [ID] => 54984
            [post_name] => couple-quick-questions
            [post_title] => A Couple Quick Questions. . .
            [post_author] => 3
            [post_date] => 2011-02-02 19:13:00
            [year] => 2011
            [month] => 2
            [post_type] => post
        )

    [1794] => stdClass Object
        (
            [slug] => saints
            [ID] => 54985
            [post_name] => st-brigid-of-ireland
            [post_title] => On the Feast of St. Brigid of Ireland
            [post_author] => 3
            [post_date] => 2011-02-01 16:48:00
            [year] => 2011
            [month] => 2
            [post_type] => post
        )

    [1795] => stdClass Object
        (
            [slug] => field-trips
            [ID] => 54986
            [post_name] => say-cheese
            [post_title] => Say Cheese!
            [post_author] => 3
            [post_date] => 2011-01-31 02:04:00
            [year] => 2011
            [month] => 1
            [post_type] => post
        )

    [1796] => stdClass Object
        (
            [slug] => feast-day-plans
            [ID] => 54987
            [post_name] => on-feast-of-st-thomas-aquinas
            [post_title] => On the Feast of St. Thomas Aquinas
            [post_author] => 3
            [post_date] => 2011-01-30 02:38:00
            [year] => 2011
            [month] => 1
            [post_type] => post
        )

    [1797] => stdClass Object
        (
            [slug] => just-for-fun
            [ID] => 54988
            [post_name] => note-to-self
            [post_title] => Note to Self:
            [post_author] => 3
            [post_date] => 2011-01-28 23:31:00
            [year] => 2011
            [month] => 1
            [post_type] => post
        )

    [1798] => stdClass Object
        (
            [slug] => precious-moments-01
            [ID] => 54989
            [post_name] => this-moment_28
            [post_title] => {this moment}
            [post_author] => 3
            [post_date] => 2011-01-28 23:16:00
            [year] => 2011
            [month] => 1
            [post_type] => post
        )

    [1799] => stdClass Object
        (
            [slug] => catholic-cuisine
            [ID] => 54990
            [post_name] => small-successes-january-27-2010
            [post_title] => Small Successes :: January 27, 2010
            [post_author] => 3
            [post_date] => 2011-01-27 18:08:00
            [year] => 2011
            [month] => 1
            [post_type] => post
        )

    [1800] => stdClass Object
        (
            [slug] => wildlife
            [ID] => 54991
            [post_name] => wordless-wednesday
            [post_title] => Wordless Wednesday
            [post_author] => 3
            [post_date] => 2011-01-26 17:07:00
            [year] => 2011
            [month] => 1
            [post_type] => post
        )

    [1801] => stdClass Object
        (
            [slug] => saints
            [ID] => 54992
            [post_name] => on-feast-of-conversion-of-st-paul
            [post_title] => On the Feast of the Conversion of St. Paul
            [post_author] => 3
            [post_date] => 2011-01-25 17:46:00
            [year] => 2011
            [month] => 1
            [post_type] => post
        )

    [1802] => stdClass Object
        (
            [slug] => home-improvement
            [ID] => 54993
            [post_name] => once-upon-time
            [post_title] => Once Upon a Time...
            [post_author] => 3
            [post_date] => 2011-01-24 22:17:00
            [year] => 2011
            [month] => 1
            [post_type] => post
        )

    [1803] => stdClass Object
        (
            [slug] => little-flowers
            [ID] => 54994
            [post_name] => little-flowers-girls-club-initiative
            [post_title] => Little Flowers Girls' Club ~ Initiative
            [post_author] => 3
            [post_date] => 2011-01-22 17:27:00
            [year] => 2011
            [month] => 1
            [post_type] => post
        )

    [1804] => stdClass Object
        (
            [slug] => st-agnes
            [ID] => 54995
            [post_name] => special-treat-for-feasts-of-st-agnes
            [post_title] => A Special Treat for the Feasts of St. Agnes and Our Lady of Altagracia
            [post_author] => 3
            [post_date] => 2011-01-22 04:47:00
            [year] => 2011
            [month] => 1
            [post_type] => post
        )

    [1805] => stdClass Object
        (
            [slug] => happy-birthday
            [ID] => 54996
            [post_name] => this-moment_21
            [post_title] => {this moment}
            [post_author] => 3
            [post_date] => 2011-01-22 04:03:00
            [year] => 2011
            [month] => 1
            [post_type] => post
        )

    [1806] => stdClass Object
        (
            [slug] => our-lady-of-altagracia
            [ID] => 54997
            [post_name] => tea-in-honor-of-our-lady-of-altagracia
            [post_title] => A Tea in Honor of Our Lady of Altagracia
            [post_author] => 3
            [post_date] => 2011-01-21 07:07:00
            [year] => 2011
            [month] => 1
            [post_type] => post
        )

    [1807] => stdClass Object
        (
            [slug] => marian
            [ID] => 54998
            [post_name] => our-mothers-hands-stained-glass-window
            [post_title] => "Our Mother's Hands" Stained Glass Window
            [post_author] => 3
            [post_date] => 2011-01-21 04:40:00
            [year] => 2011
            [month] => 1
            [post_type] => post
        )

    [1808] => stdClass Object
        (
            [slug] => science
            [ID] => 54999
            [post_name] => carnivorous-plants
            [post_title] => Carnivorous Plants
            [post_author] => 3
            [post_date] => 2011-01-20 17:51:00
            [year] => 2011
            [month] => 1
            [post_type] => post
        )

    [1809] => stdClass Object
        (
            [slug] => science
            [ID] => 55000
            [post_name] => wordless-wednesday-flower-dissection
            [post_title] => Wordless Wednesday :: Flower Dissection
            [post_author] => 3
            [post_date] => 2011-01-19 15:51:00
            [year] => 2011
            [month] => 1
            [post_type] => post
        )

    [1810] => stdClass Object
        (
            [slug] => daybook
            [ID] => 55001
            [post_name] => my-daybook-january-18-2011
            [post_title] => My Daybook :: January 18, 2011
            [post_author] => 3
            [post_date] => 2011-01-18 21:17:00
            [year] => 2011
            [month] => 1
            [post_type] => post
        )

    [1811] => stdClass Object
        (
            [slug] => little-flowers
            [ID] => 55002
            [post_name] => little-flowers-girls-club-friendliness
            [post_title] => Little Flowers Girls' Club ~ Friendliness
            [post_author] => 3
            [post_date] => 2011-01-16 07:00:00
            [year] => 2011
            [month] => 1
            [post_type] => post
        )

    [1812] => stdClass Object
        (
            [slug] => seven-quick-takes
            [ID] => 55003
            [post_name] => seven-quick-takes_14
            [post_title] => Seven Quick Takes
            [post_author] => 3
            [post_date] => 2011-01-15 07:45:00
            [year] => 2011
            [month] => 1
            [post_type] => post
        )

    [1813] => stdClass Object
        (
            [slug] => this-moment
            [ID] => 55004
            [post_name] => this-moment
            [post_title] => {this moment}
            [post_author] => 3
            [post_date] => 2011-01-15 00:11:00
            [year] => 2011
            [month] => 1
            [post_type] => post
        )

    [1814] => stdClass Object
        (
            [slug] => science
            [ID] => 55005
            [post_name] => saguaro-national-park
            [post_title] => Saguaro National Park
            [post_author] => 3
            [post_date] => 2011-01-14 23:04:00
            [year] => 2011
            [month] => 1
            [post_type] => post
        )

    [1815] => stdClass Object
        (
            [slug] => prayer-request
            [ID] => 55006
            [post_name] => prayer-request
            [post_title] => A Prayer Request
            [post_author] => 3
            [post_date] => 2011-01-13 17:08:00
            [year] => 2011
            [month] => 1
            [post_type] => post
        )

    [1816] => stdClass Object
        (
            [slug] => field-trips
            [ID] => 55007
            [post_name] => old-tucson-studios
            [post_title] => Old Tucson Studios
            [post_author] => 3
            [post_date] => 2011-01-13 17:00:00
            [year] => 2011
            [month] => 1
            [post_type] => post
        )

    [1817] => stdClass Object
        (
            [slug] => field-trips
            [ID] => 55008
            [post_name] => titan-missile-museum
            [post_title] => Titan Missile Museum
            [post_author] => 3
            [post_date] => 2011-01-12 21:24:00
            [year] => 2011
            [month] => 1
            [post_type] => post
        )

    [1818] => stdClass Object
        (
            [slug] => favorite-toys
            [ID] => 55009
            [post_name] => on-christmas-day-in-morning
            [post_title] => On Christmas Day in the Morning
            [post_author] => 3
            [post_date] => 2011-01-11 18:18:00
            [year] => 2011
            [month] => 1
            [post_type] => post
        )

    [1819] => stdClass Object
        (
            [slug] => kids-artwork
            [ID] => 55010
            [post_name] => afternoon-with-auntie
            [post_title] => An Afternoon with Auntie
            [post_author] => 3
            [post_date] => 2011-01-11 04:33:00
            [year] => 2011
            [month] => 1
            [post_type] => post
        )

    [1820] => stdClass Object
        (
            [slug] => seven-quick-takes
            [ID] => 55011
            [post_name] => seven-quick-takes
            [post_title] => Seven Quick Takes
            [post_author] => 3
            [post_date] => 2011-01-07 20:10:00
            [year] => 2011
            [month] => 1
            [post_type] => post
        )

    [1821] => stdClass Object
        (
            [slug] => advent-and-christmas
            [ID] => 55012
            [post_name] => wishing-you-all_31
            [post_title] => Wishing you all...
            [post_author] => 3
            [post_date] => 2011-01-01 02:13:00
            [year] => 2011
            [month] => 1
            [post_type] => post
        )

    [1822] => stdClass Object
        (
            [slug] => this-moment
            [ID] => 55013
            [post_name] => this-moment_31
            [post_title] => {this moment}
            [post_author] => 3
            [post_date] => 2010-12-31 20:03:00
            [year] => 2010
            [month] => 12
            [post_type] => post
        )

    [1823] => stdClass Object
        (
            [slug] => advent-and-christmas
            [ID] => 55014
            [post_name] => my-christmas-daybook-december-30-2010
            [post_title] => My Christmas Daybook ::  December 30, 2010
            [post_author] => 3
            [post_date] => 2010-12-31 06:45:00
            [year] => 2010
            [month] => 12
            [post_type] => post
        )

    [1824] => stdClass Object
        (
            [slug] => liturgical-year
            [ID] => 55015
            [post_name] => sword-and-miter-cookies-for-st-thomas
            [post_title] => Sword and Mitre Cookies for St. Thomas Becket
            [post_author] => 3
            [post_date] => 2010-12-30 03:40:00
            [year] => 2010
            [month] => 12
            [post_type] => post
        )

    [1825] => stdClass Object
        (
            [slug] => our-lady-of-guadalupe
            [ID] => 55016
            [post_name] => wordless-wednesday-1000-piece-challenge
            [post_title] => Wordless Wednesday  ::  A 1,000 Piece Challenge
            [post_author] => 3
            [post_date] => 2010-12-29 23:23:00
            [year] => 2010
            [month] => 12
            [post_type] => post
        )

    [1826] => stdClass Object
        (
            [slug] => advent-and-christmas
            [ID] => 55017
            [post_name] => gingerbread-fun
            [post_title] => Gingerbread Fun
            [post_author] => 3
            [post_date] => 2010-12-27 05:58:00
            [year] => 2010
            [month] => 12
            [post_type] => post
        )

    [1827] => stdClass Object
        (
            [slug] => advent-and-christmas
            [ID] => 55018
            [post_name] => wishing-you-all
            [post_title] => Wishing you all...
            [post_author] => 3
            [post_date] => 2010-12-26 07:33:00
            [year] => 2010
            [month] => 12
            [post_type] => post
        )

    [1828] => stdClass Object
        (
            [slug] => advent-and-christmas
            [ID] => 55019
            [post_name] => peanut-butter-cup-cookies
            [post_title] => Peanut Butter Cup Cookies
            [post_author] => 3
            [post_date] => 2010-12-23 03:26:00
            [year] => 2010
            [month] => 12
            [post_type] => post
        )

    [1829] => stdClass Object
        (
            [slug] => advent-and-christmas
            [ID] => 55020
            [post_name] => candy-cane-dots-for-christmas
            [post_title] => Candy Cane Dots for Christmas
            [post_author] => 3
            [post_date] => 2010-12-22 21:53:00
            [year] => 2010
            [month] => 12
            [post_type] => post
        )

    [1830] => stdClass Object
        (
            [slug] => advent-and-christmas
            [ID] => 55021
            [post_name] => wordless-wednesday-reindeer-sighting
            [post_title] => Wordless Wednesday ~ A Reindeer Sighting
            [post_author] => 3
            [post_date] => 2010-12-22 21:44:00
            [year] => 2010
            [month] => 12
            [post_type] => post
        )

    [1831] => stdClass Object
        (
            [slug] => birthday-parties
            [ID] => 55022
            [post_name] => few-more-pictures
            [post_title] => A Few More Pictures...
            [post_author] => 3
            [post_date] => 2010-12-22 04:00:00
            [year] => 2010
            [month] => 12
            [post_type] => post
        )

    [1832] => stdClass Object
        (
            [slug] => advent-and-christmas
            [ID] => 55023
            [post_name] => our-2010-jesse-tea-for-advent
            [post_title] => Our 2010 Jesse "Tea" for Advent
            [post_author] => 3
            [post_date] => 2010-12-18 22:00:00
            [year] => 2010
            [month] => 12
            [post_type] => post
        )

    [1833] => stdClass Object
        (
            [slug] => board-games
            [ID] => 55024
            [post_name] => christmas-gift-ideas-few-of-our
            [post_title] => Christmas Gift Ideas  :: A Few of our Favorite Toys
            [post_author] => 3
            [post_date] => 2010-12-18 20:04:00
            [year] => 2010
            [month] => 12
            [post_type] => post
        )

    [1834] => stdClass Object
        (
            [slug] => birthday-parties
            [ID] => 55025
            [post_name] => this-moment
            [post_title] => {this moment}
            [post_author] => 3
            [post_date] => 2010-12-17 20:59:00
            [year] => 2010
            [month] => 12
            [post_type] => post
        )

    [1835] => stdClass Object
        (
            [slug] => birthday-parties
            [ID] => 55026
            [post_name] => happy-1st-birthday-rose
            [post_title] => .: Happy 1st Birthday Rose! :.
            [post_author] => 3
            [post_date] => 2010-12-15 20:08:00
            [year] => 2010
            [month] => 12
            [post_type] => post
        )

    [1836] => stdClass Object
        (
            [slug] => daybook
            [ID] => 55027
            [post_name] => my-advent-daybook-december-14-2010
            [post_title] => My Advent Daybook :: December 14, 2010
            [post_author] => 3
            [post_date] => 2010-12-14 21:10:00
            [year] => 2010
            [month] => 12
            [post_type] => post
        )

    [1837] => stdClass Object
        (
            [slug] => picture-books
            [ID] => 55028
            [post_name] => lucia-saint-of-light-free-audio-book
            [post_title] => Lucia, Saint of Light - Free Audio Book!
            [post_author] => 3
            [post_date] => 2010-12-13 23:13:00
            [year] => 2010
            [month] => 12
            [post_type] => post
        )

    [1838] => stdClass Object
        (
            [slug] => st-lucy
            [ID] => 55029
            [post_name] => ideas-for-celebrating-st-lucia-day
            [post_title] => Ideas for Celebrating St. Lucia Day
            [post_author] => 3
            [post_date] => 2010-12-13 20:07:00
            [year] => 2010
            [month] => 12
            [post_type] => post
        )

    [1839] => stdClass Object
        (
            [slug] => st-lucy
            [ID] => 55030
            [post_name] => santa-lucia-day-in-morning
            [post_title] => Santa Lucia Day in the Morning!
            [post_author] => 3
            [post_date] => 2010-12-13 18:57:00
            [year] => 2010
            [month] => 12
            [post_type] => post
        )

    [1840] => stdClass Object
        (
            [slug] => st-lucy
            [ID] => 55031
            [post_name] => on-eve-of-santa-lucia-day
            [post_title] => On the Eve of Santa Lucia Day
            [post_author] => 3
            [post_date] => 2010-12-13 08:03:00
            [year] => 2010
            [month] => 12
            [post_type] => post
        )

    [1841] => stdClass Object
        (
            [slug] => our-lady-of-guadalupe
            [ID] => 55032
            [post_name] => on-feast-of-our-lady-of-guadalupe
            [post_title] => On the Feast of Our Lady of Guadalupe
            [post_author] => 3
            [post_date] => 2010-12-13 07:17:00
            [year] => 2010
            [month] => 12
            [post_type] => post
        )

    [1842] => stdClass Object
        (
            [slug] => novena-to-saint-therese
            [ID] => 55033
            [post_name] => christmas-rose-novena
            [post_title] => The Christmas Rose Novena
            [post_author] => 3
            [post_date] => 2010-12-12 19:19:00
            [year] => 2010
            [month] => 12
            [post_type] => post
        )

    [1843] => stdClass Object
        (
            [slug] => marian
            [ID] => 55034
            [post_name] => viva-la-virgen-de-guadalupe
            [post_title] => ¡Viva la Virgen de Guadalupe!
            [post_author] => 3
            [post_date] => 2010-12-12 07:56:00
            [year] => 2010
            [month] => 12
            [post_type] => post
        )

    [1844] => stdClass Object
        (
            [slug] => advent-and-christmas
            [ID] => 55035
            [post_name] => its-official
            [post_title] => It's official...
            [post_author] => 3
            [post_date] => 2010-12-11 18:53:00
            [year] => 2010
            [month] => 12
            [post_type] => post
        )

    [1845] => stdClass Object
        (
            [slug] => this-moment
            [ID] => 55036
            [post_name] => this-moment-our-new-mantle
            [post_title] => {this moment} ~ Our New Mantel!
            [post_author] => 3
            [post_date] => 2010-12-11 07:27:00
            [year] => 2010
            [month] => 12
            [post_type] => post
        )

    [1846] => stdClass Object
        (
            [slug] => advent-and-christmas
            [ID] => 55037
            [post_name] => celebrating-st-nicholas
            [post_title] => Celebrating the Feast of St. Nicholas
            [post_author] => 3
            [post_date] => 2010-12-09 17:29:00
            [year] => 2010
            [month] => 12
            [post_type] => post
        )

    [1847] => stdClass Object
        (
            [slug] => advent-and-christmas
            [ID] => 55038
            [post_name] => creche-mania
            [post_title] => Crèche Mania :: Free Downloads for Creating Beautiful and Inspiring 3-D Nativity Scenes!
            [post_author] => 3
            [post_date] => 2010-12-08 21:28:00
            [year] => 2010
            [month] => 12
            [post_type] => post
        )

    [1848] => stdClass Object
        (
            [slug] => roses-from-st-therese
            [ID] => 55039
            [post_name] => on-this-beautiful-feast-of-immaculate
            [post_title] => On this Beautiful Feast of the Immaculate Conception
            [post_author] => 3
            [post_date] => 2010-12-08 18:33:00
            [year] => 2010
            [month] => 12
            [post_type] => post
        )

    [1849] => stdClass Object
        (
            [slug] => advent-and-christmas
            [ID] => 55040
            [post_name] => bible-paper-toys-free-printable-paper
            [post_title] => Bible Paper Toys ::  Free Printable Paper Nativity Set
            [post_author] => 3
            [post_date] => 2010-12-07 21:32:00
            [year] => 2010
            [month] => 12
            [post_type] => post
        )

    [1850] => stdClass Object
        (
            [slug] => prayer-request
            [ID] => 55041
            [post_name] => little-prayer-request-for-rose
            [post_title] => A Little Prayer Request for Rose
            [post_author] => 3
            [post_date] => 2010-12-07 16:48:00
            [year] => 2010
            [month] => 12
            [post_type] => post
        )

    [1851] => stdClass Object
        (
            [slug] => giveaway
            [ID] => 55042
            [post_name] => winner-of-giveaway-is
            [post_title] => The Winner of the Giveaway is...
            [post_author] => 3
            [post_date] => 2010-12-07 16:27:00
            [year] => 2010
            [month] => 12
            [post_type] => post
        )

    [1852] => stdClass Object
        (
            [slug] => st-nicholas
            [ID] => 55043
            [post_name] => three-questions
            [post_title] => Three Questions
            [post_author] => 3
            [post_date] => 2010-12-06 20:38:00
            [year] => 2010
            [month] => 12
            [post_type] => post
        )

    [1853] => stdClass Object
        (
            [slug] => st-nicholas
            [ID] => 55044
            [post_name] => my-little-helper
            [post_title] => My Little Helper
            [post_author] => 3
            [post_date] => 2010-12-06 08:30:00
            [year] => 2010
            [month] => 12
            [post_type] => post
        )

    [1854] => stdClass Object
        (
            [slug] => st-nicholas
            [ID] => 55045
            [post_name] => st-nicholas-purse-cookies
            [post_title] => St. Nicholas Cookies
            [post_author] => 3
            [post_date] => 2010-12-06 00:09:00
            [year] => 2010
            [month] => 12
            [post_type] => post
        )

    [1855] => stdClass Object
        (
            [slug] => advent-and-christmas
            [ID] => 55046
            [post_name] => christmas-baking
            [post_title] => Christmas Baking
            [post_author] => 3
            [post_date] => 2010-12-03 18:38:00
            [year] => 2010
            [month] => 12
            [post_type] => post
        )

    [1856] => stdClass Object
        (
            [slug] => st-francis-xavier
            [ID] => 55047
            [post_name] => san-xavier-mission
            [post_title] => San Xavier Mission
            [post_author] => 3
            [post_date] => 2010-12-03 16:19:00
            [year] => 2010
            [month] => 12
            [post_type] => post
        )

    [1857] => stdClass Object
        (
            [slug] => field-trips
            [ID] => 55048
            [post_name] => tumacacori-mission
            [post_title] => Tumacácori Mission
            [post_author] => 3
            [post_date] => 2010-12-02 19:41:00
            [year] => 2010
            [month] => 12
            [post_type] => post
        )

    [1858] => stdClass Object
        (
            [slug] => advent-and-christmas
            [ID] => 55049
            [post_name] => st-nicholas-chocolate-coins
            [post_title] => St. Nicholas Chocolate Coins
            [post_author] => 3
            [post_date] => 2010-12-01 19:55:00
            [year] => 2010
            [month] => 12
            [post_type] => post
        )

    [1859] => stdClass Object
        (
            [slug] => precious-moments-05
            [ID] => 55050
            [post_name] => wordless-wednesday
            [post_title] => Wordless Wednesday
            [post_author] => 3
            [post_date] => 2010-12-01 19:45:00
            [year] => 2010
            [month] => 12
            [post_type] => post
        )

    [1860] => stdClass Object
        (
            [slug] => giveaway
            [ID] => 55051
            [post_name] => st-nicholas-doll-giveaway
            [post_title] => St. Nicholas Doll Giveaway!
            [post_author] => 3
            [post_date] => 2010-12-01 07:21:00
            [year] => 2010
            [month] => 12
            [post_type] => post
        )

    [1861] => stdClass Object
        (
            [slug] => advent-and-christmas
            [ID] => 55052
            [post_name] => my-advent-daybook-november-30-2010
            [post_title] => My Advent Daybook :: November 30, 2010
            [post_author] => 3
            [post_date] => 2010-11-30 17:07:00
            [year] => 2010
            [month] => 11
            [post_type] => post
        )

    [1862] => stdClass Object
        (
            [slug] => baby-rose
            [ID] => 55053
            [post_name] => 11-12-months
            [post_title] => 11 1/2 Months
            [post_author] => 3
            [post_date] => 2010-11-30 00:58:00
            [year] => 2010
            [month] => 11
            [post_type] => post
        )

    [1863] => stdClass Object
        (
            [slug] => jesse-tree
            [ID] => 55054
            [post_name] => jesse-tree-readings-coloring-pages-for
            [post_title] => Jesse Tree Readings & Coloring Pages for 2010
            [post_author] => 3
            [post_date] => 2010-11-29 20:38:00
            [year] => 2010
            [month] => 11
            [post_type] => post
        )

    [1864] => stdClass Object
        (
            [slug] => advent-and-christmas
            [ID] => 55055
            [post_name] => this-years-advent-and-christmas-book
            [post_title] => This Year's Advent and Christmas Book Baskets
            [post_author] => 3
            [post_date] => 2010-11-29 00:51:00
            [year] => 2010
            [month] => 11
            [post_type] => post
        )

    [1865] => stdClass Object
        (
            [slug] => pictures
            [ID] => 55056
            [post_name] => home-again
            [post_title] => Home again...
            [post_author] => 3
            [post_date] => 2010-11-27 00:07:00
            [year] => 2010
            [month] => 11
            [post_type] => post
        )

    [1866] => stdClass Object
        (
            [slug] => advent-and-christmas
            [ID] => 55057
            [post_name] => links-for-advent-planning-from-archives
            [post_title] => Links for Advent Planning from the Archives
            [post_author] => 3
            [post_date] => 2010-11-15 00:09:00
            [year] => 2010
            [month] => 11
            [post_type] => post
        )

    [1867] => stdClass Object
        (
            [slug] => this-moment
            [ID] => 55058
            [post_name] => this-moment_12
            [post_title] => {this moment}
            [post_author] => 3
            [post_date] => 2010-11-12 15:00:00
            [year] => 2010
            [month] => 11
            [post_type] => post
        )

    [1868] => stdClass Object
        (
            [slug] => home-sweet-home
            [ID] => 55059
            [post_name] => small-successes-november-11-2010
            [post_title] => Small Successes :: November 11, 2010
            [post_author] => 3
            [post_date] => 2010-11-11 18:25:00
            [year] => 2010
            [month] => 11
            [post_type] => post
        )

    [1869] => stdClass Object
        (
            [slug] => favorite-toys
            [ID] => 55060
            [post_name] => wordless-wednesday
            [post_title] => Wordless Wednesday
            [post_author] => 3
            [post_date] => 2010-11-11 05:48:00
            [year] => 2010
            [month] => 11
            [post_type] => post
        )

    [1870] => stdClass Object
        (
            [slug] => little-flowers
            [ID] => 55061
            [post_name] => little-flowers-girls-club-eutrapelia
            [post_title] => Little Flowers Girls' Club ~ Eutrapelia
            [post_author] => 3
            [post_date] => 2010-11-10 16:00:00
            [year] => 2010
            [month] => 11
            [post_type] => post
        )

    [1871] => stdClass Object
        (
            [slug] => st-therese
            [ID] => 55062
            [post_name] => st-therese-lap-book
            [post_title] => St. Therese Lap Book
            [post_author] => 3
            [post_date] => 2010-11-08 16:00:00
            [year] => 2010
            [month] => 11
            [post_type] => post
        )

    [1872] => stdClass Object
        (
            [slug] => prayer-request
            [ID] => 55063
            [post_name] => please-pray_05
            [post_title] => Please Pray...
            [post_author] => 3
            [post_date] => 2010-11-06 05:25:00
            [year] => 2010
            [month] => 11
            [post_type] => post
        )

    [1873] => stdClass Object
        (
            [slug] => this-moment
            [ID] => 55064
            [post_name] => this-moment
            [post_title] => {this moment}
            [post_author] => 3
            [post_date] => 2010-11-06 04:34:00
            [year] => 2010
            [month] => 11
            [post_type] => post
        )

    [1874] => stdClass Object
        (
            [slug] => all-saints-day
            [ID] => 55065
            [post_name] => few-more-pictures
            [post_title] => A Few More Pictures...
            [post_author] => 3
            [post_date] => 2010-11-04 21:28:00
            [year] => 2010
            [month] => 11
            [post_type] => post
        )

    [1875] => stdClass Object
        (
            [slug] => saint-o-lanterns
            [ID] => 55066
            [post_name] => carving-our-saint-o-lanterns-2010
            [post_title] => Carving our Saint O Lanterns ~ 2010
            [post_author] => 3
            [post_date] => 2010-11-04 18:38:00
            [year] => 2010
            [month] => 11
            [post_type] => post
        )

    [1876] => stdClass Object
        (
            [slug] => state-by-state
            [ID] => 55067
            [post_name] => state-by-state-scrapbook-new-hampshire
            [post_title] => State-by-State Scrapbook :: New Hampshire
            [post_author] => 3
            [post_date] => 2010-11-03 21:01:00
            [year] => 2010
            [month] => 11
            [post_type] => post
        )

    [1877] => stdClass Object
        (
            [slug] => all-saints-day
            [ID] => 55068
            [post_name] => st-marthas-cake-walk
            [post_title] => St. Martha's Cake Walk
            [post_author] => 3
            [post_date] => 2010-11-03 05:22:00
            [year] => 2010
            [month] => 11
            [post_type] => post
        )

    [1878] => stdClass Object
        (
            [slug] => all-souls-day
            [ID] => 55069
            [post_name] => mass-on-feast-of-all-souls
            [post_title] => Mass on the Feast of All Souls
            [post_author] => 3
            [post_date] => 2010-11-03 02:01:00
            [year] => 2010
            [month] => 11
            [post_type] => post
        )

    [1879] => stdClass Object
        (
            [slug] => prayer-request
            [ID] => 55070
            [post_name] => please-pray
            [post_title] => Please Pray...
            [post_author] => 3
            [post_date] => 2010-11-02 04:46:00
            [year] => 2010
            [month] => 11
            [post_type] => post
        )

    [1880] => stdClass Object
        (
            [slug] => all-saints-day
            [ID] => 55071
            [post_name] => our-cast-of-saints-2010
            [post_title] => Our Cast of Saints ~ 2010
            [post_author] => 3
            [post_date] => 2010-11-01 20:27:00
            [year] => 2010
            [month] => 11
            [post_type] => post
        )

    [1881] => stdClass Object
        (
            [slug] => saint-o-lanterns
            [ID] => 55072
            [post_name] => happy-all-hallows-eve
            [post_title] => Happy All Hallows' Eve!
            [post_author] => 3
            [post_date] => 2010-11-01 06:56:00
            [year] => 2010
            [month] => 11
            [post_type] => post
        )

    [1882] => stdClass Object
        (
            [slug] => pumpkin-patch
            [ID] => 55073
            [post_name] => this-moment
            [post_title] => {this moment}
            [post_author] => 3
            [post_date] => 2010-10-30 06:54:00
            [year] => 2010
            [month] => 10
            [post_type] => post
        )

    [1883] => stdClass Object
        (
            [slug] => books
            [ID] => 55074
            [post_name] => ink-garden-of-brother-theopane
            [post_title] => The Ink Garden of Brother Theophane
            [post_author] => 3
            [post_date] => 2010-10-28 18:33:00
            [year] => 2010
            [month] => 10
            [post_type] => post
        )

    [1884] => stdClass Object
        (
            [slug] => all-saints-day
            [ID] => 55075
            [post_name] => almost-wordless-wednesday
            [post_title] => (Almost) Wordless Wednesday
            [post_author] => 3
            [post_date] => 2010-10-27 20:57:00
            [year] => 2010
            [month] => 10
            [post_type] => post
        )

    [1885] => stdClass Object
        (
            [slug] => kid-talk
            [ID] => 55076
            [post_name] => he-has-point
            [post_title] => He has a point...
            [post_author] => 3
            [post_date] => 2010-10-26 18:35:00
            [year] => 2010
            [month] => 10
            [post_type] => post
        )

    [1886] => stdClass Object
        (
            [slug] => liturgical-year
            [ID] => 55077
            [post_name] => upon-saint-crispins-day
            [post_title] => "Upon Saint Crispin's Day"
            [post_author] => 3
            [post_date] => 2010-10-26 18:13:00
            [year] => 2010
            [month] => 10
            [post_type] => post
        )

    [1887] => stdClass Object
        (
            [slug] => pumpkin-patch
            [ID] => 55078
            [post_name] => pictures-from-pumpkin-patch-2010
            [post_title] => Pictures from the Pumpkin Patch ~ 2010
            [post_author] => 3
            [post_date] => 2010-10-25 01:15:00
            [year] => 2010
            [month] => 10
            [post_type] => post
        )

    [1888] => stdClass Object
        (
            [slug] => pumpkin-patch
            [ID] => 55079
            [post_name] => all-ready-for-pumpkin-patch
            [post_title] => All Ready for the Pumpkin Patch...
            [post_author] => 3
            [post_date] => 2010-10-24 22:16:00
            [year] => 2010
            [month] => 10
            [post_type] => post
        )

    [1889] => stdClass Object
        (
            [slug] => feast-day-plans
            [ID] => 55080
            [post_name] => living-liturgical-year-at-home-favorite
            [post_title] => Favorite Catholic Calendars
            [post_author] => 3
            [post_date] => 2010-10-21 16:47:00
            [year] => 2010
            [month] => 10
            [post_type] => post
        )

    [1890] => stdClass Object
        (
            [slug] => daybook
            [ID] => 55081
            [post_name] => my-daybook-oct-20-2010
            [post_title] => My Daybook :: Oct 20, 2010
            [post_author] => 3
            [post_date] => 2010-10-20 18:17:00
            [year] => 2010
            [month] => 10
            [post_type] => post
        )

    [1891] => stdClass Object
        (
            [slug] => cousins
            [ID] => 55082
            [post_name] => wordless-wednesday-cousins
            [post_title] => Wordless Wednesday ~ Cousins
            [post_author] => 3
            [post_date] => 2010-10-20 15:28:00
            [year] => 2010
            [month] => 10
            [post_type] => post
        )

    [1892] => stdClass Object
        (
            [slug] => state-by-state
            [ID] => 55083
            [post_name] => state-by-state-scrapbook-south-carolina
            [post_title] => State-by-State Scrapbook :: South Carolina
            [post_author] => 3
            [post_date] => 2010-10-19 00:27:00
            [year] => 2010
            [month] => 10
            [post_type] => post
        )

    [1893] => stdClass Object
        (
            [slug] => happy-anniversary
            [ID] => 55084
            [post_name] => just-two-of-us
            [post_title] => Just the Two of Us
            [post_author] => 3
            [post_date] => 2010-10-15 06:30:00
            [year] => 2010
            [month] => 10
            [post_type] => post
        )

    [1894] => stdClass Object
        (
            [slug] => all-saints-day
            [ID] => 55085
            [post_name] => getting-ready-to-celebrate-feast-of-all
            [post_title] => Getting ready to celebrate the Feast of All Saints!
            [post_author] => 3
            [post_date] => 2010-10-13 15:45:00
            [year] => 2010
            [month] => 10
            [post_type] => post
        )

    [1895] => stdClass Object
        (
            [slug] => columbus-day
            [ID] => 55086
            [post_name] => stargazing-and-spanish-cocoa-on
            [post_title] => Stargazing and Spanish Cocoa on Columbus Day...
            [post_author] => 3
            [post_date] => 2010-10-13 15:43:00
            [year] => 2010
            [month] => 10
            [post_type] => post
        )

    [1896] => stdClass Object
        (
            [slug] => thanksgiving
            [ID] => 55087
            [post_name] => fall-baking-pumpkin-thumbprint-cookies
            [post_title] => Fall Baking :: Pumpkin Thumbprint Cookies
            [post_author] => 3
            [post_date] => 2010-10-12 15:18:00
            [year] => 2010
            [month] => 10
            [post_type] => post
        )

    [1897] => stdClass Object
        (
            [slug] => home-improvement
            [ID] => 55088
            [post_name] => our-new-kitchen
            [post_title] => Our New Kitchen
            [post_author] => 3
            [post_date] => 2010-10-10 23:36:00
            [year] => 2010
            [month] => 10
            [post_type] => post
        )

    [1898] => stdClass Object
        (
            [slug] => home-videos
            [ID] => 55089
            [post_name] => sugar-high
            [post_title] => Sugar High
            [post_author] => 3
            [post_date] => 2010-10-10 02:53:00
            [year] => 2010
            [month] => 10
            [post_type] => post
        )

    [1899] => stdClass Object
        (
            [slug] => kid-talk
            [ID] => 55090
            [post_name] => now-that-we-have-nice-new-kitchen
            [post_title] => Now that we have a nice new kitchen...
            [post_author] => 3
            [post_date] => 2010-10-09 20:11:00
            [year] => 2010
            [month] => 10
            [post_type] => post
        )

    [1900] => stdClass Object
        (
            [slug] => baby-showers
            [ID] => 55091
            [post_name] => baby-shower-of-roses
            [post_title] => A Baby Shower of Roses
            [post_author] => 3
            [post_date] => 2010-10-09 03:44:00
            [year] => 2010
            [month] => 10
            [post_type] => post
        )

    [1901] => stdClass Object
        (
            [slug] => st-therese
            [ID] => 55092
            [post_name] => few-more-pictures
            [post_title] => A few more pictures...
            [post_author] => 3
            [post_date] => 2010-10-08 16:26:00
            [year] => 2010
            [month] => 10
            [post_type] => post
        )

    [1902] => stdClass Object
        (
            [slug] => marian
            [ID] => 55093
            [post_name] => on-feast-of-our-lady-of-rosary
            [post_title] => On the Feast of Our Lady of the Rosary
            [post_author] => 3
            [post_date] => 2010-10-07 21:59:00
            [year] => 2010
            [month] => 10
            [post_type] => post
        )

    [1903] => stdClass Object
        (
            [slug] => baby-rose
            [ID] => 55094
            [post_name] => wordless-wednesday-nothing-like-big
            [post_title] => Wordless Wednesday
            [post_author] => 3
            [post_date] => 2010-10-06 16:33:00
            [year] => 2010
            [month] => 10
            [post_type] => post
        )

    [1904] => stdClass Object
        (
            [slug] => st-therese
            [ID] => 55095
            [post_name] => celebrating-saints-on-first-fridays
            [post_title] => Celebrating the Saints on First Fridays
            [post_author] => 3
            [post_date] => 2010-10-05 23:26:00
            [year] => 2010
            [month] => 10
            [post_type] => post
        )

    [1905] => stdClass Object
        (
            [slug] => st-francis-of-assisi
            [ID] => 55096
            [post_name] => on-feast-of-st-francis-of-assisi
            [post_title] => On the Feast of St. Francis of Assisi
            [post_author] => 3
            [post_date] => 2010-10-05 03:07:00
            [year] => 2010
            [month] => 10
            [post_type] => post
        )

    [1906] => stdClass Object
        (
            [slug] => giveaway
            [ID] => 55097
            [post_name] => announcing-winners
            [post_title] => Announcing the Winners...
            [post_author] => 3
            [post_date] => 2010-10-03 22:08:00
            [year] => 2010
            [month] => 10
            [post_type] => post
        )

    [1907] => stdClass Object
        (
            [slug] => happy-anniversary
            [ID] => 55098
            [post_name] => anniversary-surprise
            [post_title] => An Anniversary Surprise...
            [post_author] => 3
            [post_date] => 2010-10-03 04:57:00
            [year] => 2010
            [month] => 10
            [post_type] => post
        )

    [1908] => stdClass Object
        (
            [slug] => happy-anniversary
            [ID] => 55099
            [post_name] => on-our-11th-anniversary
            [post_title] => On Our 11th Anniversary
            [post_author] => 3
            [post_date] => 2010-10-02 22:18:00
            [year] => 2010
            [month] => 10
            [post_type] => post
        )

    [1909] => stdClass Object
        (
            [slug] => st-therese
            [ID] => 55100
            [post_name] => ideas-for-celebrating-feast-of-st
            [post_title] => Ideas for Celebrating the Feast of St. Therese
            [post_author] => 3
            [post_date] => 2010-10-01 07:45:00
            [year] => 2010
            [month] => 10
            [post_type] => post
        )

    [1910] => stdClass Object
        (
            [slug] => michaelmas
            [ID] => 55101
            [post_name] => celebrating-mich