Outside my window… everything is still wet from the rain we had last night, but the sun is supposed to come out a little later today and even reach a high of 62 degrees!
I am hearing… the pitter patter of little feet running up and down the hallway… Shhhh Snuggles! The baby is still sleeping!
I am thinking… about my plans for Lent which have been put on hold for now.
I am thankful for… the reassurance I received from the doctor at the Emergency Room last night (or rather early this morning). Rose is most definitely sick but her fever is gone and the congestion has not dropped to her chest. It was also reassuring to hear that the ER doctor wasn't able to hear her heart murmur either!
I am praying… "Not my will, but Thy will be done."
From the kitchen… I had plans to make Apple Puff Pancakes for breakfast, since it is Shrove Tuesday (aka: Pancake Tuesday) but due to another late start this morning the children just had cereal. If all goes well, we'll have Pancakes for dinner!
From the learning rooms… we've been sticking with just the basics lately. Lots of Math, Spelling, and Phonics. Last week was "Q" week and we only made it a couple days before Quitting. 😉 We will continue when everyone is healthy and time allows.
Living the Liturgical Year at Home… the season of Lent begins tomorrow. We are still discussing our plans for this year. Perhaps at dinner tonight we can finalize those plans.
I am creating… antibodies for my baby and a quiet peaceful home. The rest can wait.
I am wearing… my nice cozy pajamas and slippers.
I am going… to start walking again. With how little I've been leaving the home, my energy levels have really dropped and I need to start exercising. I've decided to walk 40 miles during Lent, one mile a day. It's not much, but it is a lot more than I am currently doing and yet should be achievable.
I am reading… from a big stack of picture books about Queens and Quilts. Tomorrow we will begin reading a story each day from the life of Jesus, to go along with our Jesus Tree. (For those that have emailed, you can purchase the Jesus Tree kit from Leaflet Missal.) I am also going to look through my own books to choose some Lenten Reading for myself. Hummm… Any suggestions?
Pondering these words… which were shared by Jennifer in this inspiring post.
"Material goods are good since they come from God. They have been put by God at man's disposal since creation began, for his growth and development in society. We are administrators of these goods for a time, for only a short term. Everything should lead us to love God – Creator and Father – and the things He has made and given us."
Francis Fernandez, In Conversation with God, Volume 2, Lent and Easter, 16.1
I am hoping… that Hubby is able to get the job transfer he is applying for at work. It is the same job, but based out of an office that is only 15 minutes away, reducing his commute by over 30 minutes each day!
Around the house… As I de-clutter, I keep reminding myself to "LIVE IN THE PRESENT, and have nothing in my house that I do not know to be useful, or believe to be beautiful!" I have already filled 20 bags of stuff towards my goal of 40 bags in 40 days, though this is where I think it is going to start getting harder and involve working on detachment. It is going to be worth it though! Already our home feels much more organized, even though I still have a longs ways to go!
One of my favorite things… Baby smiles! I can't believe our little Rose is two months old ALREADY!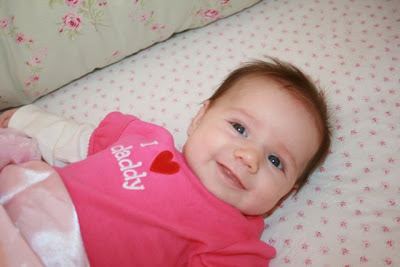 A few plans for the rest of the week:
Ash Wednesday and the Beginning of Lent
Blue Knights on Thursday
2 month Well-Child Check-up for Rose on Friday
Hockey Lessons on Saturday
My Dad's birthday
A Picture thought I am sharing: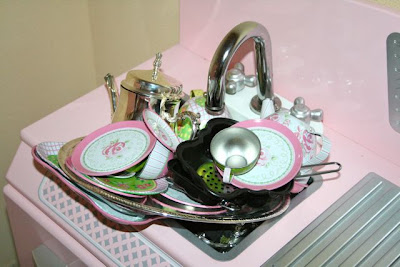 Apparently I am not the only one that could use a dishwasher! 😉