In our current Botany
Lesson on Flowers, the children (the boys especially) loved learning about Carnivorous Plants. Since one of the projects for this lesson was to "Build a Clay Model of a Flower," Rascal immediately decided to build a Venus Flytrap and then continued on to make all four of the carnivorous plants that they had studied. The book suggested using Play-Doh, Clay, or Salt Dough, but personally we love using our Modeling Beeswax
. I thought he did a great job and wanted to share a picture with your all: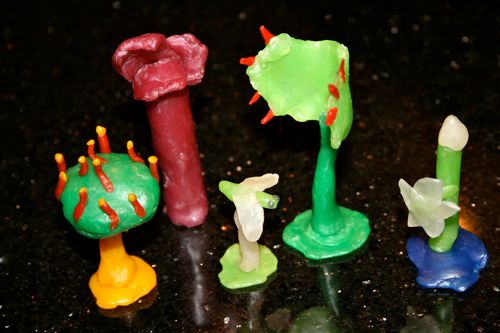 The Sundew, The Pitcher Plant, The Venus Flytrap, and The Bladderwort
Captain decided to just make a pretty red Lily
(to the left of Rascal's Venus Flytrap pictured below)
, and Twinkle Toes also opted for a Lily
(on the right)
, like the ones they had just finished
dissecting
.
They have also really been enjoying working on the various mini-books for their Botany Lap Book. The following illustrations are from Captain's Carnivorous Plant Layered Book: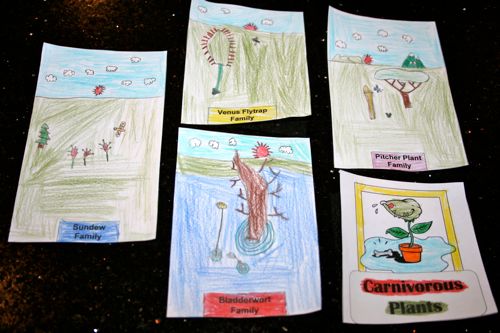 As the children complete each mini-book/activity for their Lap Books, we have been storing them in gallon sized ziplock bags (one for each child) and they will compile their
first Lap Book
as soon as they complete the fifth lesson. After that they will begin working on a
second Lap Book
for the remainder of the year. I'm sure we will post picture of the completed Lap Books, when the are finished.