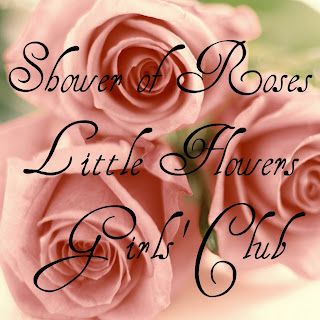 Over the past few years I have had a number of friends suggest that I try and come up with a way for little girls all over, that don't have a group of their own, to "join" my Little Flowers Girl's Club group. Last year I thought about attempting this, but, with finishing up our major remodel and getting a late start for the year, I just wasn't able to pull it off. This year I am a little more prepared, and think that it might doable. So, here are my thoughts…
Be a Little Flower – I will share my "plans" for Wreath IV in advance (ideally by next week, if I can finish them by then), and any moms/daughters that would like to "join" us are more than welcome! Whether you would like to do everything that we do at our meetings (Prayer, Coloring Page, Craft, Notebook Page, Lesson, Lap Book Activity for Wreath IV only, and Snack) or just a few of those things, you are more than welcome to participate at home. It will be up to each mom to purchase the craft supplies and print the various documents/coloring sheets for your own daughters – I'll provide all my documents and any links.
Note: My group will be completing Wreath IV, which focuses on the Gifts of the Holy Spirit. If you'd like to start with any of the other Wreath's you can find all my past plans in the archives, as well as separated by the labels for Wreath I, Wreath II, Wreath III and Wreath IV. Our past meetings can be modified in whichever way works best for you – you don't need to do exactly the same thing in order to participate in this online group.
Share Your Work – I will post a link up after each of our meetings is held for you to add a link to a blog post with pictures from your own meeting. It would be great fun for the girls to browse through the various blog posts and see all the pictures. (There are only 7 meetings for Wreath IV and we will be having our monthly meetings in Sep, Oct, Nov, early Dec, Mar, Apr, May, and a Tea Party to finish the year, date TBA. For those that are doing this at home with just your own girls, perhaps a Mom/Daughter outing to a local Tea House would be a fun way to finish the year!)
Note: I will post the link up along with the post from our local meeting, leaving it "open" for a two week period to allow everyone time to add their links. Since Wreath IV only has 7 meetings (compared to 9 in the other three wreaths, we will be taking off Jan and Feb… I am due January 1st after all, so this will work out perfectly!
Develop Friendships – To encourage an even greater sense of connection to the overall "group," I would be willing to coordinate pen-pals for any of the girls that are interested. Once I have a list of all the girls – both from my own local group and those that join us online – I will try and match those that are closest in age together, as well as which Wreath they are completing if possible.
Materials/Supplies – The girls in my group each have a Hot Pink Binder to store their Notebook Pages (these were purchased at WalMart for around $2 each), as well as homemade Tote Bags and T-Shirts. These, of course, are all optional. I highly suggest the purchase of a Patch for the Wreath you choose, Blue Sash, and Member's Guide for each girl. You can purchase these from either the publisher, Ecce Homo Press, or from Sacred Heart Books and Gifts. My girls also have the supplemental Art & Activity Books and Memory Verse CDs as well.
I'd love any feedback or ideas from any of you that might be interested in something like this for your daughters!
In the meantime, I had better get back to finishing the plans for this year… Our first meeting will be next week!