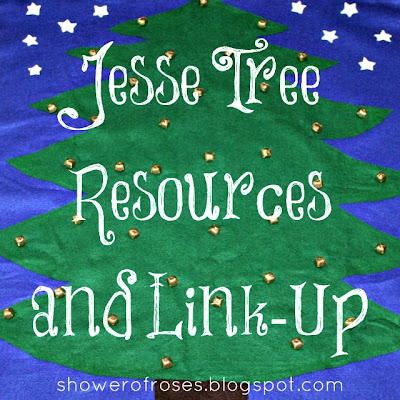 Advent begins tomorrow! I just pulled out our Advent Wreath, Advent Calendars, and hung up our Jesse Tree. This year's
Advent & Christmas Books
(I'm working on a post with this year's list) are wrapped and ready to start reading,
our new Advent CD
just arrived, and I spent most of today finishing up a couple handmade gifts. I still have a few things to purchase, a Family Christmas Photo/Card to come up with, and a couple birthdays to plan, but for the most part I am ready to enjoy the seasons of Advent and Christmas!
I know many of you have been
making Jesse Trees
for the first time this year and I have a few more resources to share with you all! The following will also come in handy for anyone who (1) is using our family's version of the Jesse Tree, (2) hasn't had a chance to make or purchase their own Jesse Tree and needs something quick and easy, or (3) is looking for an additional way to enhance their current Jesse Tree Study. You can also find additional Jesse Tree Resources I have shared in the past here:
Links for Advent
.
.: The Jesse Tree Booklet :.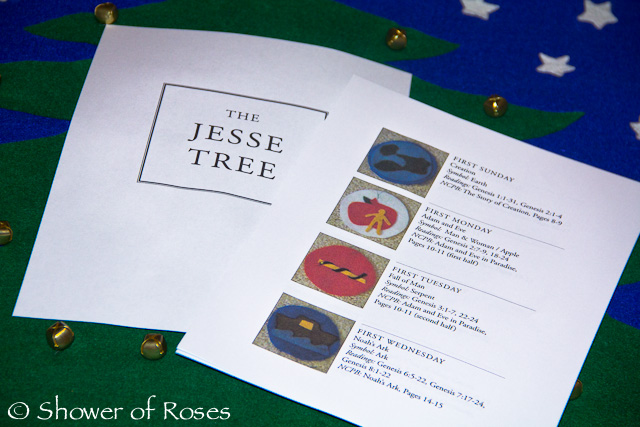 I have been meaning to provide you all (and myself!) with a printable to use as an easy reference to the readings we use for
our Jesse Tree
. I started making one, but kept getting stuck on how to lay it out in a way which could be used every year, despite the length of Advent changing.
One of my visitors here did it for us, and has allowed me to share her document with you all! I've already printed out the pages and added them to
my binder
.
Thank you Kelly!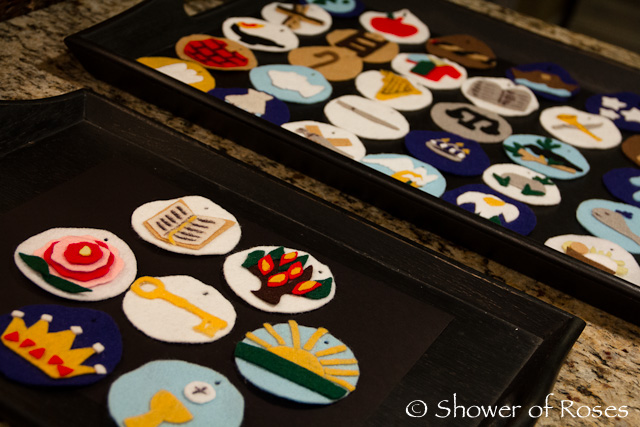 .: Colorable Jesse Tree Ornaments :.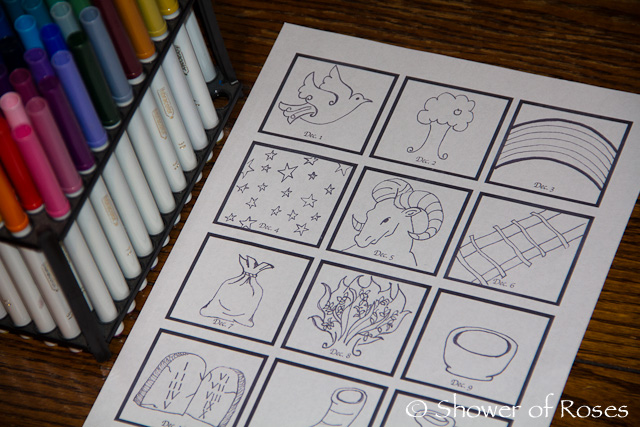 Charlotte also has a new free printable! She illustrated these
Colorable Jesse Tree Symbols
to go along with her own Jesse Tree and the reflections that her sister-in-law Erin will be
posting
this Advent.
In the past I provided my children with coloring pages for each day, and you can still
find those links in my archives
, but as my children have gotten older (and multiplied!) we just don't have the time for this anymore. I am very excited to have this resource for my little Kindergartner and Pre-schooler!
.: Jesse Tree Study Guide :.
Advent: God's Loving Promise
Counting down to Our Lord's Nativity with the Jesse Tree –
The Genealogy of Christ
Although I didn't have any plans to expand our Jesse Tree Study this year, after receiving a review copy of this brand new Jesse Tree Study Guide, I've changed my mind. This book is beautifully compiled using public domain illustrations and text from out-of-print vintage Catholic Books!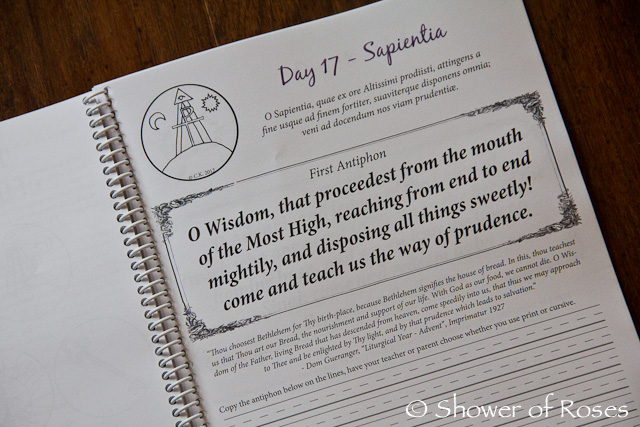 In addition to the excellent Catholic lessons included, I love the copywork pages that are scattered throughout the book, including the pages for the O Antiphons! I'll be printing out copies of these for my children to complete this year, in addition to our O Antiphon treats and activities. Update: Unfortunately this book is no longer available.
Do your family traditions for Advent include a Jesse Tree? Did you make your own Jesse Tree and/or Ornaments this year? Or did you perhaps participate in a Jesse Tree Swap? I'd love to see pictures!

Last year I hosted an Advent Link-Up for everyone to share their Favorite Advent and Christmas Books. This year I thought it would be fun to host a link-up for everyone to share their Jesse Trees! Please add a link to your Jesse Tree blog post below, and be sure to share the link to this post so that everyone can find the link-up.

I'll get it started with a few of my own past Jesse Tree posts! 🙂 This link-up will remain open throughout Advent, so be sure to take some pictures over the next few weeks to share!