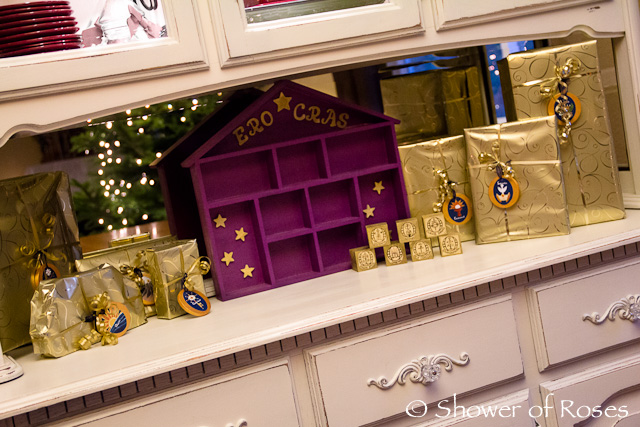 So, how is your Advent going? It has been just a little busy around our home this past week! 😉
As I set out the O Antiphon House and Gifts late last night, and we begin to pray the O Antiphons this evening, I figured I had better take a look at my Christmas list and fill in any gaps while I still have time to place online orders!
I plan to keep the kids away from the computer this week, so I thought I'd finally share my list with you all (since so many of you have asked to see it) and ask for a little advice while I am at it…
Our children receive three gifts each on Christmas from their Dad and I, recalling the three gifts Christ was given, plus they wake up to discover their stockings filled as well. Depending on the gifts, sometimes I combine multiple items into "one" gift package (i.e. clothing, shoes, etc, or various small toys). You can see some examples in last year's post about Christmas morning. You can also find my 2009 list here: Shh! Don't tell them….
Even though we stick to "just" three gifts each (plus stockings, plus O Antiphon treats, plus St. Nicholas Day, plus 😉 …) with seven children it can add up quickly! I have found that I have to be creative in order to purchase quality gifts for the children. Some items were purchased on Black Friday sales, some were purchased on clearance, some were even ordered by the charter school (as "consumables" that tie into their history course – i.e. the craft kits for the girls). The rest was purchased with gift certificates and the commissions resulting from all of your purchases from my Amazon and All About Reading affiliate links! I can't tell you what an incredible blessing that has been this year… Thank you all so very much!
So, now that I have clarified all of that, here is a peek at my list: (Yes, I am going to make those of you who wanted to know do a little extra clicking, just in case! 🙂 Sorry about that!) *Also, while creating the links, I couldn't believe how much some of the things have gone up since I purchased them… crazy!
Captain: This, This and This
Rascal: This, This and This (We are saving this for his Feb. birthday!)
Twinkle Toes: This, This, and These Kits (Saving the accessories for Easter Baskets!)
Chiquita: This, This, and These Kits (which I've seen for 1/2 price at Michaels!)
Snuggles: This, This, and These Wooden Toys (He can decorate the shield for Blue Knights!)
Rose: This, This, and a Handmade Gift (Which I still need to make!)
Bud: This, This (only $20 at Costco), and ___? (He is getting this after all – which is on sale for only $16.99 today, this, this, and some clothing for his birthday.)
Also, to keep the "mess" to a minimum on Christmas morning I try to get rid of as much packaging as possible when I am wrapping the gifts, and I also keep a big box close by on Christmas morning to fill with all the rest of the wrapping paper and trash. I ran across a great idea to actually wrap the trash box and I think I might just have to do that this year! I actually have almost all the gifts wrapped and ready for Christmas Eve. We will be hosting a family get-together and then heading to Midnight Mass!
Now for a few questions of my own… I always like to include a book in each of the children's stockings. This year I was thinking it would be fun to do an audio book for each of them… I only have a couple and need some suggestions! Here is what I have so far:
Captain: Any Suggestions?
Rascal: Any Suggestions? Perhaps The Hobbit? Which is your favorite Audio version?
Twinkle Toes: Any Suggestions? Maybe Little Women?
Chiquita: Any Suggestions? I'm leaning towards Little House on the Prairie…
Snuggles: Blessed Miguel Pro – Codename: "Cocol" — Undercover for God (Brand New!!)
Rose: Cat Chat Vol. 5: A Christmas to Remember
Bud: One Night in Bethlehem (Board Book)
The girls have a lot of the American Girl Audio Books, and the boys never get tired of listening to The Chronicles of Narnia, Enemy Brothers, The Winged Watchman, and the various audio books by Regina Martyrum Productions. What are some of your family's favorites?
I also still need to possibly purchase one more gift for Bud, along with some stocking stuffers. Does anyone have some favorite suggestions for 1 year old boys, who have plenty of hand-me-downs from older siblings? I've been considering one of these chairs, but not sure if it's worth the expense… They have them at our Orthodontist office and my little ones all love them! Thank you in advance for your help!