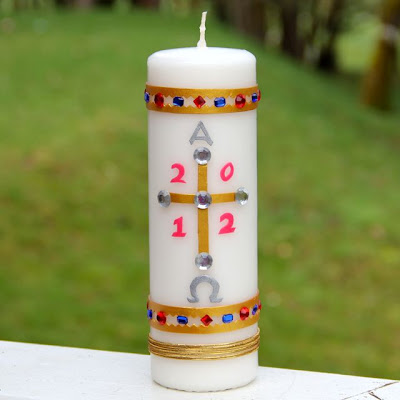 We've been making our own Easter Paschal Candles for years now. Our family lights it on Easter Sunday, and then again each night, at dinnertime and for our Good Shepherd Garden Parties, throughout the 50 days of Easter. The first few years I used liquid wax candle decorating pens, one year we used a printable and wrapped it around a tall glass candle, and last year I used a gorgeous Paschal Candle Kit
. (You can see some of our past candles, both pretty and not so pretty, in this post.)
As much as I would have loved to order another kit from Illuminated Ink, I decided to use supplies I already had around our home, since I apparently have plenty already splurged on some new Easter gifts and decorations.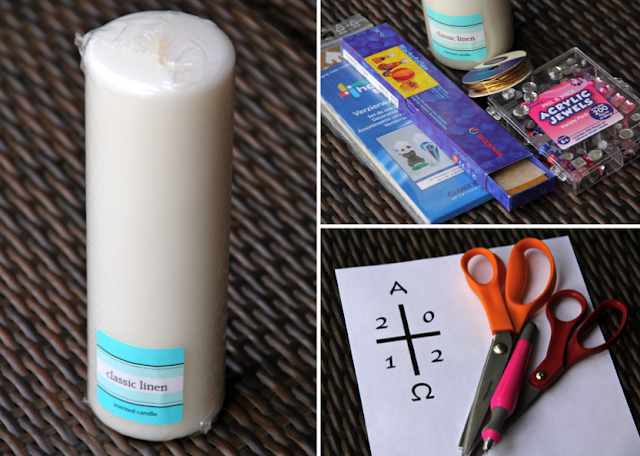 Supplies:
Tall Pillar Candle (purchased last year at Michaels with a 40% off coupon)
1-2 Sheets of Stockmar Gold Decorating Beeswax
Silver and Red Decorating Wax from a Decorative Wax Set by Hobby Time
(or colors of your choice, you only need a little – Stockmar also has silver and colored sets)
5 Clear Acrylic Gems/Rhinestones
Red and Blue Acrylic Gems
Gold Metallic Cord
Printable used as a template for cutting out the wax embellishments
Pinking Sheers, Scissors, and Xacto Knife
Of all the Paschal Candles we have made, this one was the quickest and easiest. Once I had the
printable
created, and all the supplies gathered, it really didn't take me longer than 20 minutes… and that included stopping to take pictures as we
(Rascal and I)
were working on the candle.
We began by cutting out all of the wax embellishments we would need. For the rings around the top and bottom of the candle I used a combination of pinking sheers and regular scissors to cut the wax. The wax sheets weren't quite long enough to wrap around our whole candle, but it was easily enough to add another inch from an additional sheet of wax.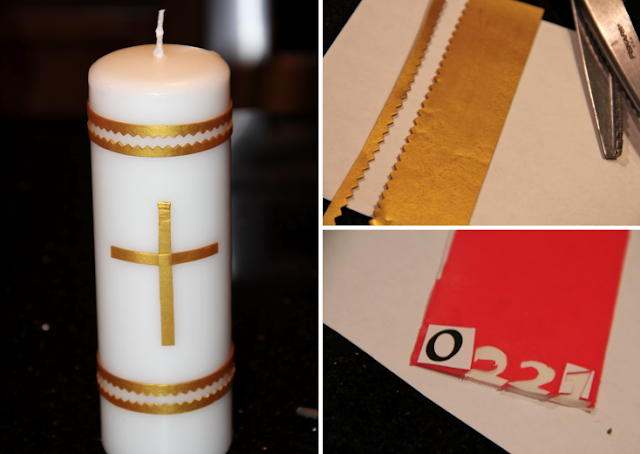 The cross is always the central symbol, clearly identifying it as a Paschal Candle.
"Christ yesterday and today
(vertical bar of the cross)
the beginning and the end
(horizontal bar of the cross)
The Greek letters Alpha and Omega signify that God is the beginning and the end.


Alpha
(A, above the cross)
and Omega;
(Ω, below the cross)
The current year represents God's presence here and now.
all time belongs to him
(2, upper left quadrant)
and all the ages:
(0, upper right quadrant)
to him be glory and power
(1, lower left quadrant)
through every age for ever. Amen."
(2, lower right quadrant)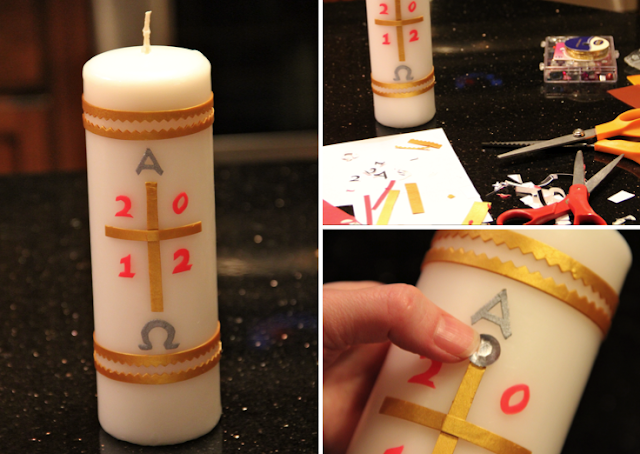 The final step was to add the 5 rhinestones – these represent the 5 grains of incense that a priest will insert into the candle at Mass representing the 5 wounds of Our Lord: one in each hand, one in each foot, and the spear thrust into his side.
"
By his holy and glorious wounds may Christ our Lord guard us and keep us."
Didn't it turn out pretty?! It is so nice to have our Paschal Candle all ready for Easter.
If you haven't made one already, or don't have the extra time or supplies to craft your own, you can also find a free printable for this year over at Family in Feast and Feria. Jenn also included a link to another blogger who was sharing a link to the pdf file of the beautiful candle wrap we've used in the past. I wasn't able to get the link to work, and I couldn't find the actual document on the artist's website to link to it directly, but I do have a copy (thank you PJ!) and can forward it on to anyone that might need it, just send me your email address.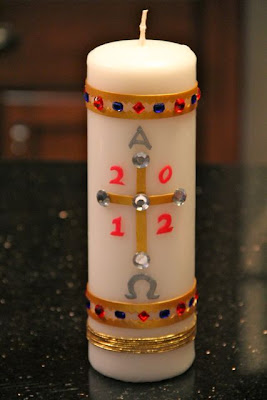 "May the light of Christ, rising in glory, dispel the darkness of our hearts and minds."