Happy feast of the Immaculate Conception! I don't think I'll ever celebrate this feast without remembering and thanking God for the good news we received on this feast, two years ago today! It's hard to believe that much time has passed already…
Anyways, I have had quite a few emails lately asking where I purchased our dresses for Santa Lucia Day… Unfortunately the lovely dresses that my older girls have are not currently available where I purchased them, just the doll sized version. Update: no longer available, link removed. (My girls gowns also came with a pink ribbon/bow sewed to the neckline, which I carefully removed).
Last year I just used one of my white t-shirts for Rose (which works great for toddlers!) and this year I have been looking for a dress for her to wear. I bought the big girls their dresses extra extra big back in 2008 and have been cinching them up with the ribbon each year, so we still don't have a hand-me-down for Rose.
I had been looking and finally ran across this cute little imported Scandinavian Swedish Dress for Lucia with Red Ribbon Sash on Ebay! It is currently available in 4 sizes, and I ordered the XS for Rose. It arrived today and I still need to wash it, but I did try it her to show you all. It is slightly see-through, which seems to be the case with most white gowns, but I think it is really cute especially the collar and sleeves!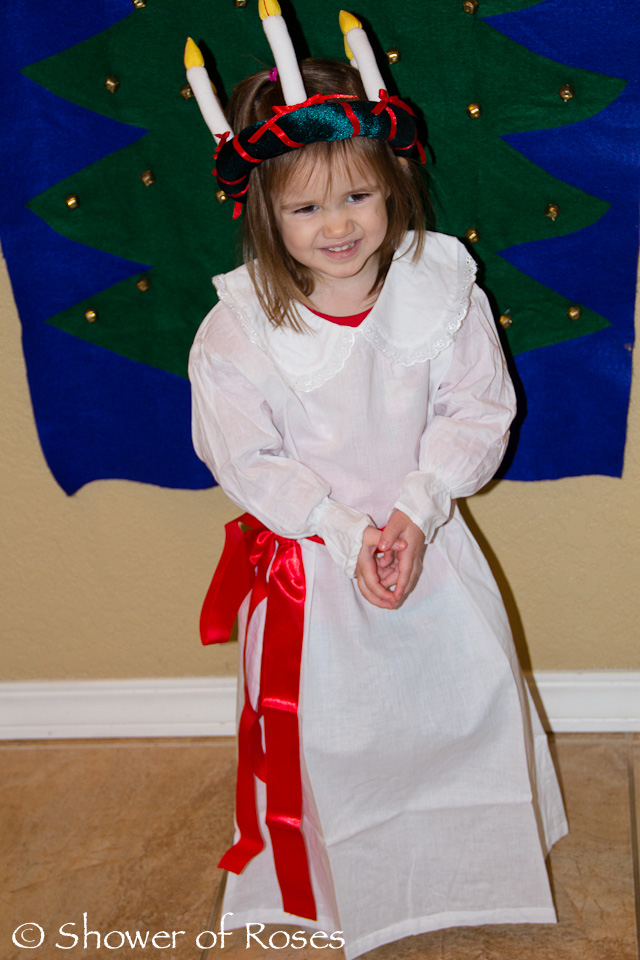 Here are a few other dress options as well:
*If anyone else has additional suggestions, please leave them in the comment box and I will add them to this list.
Additional ideas for celebrating the Feast of St. Lucy can be found in the archives: