This past January our oldest two daughters received their First Holy Communion at the Mass that took place just before their baby brother's baptism. It was a beautiful day filled with blessings for our family!
Since then I have been getting quite a few emails asking for ideas for First Holy Communion gifts. I've tried emailing some of you back, but, as always, I am quite behind with answering emails and figured it's about time I just finished up this post, which has been sitting in my drafts folder since January!
Below you will find some of the gifts we purchased for our daughters, a couple of the many gifts they received, and some additional ideas as well.
I ordered these beautiful handkerchiefs from Catholic Embroidery. I asked Mary to choose the design for me and they turned out lovely! (Underneath the embroidered design she embroidered the girls' names as well, but I removed them from the picture, since I use nicknames for my children online. ) Catholic Embroidery also has other products that would be perfect First Holy Communion Gifts including Mass Bags and Rosary Cases!
We choose two little prayer books for each of the girls. Actually I have been saving these for years! The Jesus Make Me Worthy prayer book was originally published in 1960 and I was so happy to find some original new copies. I purchased a couple when the girls were babies to save for "someday" when they made their First Holy Communion! It has since been reprinted and you can find a copy here or here. Our boys received the re-printed black copy of Jesus Make Me Worthy for their First Holy Communions.
The second book, Divine Light, is also a pre-vatican II prayer book for children and is printed in Italy. This book includes morning and evening prayers; prayers to Our Lady and the angels; acts of faith, hope, and charity; fifteen mysteries of the Rosary; examination of conscience; simple Mass prayers for children; the Stations of the Cross; and more. You can find this sweet little book here.
The beautiful little First Communion bracelets that my girls wore on their special day, were a gift from a visitor here at Shower of Roses. They are just lovely!! Marianne, if you decide to open up an Etsy shop to sell these precious bracelets, let me know and I will be sure to share the link. 🙂
Ruth, at Loreto Rosaries, sells a beautiful First Holy Communion Rosary Bracelet (or perhaps the First Holy Communion Tenner for boys) that would also make a lovely gift and keepsake. I also really like this Freshwater Pearl Bracelet.
There are so many options to be found online for First Communion Rosaries. I kept searching, trying to pick out the perfect ones for my girls, and then ran out of time to place an order! I was so excited when I had an email from Barbara (Mary Devotions) asking if she could make a couple to send as a gift. She made a pink one for Twinkle Toes and a purple one for Chiquita. The girls just LOVE their new rosaries!
Aren't these First Communion Felt Softies just the cutest!?! Erin at Saintly Silver was so helpful and was able to make and ship the dolls immediately, so that they would arrive in time. I loved being able to customize the dolls to look like our girls! So fun!!
I also ordered two of the beautiful Blessed Imelda dolls from the Family Cloister Learning Center. However, due to the short notice we had, they were not able to arrive on time and I ended up saving them for my girls' Easter Baskets, along with the St. Therese doll for our little Rose. The St. Therese doll would make another great option for a First Communion gift paired with a print our of St. Therese's First Communion Reflection.
Additional options would be the lovely painted wooden saint dolls from St. Luke's Brush, Catholic Folk Toys, and St. Anne's Pixies. Or you could always paint some of your own! St. Luke's Brush also carries a beautiful painted Holy Eucharist Rosary Box that I would love to get for one of my boys.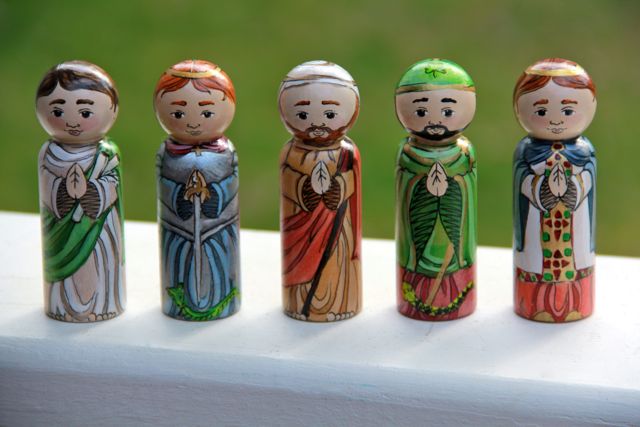 There are so many different Sacramental Records available! My favorite sources are Trademark Catholic Stationary and Saints Galore Catholic Publishing.
I happened to find this pretty little "My First Communion" Wall Plaque (here's the same plaque for boys) made by Joseph's Studios at our local bookstore. It is now hanging on the wall in the girls' bedroom.
I'm in love with all the beautiful products made by Joseph's Studios and had fun looking at some of the other First Communion Options online including the following:
Take It To the Queen (First Confession) and The Weight of a Mass: A Tale of Faith (First Communion) would both make lovely gifts! Our children were also given this lovely new book from their grandparents this past Christmas: Friendship with Jesus: Pope Benedict XVI Talks to Children on Their First Holy Communion.
You can find other First Communion themed book suggestions in this post in addition to:
My children also really enjoy comic style books and these three are all great: The Life of Christ, The Life of the Blessed Virgin Mary, and Know Your Mass.
We have given Know Your Mass as a First Communion gift in the past. It was originally published in 1954 and is based on the Traditional Latin Mass. All parts of the Mass are covered, from the preparation for Mass, the altar, sacred vessels and vestments, liturgical actions, the sanctuary, and some liturgical history as well. My children just love these books and I have learned quite a bit from them as well!
CD's also make great gifts! A few of our favorites are King of the Golden City, Volume 1: Blessed Imelda Lambertini & Saint Juan Diego and Altar Gang: Man to Mangia.
With some of the money that my girls were given we are considering ordering them each a First Holy Communion Bible. Our favorite is the white hardcover, gold-embossed Douay-Rheims First Communion Bible. This bible also contains pages of colorful images, child friendly stories on the lives of young saints, and prayers. It also comes in a gift box, making a perfect gift for First Holy Communicants.
(Another thing that Chiquita would like to order is a First Communion dress for her doll. Twinkle Toes received one from her godparents and she LOVES it!)
My oldest son prayed the beautiful novena shared by Margaret on the 9 days leading up to their First Holy Communion. UPDATE: Margaret has compiled all of the prayers into a printable! You can download it here: A Garden Fit for a King: A First Communion Novena.
For the girls I ordered this lovely little booklet from the FSSP bookstore. (They carry a boy version as well!) It is a small book, just 28 pages long, but is filled with beautiful traditional art, in addition to a daily prayer, for 12 days, asking Jesus to to help prepare the child's heart for their First Holy Communion. It also contains a page for preparation for First Confession, as well as an examination of conscience. At the bottom of each page is a space for the child to write something they would like to offer to Jesus each day.