Last Thursday afternoon we had our 5th Little Flowers Girls' Club meeting for Wreath IV, and first meeting since December!
I hadn't intended on taking such a long baby break – just January and February – but March and April were filled with sickness for half the girls in my group, so our meeting kept getting postponed.
My girls (and their momma!) were so excited to finally have friends over again. The meeting began at 3:30, but we happily visited with guests until about 9pm, long after the meeting had ended. It was so nice!
This meeting focused on the gift of Fortitude and St. Joan of Arc. Despite the months I had to prepare, by Thursday morning I hadn't done a thing to get ready, but thankfully everything fell into place. Here are a few highlights from our meeting: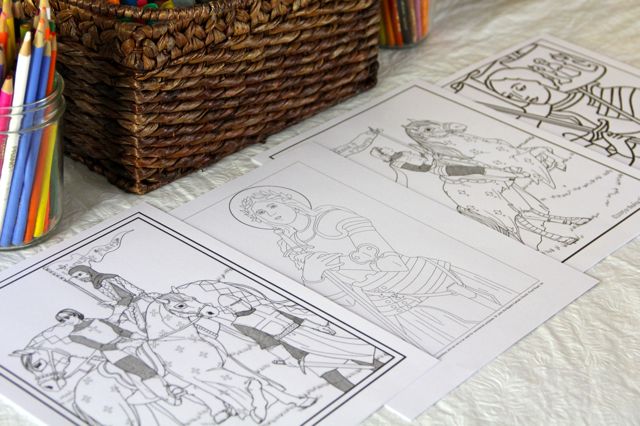 St. Joan of Arc from St. John's
St. Joan of Arc from St. Anne's Helper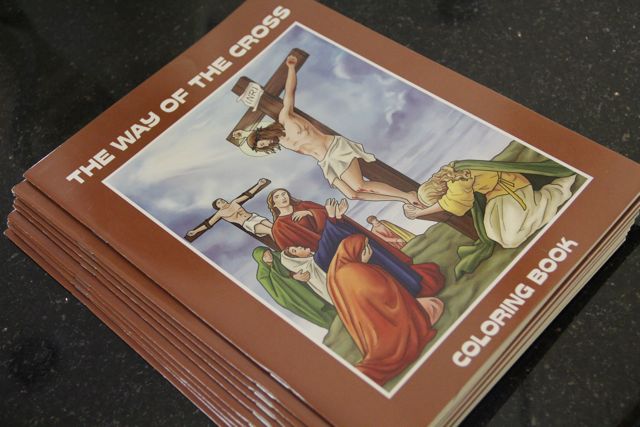 My mother-in-law also sent each of the girls in my group a copy of The Way of the Cross Coloring Book which was recently published by Aquinas Kids. Even though I wasn't able to get them to the girls during Lent they were all very excited and loved looking through the beautiful pages.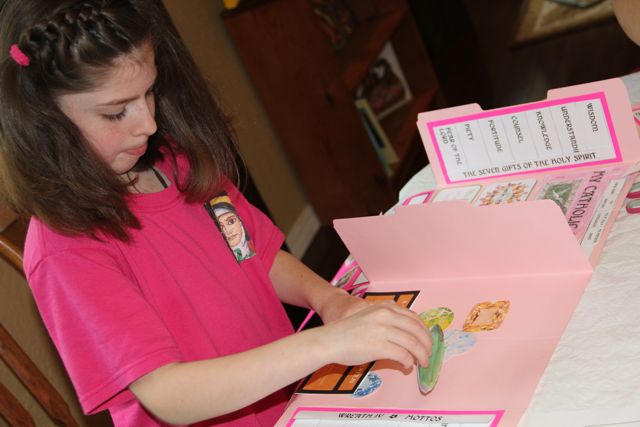 We had a short lesson on the gift of Fortitude and St. Joan of Arc, and then continued our lesson by reviewing our
Lap Book mini-books
from our last meeting, and then working on the new additions for the gift of Fortitude.
Here is an overview of what was completed (*some are taken home to complete):
Additional Resources:
Joan of Arc Resource and Activity Book (pdf found online)
Movie Suggestion from Member's Guide:
The Scarlet and the Black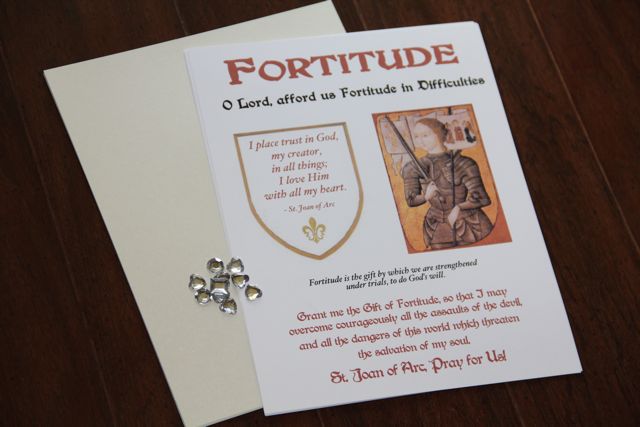 For the notebook pages, I used the motto for fortitude, a quote from St. Joan of Arc, an image (in the public domain) of St. Joan of Arc, a definition on the gift of Fortitude from My Catholic Faith, along with a short prayer for Fortitude (St. Augustine) with an invocation to St. Joan of Arc.
You can download my document here.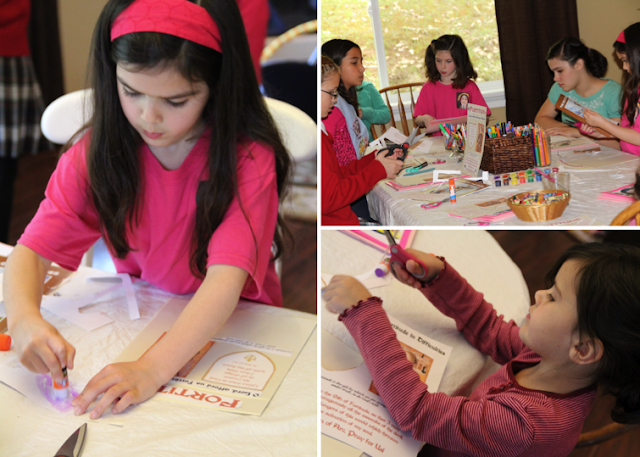 Here are a the girls' completed notebook pages: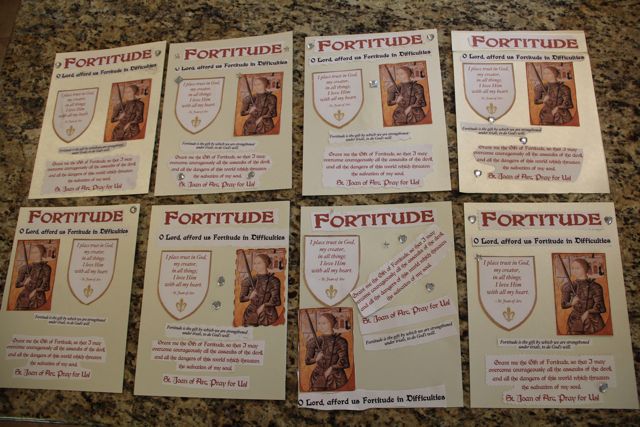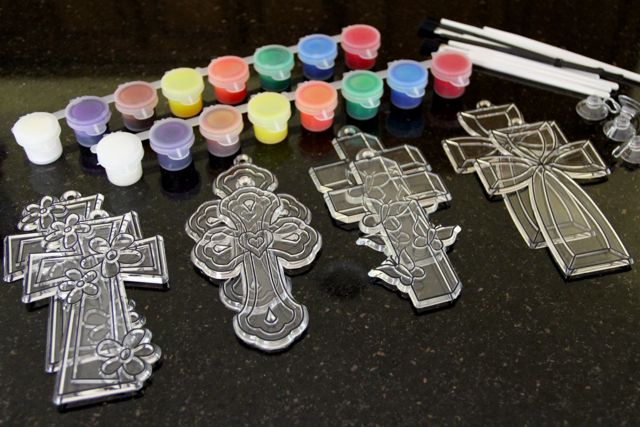 Last summer, I had planned to order the Banner and Woven Cross Kits from Illuminated Ink for St. Joan of Arc and the Gift of Fortitude… Lena also shared an excellent craft for the gift of Fortitude, that I would have loved to try had our meeting taken place during Lent as we had originally planned. Instead I ended up using a craft that I purchased a few years ago, having the girls paint Stained Glass Cross Suncatchers. I'm pretty sure that I had purchased these at Walmart.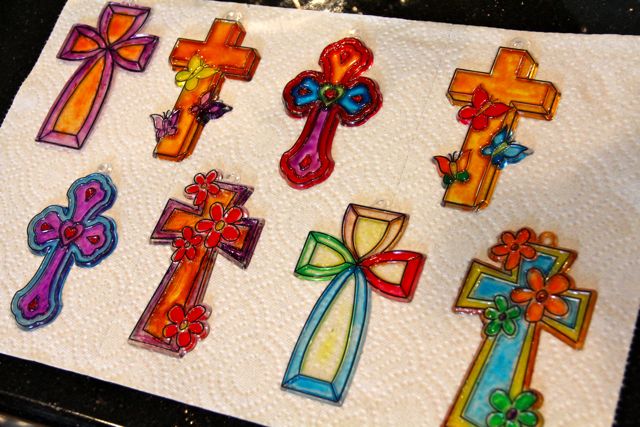 We hung them on the window to see how they'd look: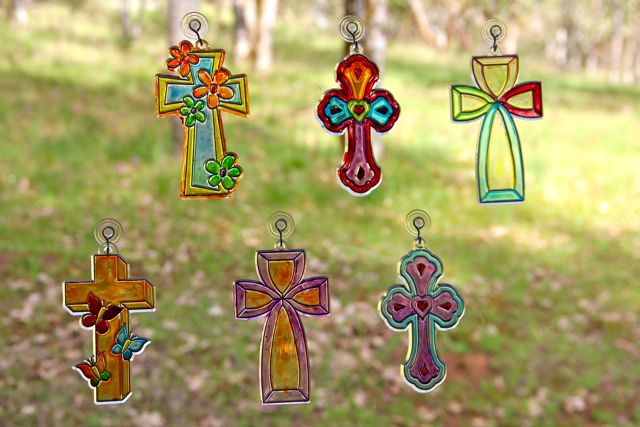 *my girls' are missing from this picture, and currently hanging on their bedroom window.
We adore Thee, O Christ, and we bless Thee.
Because by Thy holy Cross, Thou hast redeemed the world.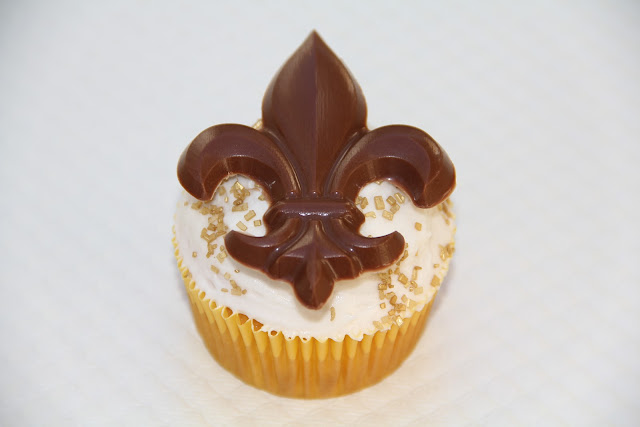 Saintly Symbols Cupcakes :: St. Joan of Arc
One of the symbols for St. Joan of Arc is the Fleur-di-lis.
White Cupcakes
(baked in Yellow Cupcake Liners)
, topped with some homemade frosting, gold sprinkles, and a chocolate fleur de lis
(made with this Candy Mold)
.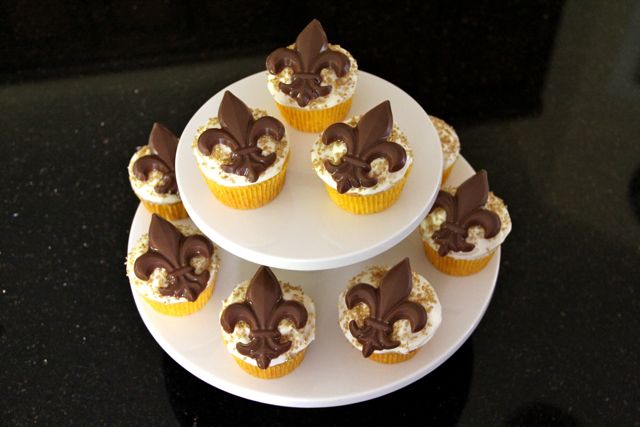 The feast of St. Joan of Arc is celebrated on May 30th.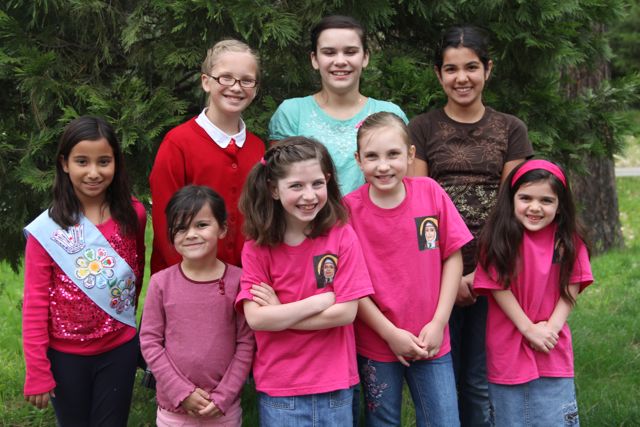 Grant me the Gift of Fortitude, so that I may overcome courageously all the assaults of the devil, and all the dangers of this world which threaten the salvation of my soul.
St. Joan of Arc, pray for us!