Outside my window…
after rain, rain, rain, we finally had a beautiful sunny day today. The kids were even feeling well enough to go outside and enjoy the sunshine for a little while this afternoon. It was nice while it lasted… According to our forecast, it's back to rain (and possibly even snow) for the rest of the week.
I am thankful…
that it is almost Easter and that Hubby will be home again soon! It has sure been a long, hard three weeks lent for our family, beginning and ending with my husband out of town and sick children. The girls have been doing much better now that they are on antibiotics for their pneumonia, and every one else is improving as well. I have been taking a ton of different supplements and have thankfully been blessed with a very mild version of this cold. I am also so very thankful for all of your prayers! Thank you!!
I am thinking…
about celebrating Easter! It is really almost here!! A sweet friend has insisted on stocking us up with groceries for our Easter dinner, and will be bringing it all over on Thursday. (Isn't that just so thoughtful and generous!?! I have been really been blessed with great friends!)
Learning all the time…
now that my children are feeling a little better, they are all wishing we could start our Spring Break (which happened to be last week) over again. As much as I would love the same, we got back to our official schoolwork early this morning, despite our extra late night playing Settlers of Catan with Cities and Knights. Boy that game takes a long time to play! It's Captains favorite though, and he convinced me taped a note to my bedroom door addressed to "Sir Knight Mom of Seven Children and Oldest of Twelve" challenging me to a game. How could I say no?!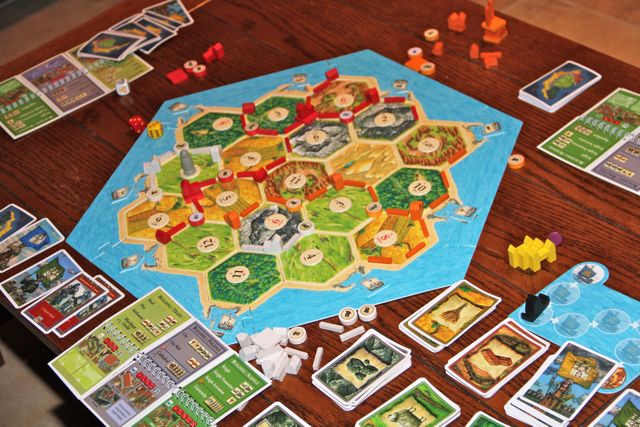 Living the Liturgical Year at Home…
I did set out our Stations of the Cross and Crown of Thorns (minus the thorns), but that was all I was able to manage this Lent. For the first time in many, many years, we didn't make/do our traditional Lenten Calendar or count down the days of Lent with our Jesus Tree. Perhaps God allowed us to get sick since my children have started "enjoying" our observance of Lent a little too much. 😉 NOT doing these things, which they look forward to each year, was definitely a sacrifice! Still, if all goes well, we might just be able to still have our Holy Thursday and Good Friday Teas. Maybe?
From the kitchen…
lots of vitamin c, garlic, fruits, and veggies, and all sorts of medicines and supplements.
I am creating…
this year's Paschal Candle for Easter. I didn't order another kit in time (plus I spent too much on other things for Easter anyways) so I am back to making our own. Hopefully it will turn out okay!
I am working on…
cleaning out my closet and the school room. Still. I had hoped to have these two areas completed by Easter, but it's not looking very promising.
I am going…
to let Hubby finish painting the boys' room with his extension ladder. It's almost finished but I have one little three foot wide area – along the trim, way above the door (It's a vaulted ceiling) – that I just couldn't reach from the top of the triple bunk. The rest of the room is looking great though!
I am hoping…
to mail out at least some Easter cards, since I never was able to send cards out at Christmas.
I am reading…
My favorite new book: Style, Sex, & Substance: 10 Catholic Women Consider the Things that Really Matter. I'm sure you have all heard about it by now, but if not head on over to Amazon and order a copy. I love this book! I've been reading a chapter here and there, as I am able to find the time between coughing and crying children. Last night I read the chapter by Hallie Lord titled Style: Balance, Beauty, and You (including tips on Finding Balance and Taking Care of You) and the chapter by Karen Edmiston titled God and Godiva on prayer – both areas I've been struggling with lately. It has been very inspiring!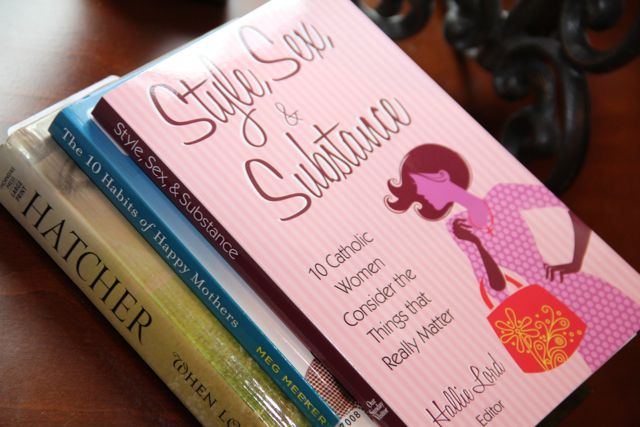 I'm also still working on The 10 Habits of Happy Mothers: Reclaiming Our Passion, Purpose, and Sanity, which I've been checking out from the library but plan to add to my own collection. And I just finished a couple christian historical romances by Robin Lee Hatcher: Belonging and When Love Blooms. I can't decide which I liked best… I really enjoyed both stories, but then I always love time-period fiction!
I am praying…
for my friend Trina (Twinkle Toes' Godmother), who will be having her little boy (baby #9!) any day now, if she hasn't already. For Olivia, my sister's sister-in-law, who just miscarried her baby yesterday. For Paula, who will be having surgery on the 4th. Also for a grandfather of a friend, whose health is rapidly declining, that he will return to the faith before his death. Would you please offer a little prayer for these intentions?
Pondering these words…
from Thomas a Kempis:
"Nothing, how little so ever it be, if it is suffered for God's sake, can pass without merit in the sight of God."
I am listening…
to the sound of the humidifier running and frogs croaking. The frogs just recently returned, and I am sure they will drive Hubby crazy when he gets home. That dripping shower head that I just had fixed was nothing in comparison to the noise they are making!
Around the house…
lots of Legos! Over our Spring Break, since he was the only one that wasn't sick, Rascal decided to reassemble every. single. one. of his Lego sets. I took this picture towards the end of the week, before his piles were too depleted, though he had already completed quite a few. Captain also loved putting together a new 4×4 Fire Truck, complete with a burning tree and "daddy" mini-figure!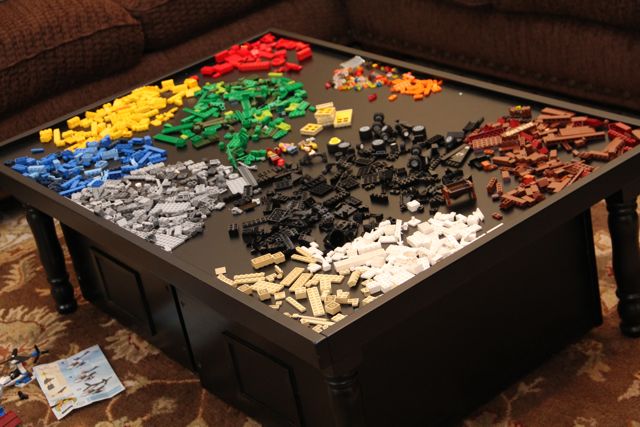 One of my favorite things…
iChat!!! Why did we wait over 2 weeks to finally figure out how to have a video conversation on the computer?! It is so neat! Yesterday afternoon the kids were all entertained for about an hour, as their Daddy took them around the hotel showing them the view from his window (including the World's Fair Park, which they had just studied as they learn about Tennessee in Geography!), the lobby, the bar oops…, Starbucks, the gym, the elevator, and more. The kids loved their tour and their momma LOVED the little break! Oh, and earlier this evening our little Bud had a blast smiling, cooing, giggling, and trying to reach for his Daddy inside the computer screen. So much fun!
A few plans for the rest of the week…
Get over our colds/coughs/pneumonia…
Finish sorting through clothing and take the bags to donate to St. Vincent's.
Try and check a few more items off of the list for Shaking off the Bonds of Stuff – we've made some progress, but are quite behind with being sick.
Tutor and Piano Lessons once again on Wednesday, if everyone is well.
Holy Thursday
Good Friday and Daddy arrives home late, late, late Friday night.
2nd Birthday Party for our sweet little niece/cousin on Saturday.
Easter Sunday!!!!
A little peek at my day…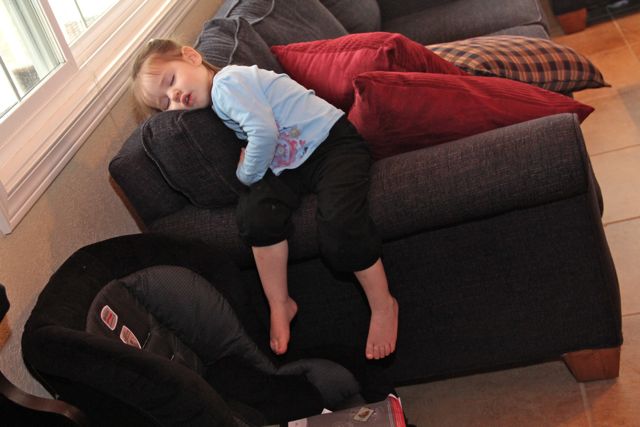 I tried putting Rose in her bed for a nap, but this stubborn little girl will only sleep where she chooses!