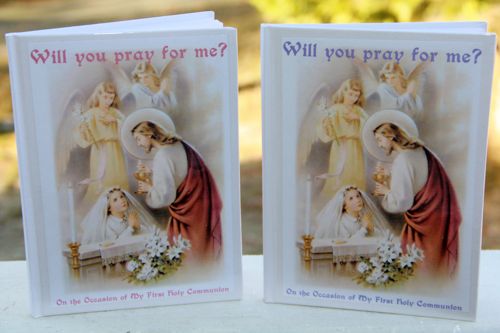 Earlier this week, when I mentioned that the girls had been given permission to make their First Holy Communions this Friday, an anonymous visitor shared an idea in the comment box that I loved and wanted to try and make for our girls:
"We have made both a small book and also (for a different girl) written on an artists canvas the girls name with "Will you pray for me?" and they got to take it people at their First Holy Communions/parties and people would write what prayers they promised the child. Our daughter loved asking for prayers and our guests loved praying for them. Congratulations!"
I decided to make the books similar to the "Wisdom of the Saints" Journals I had come up this past year as one of our Little Flower Crafts. I even happened to have a few extra blank books and laminating sheets all ready to go!
Supplies:
Blank Book (I purchased these from Rainbow Resource)
First Holy Communion Image (I choose one from a First Holy Communion Holy Card. Another option would be to have the child color a First Holy Communion Coloring Page.)
Glue Stick
Self-Adhesive Laminating Sheets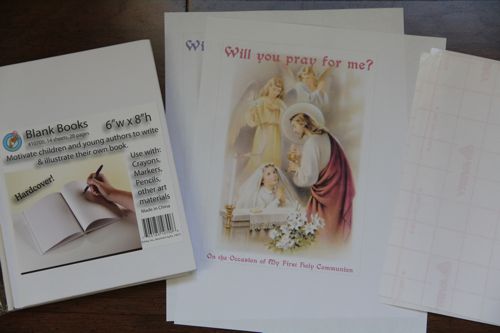 Directions:
Re-Size First Communion Image or Coloring Page to fit on the front of your blank book or notebook. Add "Will you pray for me?" to the top of the page and "On the Occasion of My First Holy Communion" to the bottom. (Originally I was going to keep the type green, but the girls asked for pink and purple!) Have each girl color the image and/or glue to the front cover of their book.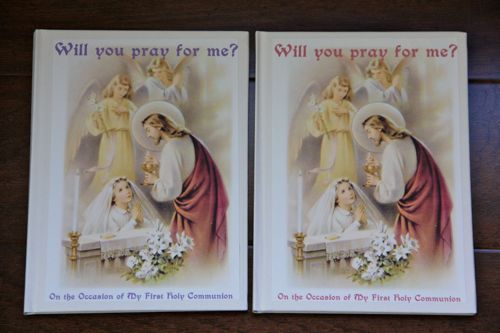 Trim laminating sheet to 1/4-1/2″ past each side of the book, cutting the two outside corners at an angle, so that you can wrap it around the edges to secure. (I was able to cut the 9×12 sheets in half, using one sheet for two books.)
While I was at it, I also created a Boy version as well. You can find all of the documents I created over at Scribd:
On the First Inside Page I wrote my daughter's full name and the date of her First Holy Communion, followed by the following prayer:
Corpus Dómini nostri Jesu Christi custódiat ánimam tuam in vitam æternam. Amen.
May the Body of Our Lord Jesus Christ preserve your soul unto life everlasting. Amen.