… For Rascal's 111th Birthday!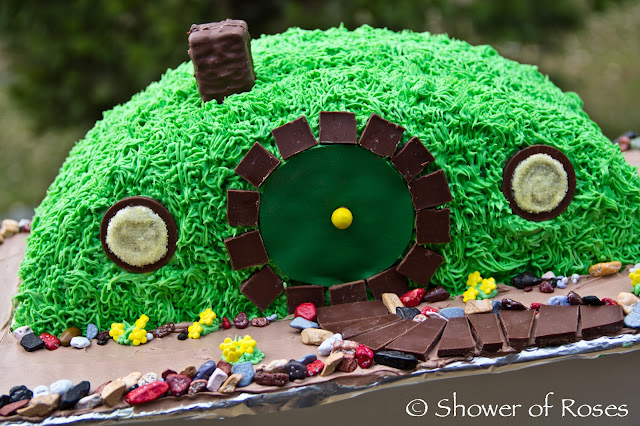 After listening to the excellent unabridged version of the Hobbit, and watching the movie, Rascal requested a "Hobbit" themed birthday for his 11th birthday this year! Our cake turned out differently, but was mostly inspired by Charlotte's recent Hobbit Hole cake and Rascal's Hobbit Hole Lego Set. Usually I wait until the kids are in bed to decorate their cakes, but today I decided to take advantage of the long nap Bud took this afternoon. So now I get to share it with you tonight!
My Supplies:
2 boxes cake mix (Rascal choose Triple Chocolate)
Oval Cake Pan (I have the Oval Pan set which I love! I first used them for our Nesting Doll Cake and also use them each Easter for Egg shaped cakes! For this cake I used the 13.5″x9.8″ Oval)
Filling/Frosting of choice
2 containers white frosting
leaf green icing color
Wilton Tip #233 (for grass) with decorating bag and coupler
Nutella mixed with a little of the extra white icing (for the ground – chocolate frosting or brown sugar would also work)
1 granola bar (for chimney)
2 large chocolate coins (for windows)
yellow sprinkles (or yellow frosting)
1 green sugar sheet (for door)
1 yellow Sixlets (for door knob)
Candy Rocks (decorations)
Candy Flowers (I used these.)
2 Hershey Chocolate Bars (for around door and walkway)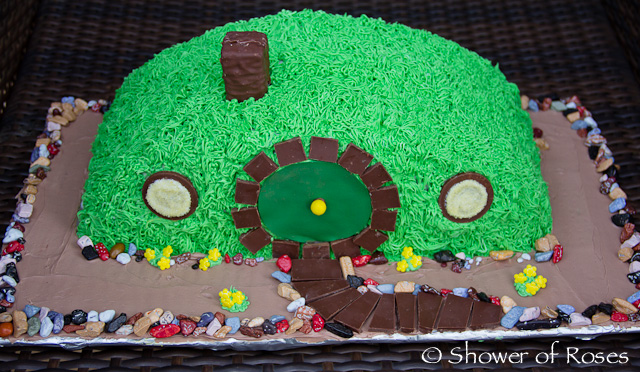 Assembling the Cake:

Bake two oval cakes. Cool. Slice each cake in half lengthwise.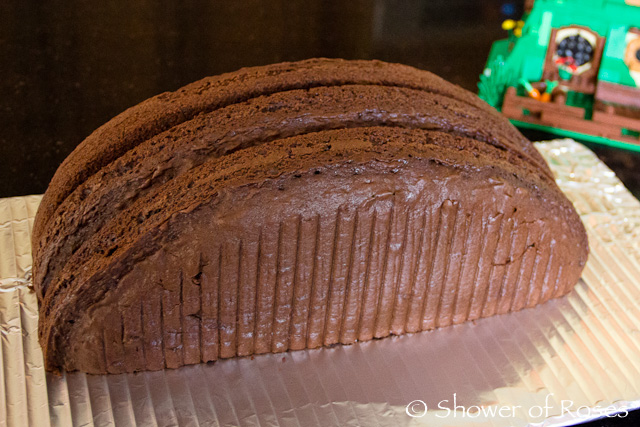 Line up the cakes on platter, filling with frosting/filling of preference. (We ended up only using 3 of the 4 cakes halves, and 2 – one cake – might have been enough, but we liked the look of the three cakes halves best.) I then covered the cake with a layer of white frosting. (I usually then stick it in the freezer to harden, but didn't this time and regretted it later!)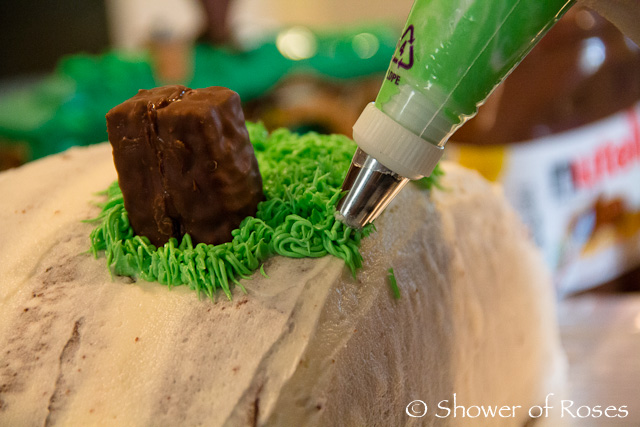 Make the chimney. Slice a granola bar in half and stick the two halves together (we used a little Nutella). Place on top of cake.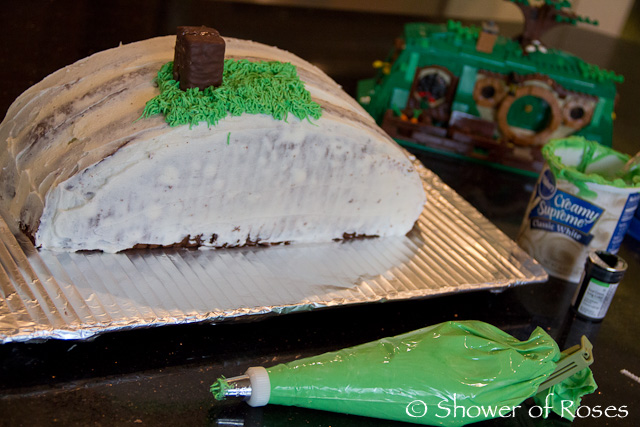 Cover the cake with green grass using tinted frosting and the grass frosting tip. This took a little while, and I bounced back and forth between it and other things, but it was fun!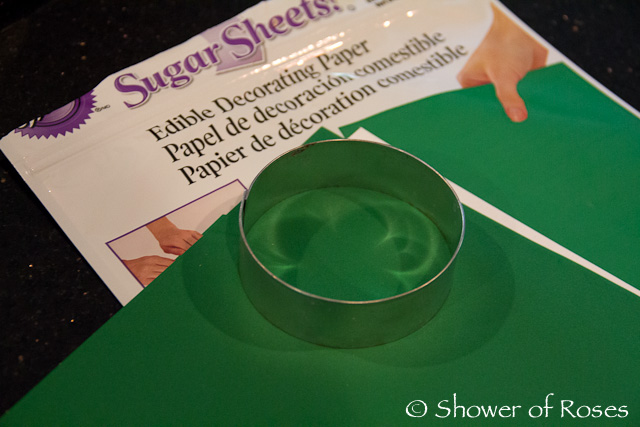 At Charlotte's suggestion I made the door with a Green Sugar Sheet! The cookie cutter helped with the size I needed and then I cut the circle out with a pair of scissors. For the yellow door knob, I just attached a yellow Sixlets with some chocolate.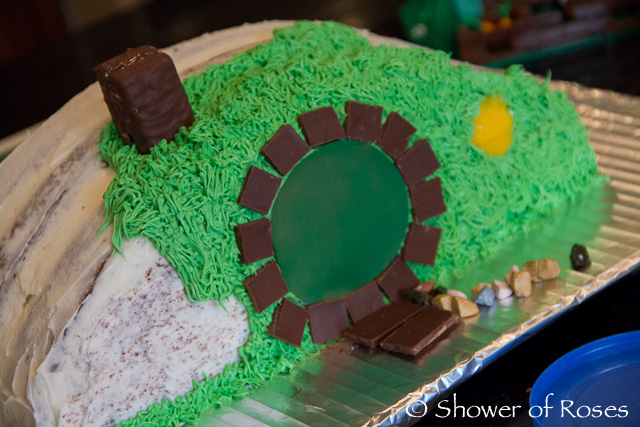 I made a big mess of the cake when I tried to use some Nutella around the door and the windows (I tried using yellow sparkle gel at first) kept wanting to slide down the front of the cake… So I searched through my supplies and pulled out a couple Hershey Bars and a couple chocolate coins. We cut the Hershey's into little squares for around the door and then put a little white frosting on the coins before dipping them in yellow sprinkles for the windows. Thankfully the grass covered all the mistakes!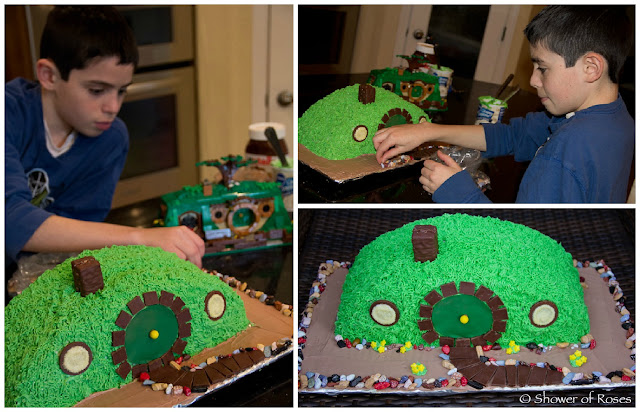 While I cleaned up the kitchen Captain helped arrange the candy rocks around the yard and then I added some yellow flowers.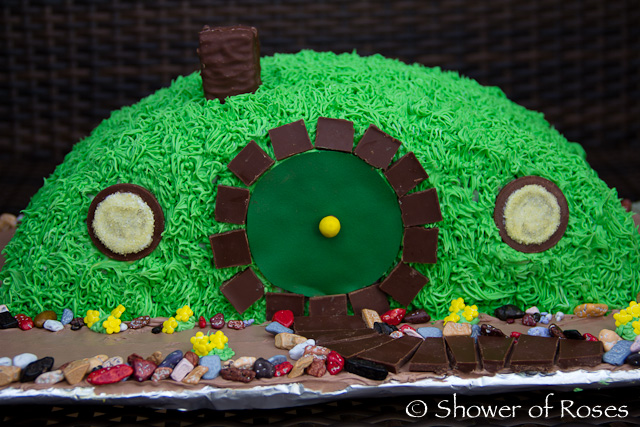 The birthday boy loves his cake and is very excited for the celebration to begin in the morning!