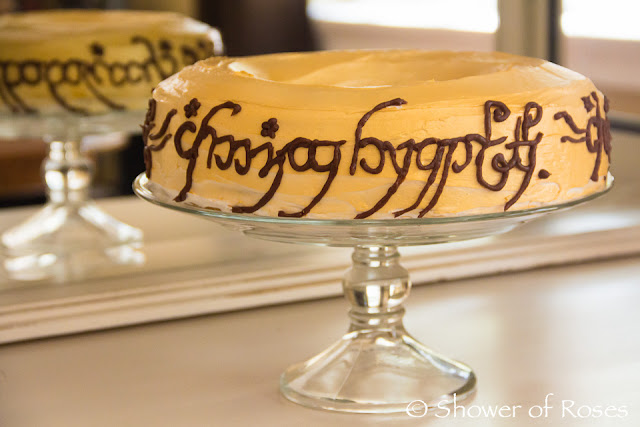 On Saturday we celebrated our oldest son's 13th birthday! This year he asked for a "Lord of the Rings" party theme and, after looking at many cakes, I decided to try and create a "One Ring to Rule Them All!" birthday cake for him! My inspiration came from The Art of Being Mama's beautiful cake, however I opted to use a dark brown frosting for the writing similar to this cake.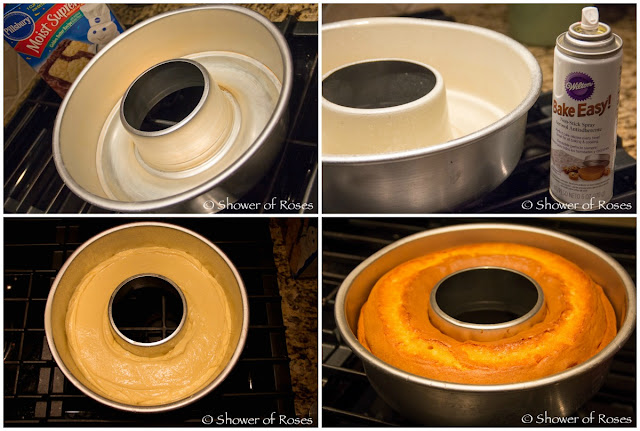 I went out searching for a "perfect" non-stick ring cake pan, but ended up using my aluminum jello mold. I was worried that the cake would stick to the pan, but with a nice thick layer of Bake Easy! it came out just fine. I've been fighting yet another sinus infection, as well as an ear infection and poison oak, so I kept things extra easy on myself and used a "Golden" Butter cake mix for the cake.
I ended up needing 1 1/2 cans of Fluffy White Whipped Frosting. After spreading the first can of frosting over the cake I popped it in the freezer for 20 minutes to seal in any crumbs and then finished it with one last smooth layer of white frosting before spraying it with a can of Gold Color Mist (picked up at Michaels for just a couple dollars after a coupon).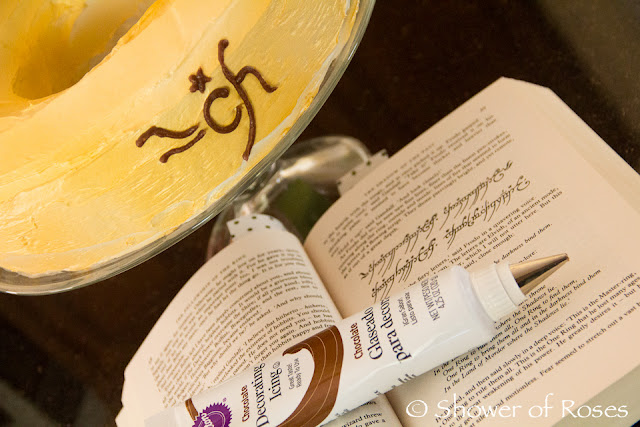 For the writing I used a tube of Chocolate Decorating Icing with a Wilton Round Decorating Tip #5 and copied the words directly from our copy of Lord of the Rings. I probably should have practiced a bit on paper first, and I wasn't able to fit the second half of the second line, but I thought it came out pretty well considering it was my first attempt writing Elvish!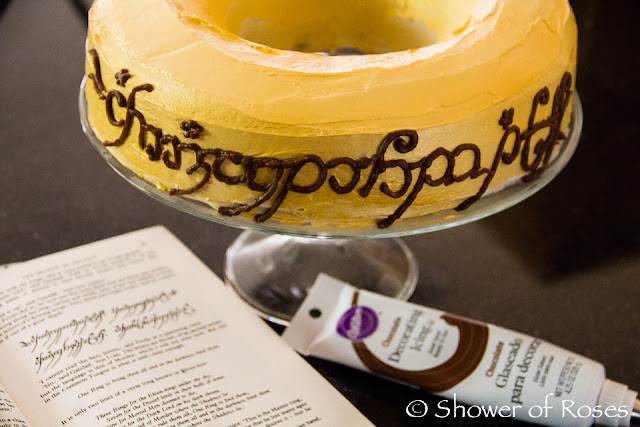 'I cannot read the fiery letters,' said Frodo in a quavering voice. 'No,' said Gandalf, 'but I can. The letters are Elvish, of an ancient mode, but the language is that of Mordor, which I will not utter here. But this in the Common Tongue is what is said, close enough:
One Ring to bring them all and in the darkness bind them.
It is only two lines of a verse long known in Elven-lore:
Three Rings for the Elven-kings under the sky,
Seven for the Dwarf-lords in their halls of stone,
Nine for Mortal Men doomed to die,
One for the Dark Lord on his dark throne
In the Land of Mordor where the Shadows lie.
One Ring to rule them all, One Ring to find them,
One Ring to bring them all and in the darkness bind them
In the Land of Mordor where the Shadows lie.'
He paused, and then said slowly in a deep voice:
'This is the Master-ring, the One Ring to rule them all. This is the One Ring that he lost many ages ago, to the great weakening of his power. He greatly desires it – but he must not get it.'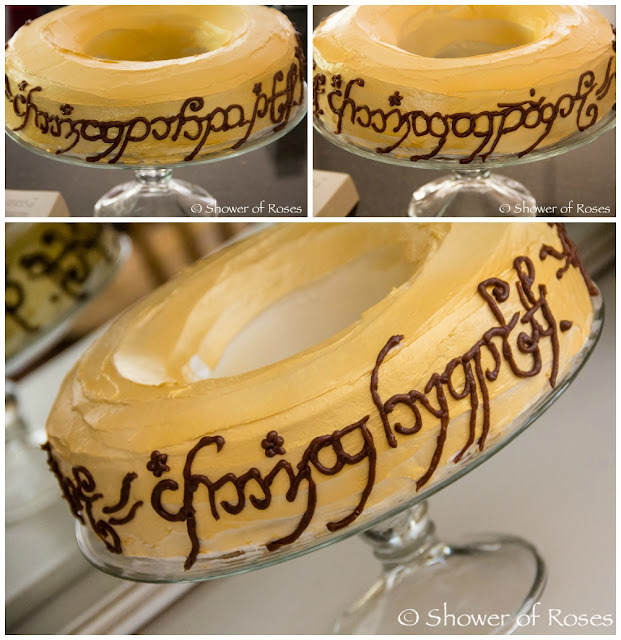 All seven of our children will be taking swimming lessons all of this week and next, but I'll be back tomorrow with additional pictures from Captain's Lord of the Rings Birthday Party!