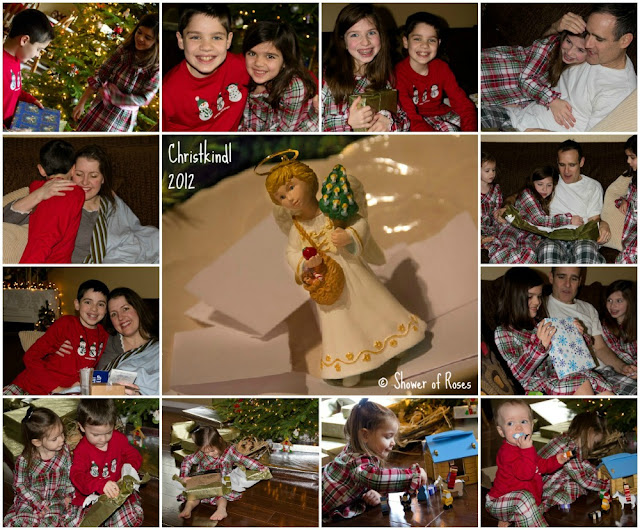 We loved incorporating the Christkindl tradition into our own family traditions this year! On the first Sunday of Advent we all drew names, and though out Advent we prayed and did special favors for that particular person. We did our best to keep who had who a secret and we actually did really well!
We wanted to end with a Christkindl gift exchange, so that was a little challenging, since some of the children needed my help to get the gifts for their Christkindl. We gave them each an allowance to do so, but my hope is, as they get older, they will make gifts for each other… it just wasn't practical this year, especially with our Advent birthdays.
I already knew that the Snuggles and Rose had each other, and had been helping them throughout Advent, and then I helped Rascal, Twinkle Toes and Chiquita with their gifts as well, but not until a couple days before Christmas. However, I still didn't know who had me, that narrowed it down to Sean and Captain, and I really thought it was Sean! (Though he did have me confused since I noticed him doing things for others throughout Advent too – Feeding the Cat for Rascal some mornings before work, beating me to putting the dishes away in the middle of the night so that Captain would find an empty dishwasher in the morning, bringing me home a coffee… I really wasn't sure who he had, though I did know it wasn't Captain!) It was a nice surprise to find out that Captain and I had each other!!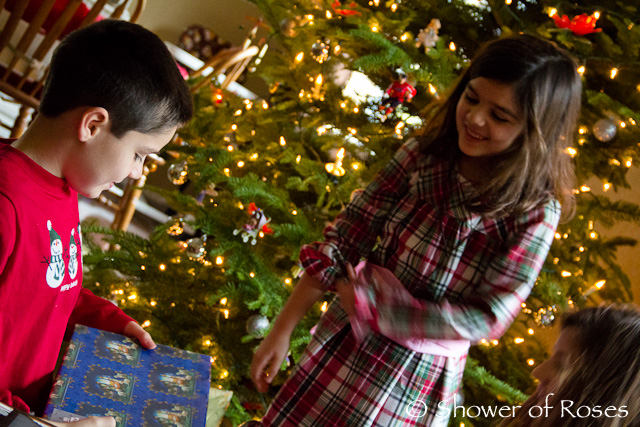 Anyways, Chiquita started our gift exchange, carrying her gift (a box she choose to fill with little packages of lego mini-figures) over to Rascal. Rascal then gave his gift (a set of Rebecca books) to Twinkle Toes.
Twinkle Toes had her Daddy! She was so cute and reminded him of a few nights before Christmas when we were praying the rosary… Sean sometimes asks the kids if they have a specific intention they would like to pray for. That particular night he asked Twinkle Toes and she responded, "My Christkindl!" Sean went on to expand on that intention, praying specifically for certain things for that person (grow in virtues, etc) and he had no idea he was asking for those things for himself! Very sweet!! And he loved the Latin Mass Missal Cover I helped her order for him, along with a Hershey's candy bar.
Sean went on to give Chiquita her gift (a set of Kaya books). (There was the surprise! I really did think he had me, ever since that hug!) At that point we just had Snuggles, Rose, Captain and I! I gave Captain Big Ben to build and he surprised me with a gift card to my favorite coffee shop and a hand-drawn picture to line the gift box! Snuggles and Rose exchanged gifts next… then it was time for more coffee breakfast, before the kids began opening the rest of their Christmas gifts. Gift opening aways takes quite awhile in our home! 🙂