It's time for our annual list of Christmas Gift Ideas & Stocking Stuffers including another Sleighful of Giveaways! This post always takes so much longer than I think it will, but I really love being able to bless so many families (29 this year!) with the gifts donated by all the generous sponsors and help with shopping ideas at the same time. You'll also find many coupon codes listed below to help with your Christmas shopping!
Grab a cup of tea or coffee when you have a few minutes and enjoy browsing our online gift guide and the incredible websites of all the various sponsors.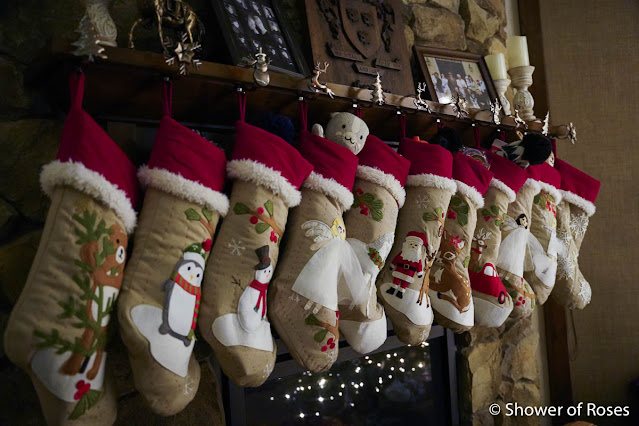 Be sure to scroll all the way to the bottom to enter the giveaway for a chance to win one of 29 PRIZES with a combined value of $2,600! Please keep these Catholic businesses and authors in mind when shopping for gifts this Christmas season! 
.: New Finds For Advent & Christmas 2022 :.
.: Gift Ideas for Catholic Moms :.
.: A Sleighful of Giveaways :.
(Each individual prize ranges from a minimum of $50 up to $165 this year! There will be 29 winners.  You have more than one way to earn entries so you could possibly win more than one prize! Thank you so much to all these generous businesses for sponsoring this giveaway!) 
Prize #01 – Free subscription to our 2023 Quarterly Subscription Box! Each quarter a new item will arrive in the mail with a unique piece of jewelry and a special note behind the inspiration of each piece. Centered around the liturgical seasons, boxes will be sent within each quarter (April-May, July-September, October-December) with a theme related to a special feast day or celebration. By the end of 2023 recipients will receive four handmade gifts. Sponsored by Telos Art Shop (value $165.00)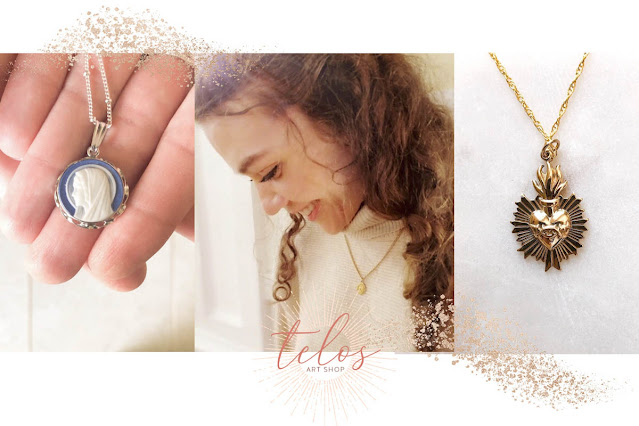 Shower of Roses readers receive a special discount of 15% with code ROSES
Congratulations, Anastasia W! 
Enter Promo Code SHOWEROFROSES at beginning of checkout to SAVE 10%
Congratulations, Blair B! 
+ + +
Prize #03 – Silicone baby rosary, our pacifier doll collection (Mary, Jesus, and Joseph), a muslin baby blanket, a Gemstone Rosary bracelet, and a rosary pouch sponsored by Chews Life (value $154.00)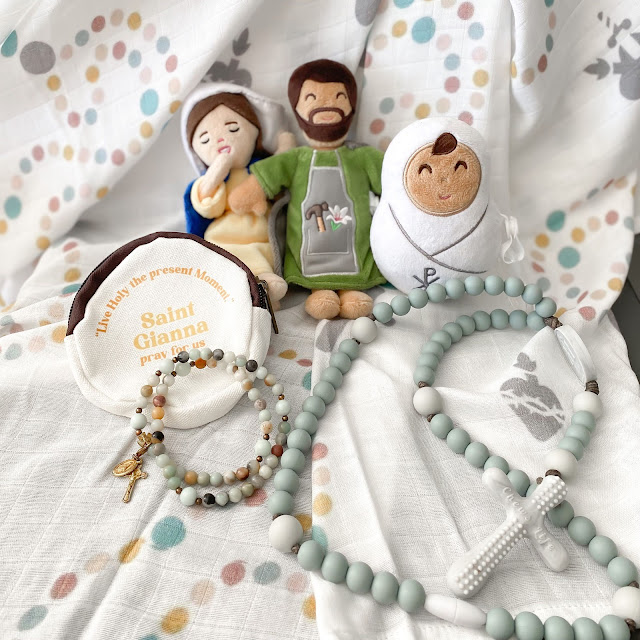 Congratulations, Natalie K! 
Prize #04 – 2023 Wall Calendar, 2023 Catholic Planner plus tabs, Rosary Flip Book, Stations Flip Book and Catholic Planner Sticker Sampler sponsored by Elizabeth Clare (value $144.98)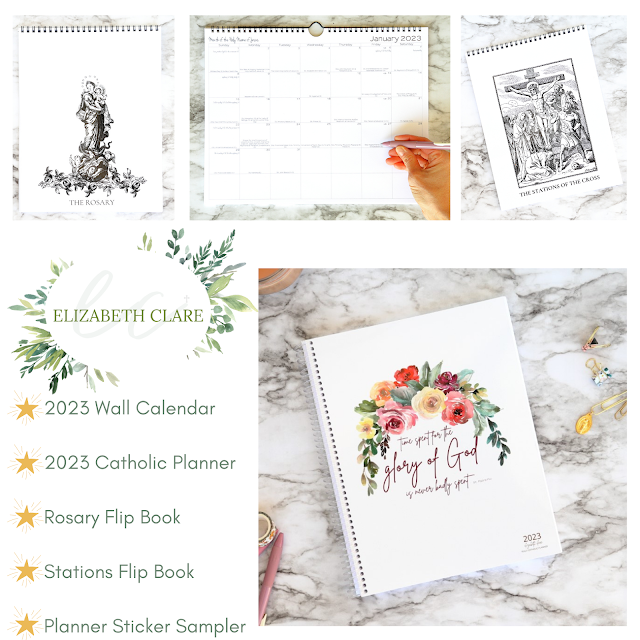 10% off orders of $75+ with coupon code SHOWEROFROSES
Good on Etsy or website and valid through 12/10/2022
Congratulations, Rosie T! 
+ + +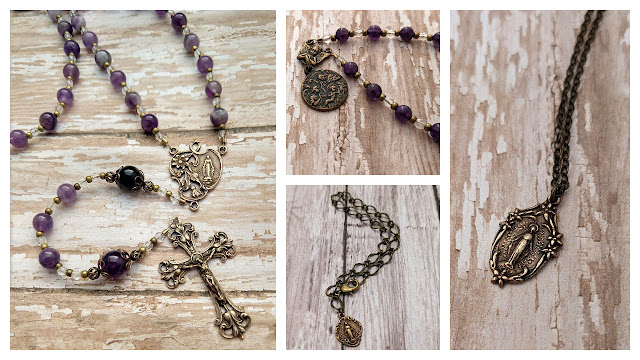 Coupon Code: ROSES15 for 15% percent off thru December 15th
Congratulations, Windy! 
+ + +
Prize #06 – Handmade St. Francis of Assisi rosary in solid bronze and liturgical brocade rosary pouch sponsored by Come Holy Spirit Rosaries (value $117.00)
+ + +
Prize #07 – 12 saint blocks of your choice (300+ to choose from!) sponsored by Almond Rod Toys
(value $115.00)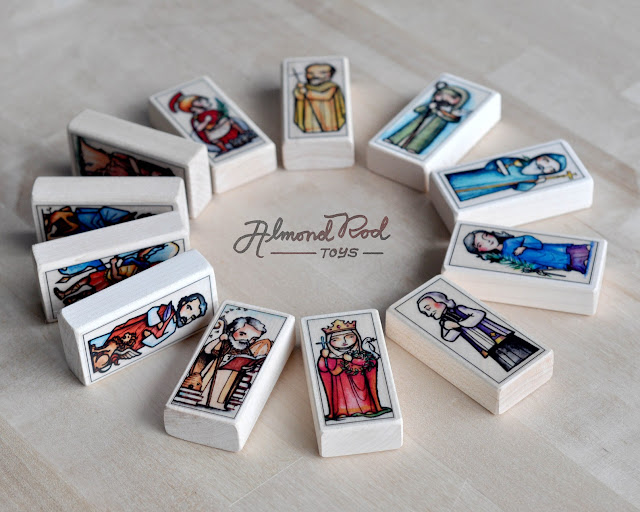 SAVE 10% in November 2022 with Coupon Code MERRY 
Congratulations, Kristina E! 
+ + +
Prize #08 – Coffee and Kids Christmas give away!!!! Sit down, relax, and enjoy a cup of high quality, award winning coffee from Guadalupe Roastery while your children read an issue of St. Mary's Messenger Magazine. This special give away includes (2) One year, quarterly subscriptions of St. Mary's Messenger Magazine valued at $19.95 each. PLUS (2) 14 oz. bags of Nicaragua Matagalpa coffee valued at $16.95 each. Sponsored by St. Mary's Messenger and Guadalupe Roastery (value $113.70)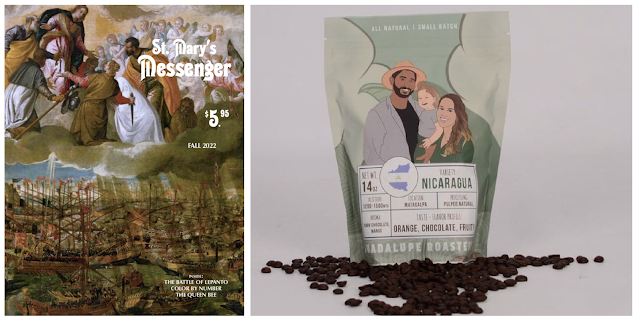 Congratulations, Lindsay K! 
Prize #09 – Five Preschool Books and Three Coloring Books: My Little Patron Preschool Practice Book, Saints & Blesseds from A to Z, My Little Patron Flashcard & Game Book, My Little Lined Notebook (your pick of color: blue, pink, purple or green), My Little Graph Ruled Notebook, Saints for Boys Coloring Book: Vol 1, Saints for Girls Coloring Book: Vol 1, and Happy Easter Coloring Book plus the Planner & Preschool Guide Book + PDF version, and a pdf of the Traditional Rosary Guide & Marian Prayers sponsored by My Little Patron (value $107.19)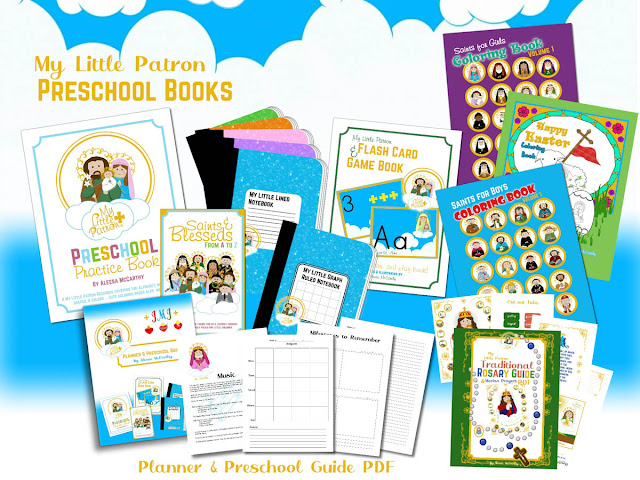 Congratulations, Susan L! 
+ + +
Prize #10 – Set of 8 Cookie Stamps with Recipe Booklet (Includes: #416 – Snow Star, #463 – Christmas Ornament, #020 – Frosty, #355 – Trumpeting Angel, #023 – Holly Sprig (1), #030 – Christmas Tree, # 368 – Nativity and #271 – Jolly Santa) sponsored by Rycraft Cookie Stamps (value $103.92)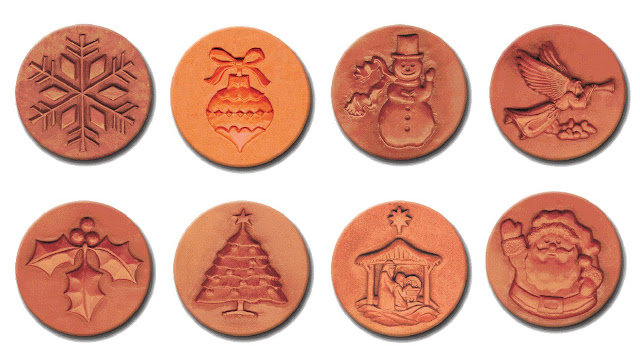 Congratulations, Megan C! 
Prize #11 – Advent Crate sponsored by Catholic Family Crate (value $100.00)
Catholic Family Crate is a brand that creates Catholic gifts, educational materials, spiritual tools, and beautiful art to help children fall in love with their Catholic faith. Our products make wonderful gifts to children, families, and teachers for birthdays, sacraments, appreciation and so much more! From art, prayers, and stickers, to mass kits and at-home activity crates, we inspire children and families to learn and practice their Catholic faith. 
is good for 20% off the 1st month of a subscription OR 20% off anything in the store
(valid November 14, 2022 to December 31, 2022)
(Ends at midnight on 11/23/2022)
Looking for more ideas?