Haha! I spy two teens making fun of the paper dolls, putting baby Carrie's head on Pa's body…
These were so easy to make using sugar cones, pretzel sticks, melted chocolate, sprinkles and green coconut for grass. The kids had so much fun decorating the teepees.
We ran out of time to make them on her birthday.
I had so many games that I wanted to play (including kick the can and potato sack races!) but we ended up just having time for Animal Tracks Memory! I picked up Animal Tracks while we were in Yellowstone last summer and still had it tucked away in my closet. It was perfect for the "Little House on the Prairie" themed birthday!
Her older siblings turned on some fiddle tunes and set up the game in the shape of a little house!
In addition to her two favorite pizzas (Pepperoni/Olive and Hawaiian) I also picked up a "Cinnamon Wheel" from Papa Murphy's! Mmmmmmm… Smelled so good!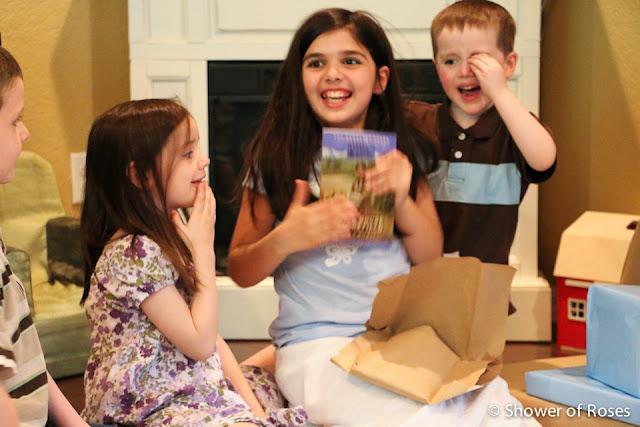 Sean and I were both surprised at just how excited she was when she opened her first gift from us, Little House in Brookfield (The Caroline Years, Book 1). She has been wanting the rest of the Caroline, Charlotte, and Martha books for awhile now. I need to keep searching for the rest.
She LOVED her cake!
I served the cake with Rocky Road Ice Cream, recalling the rocky roads and trails traveled by the pioneers in their covered wagons.