It's been gorgeous outside this week! After just two weeks of golf, the boys had their very first high school junior varsity golf tournament on Monday (they came in first and second place!) and their first high school varsity tournament on Wednesday (they didn't place last!).
I am thankful…
that I was able to spend some time with my mom and youngest brother while watching the boys golf on Wednesday! My two youngest brothers actually competed against some of the current high school seniors just a few years ago, back when they were seniors and the current seniors were all freshman, including one of the boys on my boys' team! (My brothers both play college golf now.) It was kind of funny overhearing all the parents, coaches, and golfers coming up to my mom, saying hello, and finding out that she was there to watch her grandsons who are now in high school! 🙂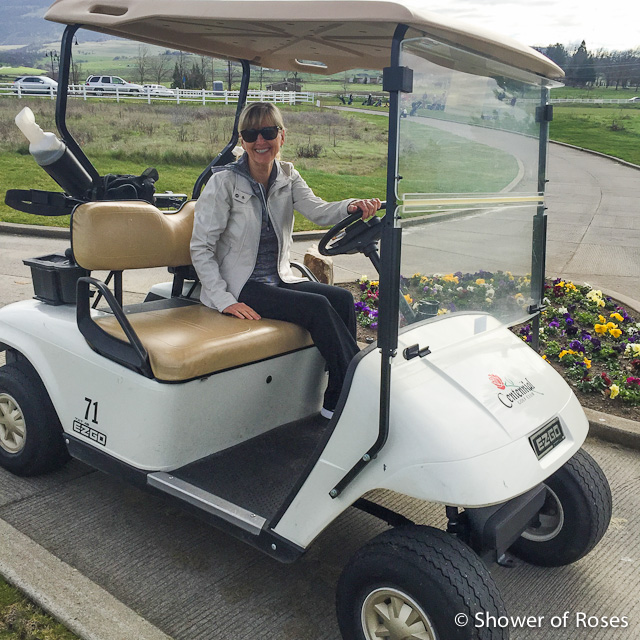 My Beautiful Mom ♥
She will be having another MRI in May – Thank you all for the continued prayers!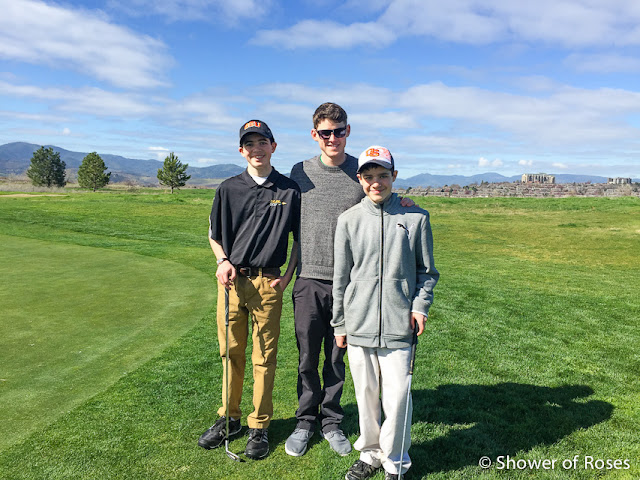 Uncle David's college team is currently number 14 on the national 2015-16 NAIA Men's Golf Coaches' Top 25 Poll!
I am thinking…
about ways to balance school and sports. It's been challenging for the boys to keep up with their full schedule, but they are sure loving the opportunity to participate in high school sports this year!
Learning all the time…
our Spring Break is next week. We'll be taking a break from our usual studies and spending lots of time in the car! I'm trying to come up with some fun plans, maybe visit a Catholic college and at least a couple missions. I also need to make sure to fill a media card with some new audio books…. Adding that to my to-do list now.
Celebrating the liturgical year…
I actually thought we'd be celebrating this feast on the road this year, so I picked up St. Patrick's Day Potatoes from See's Candies to pack along for all the kids. I loved these back when I could eat them. They were a hit! Now to come up with some ideas for celebrating St. Joseph's Day in the car…
From the kitchen…
Shamrock Cinnamon Rolls! They turn out a little differently from year to year, but always delicious!
I am creating…
Blessed Trinity Shamrock "Glory Be" Prayer Posters! I actually created these for the children earlier this school year, while studying St. Patrick in history, but we pulled them out again today!
I am going…
to visit Sean's parents! Apparently it's been "5 years and 4 months" since we have all been there for a visit. (Sean took the five youngest a couple years ago.) It's going to be a challenging drive to say the least, but we are all so excited to see them again! We were suppose to leave on Wednesday but the boys' golf tournament schedule changed and we won't be able to leave until this weekend.
I am hoping…
that all the time in the car doesn't set me back too badly… My tailbone is taking forever to heal! Such a pain… Lots to offer up for Holy Week!
I am reading…
The Wolf and the Shield. Actually, I am just listening to Snuggles read it aloud!
I am praying…
for a safe trip. Will you please keep us in your prayers?
Pondering these words…
from the confession of St. Patrick:
I am listening…
an audio drama about St. Patrick: Torch of Fire.
Around the house…
Lots of half packed suitcases. I have so much to do and not nearly enough time… Pretty much the theme of my life lately! 🙂
One of my favorite things…
saint dolls! The newest addition to our collection of St. Patrick toys (including St. Patricks from Catholic Folk Toys, Shining Light Dolls, Tiny Saints, and Almond Rod Toys) is this beautiful St. Patrick from Naturally Catholic!
A few plans for the rest of the week…
One more golf tournament for the boys Friday while the girls and I catch up the laundry and pack!
A little peek at my day…