For a few days last month St. Augustine Academy Press offered their recently republished Highway to Heaven Catechism series at 40% off! Book Six in the series wasn't available yet, but it is now!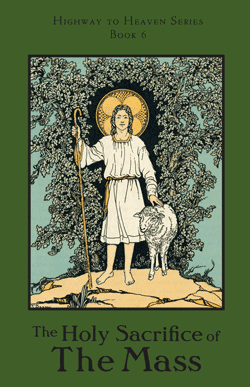 Produced by the Marquette University Institute of Catechetical Research under the editorship of Edward A. Fitzpatrick in the 1930's, the Highway to Heaven series of Religion textbooks is a breath of fresh air. Unashamed love of the Catholic Faith is evident on every page.
Full of beautiful black and white illustrations, The Holy Sacrifice of the Mass is the Sixth Grade text in the series. It studies the Traditional Latin Mass with particular attention toward helping young people learn to use the Missal.
Unlike the other books in this series, which we reproduced directly from the originals, we have retypeset this volume. This was because we needed to combine elements of two different editions: the original 1937 edition (which, like the rest of the series, used the unrevised Baltimore Catechism) and the 1949 edition (which added a chapter on the priesthood that was very much worth adding). In melding these two editions, we took the opportunity to improve the illustrations as well, which were mostly aged photographs.
Note: No coupon code is necessary. Simply placing any of the books from the Highway to Heaven series in your cart will trigger this discount. Hurry though, offer expires at midnight on Sunday, October 29, 2017.
Highway to Heaven Series: