May the Pure Love of the Sacred Heart of Jesus be Ours & Enlighten the World this St. Valentine's Day
I started this post last week and it's taken me a whole week to get back to finishing it. Anyway…
My girls were the creative ones this year, with their Little Way Valentines and Nutter Butter Heart Cookie Valentines! Here's a picture of my simple contribution to this year's St. Valentine's Day celebration with friends. I love our collection of bundt pans. (This particular heart pan is currently 48% off!) They made cake decorating so easy when I'm low on time. I had hoped to add lots of red berries, like I did for our daughter's When Calls the Heart birthday cake, but was never able to get to the store so I simply topped it with a holy card.
Meanwhile our little ones colored a couple St. Valentine coloring pages. Someone couldn't find anything red to wear so he decided that green was the next best option, after all St. Patrick's day is coming up soon! 😉
While our kids were at the party I had another ultrasound followed by another appointment with my doctor to check on the baby. Despite the never-ending nausea our little girl is healthy and well!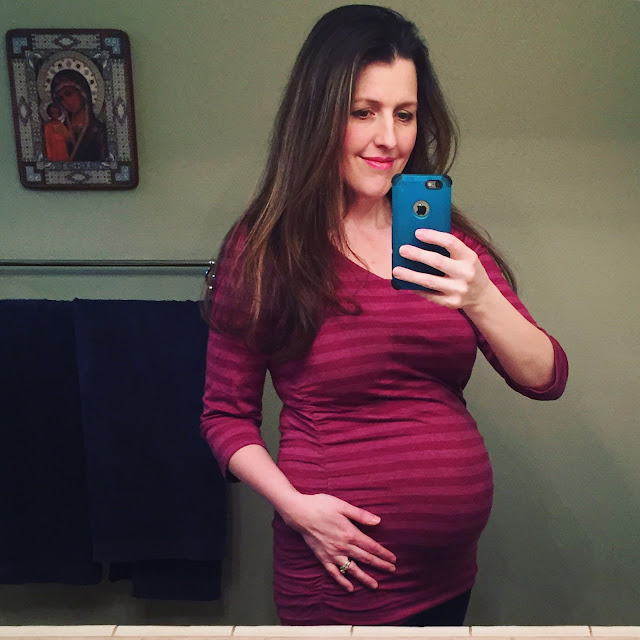 Feb 4th: As of this weekend we've made it to 20 weeks! I still get sick and am nauseous on a daily basis (though not anywhere near as bad as the first trimester – those St. Nicholas Day letters/prayers from the kids did the trick!) and I have to be very careful to keep cramping to a minimum, especially with my history of pre-term labor, but it will all be worth it. Halfway there and so excited to meet our new baby girl this summer! Thank you all for the prayers. They are appreciated more than you know! #hyperemesisgravidarum #lowlyingplacenta #20weekspregnant
Feb 14th
: I'm so very grateful for all the extra prayers, they are making such a difference! I was blessed with another little peek at our baby girl today… She is doing well and my placenta has also moved up a few centimeters over the last two weeks to just above the low-lying/problem area! My next appointment isn't for a month! Deo gratias! #21andahalfweekspregnant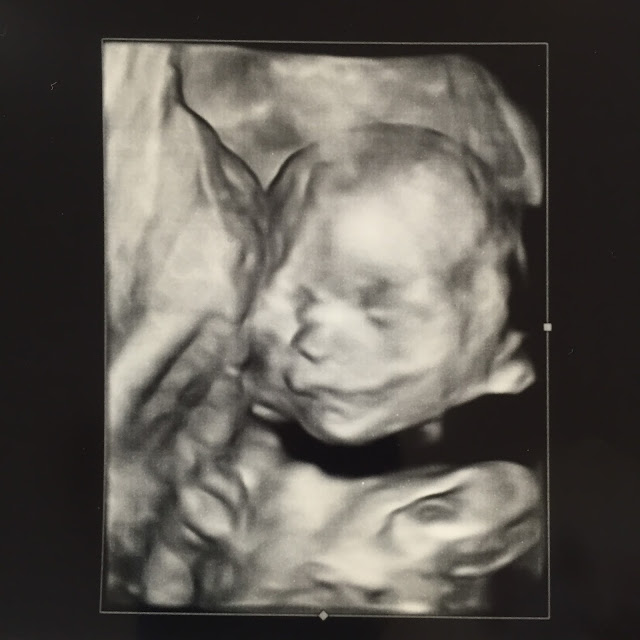 As of tomorrow, Feb 25th, our baby girl will be 23 weeks!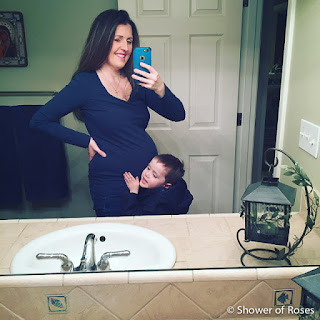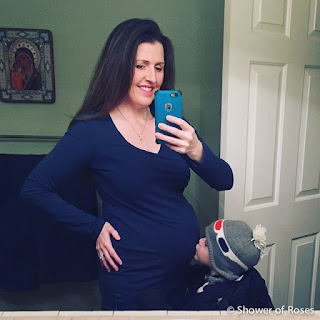 Here are a couple pictures taken last week, as I was helping the girls with their hair before they headed out the door to a hockey game with their dad and brothers. The first thing our little guy does in the morning and the last thing he does before bed is say good morning and goodnight to his baby sister. He talks to her all day long too, trying to feel her move, telling her little things about our day, or asking her what she is doing. Before leaving he ran back to give her a hug and tell her something… Then he came back to give her a kiss goodbye. I can hardly wait until he gets to hold her for the first time! #bigbrotherbabysister #unexpectedblessings #countingthedaystojune24