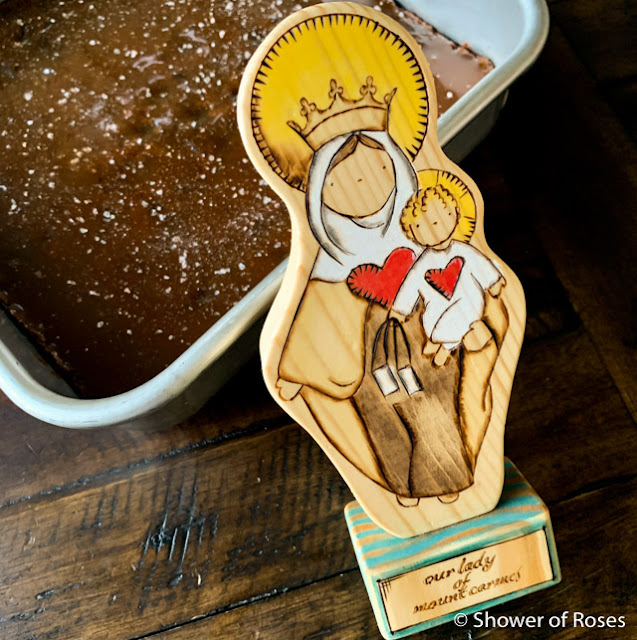 "One day through the ROSARY and the SCAPULAR,
I will save the world." – Our Blessed Mother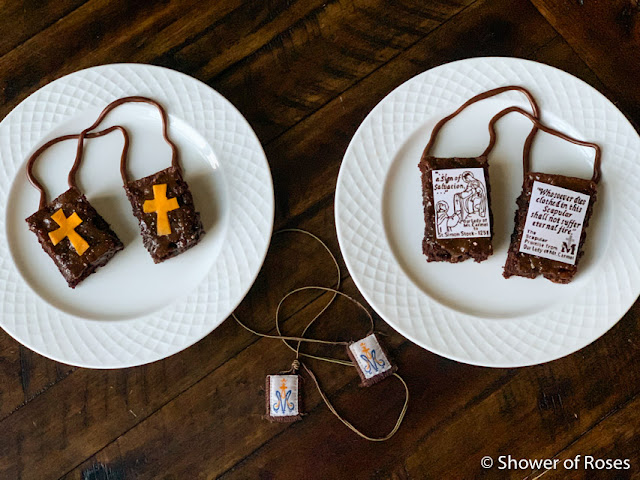 Salted Caramel Brownie Scapulars
Ingredients:
Trader Joe's Brownie Truffle Baking Mix
Trader Joe's Fleur de Sel Caramel Sauce
Sea Salt
Caramel Candies (optional)
Directions:
Prepare and bake the brownie mix according to the instructions on the box.
As soon as brownies are out of the oven and still hot, poke some holes in the top of the brownies and then pour the caramel sauce over the top (the entire jar). You won't need to spread the caramel. It will even out on it's own.
Allow the brownies to cool for about 20-30 minutes. Apply sea salt (to taste) right before serving. Remember, a little bit of the sea salt goes a long way in flavor…so start with a tiny bit and then add more if needed.
Optional: Cut into small rectangles to create "Brown(ie) Scapulars." Roll out a piece of Caramel into two long "cords" to attach.
(We used Caramels that were just brought back from France and given to us from friends following their Chartres Pilgrimage!)
Either print out
an image
to place on top or create a cross out of dried mango.