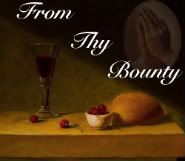 Today, we will be having a Holiday Foods and Feast Fair over at Catholic Cuisine. I am really looking forward to reading through the different traditions and recipes that will be shared!
Whenever we are headed out to my parents for Thanksgiving or Christmas, my mom usually asks me to bring some of the desserts. I recently shared a favorite recipe for Frosty Pumpkin Dessert which is SO SUPER YUMMY, but I thought I would take this opportunity to share another of our favorites, Cappuccino Mousse Trifle.
My hubby and I love Tiramisu. However, it is so time consuming to make that I rarely ever make it. So when I found this recipe, in one of my Pampered Chef Cookbooks
, which is very similar to Tiramisu, and OH SO MUCH easier, it was an instant hit!
Cappuccino Mousse Trifle
Ingredients:
1 (16 ounces) frozen prepared pound cake
2 1/2 cups cold milk
1/3 cup instant coffee granules
2 packages (3.4 ounces each) vanilla instant pudding and pie filling
2 containers (8 ounces each) frozen whipped topping, thawed
1/4 teaspoon cinnamon
1 square (1 ounce) semi-sweet chocolate for baking
Directions:
Cut pound cake into 1-inch cubes; set aside.
In a bowl, whisk milk and instant coffee granules. Let stand 5 minutes or until dissolved.
Pour 1 cup of the milk mixture a measuring cup; set aside. Add pudding mix to remaining milk mixture in bowl; whisk until mixture begins to thicken. Gently fold in one container of whipped topping.
To assemble trifle, place 1/3 of the cake cubes into bottom of a bowl. Pour 1/3 of the reserved milk mixture evenly over cake cubes. Top with 1/3 of the pudding mixture, pressing lightly. Grate 1/4 of the chocolate over pudding mixture. Repeat layers 2 more times, reserving the remaining grated chocolate for garnish.
Fill a decorator with 1 cup of the remaining whipped topping; set aside. Spread remaining whipped topping over entire top of trifle, creating a smooth surface. Decorate by piping rosettes around edge of bowl. Grate remaining chocolate in center; sprinkle with cinnamon.
Yield: 10 servings
What is your favorite Thanksgiving or Christmas dessert?