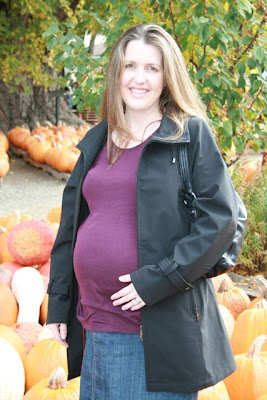 After Mass and Benediction this morning, we finally took our children to the pumpkin patch so that they could pick out their pumpkins to carve.
While we were there, I couldn't help but think about the last time we brought our children to this particular pumpkin patch, almost one year ago to the day. I was 8 weeks pregnant at the time, and we excitedly shared the news with some of our friends. Little did I know that just one month later, I would miscarry our little one, and be told by the doctor that he had stopped growing between 7-8 weeks. Looking at the pictures from that day, and remembering that I was 8 weeks along, still brings tears to my eyes.
What tremendous sorrow and heartache losing a child causes…
Yet, it is a strange thing — God's plan. Had I not miscarried Gabriel last November, I would not currently be carrying the precious little gift He is sending us this Christmas, which is ironically just 8 weeks away. God is Good!!