This was the first year, in 6 years, that we did not attend our annual All Saints' Party on All Hallows' Eve…
There were 3 of us planning the party this year, and unfortunately quite a few of the families that normally attend were recovering from the flu, and even more families coming down with it, so we decided it would be best to cancel it this year.
Honestly, I was relieved. It is a LOT of work to put on our party, and I just didn't have the energy this year… Instead of spending the morning getting ready to go and the early afternoon setting up, I made a big breakfast for my family, then we carved our pumpkins, roasted the seeds, decorated Holy Ghost Cookies, colored pictures of the saints, ordered pizza, and put the finishing touches on the costumes before heading to Rascal's Godparent's home for the evening, along with 2 other (healthy) families. Actually, between the four families, we had nearly 20 children (all but 4 of them being boys!), and they had just as much fun as they would have had at the parish hall, playing various games and bingo, while winning way too much candy!
I had a wonderful time just relaxing and visiting with my friends, so I didn't even take that many pictures at the party. Here are a few I did take:
~ Decorating their Treat Bags ~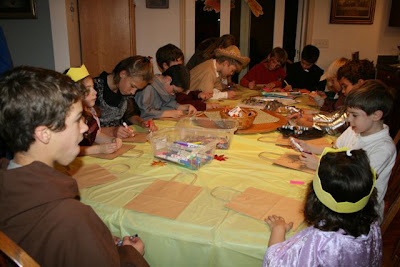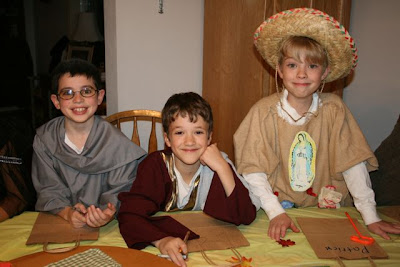 ~ Bingo ~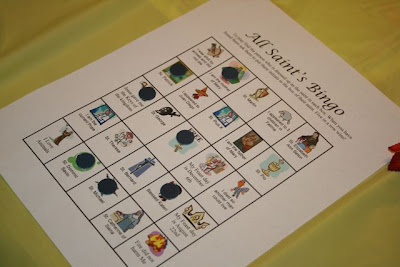 ~ More Games ~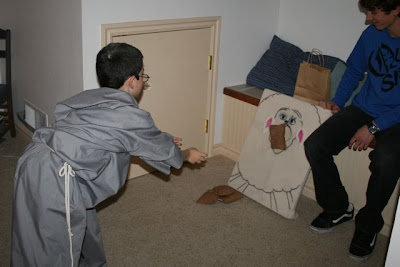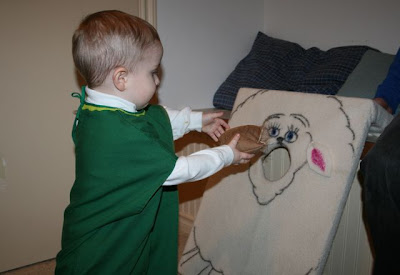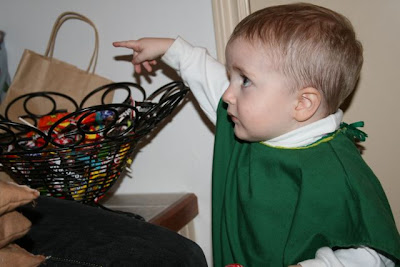 ~ Musical Saints ~
~ Smiling Faces ~