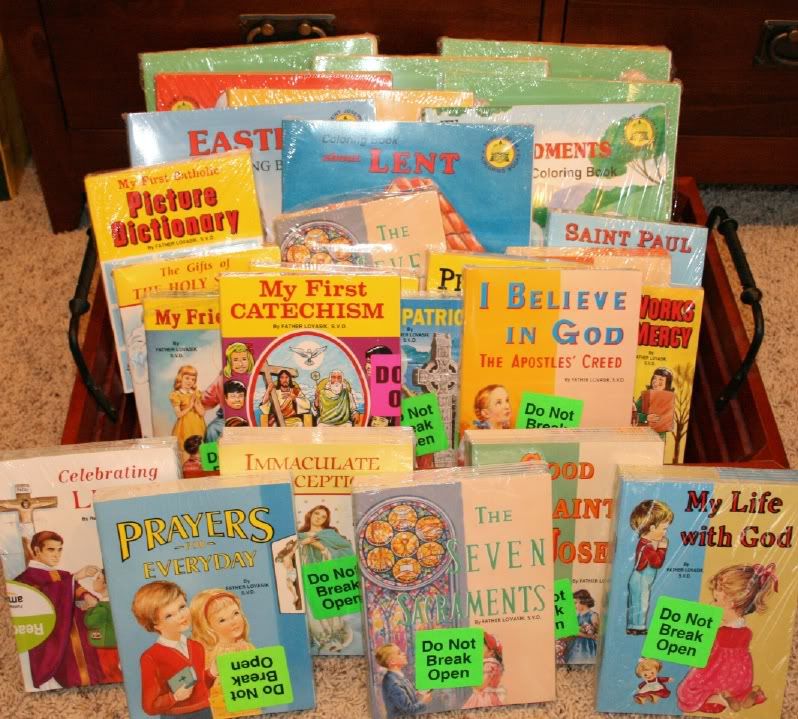 I know I posted about this last month, but as my orders arrive I am just amazed at how great a deal this really is, so I thought I would post it one more time for any of you that were too busy to read blogs over Christmas.
Amazon has been offering a whole bunch of ten-packs of the St. Joseph Picture Books and Coloring Books for only $1.50 (for all ten), plus most of them qualify for Amazon's 4 for 3 promotion where if you buy 4, you are only charged for 3! They also qualify for Amazon's Super Saver Shipping with a $25.00 purchase.
With the promotion this brings each book down to only .11cents each. At this price they can be used for so many different things including:
Birthday gifts for my children and their cousins/friends
Baptismal Anniversary gifts for my children and Godchildren
Nameday Gifts
Perfect for in Easter Baskets
Christmas Gifts
Favors for Feast Day Celebrations
Prizes for Little Flowers and Blue Knights
Prizes for All Saints Party
Fundraisers!
My favorites are the old original Father Lovasik books that I remember reading as a child. (I prefer the old more traditional illustrations that they have–for example I love this book about the Apostles of Jesus, in this
new one the pictures of the apostles remind me of cheezy movie stars — not at all how I picture these much loved Saints.)

Here are some links to the Father Lovasik books I ordered:
I also ordered a few written by Rev. Jude Winkler:
And here are some links to 10 packs of Coloring Books (The Coloring Books are an even better deal at only $1.25 for 10 — after the 4-for-3, they are only .09cents each for THE WHOLE COLORING BOOK!!):
Before I go, I just want to warn you… If you end up ordering a bunch of these books be prepared for strange looks from your mailman when he starts delivering packages every day and questions from your husband on "just how much did you spend on all those books!" 😉