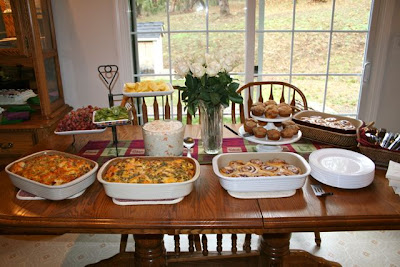 One of the dishes I served at the Baby Shower was my Aunt Bridget's Egg Bake, although I modified it to fit a 9×13 pan instead of a 6×10. I made it the night before the shower, since it is suppose to sit overnight and popped it in the oven in the morning. (I was SO excited when I realized, for the first time, that I could fit BOTH pans in my small SUPER OLD oven!! Yay!!)
Since I was asked to share the recipe in the comments, here you go:
Ingredients:
12 oz brown and serve sausage cut into quarters
7 slices bread pulled apart
1 1/2 cups shredded cheddar cheese
7 eggs – slightly beaten
3 cups milk
1 1/2 tsp dry mustard
6 oz diced chilies (I think I actually used 11 oz which made for lots of chilies)
Directions:
Place bread pieces in bottom of buttered 9×13 baking pan. Add sausage and sprinkle with cheese, reserving a small amount for the top. Combine eggs, mustard, milk, and chilies. Pour over cheese. Cover and refrigerate overnight.
Bake uncovered at 350 degrees for 50-60 minutes.