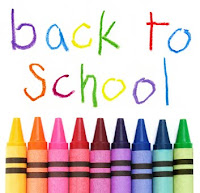 FOR TODAY: August 17th, 2009
Outside my Window… it is dark and almost time for bed.  Yay!
I am thinking… about sleep, but I really want to finish this post and share a little bit about our first day for this school year!
I am thankful… for Signing Time
!  Snuggles never tires of watching and learning from these DVD's and they were a lifesaver today while I was trying to get through the Math lessons with my other children this morning.  Thank you Rachel, Alex and Leah!!
From the kitchen
… Oatmeal with milk, brown sugar and raisins for breakfast, Turkey Sandwiches for lunch, and Lasagna for dinner.  I also enjoyed a delicious Chocolate Almond Coconut Biscotti from the Saturday Market this morning!  You didn't think I just got 
Back-to-School treats
 for my children, did you?
From the school room… I finally was able to post pictures of our school room yesterday.  If you missed them, you can see them here.   The room worked pretty well today, though we did take all of our reading to the front porch or living room.
Living the Liturgical year at Home… we celebrated the feast of the Assumption this past Saturday and I will try and post a few pictures soon.  It was such a lovely day! This coming Saturday is the feast of the Queenship of Mary and I am considering making another crown cake or some crown cupcakes .
We also caught up on our Saint magnets for the month, now that our calendar is back on the wall, and added the magnet for today this morning as we read about the Saint of the day, St. Hyacinth.  I wanted to try and find time to make some paper hyacinths, but I already had too much planned for today.   Perhaps next year.  (It also looks like Snuggles snatched a couple dates off the calendar  — one of his favorite things to do!)
I am creating (or rather created)… Colonial food with my children for Tea Time this afternoon, as part of our first stop Along the American History Path.   (Monday afternoons are dedicated to American History this year… Tomorrow we will be moving on to Science and starting their Astronomy Lap books.) 
We made Cornbread.  Yes, we took a nice little modern day shortcut and used a mix.
Then we made Maple Cream from the recipe found in American Kids in History: Colonial Days
.
I am going… to be staying home as much as possible this week as we try to develop a good routine for this school year.
I am hoping… that tomorrow will go as well as today, and that I will have a little more energy since we will be having company for dinner and possibly over night.  
I am hearing
… my children excitedly telling their daddy about all the fun things they did today in "school."
Around the house… amazingly everything is in pretty good shape.  Sticking with my schedule, and staying off the phone and computer, really made a huge difference.  In addition to school, by the time hubby got home, the kitchen had been mopped, dinner was prepared, dishes done, 4 loads of laundry washed and put-away, and the house picked up for the most part.
One of my favorite things…  Homeschooling!!!   (15 years ago it was one of my least favorite things.  God really does have a sense of humor!)
A Few Plans For This Week…
Our first week of school. 
Visiting friends for the afternoon and dinner on Tuesday.
Our new freezer will be delivered on Wednesday.  I am so excited!!
Mass & Benediction on Friday
A few more pictures from today: