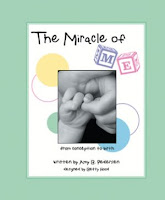 My latest book to review for The Catholic Company is the
Miracle of Me
by Amy B. Pederson. Since we are expecting another little miracle this coming Christmas, I was very excited to recieve this book and, hopefully, share it with my children.
The book is written from the unborn baby's perspective and is all about life in the womb from conception to birth. Each week has a short little poem about what is going on at that point.
For example, since I'll be 24 weeks this Friday, here is a little excerpt for Week 24:
"Every day, I hear sounds

that my Mommy's body makes.

Her beating heart, her pretty voice,

and every breath she takes."
Isn't that cute!?! The book is filled with these sweet little poems, one for each week of pregnancy. I love that it also includes rulers, and lots of real in-utero photos of the growing baby, which capture the awe-inspiring miracle of the growing baby inside the womb.
Speaking of the photos though, I must note my one objection to this book. There are a couple photos which I didn't care for and would rather not show my young children, particularly my boys. However, since I really like the rest of this book, I figured it would be easy enough to fix this little problem by pasting a couple pictures of my choice over the ones in the book. For example, one is from week 33 and is a picture of the mother's bare tummy (and upper leg) which shoes the baby kicking. (Perhaps if it was a little more cropped?)
Other than that, I have enjoyed looking through this book, and seeing just what my own baby is up to each week, while anxiously waiting for week 40 to arrive…
"The waiting is hard I know

God will send you strength from above

And just when you think you can't wait anymore,

I will be there for you to love."
Only 16 more weeks until Christmas! ☺
This review was written as part of The Catholic Company reviewer program. Please visit The Catholic Company to get more information on The Miracle of Me.