There is an old monastic custom of providing special treats, representing each of the "O Antiphons," leading up to Christmas. This has been a tradition in our home for a number of years now. It is such a fun way to teach the children about them and increase their excitement as Christmas gets closer! You can see what we have done the past couple years in either my
Feast Day Plans
post or under the
"O" Antiphons label
. There are even more great ideas over at
Catholic Cuisine
!
This year, since I don't know if I will be home or in the hospital, I have tried to keep our plans fairly simple (read: can be done whether or not I am home). Other than a couple of things that will have to be done on the particular day, I am all set for this year. Here's what I have planned for our family:
O Wisdom that comest out of the mouth of the Most High, that reachest from one end to another, and orderest all things mightily and sweetly, come to teach us the way of prudence!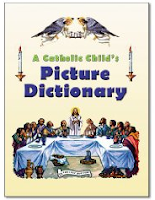 Since the symbol for wisdom is a book, this year I purchased a craft kit from Oriental trading for the children to make Christmas Bookmarks. Since we generally add a new Catholic Prayer Book or Catechism to our collection this day as well, this year we'll be giving the children A Catholic Child's Picture Dictionary
which was originally published in 1956 but has recently been reprinted. I was flipping through it the other day, before wrapping it up, and it looks wonderful!
O Adonai, and Ruler of the house of Israel, Who didst appear unto Moses in the burning bush, and gavest him the law in Sinai, come to redeem us with an outstretched arm!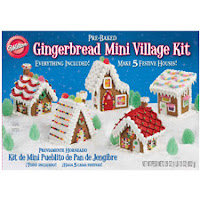 The past couple years, we have emphasized the word "house" in this Antiphon, and have made our Gingerbread houses this evening. This year, I found a darling little village of houses made by Wilton which I purchased for the children instead. (I've seen it at both Wal Mart and Michaels for less than $10! If you use a coupon at Michaels, it would only be $5-6!) This way they will each get to decorate their own. Isn't it cute!
O Root of Jesse, which standest for an ensign of the people, at Whom the kings shall shut their mouths, Whom the Gentiles shall seek, come to deliver us, do not tarry.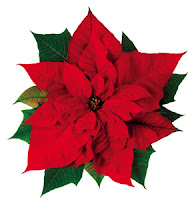 I was so happy when I received an email from a visitor letting me know that the main provider of Poinsettia's was removed from Life Decision's boycott list! Yay!! So, this year we will go back to purchasing our Poinsettia today and we will also read The Legend of the Poinsettia
. (Speaking of which, have any of you read The Miracle of the First Poinsettia
? It's not available at my library right now and looks good too!)
For dinner we will have Hearty Beef Stew, which is full of root vegetables. I even have it in the freezer, all ready to go into the crock pot, in case the baby has been born! And for dessert, maybe Carrot Cake.
O Key of David, and Sceptre of the house of Israel, that openeth and no man shutteth, and shutteth and no man openeth, come to liberate the prisoner from the prison, and them that sit in darkness, and in the shadow of death.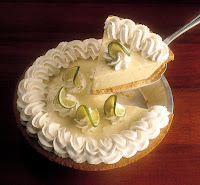 Since this is initially a monastic tradition, and on this night, the monk in charge of the wine cellar would provide a special bottle of wine. We will also be having some special drinks with dinner. Costco has a great package of delicious fruit spritzers which I picked up.
I also plan to serve a Marie Calendar's Key Lime Pie which is already in the freezer!
O Dayspring, Brightness of the everlasting light, Son of justice, come to give light to them that sit in darkness and in the shadow of death!
For dessert I'm hoping to make "O Dayspring Ice Cream" inspired by a Blue Bunny recipe:
6 small tangerines, peeled
1 1/2 cups Vanilla Ice Cream
6 teaspoons orange marmalade
Place six freezer safe dessert plates in the freezer 30 minutes before serving. For each serving, gently pry segments of a tangerine apart. Place on dessert plate in a "spoke" like circle.
Place a 1/4 cup scoop of vanilla ice cream in center of tangerine "spoke"; top with 1 teaspoon orange marmalade. Repeat with remaining tangerines and serve immediately.
After the kids are in there pajamas, we will surprise them with a trip to town to see some of the Christmas lights! This is always such fun, and we all look forward to this little outing!
O King of the Gentiles, yea, and desire thereof! O Corner-stone, that makest of two one, come to save man, whom Thou hast made out of the dust of the earth!
There are lots of crown cakes to choose from over at Catholic Cuisine, but I think it would be fun to bake and decorate some of our Christmas sugar cookies as crowns!!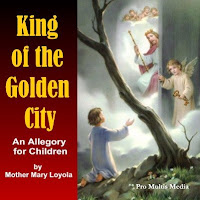 Needless to say, baking cookies, on December 22nd, probably won't happen this year, so I also purchased the King of the Golden City on CD. I'd been looking for an excuse to buy it anyways! 😉 We do have the lovely cassettes by Simonetta, and the book and study guide from CHC, but I was so excited to see that Pro Multis Media has produced it as an audio dramatization with a talented cast of children actors! (It is also available from Catholic Child.) I can't wait to listen to it!
O Emmanuel, our King and our Law-giver, Longing of the Gentiles, yea, and salvation thereof, come to save us, O Lord our God!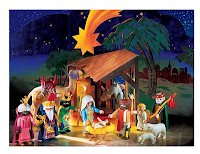 This is the last of the O Antiphons… Tomorrow will be Christmas Eve! The treat for today is going to be another new Nativity Set for the kids to play with during the Christmas season. I purchased two this year, one
which I gave them on the first Sunday of Advent (saving baby Jesus for Christmas of course) and one
for this day. I just ran across another children's nativity set
I love… I'm trying really hard to refrain from purchasing it as well!
You can also listen to the O Antiphons beautifully chanted in Latin here.
I am also considering purchasing An Advent Processions Based on the Great O Antiphons . Have any of you heard it before? Would you recommend it?