My oldest decided he would like to be St. Maximilian Kolbe for our All Saints' Party this year. At first I thought, "Oh, this will be so easy! I'll just find a prisoner costume, add his number, and find some glasses." He had other ideas… He wanted to look just like this picture, which Charlotte had used as inspiration for her coloring page: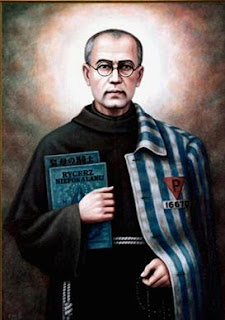 Not as easy as I thought it would be… Especially since I've only used my sewing machine once, and this time I didn't have a wonderful seamstress walking me through each step!
Anyhow, for the robe, I ended up purchasing a few yards of inexpensive grey fabric. I folded it in half and sewed a (extremely crooked) seam up each side and over to create the sleeves. I then just cut out a circle for his head, which, despite being careful, I still cut too big… Oh well! I then took the little remaining fabric and made a little collar to cover up that mistake… 😉
For the shirt I used a white collared dress shirt, some blue painters tape for the stripes, and a couple small pieces of felt for his prisoner number. The blue tape is easily removable, and I just pinned the felt on, so the shirt can return to its current status as one of the boys Mass shirts!
The glasses, although not perfectly round, were from the Dollar Store (they didn't say they were prescription, but to be safe I still plan to pop the lenses out), the belt was from one of the girls costumes from last year, and Captain pulled out his Black Rosary. I still need to replicate the books and perhaps buy some grey hair color.
It is also really long and the bottom still should be hemmed (somehow)… But that might actually prove to be a good thing since, right after I finished making it, I checked my email to find that our All Saints' Party needed to be cancelled this year, due to so many families in our group coming down with the flu. We will still have a celebration at home, of course, but I've also decided to incorporate a Saints' Party later in the year, with our Home School Group, after flu season in the spring, so he has plenty of room to grow. I just might need to buy a new white Mass shirt, in the meantime!
So, what do you think?? Despite the many imperfections, Captain was thrilled!! In fact, he told me that it is "the BEST costume EVER!!" And that makes it just perfect, right?!