I wasn't able to Get to quite as much as I had hoped to this past week, since I started the week rather unprepared after our little anniversary Getaway. Nevertheless, we still had a Great week!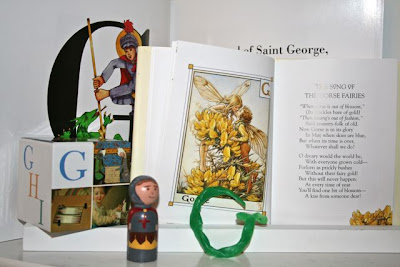 In addition to their Modelling Wax
letter G's, the girls also worked on making the letter G using Wooden Pieces and Handwriting Without Tears worksheets.
~ Gorse Fairy Coloring Pages ~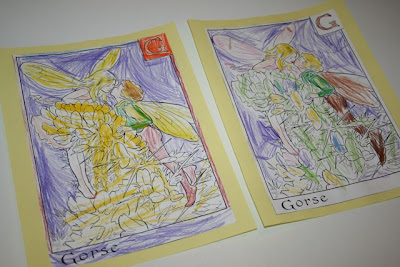 From this Coloring Book
~ Picture Book Science :: G is for Gardens ~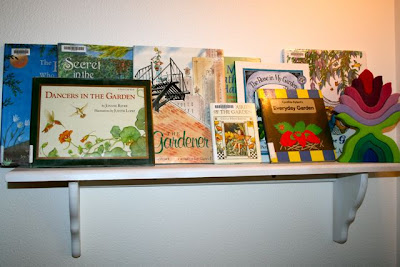 Some of the Books we Read:
The Boy Who Grew Flowers
by Jennifer Wojtowicz
Secret In The Garden
by James Mayhew
Dancers in the Garden
by Joanne Ryder (This was such a lovely book!)
The Gardener
by Sarah Stewart (This was from the library, but I would love to add it to our own collection!)
Flower Fairies of the Garden
by Cicely Mary Barker
My Father's Hands
by Joanne Ryder
The Rose in My Garden
by Arnold Lobel
Everyday Garden
by Cynthia Rylant
Quiet in the Garden
by Aliki
Other Books in the Basket:
(We didn't get to all of these, but the girls have enjoyed looking through them and the boys have been reading some of them as well! We will continue reading more of them this week.)
Pierrots Abc Garden

My Indoor Garden

Busy in the Garden

Linnea in Monet's Garden

Linnea's Windowsill Garden (Linnea books)

Mrs. Rose's Garden

Flower Garden

The Tiny Seed

How a Seed Grows (Let's-Read-and-Find-Out Science 1)

Looking Closely inside the Garden (Looking Closely)

Mortimer's First Garden

HOW MY GARDEN GREW (Rockwell, Anne F. My World.)
I decided to have the girls work on another Lap Book, combining Flowers from last week and Gardens from this week. You can see pictures of the links to all the resources we used here.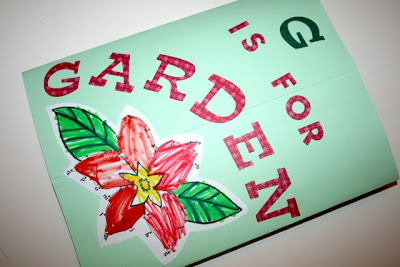 They worked on various mini books and pictures including color by Grids and Garden Mazes. I'll post pictures of the completed Lap Book soon! I wasn't sure if the Grid coloring would be too hard for Twinkle Toes, but she did an excellent job, all by herself, after I explained it to her.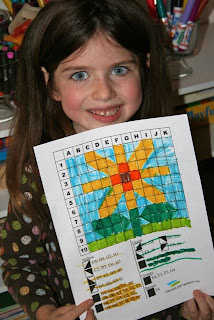 ~ Picture Study :: Francois Hubert Drouais'

Boy With a House of Cards

~
The girls were busy enough with their Lap Books this past week, so they didn't do the picture study. However, Rascal really enjoys this each week and so he asked if he could do it anyways!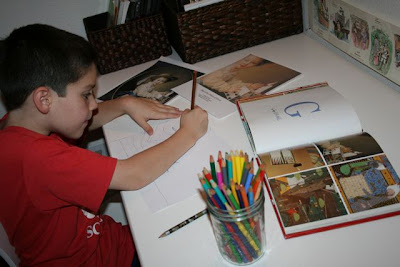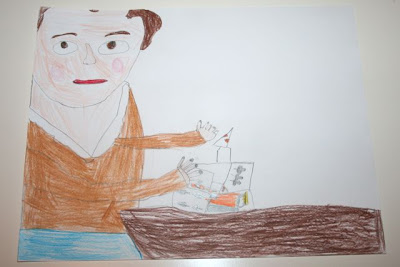 We printed the picture found
here
as well as Elizabeth's
pdf
, to add to the
Museum ABC Book
and the Museum ABC Nesting Blocks
.
An Alphabet of Catholic Saints
(Home Schoolers receive 50% off CD's!)

St. George and the Dragon Coloring Page and Copywork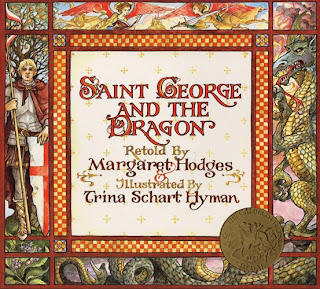 Saint George and the Dragon
by Margaret Hodges
GeoPuzzles :
USA and Canada
and
Europe
GeoSafari USA Search
Geography Songs (You Never Forget What You Sing)
The boys have been watching everything the girls do very closely, and were starting to feel a little left out, so you may have noticed that they have been participating in some of the activities. I am trying to tie in some of their regular studies as well, so we don't start getting too of course, so this week they completed the covers to their American History Lap Books. It was a picture of George vs. George, and just perfect for G week!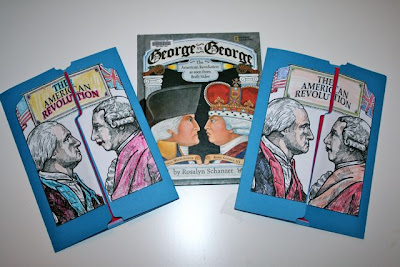 We also have been enjoying the book George vs. George: The American Revolution As Seen from Both Sides
.
~ Crafts & Serendipi-Tea time ~
I had plans to make both a Flower Fairy
G
arden (directions found in
The Flower Fairies Activity Book
) as well as "Garden Bloom"
Cupcakes
, but my energy levels have really dropped these past couple weeks, and I wasn't having any luck finding some of the supplies I still needed, so I decided to simplify things so we could finally say
G
oodbye to "G" week! 😉
Instead of making both a craft and a recipe, we combined the two this week and made an edible
G
umdrop
G
arden!
Pound cake or other loaf-shaped cake (I cut it in half so the girls could each decorate their own.)
Chocolate frosting
Ladyfingers
Chocolate wafer cookies
Sugar & Gumdrops (We used Assorted Fruit Jellies from Trader Joe's)
Green toothpicks
Coconut
Green Food Coloring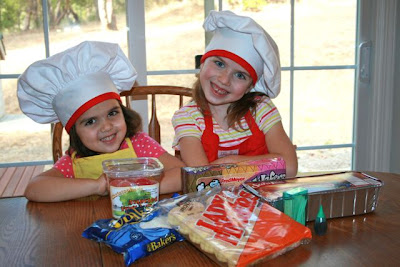 I wasn't able to find Green toothpicks at the store, so the Girls dyed their own.
Directions:
Ice the top and sides of the pound cake with chocolate frosting. It's okay to lick your lips, just not your fingers or the spatula. At least not until you are all done. 😉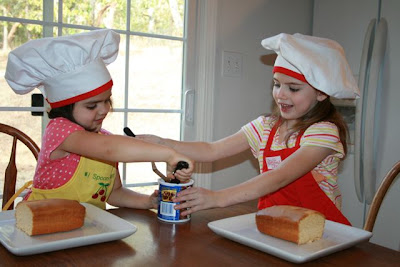 Then trim the top of each ladyfinger into a point to resemble a fence picket. Gently press the pickets against the frosted sides of the loaf cake.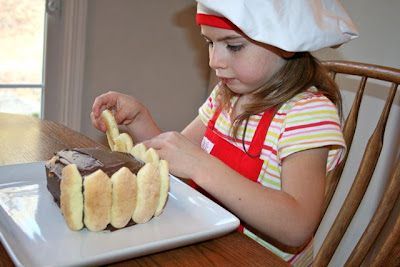 Seal a handful of chocolate wafer cookies in a plastic bag and crush them with a rolling pin. Sprinkle the crumb "soil" on top of the loaf cake.
Plant a row of tulips. (Using Gumdrops, sprinkle sugar onto a waxed-paper-covered surface. Using a rolling pin, flatten gumdrops to a 1/4-inch thickness. With kitchen scissors, cut notches in the tops of the flattened gumdrops to create tulip shapes. Insert a toothpick stem into the base of each blossom. — We just cut notches out of some of the Assorted Jellies, and added skittles to the middle of others. We also added Gummy Worms!)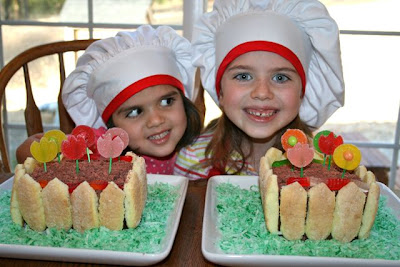 Just look at those
G
rins!