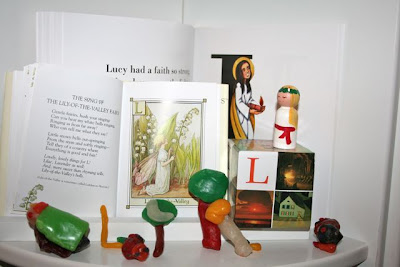 In addition to their
Modelling Wax
letter L's and Lollypops, the girls also worked on making the letter L using Handwriting Without Tears
Hands-On Materials
and Kimberlee's
Grey Block Paper
.
~ Lily-of-the-Valley Fairy Coloring Pages ~
I can't seem to find some of the pictures for "L" week since I've waited so long to post… I'll upload them as soon as I locate them. 😉
From this Coloring Book

(While looking at the Flower Fairies Alphabet
book and listening to the CD!)
~ Picture Book Science :: L is for Ladybugs ~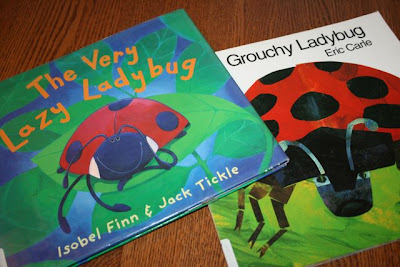 The Very Lazy Ladybug

The Grouchy Ladybug

Are You a Ladybug? (Backyard Books)

A Ladybug's Life
And of course, we had to make a Lap book for L week, right?!?
Since I recently received a Ladybugs Project Pack to review, it is the one we used.
I'll post pictures soon!
~ Picture Study :: L is for Light ~
The Midnight Ride of Paul Revere by Grant Wood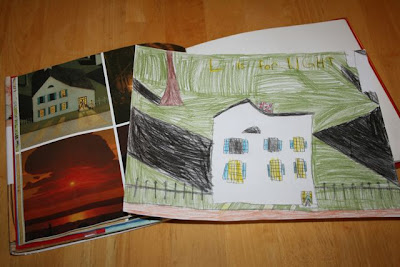 By Rascal
Using Museum ABC
, Museum ABC Nesting Blocks
,
and one of the images printed onto cardstock.
Our
Painted
Saint Lucy,
for with
An Alphabet of Catholic Saints
The girls colored the St. Lucy picture from
Our Saints Alphabet on CD (50% off for Home Schoolers)
, worked on copywork from
An Alphabet of Catholic Saints
(you can print the one I made
here
), and also colored Charlotte's beautiful coloring pages of
St. Lucy of Syracuse
. We'll be saving the
St. Lucia with Starboy
to color next month!
I also ordered Lucia, Saint of Light
to add to our celebration for the Feast of St. Lucy which is just around the corner on December 13th. It looks wonderful!
The girls also LOVED coloring, cutting out, and then playing with Saint Lucia Paper Dolls!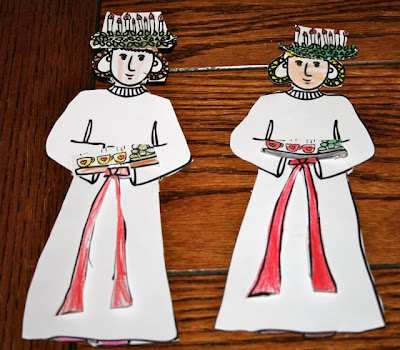 We printed out this darling set too!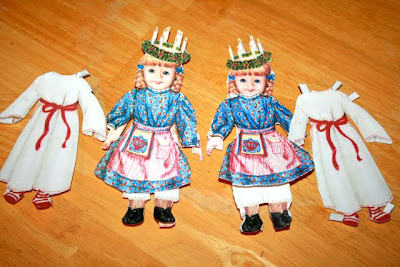 We also read
A Life of Our Lord for Children
as a family, since it is also one of our world history read-alouds. What a great book!!
~ Crafts ~
We made a few different crafts this week:
Lanterns for Martinmas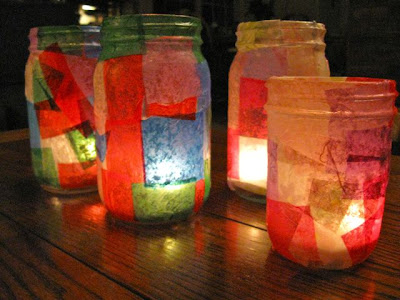 (I also loved these Leaf Votives, but it was raining at the time and seemed like too much work to collect the leaves… Perhaps next fall!)
~ Serendipi-Tea time ~
Leaves, Ladybugs, and Lemonade! deLicious!!!
Leaf Shaped Cakes and Cookies
I picked up this
pan
(on clearance at a local store) and made Almond Leaf Mini Cakes, as well as a box of Maple Syrup Cream Cookies from Costco. Oh they are SO yummy! We also read the book
Why Do Leaves Change Color?
.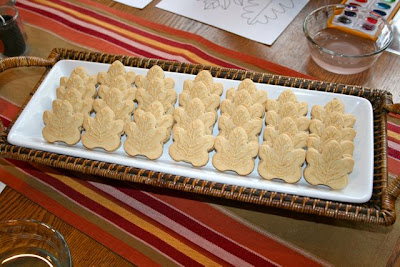 Ladybug Rice Cakes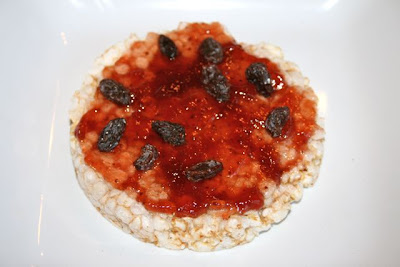 Directions: Spread strawberry jelly on rice cakes to make the ladybug's body. Place raisins on top for the spots.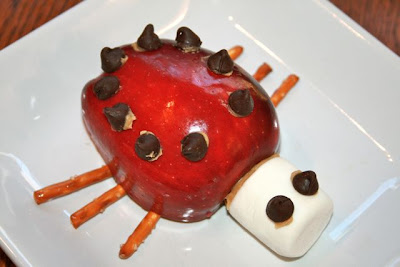 Directions: Cut a red apple in half to make the ladybug's body. Place pretzel sticks underneath for legs. Using peanut butter, attach marshmallow (for head) and raisins or chocolate chips for spots. Insert two more pretzel sticks into marshmallow for antennas. (We totally forgot this last step this time — they were in too big of a hurry to eat the ladybugs! lol!)