On August 15th the Church celebrates the Solemnity of the Assumption of the Blessed Virgin Mary into Heaven.
Finally; the Immaculate Virgin, preserved free from all stain of original sin, when the course of her earthly life was finished, was taken up body and soul into heavenly glory, and exalted by the Lord as Queen over all things, so that she might be the more fully conformed to her Son, the Lord of lords and conqueror of sin and death.

The Assumption of the Blessed Virgin is a singular participation in her Son's Resurrection and an anticipation of the resurrection of other Christians:

In giving birth you kept your virginity; in your Dormition you did not leave the world, O Mother of God, but were joined to the source of Life. You conceived the living God and, by your prayers, will deliver our souls from death…. She is our Mother in the order of grace.

~ The Catechism of the Catholic Church,

Chapter 3, ¶6
I been working on our plans for celebrating this feast and have compiled the following list of suggestions. We will be using just a few of these ideas in our home. Now if I could just decide which ones!
Storytime
Crafts
"See the beauty of the daughter of Jerusalem,
who ascended to heaven like the rising sun at dawn."
~ Benedictus antiphon of the Daily Office
Games
Rosary Rummy (link no longer active)
Mary Memory (link no longer active)
Food
Since it is traditional to bless fruits and herbs on the feast of the Assumption, incorporate fruits and herbs into your dishes for today — how about Assumpta Salad or Lavendar Sticks?
The other night I made an amazing Blueberry-Strawberry Cobbler, which would also tie in the use of fruits! (Update: I posted the recipe over at Catholic Cuisine.)
For breakfast I am thinking of making a different version of the Ascension Pancakes… Perhaps replacing the

Strawberries

for

Blueberries

since the color blue represents Our Lady. Ooh!! Or maybe even some fresh Marionberries, or Marionberry syrup, if I can make it to our local farmer's market…
Bake Assumption Rolls.
In Katherine Burton's Feast day Cookbook she shares a recipe for Shrimp in a Béchamel sauce, a traditional French specialty for the feast of the Assumption. I have some shrimp in the freezer right now, so I am hoping to try this recipe.
A Fluffy Cloud Dessert would also be very fitting.
An even easier dessert would be to make some mini fruit tarts using mini graham cracker crusts, vanilla pudding, berries and whipped cream. Yum!!
Another fun option would be to make a cupcake rosary since the Assumption is the 5th of the Glorious mysteries.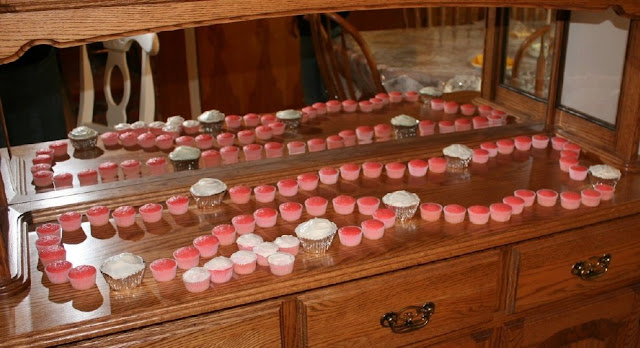 Prayer
Pray the Glorious Mysteries of the Rosary together as a family.
Sing Immaculate Mary.
Pray the Assumption Novena.
Even more ideas can be found at Women for Faith and Family and Catholic Culture's Assumption Day Traditions.
Queen Assumed into Heaven ~ Pray for Us!