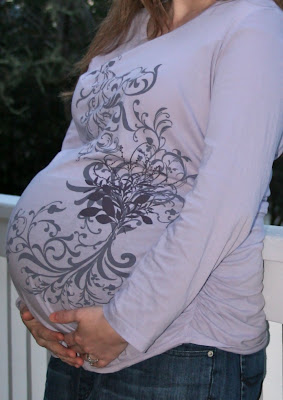 picture taken at 37 weeks and 5 days
… and thought I would hop online and give you all a quick update since I haven't had much time for blogging this week. Thank you all for your prayers and emails!!
Yesterday, after Mass, I had my weekly check-up with my midwife. The baby is measuring right on schedule, the contractions I had this past week have made a bit of progress (I am at 3cm), and her heart sounded wonderful once we were able to locate it due to her position.
Speaking of her position, the baby is currently posterior, or as my midwife said, "sunny-side up." I've never had a baby in this position before, and it explains the extra awful back pain and sciatica/trouble walking I've been having. It is also probably contributing to why my contractions are making such slow progress over such long periods of time.
My midwife and a couple friends have given me suggestions for encouraging the baby to rotate, so that is what I'll be working on this week… Starting now!
I hope you are all having a wonderful week (I can't believe it is already WEDNESDAY!) and I'll try and post again soon.