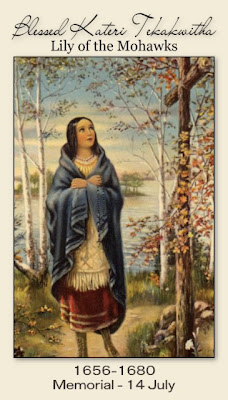 Yesterday afternoon, despite the heat, we headed back to Marci's home for another:
Summer with the Saints
This week she had decided to feature Blessed Kateri Tekakwitha, whose feast day is coming up on July 14th. Here is an overview of our afternoon:
~ Coloring Pictures ~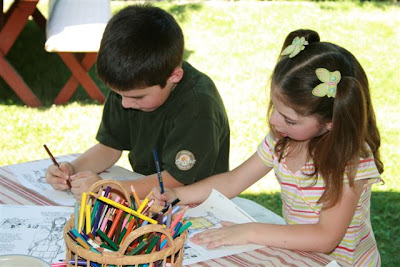 Marci had this picture available for the children to color. She also read them the short story from the coloring page in addition to Father Lovasik's Blessed Kateri Tekakwitha
.

~ Craft Time ~
~ Snack Time ~
While the children were coloring, Marci had trail mix on the tables for them to snack on. Can you tell which bowl was on their table! 😉
After the crafts were done we headed inside (it had to be around 100 degrees yesterday afternoon?) to decorate cupcakes with candy corn.
~ Group Photo ~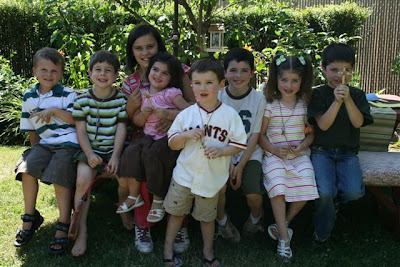 O God who, among the many marvels of Your Grace in the New World, did cause to blossom on the banks of the Mohawk and of the Saint Lawrence, the pure and tender Lily, Kateri Tekakwitha, grant we beseech You, the favor we beg through her intercession; that this Young Lover of Jesus and of His Cross may soon be counted among her Saints by Holy Mother Church, and that our hearts may be enkindled with a stronger desire to imitate her innocence and faith. Through the same Christ our Lord. Amen.

Blessed Kateri Tekakwitha, pray for us!