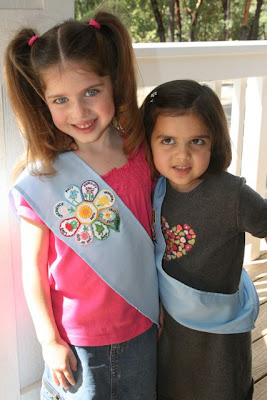 This past Thursday we had our very first Little Flowers Girls' Club meeting for the new year!! This year the girls will be working on Wreath II and all of the meetings will be in the afternoon and hosted at my home. It's going to be a little cramped in my small home, with 12 girls, but that won't matter too much, right!?! Plus there is plenty of room for them to run around outside, after the meeting, unlike at the bookstore…
As the girls arrived I had various coloring pages for them to color:
Just like last year, we began our meeting with the prayer to St. Therese and the Acts of Faith, Hope, and Love. We then reviewed a little bit about our dear St. Therese.
Next we had the lesson. I introduced the virtue we will be working on,
Mercy
, and read a short biography of the saint for this month,
St. Faustina
. We then talked about the various
The Works of Mercy
(using Father Lovasik's book as a guide – Amazon is still offering a
10 pack
of this great book for only $1.50!!)
and then I read the Helen's Special Picture. (It is such a sweet book! Amazon charges a
small fortune
for it, but I was able to purchase a copy from the
Divine Mercy Gift Shop
.)
Another great resource for this meeting (or for further review at home!) is Glory Stories Jesus I Trust in You! : The Story of Saint Faustina Kowalska.
Following the lesson the girls began making their notebook pages. I included the memory verse for Mercy, The Divine Mercy Chaplet Prayers, a quote from the bible, and the prayer to St. Faustina from the Little Flowers CD.
Here are the links to the St. Joseph's Lily and the image of St. Faustina that I choose, and my sample page: (You can download my document here.)
The girls did a lovely job putting together their notebook pages. Here are their completed pages:
This year I decided to have the girls do an additional craft at each meeting. For this virtue we made Guardian Angel Bracelets, since Angel's are often messengers of God's Mercy.
And yes, I thought I was all prepared, ordering craft kits ahead of time… However, one of the other moms and I had lots of fun trying to use our fingers to make a loop out of the pin used to make the angel, since i didn't have a pair of needle nose pliers handy… Next time I will read the directions for our craft before the meeting! 😉
Update: For another idea, don't miss Lena's Handprint Lily Pen. They are SO cute!
Snack time was next. Just like last year I assigned the moms to help with the snacks. I took the first month, in order to have it done before the baby arrives… We had Divine Mercy Strawberry Shortcakes with Lemonade! (Lily Sandwiches would be another great option for this meeting!)
I realized a little too late that I missed getting a group photo of the girls… Perhaps in two weeks at our next meeting!
Saint Faustina, teach us of God's Divine Mercy.
Jesus I trust in You!
Saint Therese, the Little Flower, pray for us!