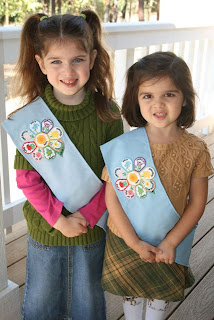 I can't believe we have already completed our 3rd Little Flowers Girls' Club meeting for this year. The time is just flying! We just have two more meetings scheduled before it will be time for our little "winter break" and my babymoon!
Unlike our last meeting, where we had all 12 girls in attendance for the first time, this meeting was really small since apparently there are lots of sick children right now. In fact, only 4 girls were able to attend, two of which were my own girls.
Nevertheless, the meeting still went great and the girls had a wonderful time! It just proves that you really don't need very many girls at all to have a successful Little Flowers Group. Like I've mentioned before, even if it was just my two girls we would still be having Little Flowers.
For extra coloring pages this month, we used images from Catholic Artworks. I've had my eyes on their CD-Roms for sometime now (especially since they are the publishers of An Alphabet of Catholic Saints
which we've been using Along the Alphabet Path and which I used for making our Painted Wooden Alphabet of Saints!), and although I hadn't ordered yet, a friend of mine received her order and we printed a couple images for this meeting. My own copies are now on their way!!
We began our meeting with our opening prayers and then reviewed the virtue of Courage from our last meeting. The girls shared some of the activities that they were able to complete from their checklists in the Wreath 2 Member's Guide and choose prizes accordingly from the prize box (which is stocked with various Coloring and Father Lovasik Books, Stickers, Stamps, Notebooks, Candy, Bubbles, and more!).