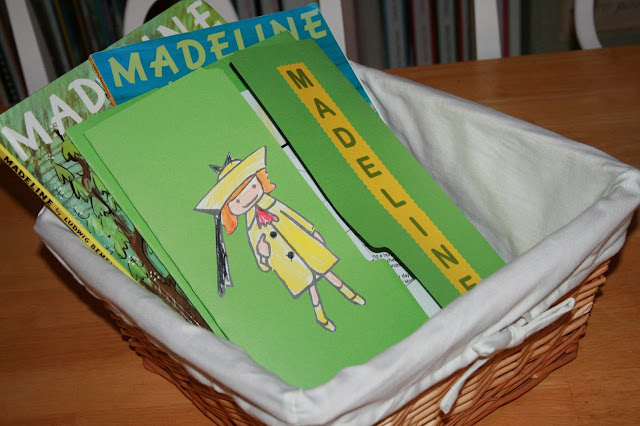 My girls love reading all about Madeline! So, this summer, we started working on a Madeline Lap Book. (Most of the resources I used were from Homeschool Share. I've removed all the links since they are no longer active. You can find my file of the documents we used over at Dropbox.)
We had so much fun and they are already asking me what Lap Book they can start next!!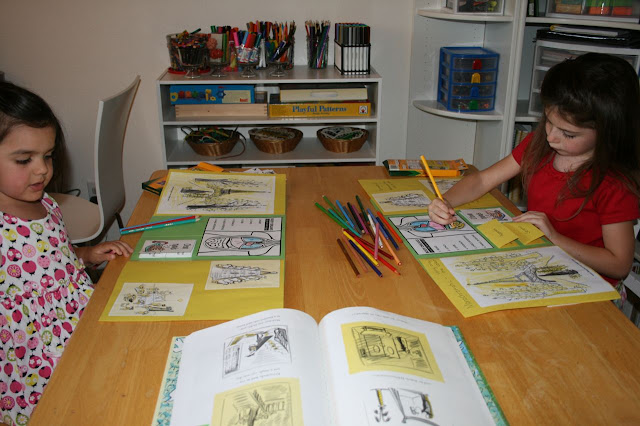 THE COVER
The picture of Madeline is from the coloring pages found here.
INSIDE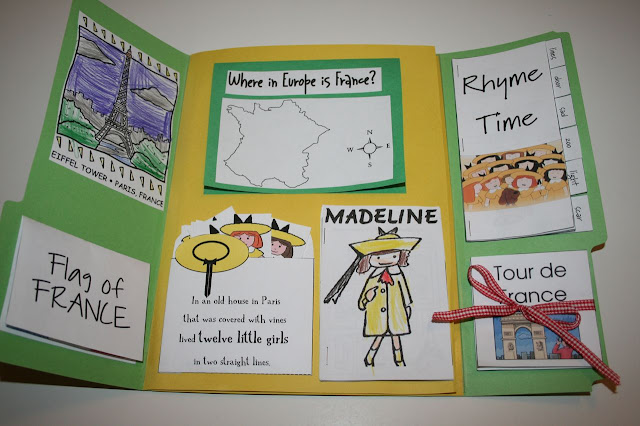 On the left flap is the Eiffel Tower and a flag of France.
In the middle (on the top page) is Where in Europe is France (We located France and labeled the Atlantic Ocean), a pocket for the 12 girls, and a Madeline Coloring Book.
On the right flap we have our Rhyme Time mini book (with this image printed at 60% to cover the provided image), and the Tour de France book which pulls out and has photos of the various places you can find in the book.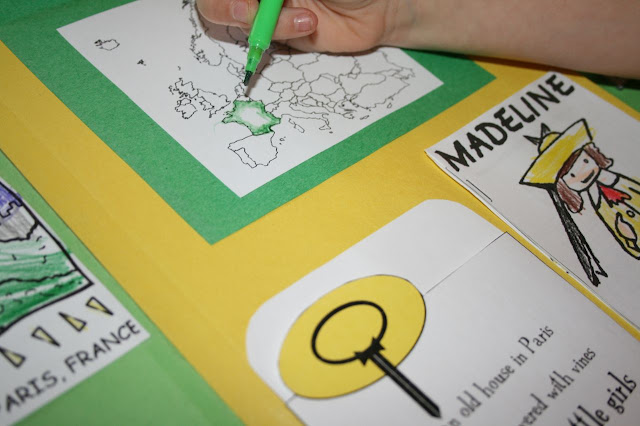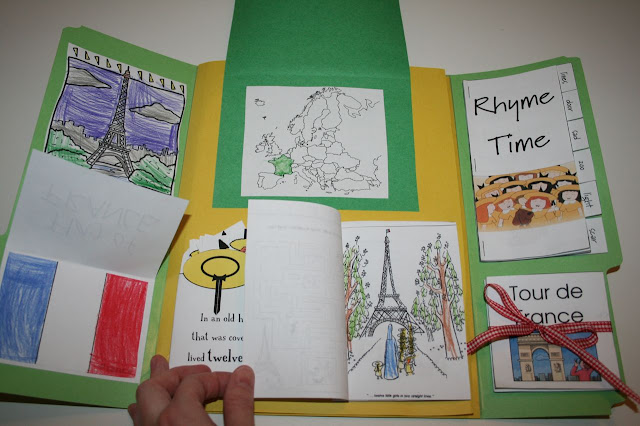 BACK OF LEFT FLAP AND FRONT OF RIGHT FLAP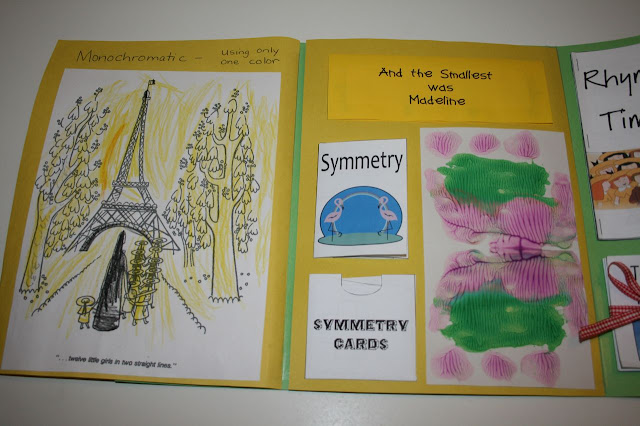 On the Left is the Definition of "Monochromatic" with a coloring page describing what Monochromatic means.
On the Right is a Relative Size Miniture Book, a mini book on Symmetry, Symmetry Cards, and a Symmetrical Painting.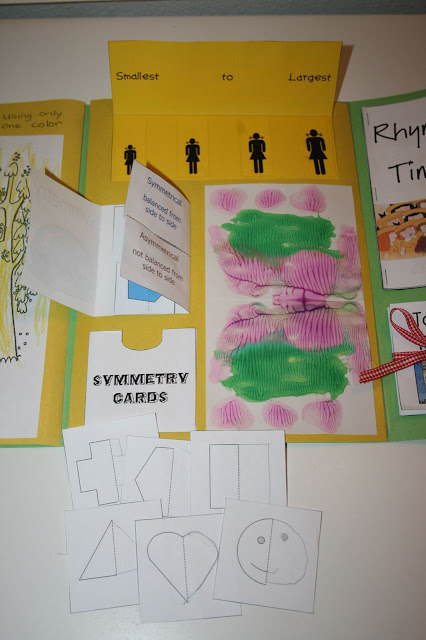 Here is a picture of the Tour de France booklet opened up: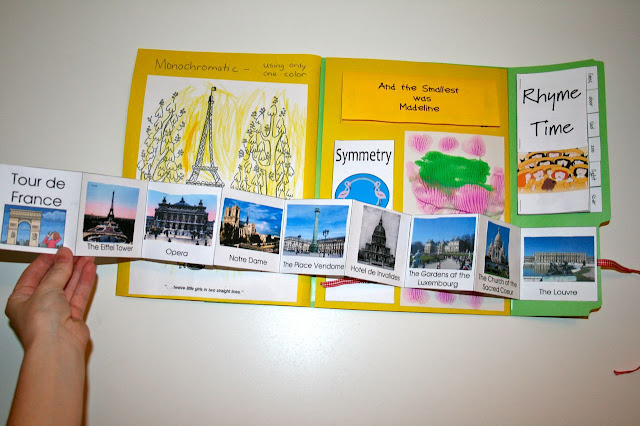 BEHIND BOTH CENTER FLAPS
(opened to the left and right)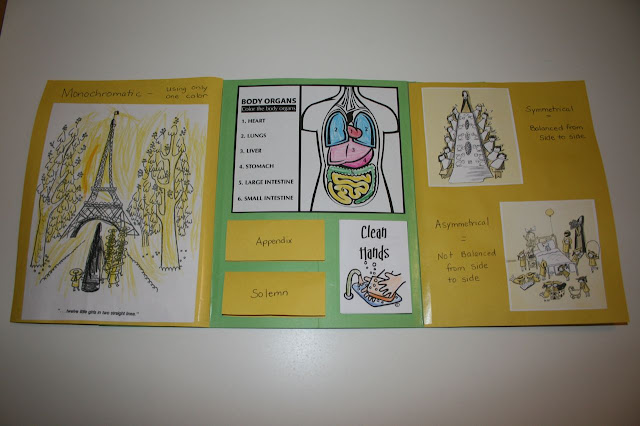 In the middle is our worksheet on the parts of the body, a mini book on clean hands/health, and he definitions for "appendix" and "solemn," a couple of the challenging words from the book.
On the right are a couple pictures of the book which also demonstrate "symmetrical" and "asymmetrical."
BACK COVER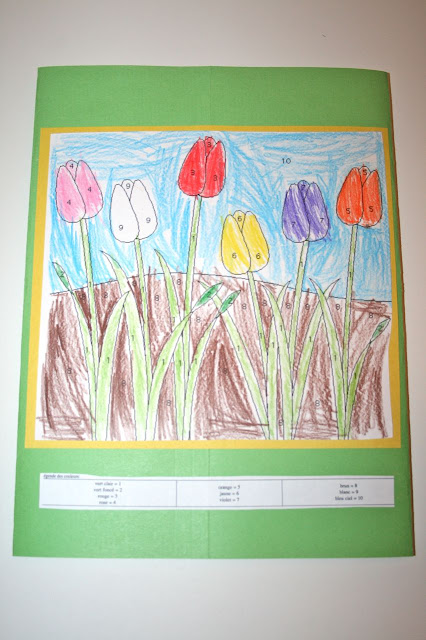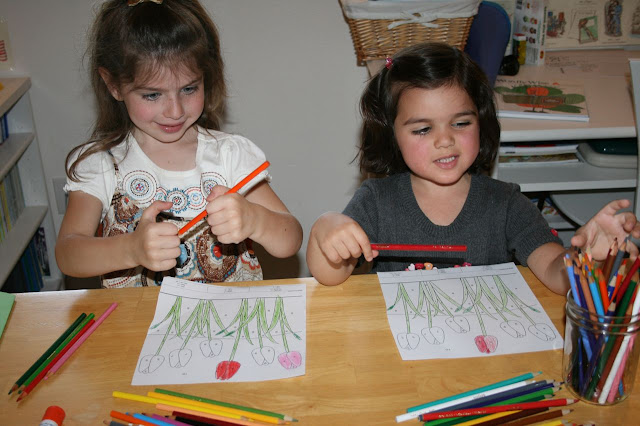 Did you know that Crayola Colored pencils have the colors listed in French as well as English?!
With Twinkle Toes birthday coming up next week, I thought about making a Madeline's Gateau Chapeau Cake, but she had already asked for a "cowgirl" party… We just might have to make the cake anyway and celebrate finishing the lap books with a little Madeline Tea Party. (Update: You can
find our Madeline's Gateau Chapeau Cake here
!)