After almost a month of rearranging rooms in our home, it is finally starting to come together! I thought I would try and start posting a few pictures of our progress.
The hard thing is deciding WHERE to start… Normally I would have been blogging while I went, but I just didn't have the time. I am really wishing that I would have taken some "before" photos since I don't seem to have as many as I thought I did, particularly of the boy's old bedroom.
I guess I will start with the school room closet. It has been one of the most challenging projects so far. I can't believe HOW MUCH STUFF I was able to cram in that little space. It all needed to be cleared out so we could install closet organizers for the boys clothing, since they are now using the old school room as their bedroom.
Here are a couple pictures I posted last year:
If it was that FULL last May, I am sure you can image what it looked like after a busy year of school, crafts, etc…
Since the new school room does not have a closet, everything needed to be temporarily moved to my bedroom floor to get it "out of the way" till I could figure out where to put it all! (Sometimes I think a attached garage would come in VERY handy!)
Here is a glimpse at what has been sitting in my room for the past couple weeks: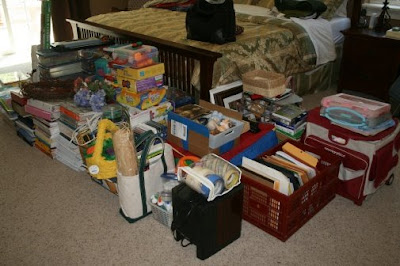 This ridiculous pile did get MUCH worse this last week, while we were moving the girls to the boy's old bedroom, and it is much better now, though I do still have quite a bit to sort. I have come to the realization that we just have too much stuff (for the amount of space we have) and I did drop off 6 more bags of donations today on the way home from swimming! Anyway, more on this progress later…
Back to the closet — which by now is empty: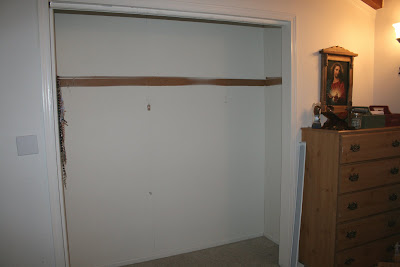 Once everything was out of the closet, hubby painted. The next day (last Thursday) a friend of mine came over to help me. (Had I mentioned how overwhelmed I had been feeling??) We installed the closet organizers and I moved all the boy's clothes to their new room!! It was SO NICE to FINALLY have one room FINISHED!!
Well, almost finished… The right side still needs a couple more shelves which I picked up last week. We'll install them soon.
I was also very excited that the baskets from my old changing table fit in their closet so well! They are working perfectly for holding some of their toys and sports gear.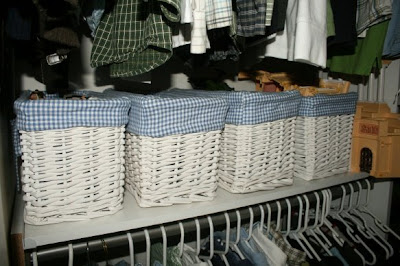 I'll be back to post a few pictures of the rest of their room. ☺