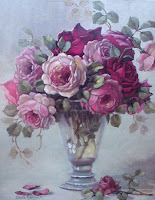 FOR TODAY: August 31st, 2009

Outside my Window… it looks like it is going to be another beautiful and sunny day!
I am thinking… about how different it is when hubby is gone on a fire now.  When we were first married, I used the time to visit friends, watch movies, catch up on projects and so much more.  Now it seems like I can just barely keep up with everything! I am sure it will get a little bit easier as the week goes on…
I am thankful… that hubby was able to call home last night, even if it was just for a couple minutes. (The call lasted one minute and fifty-one seconds to be exact!)  It was he first time I had spoken with him since he left, early last Friday morning.  It was so nice to hear his voice, find out where he is working, and that he was able to say Happy Birthday to Twinkle Toes.  He was calling from a satellite phone, which is why he had to keep it so short, from their site camp in the wilderness.  (Their food and supplies are being flown in each day.)
From the kitchen
… lots of leftovers from yesterday.
From the school room… Today the girls begin "C" week.  Hopefully I will have a chance to post some pictures from "B" week soon.  It was a great week, but with Twinkle Toes' Birthday this weekend I didn't have a chance to upload any photos, yet…  =)
Living the Liturgical year at Home… I'm working on a compiling a post over at Catholic Cuisine with all the archives for the September feasts!   (Update:  Here's the link!) September 5th is the feast of Blessed Mother Teresa, so we will probably make some Indian Sweet Bread and Chai Tea like last year.
I am creating… t-shirts for our Little Flowers Group.  I sure hope the appliques I ordered from Michaels arrive in time.  Our first meeting is NEXT WEEK!
I am reading… lots of books to my children.  Last week our basket included books about St. Bernadette, Birds, Blueberries and other things that start with B.  This week we are moving on to St. Cecilia, St. Christopher, Creeks & Ponds and more!
I am going… to my Aunt's for a visit and then to our Home School Group's annual planning meeting tomorrow night.
I am wearing… a pair of black knit gauchos and pink maternity t-shirt.  I am hoping to find a little time to exercise
after lunch. 
I am hoping… that I can keep up with school this week.  I didn't have any time to finalize my plans for the week over the weekend, and my evenings have been super busy without Hubby's help. 
I am hearing
… the children getting up and dressed for school.  Breakfast is simple this morning, cold cereal.  Perfect for "C" week, right!?!
Around the house… lots of birthday decorations that I was just too tired to take down last night!  Twinkle Toes had so much fun at her little party, I'll have to upload a few pictures soon.  I am also behind on the laundry and the floors all need to be cleaned.   Why is it SO easy to get SO behind SO fast?!?
One of my favorite things… all of my wonderful memories of my Grandmother. (My Grandma passed away at the age of 61 when I was only 12.  I was her first Grandchild and we were very close.)  Yesterday, during Twinkle Toes birthday party, I couldn't help but think how much my children would have loved her, and could picture her singing "Thank Heaven for Little Girls" like she always did on my birthdays!  Miss you Grandma!
A Few Plans For This Week…
Our third week of school
Our Home School Group's planning meeting
Mass & Benediction on Friday
A picture thought I am sharing: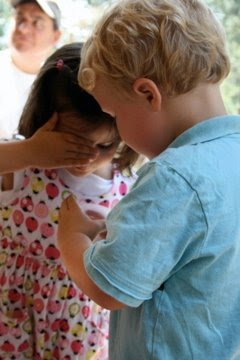 I just love this picture from a couple weeks ago, when my cousin and her family came over for a visit.   Her son was showing our daughter a little froggy they had caught! 
Well, I must get going if I hope to start our school day on time.  I hope you all have a great week!
To see more Daybook's visit Peggy!