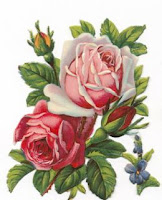 FOR TODAY: August 3rd, 2009

Outside my Window… it's sunny and a bit smoky. The thunderstorms over the weekend started quite a few fires in our corner of the state.
I am thinking… that I have a very smart 2 year old! Snuggles figured out that the only way he would get out of swimming lessons would be to get sick, so last night he came down with the flu. He was also very good about sharing, at least with me. I am afraid it is going to be a very long week.
I am thankful… for my washing machine. Very thankful!
From the kitchen
… a crumb too small for a mouse, which was left behind from the two delicious loaves of
Zucchini Bread
I made yesterday. I think I just might need to make a second batch!
From the school room… I really need to take a couple pictures of our new school room, don't I?! This past Friday Marci came back over and we hung a few more pictures on the walls as well as a little shelf for me to use for the various seasons and feasts. It is a very FULL but organized little room. I guess we will see just how well it functions in a couple weeks when we begin school.
Living the Liturgical year at Home… I compiled a list of posts from the archives at Catholic Cuisine for the various feast days in August. This week I am planning on doing a little something extra for the feasts of St. Dominic (perhaps make Cherries Jubilee while the children color this picture ) and St. John Vianney (Illuminated Inks Coloring Page).
I am creating… a daily schedule for this coming school year, and trying to keep it realistic.
I am going… to swimming lessons despite Snuggles being sick. Today I dropped the older four off and drove around with my little guy for an hour and a half in the cool, air-conditioned, car. Only three more days…
I am wearing… my pretty red and white apron after being inspired by Jen's recent post on The Simple Delight of an Apron! I was also thrilled this morning when I found out that I had won the Catholic Mom's Ultimate Embroidered Gift Set and will soon have another lovely apron to add to my current two, the other being a boring Pampered Chef "standard issue denim-tie-behind-the-back apron."
I am reading
… a few of the
Sermons of the Curé of Ars
. They are all so very inspiring!!!
I am hoping… that the rest of my children do not catch the flu!
I am hearing
… the click clack of
Wooden Thomas Trains
on the track. I love how excited my children get over toys that have been packed away for awhile!
Around the house… beautiful curtains hanging in the girls' room! The next project will be either my kitchen cabinets or my closet and then I will be just about done with all of the de-cluttering. Oh, I can't even imagine what that might be like…
One of my favorite things… or rather, people, would be Marci . I don't know how I could have ever accomplished everything that has gotten done around here lately without her help!
A Few Plans For This Week…
Swimming Lessons
Visiting family from out of State

next

Saturday
A picture thought I am sharing: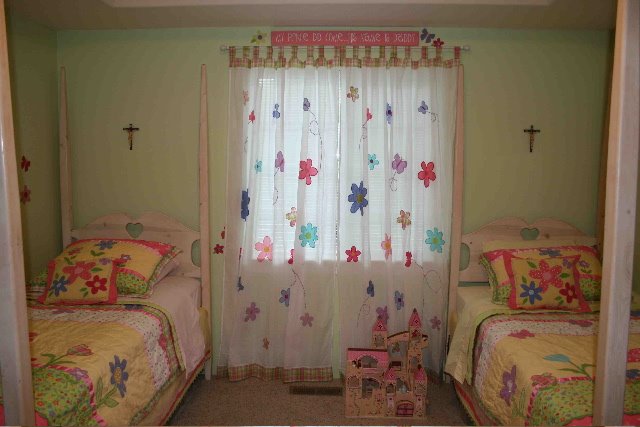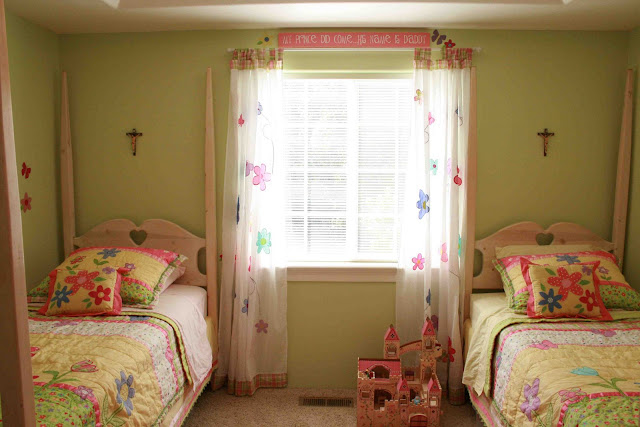 I took photos earlier, when I started this post, but just went back to take another (the top photo) since it is darker and you can see the curtains better.
They really are so much cuter in person…
To see more Daybook's visit Peggy!