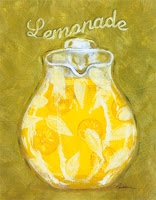 FOR TODAY: July 27th, 2009

Outside my Window… it's sunny and HOT!!  The high was predicted to be 106 degrees out there today and 109 tomorrow!!  Yikes!!!  I am so glad we are home from swimming and can relax in our nice and cool home.  
I am thinking… about how different Snuggles swimming lesson went today (his first of this year), compared to last year (his first ever)!   Last year he had a private lesson and absolutely LOVED being in the pool… Today, I was in the water with him and he screamed the whole time.  
I am thankful… for Myrna, my children's AMAZING swimming teacher.  She has been teaching swimming for well over 50 years and is THE BEST!!! 
From the kitchen
… a cold pitcher of lemonade right now and then Taco's for dinner.  
From the school room… a new MAC!!!  Which I have not had near enough time to play with…  Some of you have mentioned that you love using iCal and I would love to hear more since it wasn't on my old Mac (years ago) and I have never used it before.  I almost have my schedule finalized and I am going to try and figure out how to add it to iCal. 
Living the Liturgical year at Home… I don't have many plans for this coming week since we will be swimming most of each day…  I do plan to do something on Friday, the feast of St. Ignatius and Captain's baptismal anniversary, and we will attend Summer with the Saints, but that's it for now.
I am creating… a beautiful home for my family.  Marci came over on Friday and we painted the boys old room for the girls and then moved them over.  IT TURNED OUT ADORABLE!!!! I can't wait to share pictures with you all, but I am sure they won't do it justice.  
I am going… to swimming lessons.  We will be at the pool for 4 different level classes (which are not back to back) which means we will be gone from 9:15 till nearly 2pm each day.  
I am wearing… flip-flops and sunglasses and will be most of the week! Now if my swim shorts and top will just fit for another couple weeks… :S
I am reading
…
hum…
I haven't really been reading much of anything since I have just not had the time, though I did pick up 
It's All Too Much: An Easy Plan for Living a Richer Life with Less Stuff
 last night to skim read and help inspire me to get rid of more stuff.  I am sure that I will be reading  quite a bit more very soon since we will be starting
school
 in a few weeks.  
I am hoping… to have my home put all back together by Friday since we will be having company on Saturday.  After having Marci's help last week I am finally beginning to think that it just might be possible!  
I am hearing
… 
Liberty's Kids
 playing in the living room.  My children are really enjoying being able to watch the whole series! 
Around the house… I picked up curtains for the girls room and a few tension rods to hang some curtains in the little "loft" in my new school room so I can hide everything I need to put up there use it for storage.  I also still have a ridiculous amount of "stuff" on the floor of my room which still needs to be given a home or given away.  It sure has been hard fitting my school room into a much smaller space than the old room.
One of my favorite things… iChat!! It was so fun to be able to TALK to and SEE Regina the other night — almost felt like she was in the same room and not so very far away…  Today is her adorable daughter Sarah's birthday!! HAPPY BIRTHDAY SWEET GIRL!!! 
A Few Plans For This Week…
Swimming Lessons
Summer with the Saints
Visiting family from Out of State
A picture thought I am sharing: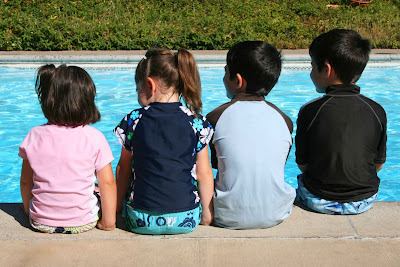 To see more Daybook's visit Peggy!