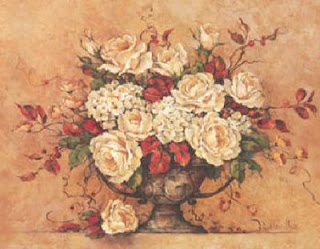 FOR TODAY: October 19, 2009
Outside my Window… I can no longer see the chains holding our porch swing… We've had a ton of rain lately, with lots more in the forecast, so Hubby took it down to store for the winter. sniffle…
I am thinking… or rather, trying not to think, about all I am going to need to do this week. Hubby left this morning for training and will be gone until Friday. I have a feeling it is going to be a busy week! Pray for me!
I am thankful… that my cupboards and refrigerator are stocked with food, and that other than a quick library visit and a movie to return, I shouldn't have to leave the house much this week.
From the kitchen
… I spent yesterday afternoon in the kitchen, prepping some meals for the freezer for after the baby arrives. So far I have
Polynesian Pork Chops
(x2),
Hearty Beef Stew
(x2), Rocky Mountain Beef Brisket (x2),
Baked Steak in Tangy Tomato Sauce
(we had this for dinner last night and it was delicious!), and 2 loaves of
Delightful Autumn Pumpkin Bread
. If any of you have favorite freezer meals, I'd LOVE for you to share the recipes!
From the school room… The girls are moving on to "I" week this week with the Alphabet Path. We'll be reading lots of books about Insects, among other Interesting things and having some Icy treats. I am also hoping to get back on schedule with Math, since we have been inconsistent the past couple weeks… The boys are studying Mercury in their Astronomy Books, finishing up their study of Connecticut
for their State-by-State Scrapbooks, and slowly working through their American Revolution Lap Book and Unit 2 of of their World History. I have found it very challenging to combine both American History and World History (at least when it comes to me being organized enough), and as a result we seem to be making very slow progress right now, but the boys are loving all of it!
Living the Liturgical year at Home… Our plans are well underway for this year's All Saints' Party. My children have all decided who they would like to be, now I just need to pull it all together, somehow… I am also on the planning committee for our party, so it is going to be a busy couple of weeks! Also, since today is the (new) feast of St. Isaac Jogues, the boys have asked to listen to Ondessonk.
I am creating… a baby!! Less than 10 weeks to go. OH! And Hopefully a post for "H" week!
I am reading… Ranger's Apprentice: The Siege of Macindaw: Book 6
and will soon be anxiously awaiting the release of Book 7
so I can move onto reading my copy of Book 8
that I was amazingly able to acquire. I had really been needing a bit of light reading lately, and this was perfect this past weekend.
I am going…
to be looking for some fun baby shower ideas/games for a shower I'll be giving a
friend
in a few weeks. Any ideas or suggestions for me?
I am wearing… a bandage on my right hand, covering the second-degree burn I happened to give myself cooking breakfast Saturday morning. Why am I constantly damaging my hands/fingers?
I am hoping… that we can continue to avoid catching the flu.
I am hearing… the washing machine finishing up the spin cycle. I was SO behind last week, but managed with lots of help from the rest of the family, to catch it up over the weekend. Now it is all about maintaining and hopefully finding a bit of time to start washing the baby girl clothing.
Around the house… hum… Still so much to do, and not nearly enough energy to get to it all… I am making progress, just much slower than I would like.
One of my favorite things… I'd have to agree with Elizabeth… Wedding bands! Actually, I nearly burst out in tears when I read that she posted wedding bands… I miss my wedding ring! When we were married, we added a wrap to my engagement ring, instead of a band, and for ten years it has been cutting my finger. (For some reason the edge of my particular wrap was extremely jagged and sharp.) As a 10th Anniversary gift, my super sweet Hubby upgraded my wrap to a band with 5 diamonds (one for each of our children, the ones that were born during our first 10 years). The rings (both the band and engagement ring) are also going to be Platinum and White Gold now (instead of 14k Gold) to match his wedding band. It is going to be gorgeous, but since it is off being sized and my finger is ringless, I really miss my ring and even the cuts and scrapes it was always giving me. ☺
A Few Plans For This Week… I have Little Flowers here on Thursday, and the boys are begging to go Ice-skating "since it is "I" week." We'll see… That does sound like it would be a fun way to finish the week!
A picture thought I am sharing: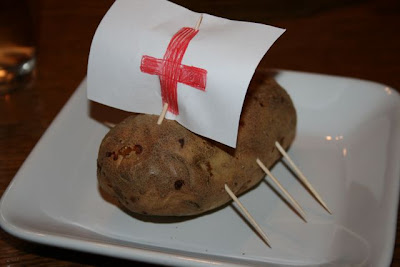 We did head outside with some Spanish Hot Cocoa to do a little stargazing before bed, but I pretty much dropped the ball on Columbus day this year (unlike last year), but my boys celebrated anyways by pulling out their Columbus Books to read to the girls, and decorating the Baked Potatoes I had made for dinner, but didn't get around to decorating myself.
Thank you boys!!!
To see more Daybook's visit Peggy!