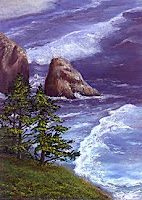 FOR TODAY: October 5, 2009
Outside my Window… it is so quiet compared to the last few days of hearing the waves crashing on the beach just outside our window!
I am thinking… about how fast 10 years went by and so thankful for the wonderful family God has blessed us with in that time. (Last year I posted a few Wedding Memories on our Anniversary.)
I am thankful… for our amazing friends, one of which (actually we had four friends offer!) volunteered to watch all five of our children so that Hubby and I could go on a little vacation to celebrate our 10th Anniversary! It was the very first time we have gone anywhere overnight together (other than to the hospital 😉 ) without any of our children. Yes, I cried when we left them, but they did just fine and we had such a relaxing weekend! I am also thankful for the beautiful weather we had (for the most part) despite the tsunami warning earlier in the week and the forecast for rain!!
From the kitchen
… Marionberry Muffins, leftover from the weekend, and Oregon Chai tea.
Yummmmmm!!!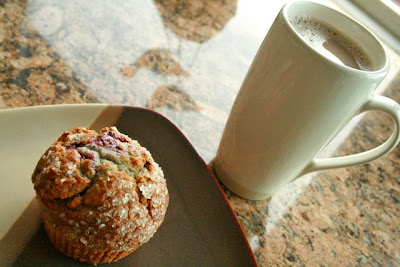 From the school room… Now that we are home from our little Getaway I am all ready to get back on schedule and start "G" week with the Girls! I do still need to stop by the library sometime today to pick up all the books I reserved online, as well as a few supplies for their craft (they'll be making the Flower Fairy Garden from The Flower Fairies Activity Book
). As for the boys, in addition to their Religion, Math and Language Arts, they should finish up the chapter on the Sun from their Astronomy Books, Continue working through Unit 2 of their World History, continue working on their American History Lap Books, and hopefully finish the 4th state for their State-by-State Scrapbooks. (Oops! Looks like I never posted pictures of their pages for New Jersey…)
Living the Liturgical year at Home… Today is the feast of St. Faustina. Since the girls recently studied her for Little Flowers, I think today would be a perfect opportunity to review that meeting with them. The feast of Our Lady of the Rosary is also this week. Last year we celebrated with some of our friends, and this year, since I have another Little Flowers meeting scheduled and the virtue happens to be "Joy", I plan to discuss the rosary with the girls, especially the JOYful Mysteries and make Rosary Boxes.
I am creating… a list of things I would like to make out of Softies: Simple Instructions for 25 Plush Pals
, a book I recently ordered from Amazon.
I am reading
…
The Story of a Family: The Home of St. Therese of Lisieux
and
The Mother of the Little Flower: Zelie Martin (1831-1877)
.
I am going…
to start sorting through the tons of pictures we took over the weekend. There was so much to sea. 😉 Perhaps after school today I'll have time to post some of them! I am also going to try to sort through the 256 new emails in my inbox — it may take a little time.
I am wearing… my new sweater vest over a violet maternity shirt. It is cold this morning! (Also, I didn't end up getting that dress I linked to last week… It was a little too short and clingy, even in a larger size.)
I am hoping… that I can finish this post without losing it again! Blogger ate my first draft…
I am hearing… my children getting up and dressed for the day.
Around the house… I need a dishwasher!!! After using one to wash our dishes at the condo this weekend I realized just what I am missing!
One of my favorite things… hearing my children cry "Momma!" and running and jumping into my arms after being gone for a couple days! Oh, how I missed them!!
A Few Plans For This Week… lots of school, grocery shopping and our 3rd Little Flowers meeting.
A picture thought I am sharing:
On a cruise ship headed for Puerto Vallarta, Mazatlan and Cabo San Lucas
~ On Our 10th Anniversary ~
Enjoying the Sunset on the Pacific Ocean from the deck of the condo!
It was so nice not to be sea sick this time! 😉
To see more Daybook's visit Peggy!