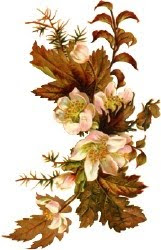 FOR TODAY: September 22, 2009  
Outside my Window… it looks like fall, but feels like SUMMER!  The high today is suppose to be nearly 105 degrees (with a low of 50 tonight!) and the rest of the week should be pretty warm as well.
I am thinking…  about how active our new little one has been lately.  I've been feeling quite "lived in" and I am even more anxious for this little one to make her arrival!
I am thankful… that I was actually able to find my mom a birthday gift which she LOVED!   Yesterday was her birthday and so we took a drive out to my parents home to drop off her gift, which was a gorgeous Seven Sorrows Chaplet, and a whole bunch of handmade cards.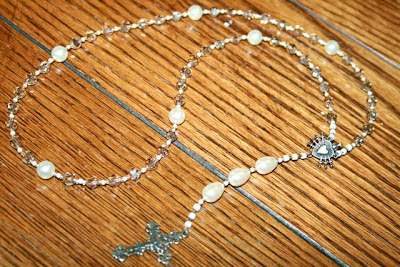 From the kitchen
… leftover Butternut Squash Ravioli from Costco.  It was so delicious!
From the school room… Yesterday we started "F" week which will include Fairies, Flowers, Forest Fires (I couldn't pass up including a favorite topic around here!) and St. Francis!    I couldn't have planned it any better when hubby called yesterday afternoon to tell us that a big fire had broken out on the outskirts of our nearby city resulting in an impromptu field trip to his office (which had a great view) for the evening!
Living the Liturgical year at Home… We will begin the Novena to St. Therese this week, leading up to her feast day!  (Hopefully I will have a few minutes to post the daily prayers again this year.)  We will also be celebrating the feast of St. Padre Pio on Wednesday.   After the children go to bed, Hubby and I will probably watch one of our wonderful
movies
about this great saint.
I am creating… Saints n' Stiches! As well as plans for a Fire Safety Lap book. 
I am reading… I happened to stock the basket in the living room this past Sunday night with lots of books about Forest Fires and Firefighters, which resulted in lots of excited children!  We will be reading them all this week.
I am going…
to charge my camera battery.  I couldn't believe it when it died a few pictures into the fire yesterday and my backup was still at home in the charger. Oh well!
I am wearing… maternity clothes that is already getting too tight this time around… And I still have just over 13 weeks to go!
I am hoping… that I can catch up on the laundry today.  We had such a busy weekend that I am now quite behind.
I am hearing
… my children getting up, finally!  We had a late start this morning after being out till nearly 10:00 pm last night.
Around the house… I hung a lovely new wreath on the front door for Fall.  It makes me smile every time I open the door.  Isn't it pretty?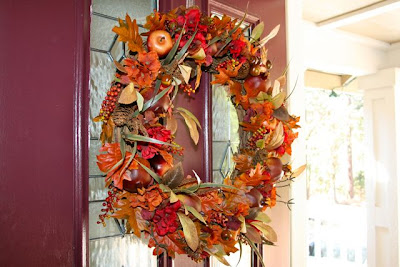 One of my favorite things… Pumpkin Spice Lattes from Starbucks.   YUM!!!  But even better is my Cocoa-Latte Maker
with which I can almost replicate them at home.  Almost! 
A Few Plans For This Week…  Oh, it is going to be a BUSY week:
Monday – Mom's Birthday
Tuesday – Birthday Party for a very dear couple

(The children's swimming teacher and her husband.) 

Wednesday – Doctors Check-up for me and Errands afterwards
Thursday – Little Flowers Meeting and Pizza Party 
Friday – Mass & Benediction, Coffee/Lunch with Father
Plus, I need to manage to keep up with all of our school work too.  Looks like I won't have time for much else!
A picture thought I am sharing:
A little guy that was watching us watch the fire yesterday! 
To see more Daybook's visit Peggy!