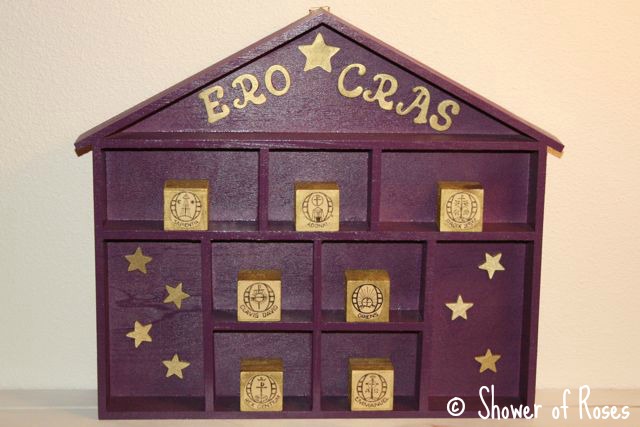 I have been meaning to post a picture of our finished O Antiphon House all week, but haven't had a chance until this morning. (I contracted for about 12 hours most of Thursday, from about 3 am until just before dinner, and then fell asleep right after dinner, exhausted! Thankfully I am still pregnant since I was NOT quite ready to deliver yet… On the plus side, it did get me to finally pack a bag for the hospital! Though I am now horribly behind on emails, etc…)
Anyhow, I am excited to add this little O Antiphon House to our traditions this year. In the past we have just hung an ornament on our Jesse Tree representing each of the O Antiphons and then presented the family with a special gift or activity each evening.
I was inspired to make this last year, from a thread on the 4 Real Forums. The girls helped me spray paint the house and blocks during "H" Week and I finally finished it up in time for Advent.
I ended up keeping it very simple, but am happy with how it turned out. I only wanted to have 7 empty slots for the 7 blocks (representing each of the O Antiphons), so I filled in the two side boxes with 7 painted wooden stars and the top with the words "Ero Cras" which means "Tomorrow, I will come!"
The Benedictine monks arranged these antiphons with a definite purpose. If one starts with the last title and takes the first letter of each one – Emmanuel, Rex, Oriens, Clavis, Radix, Adonai,Sapientia – the Latin words ero cras are formed, meaning, "Tomorrow, I will come." Therefore, the Lord Jesus, whose coming we have prepared for in Advent and whom we have addressed in these seven Messianic titles, now speaks to us, "Tomorrow, I will come." So the "O Antiphons" not only bring intensity to our Advent preparation, but bring it to a joyful conclusion.
For the blocks, I printed out an image of the O Antiphons reduced to 45% on Gold paper and (very carefully using Mod Podge) glued them to the blocks.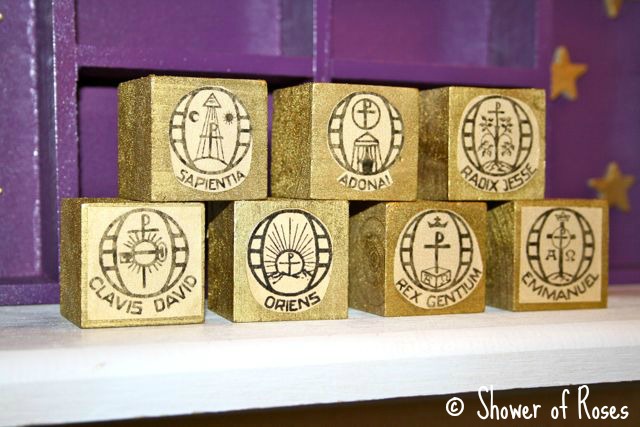 I think I may add the dates to the back, turn them around, and stack them in the side boxes with the stars until each day approaches, but for now they are just stacked next to the house ready and waiting for the 17th of December!